These Birds Nest Cookies are a fun no bake cookie recipe for spring and Easter! Butterscotch chips and chow mein noodles make adorable nests and filled with mini chocolate eggs. #eastercookies #springcookies #minieggs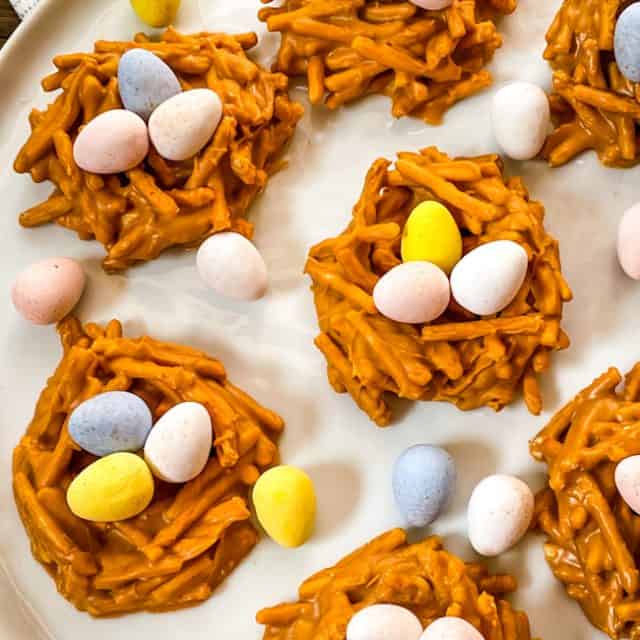 These Birds Nest Cookies are an adorable no bake cookie that is perfect for Easter or spring!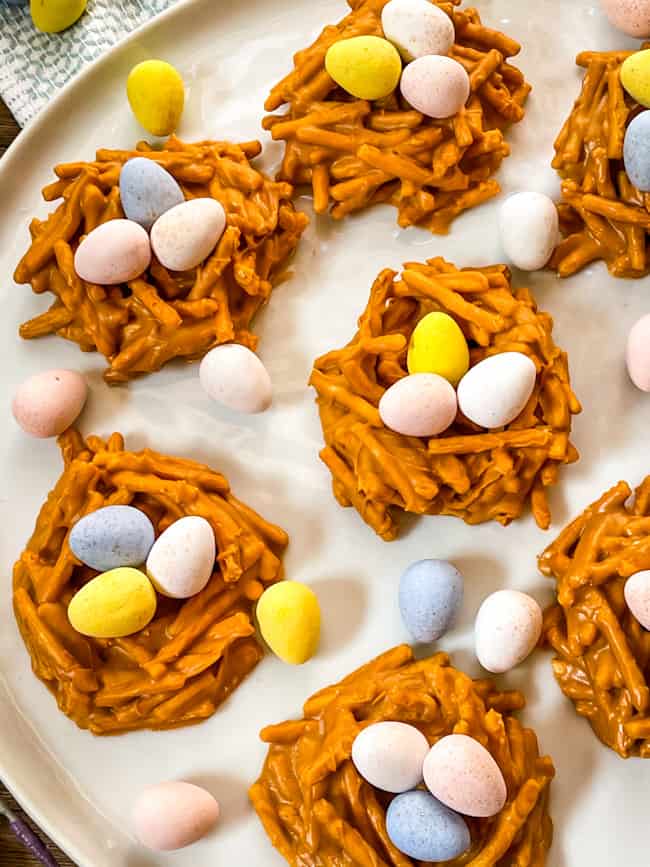 I just cannot get over how adorable these Birds Nest Cookies are!
i just love how realistic they look and the beautiful, pastel chocolate eggs. The eggs even have a little brown speckle to them!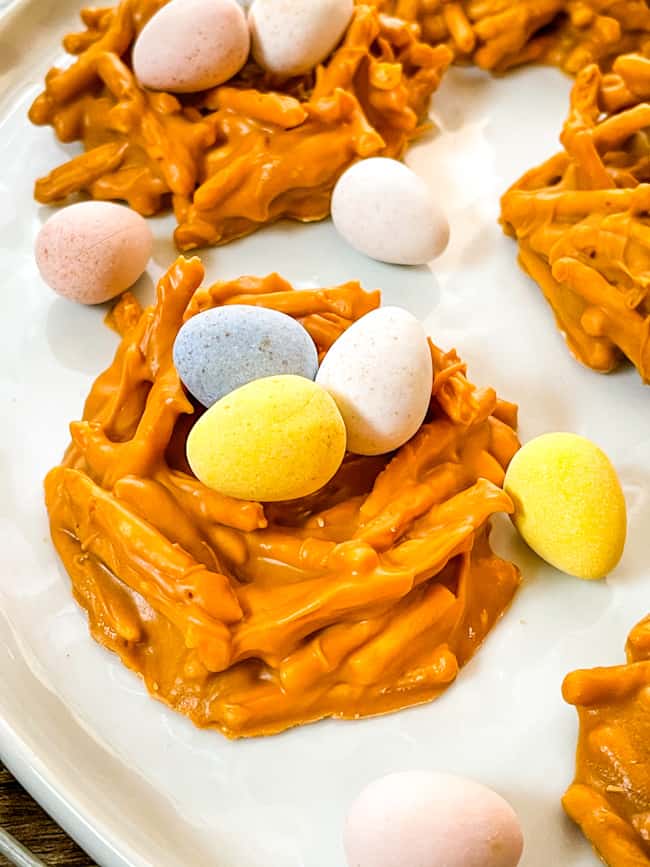 These Birds Nest Cookies are no bake cookies and a fun activity for kids to help make!
They are similar to the anthills I made growing up, which were half butterscotch and half chocolate.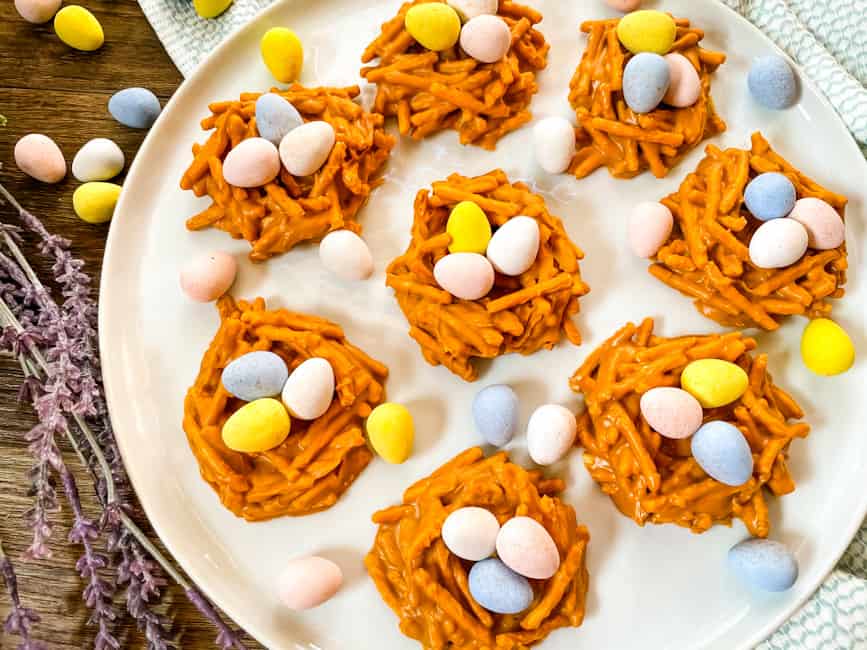 Flavor Options
I went with all butterscotch chips here to give the nests a wood color.
You could use half chocolate, half butterscotch like the classic, if preferred, and they will be a very dark chocolate brown.
Want some fun and festive spring or Easter colors? Use candy melts (but they will be VERY sweet!) or even white chocolate for a white nest.
Whatever color and flavor you go for, they will be delicious!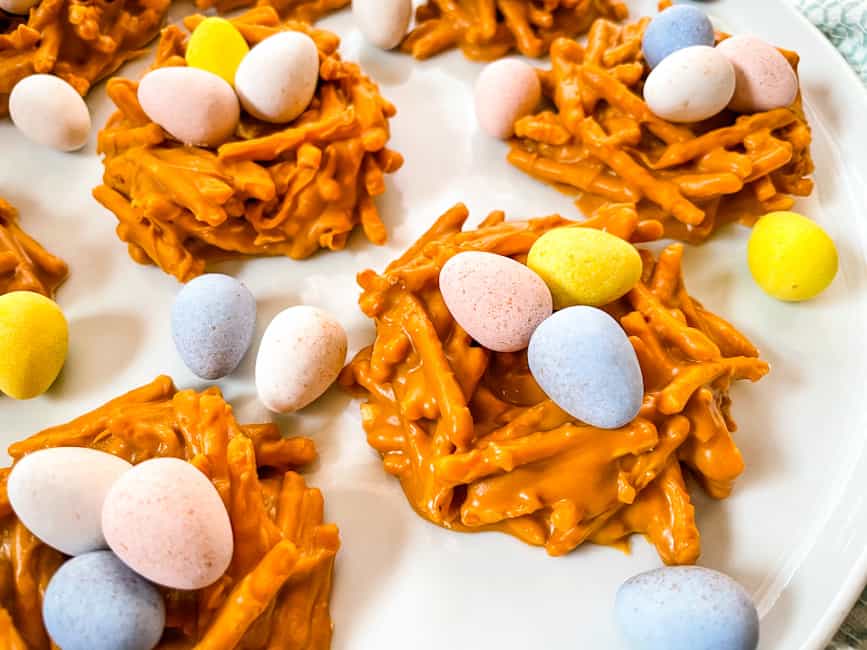 Options for Mini Eggs
I used Cadbury Mini Eggs and they are my favorite because of their beautiful pastel shades and a brown speckle. They also taste great!
The eggs are chocolate and covered in a thin candy coating.
You can use any brand of mini eggs that you have or can find.
No mini eggs? A great alternative is using almond or peanut M&Ms (since they have an egg-like shape).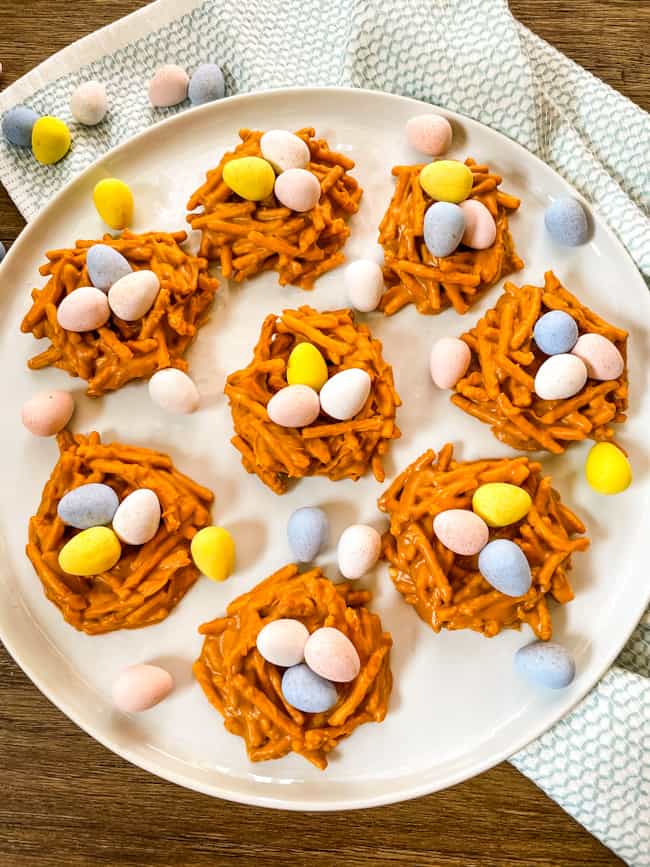 Using a Double Boiler
A double boiler is the best way to melt chocolate.
Yes, it is a pain. Yes, it takes much longer than a microwave.
But you are much more likely to get well melted chocolate.
Microwaved chocolate can very easily get lumpy, chalky, or seize up.
To make a double boiler, get a small or medium pot. Then find a glass or metal bowl that fits on top of the pot so that it sits up on it.
You do not want the pot to touch the water. Fill up the pot with some water and heat over medium heat until simmering.
Place the bowl on top of the pot, where the heat will now go to the bowl.
Place the butterscotch chips in the bowl, and they will slowly melt from the heat.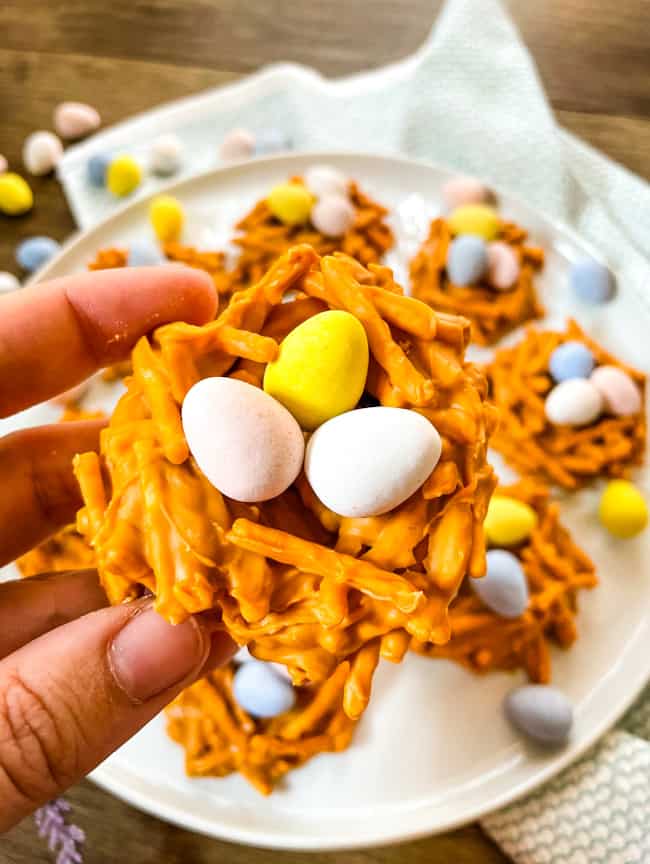 Shaping the Nests
Shaping the nests takes a little more time than a classic haystack or anthill, but it is very easy.
Use two dinner spoons and scoop approximately 1/4 cup of butterscotch noodles into a pile on the silicone mat or parchment paper.
Use your spoons to dig a hole in the middle, gently pulling the spoon in a circle to make the gap. You want to leave some noodles, or at least butterscotch, at the bottom so that there is not a hole.
Also use the spoons to press around the sides to make the nest into a round shape.
Pull up noodles from the outside edges as needed to make the nest rim thinner and taller.
Use these different techniques back and forth as needed until you like the shape of your nest. Each one will be unique, just like in real life!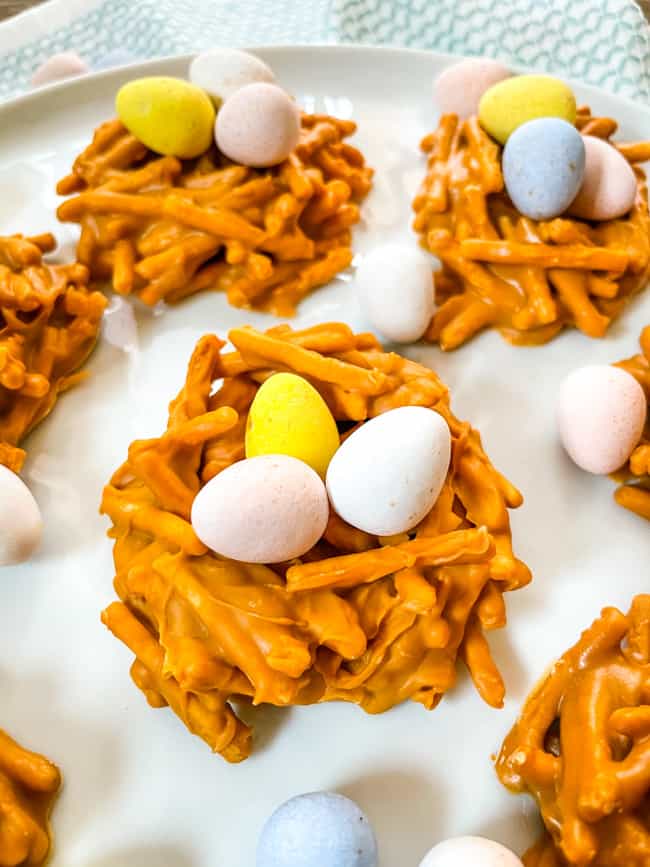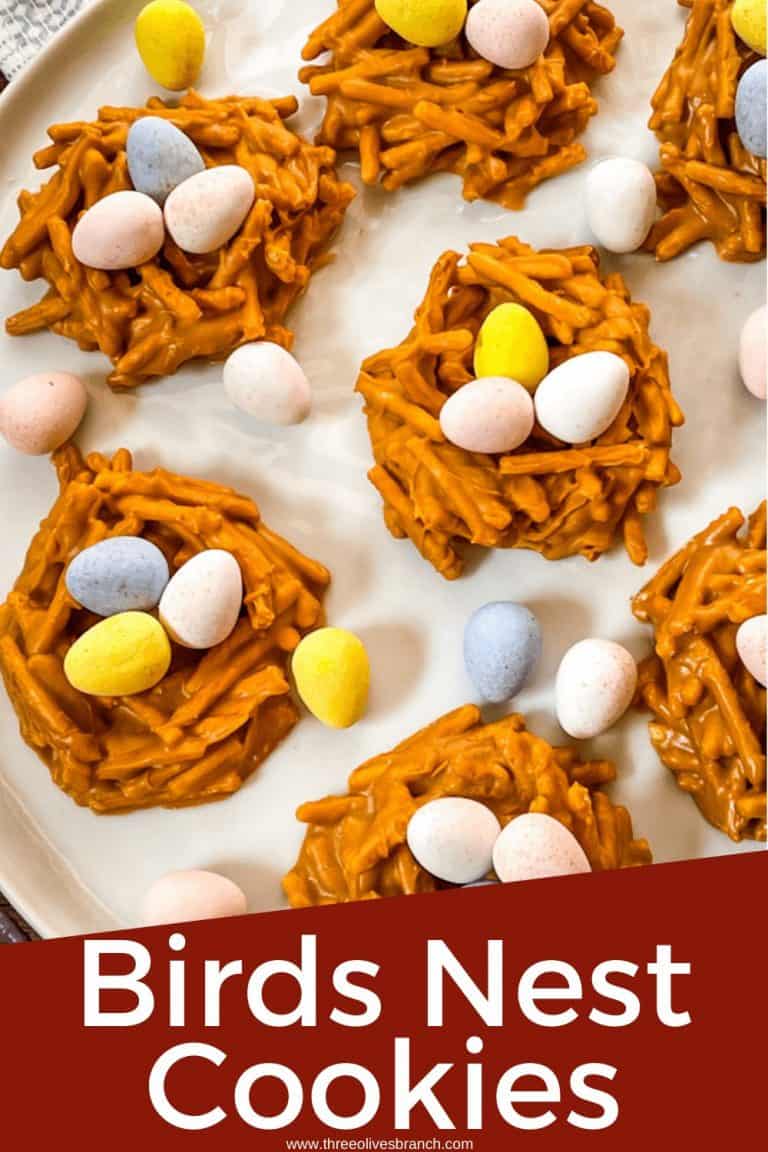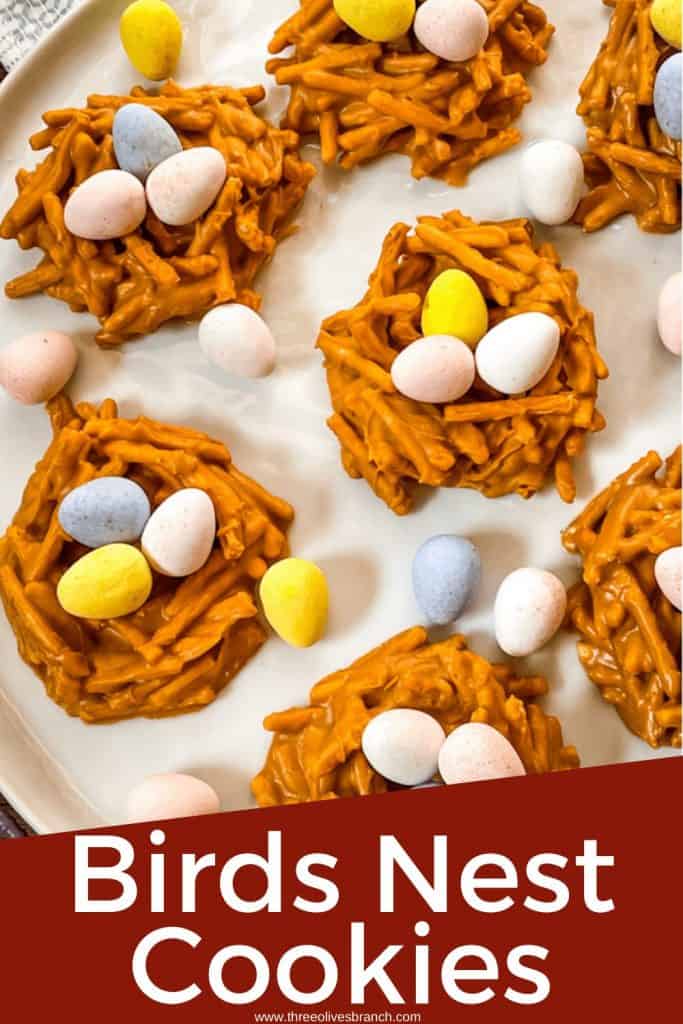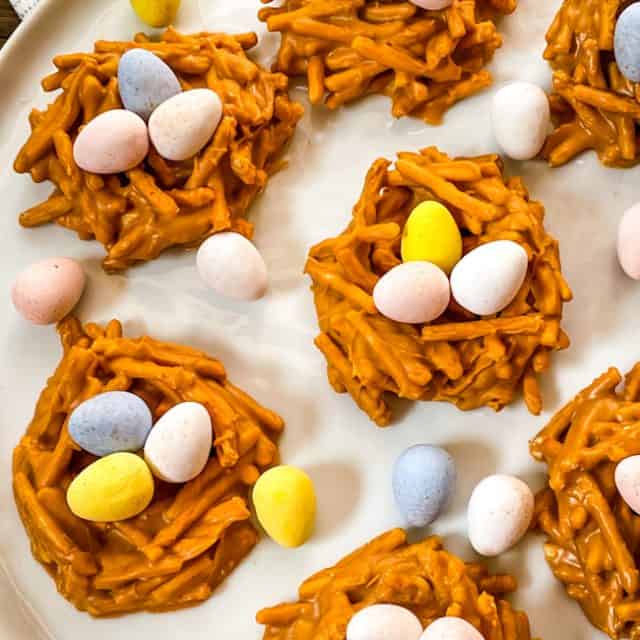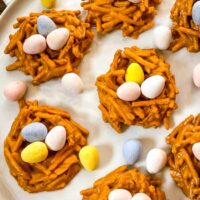 Birds Nest Cookies
These Birds Nest Cookies are a fun no bake cookie recipe for spring and Easter! Butterscotch chips and chow mein noodles make adorable nests and filled with mini chocolate eggs. #eastercookies #springcookies #minieggs
Print
Pin
Rate
Instructions
Put a metal or glass bowl on top of a small or medium pot that has water in it. Heat over medium heat so that the water is simmering.

Put the butterscotch chips in the bowl on top of the pot. Stir occasionally until completely melted from the heat.

Dump the chow mein noodles into the butterscotch and gently stir to coat.

Set out two baking sheets lined with silicone baking mats or parchment paper. Use two spoons to scoop out the butterscotch noodles in approximately 1/4 cup portions.

Put the noodles on the baking sheet and, using the spoons, shape them into nests. Make them into round circles and gently dig into the center to make the nest indentation in the middle.

Repeat the nest building with the remaining noodles (approximately 22 nests total).

Place three mini eggs in each nest (do this as you are building the nests and the butterscotch is still wet if you want the eggs to stick to the cookies. Or the eggs can be added after they have dried).

Let the cookies sit at room temperature for at least 30 minutes to harden. If too hot, or for a faster set, place the trays in a refrigerator or freezer for 10-15 minutes.

Store in an airtight container for up to 5 days.
Notes
Chow mein noodles come in different sizes for different brands. If your bag is slightly over or under 12 ounces, simply approximately adjust the butterscotch as needed.
The eggs can be placed on the nests when still wet, if you want them to stick, or when they are dry (but then they can fall out).
The Cadbury mini eggs are my favorite because they come in wonderful pale colors that already have speckling on them. You can use any other brands or even peanut or almond M&Ms to get that egg shape.
One bag of Cadbury mini eggs gave me approximately 80 eggs (you need 66 for one batch).
Nutrition
Serving:

1

cookie

|

Calories:

227

kcal

|

Carbohydrates:

46

g

|

Protein:

3

g

|

Fat:

4

g

|

Saturated Fat:

2

g

|

Cholesterol:

5

mg

|

Sodium:

218

mg

|

Potassium:

42

mg

|

Fiber:

1

g

|

Sugar:

32

g

|

Vitamin A:

28

IU

|

Calcium:

25

mg

|

Iron:

1

mg

By