Colored Deviled Eggs are a fun way to serve up a classic appetizer recipe! Great for holiday food like Easter, Thanksgiving, Christmas, and also game day. Use bright or pastel colors without vinegar and fill with your favorite filling option provided. Finger food recipe idea.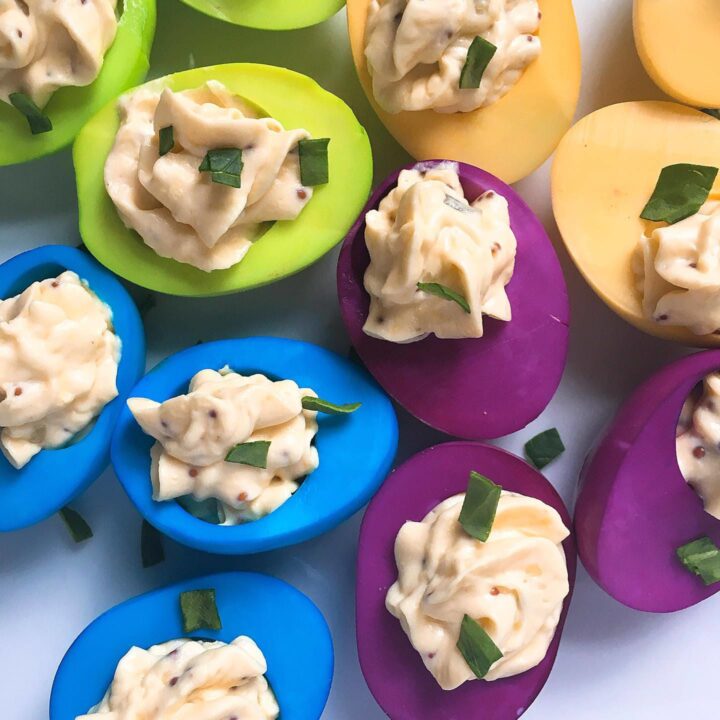 Food should pop out at you and look just as amazing as you imagine it tastes. And so many appetizers tend to be in the realm of beige and colorless. I love to shake things up by using some striking colors in these Colored Deviled Eggs!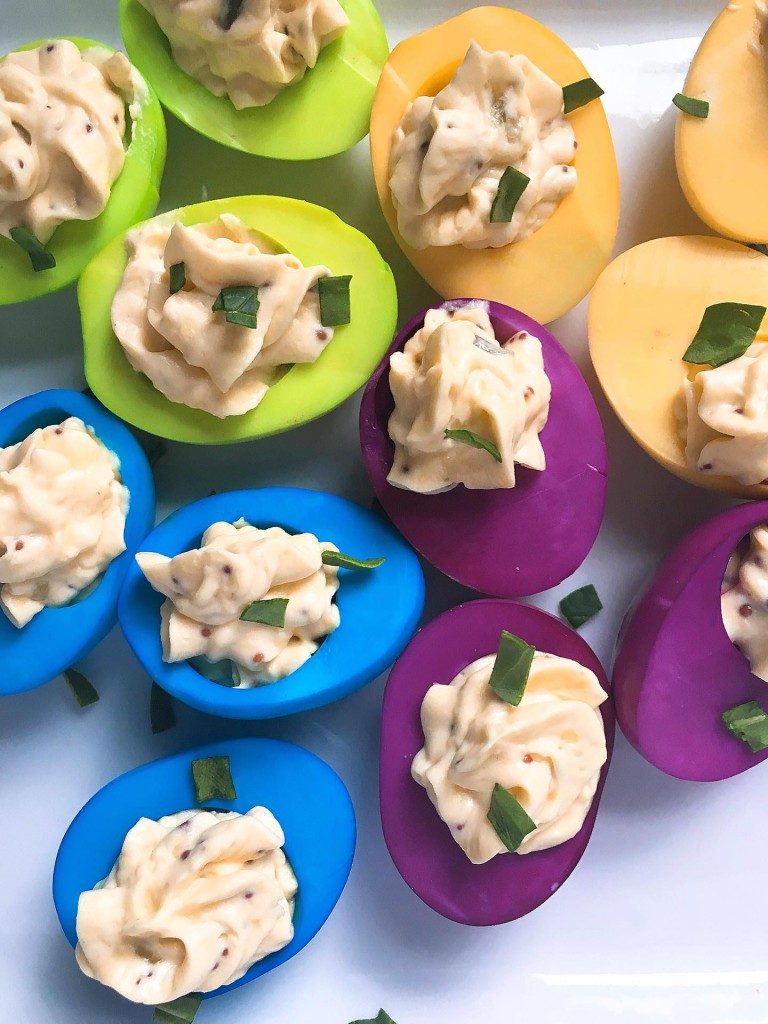 This post contains affiliate links.
Colored Deviled Eggs No Vinegar
There is no need to use vinegar for dying the egg whites in this recipe.
The vinegar could change the flavor of the egg when it is absorbed.
And I love making the deviled eggs that I serve at Easter, Thanksgiving, game day, and other events to match the theme and day!
Can You Color Eggs with Food Coloring?
Yes! That is how we will color them here!
I love these Colored Deviled Eggs because you can turn them into any color.  I like to use multiple bright (or pastel!) colors for Easter, you can make team colors for a sporting event, red and green for Christmas, etc.  
And since the color does not change the flavor at all, you can use any deviled egg recipe that you like.  I love to make my traditional deviled eggs.  You can't go wrong with a classic!
Can You Eat Colored Deviled Eggs?
Yes! Just make sure you are using edible, food safe coloring like what you get in the spice section of the grocery store.
The fun, bright colors are also a great way to appeal to kids and encourage them to go for the snacks or appetizers that are healthier than the standard fried and cheese covered treats.  
This is also a great way to get the kids in the kitchen, learning how to cook and being involved in the process.  They will be more excited about what they are eating and have a sense of accomplishment that they were able to make something that looks so great and tastes good, too!
I like to serve up deviled eggs on a dish built for them to keep them from sliding around and holds them upright.
Even though these dishes have a singular purpose, we are always serving them for holidays and parties, so it gets good use! Find some deviled egg trays online!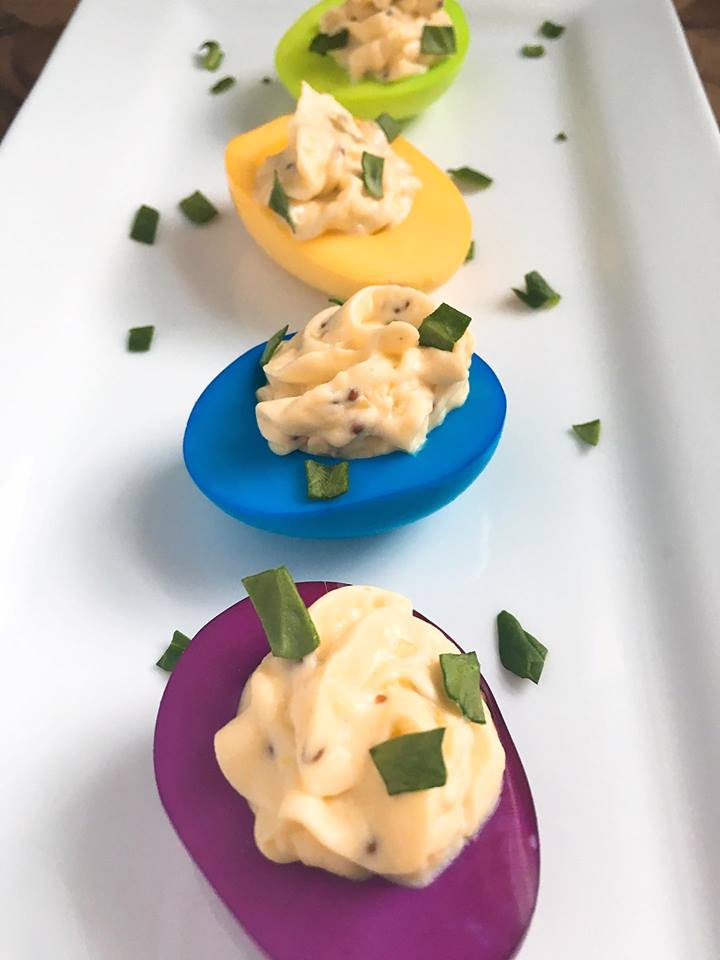 How do you Dye Inside of Eggs?
To make a deviled egg colored, first slice open the hard boiled egg and scoop out the yolks.
Fill cups with water and your food coloring of choice, as many or few colors as you want to use!
Put the egg white pieces into the cups and make sure they are completely submerged.
Check back after 15 minutes and leave the eggs in the colored water as long as desired to make them as vibrant as you want (if you want very strong colors like what you see here, use neon coloring!)
Meanwhile, make the deviled egg filling of choice. I have listed many of our deviled egg options below under the recipe card such as Bloody Mary and Tuna deviled eggs!
When you have the color you want, remove from the water, pat dry, and fill.
Should Eggs be Hot or Cold Dyed?
You want them to be cool.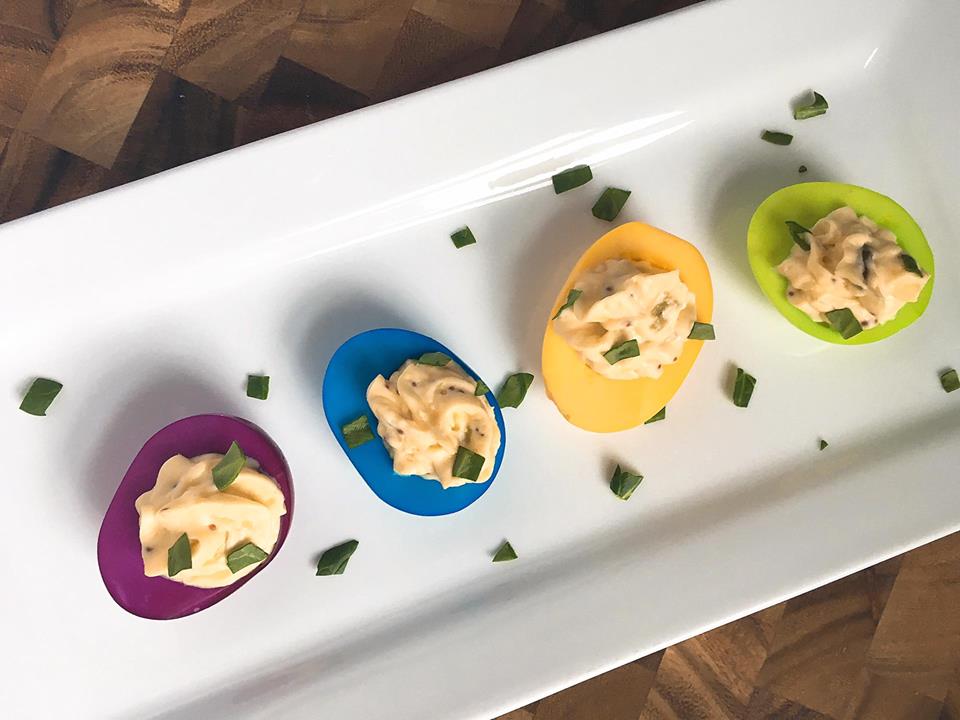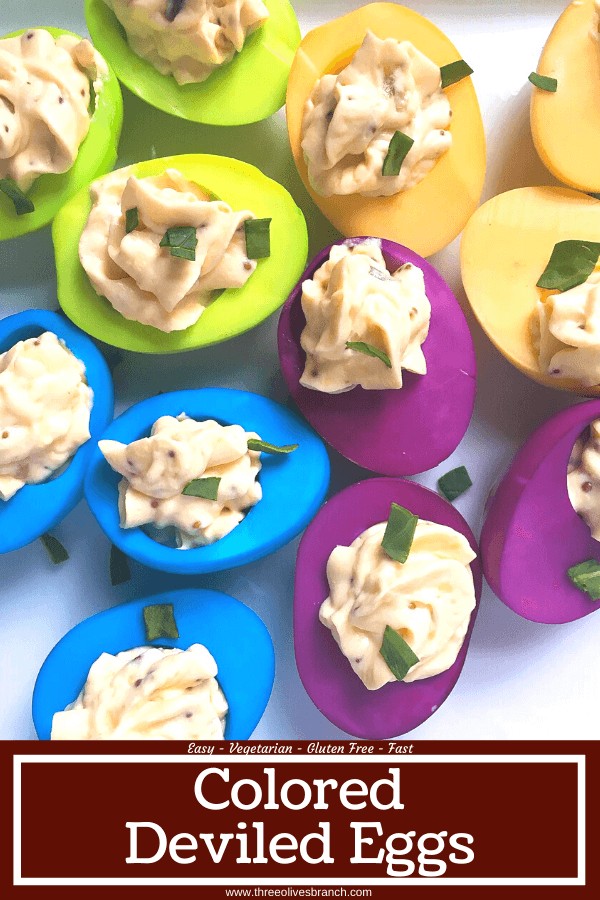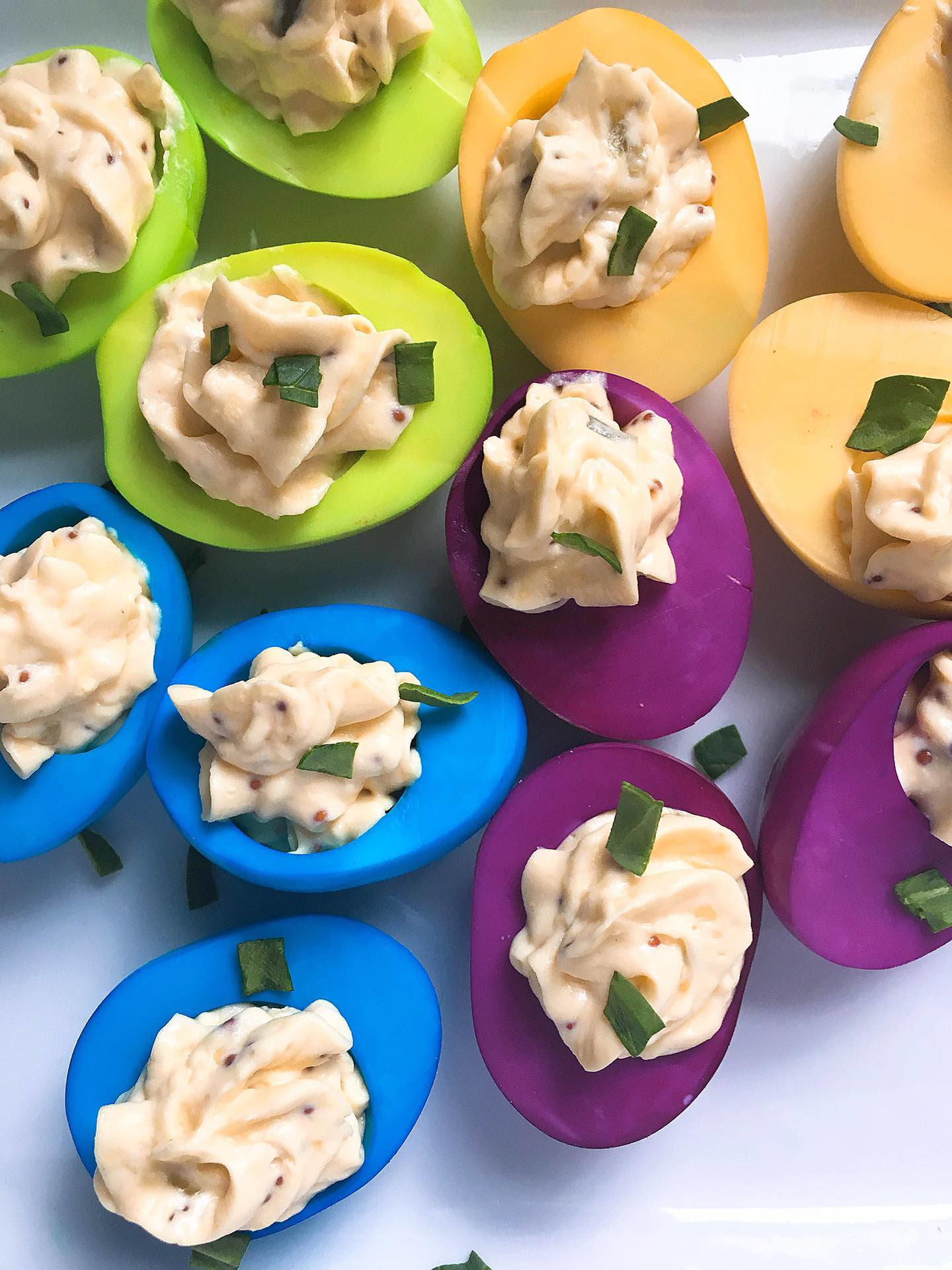 Servings:
12
deviled eggs
Instructions
Slice your peeled, hard boiled eggs in half and scoop out the yolks into a small bowl.

Fill four cups with 1/2 cup of water in each. Place 4 drops of food coloring in each cup in your desired colors.

For bold and bright colors, use neon food coloring.

Put three egg halves into each color. Let them sit until you reach your desired darkness. For lighter colors, this could take just 15 minutes. For darker colors such as these pictures, it will be closer to one hour.

Meanwhile, make your egg yolk mixture.

When the eggs are your desired color, drain them on paper towels to remove the extra moisture.

Fill eggs with your egg yolk mixture. Chill until ready to serve.
Notes
Use your favorite deviled egg recipe, such as this traditional deviled egg!
I used neon food coloring which is why they are so bright and dark (plus I left them in longer!).  You can get a softer, pastel look by using regular (non-neon) dye and leaving them in a shorter period of time.
Nutrition
Serving:

1

hard boiled egg

|

Calories:

39

kcal

|

Carbohydrates:

1

g

|

Protein:

3

g

|

Fat:

3

g

|

Saturated Fat:

1

g

|

Polyunsaturated Fat:

1

g

|

Monounsaturated Fat:

1

g

|

Cholesterol:

93

mg

|

Sodium:

31

mg

|

Potassium:

32

mg

|

Sugar:

1

g

|

Vitamin A:

130

IU

|

Calcium:

13

mg

|

Iron:

1

mg

By