Chewy Snickerdoodle Cookies is a perfect homemade cookie recipe! Soft and chewy, these cinnamon sugar covered sugar cookies are a classic! Great crinkle cookies for a holiday cookie platter and Christmas.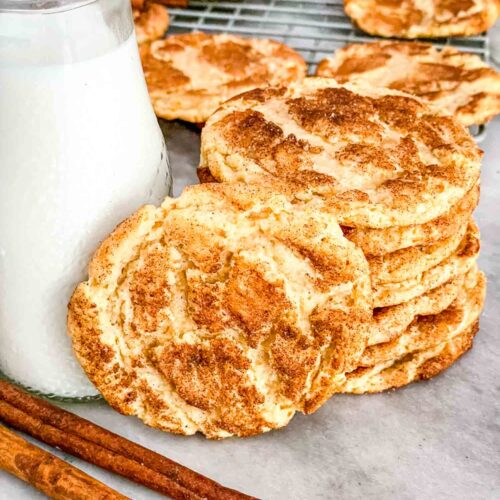 These soft and chewy cookies are calling your name! Tender cookies rolled in cinnamon and sugar. The perfect classic to make any time of year!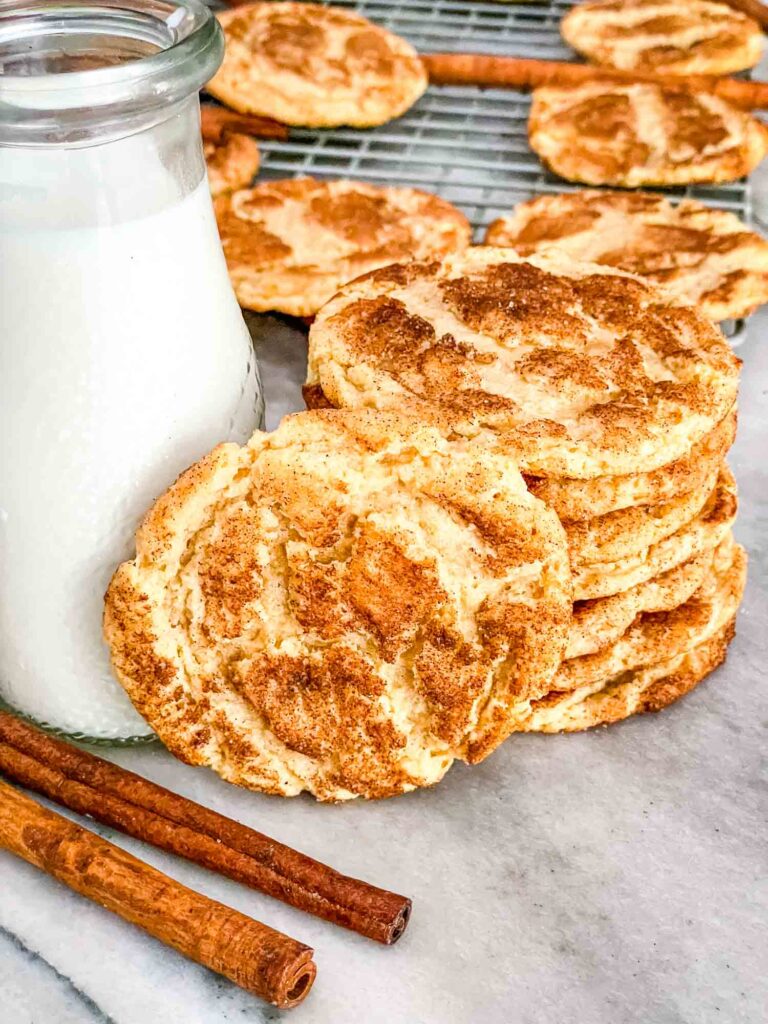 Best Snickerdoodle Recipe
There is something special about snickerdoodles and how they are a perfect comfort food dessert.
I love making cookies, especially in cold weather and for Christmas cookie platters.
And I also love a soft and chewy cookie!
Snickerdoodles tend to be on the crisp side so I wanted to make a homemade cookie recipe that was soft and chewy with all the same great cinnamon sugar flavors.
This cookie is perfect for holidays, parties, or just because!
Why is it Called a Snickerdoodle?
It is named after a German pastry Schneckennudel, which translates to "snail noodle."
This pastry is similar to a cinnamon roll in shape and the same flavors.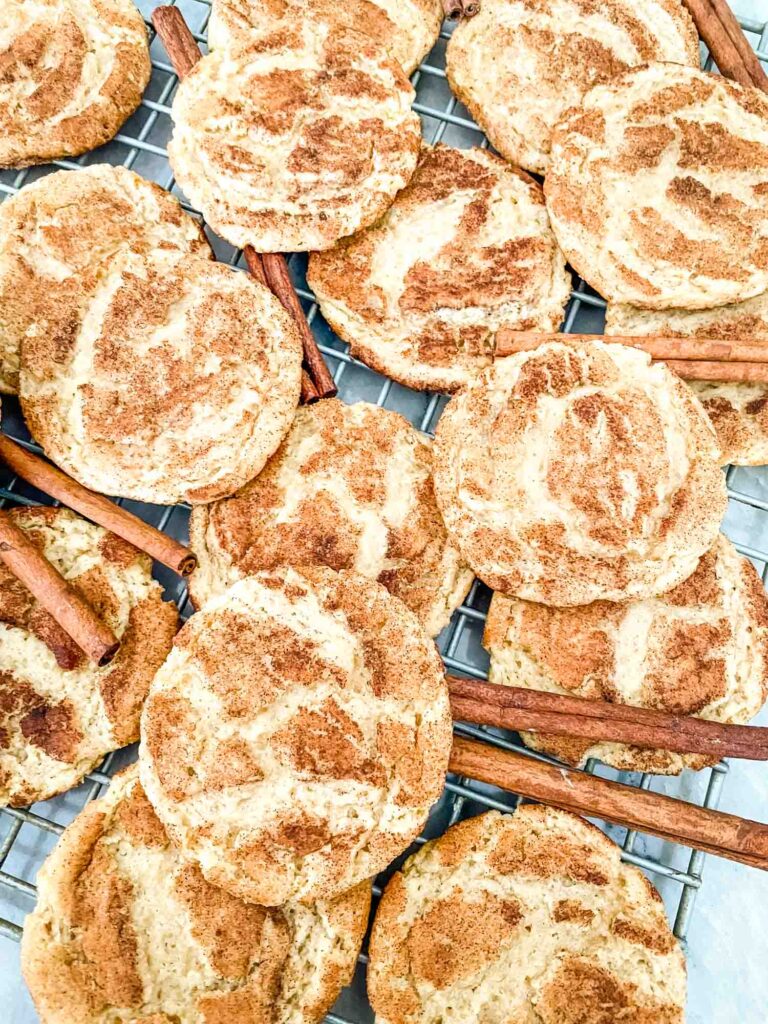 What is the Historical Story of a Snickerdoodle Cookie?
Who invented the snickerdoodle? It is believe they were invented in 1891 by Cornelia Campbell Bedford. She was teaching a cooking class in New York and decided to roll a sugar cookie in ground cinnamon.
Such a simple and delicious idea!
What Does a Snickerdoodle Cookie Taste Like?
It is like a sugar cookie that has been rolled in cinnamon!
Are Snickerdoodles an American thing?
Yes, they are an American twist on German.
Are snickerdoodles German? Not technically, but they are by inspiration!
What is the Difference Between Snickerdoodle and Sugar Cookies?
A snickerdoodle has a cracked surface and cinnamon sugar coating.
A sugar cookie lacks the cracked top and is rolled in just sugar, if anything.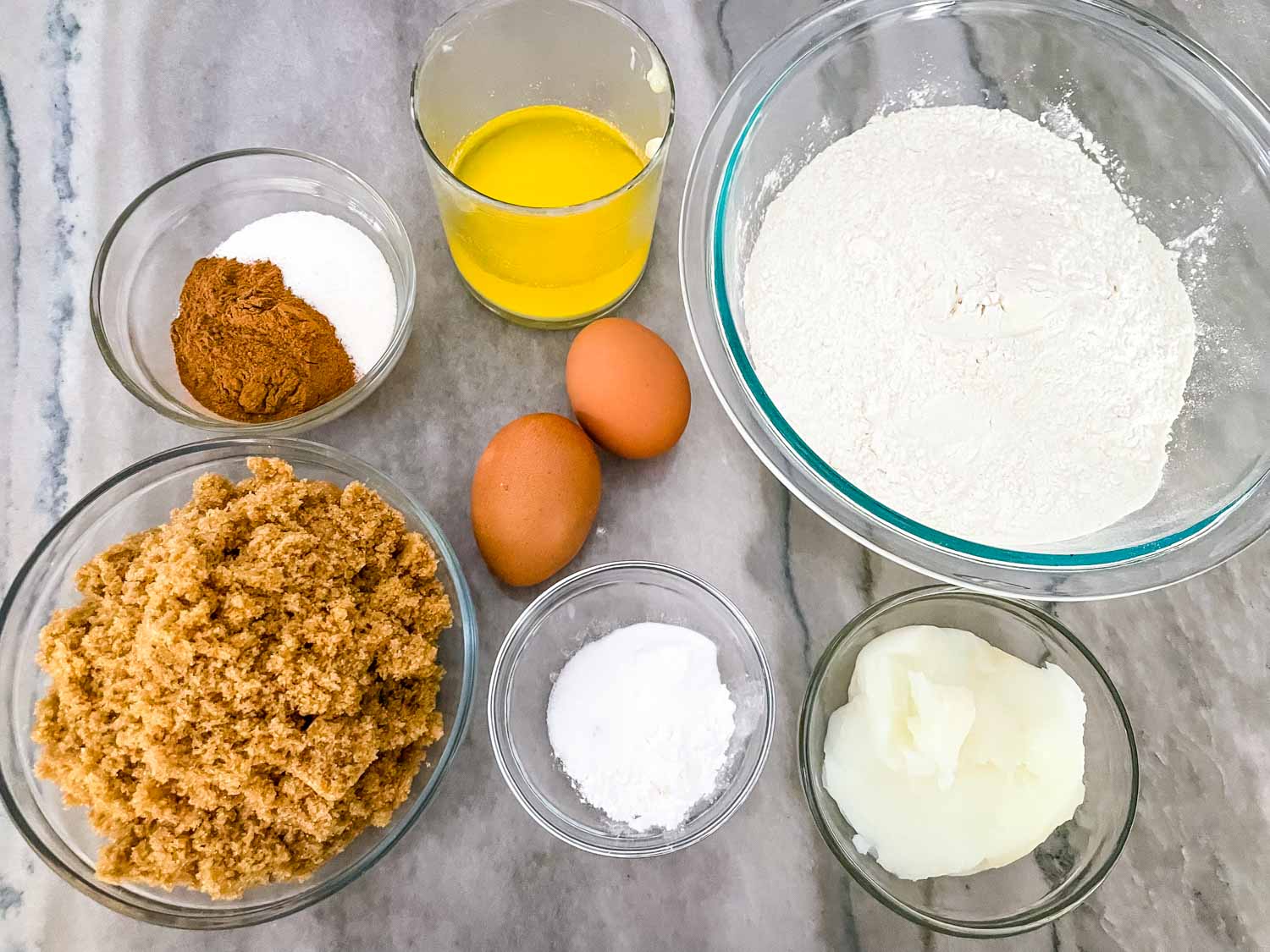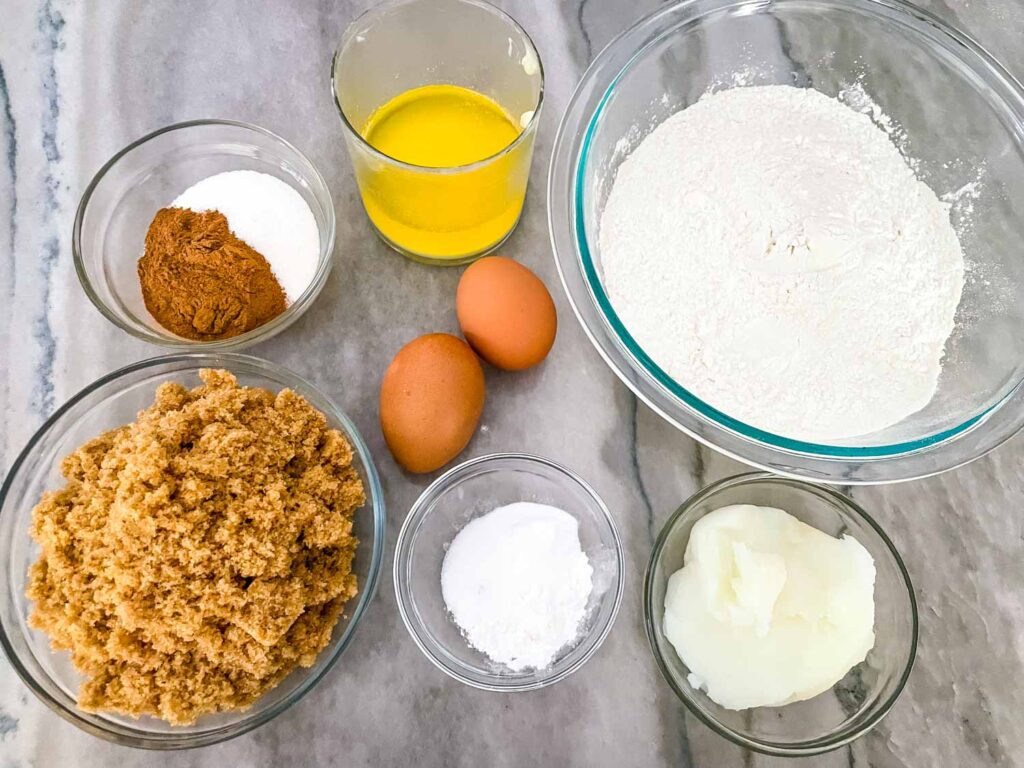 What is in Snickerdoodle Cookies?
Here are the ingredients you need to make snickerdoodles:
Flour
Brown Sugar
Granulated Sugar
Ground Cinnamon
Cream of Tartar
Baking Soda
Salt
Butter
Shortening
Eggs
Why Do You Need Cream of Tartar in Snickerdoodles?
The cream of tartar brings a slight tang of flavor to the cookies that balances well with the sugars and cinnamon.
What does cream of tartar do in cookies? It also helps act as a leavening agent to give just a little volume to the cookies. No where near as much as baking soda or powder, but just enough.
What Happens if you Don't Have Cream of Tartar?
There are some recommendations out there. Most frequently, people recommend using a teaspoon of white vinegar for every 1/4 teaspoon tartar.
But this is dangerous as the flavor of vinegar can peak through. So it is not recommended.
Can lemon juice replace cream of tartar? Yes, use 1 teaspoon per 1/4 teaspoon tartar. The lemon flavor is not as obvious or harsh as vinegar.
Can I use cornstarch instead of cream of tartar? No, it will not do same thing.
What Can I Use Instead of Shortening?
Shortening is great for cookies because it traps more air than butter (due to melting points) and therefore gives you a lighter cookie.
If you do not want to use shortening, simply substitute for more butter at the same quantity.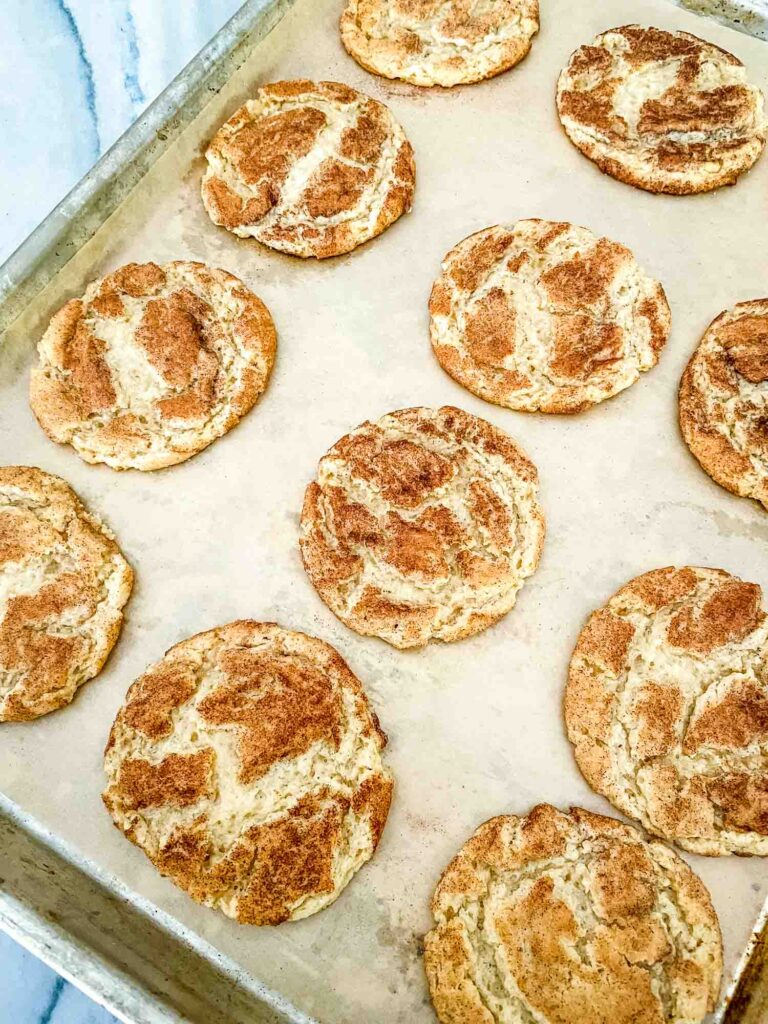 How Do I Make Snickerdoodles Crunchy and not Chewy?
I am a HUGE fan of chewy cookies, but there are two simple swaps you can make if you want them crispy.
First, do not melt the butter. Just use softened butter instead.
Second, use all granulated sugar instead of the brown sugar. Brown sugar has more moisture which is a big factor in cookies. The white granulated sugar will give you more of a crisp texture.
How to Make Snickerdoodles
First melt your butter and let it cool slightly so it is not boiling but also not solidifying again.
In a medium bowl, whisk together the flour, cream of tartar, baking soda, and salt. Set aside. (I know this seems unnecessary, but in recipes like this where it is briefly mixed in, the whisking helps make sure it is distributed evenly throughout the dough!).
In a stand mixer or in a large bowl with an electric hand mixer, beat the butter, brown sugar, and shortening at medium speed until well combined, about 3 minutes.
Add the eggs one at a time, mixing 30 seconds between eggs to make sure it is well incorporated.
Turn the mixer speed to low and slowly mix in the flour mixture. Mix until just incorporated.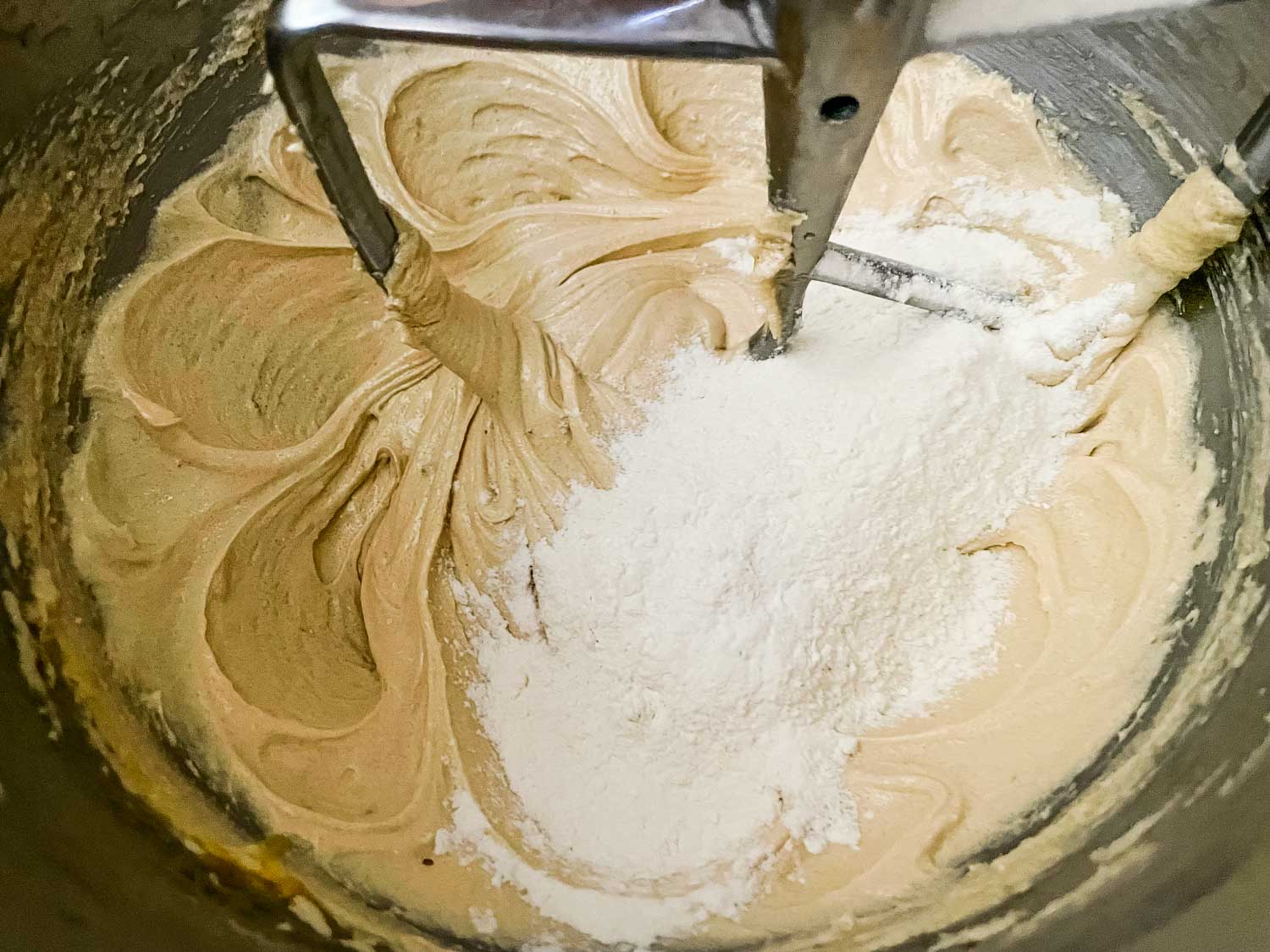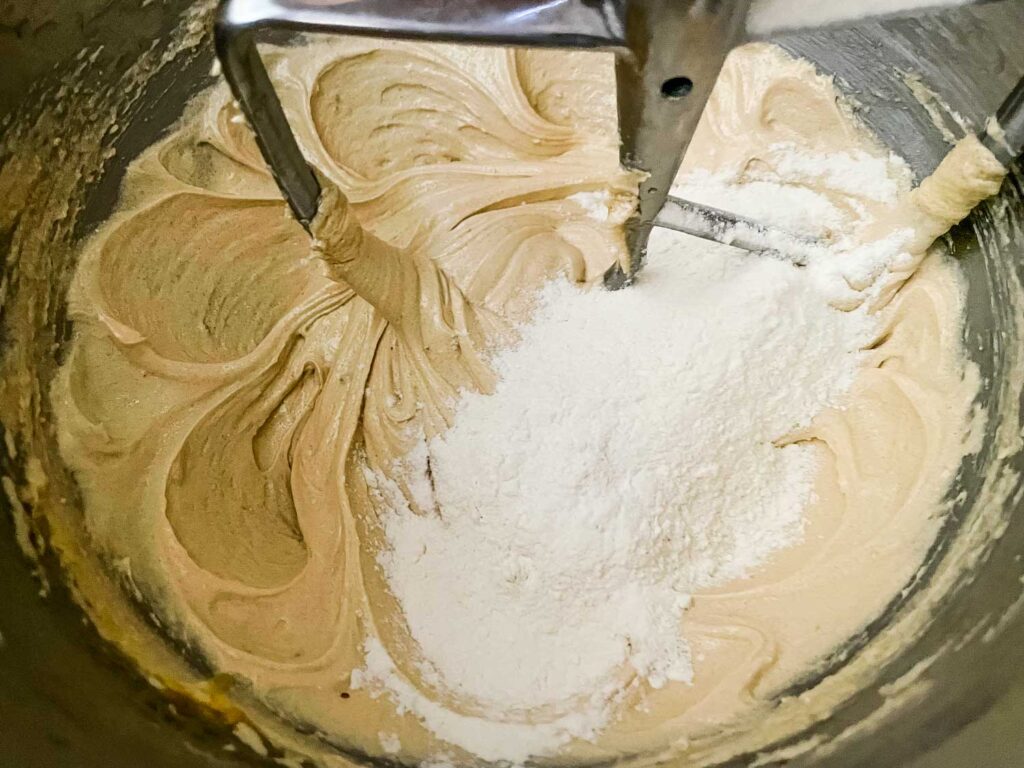 Chill the dough in the refrigerator for 30-60 minutes.
Preheat your oven and line two baking sheets with parchment paper or a silicone baking mat.
Mix the ground cinnamon and granulated sugar together in a small bowl.
Scoop the chilled dough using a cookie scoop (SO easy and fast!) or by hand using 1.5 Tablespoons of dough per cookie.
Roll each completely in the cinnamon sugar mixture to coat.
Lay them out on the lined baking sheets with 2 inches between them (they spread!).
Bake one sheet at a time on the middle shelf for 8 minutes, flipping the tray around half way through.
The cookie will almost look raw or underdone in the cracks that form, which is fine!
Let cool on the sheet for 10 minutes before moving to a cooling rack.
Repeat with the remaining dough.
How Do I Melt Butter for Baking?
I put the butter in a drinking glass or bowl and microwave it until melted.
Check and stop the microwave every 30 seconds or so, as if it gets too hot, it will explode, you will lose butter all over the microwave, and have to start over. Not fun to clean up, either. (Has happened a few times – whoops!).
Should Snickerdoodle Dough Be Sticky?
Yes, it will be somewhat sticky or wet at first. This is in part due to the butter having been melted, so it is a liquid floating around in the dough.
This is part of why it is very important to refrigerate the dough before baking!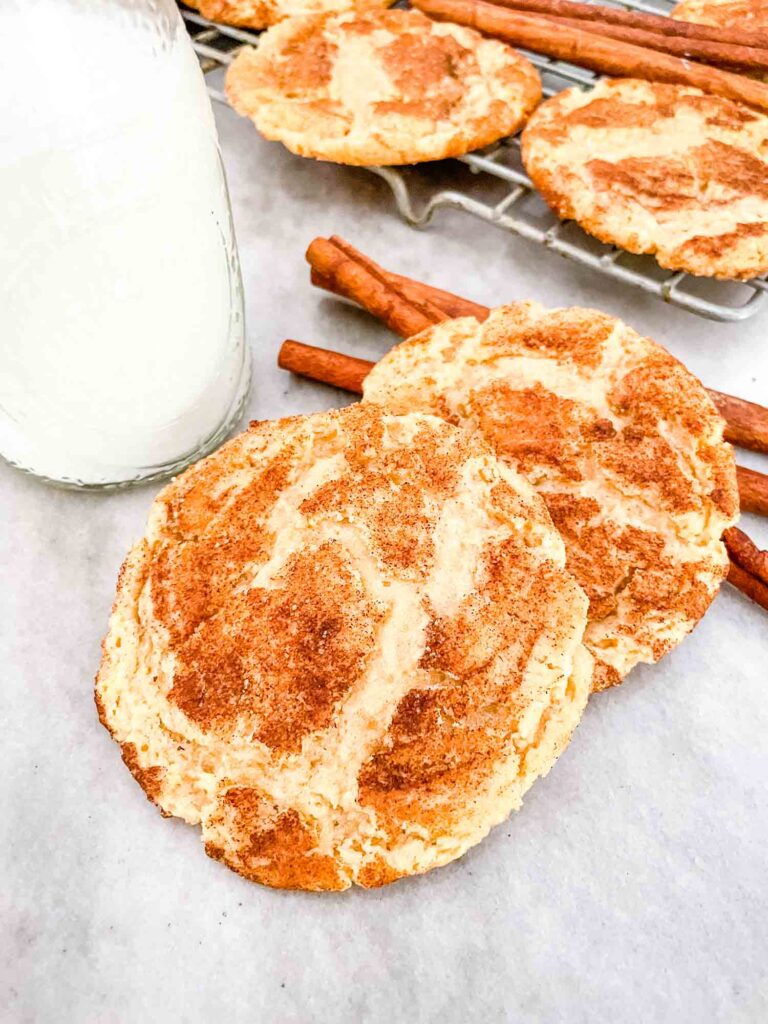 Why Is Cookie Dough Refrigerated?
I ALWAYS refrigerate cookie dough, largely in part of my obsession with soft and chewy cookies.
Because the butter is getting cold, it is locking it in place in the dough. And then when it goes in the oven cold, it will not spread and melt out of the batter.
This all means you are not only keeping the butter IN the cookies instead of on the sheet, but it prohibits cookies from over spreading and getting too crispy.
How Long Do I Refrigerate Cookie Dough?
At least 30 minutes. You can chill longer or even overnight, but if it gets too hard (past an hour or so) then it will be more difficult to scoop.
And if it is super hard, it might stay in more of a mound shape.
So I say it is best to start baking the dough when it has chilled 30-60 minutes.
Why are Cookies Spaced Out on the Baking Sheet?
This is important because many cookie doughs, such as this one, will expand. We call this "spreading."
And since the dough is expanding and spreading out as it cooks, it creeps into the spaces between the balls.
So if the cookie dough balls are too close, the dough will end up touching, turning them into square shapes as they run out of room, and they will stick together.
If they are all touching, this also impacts cooking as now you are making one large cookie where it is more difficult to cook the center.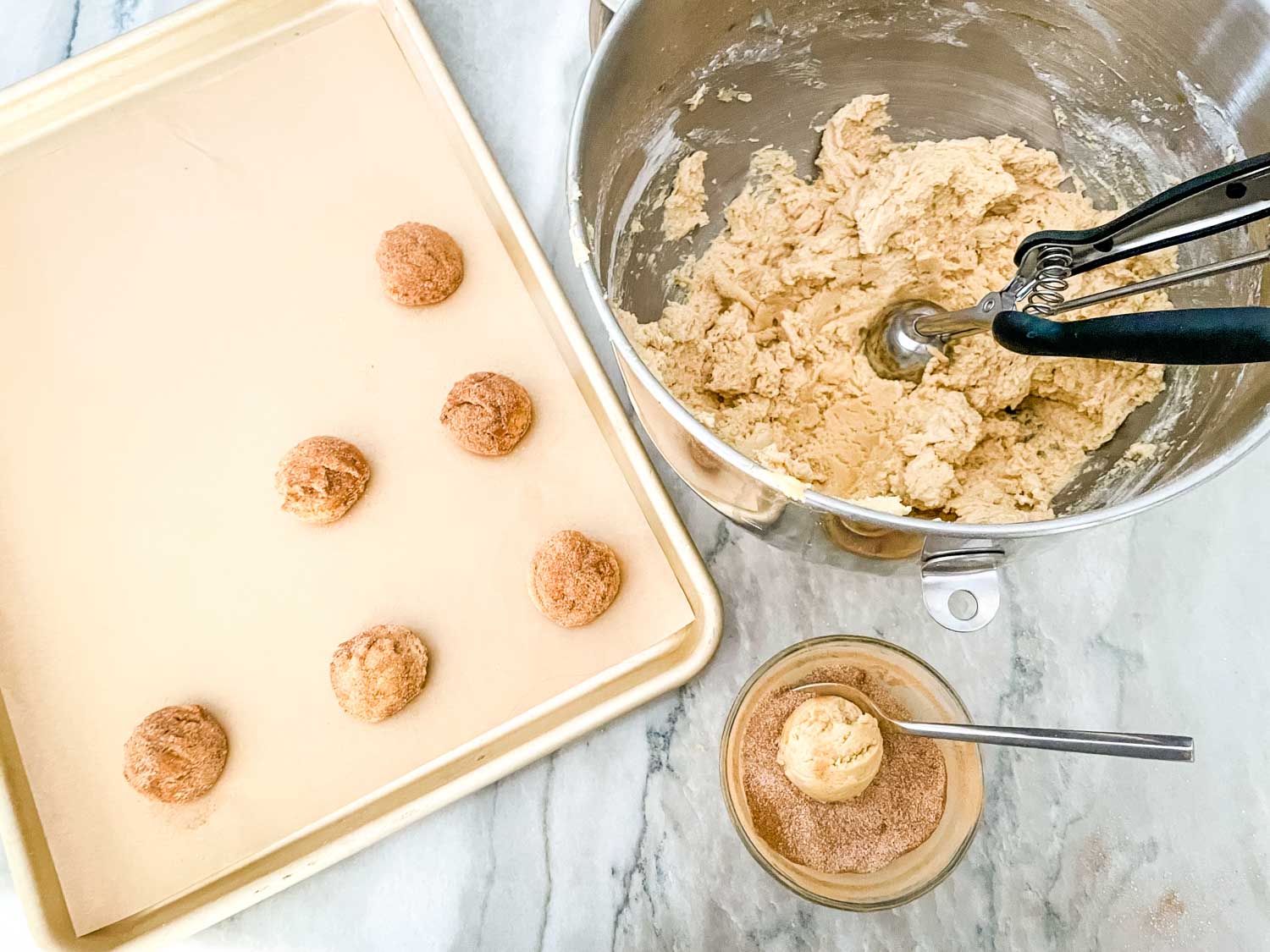 How Do You Know When Snickerdoodles are Done?
Will look almost underdone especially in cracks
Do not go for browning, overcooked
Why Do My Snickerdoodles Not Crack?
Oven not hot enough
Not enough leveling, expired
Why Are My Snickerdoodles Puffy?
Why won't my snickerdoodles flatten? Too much flour, wrong oven temp
How Long Will Snickerdoodles Stay Fresh?
You can store them in an air tight container for up to 7 days.
Do Snickerdoodles Freeze Well?
Yes, they freeze very well! Make sure they cool completely before freezing and then simply thaw what you need when you need them.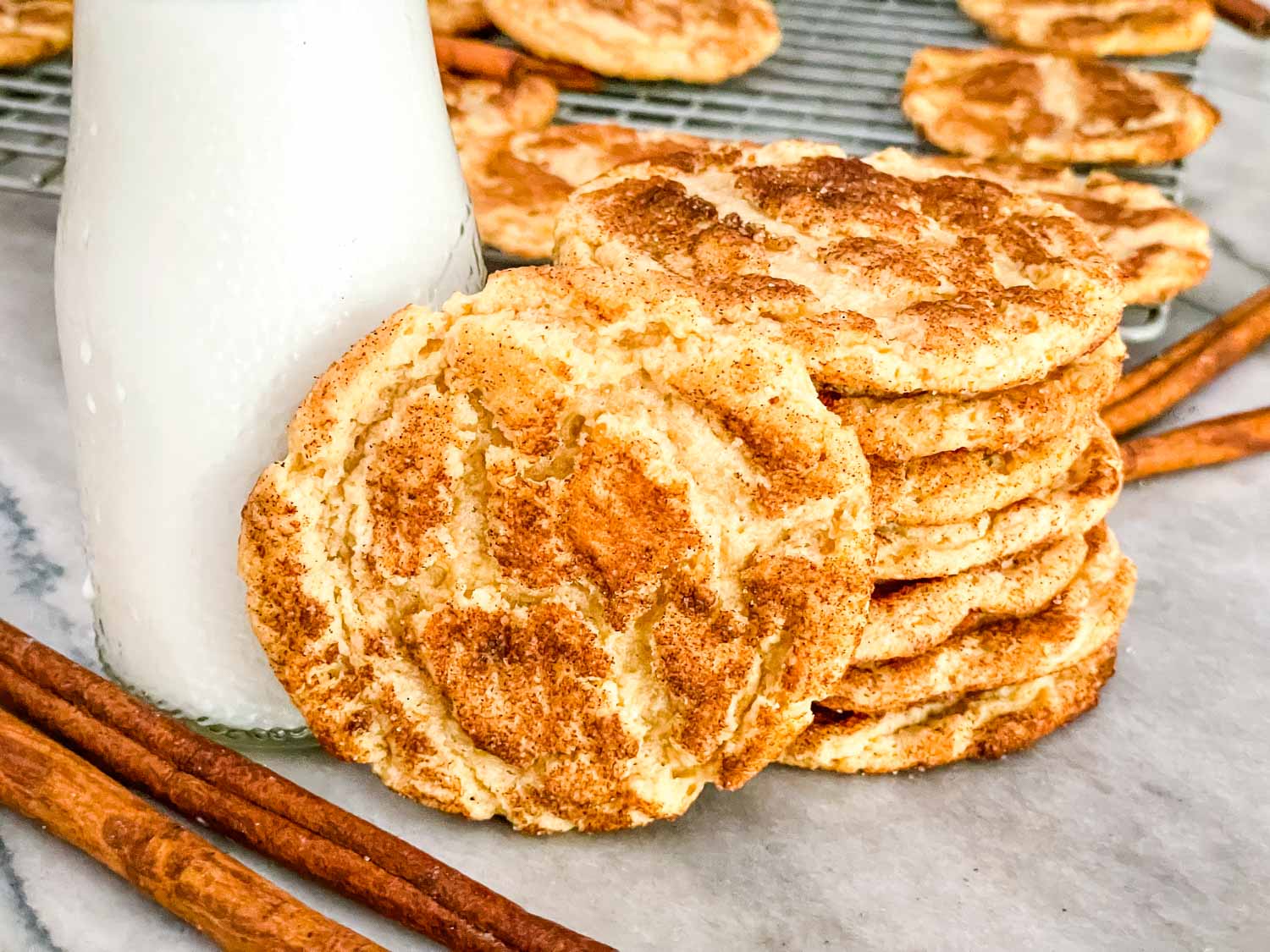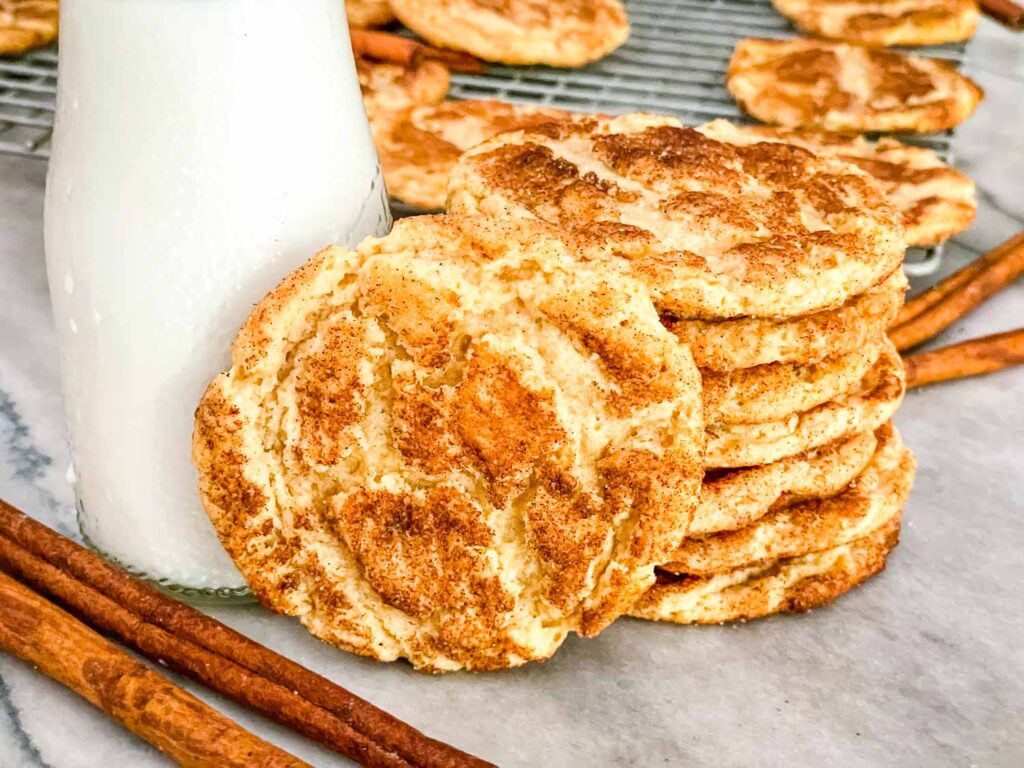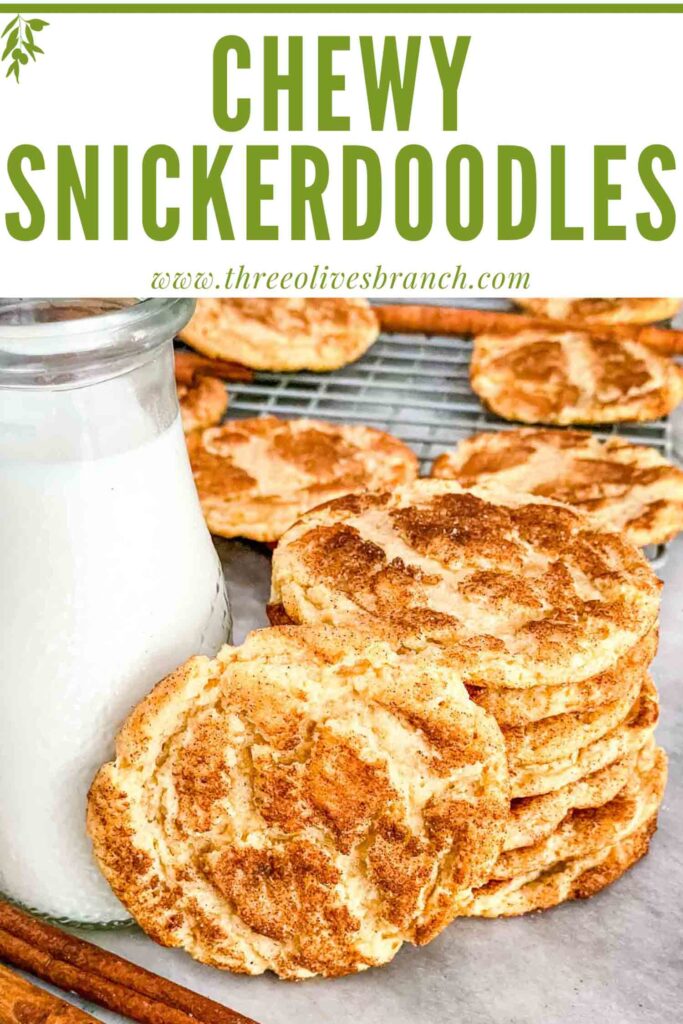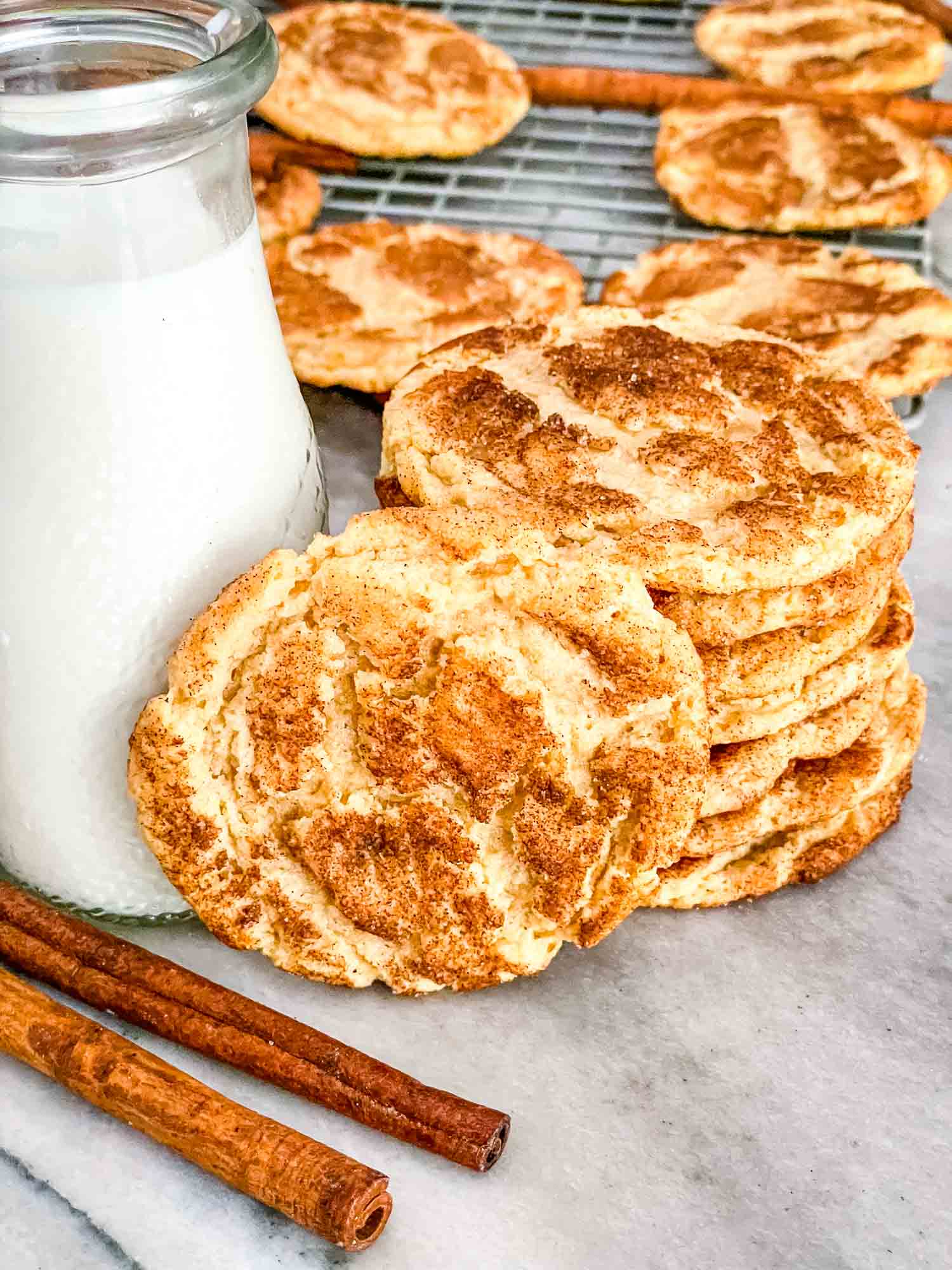 Instructions
In a medium bowl whisk together the flour, cream of tartar, baking soda, and salt. Set aside.

2 ½ cups all purpose flour,

2 teaspoons cream of tartar,

1 teaspoon baking soda,

½ teaspoon salt

Melt the butter in the microwave in 30 second increments. Set aside to slightly cool.

8 Tablespoons unsalted butter

In the bowl of a stand mixer, or in a large bowl with a hand mixer, use the paddle attachment and beat the butter, brown sugar, and shortening together until well combined, 3-4 minutes.

8 Tablespoons unsalted butter,

½ cup vegetable shortening,

1 ½ cups light brown sugar

With the mixer running, add the eggs 1 at a time with 30 seconds between the two eggs to fully combine.

Turn the mixer speed to low and slowly add the flour mixture in.

Continue mixing until just combined, about 30 seconds.

Chill the dough in the refrigerator for 30-60 minutes.

Mix the granulated sugar and ground cinnamon together in a small bowl.

¼ cup granulated sugar,

1 Tablespoon ground cinnamon

Scoop dough out in approximately 1.5 Tablespoon portions (I use a cookie scoop for this for fast and easy portioning!).

Roll the dough ball in the cinnamon sugar mixture and place on a baking sheet.

Fill the rest of the sheet, leaving space between each cookie (you can fit 12 on a sheet).

Bake on the middle shelf for 8 minutes, rotating the sheet half way through.

Let the cookies sit on the sheet for 10 minutes before moving to a cooling rack to cool completely.

Repeat the process with the remaining dough. (Pop the dough back in the refrigerator if you are waiting between batches. Otherwise, portioning tray 2 while tray 1 is baking works perfectly!)

Store in an air tight container for up to 1 week, or freeze up to 3 months.
Nutrition
Serving:
1
cookie
|
Calories:
124
kcal
|
Carbohydrates:
17
g
|
Protein:
1
g
|
Fat:
6
g
|
Saturated Fat:
2
g
|
Polyunsaturated Fat:
1
g
|
Monounsaturated Fat:
2
g
|
Trans Fat:
0.5
g
|
Cholesterol:
17
mg
|
Sodium:
70
mg
|
Potassium:
55
mg
|
Fiber:
0.4
g
|
Sugar:
10
g
|
Vitamin A:
93
IU
|
Vitamin C:
0.01
mg
|
Calcium:
14
mg
|
Iron:
1
mg
Cookie Recipes
Delicious cookie recipes that you can enjoy all year long!

By