Chicken Fajita Tacos are a fresh and healthy Mexican dinner recipe idea! Grilled chicken, bell peppers, and onions are cooked in a citrus marinade. Gluten free, dairy free. A great Taco Tuesday meal option.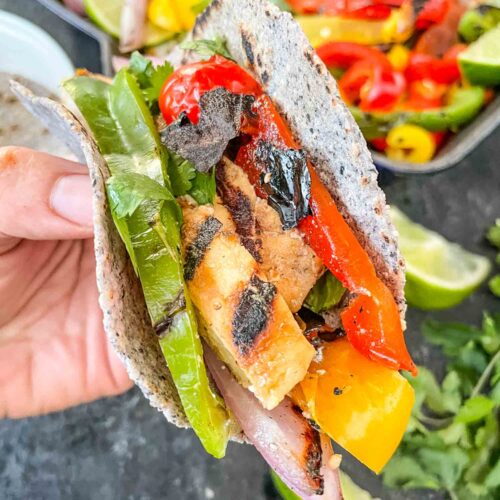 These Chicken Fajita Tacos are full of fresh citrus flavor! A healthy Mexican recipe to shake up Taco Tuesday!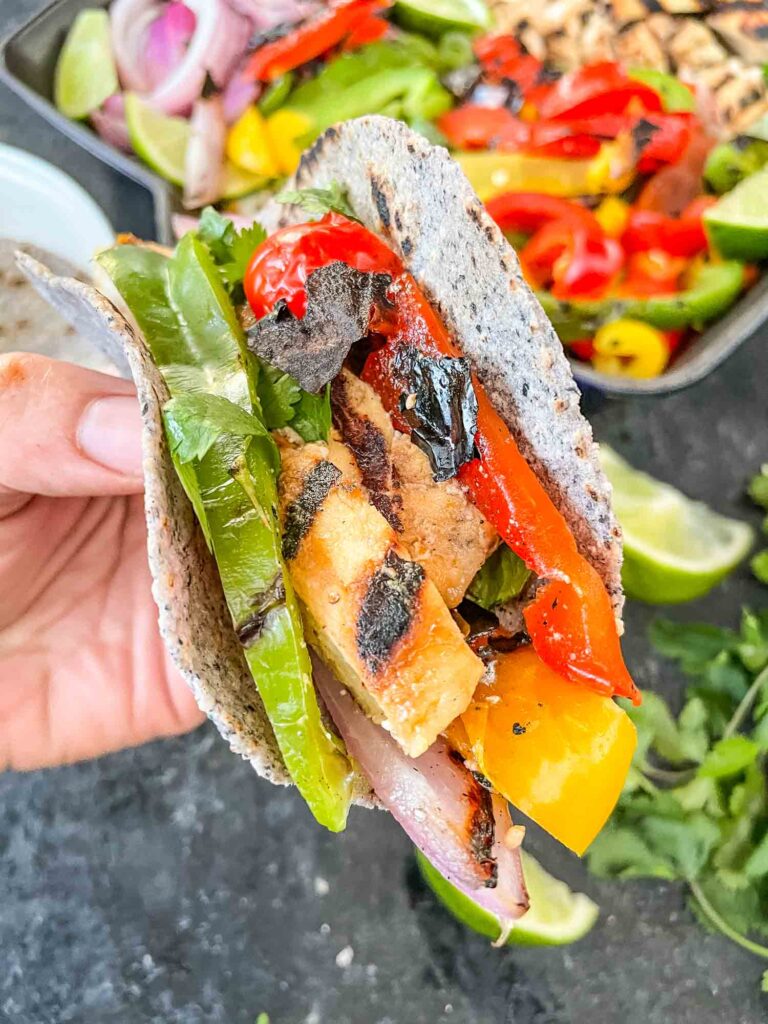 Fajita Tacos
One of my favorite things to eat in high school was fajitas. The fresh and bright flavors of peppers mixed with citrus was just perfect.
I have taken those same elements and put them into taco form!
These fajita tacos are grilled, but you could also bake them or sauté them in a pan.
I do prefer the grill because those char marks and the flavor that comes from them puts this recipe over the top!
What is a fajita taco?
A fajita taco is any grilled meat served with strips of peppers and onions in a tortilla.
What makes a fajita a fajita?
The fajita name stems from the original recipe which used skirt steak for the meat.
Today it has evolved to represent any grilled cut of meat that is cut into strips and served with peppers and onions.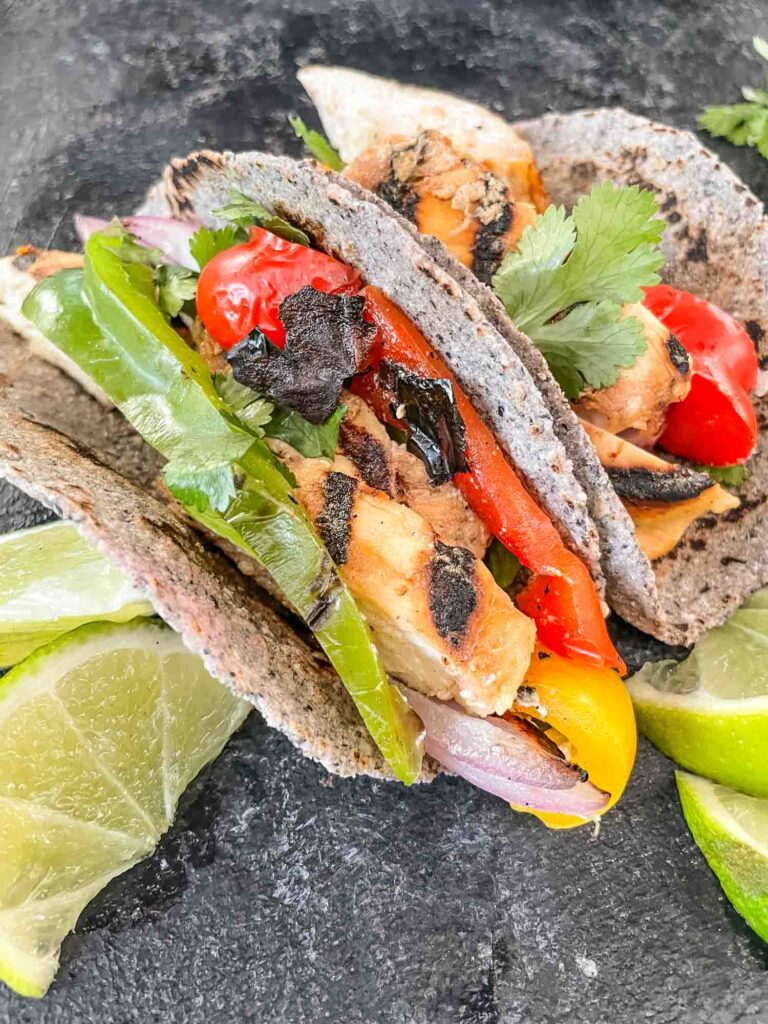 Ingredients Needed for Chicken Fajita Tacos
Here is what you need to make these grilled tacos:
Tortillas (corn or flour, taco sized)
Chicken Breasts (or thighs)
Bell Peppers
Red Onion
Jalapenos
Orange
Limes
Cumin
Garlic Powder
Salt
What Kind of Chicken Should I Use?
I like to use chicken breasts, which is a personal favorite.
Chicken thighs would also taste amazing!
What Kind of Peppers Should I Use?
A mix of different colors makes the tacos fun to look at and virant!
You can use any mix of colors that you like. Green bell peppers will be the lowest in sweetness compared to red, orange, and yellow.
If you want to add just a little heat, you could also use a poblano pepper! This has become my new favorite thing to do as it beautifully balances the sweeter peppers.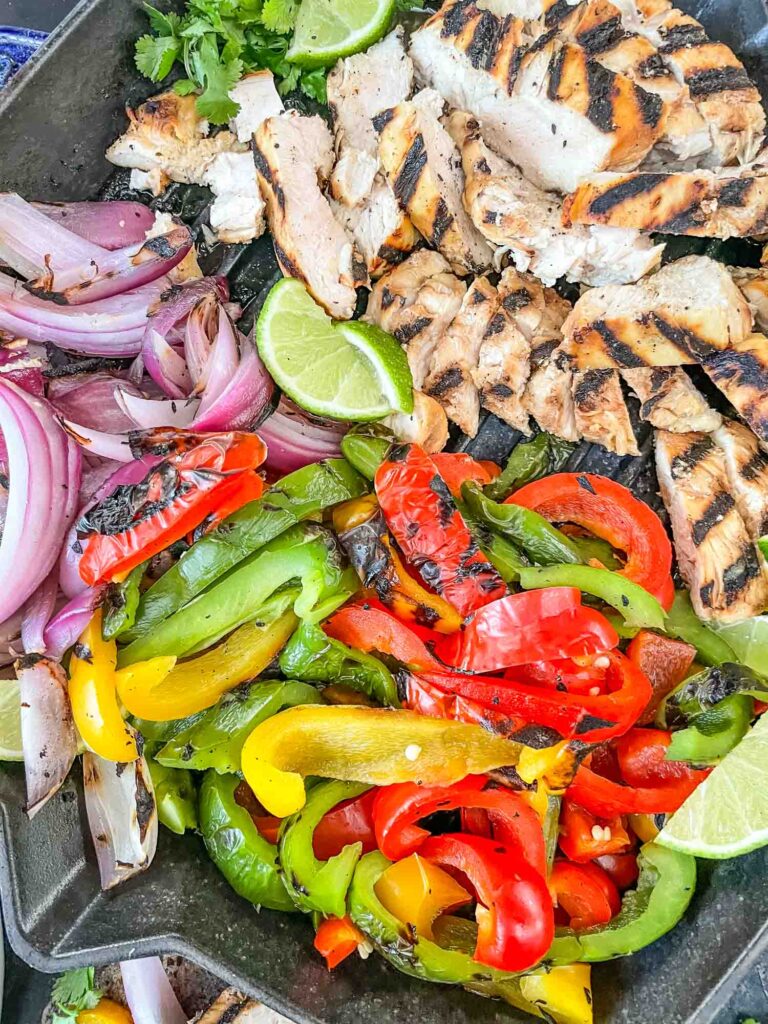 How to Make Fajita Tacos
To make these easy chicken fajita tacos, first marinate your chicken in the citrus mixture. This is where you get all the amazing flavors absorbed into the meat!
After marinating is done, get your grill heated to medium high. You want a higher heat to give you beautiful grill marks.
Peel the onion and cut into wedges. Cook the onion wedges and whole peppers for 2-3 minutes per side to give them great grill marks. Remove and set aside.
Also grill your chicken for approximately 3 minutes per side. This will vary with the exact size of your chicken and how hot your grill runs. Make sure your chicken is cooked through.
Cut up your chicken, peppers, and onions into strips.
I also like to heat up my tortillas for 10-15 seconds per side on the grill to make them warm and give them a little color. (Color equals flavor!)
Serve with your favorite toppings!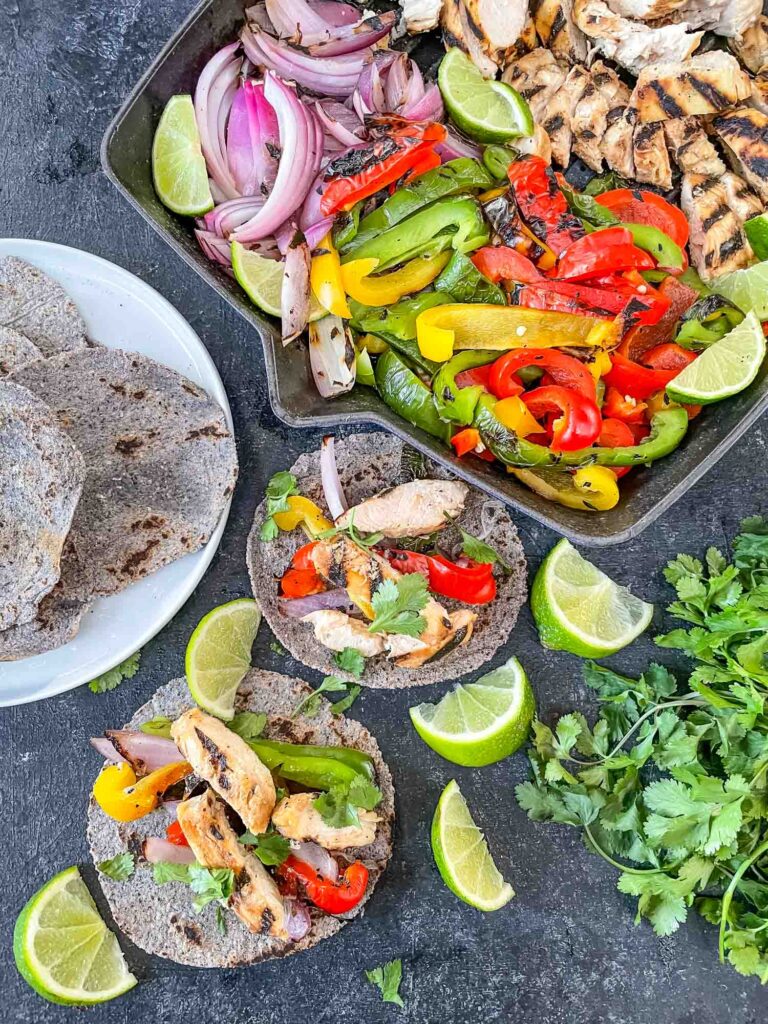 How Long Should You Marinate the Fajita Meat?
Try to let it marinate at least 30 minutes to really get great flavor into the chicken.
Anywhere in 2-4 hours is ideal for chicken.
Do not marinate for a long time, definitely not overnight. Because the marinade has a lot of citrus in it, the long marinade times would start to cook the chicken and give it a weird texture.
Serving Fajita Tacos
Then serve up the grilled fajita tacos with your favorite toppings! The possibilities are endless, and I have a lot of salsas and Mexican dips that would be great additions.
See below the full recipe card at the bottom of this post for a list of Mexican salsas and dips, plus more taco ideas!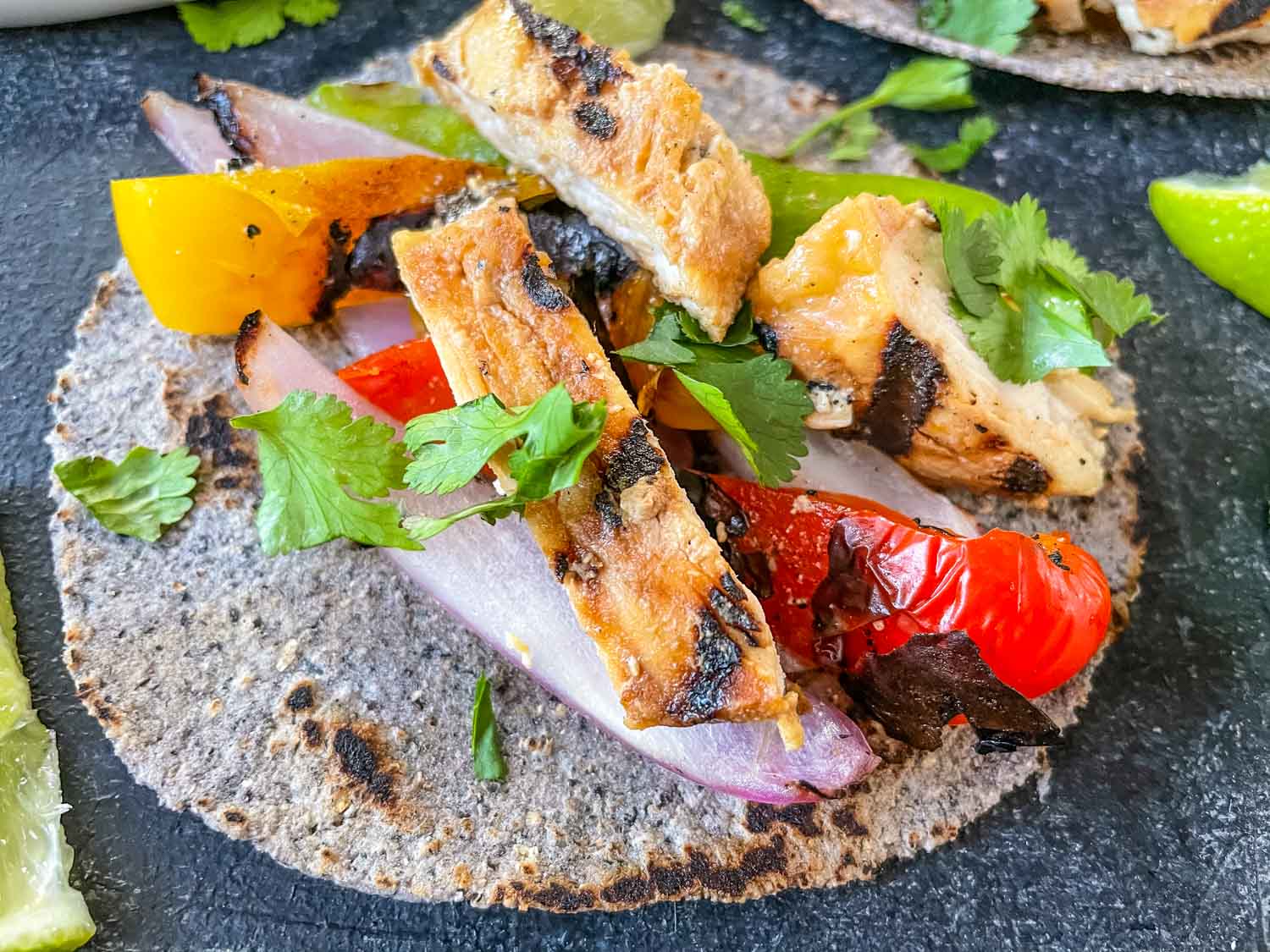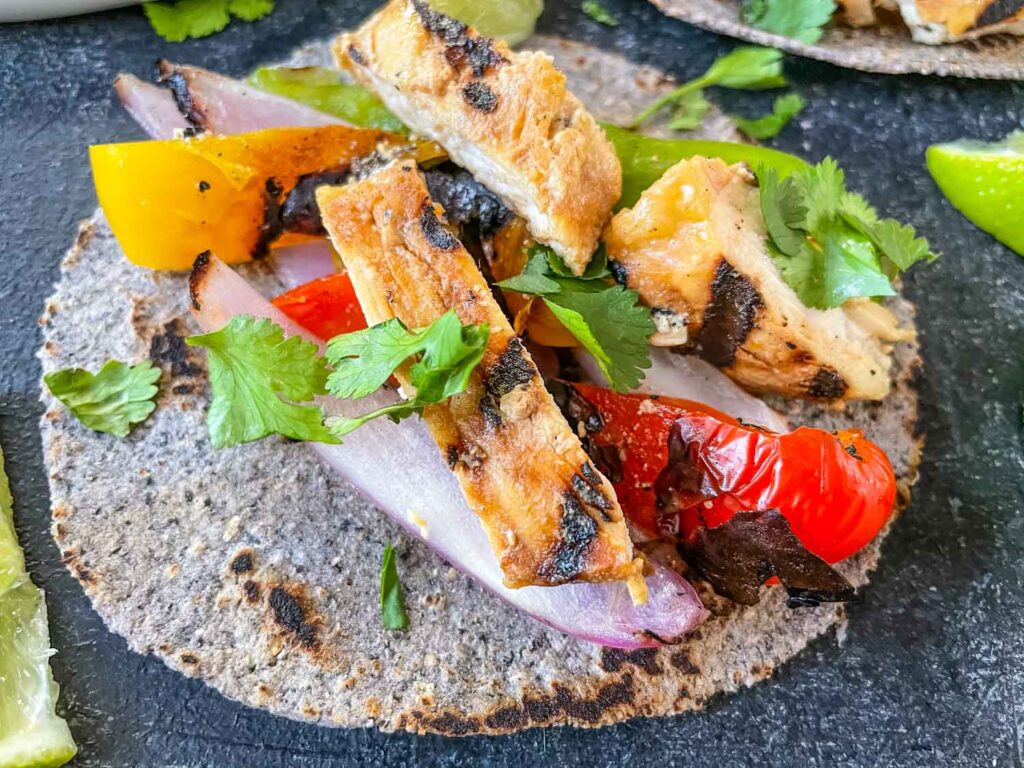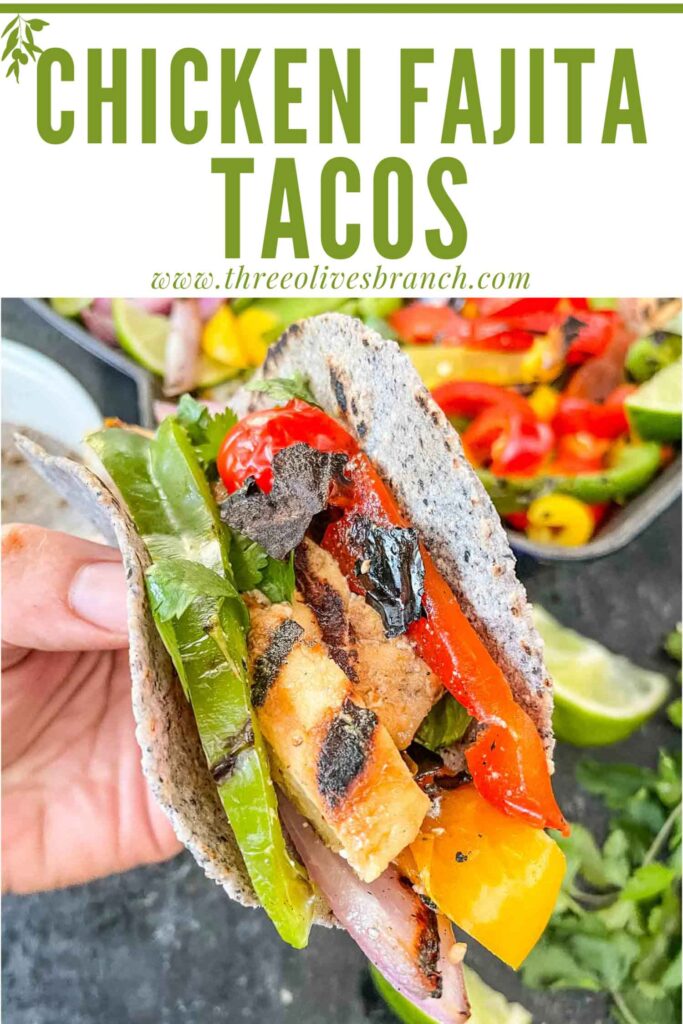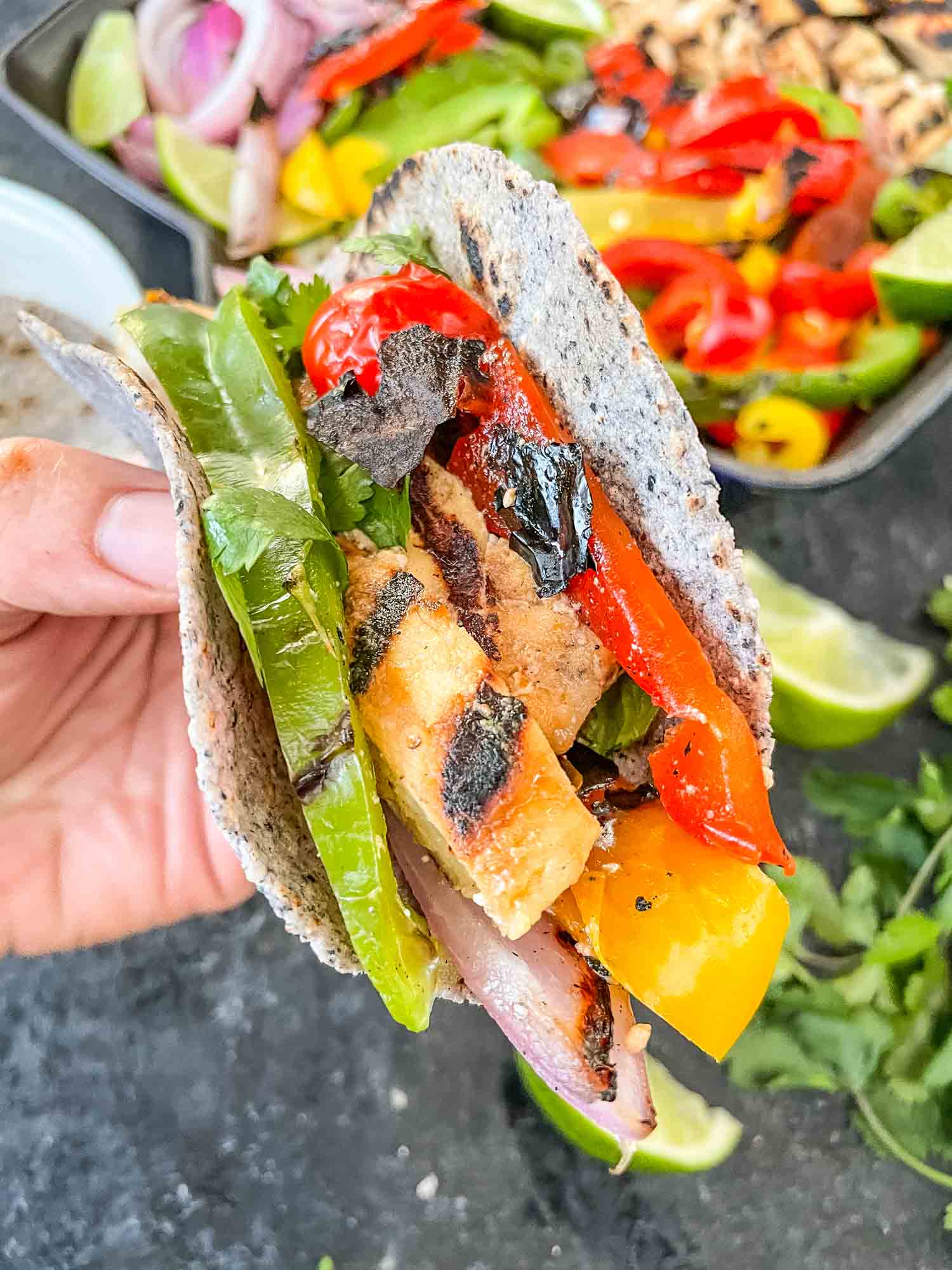 Ingredients
Fajita Peppers
3

bell peppers

(any color, can also use some Poblano for a mild heat)

1

large

red onion
Instructions
In a ziploc bag or covered dish, combine the chicken, lime juice, orange juice, jalapenos, cumin, garlic powder, and salt.

Let chicken marinate in the refrigerator for 2-4 hours. (You do not want to let it marinate overnight because the acid in the citrus will start to cook the chicken).

Preheat grill to medium high (around 400F).

Place your bell peppers, whole, on the grill. Trim the onion and cut into quarters. Place the onion on the grill.

Continue rotating the onions and peppers on each side, approximately 2-3 minutes per side.

Remove the chicken from the marinade. Grill for approximately 3 minutes.

Flip and continue grilling until cooked through, approximately 3 minutes longer. (This can be done at the same time as the peppers).

Heat your corn tortillas on the grill for about 10-15 seconds per side. They should be warm and brown up a little as desired.

Slice chicken into strips. Cut the peppers and onions into strips, removing seeds, stems, etc.

Serve with toppings, tortillas, lettuce, etc as desired.
Notes
The nutrition information does not include any toppings.
Non-grill option: Bake the chicken at 350F until cooked through, approximately 20 minutes. Cook the peppers and onions, already sliced, in a skillet over medium high heat for 6-8 minutes for crisp vegetables or 10-14 minutes for soft vegetables.
The marinade will work even if only for 30 minutes, but 2-4 hours is best.
The quantity of tacos that you get out of the recipe will vary with how much or little you stuff each one.
Nutrition
Serving:
1
taco
|
Calories:
140
kcal
|
Carbohydrates:
16
g
|
Protein:
14
g
|
Fat:
2
g
|
Saturated Fat:
1
g
|
Polyunsaturated Fat:
1
g
|
Monounsaturated Fat:
1
g
|
Trans Fat:
1
g
|
Cholesterol:
36
mg
|
Sodium:
152
mg
|
Potassium:
351
mg
|
Fiber:
3
g
|
Sugar:
3
g
|
Vitamin A:
761
IU
|
Vitamin C:
40
mg
|
Calcium:
36
mg
|
Iron:
1
mg
Taco Recipes
Whether Taco Tuesday or any day of the week, these taco recipes will bring excitement to dinner!

By