This Keto Chicken Bacon Ranch Casserole is a delicious low carb chicken casserole made with spaghetti squash and a creamy chicken mixture with cheeses. A perfect healthy family meal.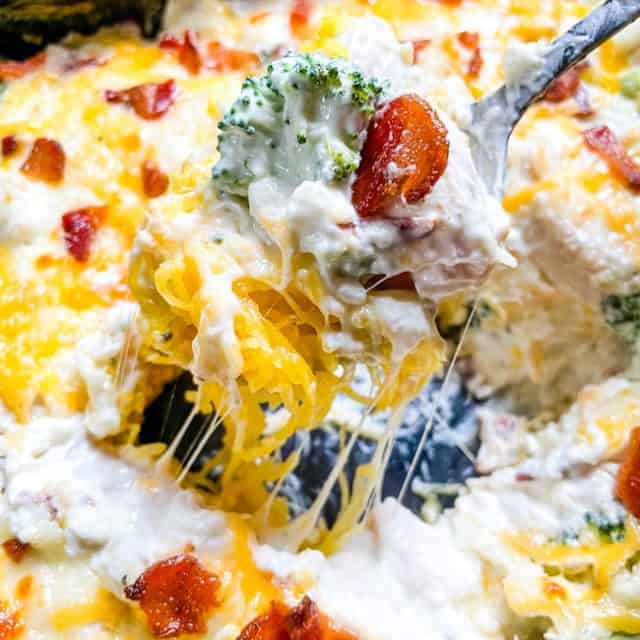 This Keto Chicken Bacon Ranch Casserole is a delicious casserole recipe for the whole family! Packed with flavors you love in a low carb meal.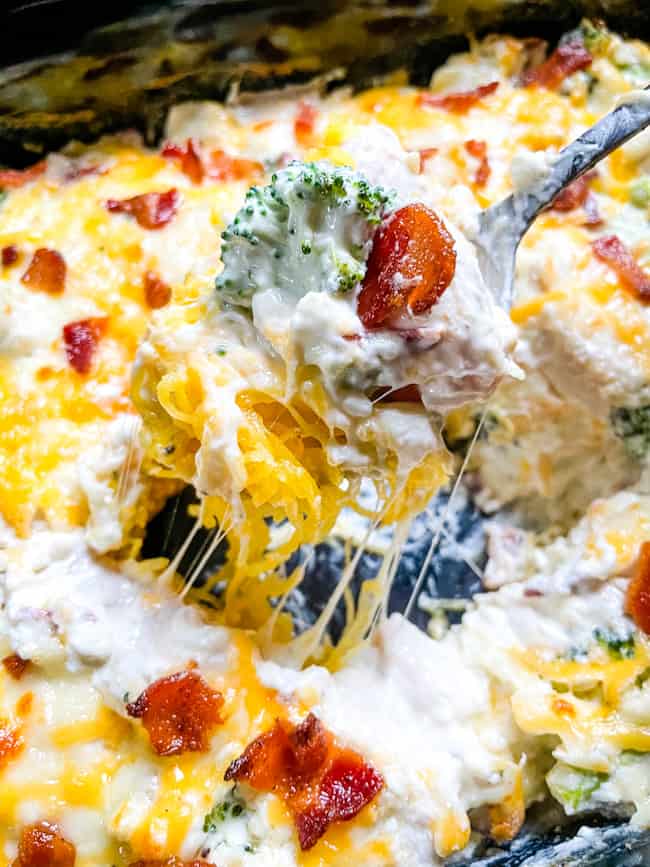 I have been working on finding some new low carb recipes, especially without red meat.
I wanted to shake things up and make a Chicken Bacon Ranch Casserole keto that the whole family would love!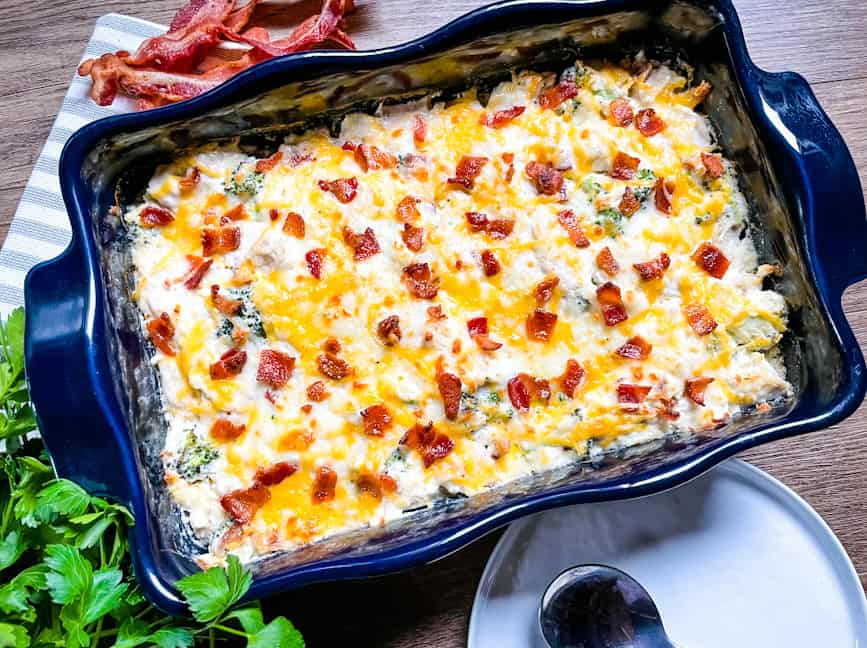 When I was working on this low carb chicken casserole, I wanted to give it some substance besides just leaving it as a creamy chicken.
But so often, casserole recipes are made with pasta or rice, which will not work for the keto low carb way of eating.
So I made this chicken bacon ranch casserole keto by using a keto favorite – spaghetti squash!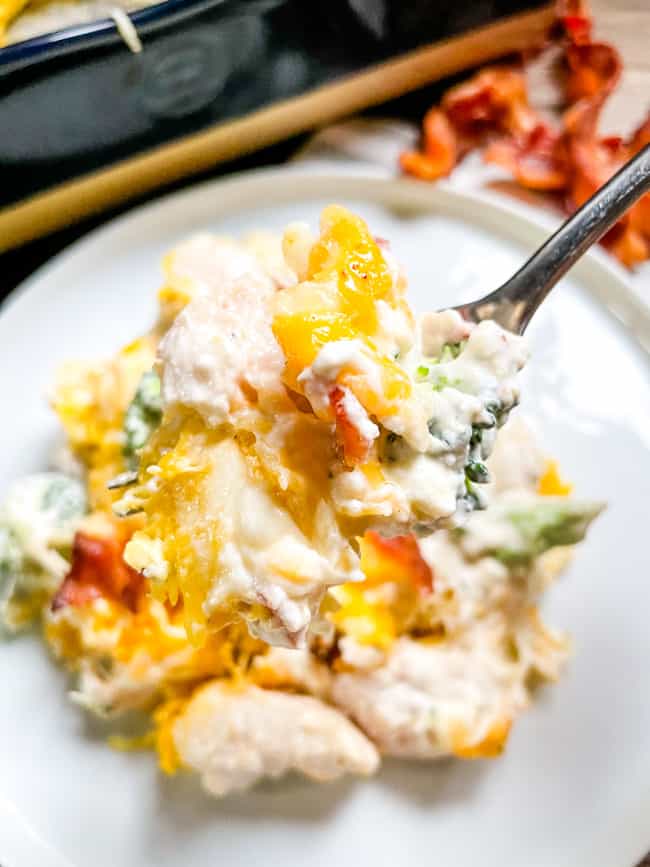 What is spaghetti squash like?
Spaghetti squash gets its name from how the squash looks once cooked.
The squash shreds into what looks like thin noodles, such as spaghetti.
I was skeptical when I first tried spaghetti squash, but it is actually very good!
It is like eating a crispy pasta noodle. There is barely any hint of squash flavor, especially depending on what you cook it with.
Now it will not give you the exact same experience and taste as pasta, but it is a wonderful substitute. I actually prefer spaghetti squash over zucchini noodles.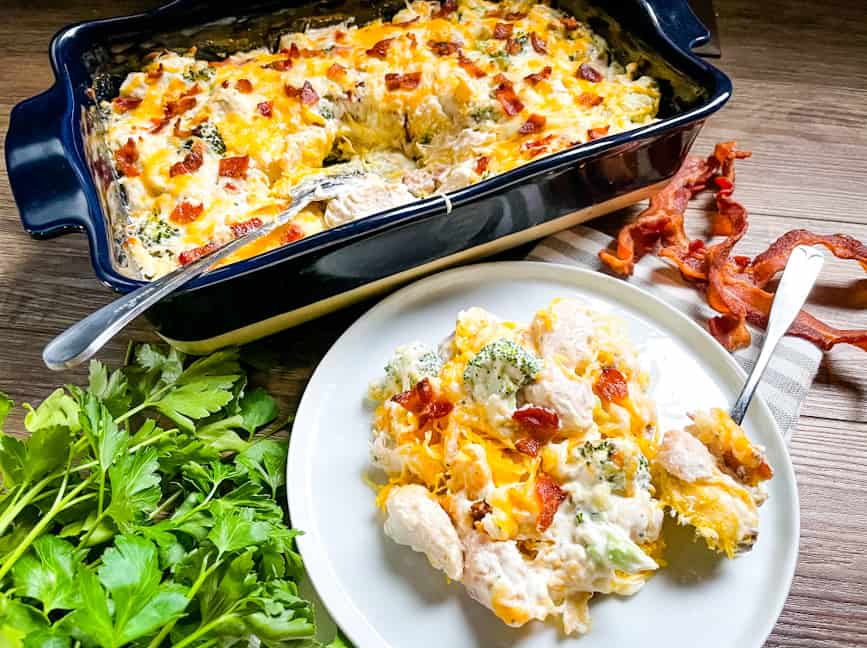 The use of spaghetti squash also makes this casserole go pretty far!
Spaghetti squash is rather filling and when combined with the rest of the chicken casserole, you can get 6 generous portions from this recipe.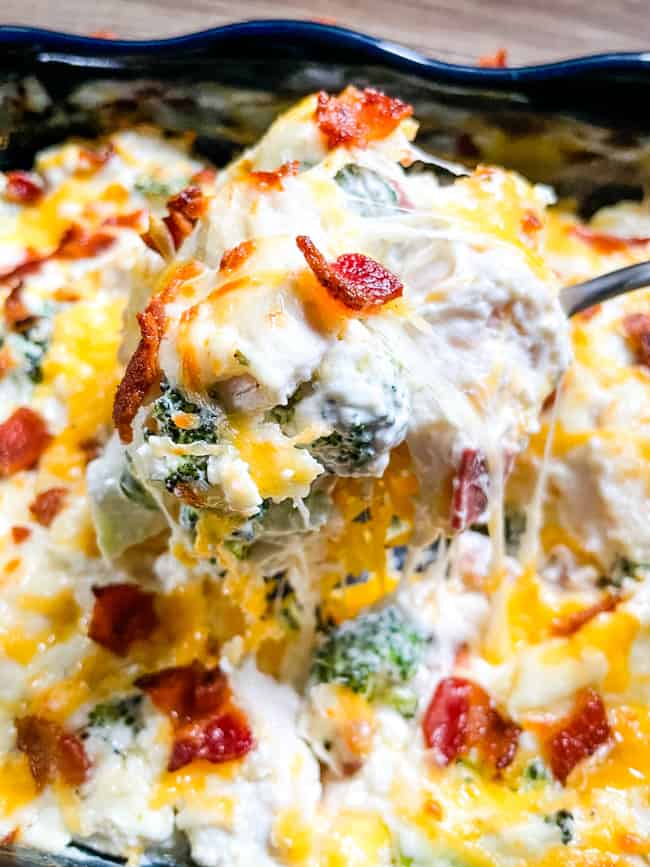 Variations
I love a recipe with variations, so here are some options!
First, if you are not looking to keep this chicken casserole as keto low carb, you can easily replace the squash with 12 ounces of cooked pasta or around 3 cups of cooked rice.
I like broccoli because it works perfectly with the flavors, plus is a great keto vegetable. But feel free to add in any vegetable you like.
Mushrooms, cauliflower, or peas would all be great choices.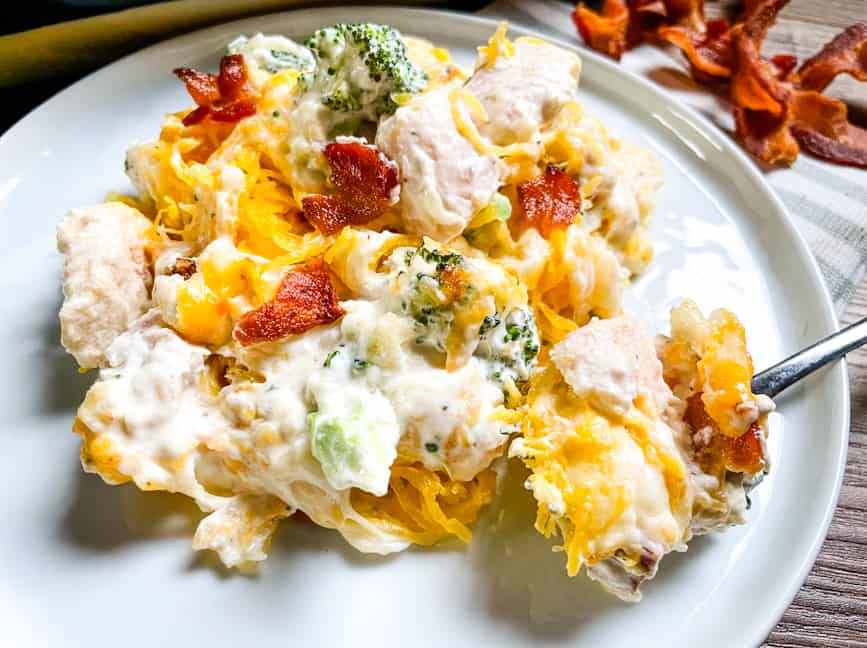 I like to use powdered ranch seasoning mix to bring a strong flavor to the casserole.
If you do not have nor want to use the ranch seasoning mix, you could use some ranch dressing in place of all or some of the sour cream. Just keep tasting to your preference to get the ranch flavor that you want.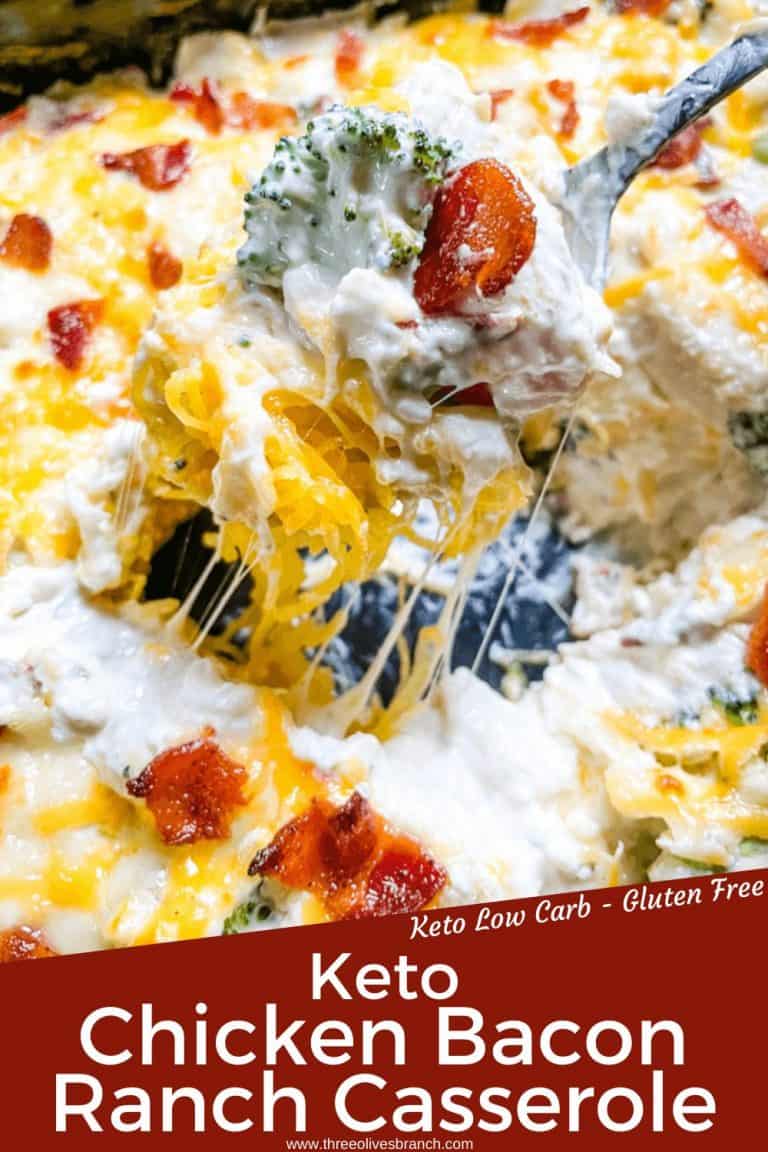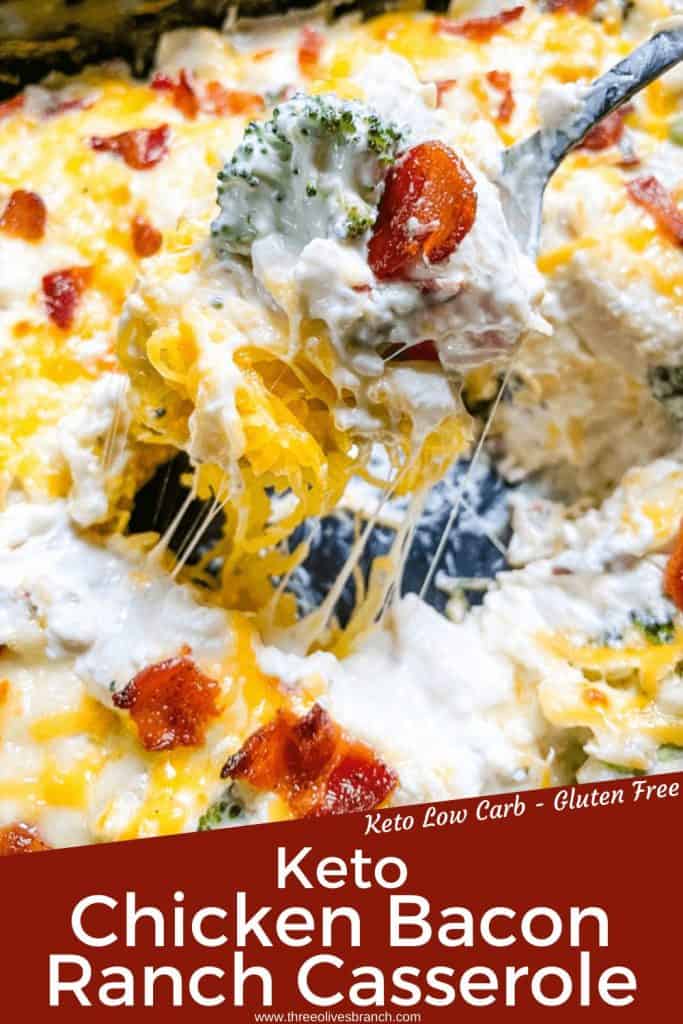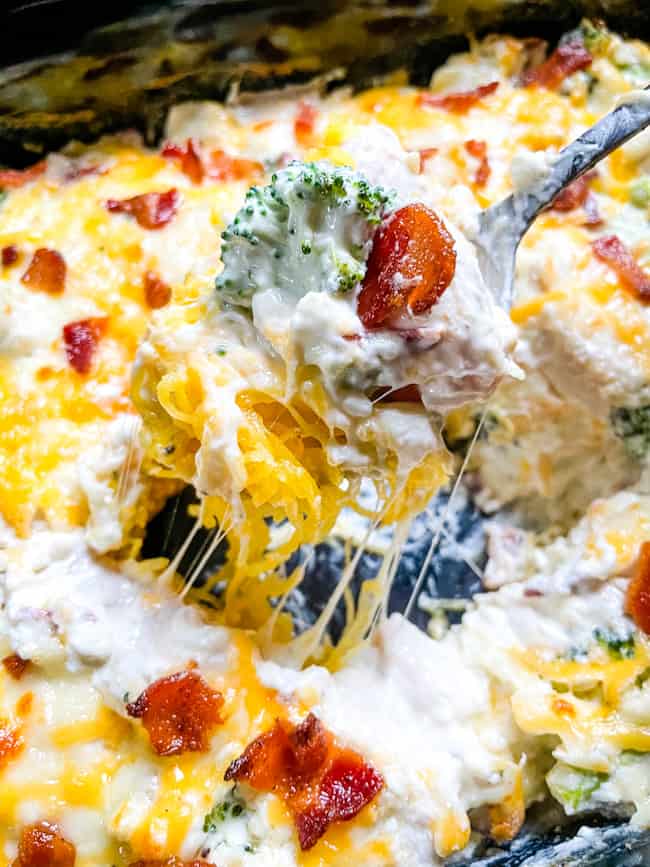 Instructions
Spaghetti Squash
Cut the spaghetti squash in half lengthwise. Be careful as it is tough to cut through. Place the squash on towels if necessary to keep it in place.

Remove the seeds by scraping the inside of each half with a spoon.

Drizzle the inside of each half with the oil and sprinkle with salt and pepper.

Place the squash cut side down on a baking sheet. Roast in the oven until tender when pierced with a knife, approximately 30 minutes. Remove from oven and let cool slightly to handle.
Casserole Preparation
While the squash is cooking, prepare the rest of the casserole.

Cook the bacon in a skillet over medium heat to your desired level of crispyness. Chop the bacon. Set aside.

In a large mixing bowl, combine the cream cheese and sour cream. (If the sour cream is not softened, microwave in the bowl in 30 second increments until it is mainly mixable).

Add the ranch seasoning, garlic powder, and salt into the cheese mixture. Mix. Season to taste as desired.

Cut the chicken into 1 to 1.5 inch pieces and add to the cream cheese bowl.

Cut the broccoli into bite sized pieces and add to the bowl with the chicken. Add approximately half of the chopped bacon.

Mix all of the ingredients in the chicken bowl together.
Assembly
Use a fork to fluff, scrape, and scoop out the squash from the squash shell. Spread the spaghetti squash along the bottom of a 9×13 casserole dish.

Sprinkle approximately half of the shredded cheddar cheese and shredded mozzarella across the squash.

Pour the chicken mixture into the dish and level out.

Top with the remaining shredded cheeses and chopped bacon.

Bake until the chicken is cooked through, approximately 25 minutes.
Nutrition
Serving:

1

serving

|

Calories:

653

kcal

|

Carbohydrates:

17

g

|

Protein:

43

g

|

Fat:

46

g

|

Saturated Fat:

23

g

|

Trans Fat:

1

g

|

Cholesterol:

188

mg

|

Sodium:

1171

mg

|

Potassium:

848

mg

|

Fiber:

3

g

|

Sugar:

7

g

|

Vitamin A:

1416

IU

|

Vitamin C:

25

mg

|

Calcium:

411

mg

|

Iron:

2

mg

By