A fresh twist on caprese salad with sliced tomatoes, fresh mozzarella, basil, and nectarine.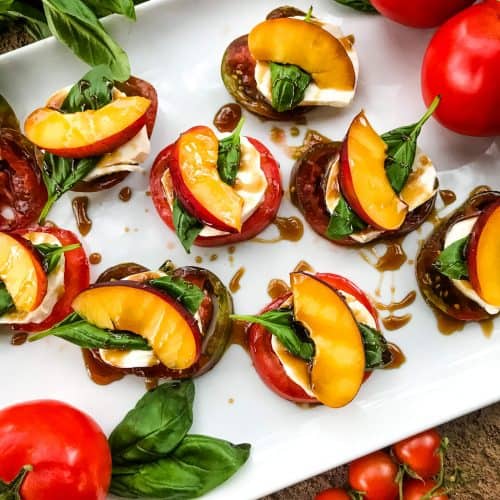 Nectarine Tomato Caprese Salad (or Peach Caprese Salad) is a twist on the classic caprese salad. Serve in stacks, a pile, or all tossed together!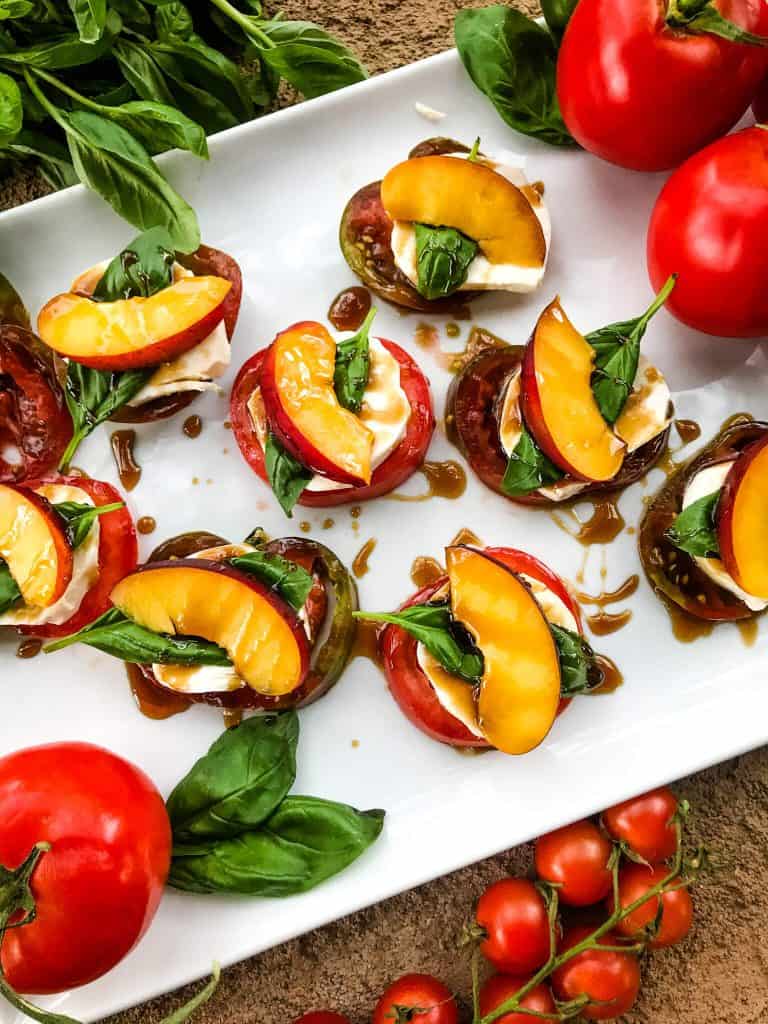 This post contains affiliate links.
I love the flavors of caprese and using them in different ways. A classic Italian caprese salad is slices of fresh tomatoes, fresh mozzarella, and fresh basil leaves. And since it is so simple, the quality of the ingredients matters more.
I love to drizzle the salad with some balsamic glaze to bring all the flavors together, but you could also use honey or any light vinaigrette. Or just leave it plain!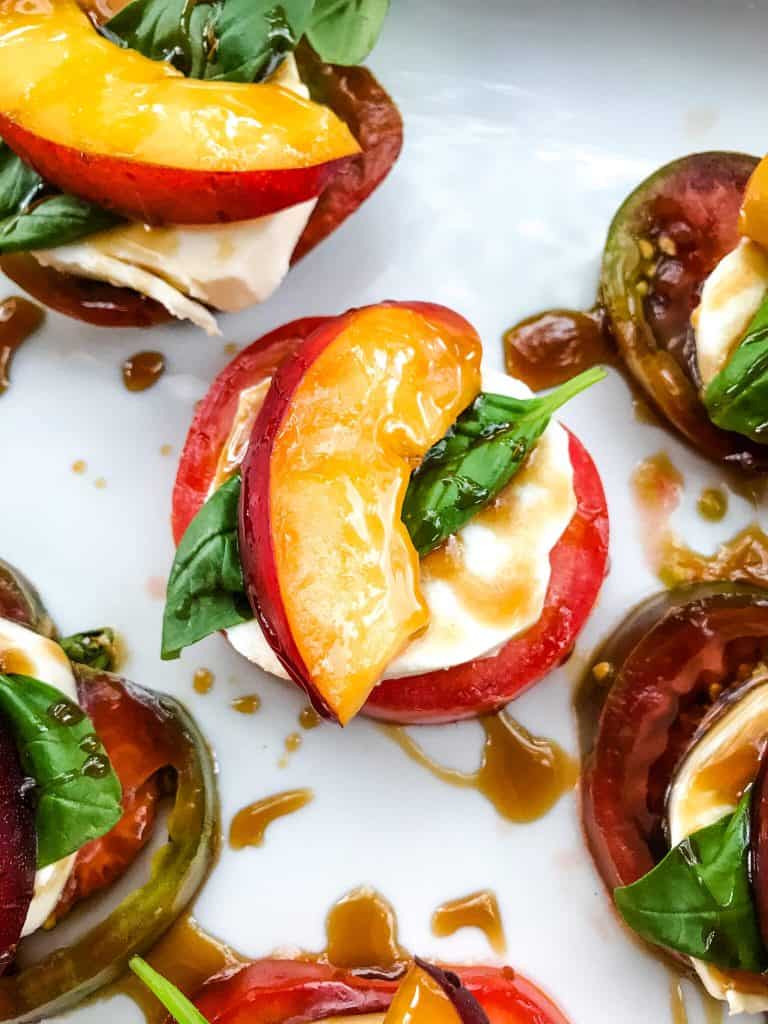 In the summer I am always craving fresh and light foods, and this Peach Caprese Salad is a perfect example of that! Not only is it fresh and light, it is also easy to make and absolutely delicious. The salad is also vegetarian, gluten free, and keto low carb which makes it perfect for different dietary restrictions at a party or BBQ.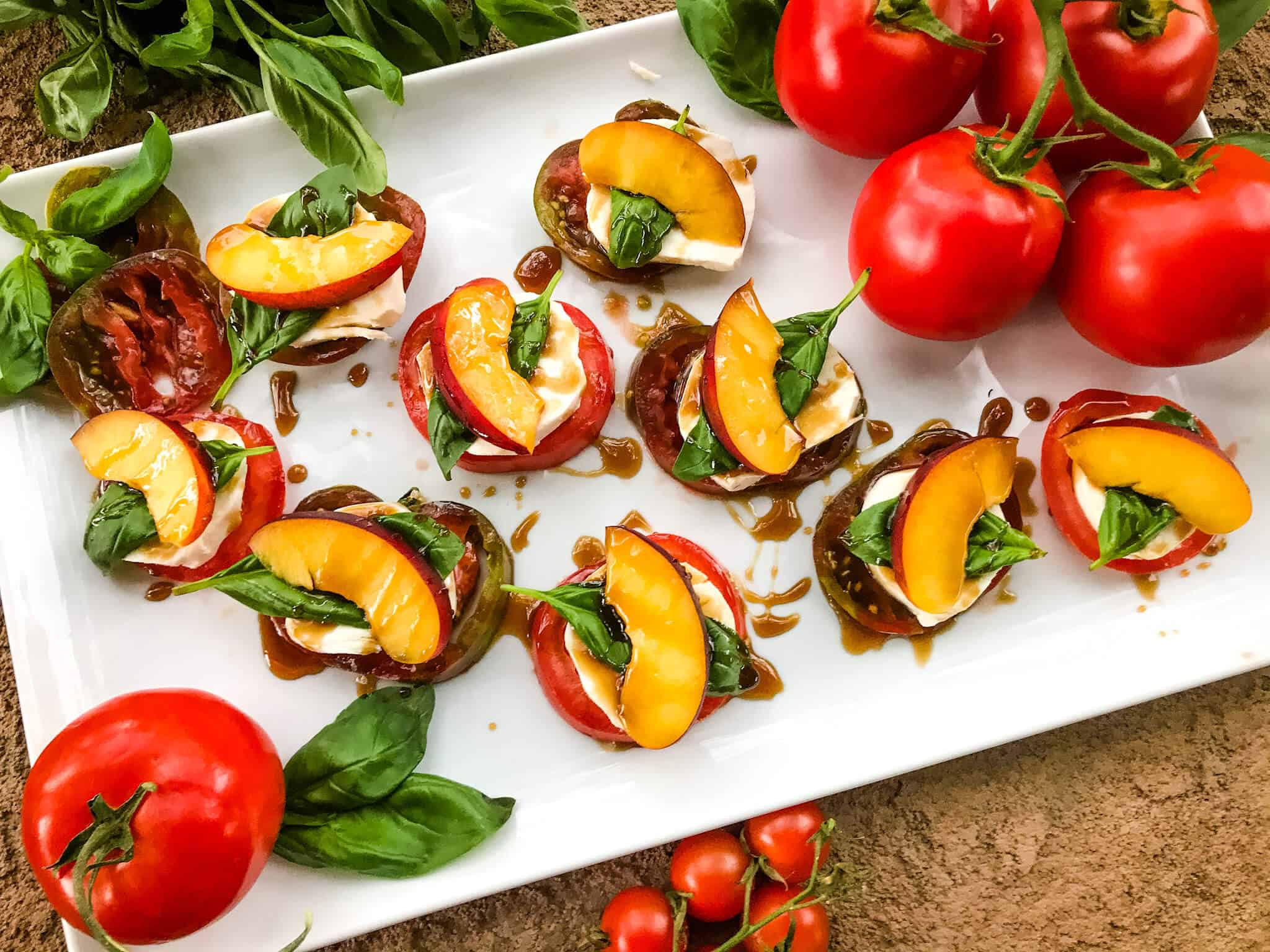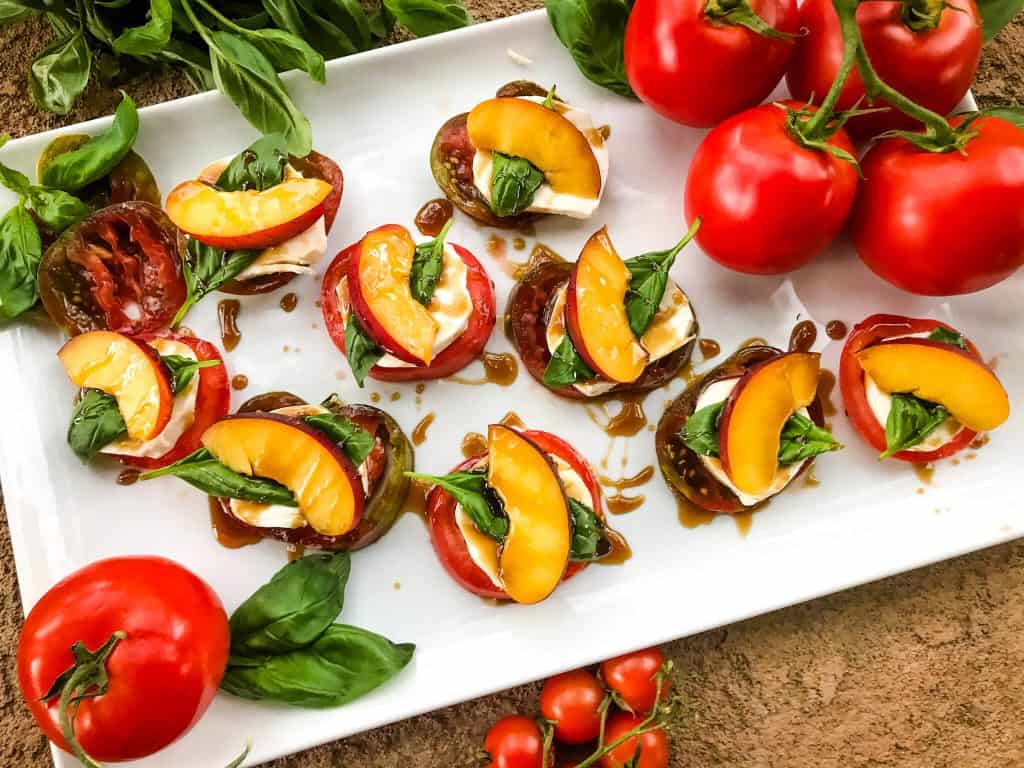 Stone fruits are in season right now and I have been experimenting with new ways to use them. Nectarines are similar to peaches, so you could make this a Peach Caprese Salad. Learn more about the difference between peaches and nectarines to determine which one you might prefer, or if you want to try both!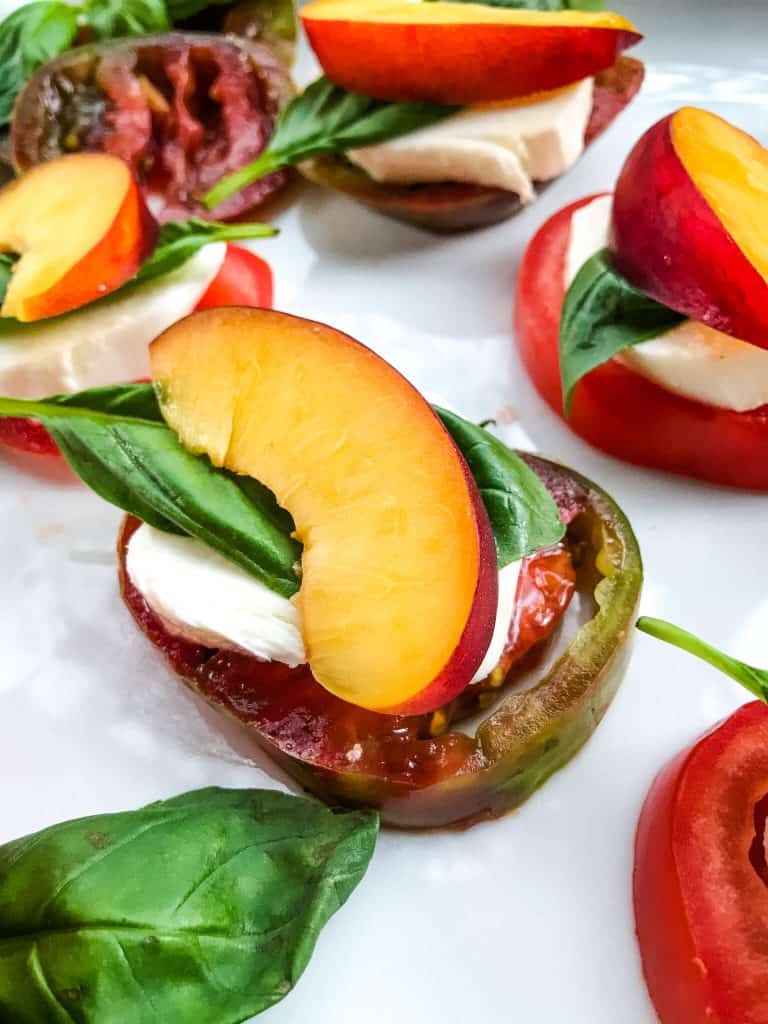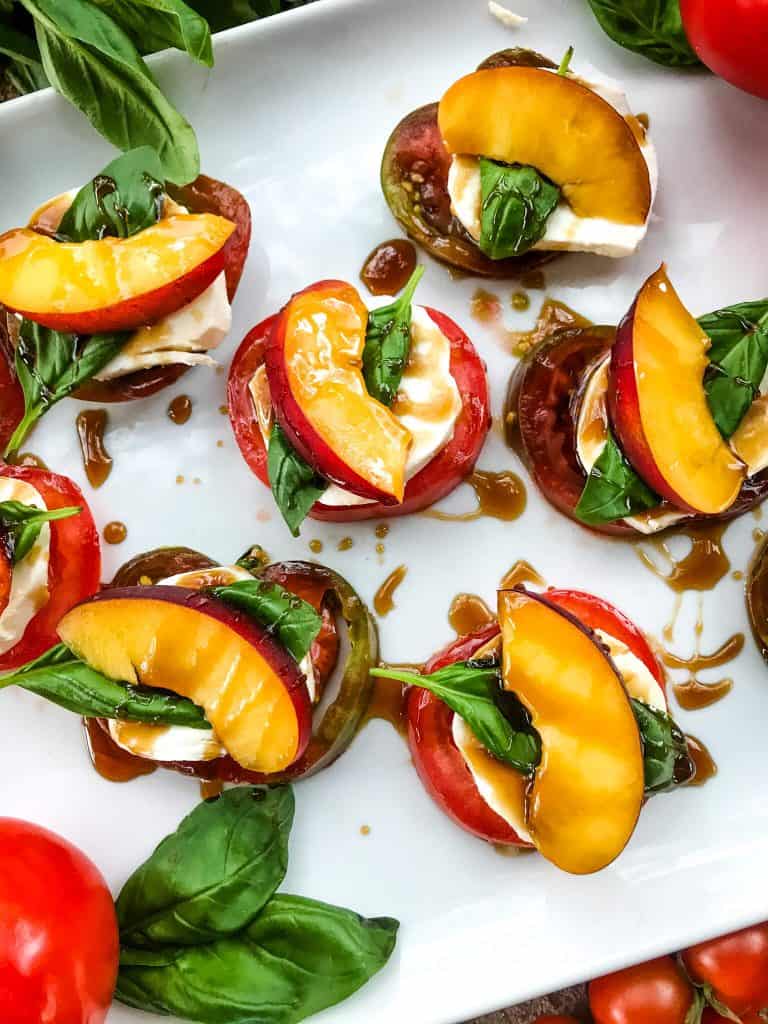 At first I was worried that this Nectarine Tomato Caprese Salad would be overly sweet and that the nectarine would take over. But all of the flavors work so well together! I love using heirloom tomatoes for this Peach Caprese Salad. The heirloom tomatoes taste amazing plus they also come in beautiful colors! The one I used in these pictures was a deep purple green which balanced a second red tomato beautifully.
Caprese Recipes
Everyone sure loves our caprese recipes! Find more ideas that use these flavors!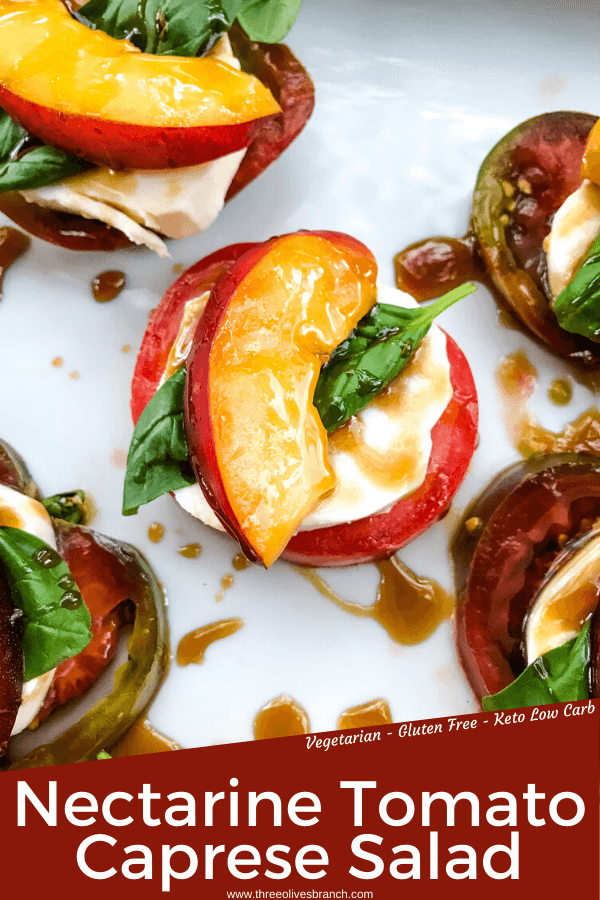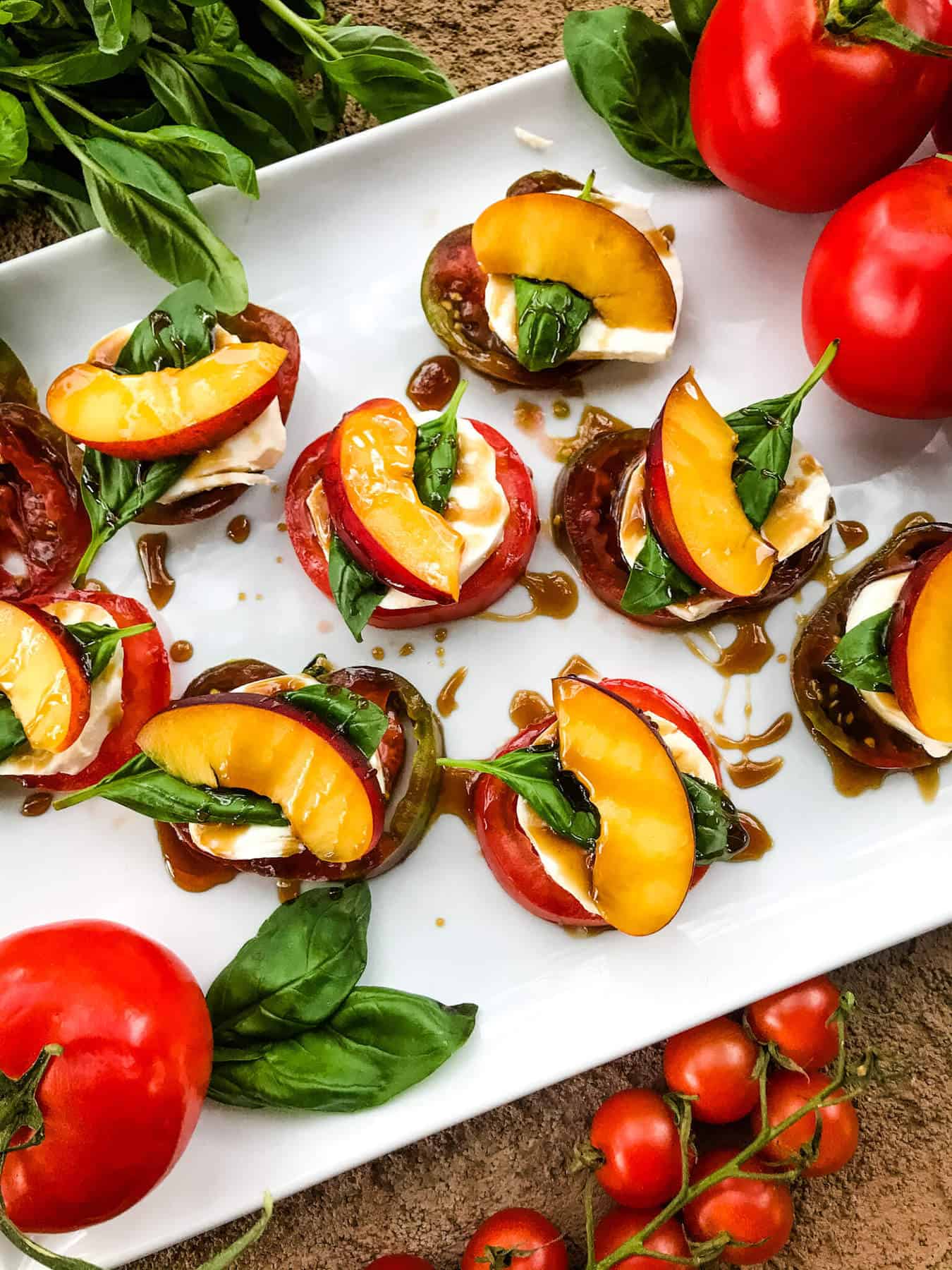 Instructions
Wash and slice the tomatoes approximately 1/4 inch thick (you will get around 6 slices per tomato). Lay the tomato slices on the serving dish.

Slice the mozzarella into as many pieces as you have tomato slices. Lay the mozzarella on top of the tomato.

Place a large basil leaf on each stack on top of the mozzarella.

Cut the nectarine into wedges, with at least as many pieces as you have stacks. Place one wedge of nectarine on each stack.

Sprinkle the salad stacks with a little salt and balsamic vinegar, if using. Serve immediately or chill until ready to serve (if making in advance, wait to salt and glaze the salad until serving).
Notes
Because this recipe is so simple, the higher quality of tomato you can get, the better. Try to use tomatoes in season and look for heirloom or farm fresh tomatoes.
Peach can be used in place of nectarines as they are from the same trees and very similar.
Nutrition
Calories:

206

kcal

|

Carbohydrates:

9

g

|

Protein:

14

g

|

Fat:

13

g

|

Saturated Fat:

7

g

|

Cholesterol:

45

mg

|

Sodium:

360

mg

|

Potassium:

365

mg

|

Fiber:

2

g

|

Sugar:

6

g

|

Vitamin A:

1969

IU

|

Vitamin C:

16

mg

|

Calcium:

320

mg

|

Iron:

1

mg

By