No Bake Lump of Coal Cookies are a fun Christmas cookie recipe! Inspired by haystacks and gluten free cookies made with cereal and chocolate. A great easy cookie recipe for your Christmas cookie plate or holiday party.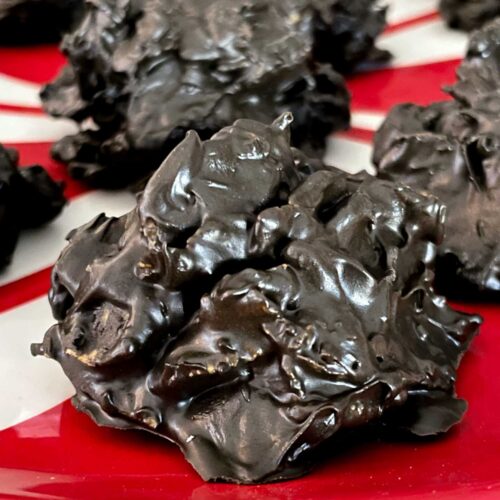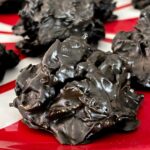 Whether naughty or nice this year, these No Bake Lump of Coal Cookies are a fun addition to your holiday baking! Gluten free cookies inspired by haystacks are the perfect addition to your holiday cookie plate.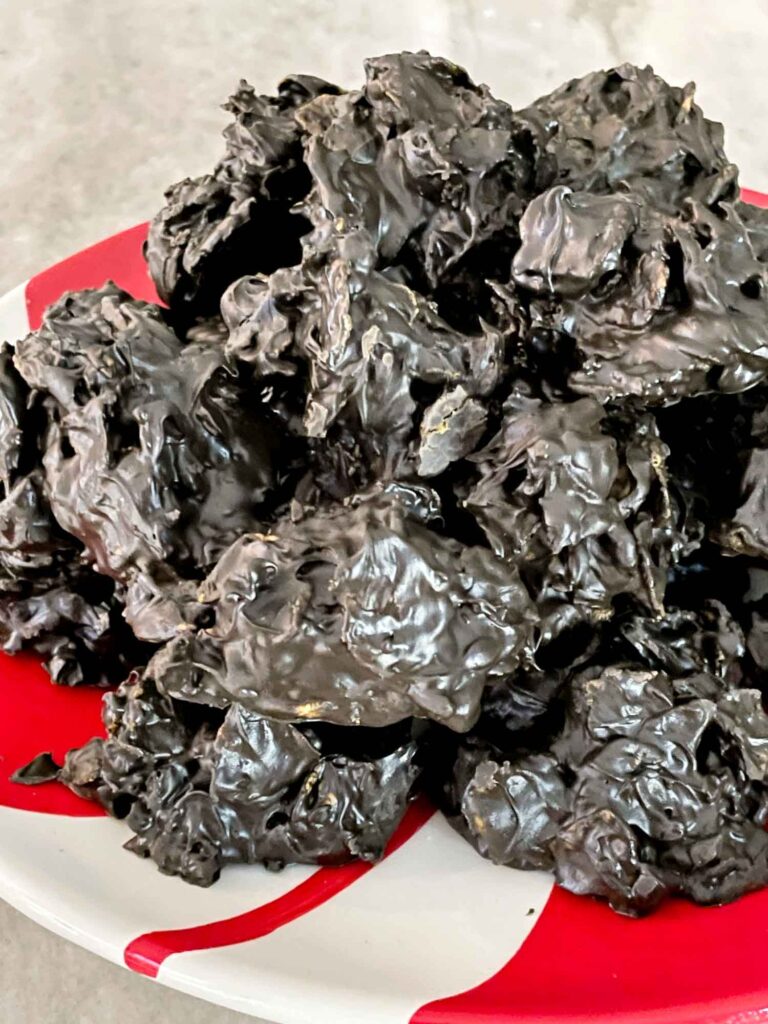 Why You Will Love This Recipe
I always love making fun and festive cookies for Christmas, such as my Poinsettia Cookies or German Cinnamon Stars.
These coal cookies are inspired by the concept of gifts that Santa will leave behind for those that are naughty this year – but I bet his do not taste as good!
The cookies are fast and easy to make, being no-bake and using just a few ingredients. And they are sure to catch the eye of your cookie exchange recipients and family!
Ingredients
Cornflake Cereal
Chocolate Chips
Butterscotch Chips
Black Food Gel
Black Candy Melts
Vegetable Oil
You can use any combination of black food gel, black candy melts, and black food coloring for this recipe.
Gel is better than food coloring because you get a deeper color with less moisture.
The black candy melts are easy to melt and get color, but are also very sweet.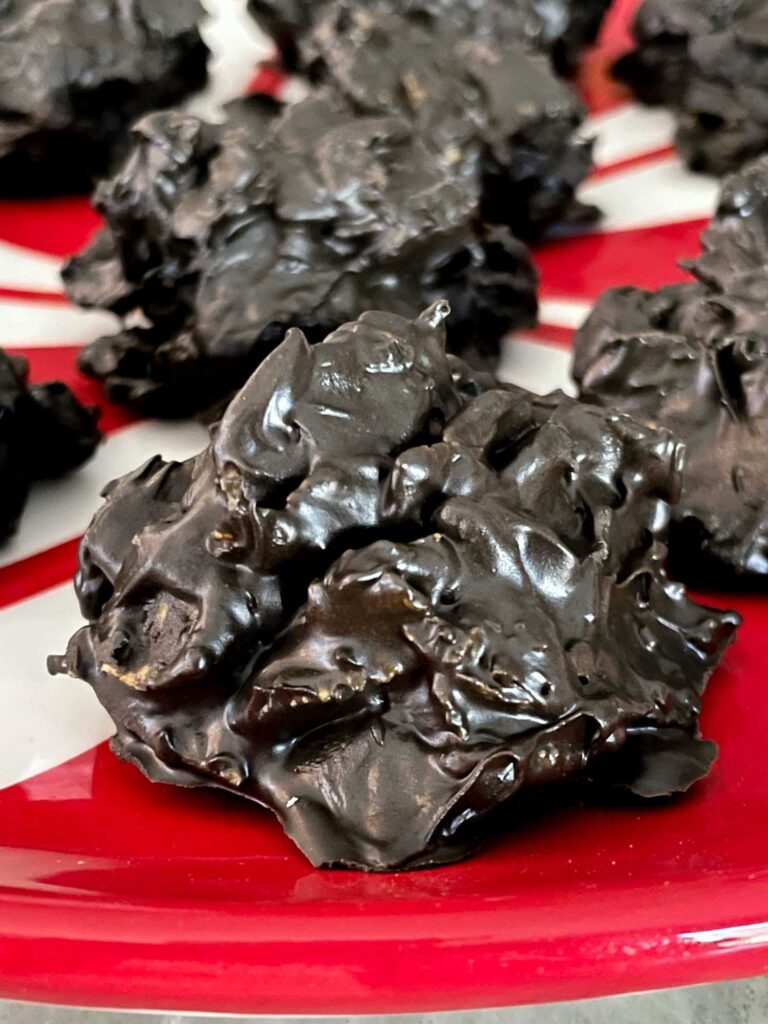 Equipment
Medium Pot
Metal Bowl
Spatula
Parchment Paper
The metal bowl should be able to sit on top of the pot with space between where the water will boil and the bottom of the bowl.
Instruction Overview
Set up your double boiler on the stove with the simmering hot water in the pot and the metal bowl on top.
Add your chocolate and butterscotch and stir until melted.
Add in your black coloring agents, whether food gel, coloring, or candy melts.
Add black until it is a dark brown color (it will get more black-like when it cools).
Stir in your cereal and scoop into mounds on parchment paper.
Let sit until hardened.
Store in an air tight container.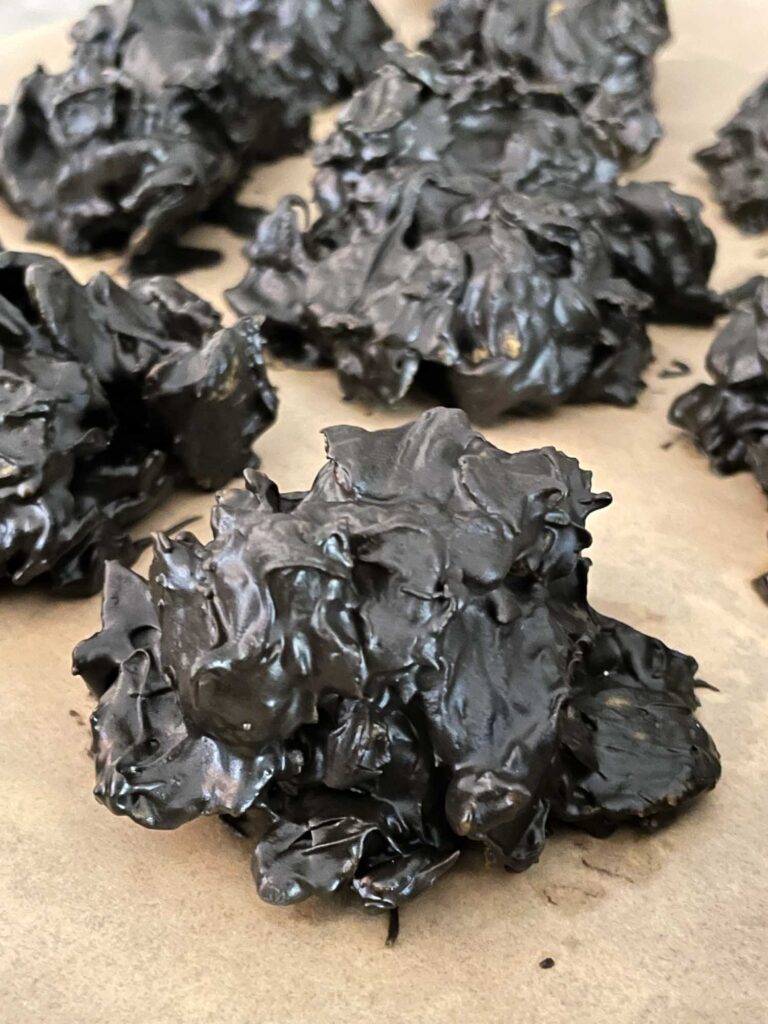 Modifications and Substitutions
Other cereals can work, but try not to use cereal too small as you will lose the lump-like texture.
All chocolate in place of butterscotch will work well.
Do NOT use olive oil to thin the chocolate as it will have flavor to it. Use neutral oils like canola, grapeseed, and vegetable oil. Coconut oil is also perfect!
Kim's Tips
Adding moisture from the food gel or coloring will cause the chocolate to seize up and get stiff. Loosen it up by adding a little more oil as needed! It is a weird trick but it works!
Cornflake cereal is important in giving you the lump-like texture compared to other shapes.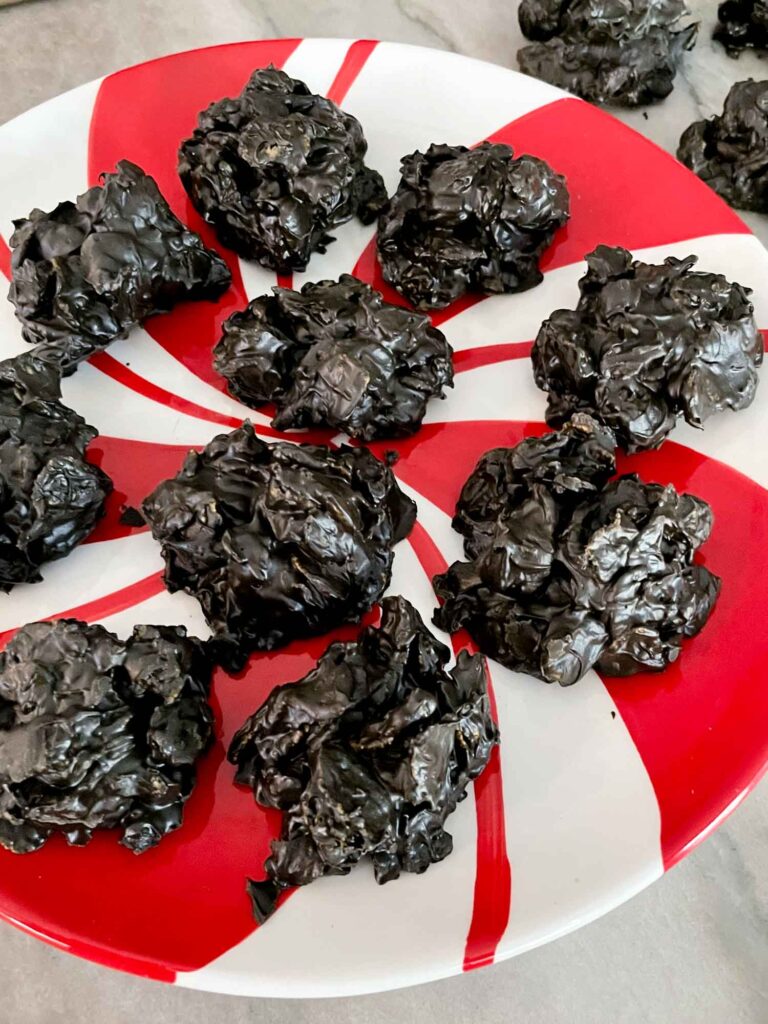 FAQs
How long to cool cookies before packaging?
Before storing, the cookies should be completely cool. Any residual warmth can turn into steam and cause the cookies to almost melt.
How do I make cookies black?
You can use any of the following to make these coal cookies black: black food gel, black food coloring, and black candy melts.
Food gel is great because you get a more concentrated color with less moisture. I used a mix of gel and candy melts.
My chocolate seized! How do I loosen up chocolate?
When you add moisture to the chocolate in the form of the gel or food coloring, the melted chocolate will likely seize and start to get really stiff.
This is what the oil is for! It sounds weird, but it works! Simply add a teaspoon or so of a neutral oil at a time to loosen it back up.
How long do cookies last?
These cookies can be kept at room temperature for up to a week.
Can I freeze no bake cookies?
These cookies can be frozen for up to 6 months!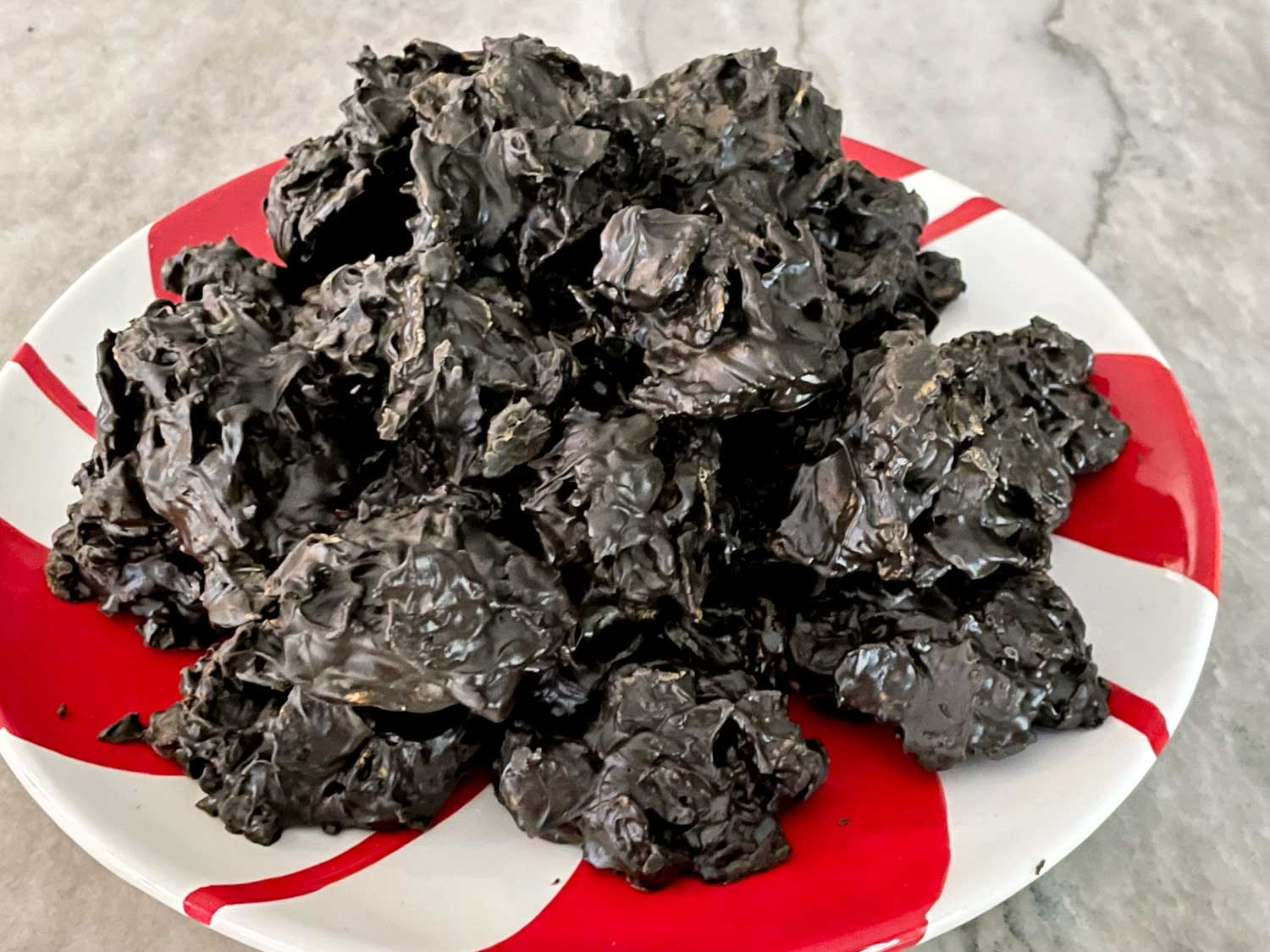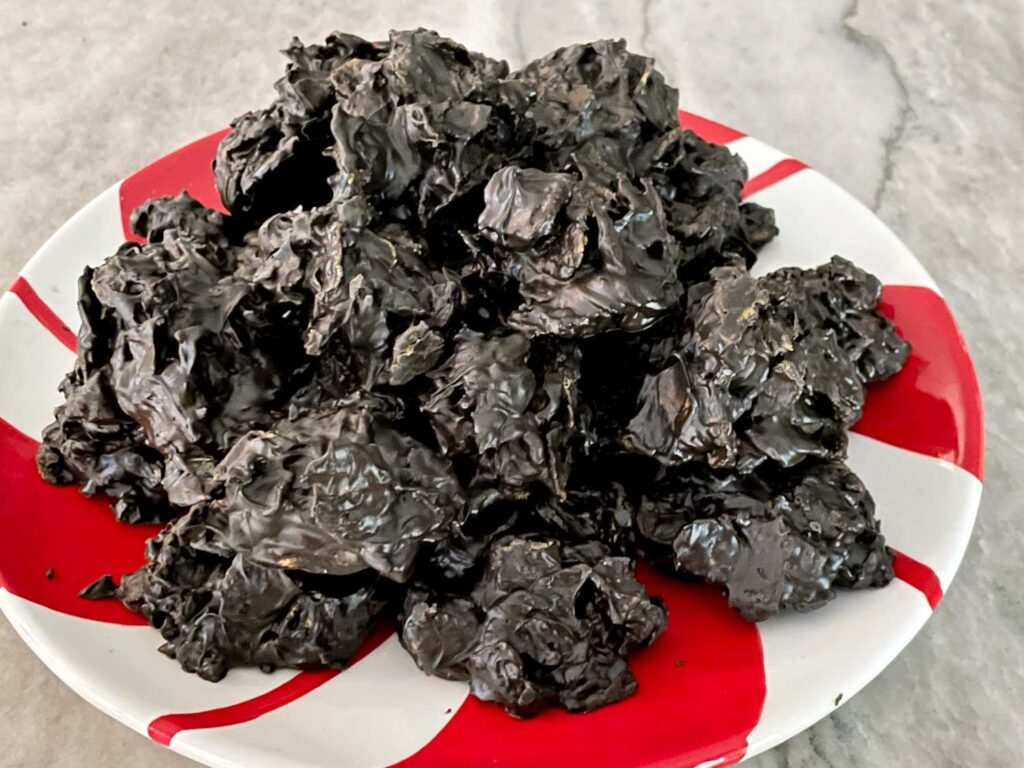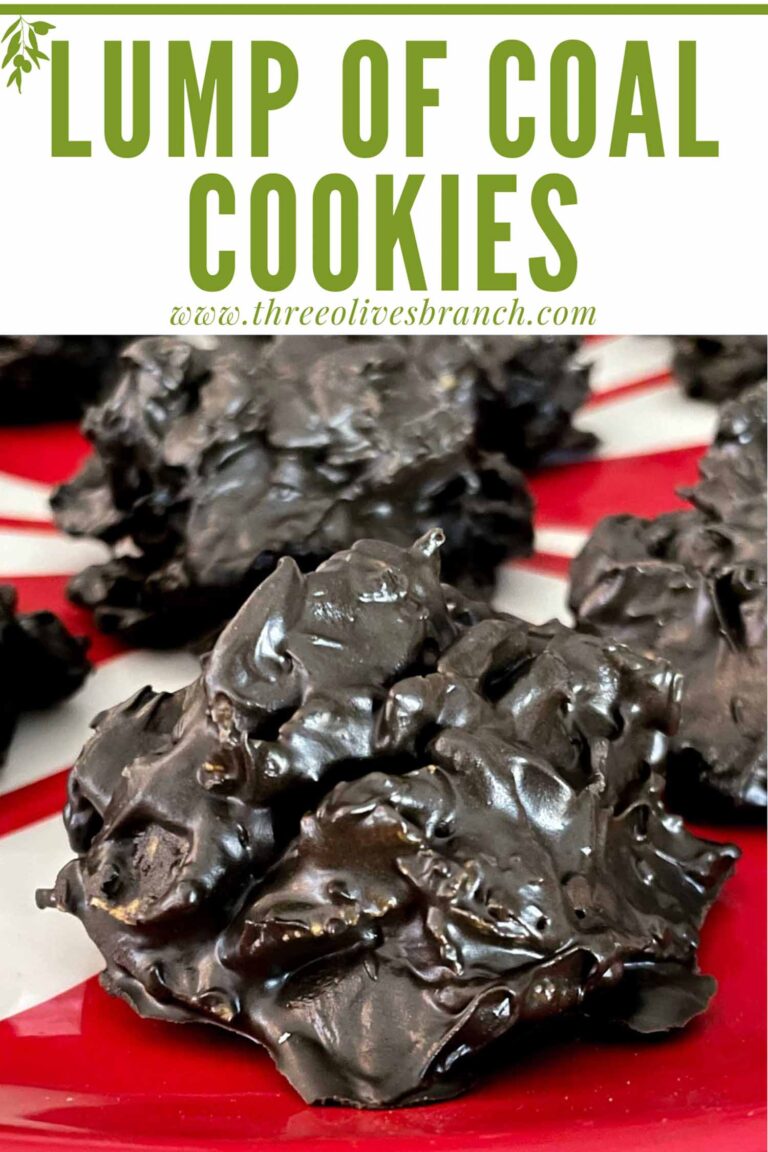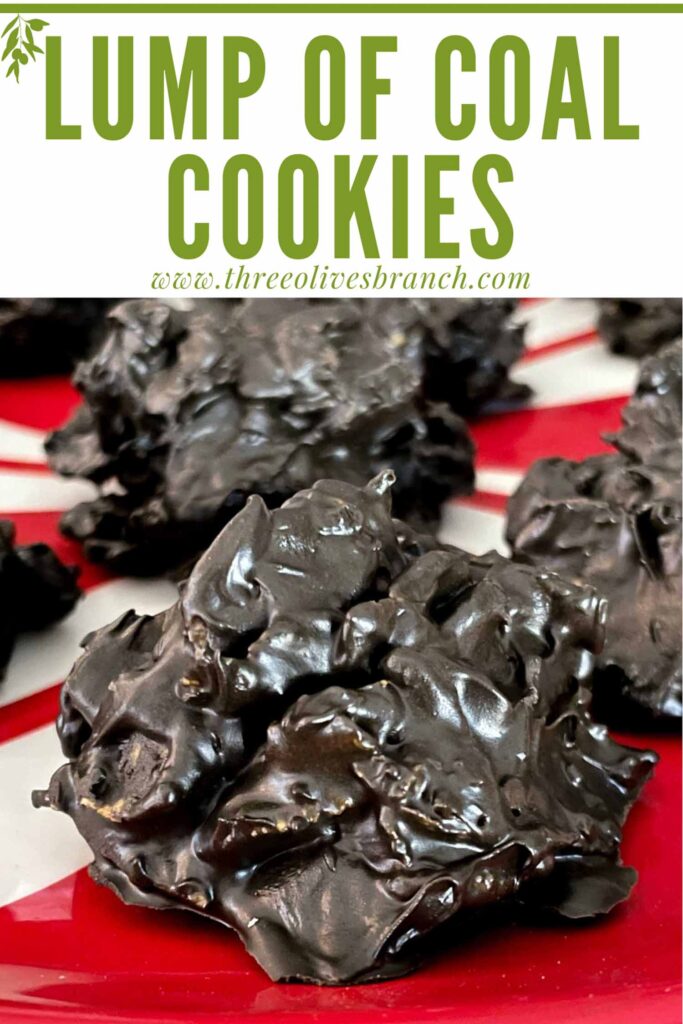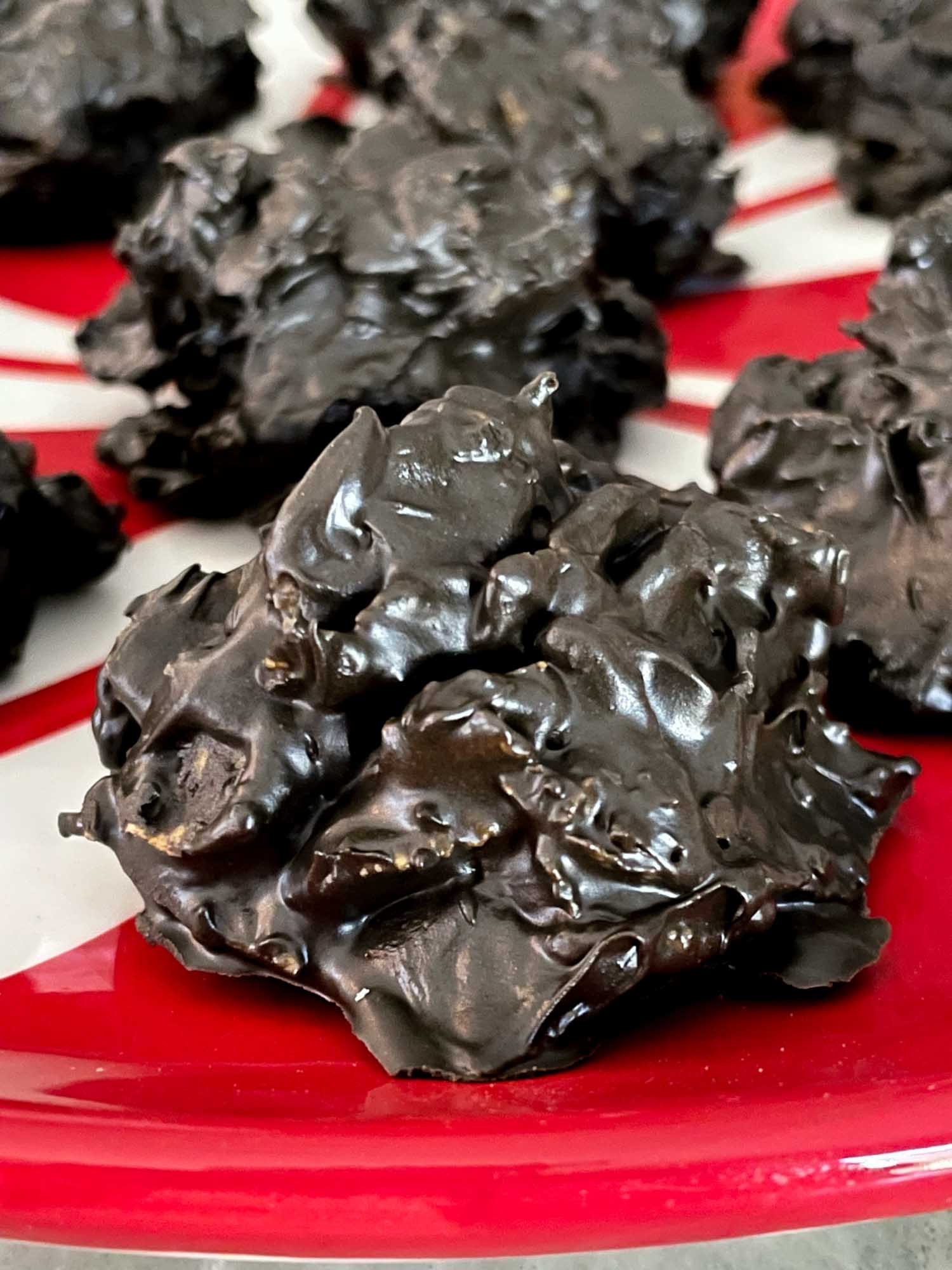 Instructions
Heat a pot with water over medium heat on the stove and bring to a simmer.

Place the metal bowl on top of the pot. It should sit on top, not touching the water.

Put the chocolate chips and butterscotch chips in the bowl.

12 ounces chocolate chips,

12 ounces butterscotch chips

Let the bowl continue to heat to slowly melt the chips.

As they melt, add black food gel (or coloring, or candy melts). Add more as needed until the mixture is a very dark brown.

If the chocolate seizes up and gets stiff because of the added liquid, add a little vegetable oil to loosen it back up.

black food gel,

vegetable oil

When melted and at a very dark brown, add the cornflake cereal. Stir gently to coat as much as possible. Add more cereal if needed or desired.

Scoop the mixture into 1/4 up sized portions and place on the parchment paper in mounded coal shapes.

Let cool and set completely at room temperature. Store in an air tight container for up to 1 week.
Nutrition
Serving:
1
cookie
|
Calories:
143
kcal
|
Carbohydrates:
26
g
|
Protein:
1
g
|
Fat:
4
g
|
Saturated Fat:
2
g
|
Polyunsaturated Fat:
0.03
g
|
Monounsaturated Fat:
0.1
g
|
Trans Fat:
0.03
g
|
Cholesterol:
3
mg
|
Sodium:
99
mg
|
Potassium:
8
mg
|
Fiber:
1
g
|
Sugar:
21
g
|
Vitamin A:
129
IU
|
Vitamin C:
1
mg
|
Calcium:
17
mg
|
Iron:
2
mg
More Christmas Cookies
By