Panettone Bread Pudding is a delicious dessert recipe made with the popular Italian fruit cake bread. A great dessert for Christmas and winter with a creamy custard.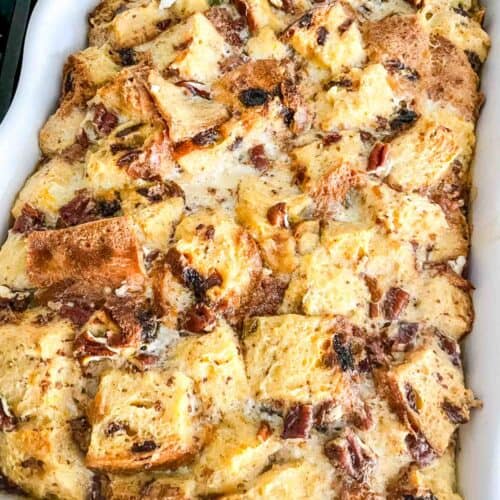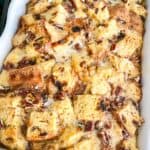 This Panettone Bread Pudding is an amazing dessert recipe using the popular Italian fruitcake brioche in a custard sauce. A great recipe idea for Christmas and winter!
Why You Will Love This Recipe
This amazing dessert recipe is inspired by the popular Italian Panettone.
Using panettone brings wonderful buttery characteristics with the chewy, candied fruit pieces.
A delicious way to enjoy a popular Southern dessert recipe with an Italian twist. Perfect for the holidays and entertaining a party!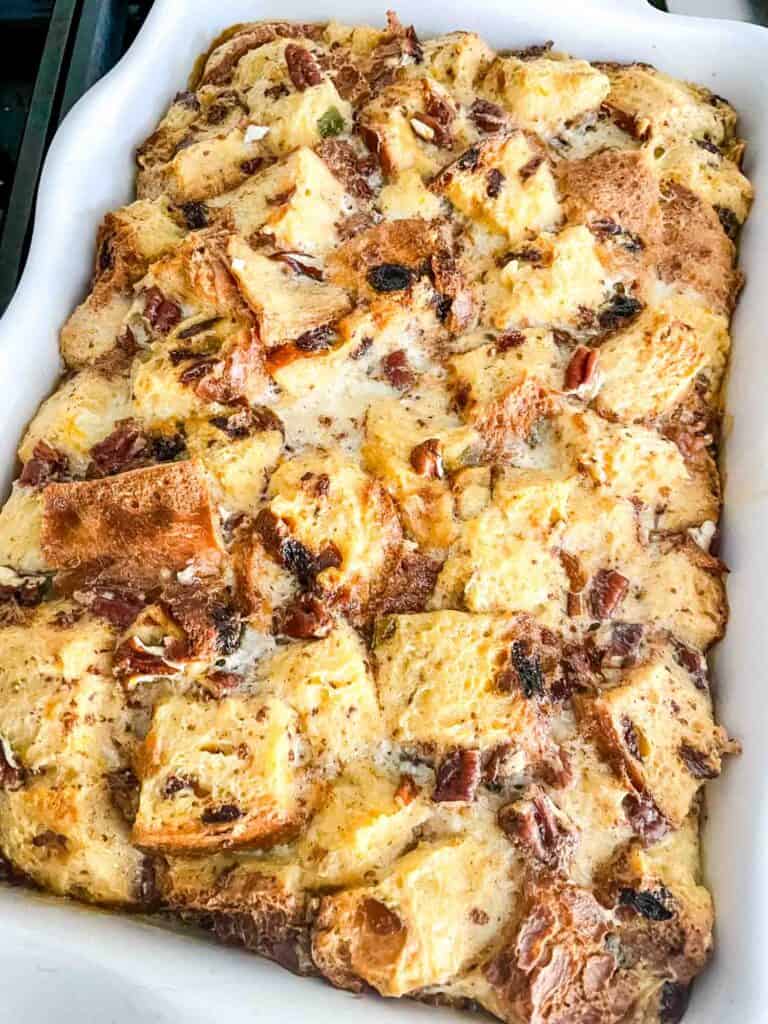 Ingredients
These are the ingredients you need to make the bread pudding:
Panettone (about 1.5 pounds)
Eggs
Whole Milk
Heavy Cream
Orange (zest and juice)
Bourbon (optional)
Sugar
Vanilla Extract
Ground Cinnamon
Pecans
Salt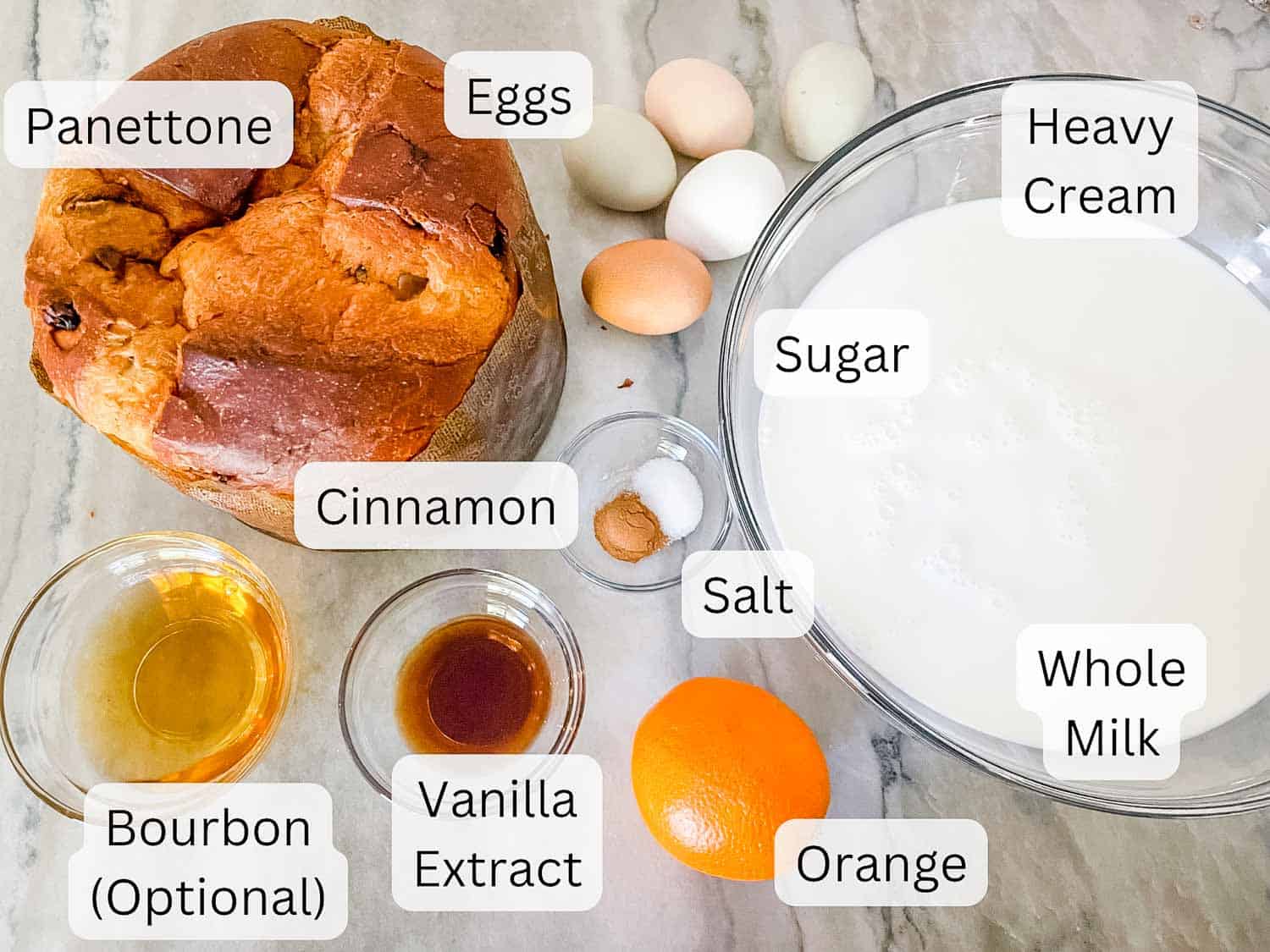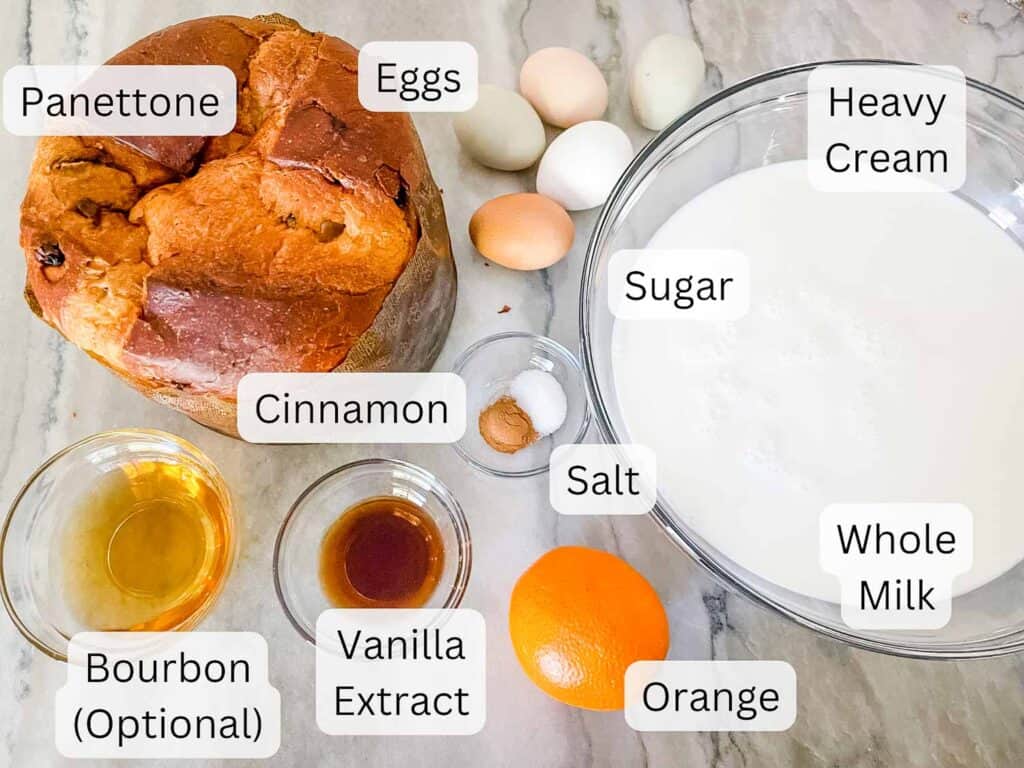 What is Panettone?
Panettone is a slightly sweet bread with an airy texture.
Filled with candied fruits, it is almost like the Italian version of the fruitcake but much, much better!
The bread has a buttery flavor and when paired with the flaky and airy texture, you will see why they love it so much!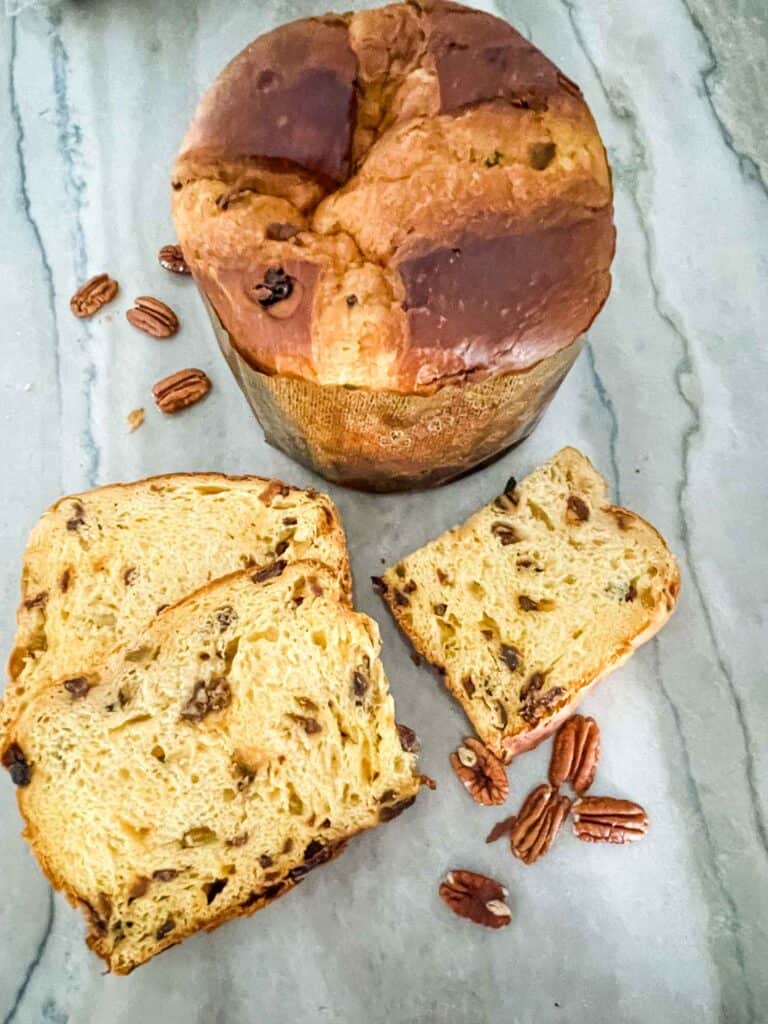 Equipment
This is the equipment you need to make the recipe:
Large Bowl
Serrated Knife
Cutting Board
Measuring Cups
Measuring Spoons
Whisk
Large Baking Dish
Non-Stick Spray
Instruction Overview
Cut the panettone into thick slices and then cubes, about 1.5 inches wide.
You will have a little panettone from the loaf leftover. Perfect for Panettone French Toast!
Whisk the other ingredients together in a large bowl.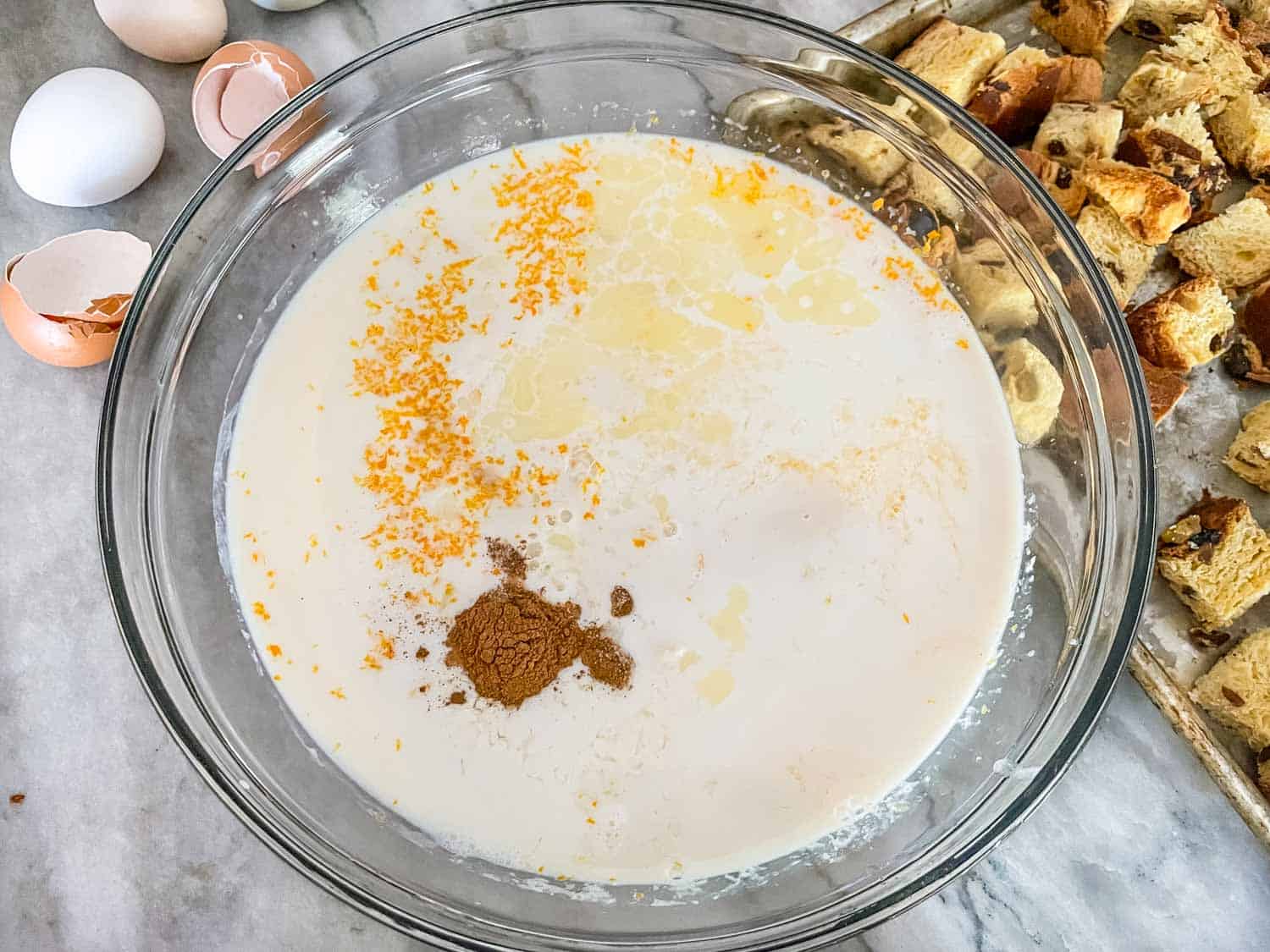 Spray a large baking dish with non-stick spray.
Add the bread into the dish with the liquid mixture. Stir to combine.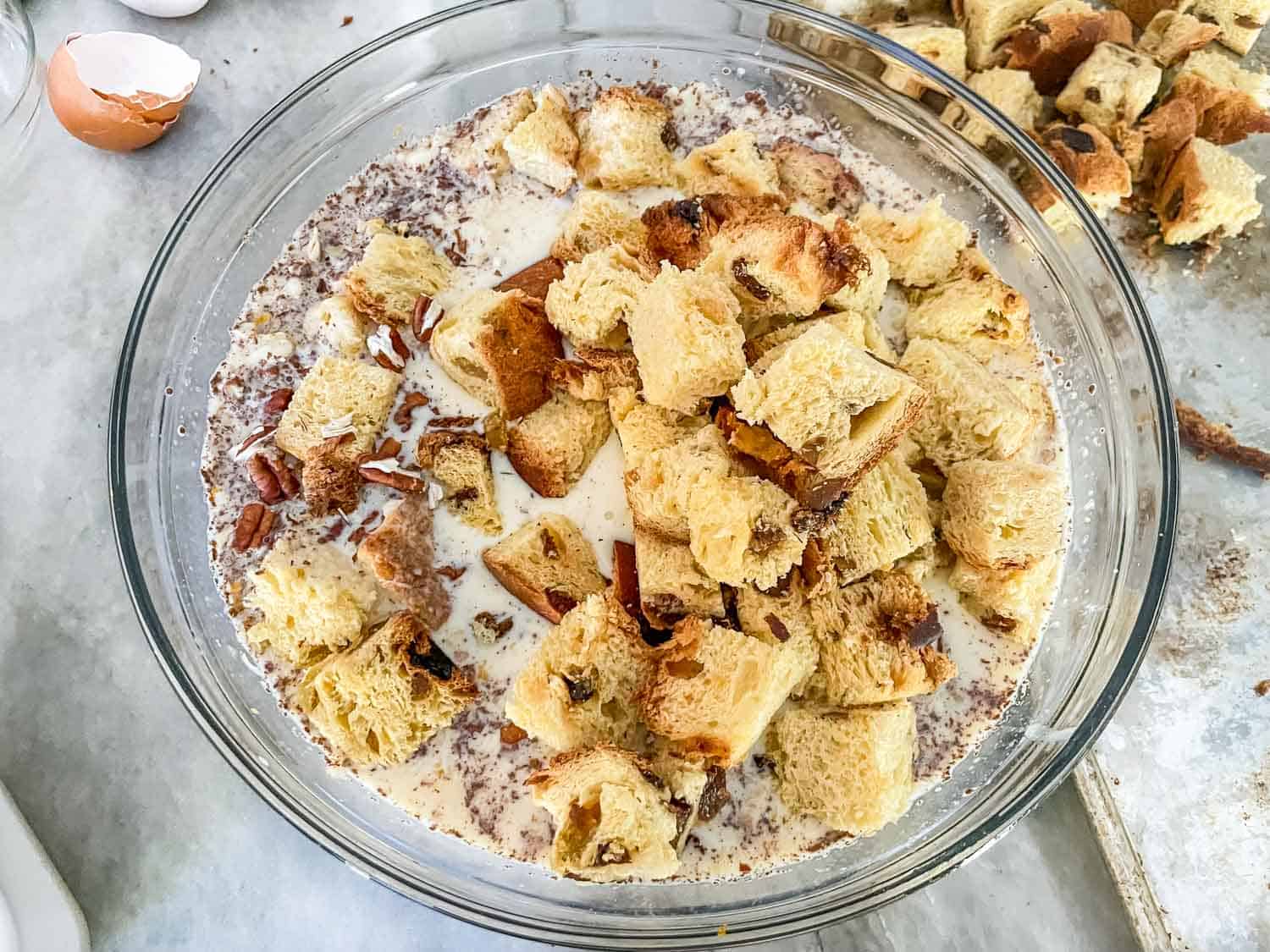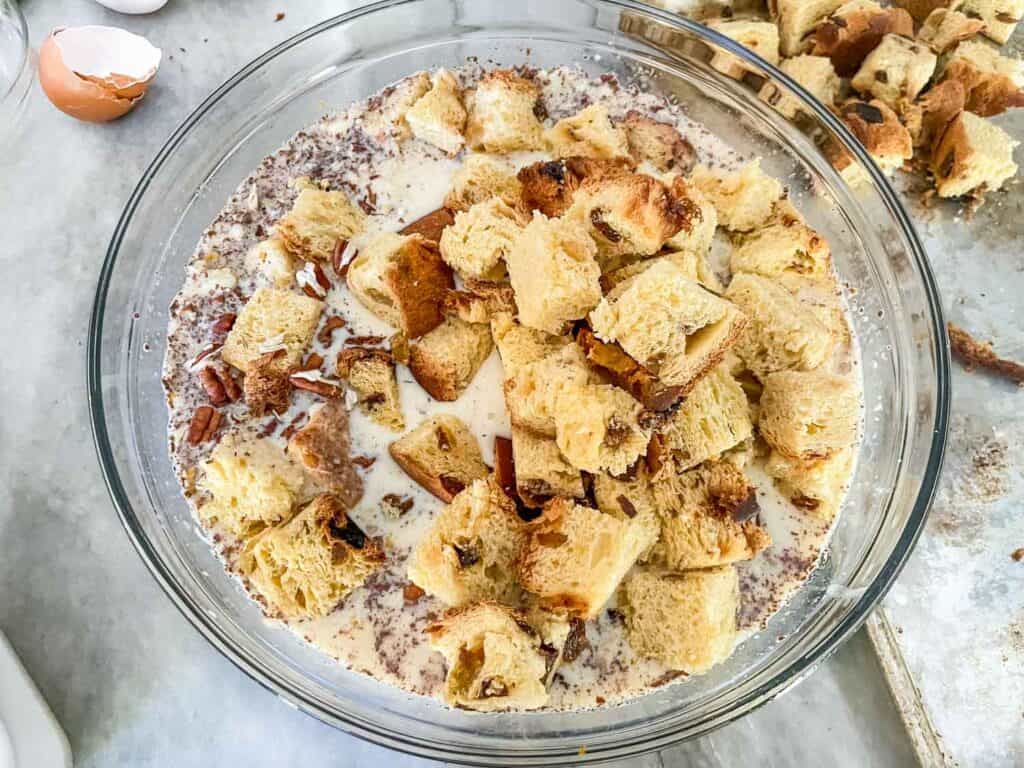 Let it sit 20 minutes to absorb.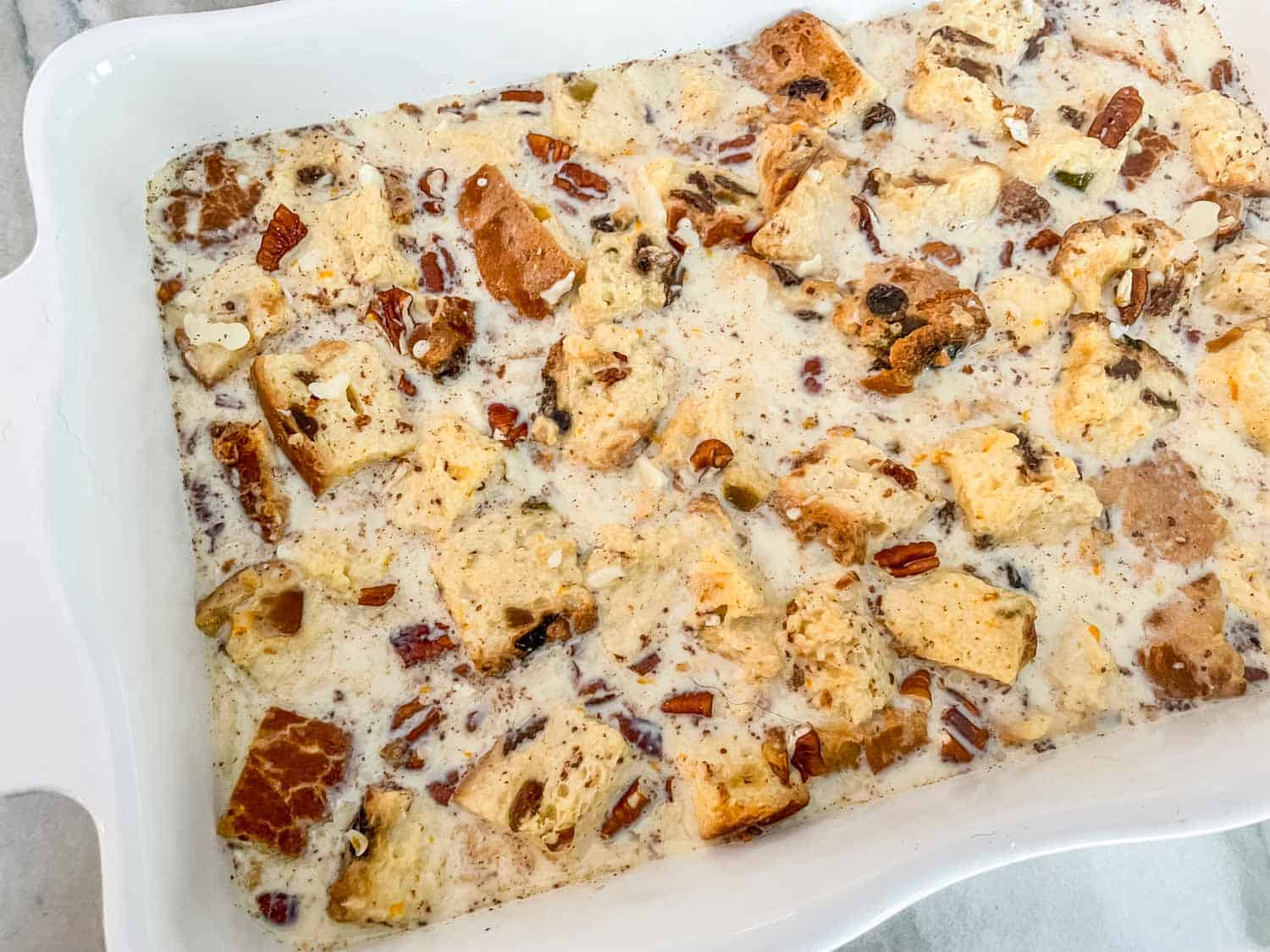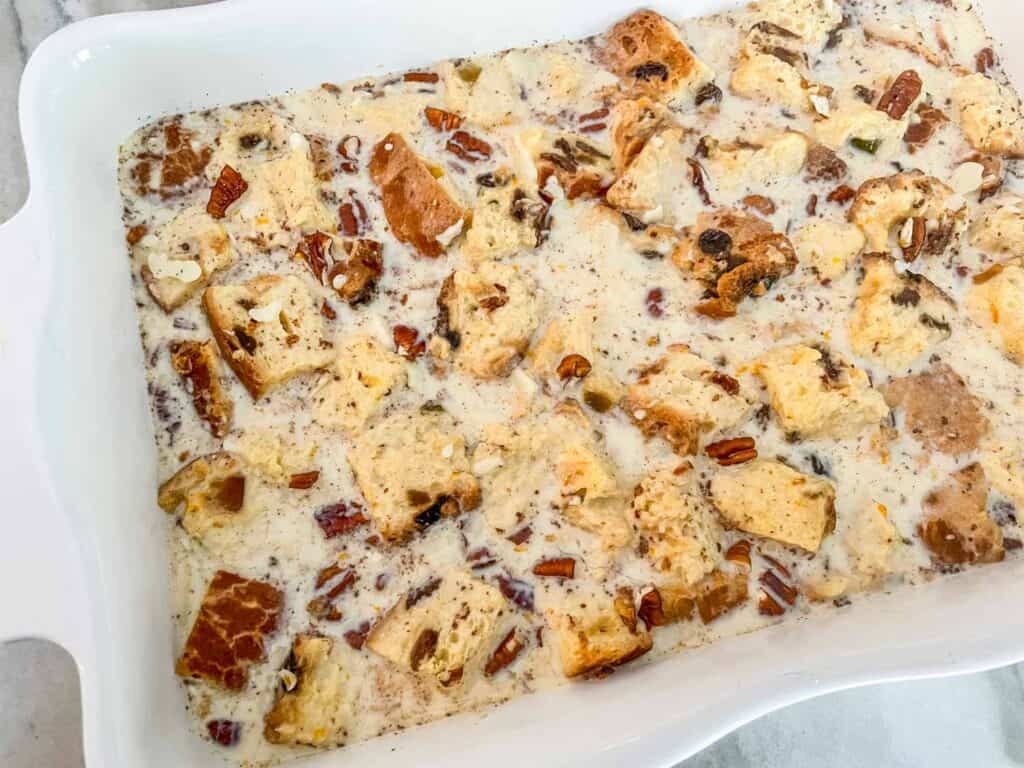 Bake until the dish has a very soft giggle in the middle, similar to cheesecake, about 50 minutes.
Let set 20 minutes before serving.
Modifications and Substitutions
Skip the nuts if you do not want them.
Walnuts are a great substitute for pecans.
This recipe can easily be halved. Just reduce all ingredients by half and completely skip the extra egg yolk.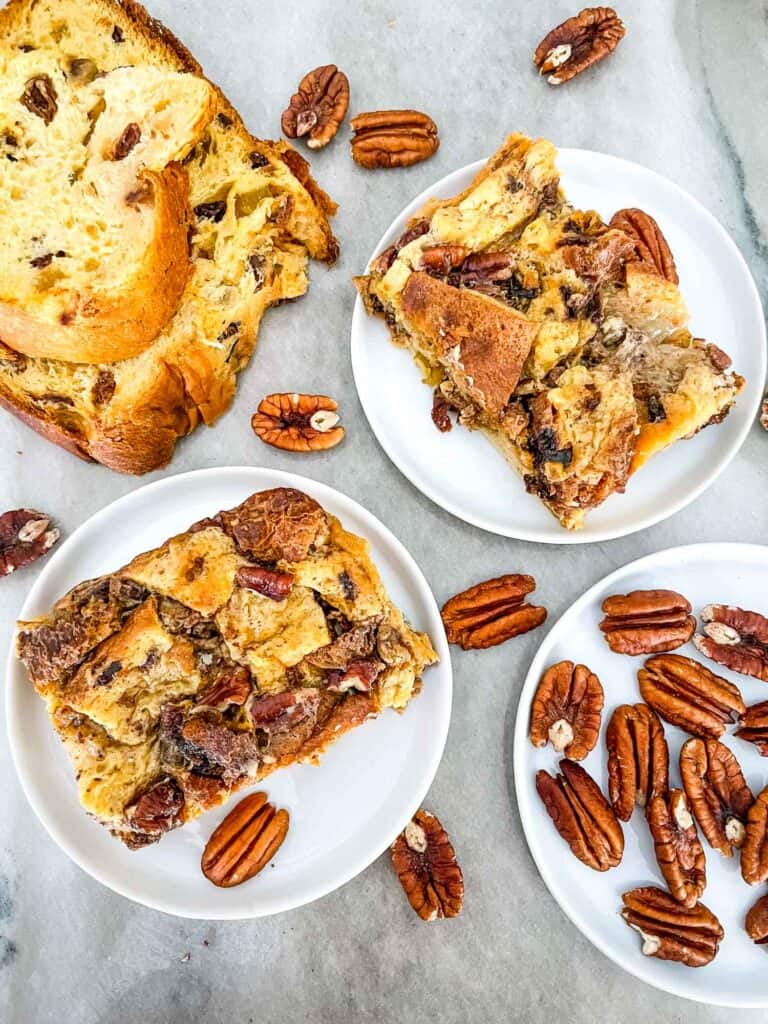 Kim's Tips
The bread pudding will shrink back some as it cools and everything settles. This is normal.
Serve with a vanilla ice cream (or gelato!), or a cream dessert sauce.
FAQs
Why is panettone so special?
Panettone is a popular Italian Christmas dessert. Tink of it as a delicious fruitcake cousin!
How do Italians eat their panettone?
They eat it plain typically with coffees. But in this recipe we blend it with another favorite to make a unique dessert!
How do you serve panettone as a dessert?
Sliced up with wine! Or as this bread pudding!
What is bread pudding sauce made of?
The base is made with cream, vanilla, eggs, and milk.
Is bread pudding made from old bread?
It can be!
If the bread is very light, it is best for it to be dried out or toasted to better absorb the liquid and hold its shape.
This fruitcake does a great job of absorbing liquid, so no toasting is needed here.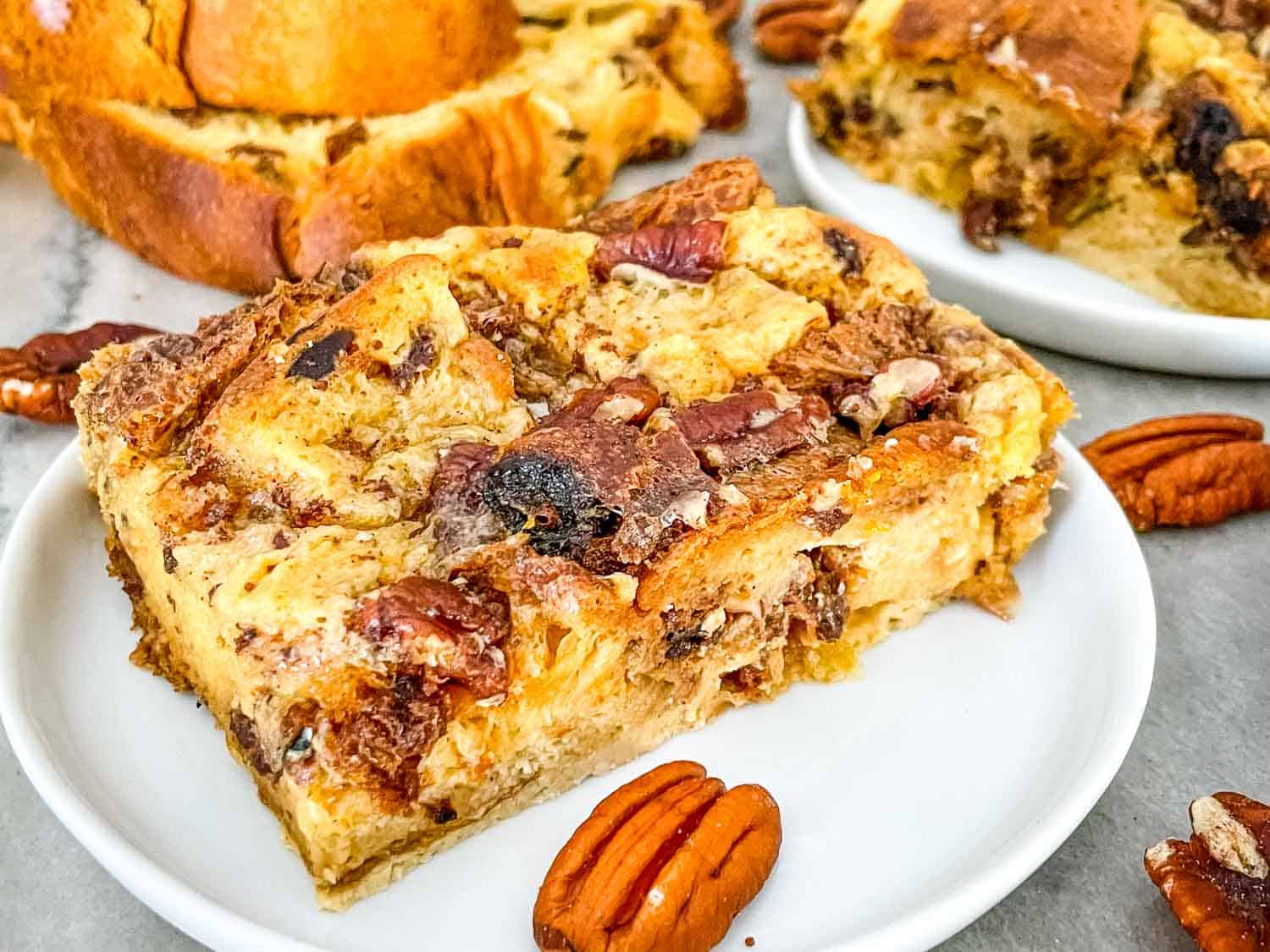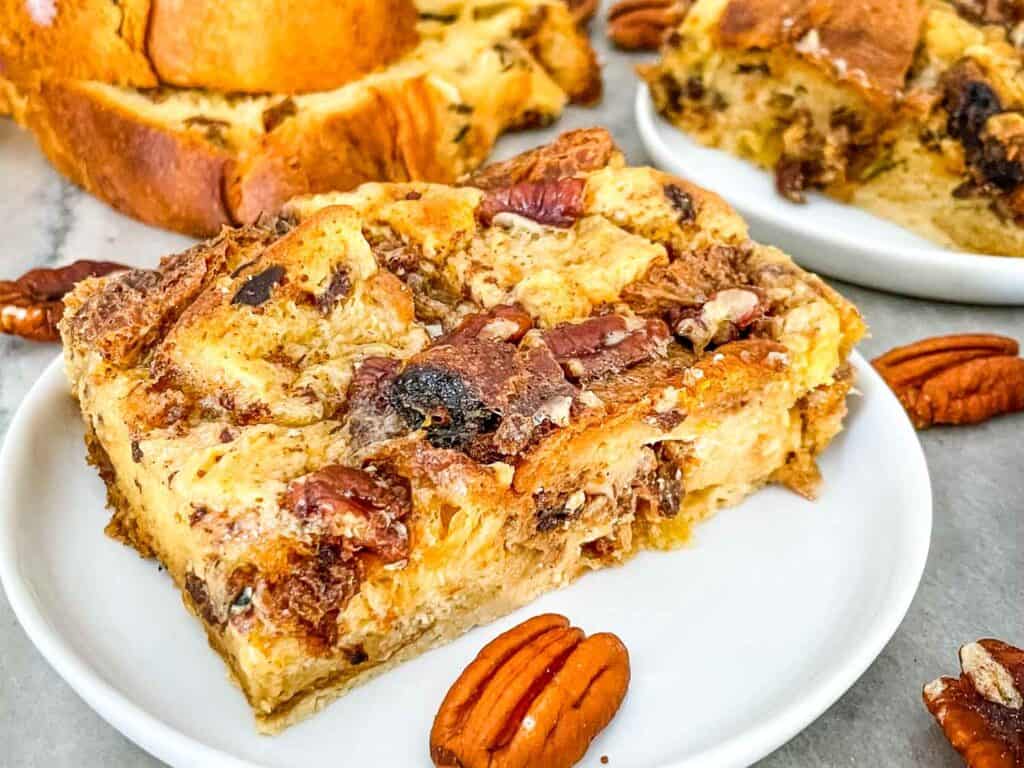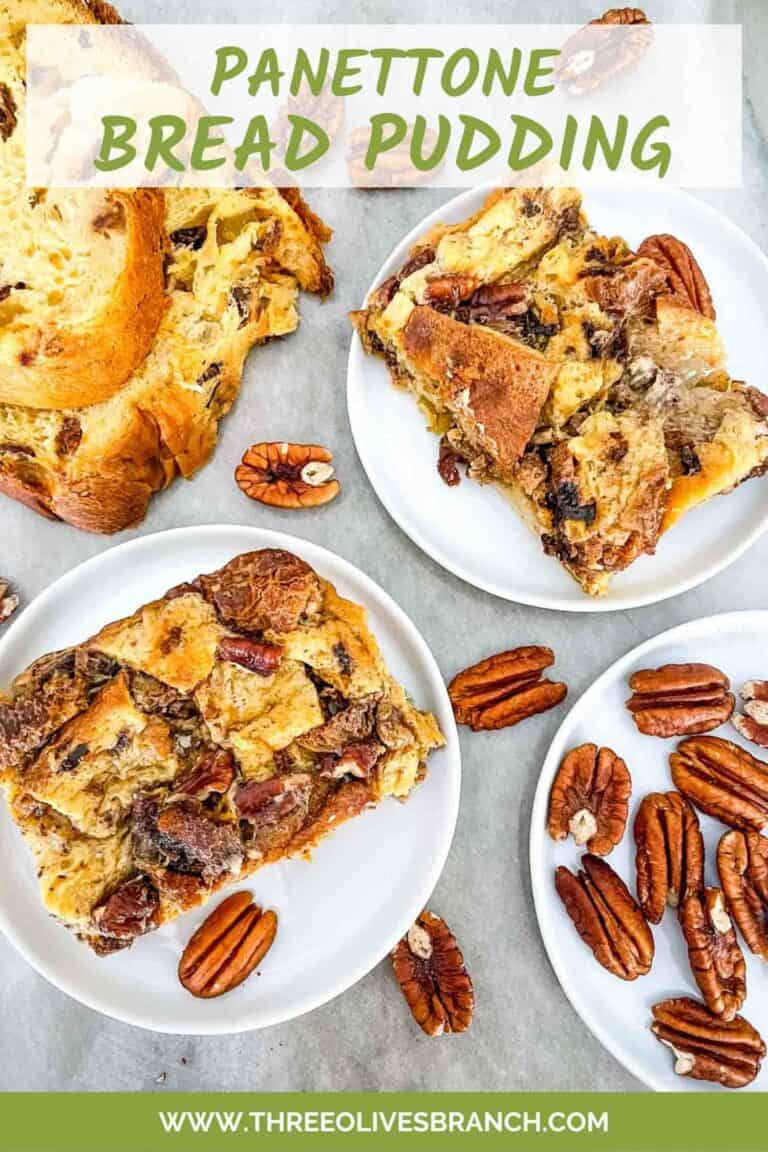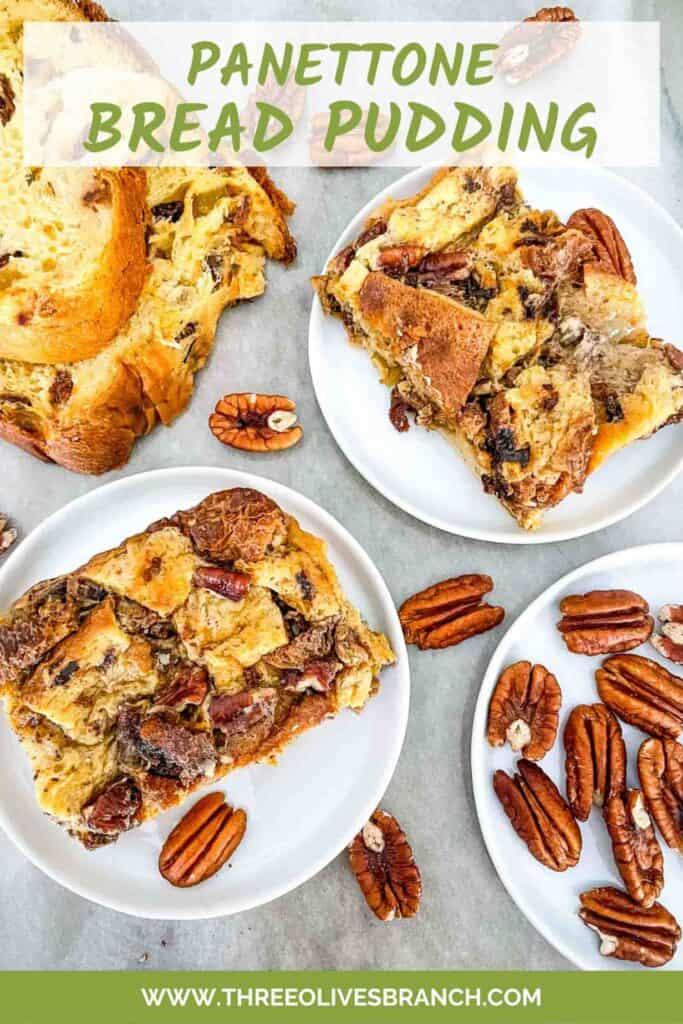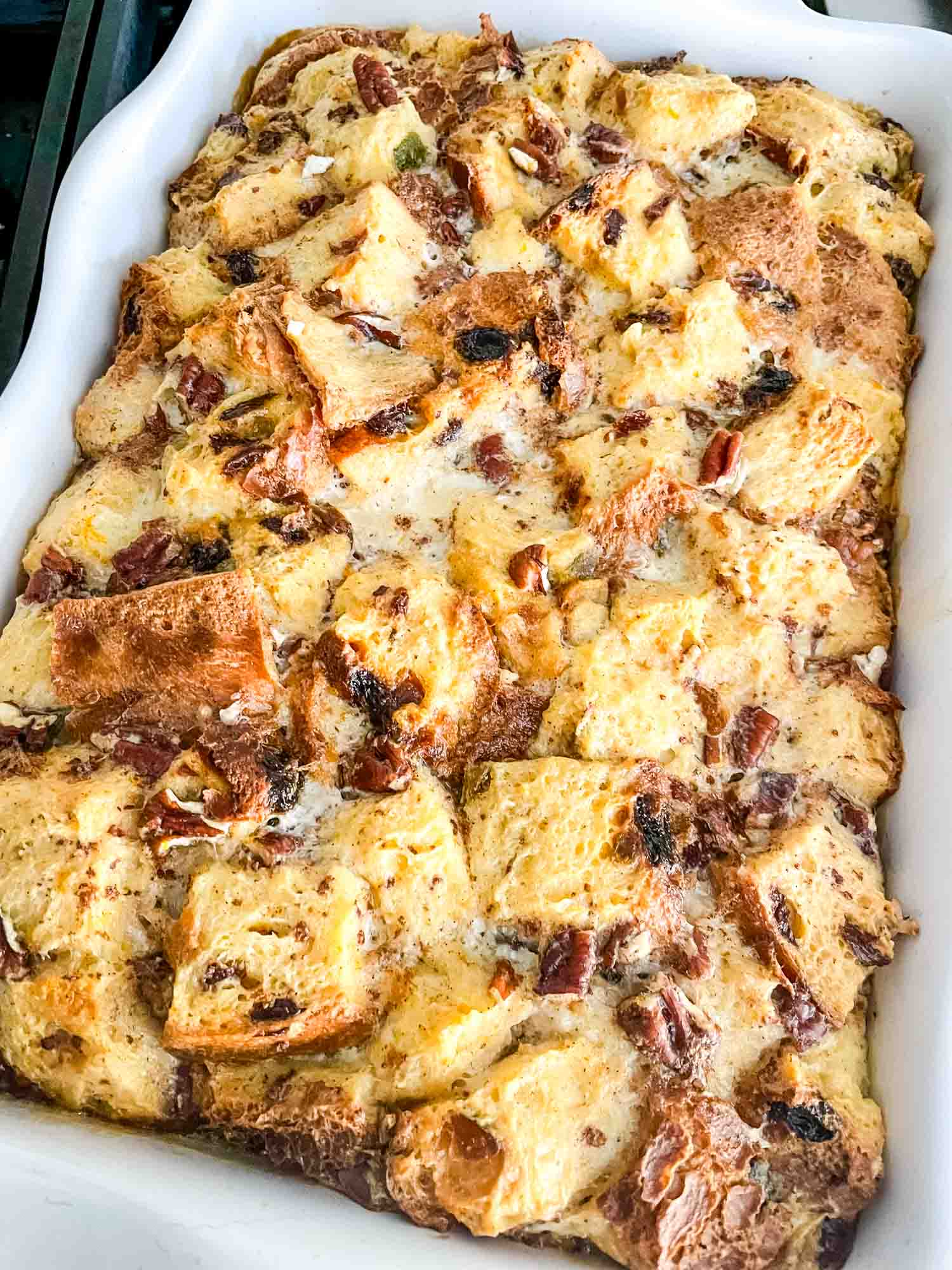 Instructions
Cut the bread into 1.5 inch cubes. Set aside.

Whisk together the remaining ingredients in a large bowl. Add the bread and toss to coat.

4 large eggs,

1 large egg yolk,

3/4 cup granulated sugar,

2 1/2 cups heavy cream,

2 1/2 cups whole milk,

1/4 cup bourbon,

1 Tablespoon vanilla extract,

1/2 teaspoon cinnamon,

1 Tablespoon orange zest,

2 Tablespoons orange juice,

1/2 teaspoon salt,

½ cup pecans

Coat a 9 by 13 inch baking dish with cooking spray. Pour the bread pudding mixture into the dish. Cover and let sit at room temperature for 20 minutes.

Bake the pudding on the lower middle rack until it is golden brown and puffing up around the edges, with a slight jiggle in the middle, approximately 45-50 minutes.

Let cool for 30-45 minutes before serving warm. This pudding is great served with whipped cream or ice cream.
Notes
You can let the bread soak in the refrigerator for up to 24 hours if needed.
Easily halve the recipe for a smaller crowd! Just cut everything in half and skip the extra egg yolk completely.
Nutrition
Serving:
1
serving
|
Calories:
635
kcal
|
Carbohydrates:
53
g
|
Protein:
15
g
|
Fat:
39
g
|
Saturated Fat:
20
g
|
Polyunsaturated Fat:
4
g
|
Monounsaturated Fat:
11
g
|
Trans Fat:
0.03
g
|
Cholesterol:
209
mg
|
Sodium:
496
mg
|
Potassium:
340
mg
|
Fiber:
3
g
|
Sugar:
29
g
|
Vitamin A:
1399
IU
|
Vitamin C:
4
mg
|
Calcium:
237
mg
|
Iron:
3
mg
More Bread Pudding Recipes
By