Pizza Crescent Rolls are a fast and easy finger food recipe perfect for game day, an after school snack, and pizza night. Use this pepperoni version or swap out your favorite toppings!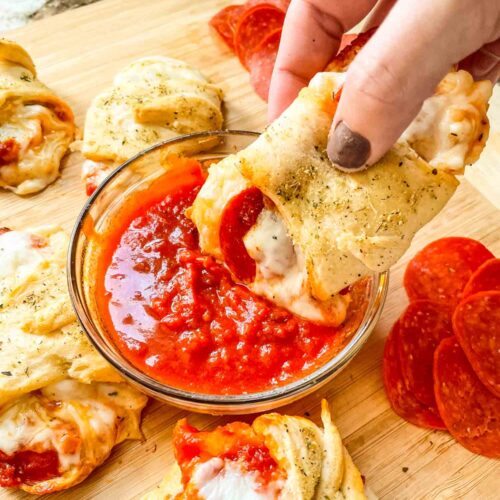 These Pizza Crescent Rolls are a fun finger food perfect as an after school snack or a game day appetizer recipe! Packed with all the flavors you love from a pizza.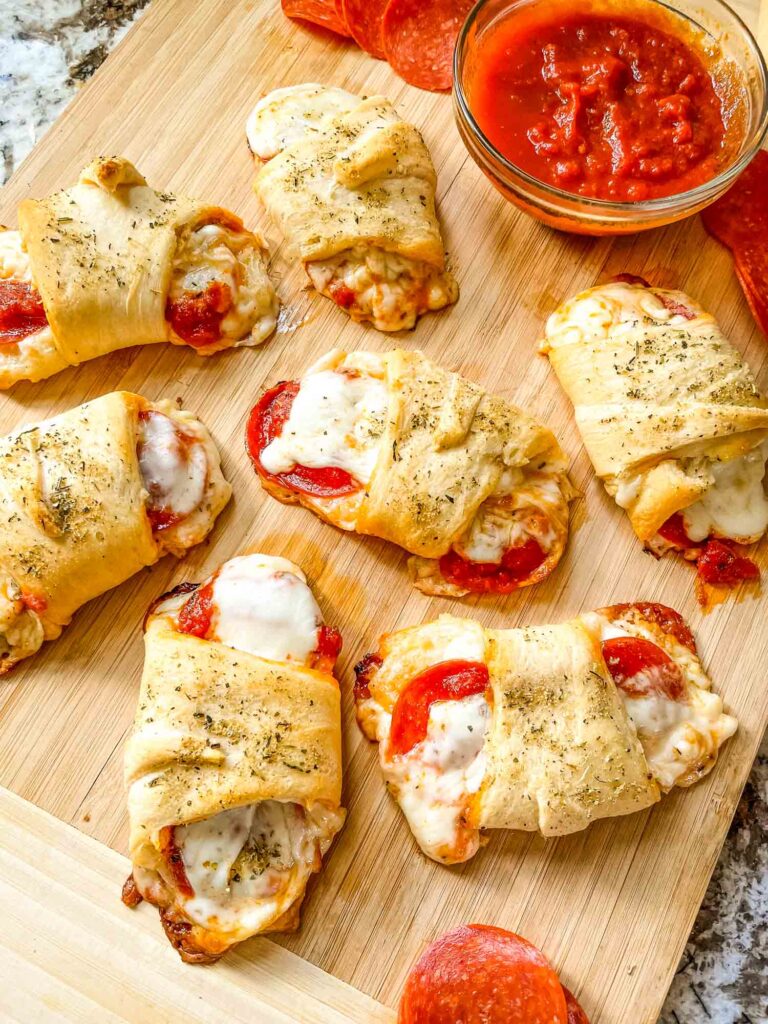 Pizza Crescent Rolls with String Cheese
This recipe was based on the love of crescent rolls around here and some other successful ones I have made such as my Jalapeno Popper Crescent Rolls.
We needed some new and fun game day recipe ideas, and I knew I just had to make these!
All the flavors you love of a pizza are packed inside of buttery, flaky crescent rolls and served up with more sauce for dunking.
Ingredients Needed for Pizza Crescent Rolls
Here is what you need for this recipe:
Crescent Rolls
Pepperoni

String Cheese

(Mozzarella)
Provolone Cheese Slices (optional)
Dried Oregano
Garlic Powder
You can use a homemade pizza sauce, jar pizza sauce, or even a marinara sauce (homemade or jar).
This recipe is based on a pepperoni pizza but you can use any toppings that you love inside!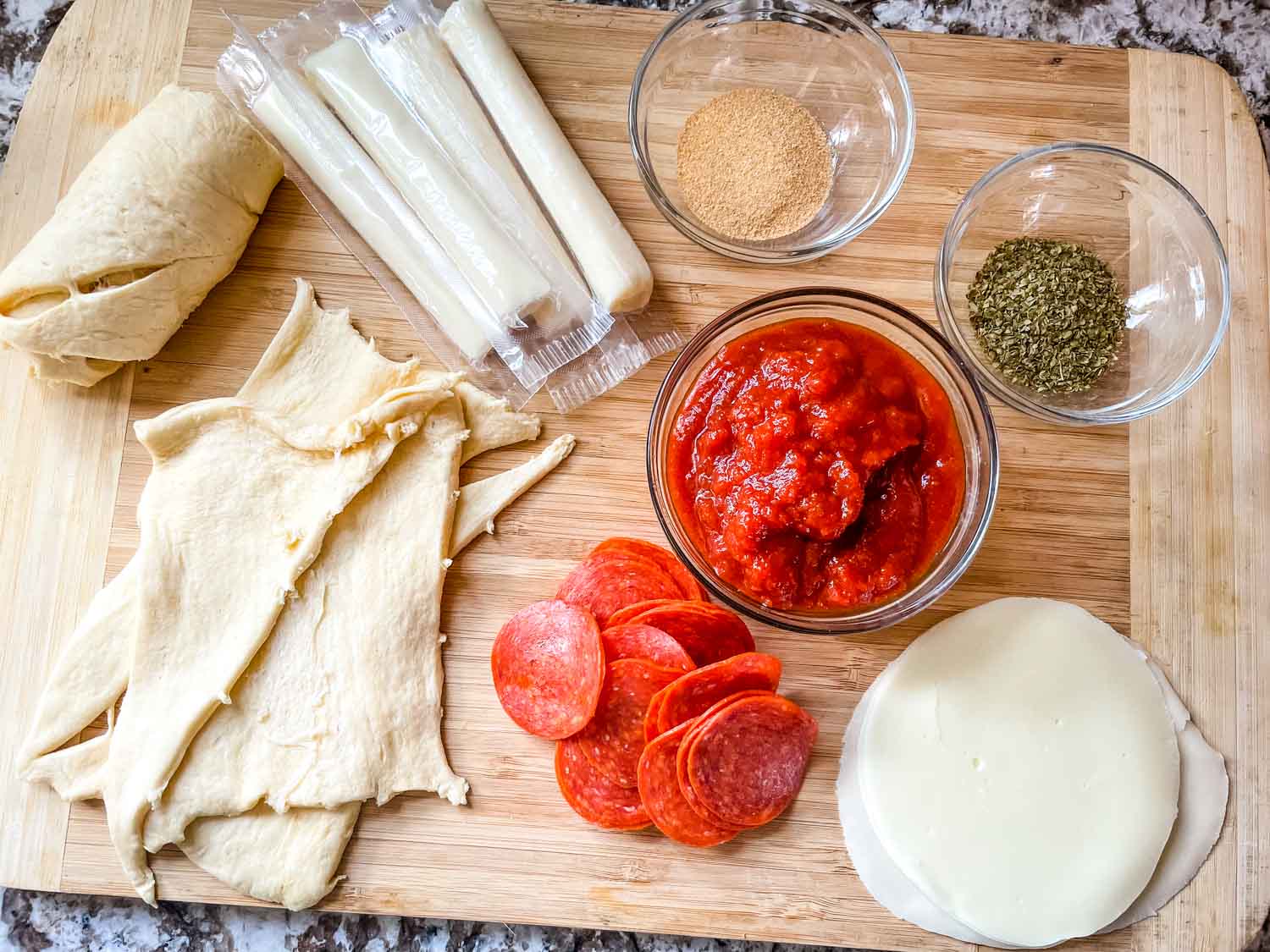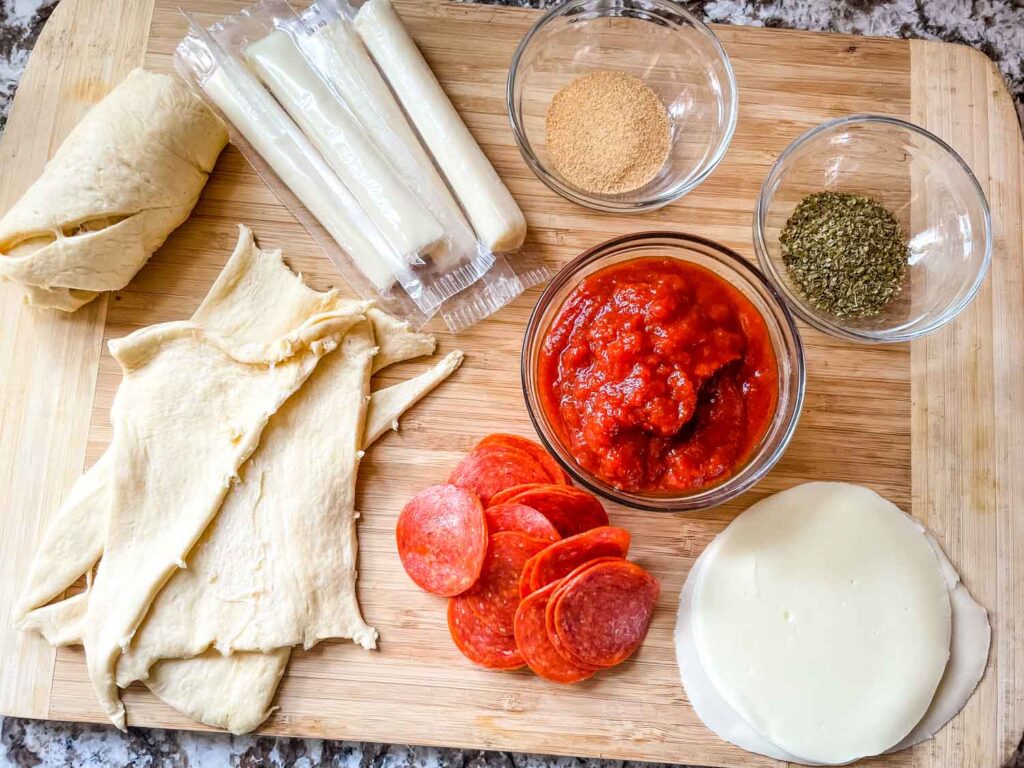 Choosing Toppings
I went with the classic pepperoni here, which is always a favorite.
But you can easily use any toppings that you love in place of it!
Make sure any meats are pre-cooked, as we are just warming when they are popped in the oven.
I can't wait to make these packed with veggies and a supreme version as well!
You won't need a ton of any particular ingredient, based on how many you are making and how much you are using.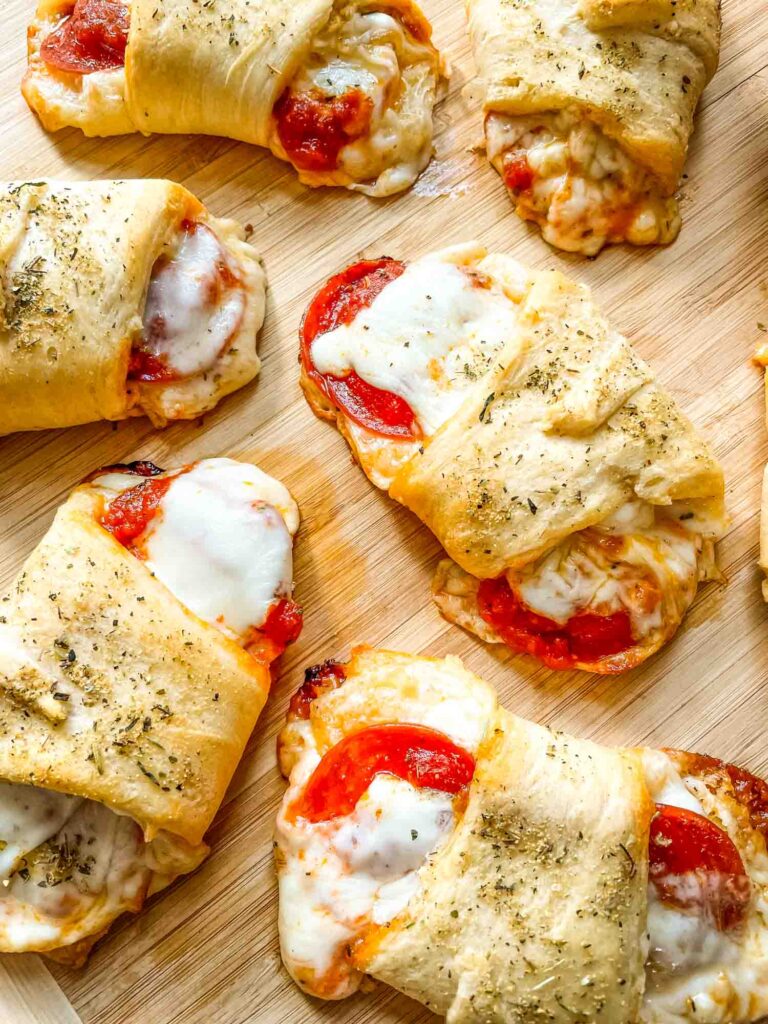 How to Make Pizza Crescent Rolls
To make these rolls, have all of your ingredients ready.
Preheat your oven to 375F and start rolling!
Place half of a provolone slice up at the top long edge of the dough. Layer it with four pepperoni, a teaspoon of the marinara or pizza sauce, and half of a string cheese.
Sprinkle with a little oregano and garlic powder for more flavor!
Roll it up gently and place on a baking sheet.
Sprinkle the tops of the rolls with the remaining oregano and garlic powder to give it more of the pizza flavor.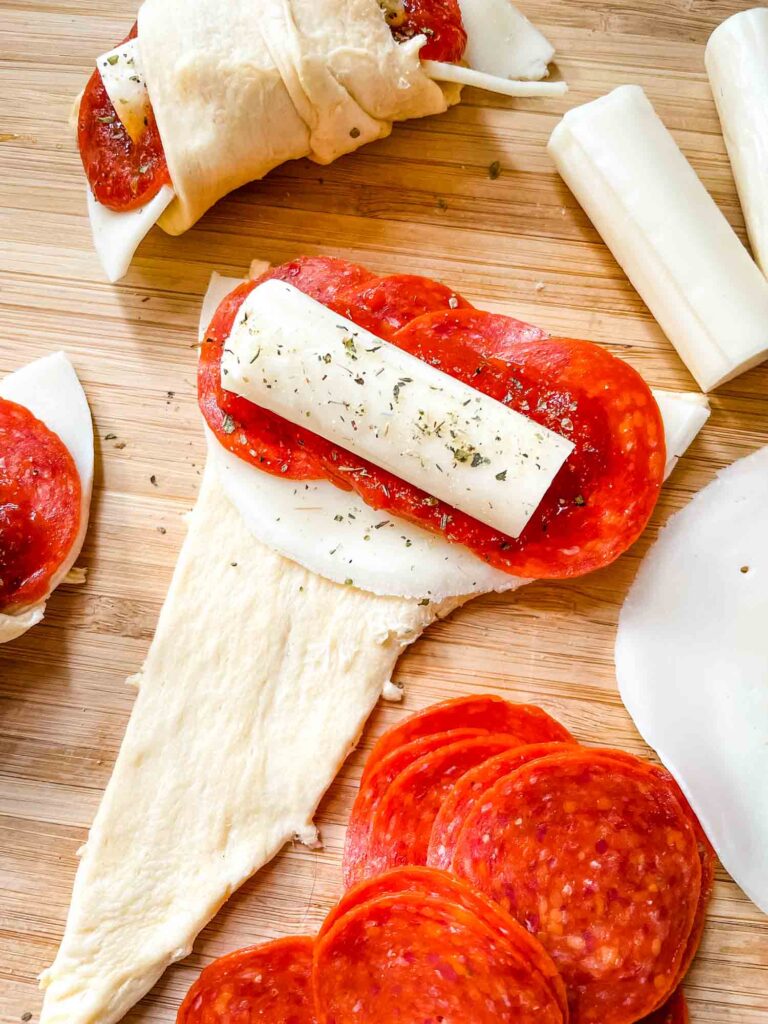 Bake them until the rolls are a light golden brown, approximately 15 minutes.
The cheese will melt out of the rolls, but can easily be pushed back up inside with a knife. Just be sure to do this before it cools too much and the cheese hardens.
Serve warm with more sauce for dunking!
Cooking Stuffed Crescent Rolls
When you are packing the crescent dough with other ingredients, it will act a little differently.
Especially if the ingredients are heavy and/or wet.
The dough typically will not rise quite as much and not be quite as puffy as when made on their own.
But it will still cook through and have all the amazing buttery flavor that you love.
So we gauge when the rolls are done more by their color than anything else.
Once those roll tops are a light brown, you are ready to pull them out!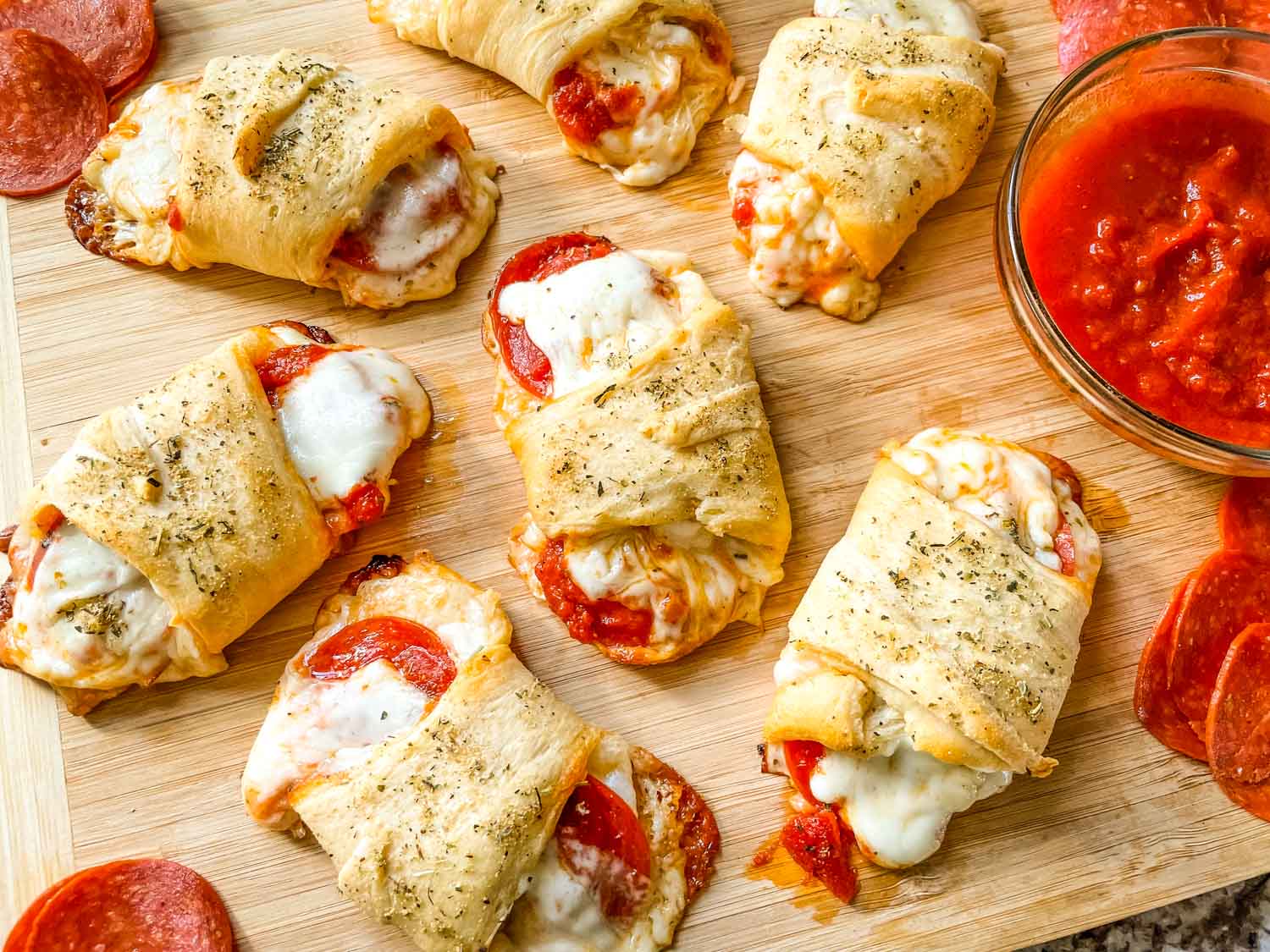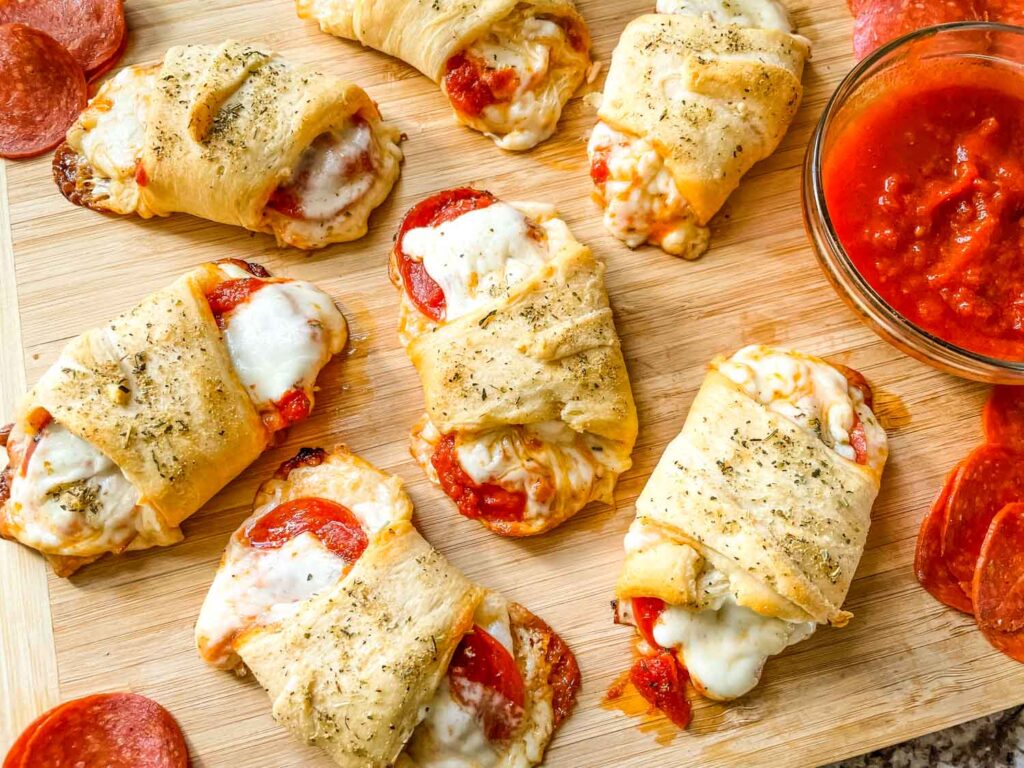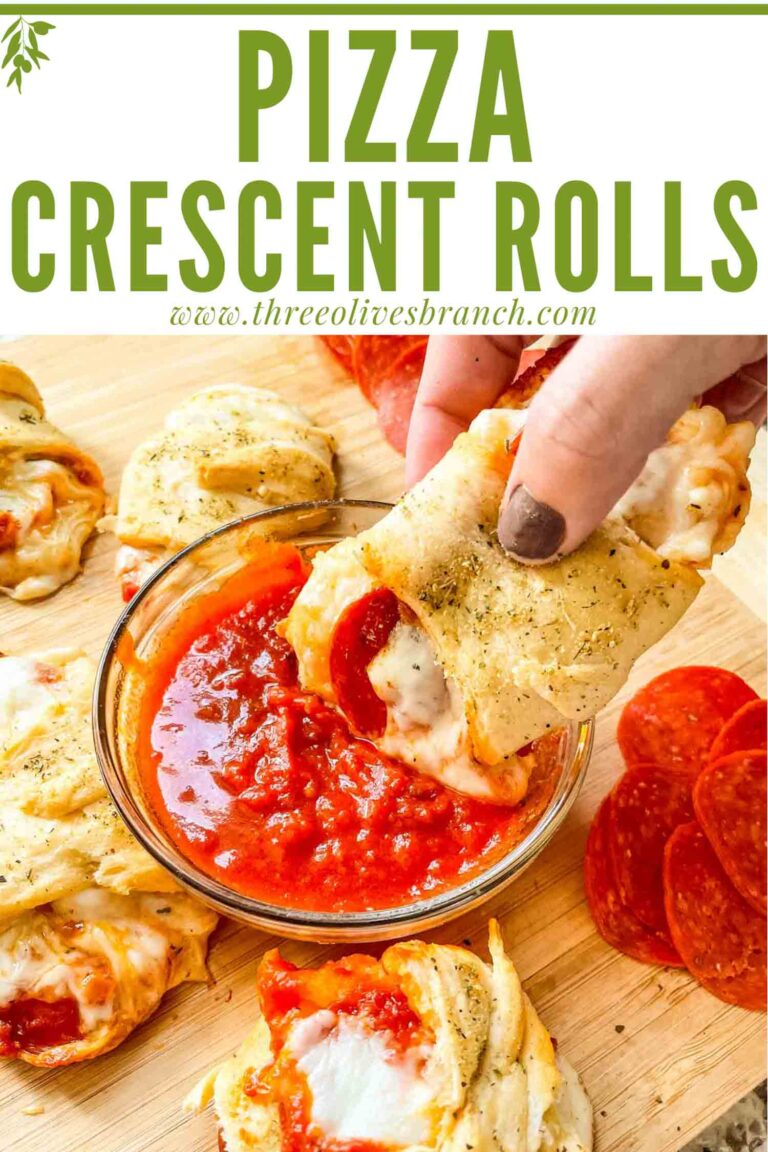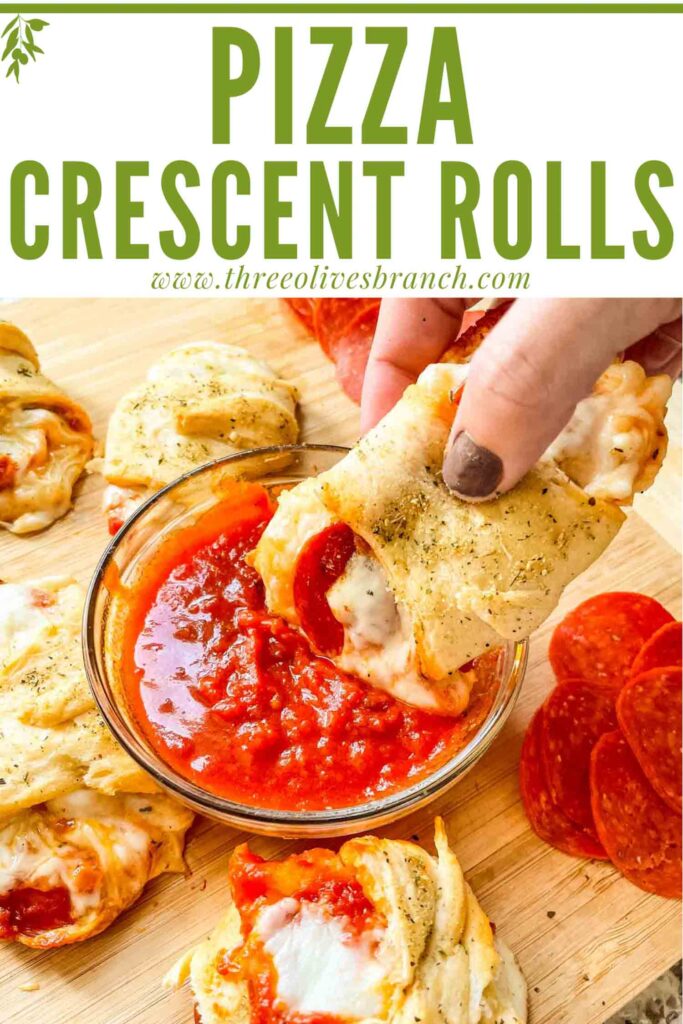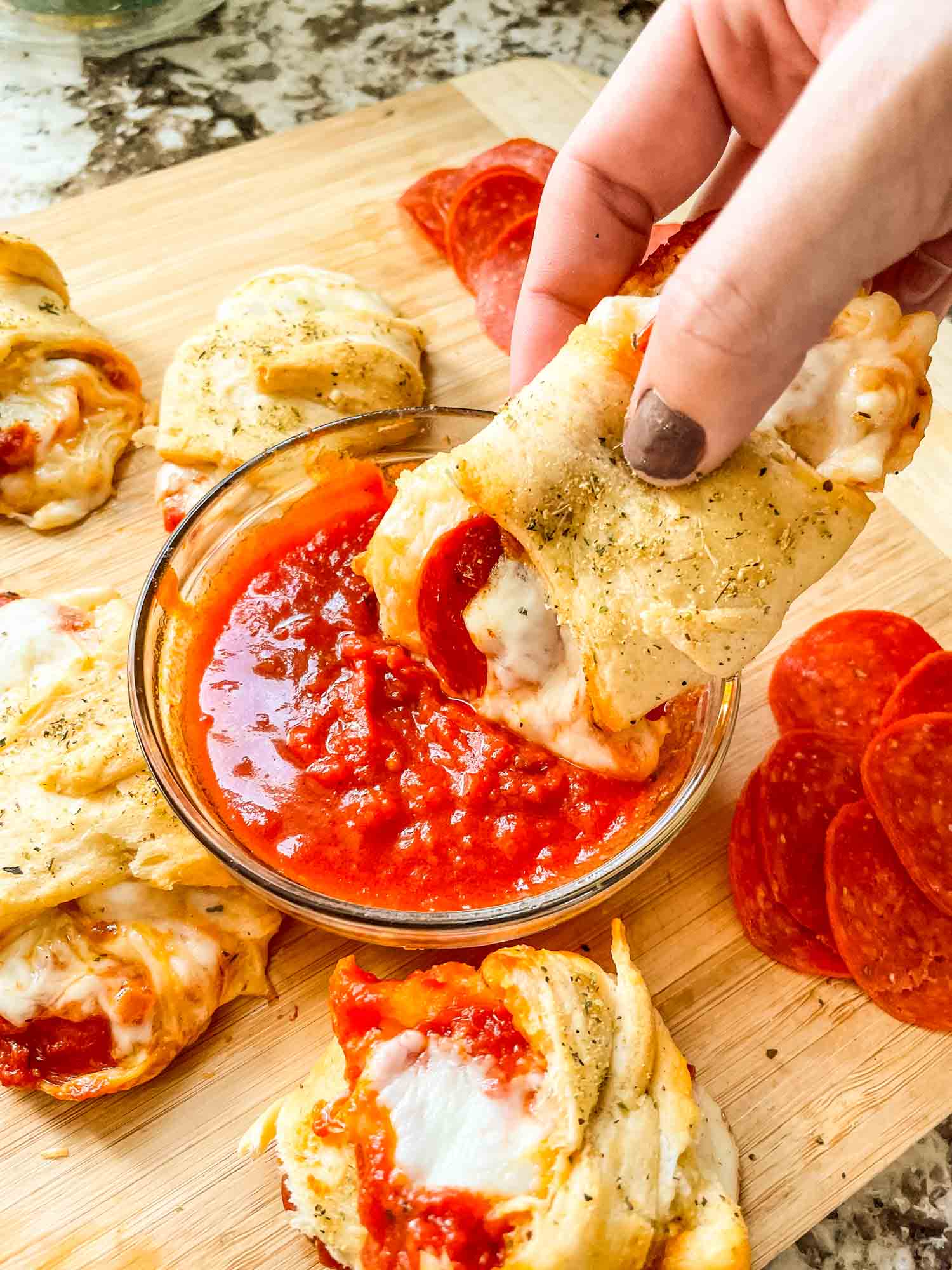 Instructions
Separate each triangle of the crescent dough. At the top long edge, place half of one slice of provolone.

On top of the provolone, layer 4 pepperoni slices across the top in a line.

Add 1 teaspoon of the pizza sauce on top of the pepperoni, followed by half of a cheese stick.

Mix the dried oregano and garlic powder together in a small bowl. Sprinkle a little bit across the cheese stick.

Gently roll up the dough around the filling. This is easiest by picking up the roll and wrapping the dough under and around instead of flipping the dough over.

Place on a baking sheet.

Repeat with the remaining ingredients.

Sprinkle the remaining oregano mixture on top of the rolls.

Bake until the rolls are a light golden brown, approximately 15 minutes.

Remove from the oven and while warm, push the melted cheese that has escaped back into the rolls with a knife.

Serve warm with the remaining sauce for dunking.
Nutrition
Serving:

1

roll

|

Calories:

216

kcal

|

Carbohydrates:

13

g

|

Protein:

8

g

|

Fat:

15

g

|

Saturated Fat:

7

g

|

Polyunsaturated Fat:

2

g

|

Monounsaturated Fat:

3

g

|

Trans Fat:

1

g

|

Cholesterol:

23

mg

|

Sodium:

634

mg

|

Potassium:

90

mg

|

Fiber:

1

g

|

Sugar:

4

g

|

Vitamin A:

154

IU

|

Vitamin C:

1

mg

|

Calcium:

88

mg

|

Iron:

1

mg

By