This Ranchera Salsa is an easy fresh tomato salsa recipe. A popular Mexican classic highlighting roasted flavors. A fast dip, condiment, or topper for Mexican food and game day.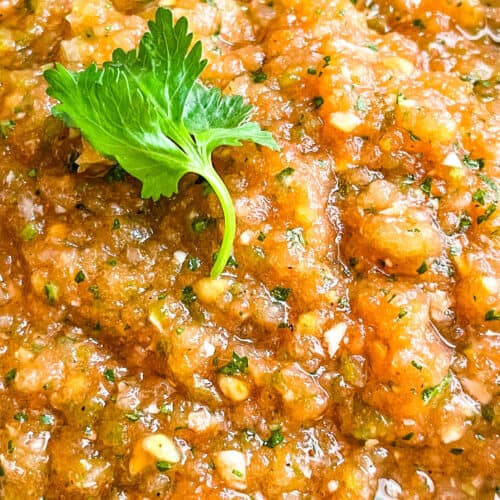 This Ranchera Salsa is a delicious homemade salsa recipe! Made with fresh tomatoes, jalapeno peppers, onion, garlic, and more.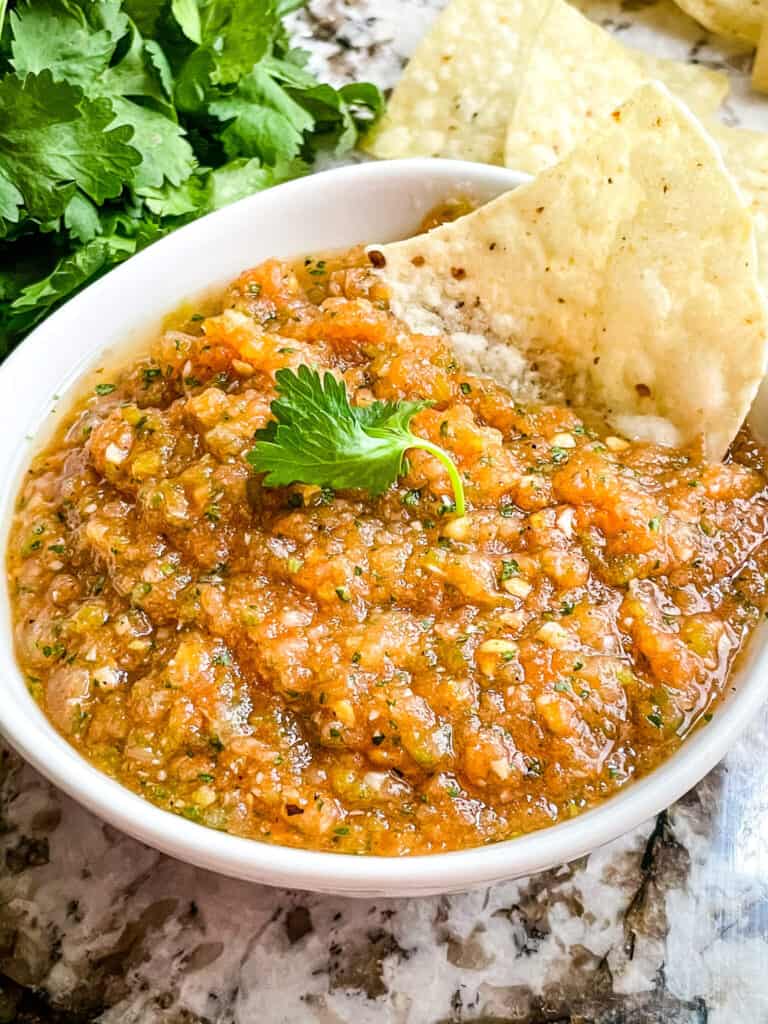 Ranchera Salsa
I have been loving making salsas with fresh tomatoes and ingredients.
One of my favorites is my Salsa Chile de Arbol. In comparison, Ranchera Salsa is full of just fresh flavors while Chile de Arbol has a smoky, roasted flavor to it from the dried peppers it uses.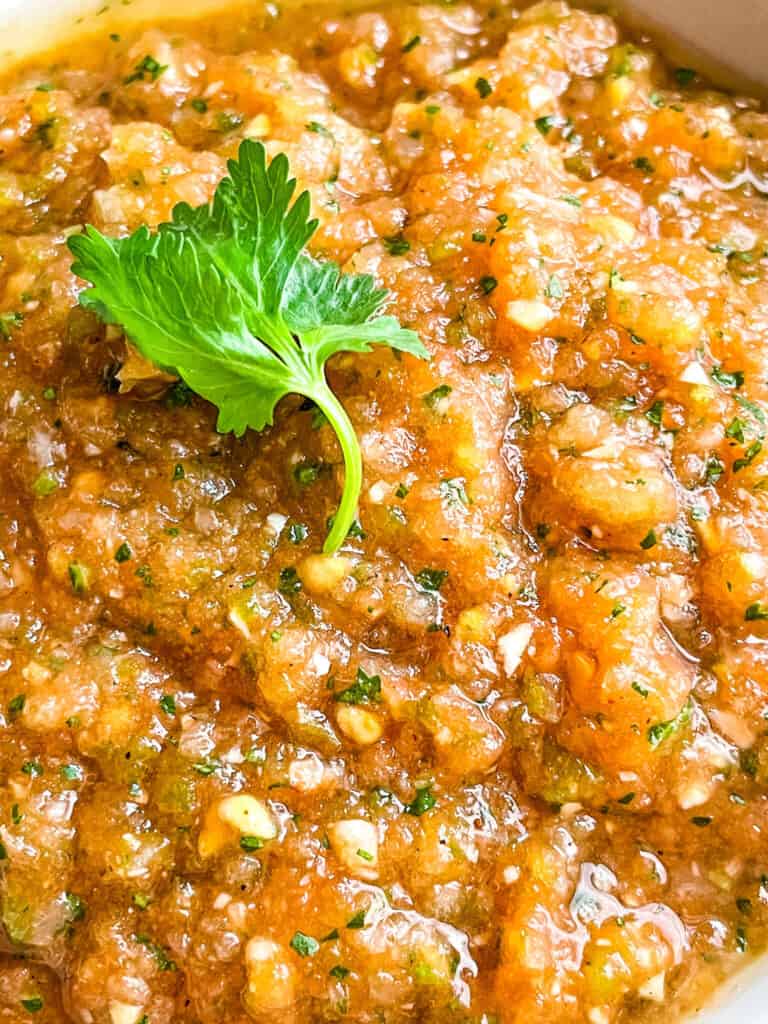 What is ranchera sauce made of?
These are the ingredients in this salsa:
Roma Tomatoes
Jalapeno Peppers
Yellow Onion
Garlic
Cilantro (optional)
Lime Juice
Cumin
Salt
Is ranchero sauce the same as salsa?
No! Despite their similar name and similar ingredients, they are different things.
Salsa Ranchera is a little more chunky (less smooth).
Ranchero sauce has the smoother consistency since it is acting like a sauce and not a condiment.
What's the difference between salsa and salsa ranchera?
Salsa is a broad term that covers many different types of salsas and different ingredients.
Salsa ranchera is a specific type of salsa made with lots of fresh flavors in a somewhat chunky texture.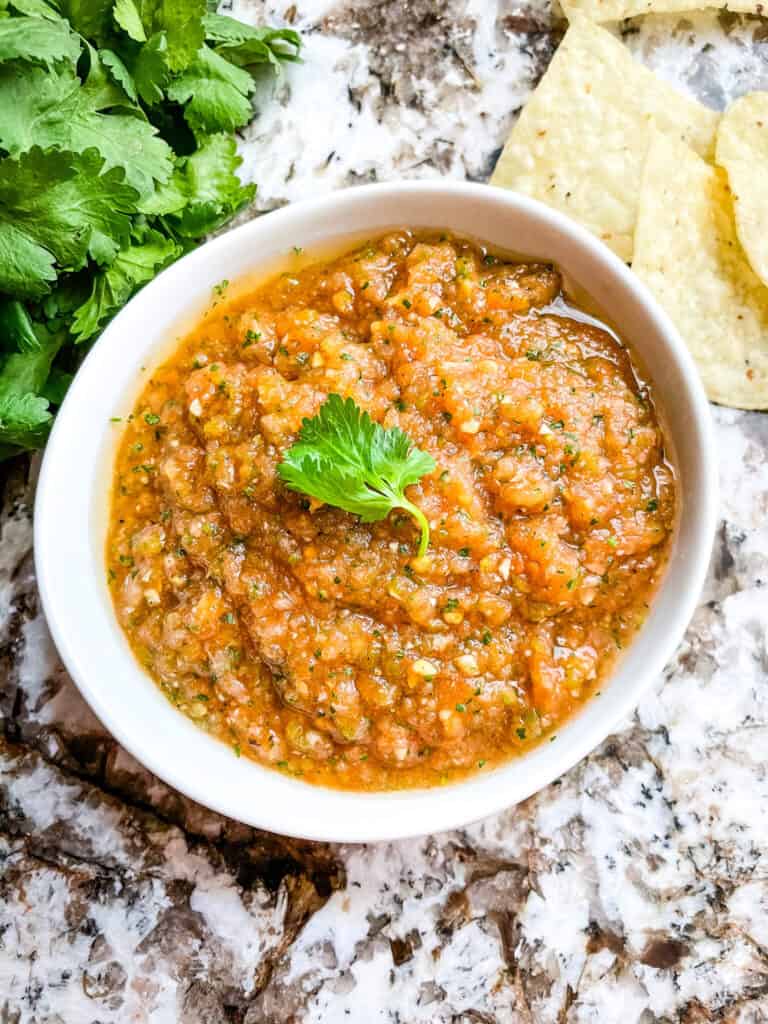 Is Ranchera Salsa hot?
It can be. When you make it yourself, you can make it as spicy or mild as you like.
Two jalapeno peppers is good for a mild heat, but sometimes the peppers run hotter than normal. The only way to be really sure is to taste a small piece of one to know.
Make it hotter by adding more jalapenos, using a hotter chile pepper, or even adding hot sauce.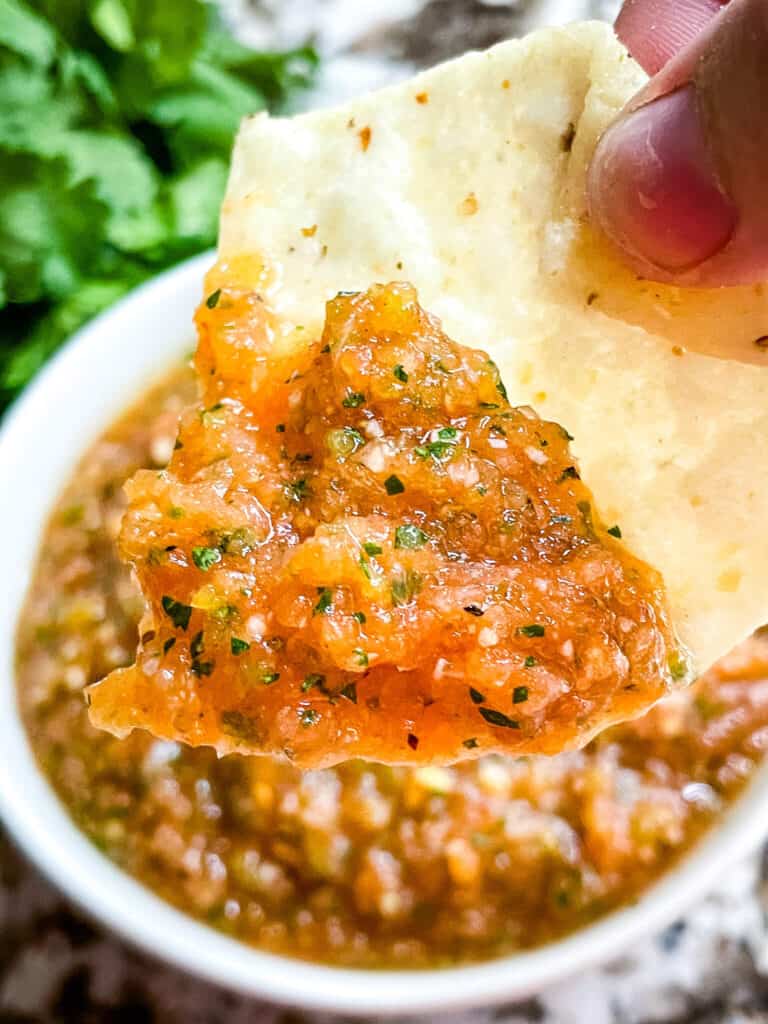 Why do I have to roast the ingredients?
Roasting the tomatoes, peppers, onion, and garlic will bring a wonderful depth of flavor to the salsa while still tasting fresh.
This roasting process is also traditional for a Salsa Ranchera .
The roasting process is also a great way to remove the skin of the tomatoes and peppers. You can leave the skins on if you wish, but they will likely be a little noticeable in the salsa. Plus the darker the skins, the more of a char or even burnt taste you will have.
Roasting may be an additional step, but it is a simple step and one that brings so much flavor. I highly recommend it!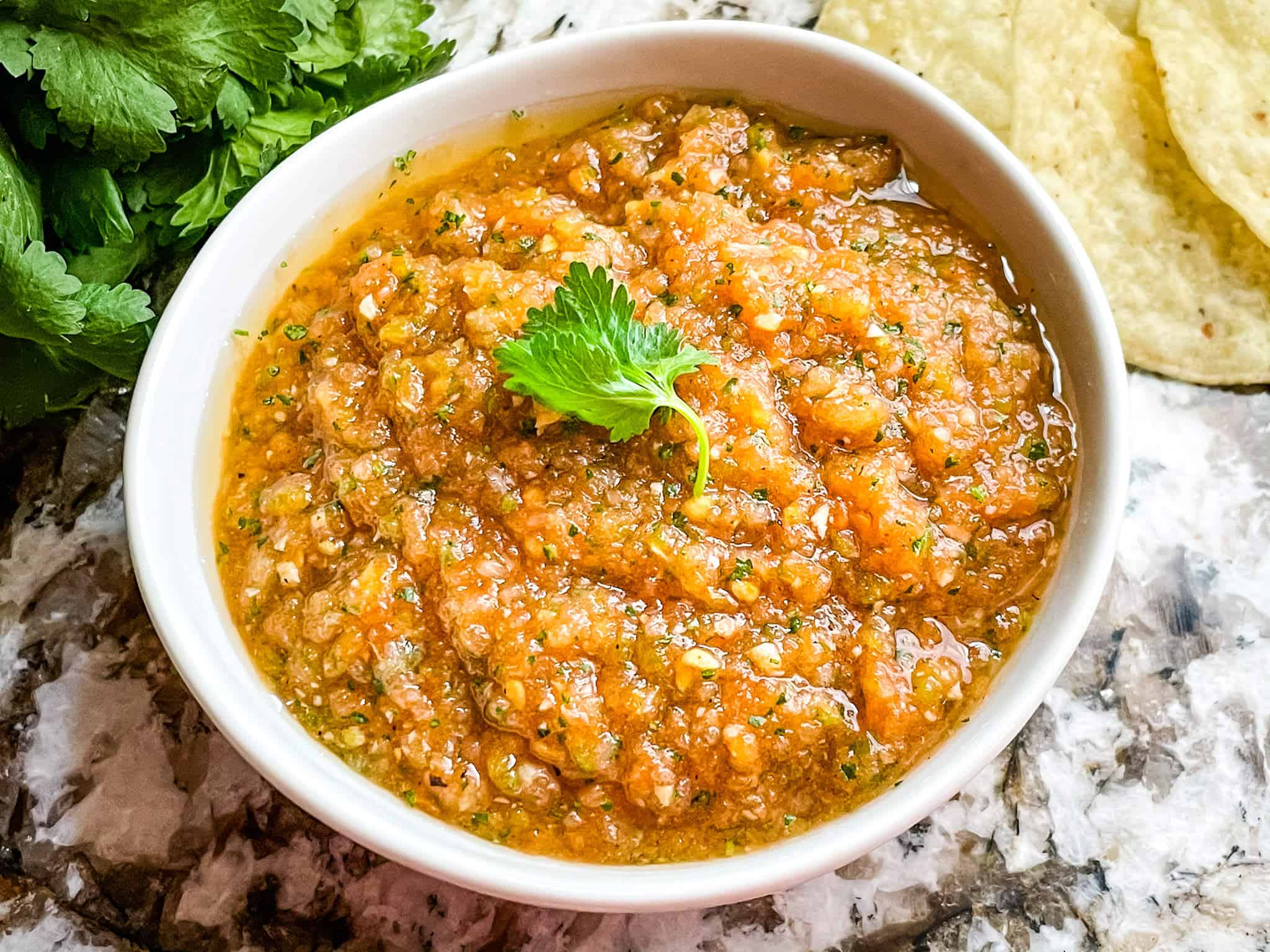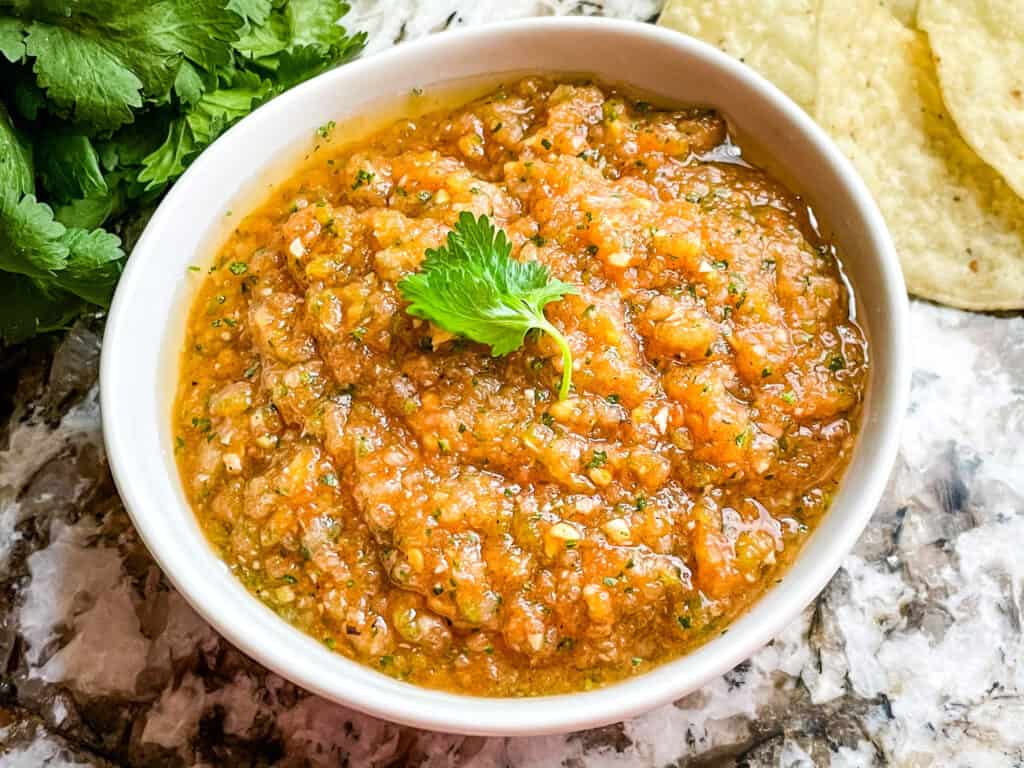 Is Salsa Verde or Salsa Roja more spicy?
This very much depends on the ingredients that are being used. But when thinking about a traditional salsa, red is actually spicier.
This is because green salsa is typically made with tomatillos which have a sweet tang to them and use less hot peppers.
Red salsas can often use various chile peppers, including small red peppers like arbol, which are much hotter.
Ultimately, when you make your own salsa you can control the heat you desire.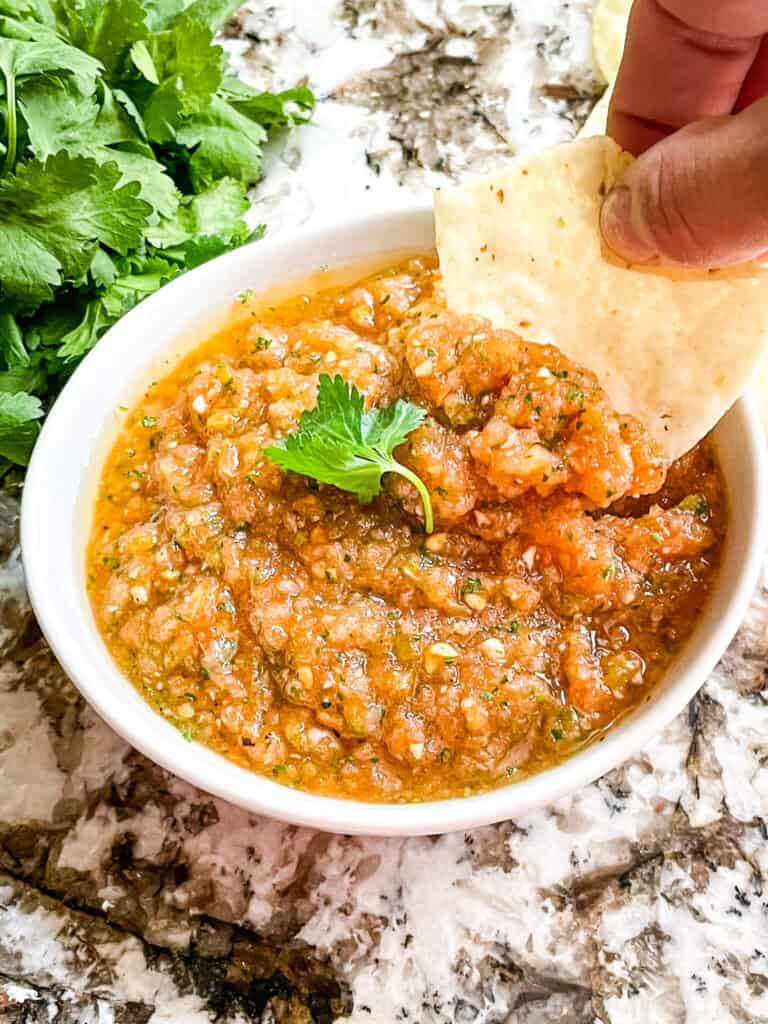 Instructions Overview
It is important to roast the tomatoes, peppers, onions, and garlic to give the classic Ranchera Salsa taste. Do this by placing them on a baking sheet on the top rack in the oven on the broil setting.
I like to use roma tomatoes because they have a lot of thick flesh and are very accessible, but you can use any tomatoes you have or like.
Keep an eye on the vegetables as it will cook quickly and you do not want them to burn too much!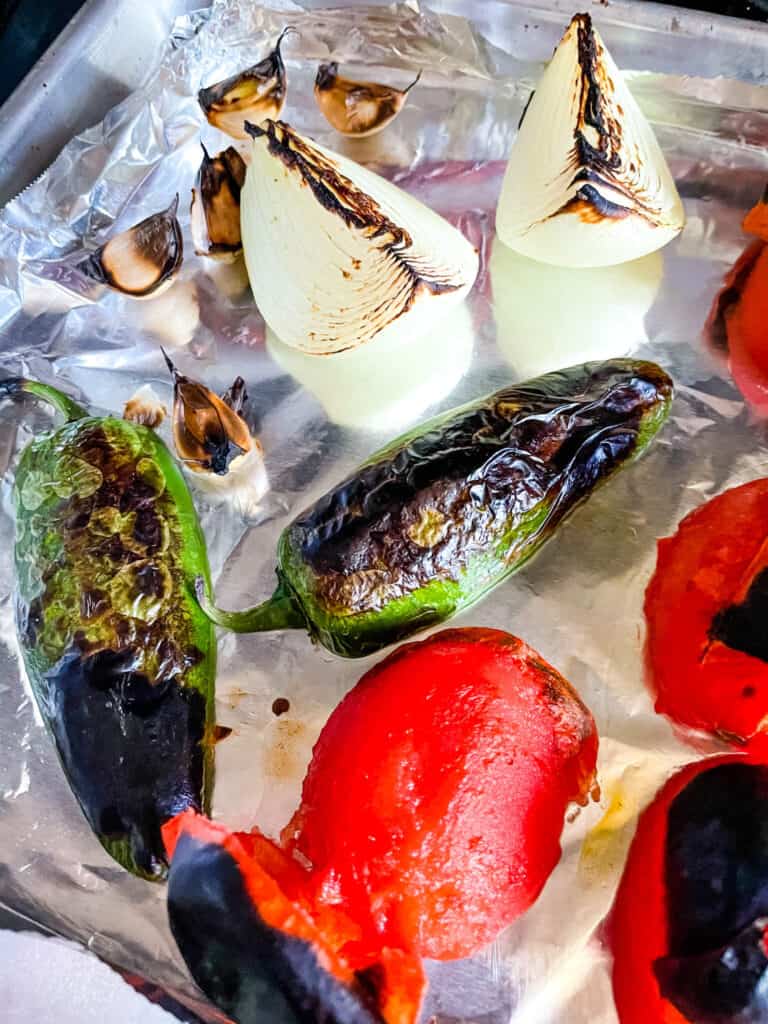 You can see how the skins of the peppers and tomatoes are SO easy to remove after roasting. Removing the skins will give you a smoother salsa texture and also leave the roasted tastes. A little skin left on is just fine.
Then put everything in a food processor or blender and blend away until it is as smooth as desired!
I like to let my salsa chill for at least 30 minutes before serving for it to get cold and for flavors to develop a little, but you can serve it immediately.
The salsa will be a lighter color and not a dark red because you are using the insides of the tomatoes, not the skins, where the pigment is different. Plus we are not using any red roasted chiles.
The salsa is pretty thick. Want to thin it out? Add a little water.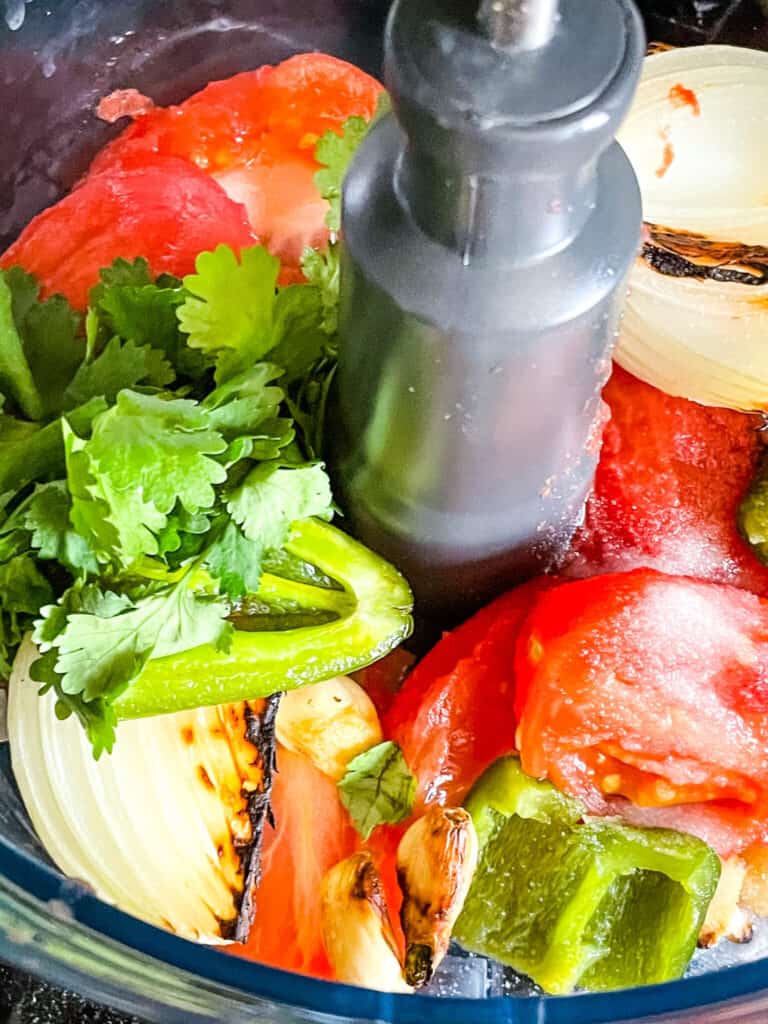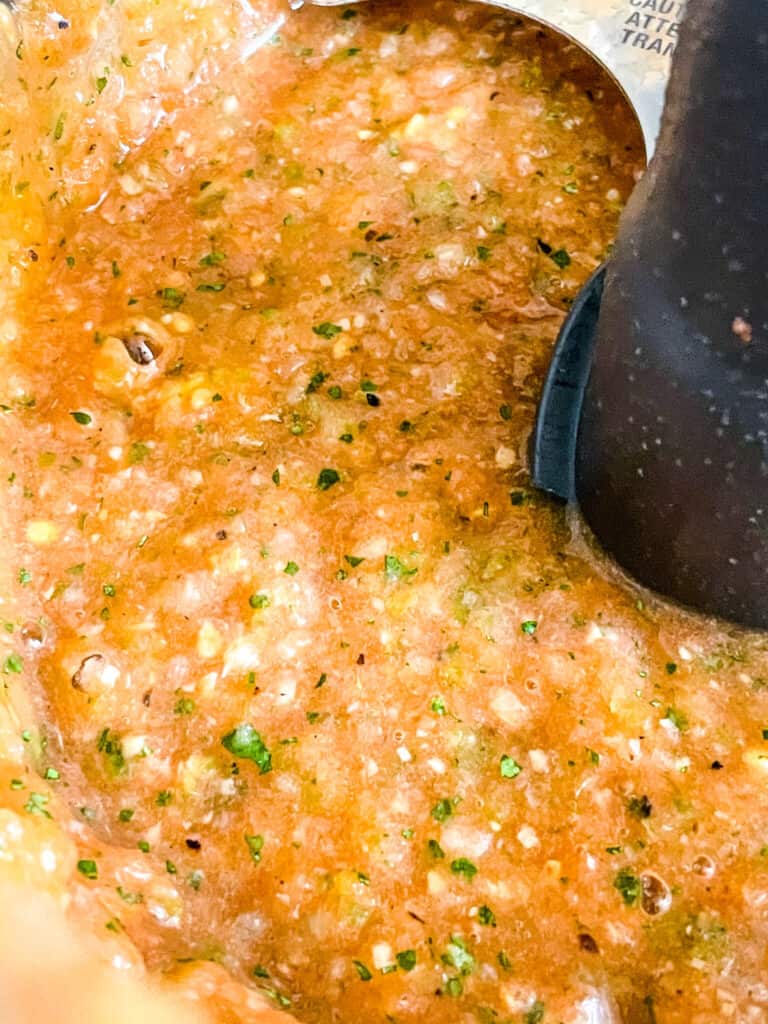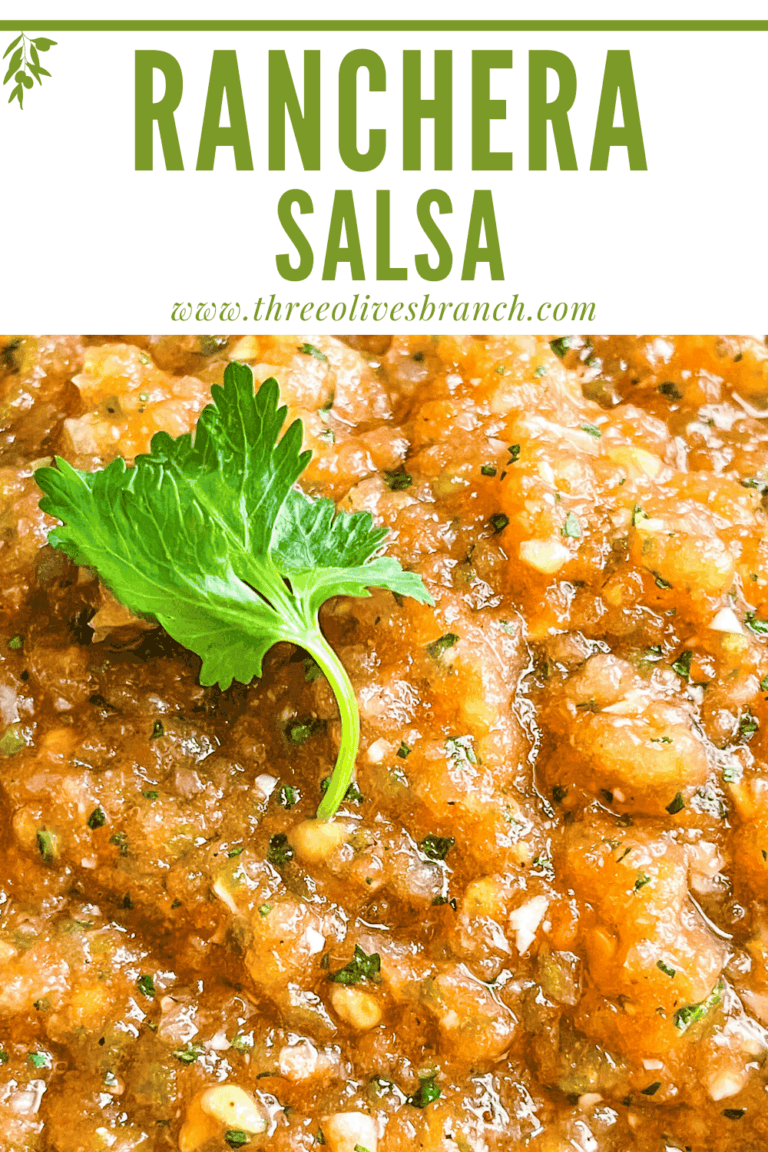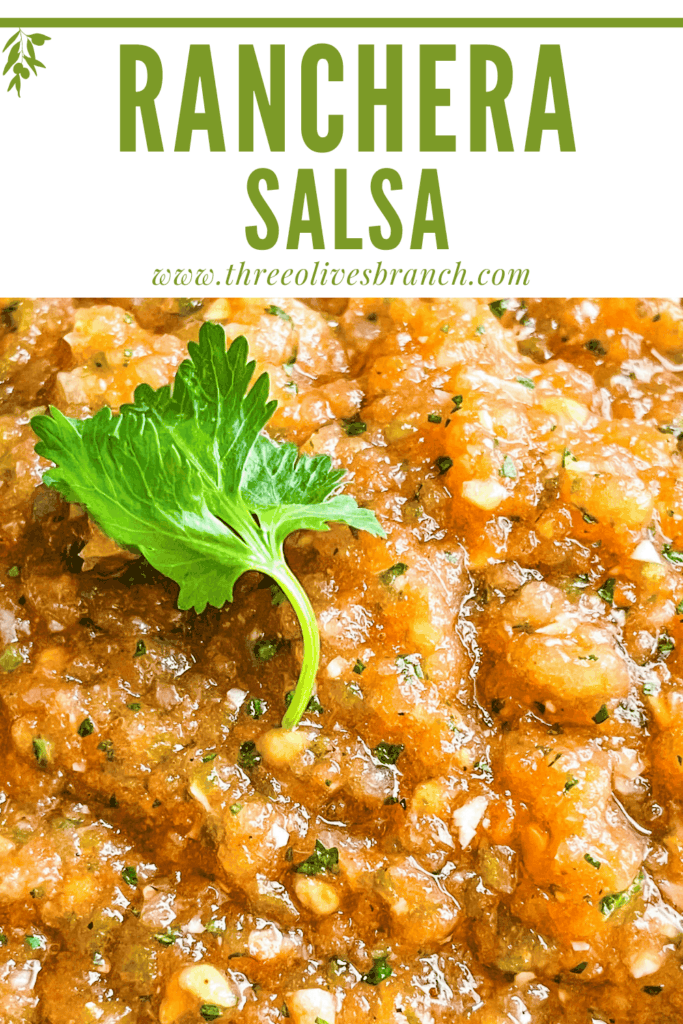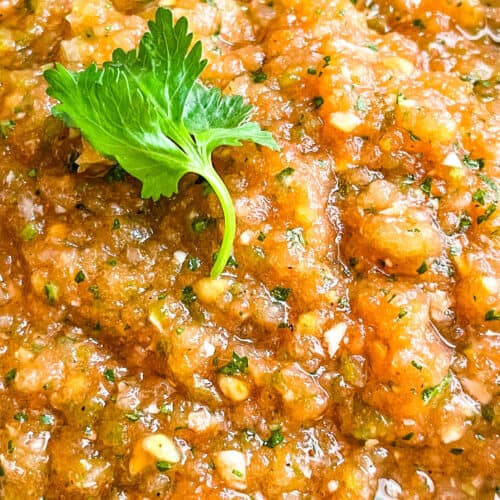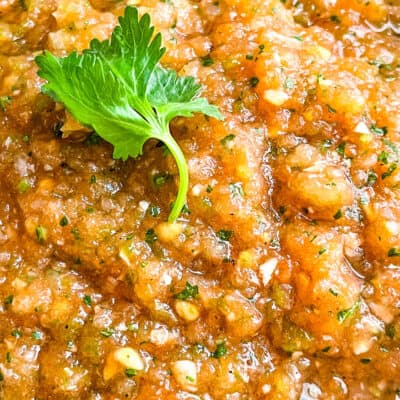 Ranchera Salsa Recipe
This Ranchera Salsa is an easy fresh tomato salsa recipe. A popular Mexican classic highlighting roasted flavors. A fast dip, condiment, or topper for Mexican food and game day.
Print
Pin
Rate
Instructions
Cut your tomatoes and jalapenos in half lengthwise.

Line a baking sheet with foil. Place the tomatoes and peppers cut side down on the foil.

Cut and peel the onion, then cut in half (two wedges). Place the onions cut side up on the foil.

Add the garlic cloves, still in their skin, to the foil pan.

Place on the top rack of the oven and broil until the skins of the peppers and tomatoes are turning dark and blistering, approximately 5-10 minutes depending on your oven. Remove and set aside.

Let the vegetables cool slightly until you can handle them. Remove the skins from the tomatoes, peppers, and garlic. Remove the seeds and white ribs from the jalapenos if desired to remove some of the pepper heat.

Place the tomatoes, peppers, garlic cloves, cilantro, lime juice, cumin, and salt in a blender or food processor. Blend until smooth.

Season to taste as desired with salt and lime. If desired, make it thinner with some water.
Notes
You can use pre-minced garlic. Just simply skip the roasting step and add to the blender/processor with all ingredients. It will not affect the flavor too much.
Want it spicy? Use a hotter pepper or use more jalapeno.
Nutrition
Serving:

1

cup

|

Calories:

78

kcal

|

Carbohydrates:

17

g

|

Protein:

3

g

|

Fat:

1

g

|

Saturated Fat:

1

g

|

Polyunsaturated Fat:

1

g

|

Monounsaturated Fat:

1

g

|

Sodium:

597

mg

|

Potassium:

694

mg

|

Fiber:

4

g

|

Sugar:

9

g

|

Vitamin A:

2179

IU

|

Vitamin C:

55

mg

|

Calcium:

50

mg

|

Iron:

1

mg

By