Tangy and flavorful, these Roasted Poblano Salsa Verde Green Enchiladas with Chicken will be a house favorite! Stuff with cheese, vegetables, or chicken. Perfect for leftover chicken, and the sauce can be made ahead for faster assembly. Roasted tomatillos, poblano peppers, onion, and garlic make the perfect enchilada sauce or salsa.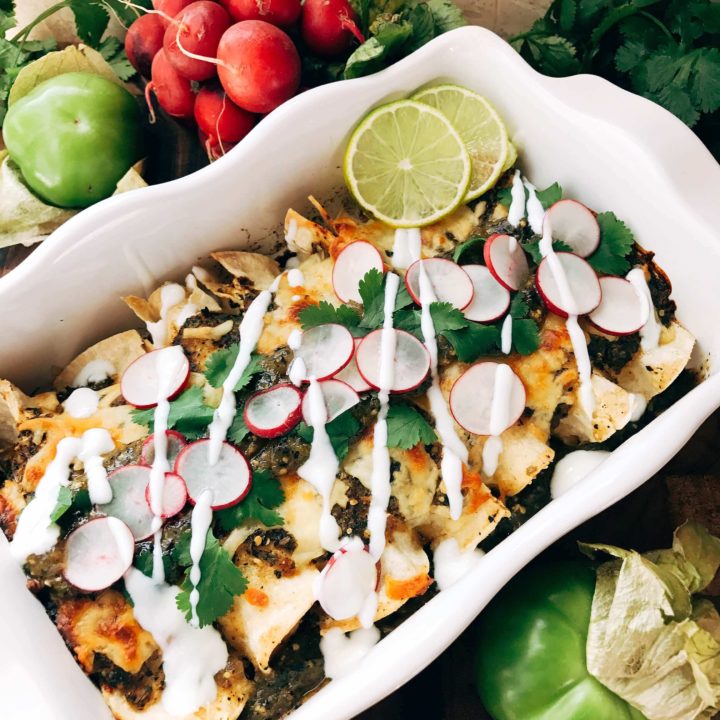 We love our Mexican food in this house, and these Roasted Poblano Salsa Verde Green Enchiladas with Chicken are right up there as one of the favorites.  
If I am ever running through dinner ideas, I know that if I mention these, I might as well stop there!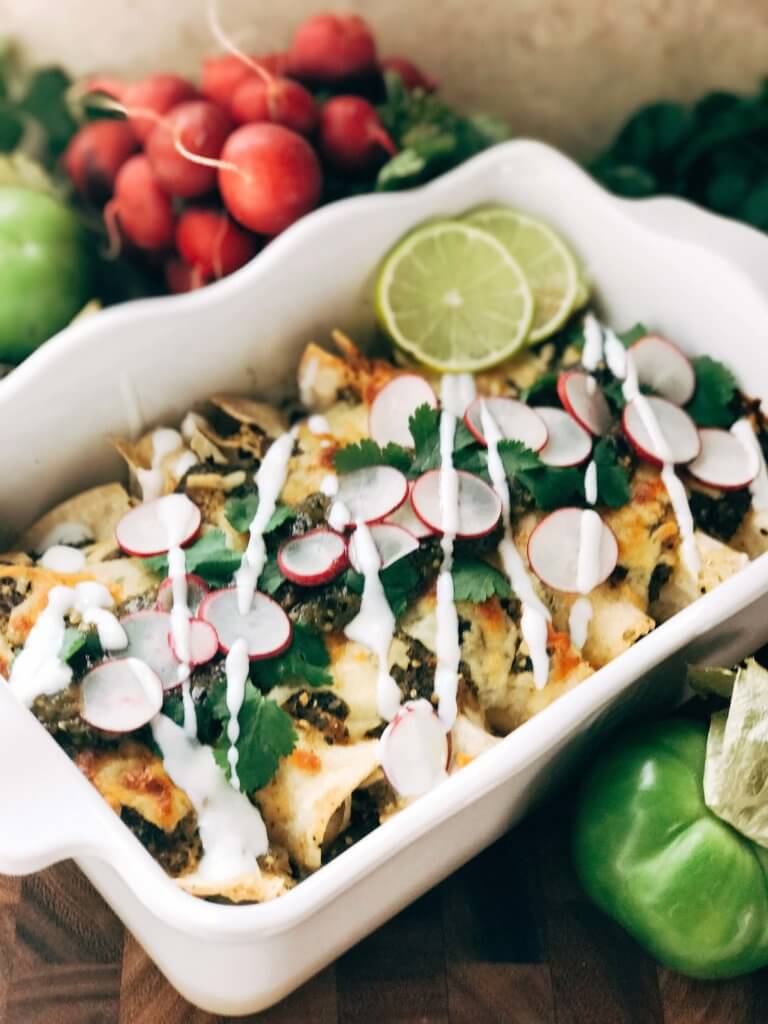 These Roasted Poblano Salsa Verde Green Enchiladas with Chicken are a great change of pace from the typical red enchilada sauce.  
The tomatillos give it a great tang and the roasted peppers provide a depth and smokiness.  
They are so unique and delicious, I get a lot of requests for Green Enchiladas with Chicken when making dinner for a group.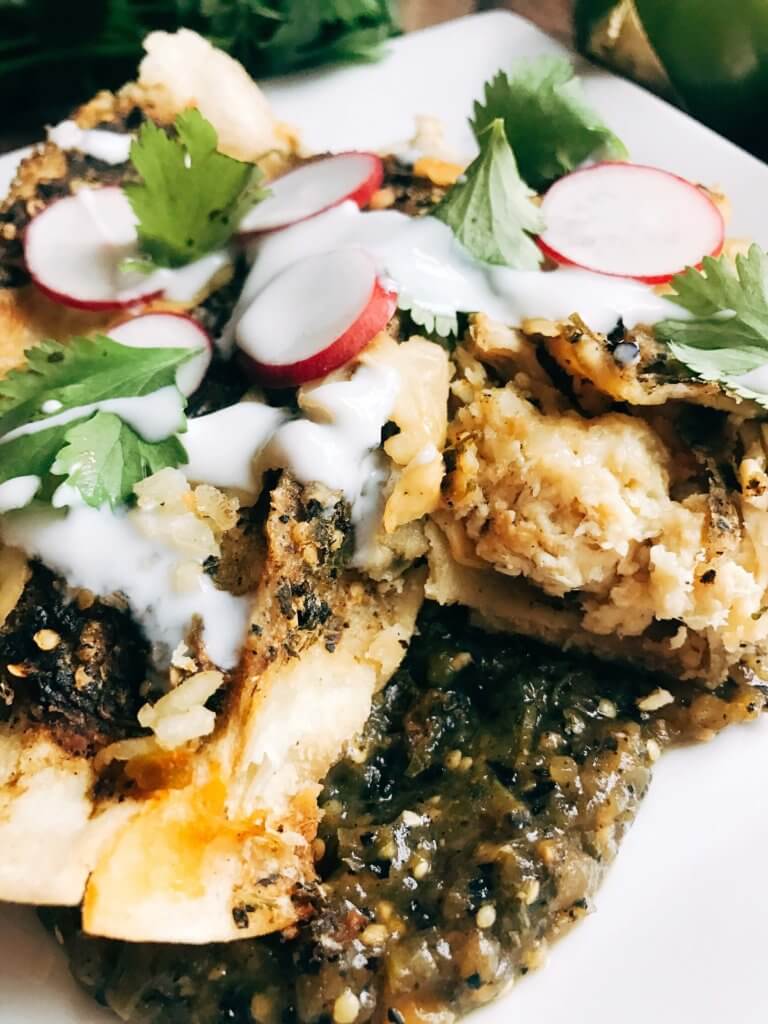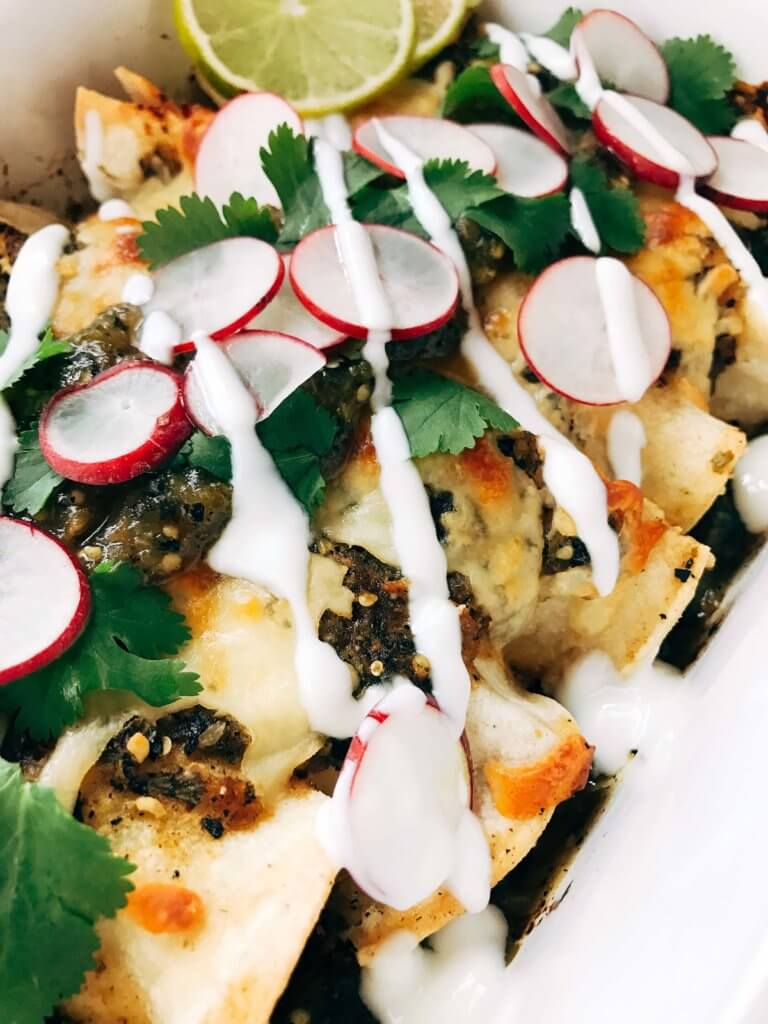 Making the Salsa Verde
It is important to roast the tomatillos and vegetables to bring additional depth of flavor to the sauce.
Can you make it without roasting? Yes. But it will not taste quite as good.
Then throw all of the sauce ingredients in a food processor (or blender), blend, and you are good to go!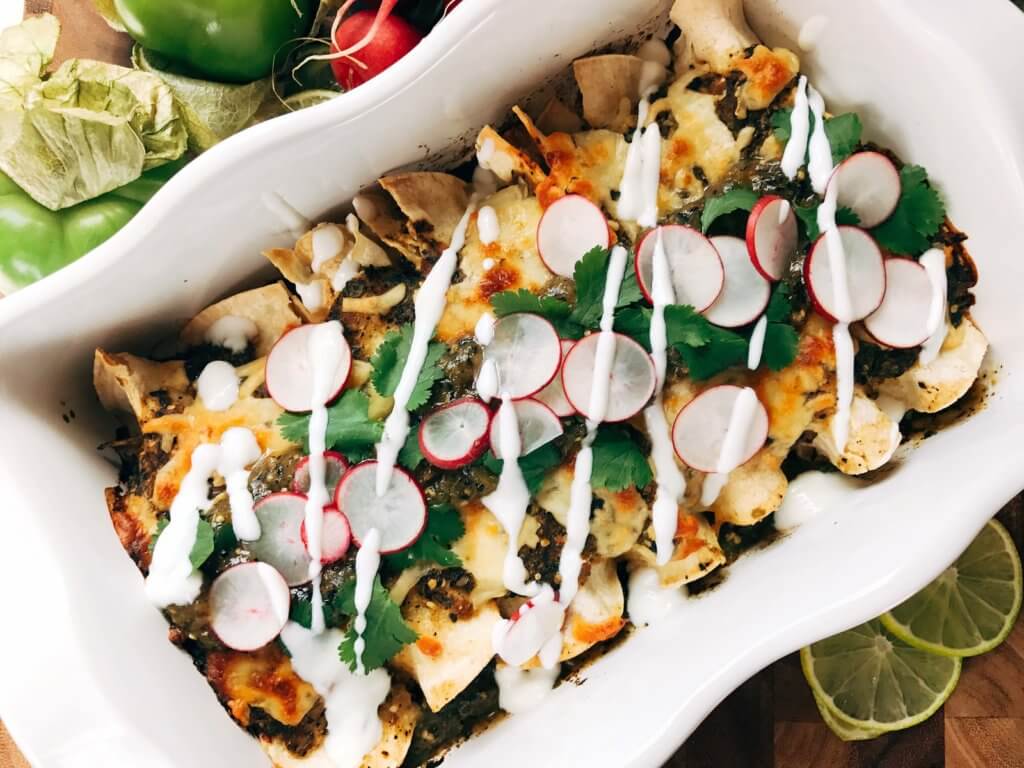 You can easily make this vegetarian or satisfy the cheese lovers with filling these babies with nothing but cheese and some veggies or add-ins of choice.  
I love using corn and some diced white onion.  
And I like mine SAUCY so I make a double batch of the sauce and save some of it for serving.  
It is also a great salsa dip!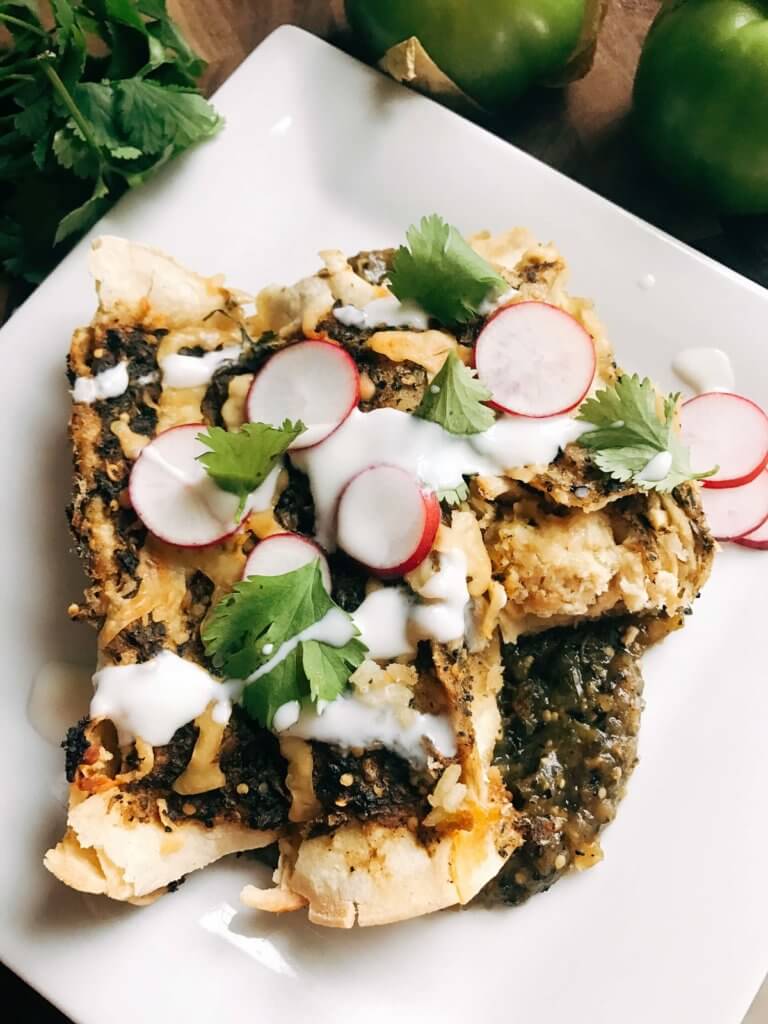 Now this entire process is not exactly fast, but it is worth it!  
If I have a long day, I will work on this in stages.  
Salsa verde in the morning, bake the chicken in the afternoon, etc.  
You can also make the sauce ahead of time and it is freezer friendly!  Using leftover chicken is also a great shortcut here.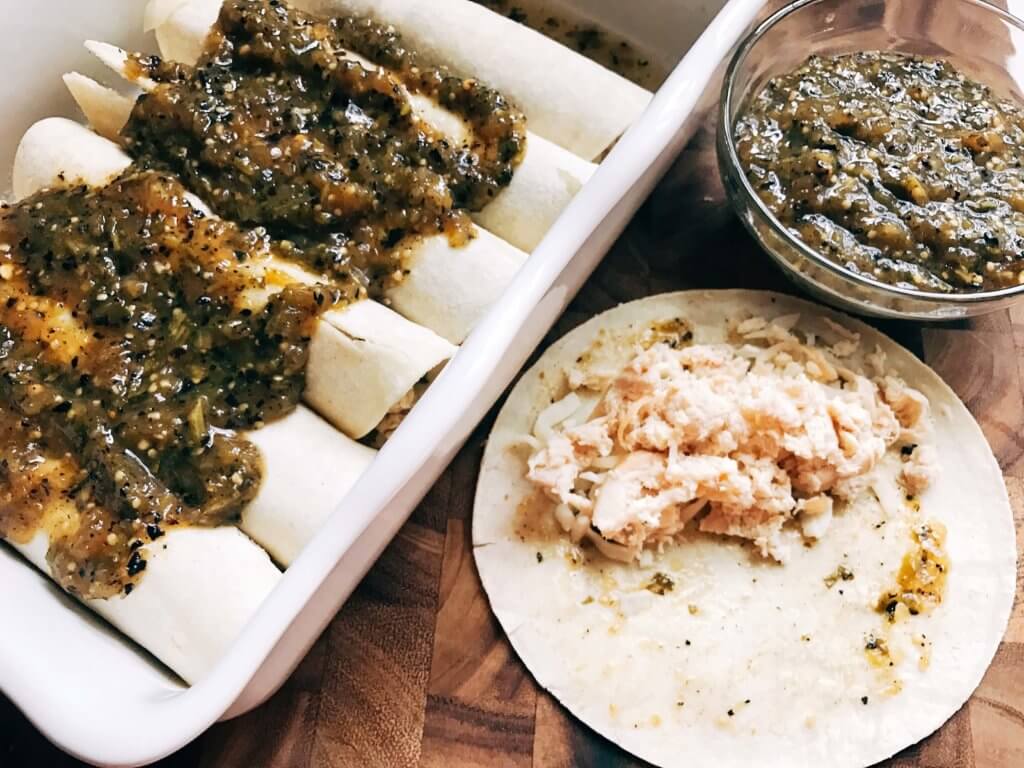 Chicken Shredding Hack!
If you have a stand mixer, I have a kitchen hack to share with you!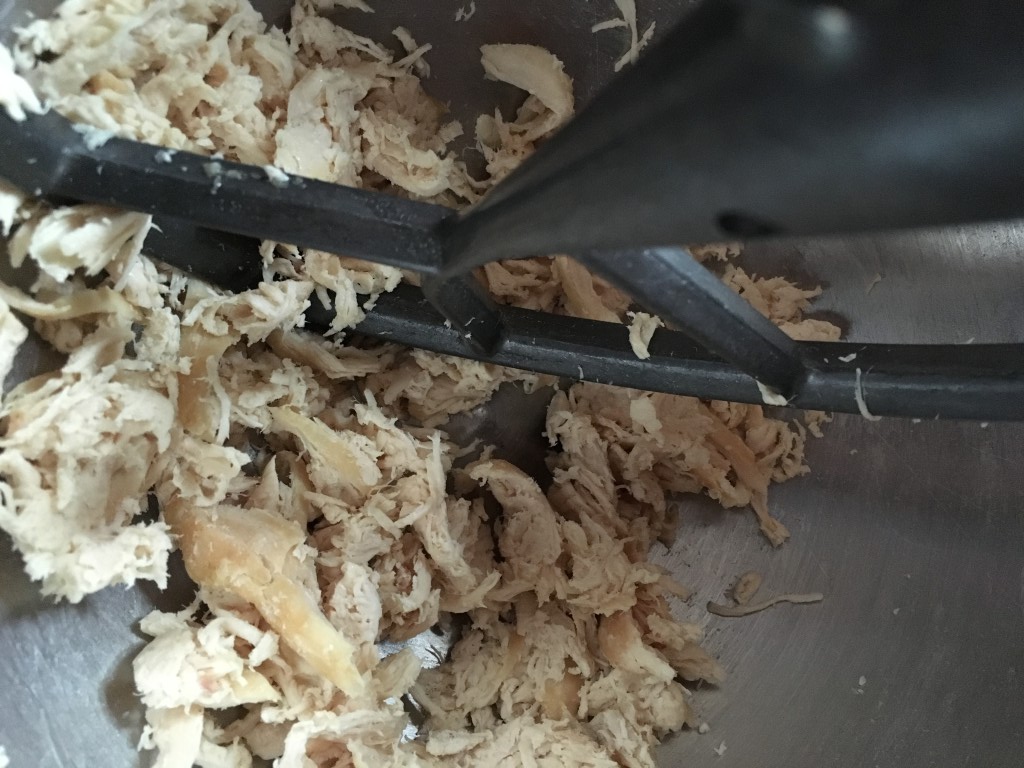 You can throw any meat that you need to shred into the bowl, use the paddle attachment, and turn it on at medium speed.  
All your meat will be shredded in SECONDS!  
It is MAGIC and my hands are thankful for not having to endure cramping sessions whenever I make something like this.
An electric hand mixer also works.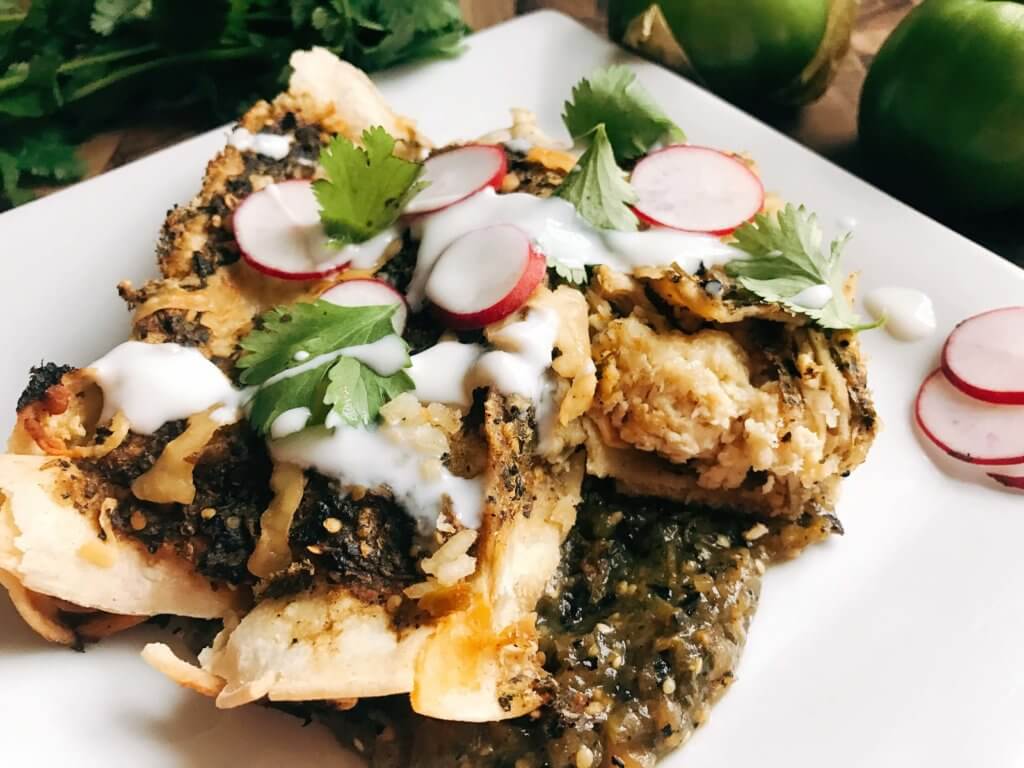 Serve these Roasted Poblano Salsa Verde Green Enchiladas with Chicken with some Better than Chipotle Guacamole!  
Check out our other Mexican recipes for additional salsas and sides.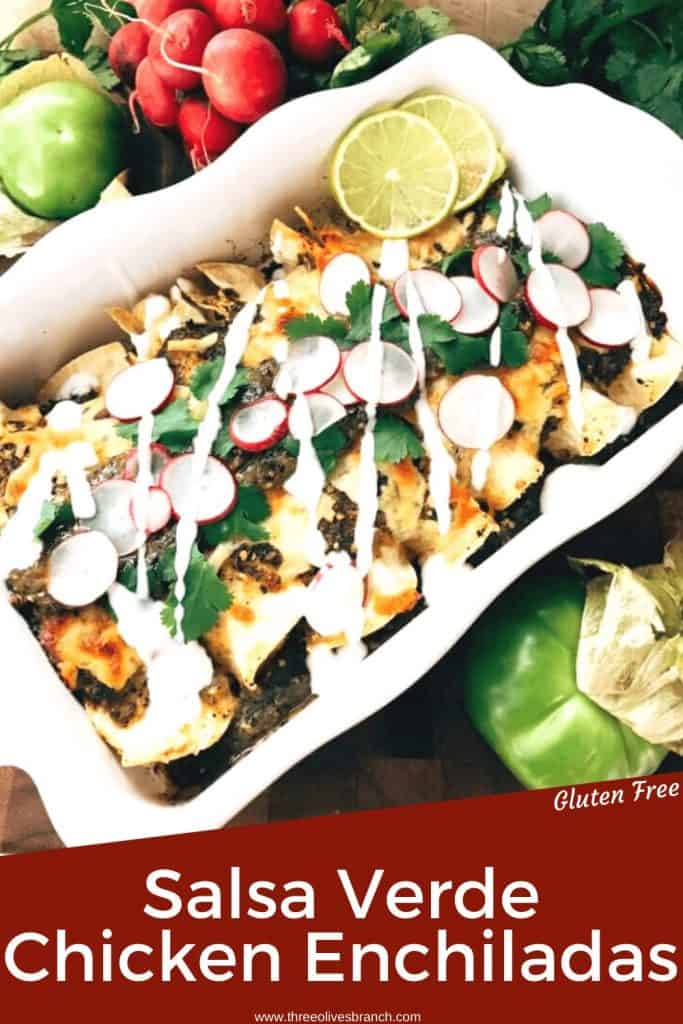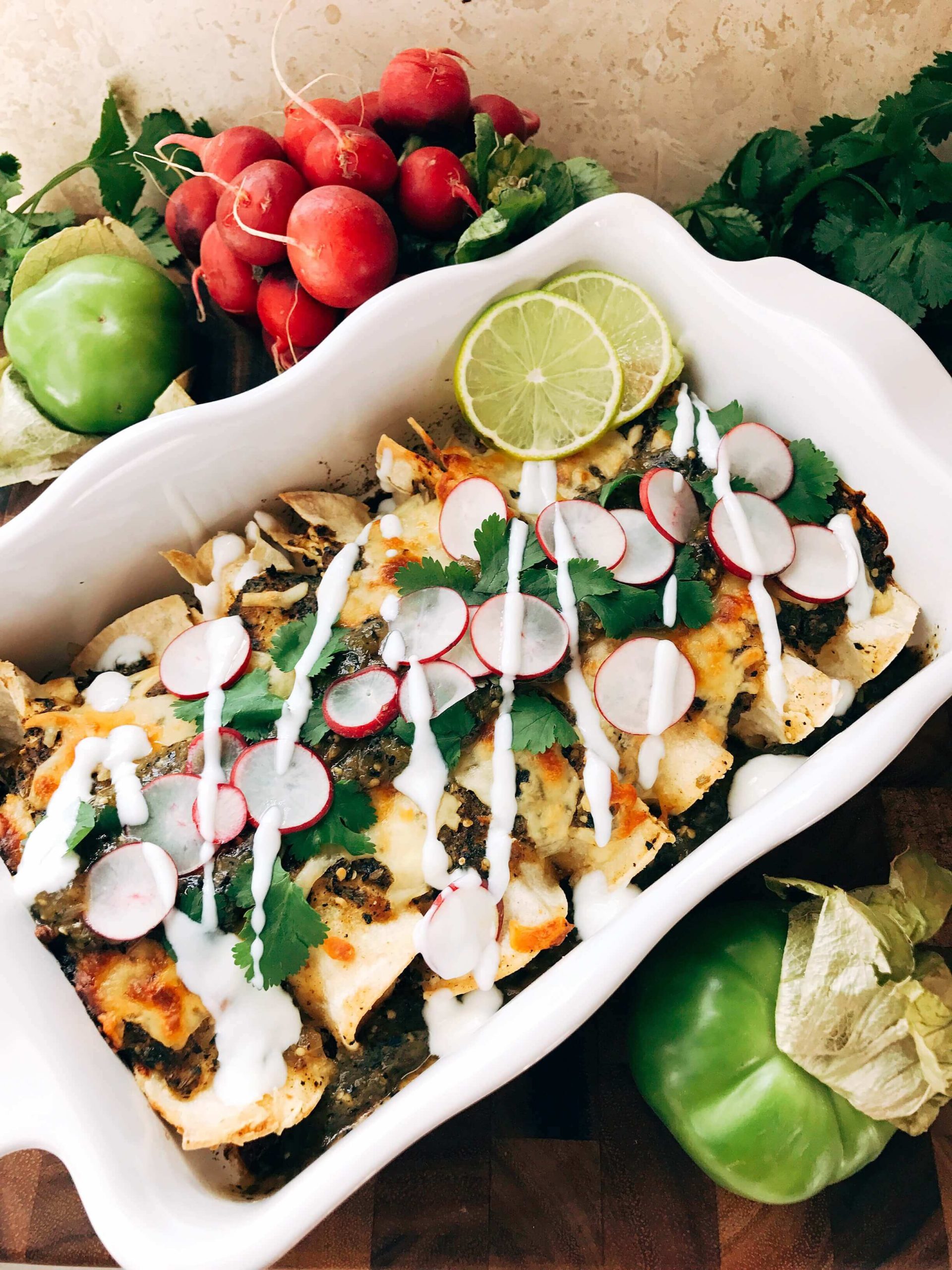 Ingredients
Enchiladas
12

`

corn tortillas

8

ounces

pepperjack cheese

shredded (or Monterey Jack)

corn or other desired fillers
Instructions
Salsa Verde
Line a large baking sheet with edges with aluminum foil.

Peel the tomatillos. Peel the onions and slice them into quarters. Remove the poblano stem and cut in half lengthwise.

Place the tomatillos, onion, garlic, and poblano on the baking sheet and broil with the door slightly open until they start to char. Remove the garlic from the sheet. Flip over all of the tomatillos, onion wedges, and poblano.

Continue roasting until both sides have desired color, approximately 10-15 minutes total. Remove from oven and let cool slightly. (While roasting, get your chicken ready).

Peel the garlic. Add the garlic, tomatillos, onion, and poblano to a food processor. Add the cumin, salt, cilantro (stems are okay as they are going to be ground), and juice of two limes. Process until it reaches your desired consistency.
Chicken
Place the chicken in a glass baking dish. Preheat the oven to 350F.

Drizzle the chicken with olive oil. Squeeze the lime juice over the chicken. Sprinkle chicken with the salt, garlic powder, and cumin.

Bake chicken until cook thoroughly. Remove from oven and let cool slightly.

Shred chicken. Easy button: If you have a stand mixer, you can use the paddle attachment and your chicken will be shredded in seconds!
Assemble Enchiladas
Preheat oven to 375F.

Spread a small amount of the sauce in the bottom of a glass baking dish.

Add 1/4 cup of the sauce to the shredded chicken and mix.

Assemble each enchilada by layering approximately 2 Tbsp of shredded chicken, 1 Tbsp of cheese, a drizzle of the salsa verde, and any other add-ins that you wish to use such as corn, beans, or diced onions.

Line up the enchiladas in the baking dish. When assembly is complete, spread the remaining salsa verde over the top. Sprinkle with the remaining cheese.

Bake at 375 until cheese is bubbling and starting to brown on top, approximately 30 minutes.
Notes
Add 2 or 3 jalapenos to the roasting process with the poblanos for some heat.
Leftover chicken is perfect for this recipe!  Aim for approximately 1-1.5 cups of chicken based on how much you want each enchilada stuffed.
Make the sauce and chicken in advance for faster assembly.
Nutrition
Serving:
1
enchilada
|
Calories:
127
kcal
|
Carbohydrates:
6
g
|
Protein:
8
g
|
Fat:
8
g
|
Saturated Fat:
4
g
|
Cholesterol:
27
mg
|
Sodium:
259
mg
|
Potassium:
196
mg
|
Fiber:
1
g
|
Sugar:
3
g
|
Vitamin A:
289
IU
|
Vitamin C:
16
mg
|
Calcium:
156
mg
|
Iron:
1
mg
By
Kim
on February 9th, 2016