Simple Ground Beef Enchiladas with a red enchilada sauce. Loved by the whole family!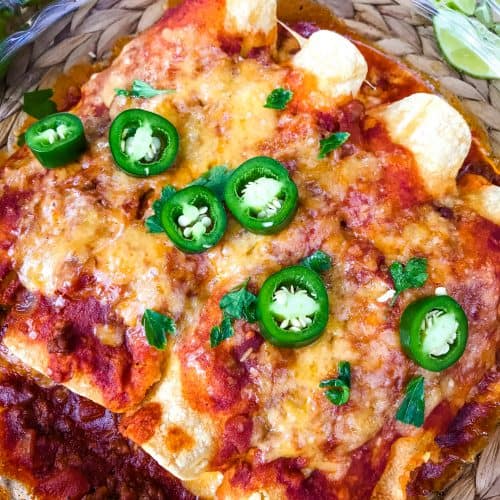 Homemade Ground Beef Enchiladas are a delicious Mexican dinner recipe that the family will love!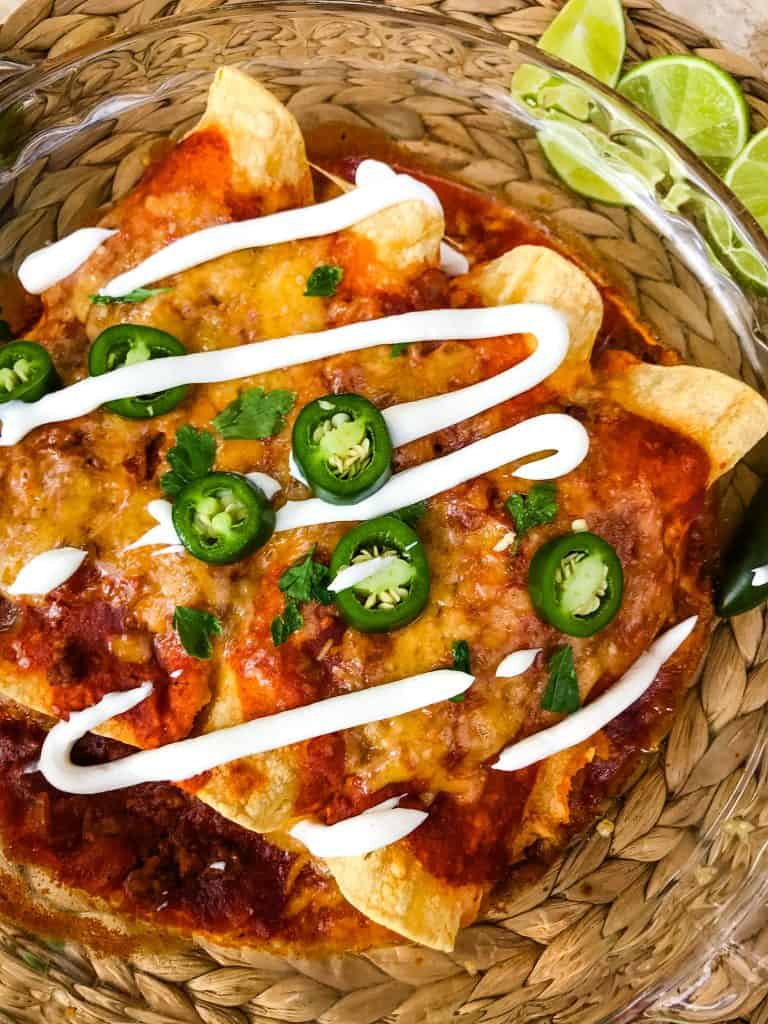 This post contains affiliate links.
I grew up with a lot of Mexican food because of living in Colorado, with California roots, and Texas heritage.
Mexican food is also one of my mom's absolute favorites, so you can bet we ate it often.
And Ground Beef Enchiladas was one of the staple and favorites!
You can use any enchilada sauce that you like.
I LOVE to make my own enchilada sauces because they are fast and easy!
Red enchilada sauce enchiladas are the classic. But when I want to shake things up, I like to use a Creamy Roasted Poblano and Lime Enchilada Sauce, a Smoky Chipotle Enchilada Sauce, or a Salsa Verde Enchilada Sauce.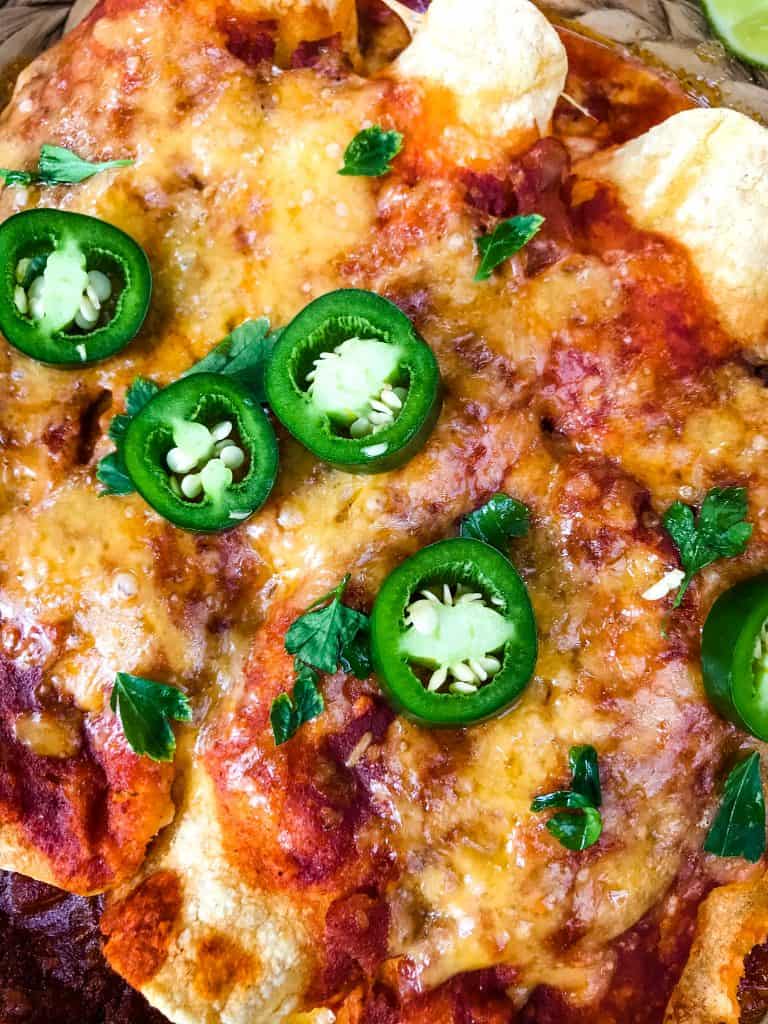 When possible, I try to make these Ground Beef Enchiladas earlier in the day. I just get them all prepared in the pan, sauce and all, and let them hang out for a while.
I find that by letting them sit in the sauce, the tortillas absorb a little of the moisture and become softer.
Not so soft that they are soggy, nor does the sauce dry out or disappear.
But just enough that you don't get the tougher texture from the corn tortillas.
But most of the time I am not cooking that far ahead, so they go straight in the oven!
Do your tortillas crack when rolled?
So one of the most annoying things about enchiladas and other rolled tortilla recipes is when the corn tortillas crack.
Taquitos still intimidate me specifically for this reason. Such a tight roll and no sauce to assist with moisture.
There are two things you can do to minimize your chance of cracked tortillas as much as possible!
Buy corn tortillas that are fresh.
And by fresh, I mean recently purchased from the store. Try to get them from the store same day or just a couple days in advance.
I LOVE stocking up and getting things in advance, but fresh corn tortillas make a big difference.
As you roll enchiladas, pour sauce on top after each 2 that are rolled.
The sauce added on top will help keep them softer and prevent breaking because it is protecting them from the air drying out the tortilla as you roll the rest.
But even if your tortillas are cracking, they will still taste great!
You can also consider making a Beef Enchilada Casserole instead!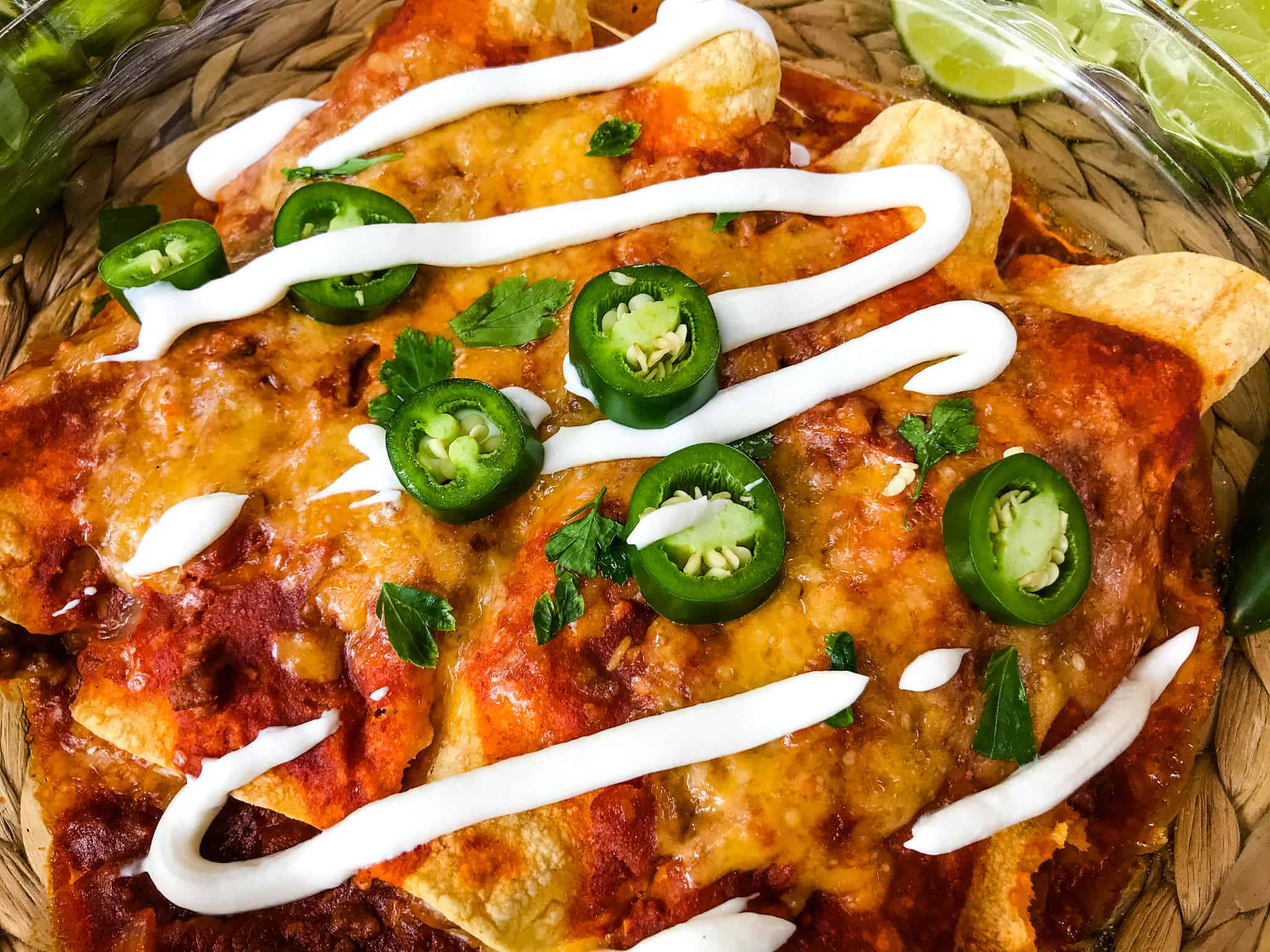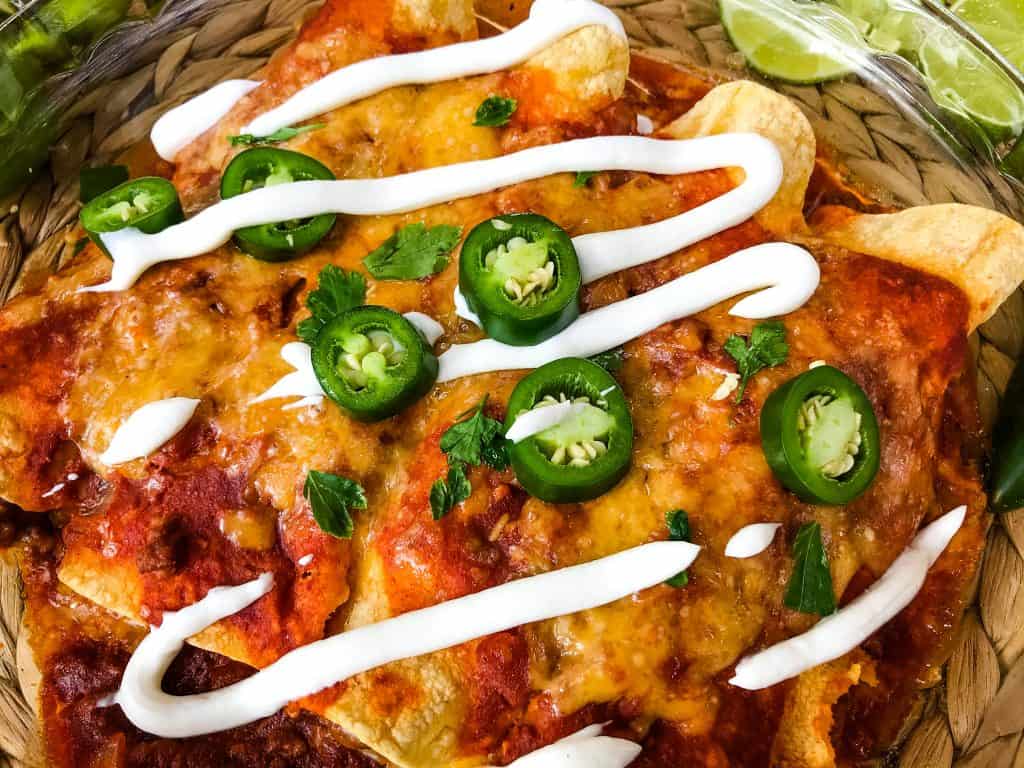 My personal secret trick to enchiladas is to put a little sauce inside the enchiladas with the ingredients, whether mixed with the beef or just down the tortilla.
It adds extra flavor and moisture to the inside, and makes them extra delicious!
Some people dunk the entire tortilla in the sauce before rolling, which you can do, but I find it messy and difficult to handle.
And if I am making homemade enchiladas, I love to make a lot!
They hold over extremely well and reheat beautifully. So leftovers taste almost as good as the day you make them!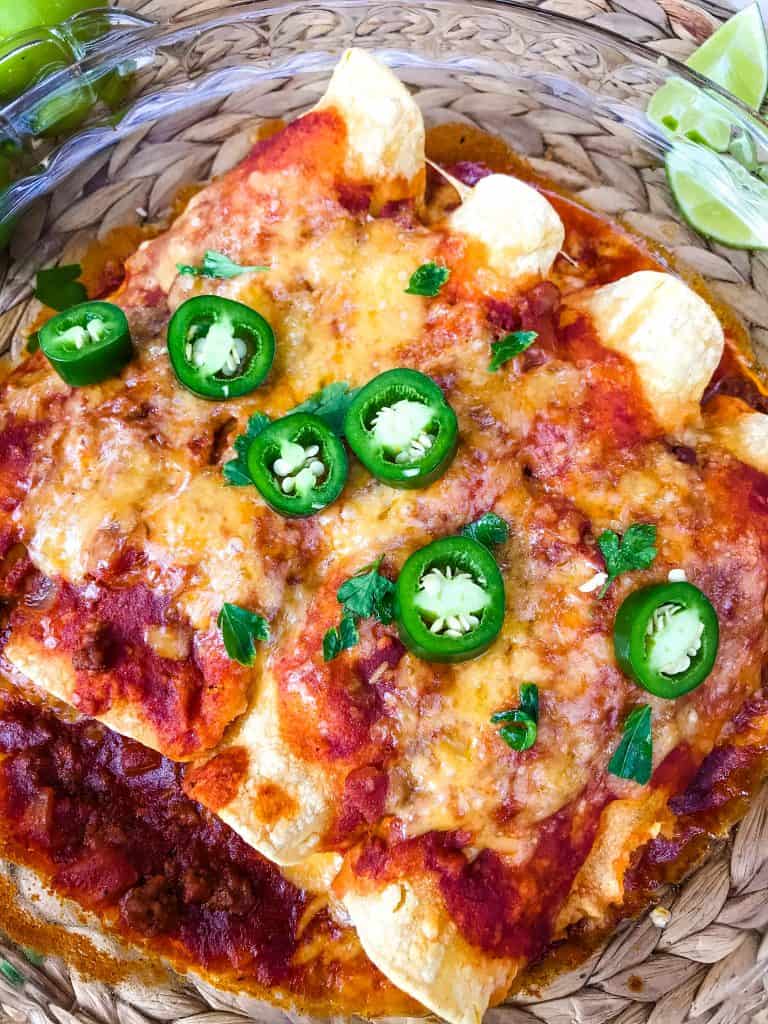 How much should an enchilada be stuffed?
The amount of filling you put in your beef enchiladas is completely based on preference.
Personally, I love a balance between cheese, beef, the tortilla, and sauce.
I have found that approximately 2 Tablespoons of ground beef and 2 Tablespoons of shredded cheese is about perfect.
But if you want to go heavy on beef, cheese, or both, use as much as you want! You will just need more ingredients to get the same amount of enchiladas.
And when you serve these with sides like Hatch Green Chile Rice, beans, or a salad, 2 to 3 enchiladas per person seems to be about perfect.
Not including the leftovers that you will want, of course!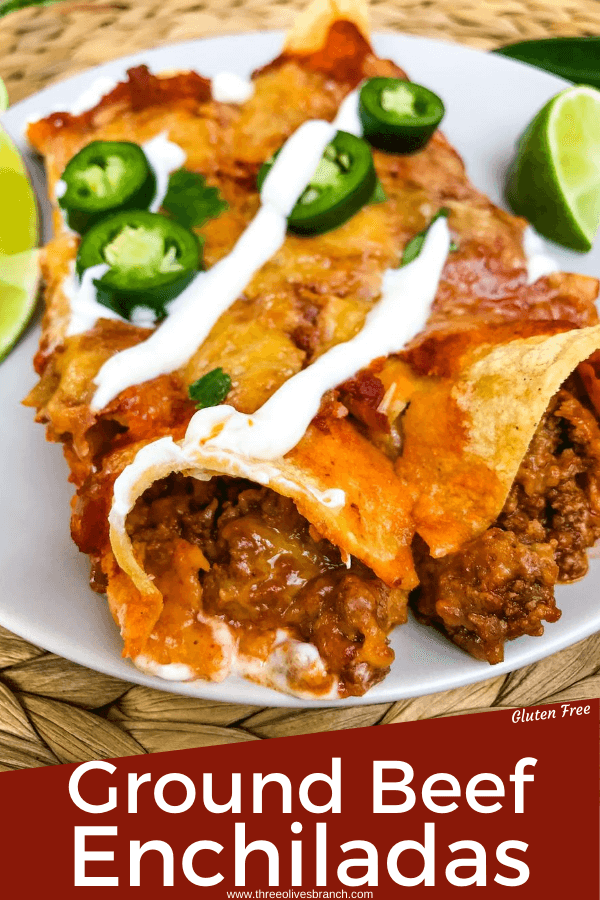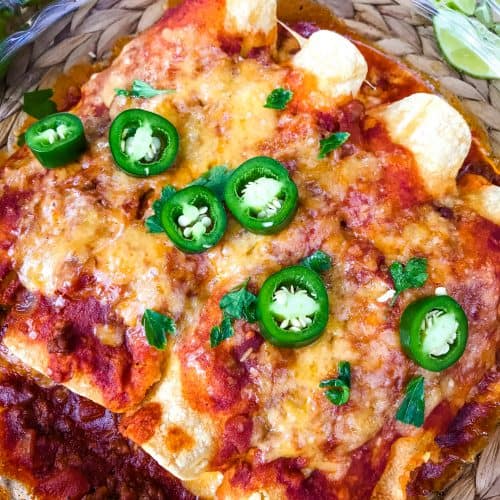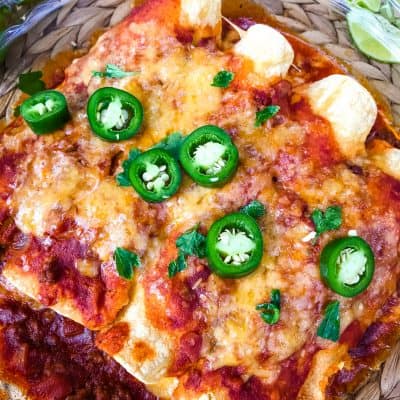 Ground Beef Enchiladas
Simple Ground Beef Enchiladas with a red enchilada sauce. Loved by the whole family!
Print
Pin
Rate
Ingredients
Red Enchilada Sauce (or use any favorite)
Beef Enchiladas
1

pound

ground beef

2

cups

cheddar cheese

shredded, divided
Instructions
Heat oil in a small pot over medium heat.

When oil is heated, add the onion and saute until translucent but not brown, approximately 5 minutes. Add the garlic and cook until fragrant, approximately 30 seconds.

Add the cumin, chile powder, salt, and sugar. Stir to combine and toast until the spices are fragrant, approximately 1-2 minutes.

Add the tomato sauce and 1/2 cup water. Stir to combine. Reduce heat to low and let the sauce simmer for at least 15 minutes. The longer the better, so if you can start this earlier than the flavors will continue to develop and make a more robust tasting sauce.

While the sauce is simmering, cook your ground beef in a medium pot over medium heat. Break up the beef as it cooks until no longer pink, approximately 10 minutes.

When both the sauce and beef are ready, start to assemble the enchiladas.

Preheat the oven to 350F.

Add approximately 1/4 to 1/2 cup enchilada sauce in the bottom of a 9x13 inch baking dish (just enough to cover the bottom). Add a little water to it if it is thick.

Add 1/2 cup of sauce to the ground beef and stir to combine.

Scoop approximately 2 Tablespoons of the ground beef across a corn tortilla, approximately 1/3 up from the bottom.

Add approximately 2 Tablespoons of shredded cheese across the beef.

Roll up and place in the baking dish.

Repeat with the remaining ingredients, getting approximately 12 enchiladas. Add sauce on top of the enchiladas as you roll if they are starting to crack.

Once they are all rolled, pour the rest of the sauce across the enchiladas.

Top with the remaining 1/2 cup (approximately) of cheese.

Bake until the cheese is melted and the sauce edges of the dish is bubbling, approximately 20-25 minutes.

Serve warm with your favorite side dishes and toppings.
Notes
The heat for this recipe is moderate. For a mild heat, use 1 tablespoon of chili powder. For a spicy sauce, use 3 tablespoons of chili powder or add some cayenne pepper.
Keep in mind that the exact powders that you use can vary greatly in heat level.  It is best to start off with less chili powder and add more as you need to than to end up with a sauce that is too hot!
The longer you can let this sauce cook, the better it will taste.
You can skip the sugar, but it helps round out the acidic and sharp flavors that can come with tomatoes.
Use any enchilada sauce that you like! You will need around 2 cups of sauce (16 ounces).
Squish the enchiladas in there tightly to fit in the dish, with some horizontally at the bottom. Or use multiple dishes if desired.
Nutrition
Serving:

1

enchilada

|

Calories:

246

kcal

|

Carbohydrates:

16

g

|

Protein:

14

g

|

Fat:

15

g

|

Saturated Fat:

7

g

|

Cholesterol:

47

mg

|

Sodium:

411

mg

|

Potassium:

331

mg

|

Fiber:

3

g

|

Sugar:

2

g

|

Vitamin A:

744

IU

|

Vitamin C:

3

mg

|

Calcium:

180

mg

|

Iron:

2

mg

By