These Southwest Ground Turkey Enchiladas are packed with cheese, turkey, black beans, corn, and green chiles. A delicious gluten free Mexican dinner recipe. #enchiladas #groundturkey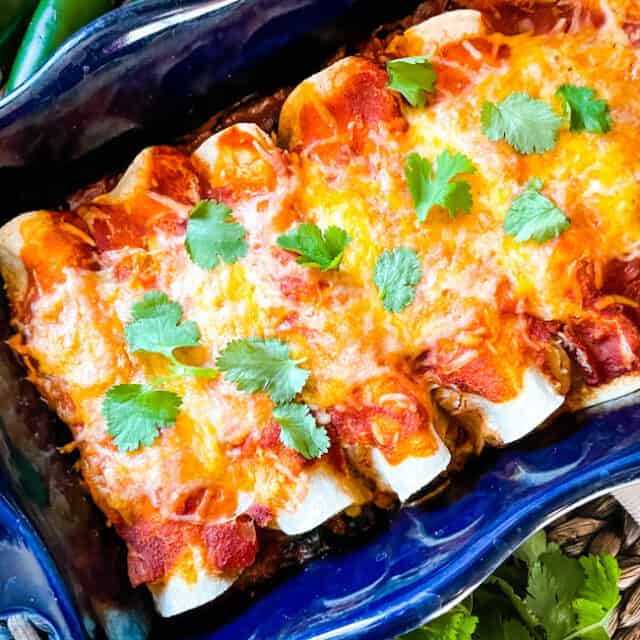 These Southwest Ground Turkey Enchiladas are a fun and delicious Mexican dinner recipe! Filled with turkey, black beans, corn, and diced green chiles.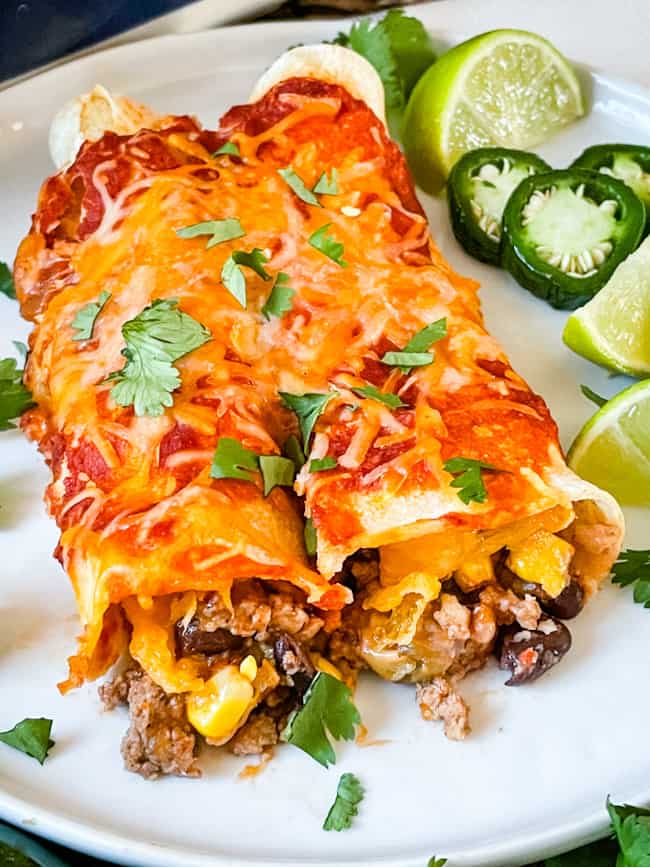 I made these Southwest Ground Turkey Enchiladas for family and wanted to do something fun and different with them besides a regular enchilada.
The addition of black beans, corn, and green chiles not only add extra vegetables to the dish and stretch out how far a pound of turkey goes, but also brings a fun combination of flavors.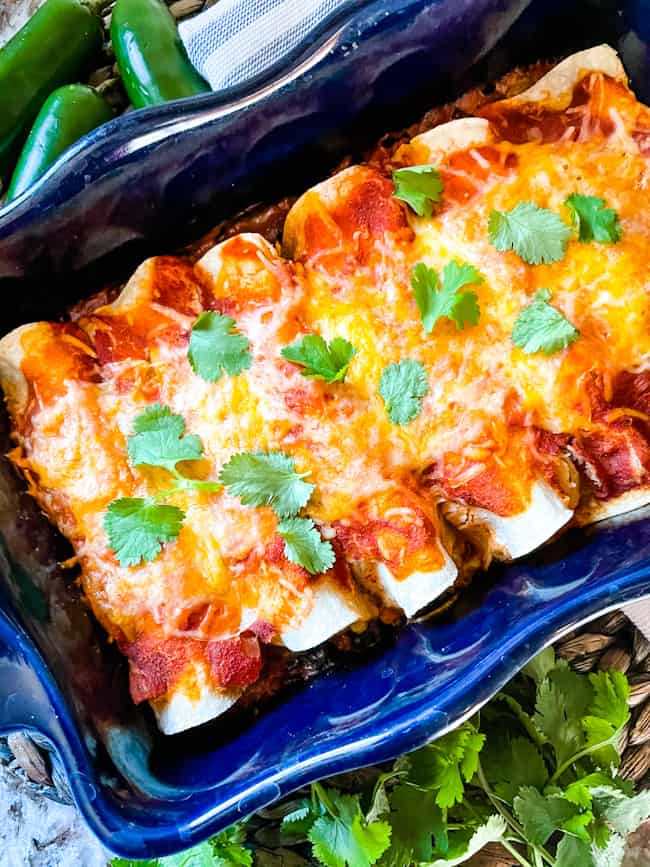 Substitutions
I am a big believer in making a recipe work for you either based on preference or what you have.
No black beans? Pinto would work great.
No green chiles? Use jalapeno, or even bell peppers if you want to avoid heat.
And a very important ingredient…cheese.
Really any melty cheese you love will work. All cheddar, Monterey jack, or pepperjack. In a crunch? Mozzarella will work.
I like colby jack with these because you get some flavor from the cheddar but because it is balanced with Monterey jack, it is not too overpowering of the other flavors.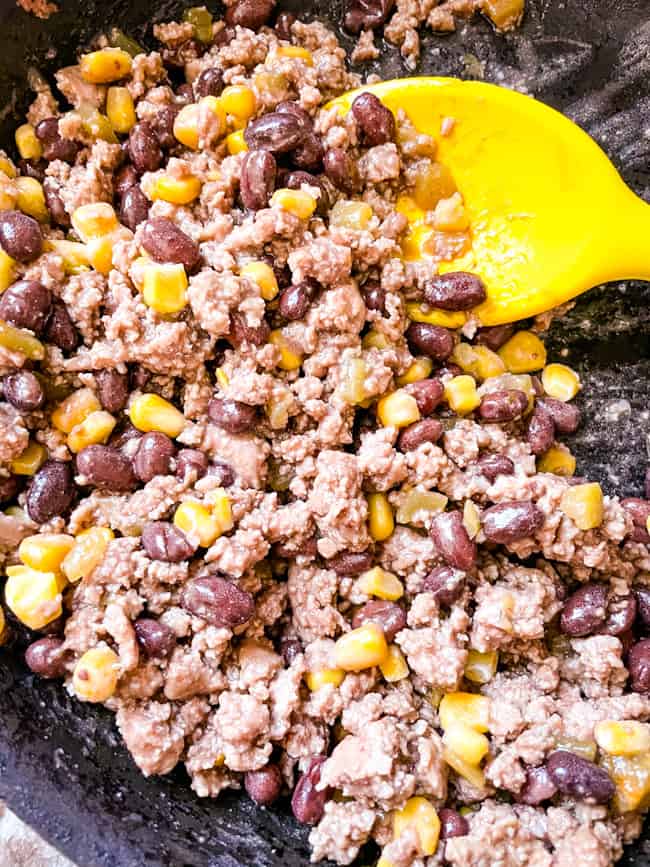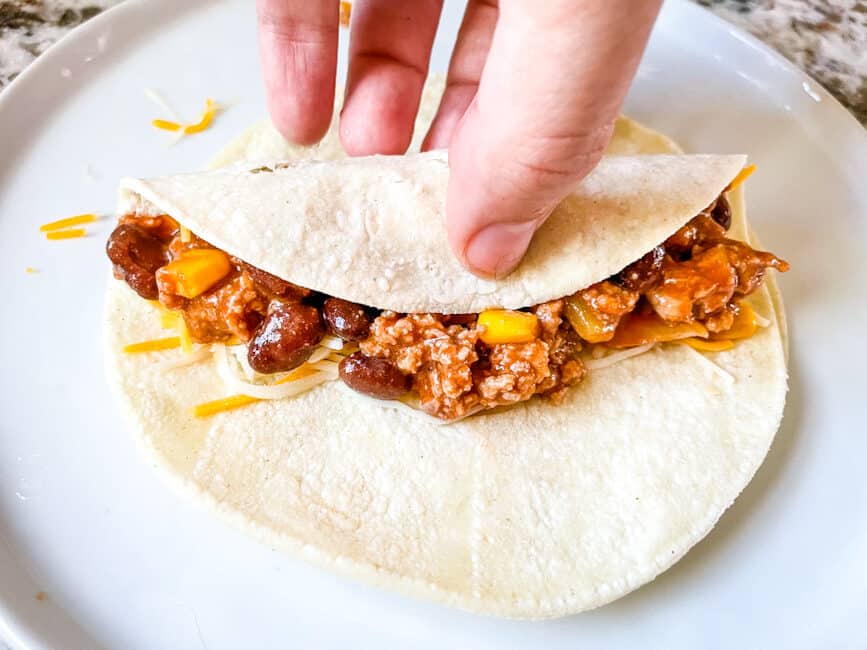 Enchilada Assembly
I have a few small tips for making amazing homemade enchiladas.
Make sure you are using fresh tortillas, as in recently purchased from the store. They are much softer and easier to roll.
When tortillas sit in your pantry, they start to dry out, which means when rolled they could crack and the enchiladas fall apart.
I also like to mix some of the enchilada sauce into the filling directly. This brings some moisture and flavor to the inside so you do not have dry filling.
I also put a little sauce, with a little water, in the bottom of the dish. This helps prevent the enchiladas from sticking, and the extra water means the tortillas will not get stuck and crunchy on the bottom, which can lead to tearing.
Enchilada Sauces
These ground turkey enchiladas taste great with so many different enchilada sauces! Use any that you love, homemade or canned.
I am a big fan of making homemade enchilada sauce because it is so easy.
My standard go-to red enchilada sauce is what you see here and always a hit.
For a twist, a smoky chipotle enchilada sauce is fun.
Or go green with a roasted poblano and lime enchilada sauce.
There are so many options! Check out all of our enchilada sauce recipes for more sauce flavors.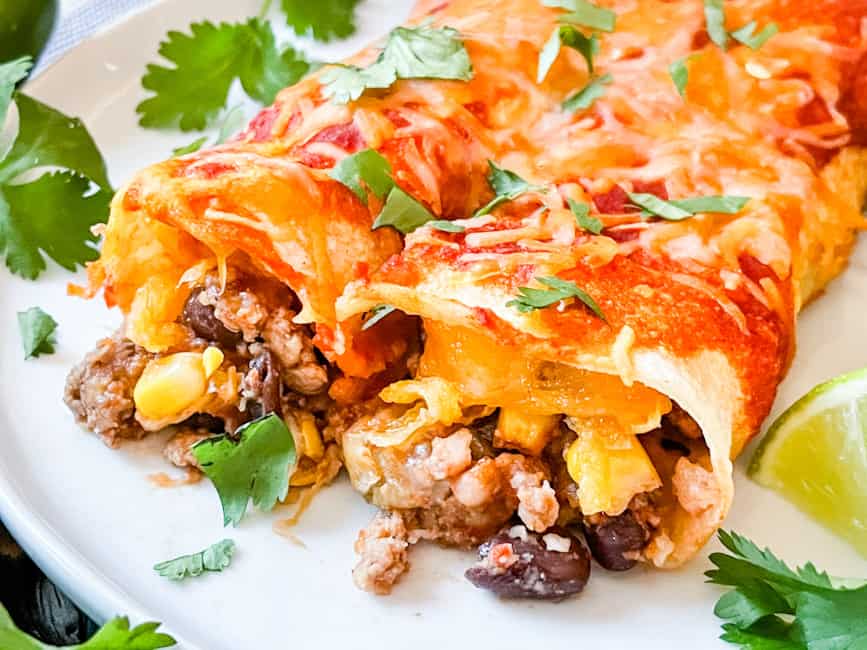 Side Dishes for Enchiladas
Looking for something to go along with your Southwest Ground Turkey Enchiladas? Here are some ideas for you!
Side Dishes for Enchiladas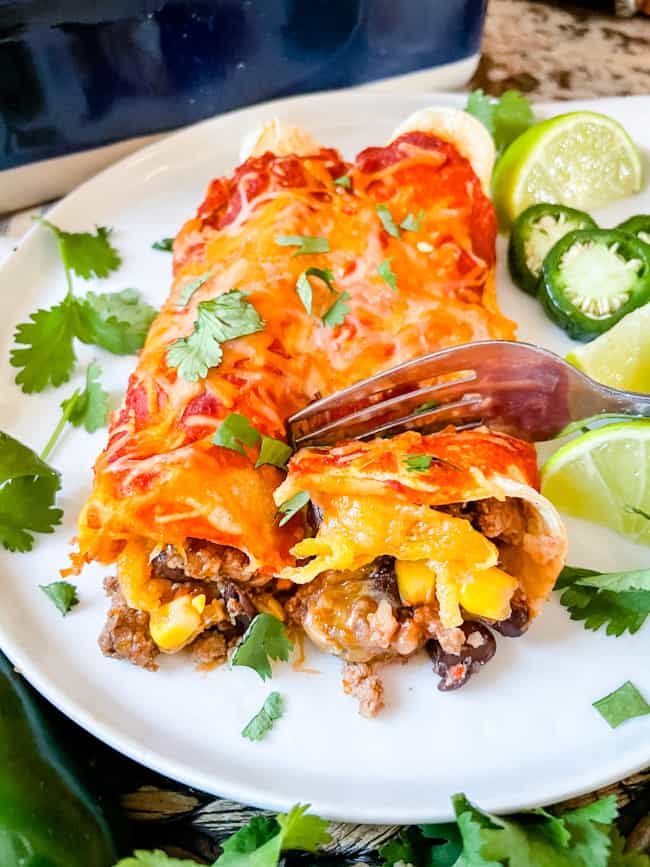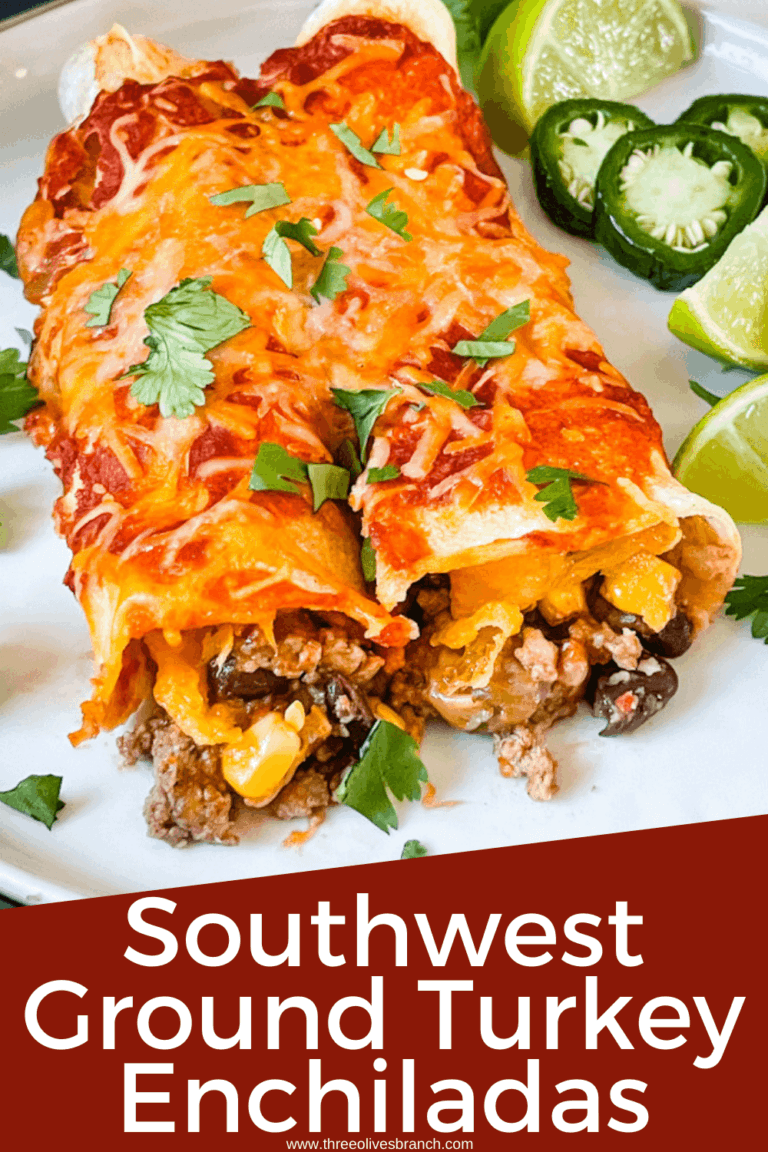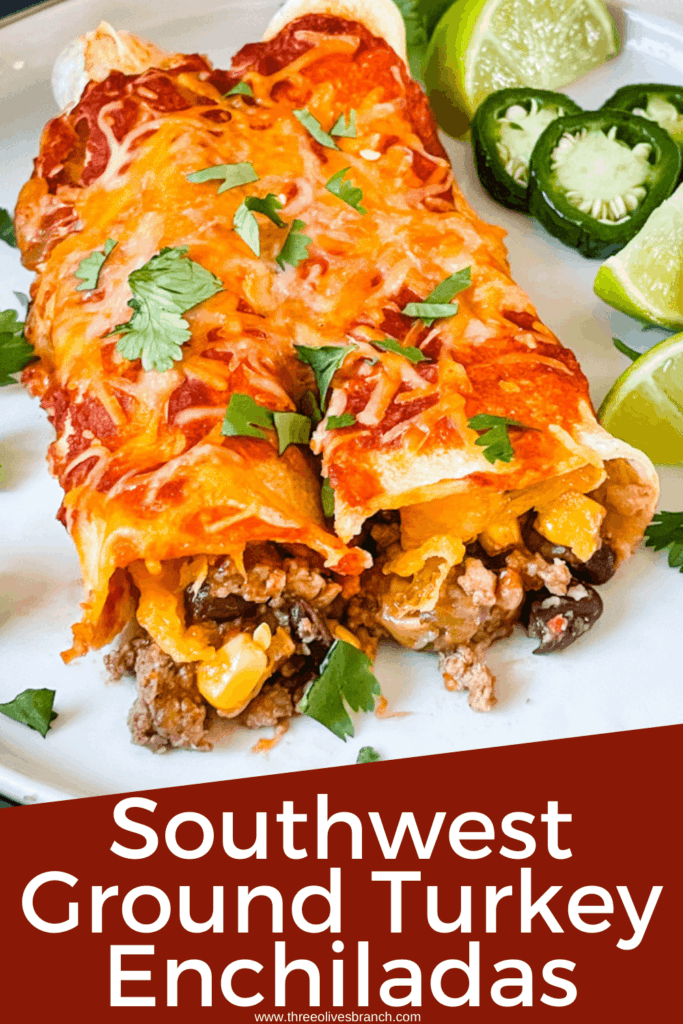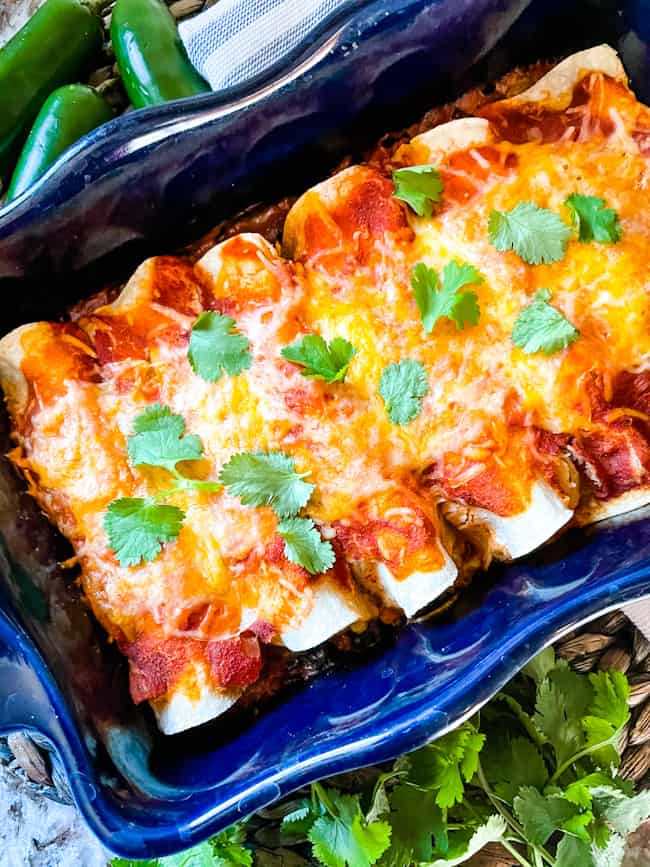 Instructions
Make your enchilada sauce if not made already.

Heat a large skillet over medium heat.

Add the turkey and stir occasionally until cooked through.

Add the beans, corn, and green chiles to the turkey. Mix to combine.

Add 1/2 cup water to your enchilada sauce to make it a little thinner. Stir to combine. (If your sauce is already thin, no need to add water, but you will probably need a little more sauce).

Pour about 1/4 cup of the enchilada sauce and 1/4 cup additional water into the bottom of the baking dish and stir to coat most of the bottom.

Add 1/2 cup of the enchilada sauce to the ground turkey mixture and stir to combine.

Sprinkle approximately 1 ½ Tablespoons of shredded cheese about a third of the way down a tortilla, across the tortilla in a line.

Scoop approximately 2 ½ to 3 Tablespoons of the turkey mixture across the cheese.

Gently but tightly roll the tortilla up. Place in the baking dish at one end with the seam on the bottom.

Repeat with the remaining tortillas and filling.

Pour the rest of the enchilada sauce across the top of the enchiladas. Sprinkle with the remaining cheese (or more cheese as desired).

Bake until the cheese is melted, approximately 20 minutes.

Serve warm with your favorite sides and toppings.
Notes
I like to use frozen corn, but you can substitute the 1 1/2 cups corn with one can of corn, drained. One can is less than 1 1/2 cups but works just fine.
Cheddar, Monterey jack, pepperjack, or colby jack are all great cheese options.
Nutrition
Serving:

1

enchilada

|

Calories:

171

kcal

|

Carbohydrates:

21

g

|

Protein:

12

g

|

Fat:

5

g

|

Saturated Fat:

2

g

|

Trans Fat:

1

g

|

Cholesterol:

23

mg

|

Sodium:

310

mg

|

Potassium:

226

mg

|

Fiber:

4

g

|

Sugar:

2

g

|

Vitamin A:

272

IU

|

Vitamin C:

1

mg

|

Calcium:

102

mg

|

Iron:

1

mg

By