Shredded Beef Enchiladas are a delicious and family friendly Mexican food recipe! A great dinner idea using chuck roast and warm spices, with corn tortillas, cheese, and enchilada sauce. Gluten free. Make the barbacoa in a slow cooker or Instant Pot.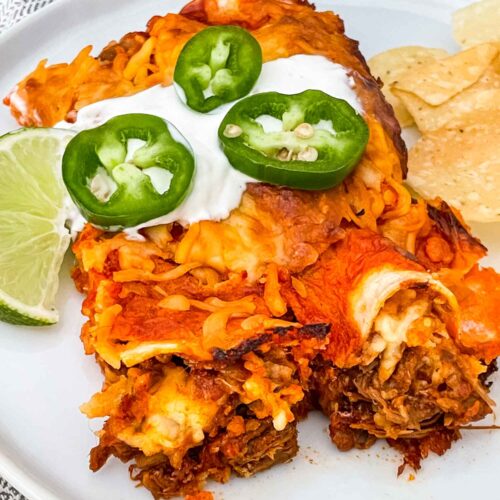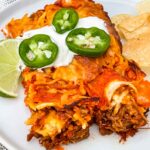 These Shredded Beef Enchiladas are an amazing beef dinner idea! A classic Mexican food recipe.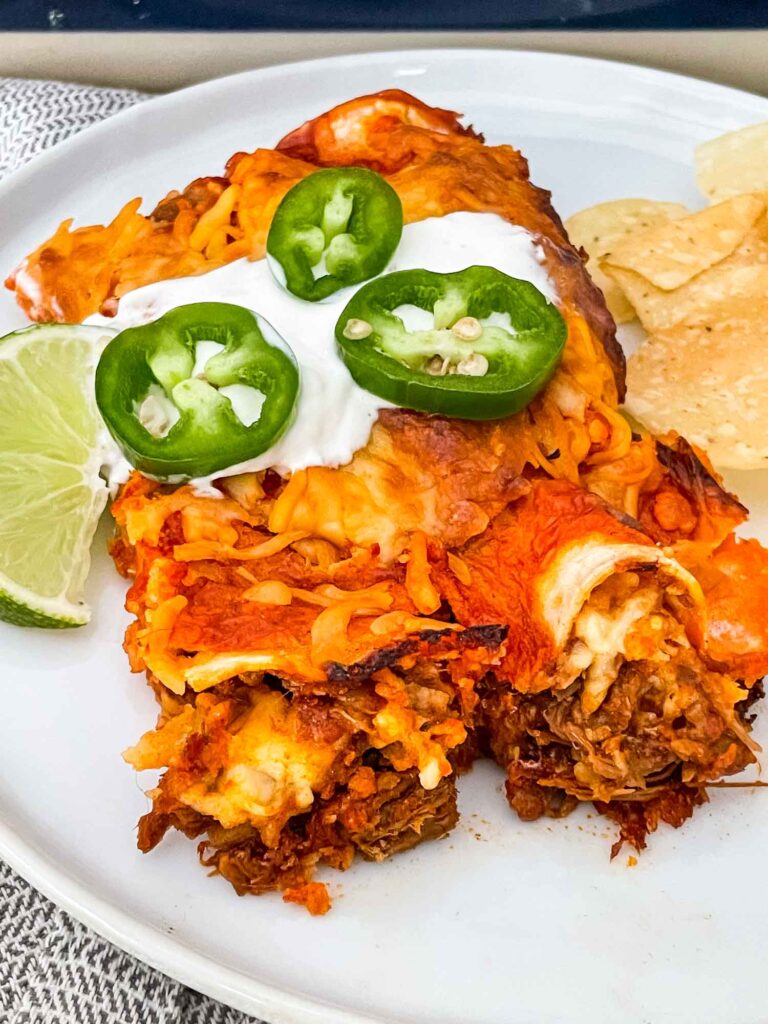 Why You Will Love This Recipe
These Shredded Beef Enchiladas are based on amazing, typical Mexican flavors with great texture and rolled up in corn tortillas.
The beef can be made in a slow cooker or Instant Pot and makes the perfect filling!
The shredded beef is cooked in an amazingly flavorful sauce with lots of spices.
Ingredients
These are the ingredients you need for the shredded beef:
Chuck Roast
Yellow Onion
Garlic
Crushed Tomatoes
Chili Powder
Cumin
Cayenne Pepper
Ground Coriander
Salt
Bay Leaves
Water
These are the ingredients you need for the enchiladas:
Corn Tortillas
Enchilada Sauce
Shredded Monterey Jack Cheese
Toppings of Choice (salsa, sour cream, cilantro, etc)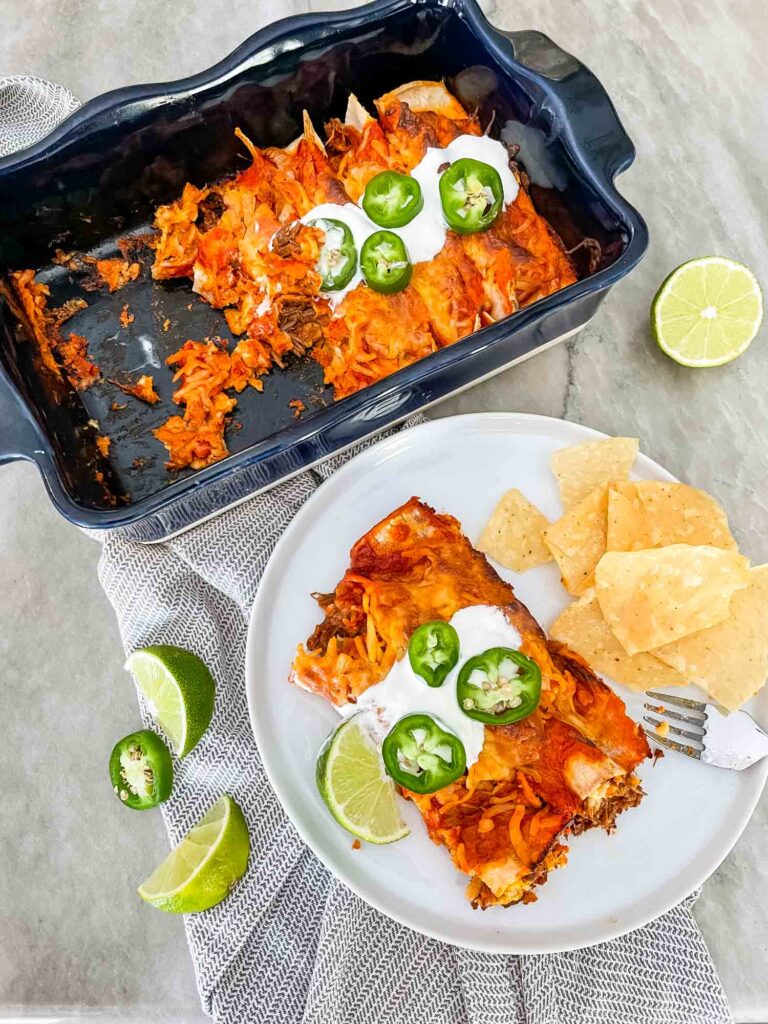 Equipment
This is the equipment you need to make this recipe:
Measuring Cups
Measuring Spoons
Knife
Cutting Board
Slow Cooker
Large Baking Dish (9×13 inches)
Instruction Overview
First cook your shredded beef barbacoa by combining all of the beef ingredients and cooking in a slow cooker on low for at least 8 hours.
Want to make the shredded beef in the Instant Pot? Go to our Instant Pot Shredded Beef recipe for instructions!
After the beef is cooked, shred it and remove any large fat pieces.
When ready to assemble, add a little sauce on the tortilla (to bring some moisture and more flavor) and some of the beef to the inside of a corn tortilla.
Add cheese and roll it up.
Place the enchiladas lined up in the baking dish.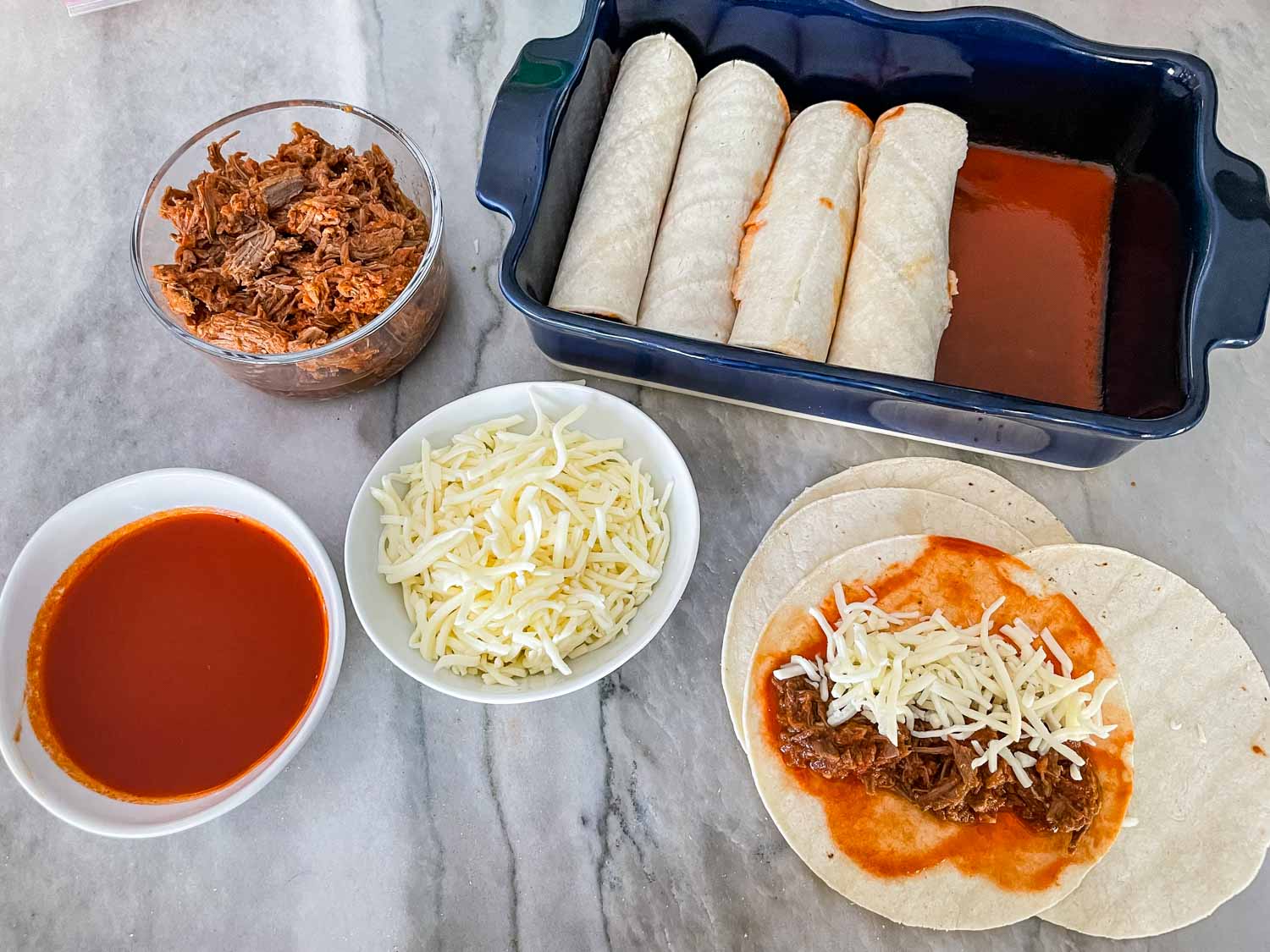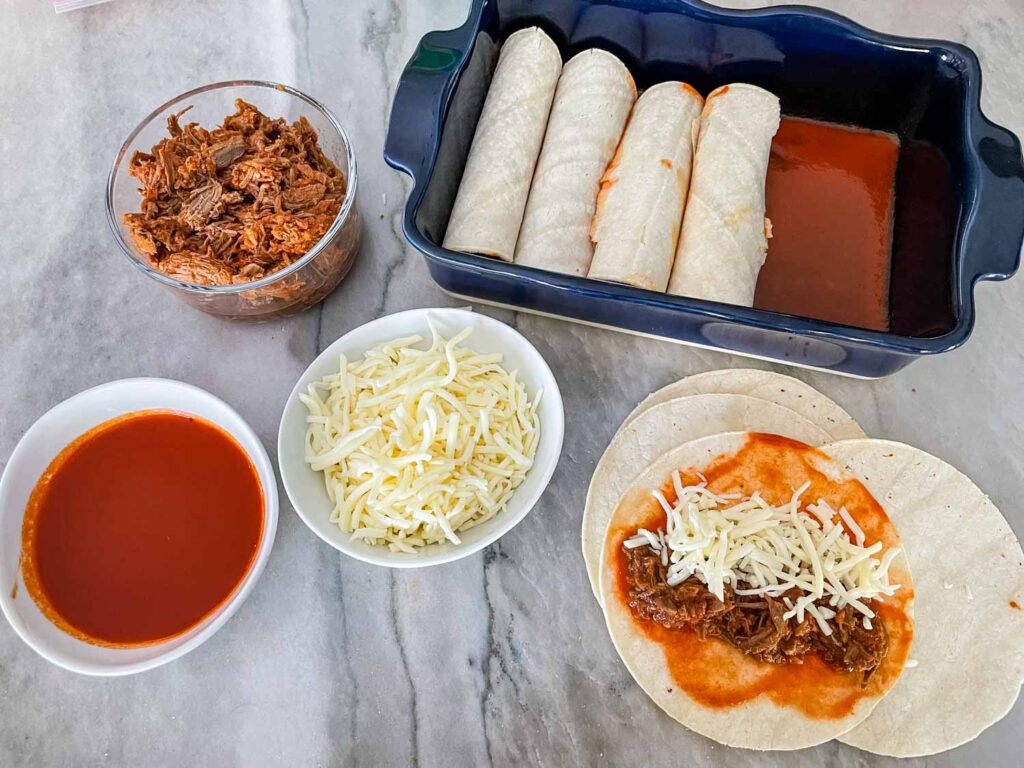 When done assembling, pour the extra enchilada sauce on top and top off with some more cheese.
Bake until heated through and the cheese is melted.
Modifications and Substitutions
Want to make shredded beef in the Instant Pot? Head over to that post to get instructions and then come back here to make your enchiladas!
Any melty cheese that you like will work. Examples include cheddar, monterey jack, pepperjack, and oaxaca. Mozzarella, while not ideal, can also be used.
Add other filling ingredients if desired such as onions from the cooked beef, corn, beans, or tomatoes.
Kim's Tips
The sauce in the bottom of the baking dish helps prevent the enchiladas from sticking too much and also prevents them from being too dry.
Fresh, newly bought corn tortillas are key to prevent them from cracking as much as possible.
Shredding beef is super fast when you use a stand mixer or hand mixer!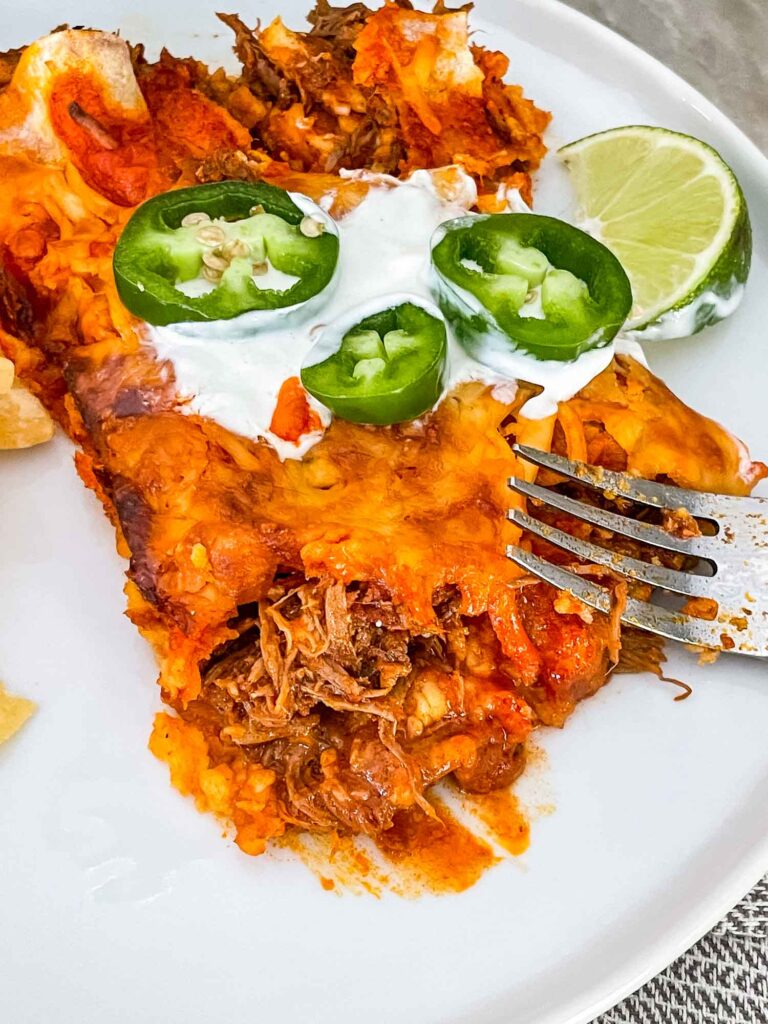 FAQ
Are enchiladas better with corn or flour?
Enchiladas are traditionally made with corn tortillas. They bring great flavor and hold up more to the sauce and baking.
You can absolutely use flour tortillas if desired.
Do you cook enchiladas covered or uncovered?
You can cook them either way.
Cooking them covered will almost steam them, resulting in less browning and less evaporation of liquid.
I tend to cook mine uncovered to get browning of the cheese and some crisp ends of tortillas.
Why do my tortillas fall apart when I make enchiladas?
You are likely using dry or older tortillas.
To prevent tortillas from cracking when rolled, it is best to use fresh tortillas. You can also find some labeled as "soft" at the store.
You can also add sauce on top of the enchiladas every few that you make to help prevent them from cracking as you fill the pan.
What cheese is best for enchiladas?
Anything that melts well!
Options include cheddar, monterey jack, pepperjack, oaxaca, and mozzarella even will work.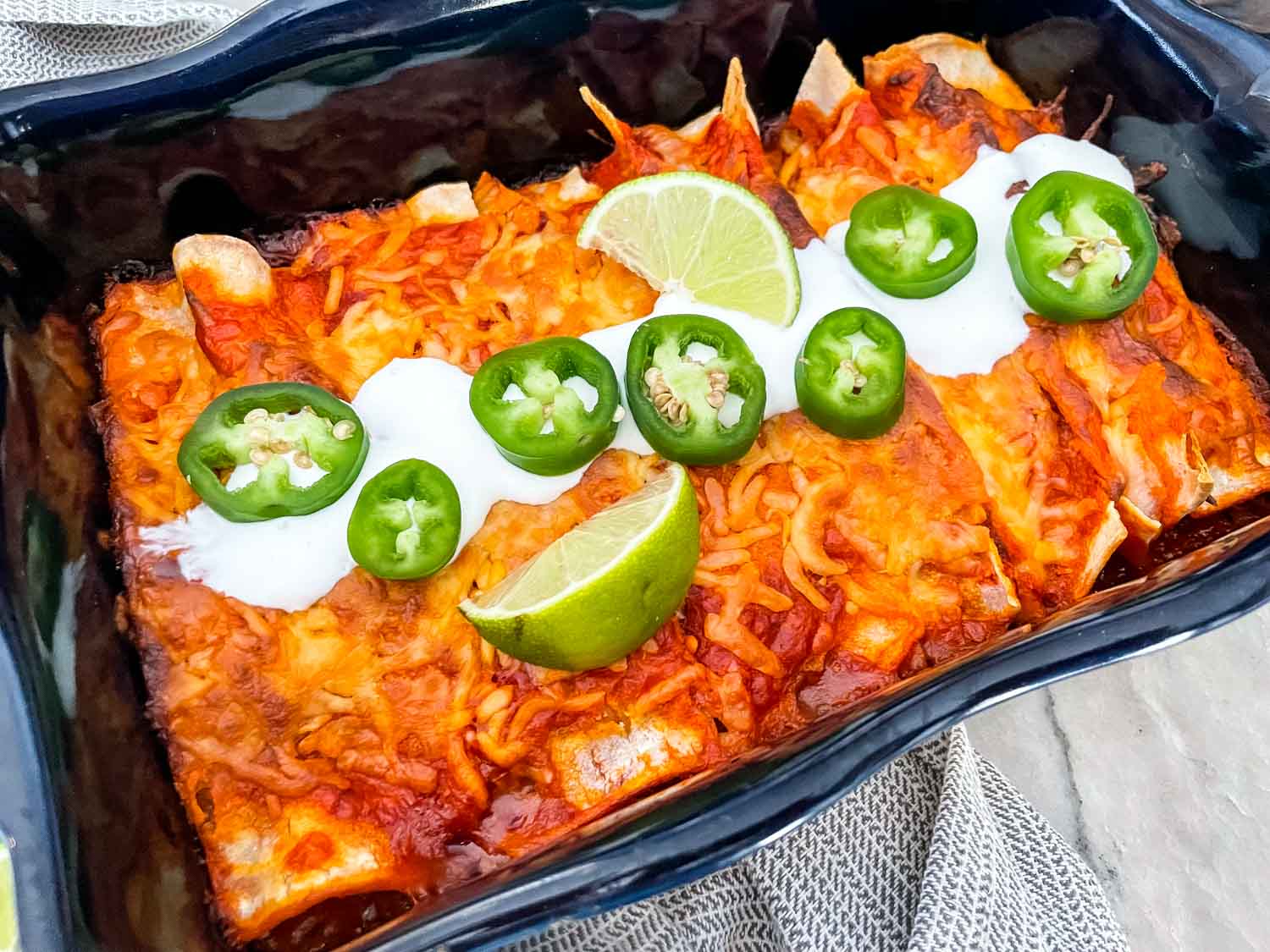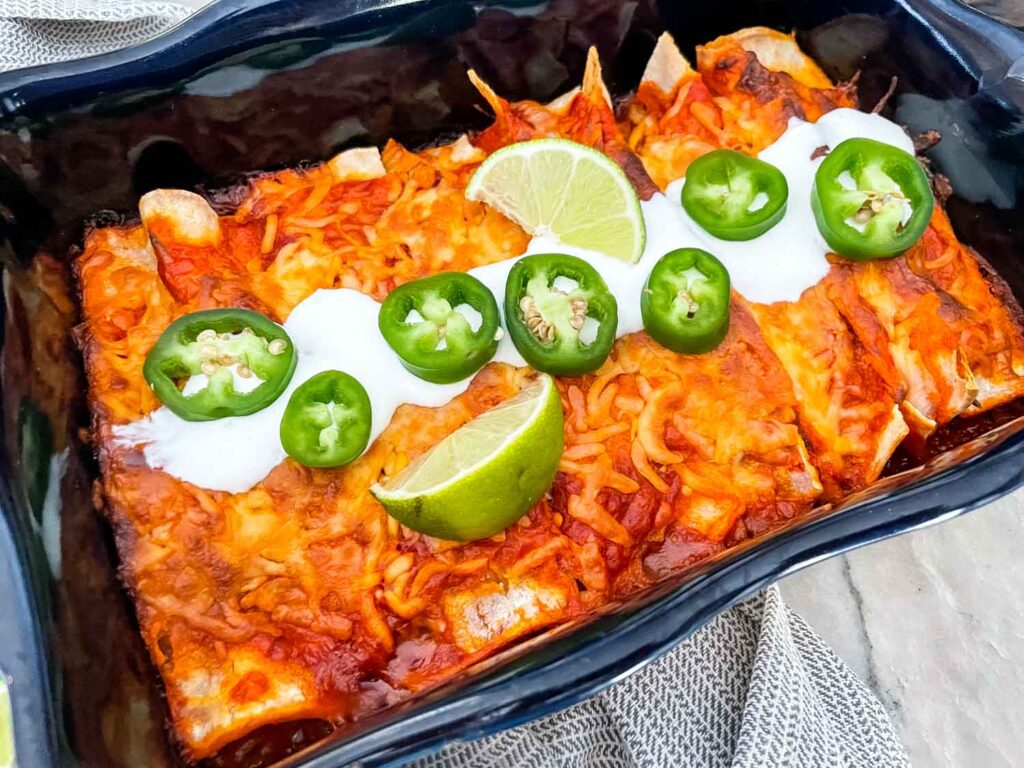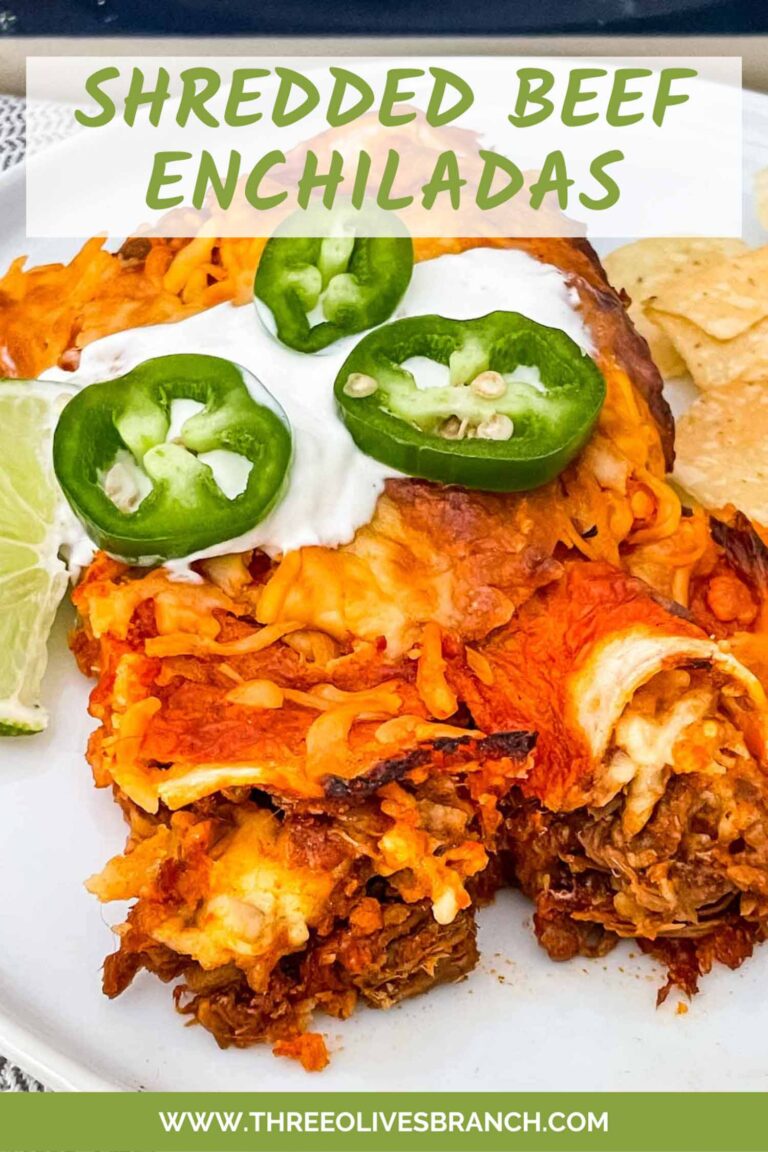 Equipment
Slow Cooker

or Instant Pot
Instructions
Cook Beef
Place the beef inside the slow cooker.

Add the remaining beef ingredients into the slow cooker.

4 cloves garlic,

1 large yellow onion,,

28 ounces crushed tomatoes,

1 1/2 Tablespoons chili powder,

1/2 Tablespoon cayenne pepper,

1 Tablespoon ground cumin,

1/2 Tablespoon ground coriander,

1 teaspoon salt,

4 bay leaves

Add water to the slow cooker until the beef is just completely covered.

Place the lid on the slow cooker and cook on low for at least 6 hours, ideally 8.

When done cooking, remove the beef from the slow cooker. Trim off any excess fat and place the meat into the bowl of a stand mixer with a paddle attachment. Turn on medium speed to shred the beef, which will only take a few seconds. (Or shred with forks by hand).

Add some onions and juice from the slow cooker to the bowl and mix in with the beef using a spoon.
Assemble Enchiladas
Line the bottom of your baking dish with a little of the enchilada sauce (just enough to coat it) – about 1/3 cup.

Lightly brush a tortilla on the inside with some of the enchilada sauce.

Scoop approximately 2 Tablespoons of the beef across a corn tortilla, approximately 1/3 up from the bottom.

Add approximately 2 Tablespoons of shredded cheese across the beef.

3 cups shredded Monterey Jack cheese

Roll up and place in the baking dish.

Repeat with the remaining ingredients, getting approximately 12 enchiladas. (Or make more if desired based on how much beef you have). Add sauce on top of the enchiladas as you roll if they are starting to crack.

Once they are all rolled, pour the rest of the sauce across the enchiladas.

Top with the remaining cheese.

Bake until the cheese is melted and the sauce edges of the dish is bubbling, approximately 20 minutes.

Serve warm with your favorite side dishes and toppings.
Notes
Chuck roasts will vary in size.  Most of the time I end up with one around 3 pounds, so just adjust the rest of the ingredients as needed to be proportional to the size of the roast.
2 pounds of chuck roast will give you approximately 4 cups of shredded beef. You only need about 2.5-3 cups of beef for this recipe. You can either make more enchiladas with what is left, or use the extra beef for another recipe such as tacos or salad.
Use more beef and/or cheese inside each enchilada if desired. 
Recipe for making the beef in an Instant Pot instead of slow cooker: https://www.threeolivesbranch.com/instant-pot-shredded-beef-barbacoa/ 
Nutrition
Serving:
1
enchilada
|
Calories:
348
kcal
|
Carbohydrates:
22
g
|
Protein:
25
g
|
Fat:
19
g
|
Saturated Fat:
9
g
|
Polyunsaturated Fat:
2
g
|
Monounsaturated Fat:
7
g
|
Trans Fat:
1
g
|
Cholesterol:
77
mg
|
Sodium:
888
mg
|
Potassium:
574
mg
|
Fiber:
4
g
|
Sugar:
7
g
|
Vitamin A:
1029
IU
|
Vitamin C:
8
mg
|
Calcium:
282
mg
|
Iron:
4
mg
More Enchilada Recipes
By