Creamy Chicken Enchiladas are an amazing Mexican dinner idea! A perfect recipe to use with leftover and rotisserie chicken mixed with cheeses and green chile, topped with a fresh Hatch roasted pepper enchilada sauce. Gluten free.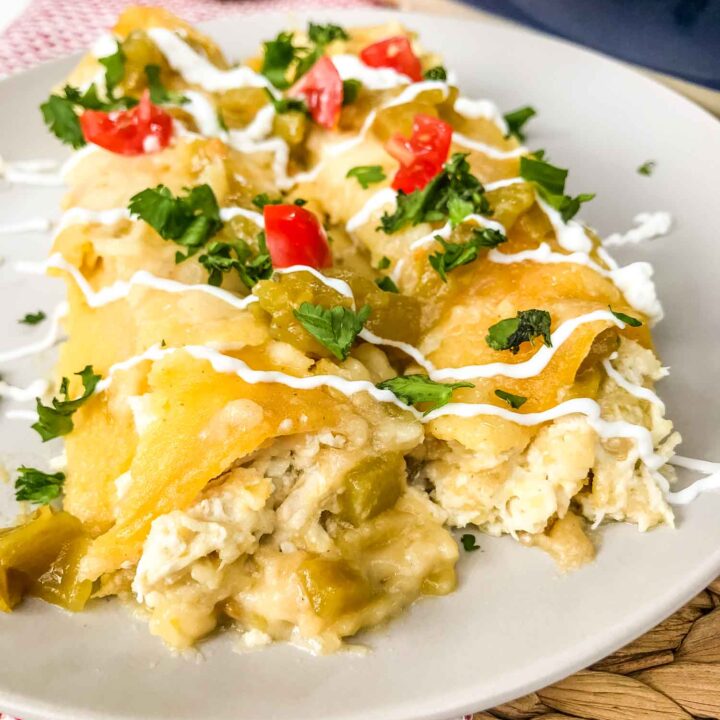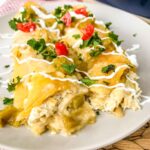 These Creamy Chicken Enchiladas are a wonderful dinner idea to use up leftover or rotisserie chicken. Mixed with creamy cheese and green chiles, and topped with my popular Hatch Enchilada Sauce, these enchiladas are sure to be a hit!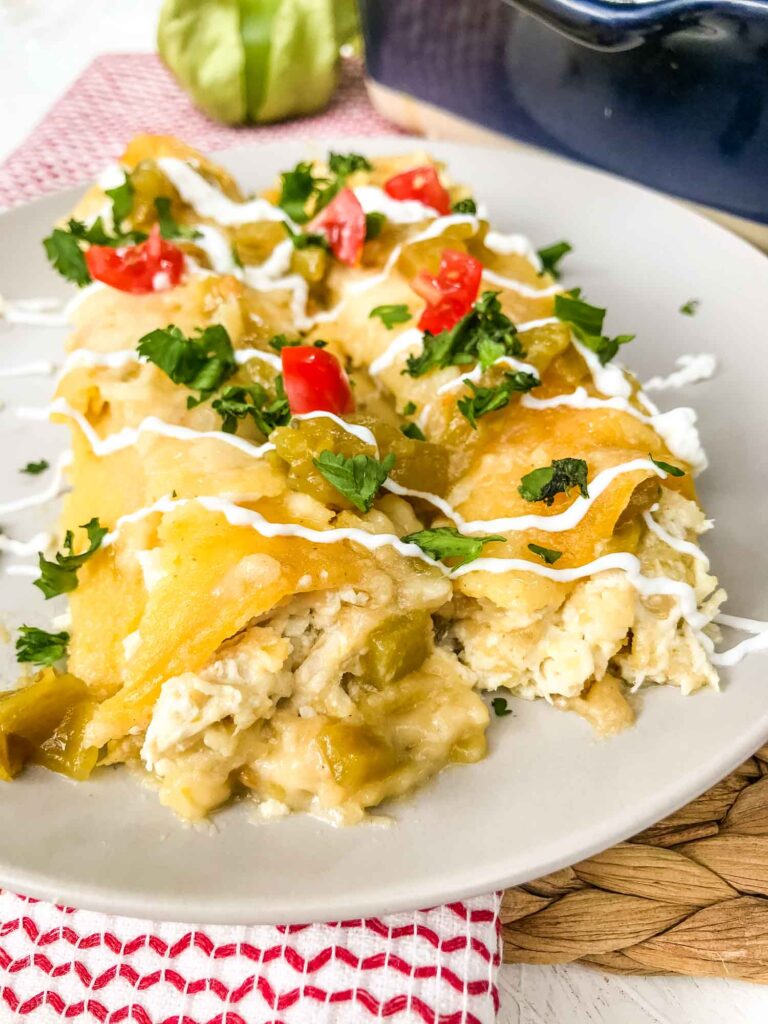 Why You Will Love This Recipe
There is something about Mexican food that is comforting and delicious with lots of flavor.
These enchiladas are made extra creamy by making a cheesy mixture for the inside and are topped with a flavorful and unique roasted pepper sauce.
They are easy to make in advance and are delicious as leftovers!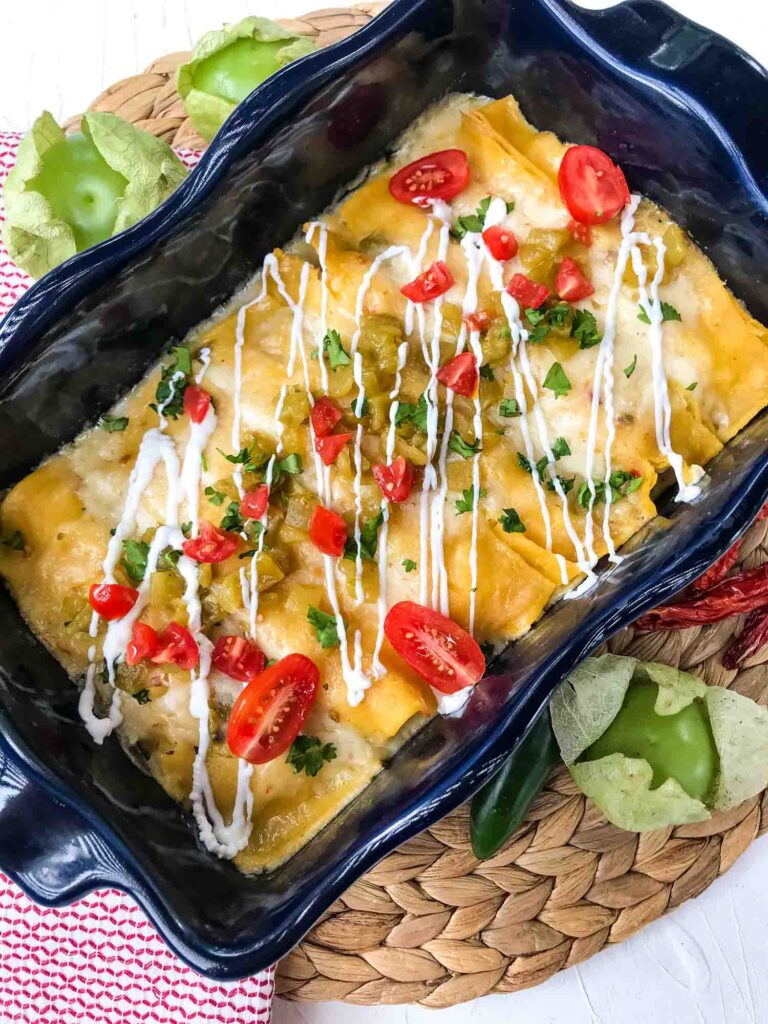 Ingredients
These are the ingredients you need for creamy enchiladas:
Cooked, Shredded Chicken
Sour Cream
Pepperjack Cheese
Corn Tortillas
Chicken – Any plain, neutral, or Mexican flavored chicken works great here, which makes it perfect for using up leftovers. Rotisserie chicken is also a great option!
Equipment
The equipment you need to make the homemade enchiladas includes:
9×13 inch Baking Dish
Measuring Cups
Medium Bowl
Oven
Instruction Overview
This homemade enchilada recipe comes together quickly once you have everything ready to go!
Mix the chicken and filling ingredients together in a bowl.
Put some sauce in the bottom of your baking dish. This prevents sticking and burning, plus more flavor!
Put a little sauce on the tortillas, also for more flavor, and roll up with some filling.
Put the rest of the sauce on top with the rest of the cheese and bake until melted and bubbling.
Serve warm with your favorite sides like Green Chile Mexican Rice and Homemade Refried Black Beans!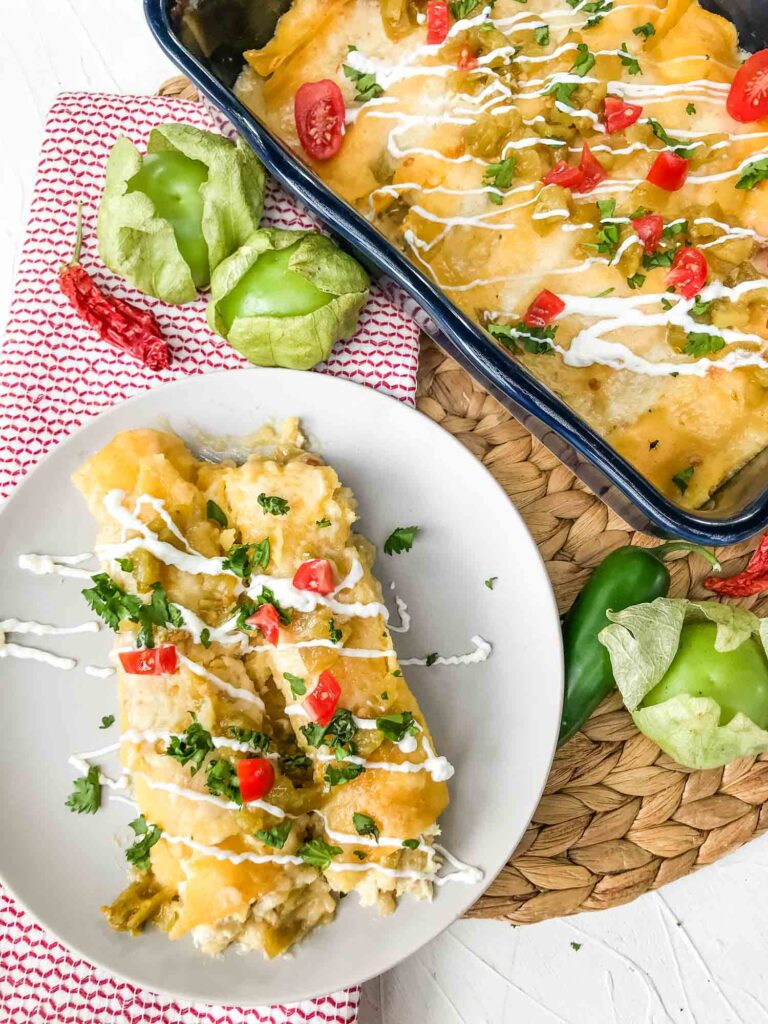 Modifications and Substitutions
This Hatch Green Chile Enchilada Sauce is my absolute favorite sauce to use with this recipe. But you can use any enchilada sauce that you like.
Plain Greek Yogurt or even cream cheese can be used in place of sour cream.
Kim's Tips
Spreading a little sauce on each side of each tortilla is going to help bring flavor and moisture to the enchiladas. It can be skipped, but I definitely recommend it!
Use tortillas that are fresh! Fresh tortillas are less likely to crack so grab a new package from the store to help with this.
FAQs
Can I substitute cream cheese for sour cream in enchiladas?
Yes! The mixture will be a little thicker but it will work just fine.
How to I keep my enchilada tortillas from cracking?
Use fresh corn tortillas! The dryer they are, the more likely they are to crack and break as you roll them. And the older tortillas are, the dryer they become.
Should you bake enchiladas covered or uncovered?
I bake uncovered so that the top browns up a little.
If you feel it is browning too much, you can add foil on top.
What white cheese is best for enchiladas?
I love pepperjack because it is a great melting white cheese with bits of flavor.
Monterey jack is a great substitute (the same as pepperjack minus the pepper pieces).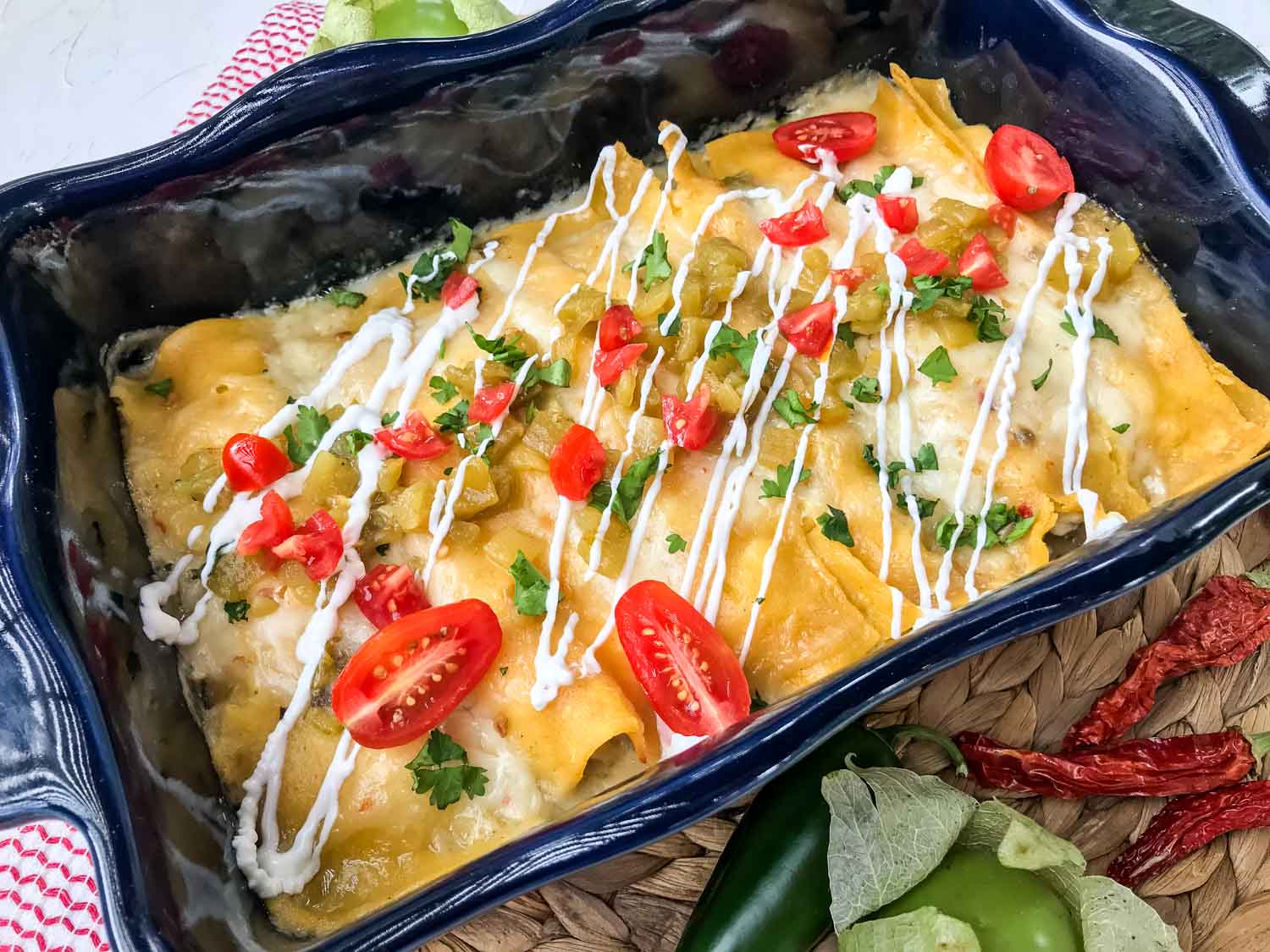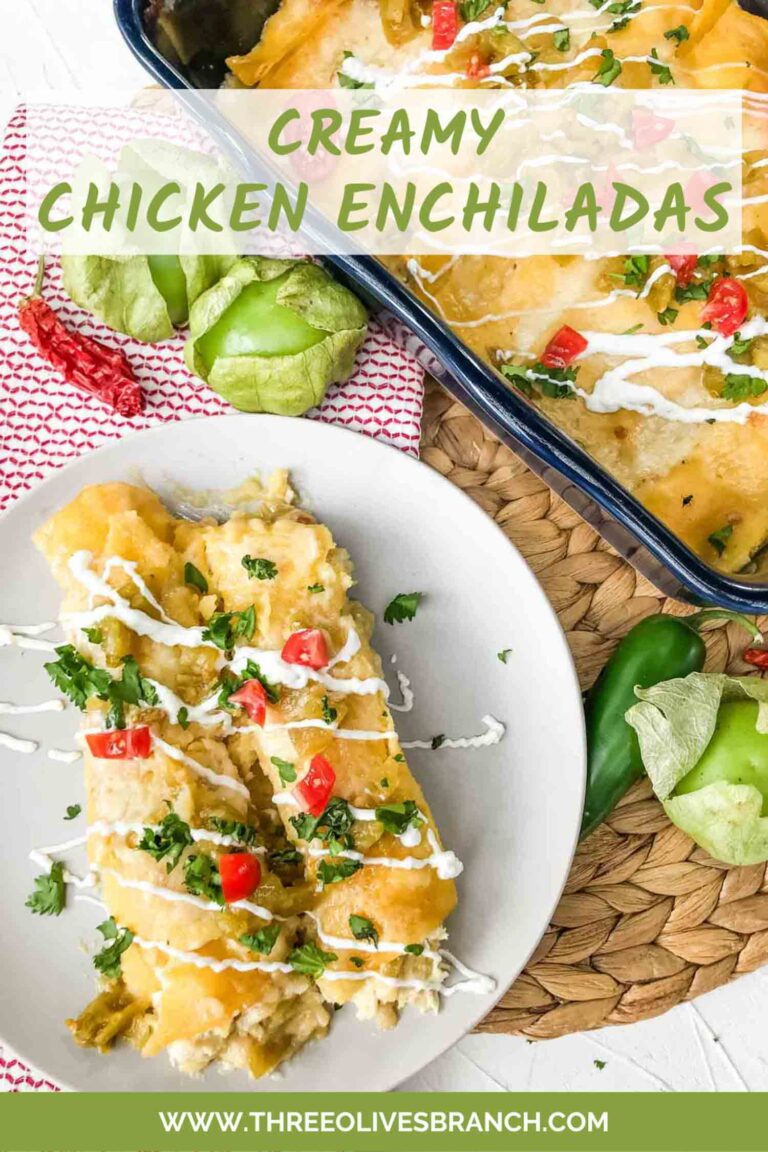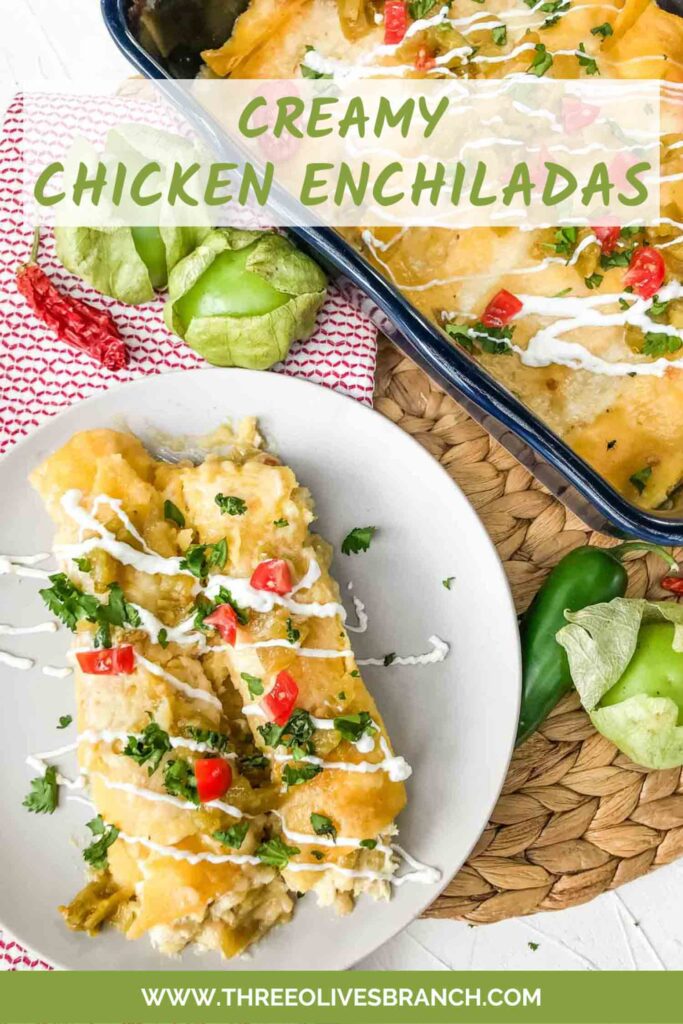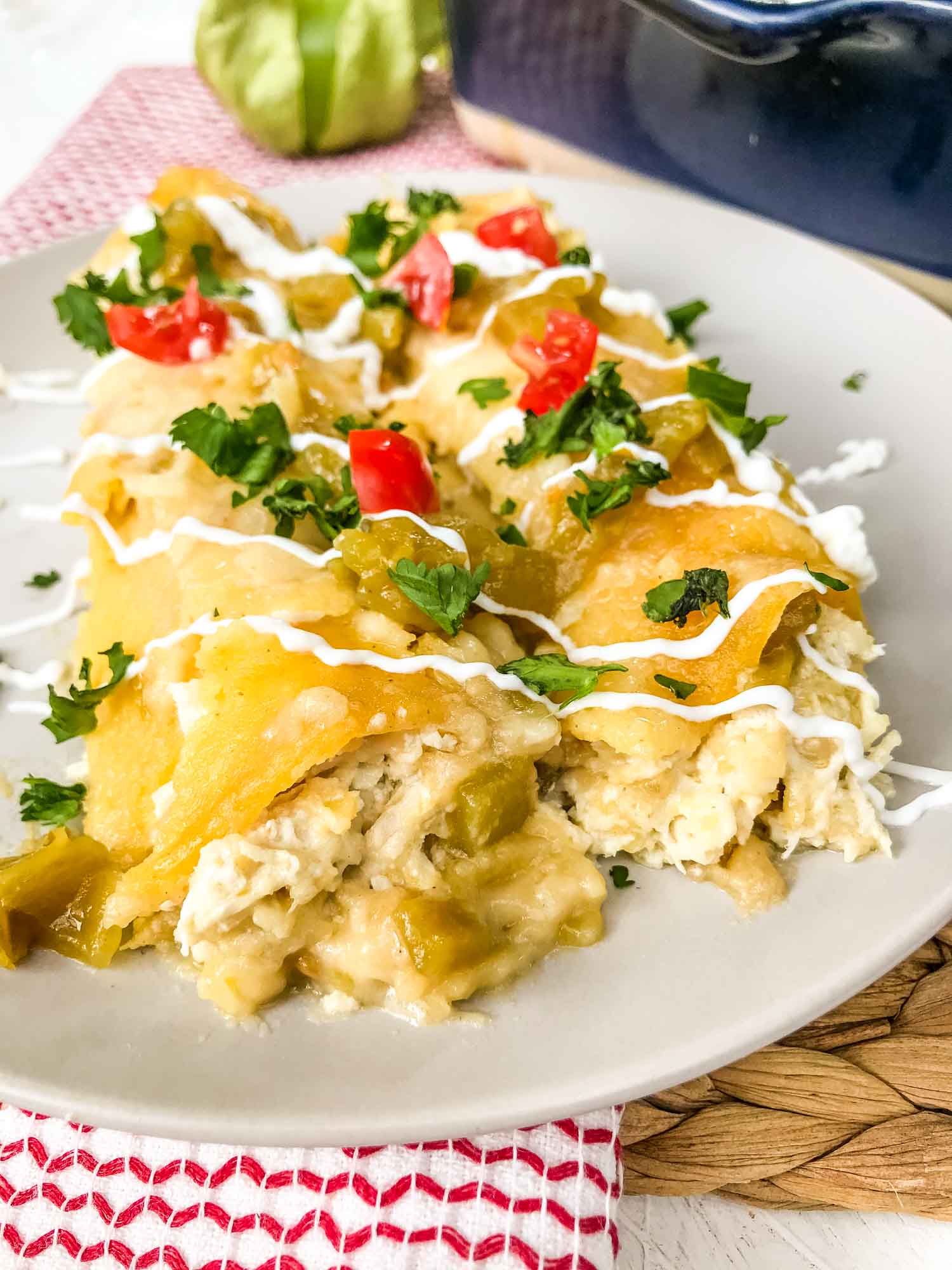 Instructions
In medium bowl, combine the shredded chicken, 1.5 cups of the pepperjack cheese, green chiles, and sour cream. Set aside.

3 cups shredded chicken,

1 ½ cups sour cream,

3 cups shredded pepperjack cheese,

8 ounces diced green chiles

Line the bottom of your baking dish with a little of the enchilada sauce (just enough to coat it) – about 1/3 cup.

1 ½ cups Hatch Chile Green Enchilada Sauce

Lightly brush a tortilla on each side with some of the enchilada sauce.

Scoop about 1/3 cup of the chicken mixture onto the tortilla, about a third of the way down a tortilla, across the tortilla in a line.

Roll the tortilla up and place in the baking dish, seam side down.

Repeat with the remaining tortillas and mixture.

Pour the rest of the enchilada sauce over the rolled enchiladas.

Sprinkle the remaining pepperjack cheese across the enchiladas.

Bake until the sauce around the edges of the dish is bubbling and the cheese is melted and turning light brown. Approximately 20-25 minutes.
Notes
This recipe will give you approximately 12 enchiladas. If you want to make a larger batch, increase quantities as desired.
Putting a little sauce on the tortilla itself before rolling is optional, but recommended. It brings more flavor and moisture into each enchilada.
Add in your favorite additions like corn, black beans, tomatoes, and more!
Nutrition
Serving:
1
enchilada
|
Calories:
313
kcal
|
Carbohydrates:
16
g
|
Protein:
18
g
|
Fat:
20
g
|
Saturated Fat:
11
g
|
Polyunsaturated Fat:
2
g
|
Monounsaturated Fat:
5
g
|
Cholesterol:
68
mg
|
Sodium:
531
mg
|
Potassium:
262
mg
|
Fiber:
2
g
|
Sugar:
3
g
|
Vitamin A:
523
IU
|
Vitamin C:
5
mg
|
Calcium:
280
mg
|
Iron:
1
mg
More Enchilada Recipes
By