BBQ Rub is easy to make at home! A blend of spices such as chili powder, garlic, brown sugar, and more make this a perfect versatile barbecue seasoning. Great on chicken, ribs, pork, beef, brisket, turkey, sausage, vegetables, and more! Gluten free.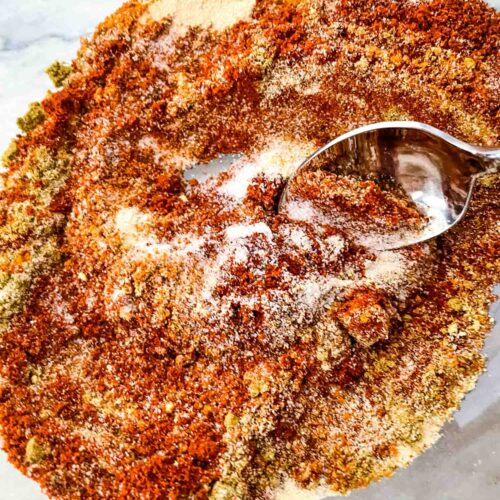 A homemade BBQ Rub is super easy to make with common spices that you have on hand! This blend is my go-to versatile favorite that works for everything: chicken, pork, ribs, brisket, sausage, beef, vegetables, and more!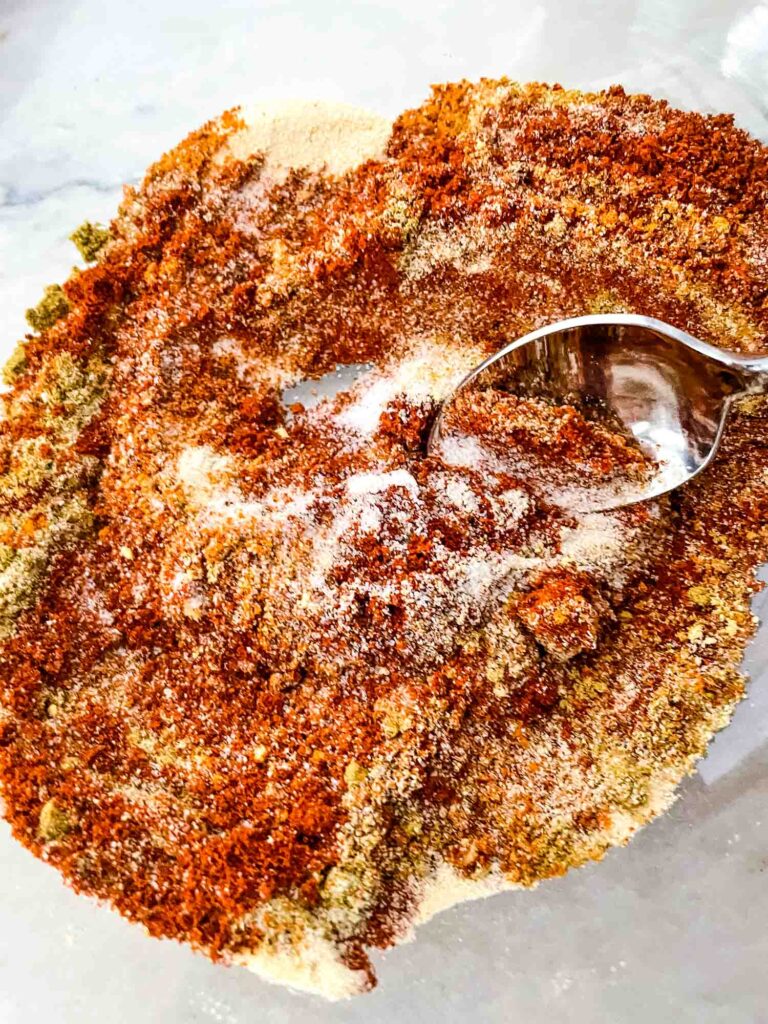 Homemade Barbecue Rub
I just love grilling and barbecuing in the summer, and this dry rub recipe is my go-to for a classic flavor combination.
It works perfectly on just anything! From pork to chicken, beef to vegetables, it tastes great and packs a lot of flavor!
Find some of our popular smoking and BBQ recipes below which highlight how I use this rub, or use it in any recipe!
What is BBQ Rub Used For?
Barbecue rub is a seasoning used in various foods that are grilled or smoked.
It is typically rubbed into the meat or vegetable like a crust or outer coating to add lots of flavor.
What Should I Rub on the Grill Before Grilling?
I like to use a potato! I was having problems with oiling and grill and things still sticking. I saw a recommendation to cut a potato and rub the cut side along the grill grates.
This potato trick has worked much better for me than an oil or anything else!
Is Rub the Same as Seasoning?
It is very similar, but a rub is typically made with a larger quantity of ingredients and stronger flavors.
And a rub is not a standard set of seasonings or flavors. There are lots of options for what can be included and what the ratios are.
This is my favorite rub I have made, and you can make it your own by adding more or less of anything to make it perfect for you!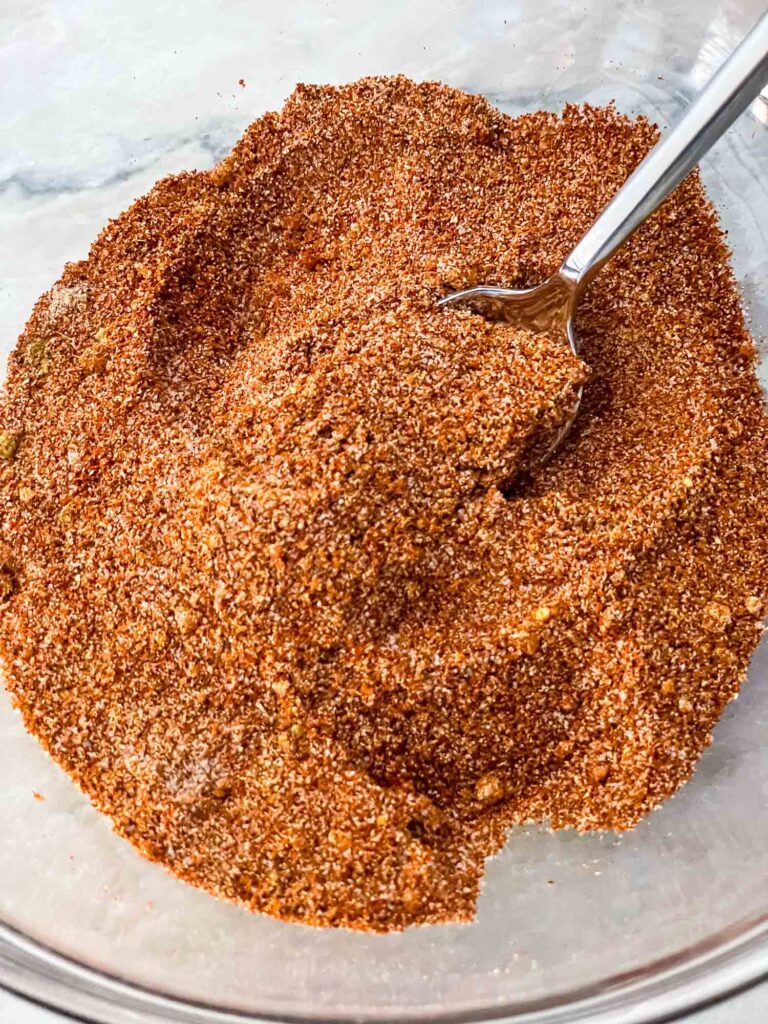 Which is Better, Dry Rub or Marinade?
A rub will provide almost a crust like exterior to what it is applied to since it is made of dry ingredients.
A marinade soaks into the meat or what it is applied to and uses an acidic component to impact flavor and tenderize the food.
Ultimately the best option depends on what you are trying to accomplish. For a softer flavor, go with a marinade. For a crusty, stronger flavor, go with a rub. This is often why you will see rubs and not marinades used when smoking as the strong rub flavors stand up to the smoke flavor.
How Do You Make a Dry Rub into a Marinade?
If you do want to turn this rub into a marinade, the easiest way is to add oil until it is a wet mixture with a similar consistency to a marinade.
Depending on how you are cooking, a vegetable or canola oil is likely the best option.
I would avoid olive oil as it has a low smoke point and burns easily.
What is the Difference Between a Dry Rub and a Wet Rub?
A wet rub is almost a combination of a dry run and a marinade.
A wet rub has a lot of the same strong flavors of a dry rub, and a larger quantity of ingredients, but is also pairs with something that makes the mixture wet like a vinegar, oil, or alcohol.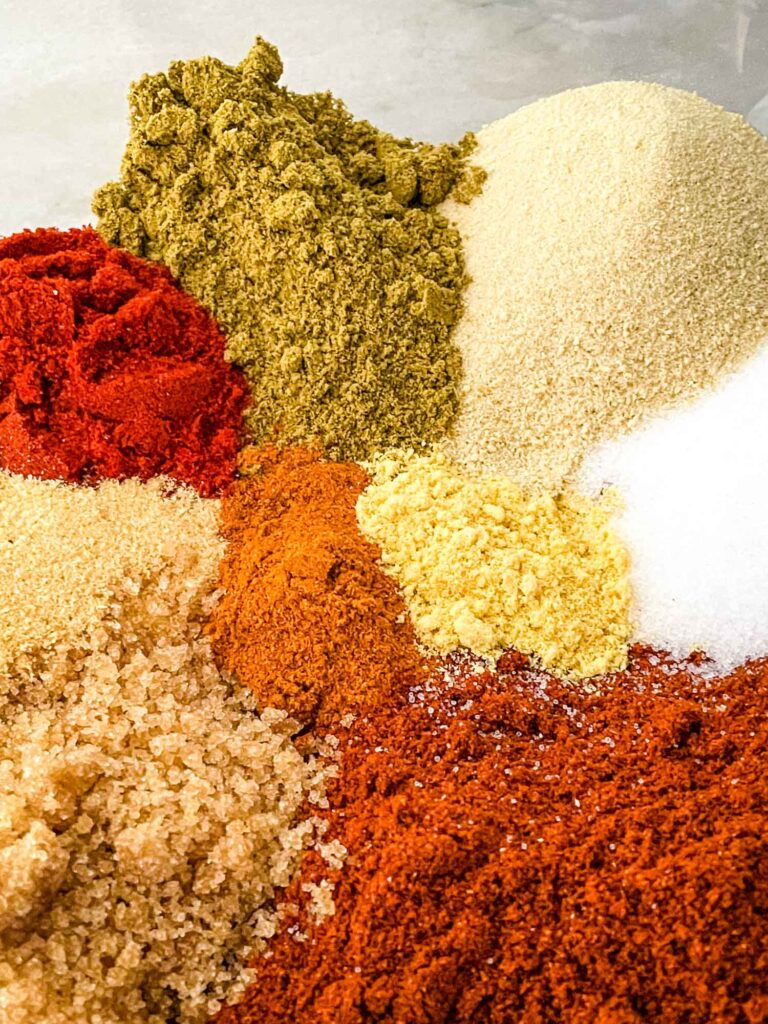 What is Barbecue Rub Made Of?
Here is what you need to make this classic, versatile barbecue rub:
Chili Powder
Cumin
Cayenne (Ground Red Pepper)
Onion Powder
Paprika
Garlic Powder
Dry Mustard
Brown Sugar
Salt
Can You Grill with a Rub?
Yes!
If you grill with a rub, it will almost create a crust on the food. You can see this inaction with our Cajun Dry Rub Chicken Legs or our Three Pepper Dry Rub!
Can You Use Dry Rub as Seasoning?
Absolutely!
A rub is meant to impart flavor and can be used as a seasoning for any foods, even if just sprinkled on.
How Long Before Cooking do you Apply Dry Rub?
Ideally you want at least 15 minutes for the flavors to adhere and bind to the food. I aim for 30-60 minutes, and I let the rub sit on the meat or food at room temperature.
You do not want to add the rub more than 2 hours before cooking the food.
Does Dry Rub Penetrate Meat?
No, not deeply.
Since a rub is dry, it sits on top of the food and creates what is almost a crust. The lack of liquid makes it difficult to absorb or sink into the food.
Does a Rub Tenderize Meat?
It is possible, since it contains garlic powder.
But it will not tenderize as much as things like an acid or vinegar.
Ultimately I do not count on the rub doing any serious tenderizing to what I am using it on.
When Should You Apply a Rub to Meat?
You can apply it directly before cooking or up to 24 hours before.
Adding the rub further in advance will help the flavors sink into the food, but you will still get great flavor either way!
How Do You Get a Dry Rub to Stick?
A dry rub can easily stick to a food or meat, even if it has been patted dry with a paper towl.
But if you are going to use it on something that does not have enough moisture, such as a vegetable, or if a meat is too dry, use a very small amount of oil rubbed onto the food first before applying the rub.
It should be JUST enough to make it wet and for the rub to stick but not so wet that the rub slides off.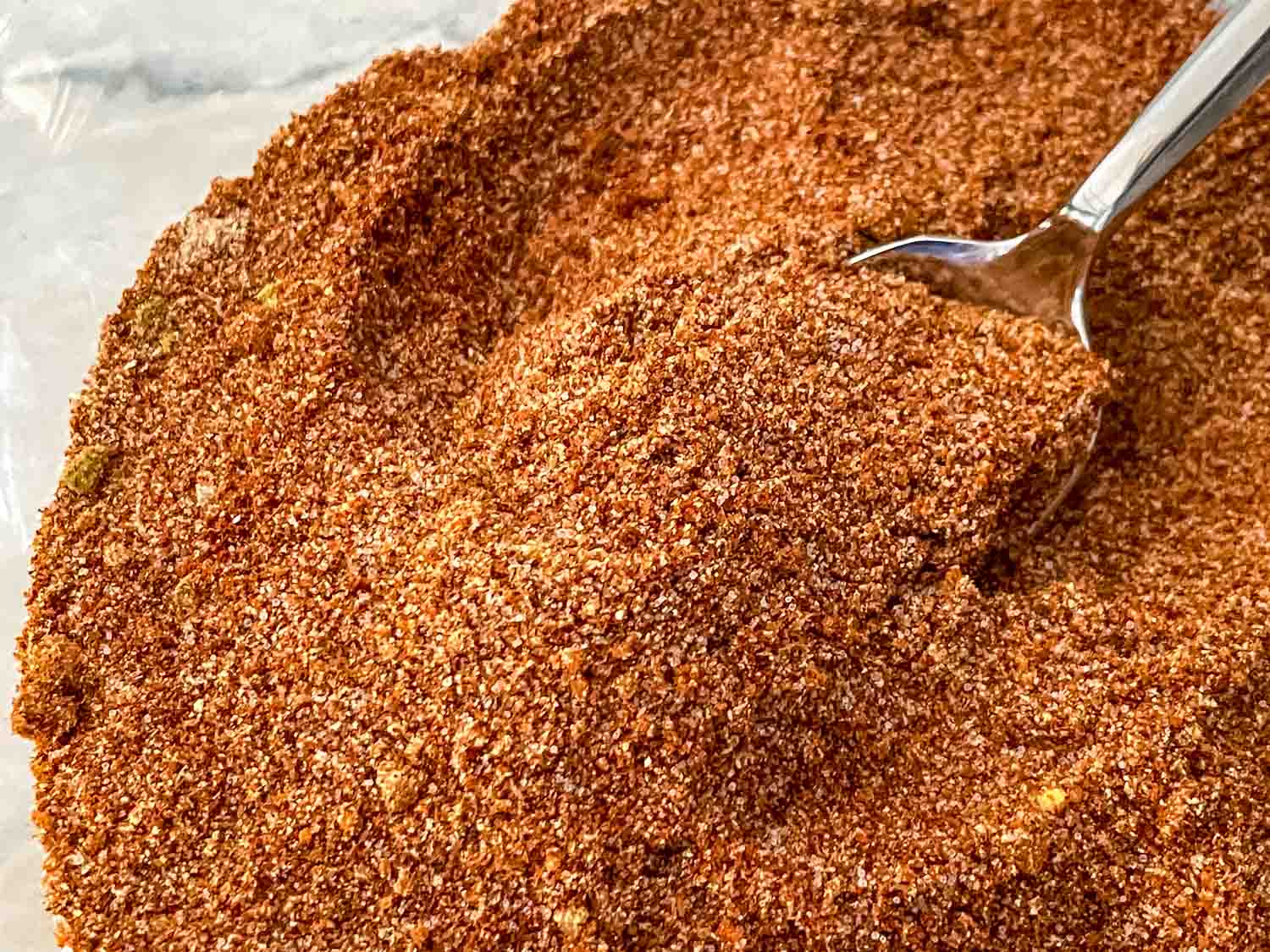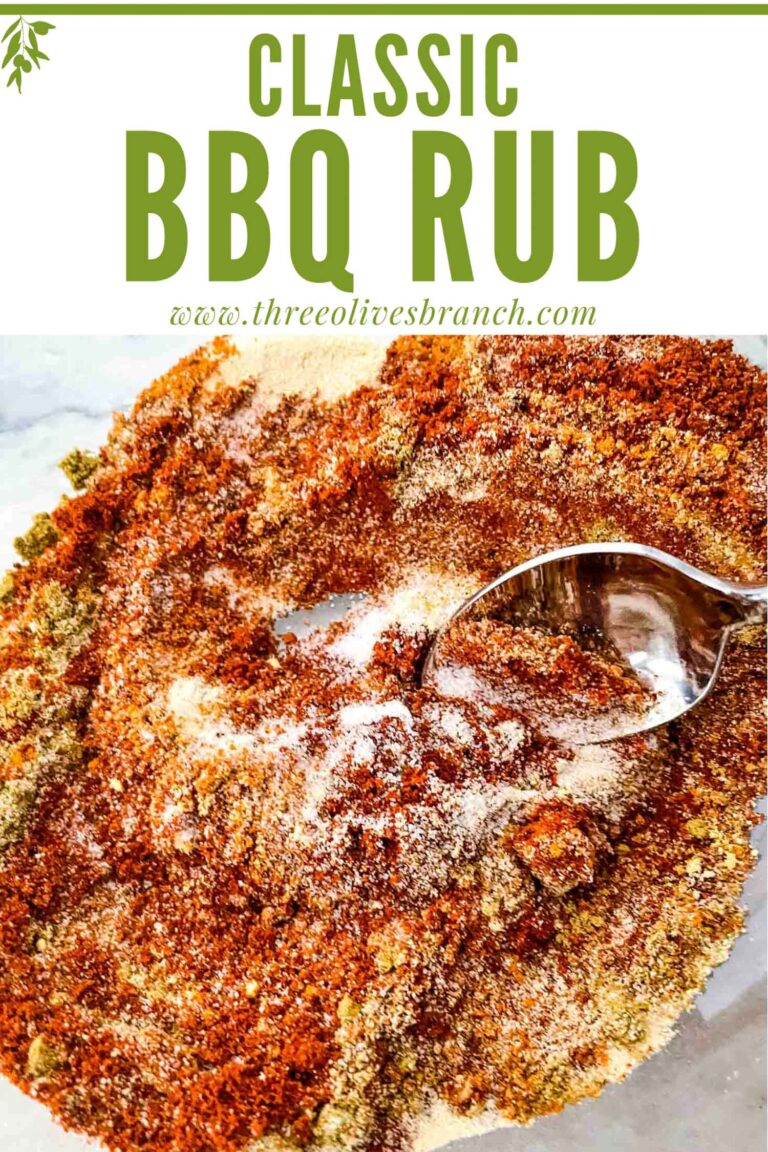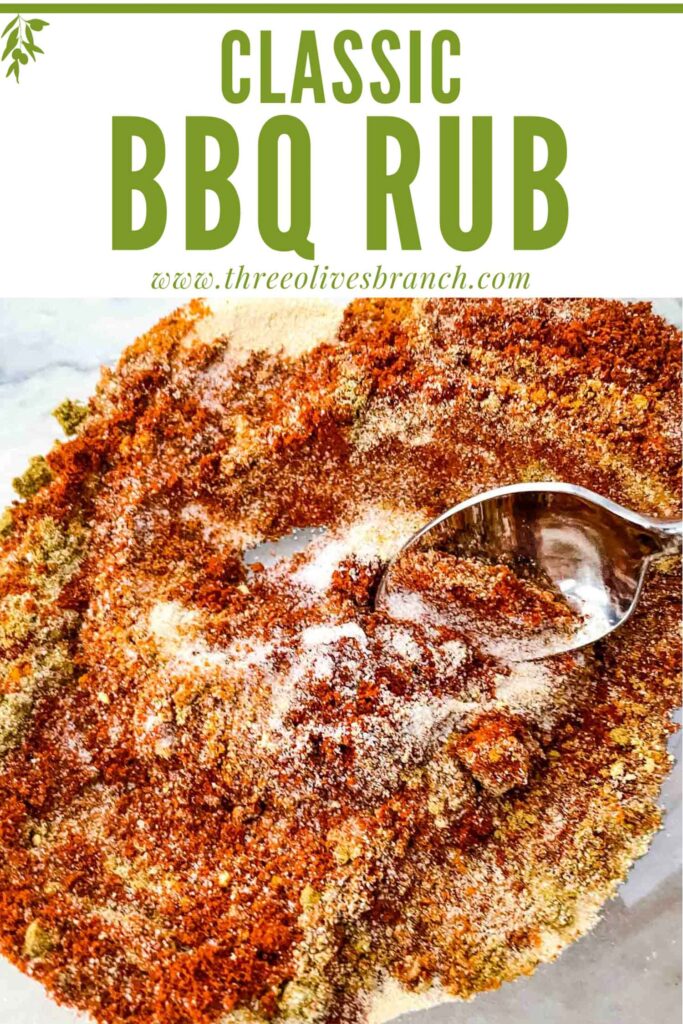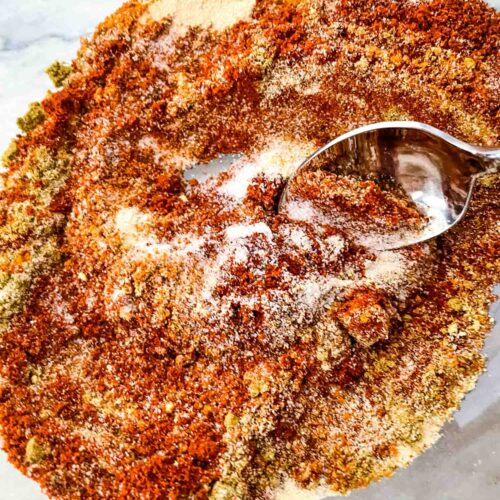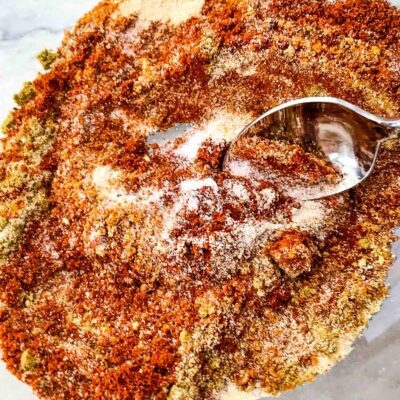 BBQ Rub
BBQ Rub is easy to make at home! A blend of spices such as chili powder, garlic, brown sugar, and more make this a perfect versatile barbecue seasoning. Great on chicken, ribs, pork, beef, brisket, turkey, sausage, vegetables, and more! Gluten free.
Print
Pin
Rate
Instructions
Combine all ingredients in a bowl and mix well together.

Store in an empty spice or cheese shaker and use in recipes as desired and directed.
Notes
Want to make it spicy? Add more cayenne pepper!
Nutrition
Serving:

1

batch

|

Calories:

339

kcal

|

Carbohydrates:

62

g

|

Protein:

14

g

|

Fat:

14

g

|

Saturated Fat:

2

g

|

Polyunsaturated Fat:

7

g

|

Monounsaturated Fat:

4

g

|

Sodium:

19923

mg

|

Potassium:

1930

mg

|

Fiber:

32

g

|

Sugar:

15

g

|

Vitamin A:

26338

IU

|

Vitamin C:

4

mg

|

Calcium:

405

mg

|

Iron:

21

mg

By