Strawberry French Toast is a delicious breakfast or brunch recipe! Bread soaked in a custard and cooked until crisp, then topped with a strawberry sauce.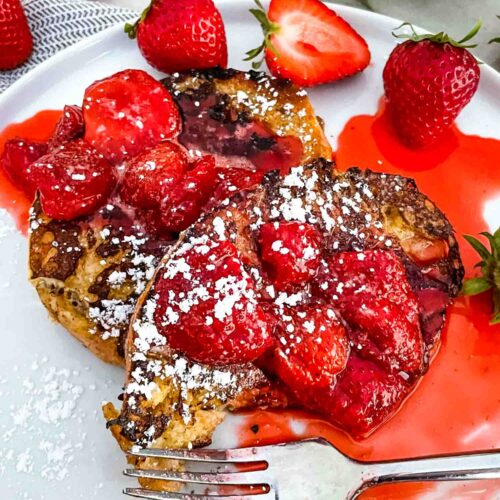 You will just love this Strawberry French Toast recipe! Fresh made French toast with a crisp outer coating is doused with a homemade easy fruit sauce. A wonderful holiday or birthday breakfast or brunch!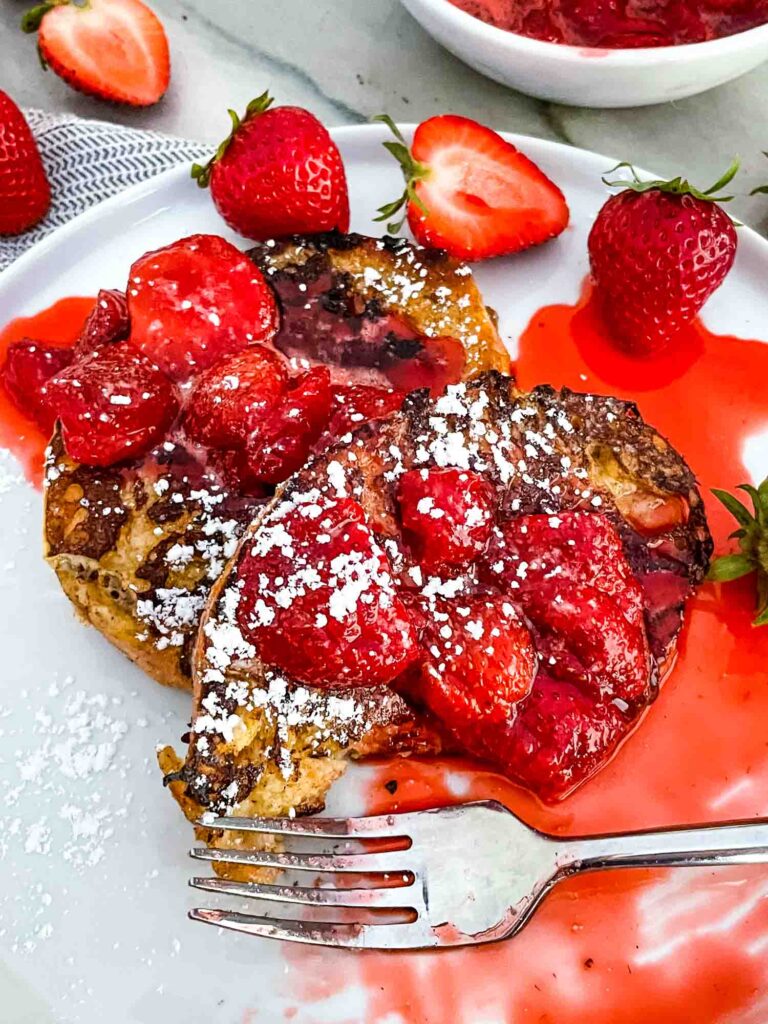 Why You Will Love This Recipe
This homemade French toast recipe is just perfect and made even more amazing with the fresh fruit sauce!
Whether for a breakfast, brunch, or holiday treat, this classic breakfast idea will be loved by all.
Bread is soaked in a flavored egg custard sauce and cooked in butter until golden, and then balanced with strawberries. Also great with some powdered sugar (my fave!) or some maple syrup.
Keep reading to learn more about how to make this recipe, my tips, and answers to your common questions!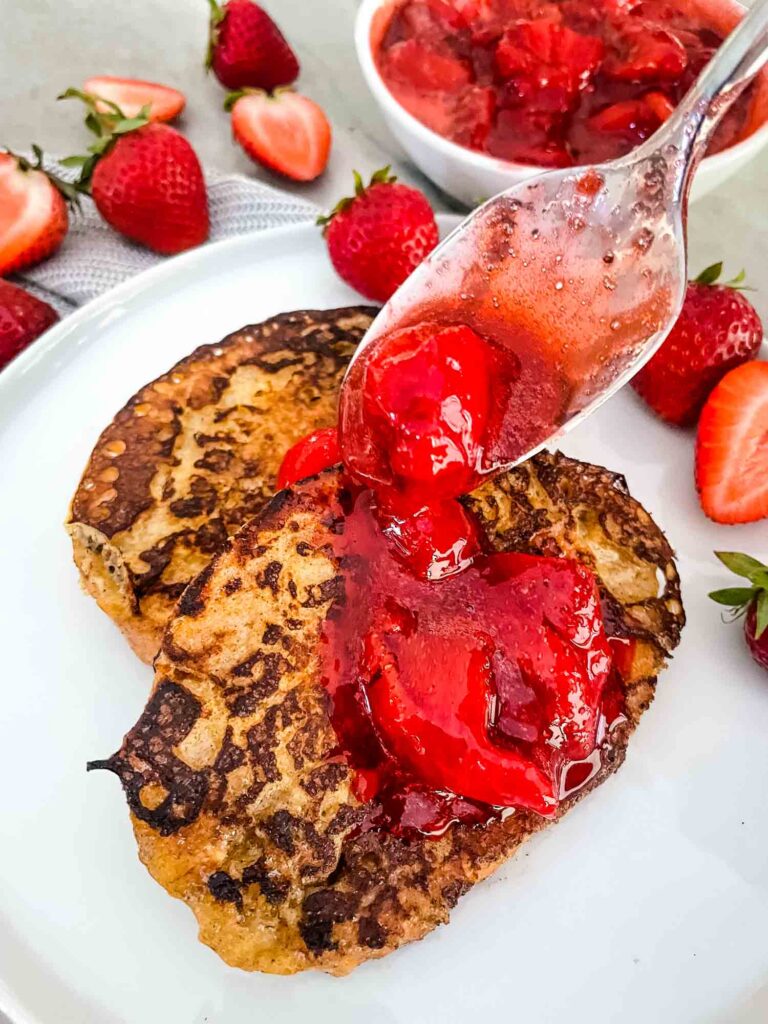 Ingredients
Here is what you need to make this recipe:
Bread
Butter
Eggs
Whole Milk
Cinnamon
Vanilla Extract
All Purpose Flour
Salt
Strawberry Sauce (click for recipe)
Bread – Brioche is great for this recipe, but French bread is a perfect, easy, budget friendly alternative.
Instruction Overview
Have your strawberry sauce made and ready to go so you can serve as the French toast is done!
First slice your bread into thicker slices (around 3/4 to 1 inch thick) and lay out on a baking sheet.
Put the bread in the oven on warm or very low, around 250, to dry it out.
Make the custard sauce to dunk the bread in by whisking together the eggs, milk, sugar, extract, cinnamon, and salt.
When ready to cook, put a piece or two of bread into the custard bowl and let soak for 30 seconds per side.
Heat a skillet over medium heat. When the bread is done soaking, add about 1/2 Tablespoon of butter to the pan (this helps it brown, plus more flavor!) and when melted, add the bread.
Try not to move it so it can develop great color and then flip it after 2-2.5 minutes once it is turning a golden brown.
Cook another 2-2.5 minutes on the second side.
Remove and serve by spooning some of the strawberry sauce on top! (Or see tips below about keeping it warm while you keep cooking). Repeat with the remaining bread and custard.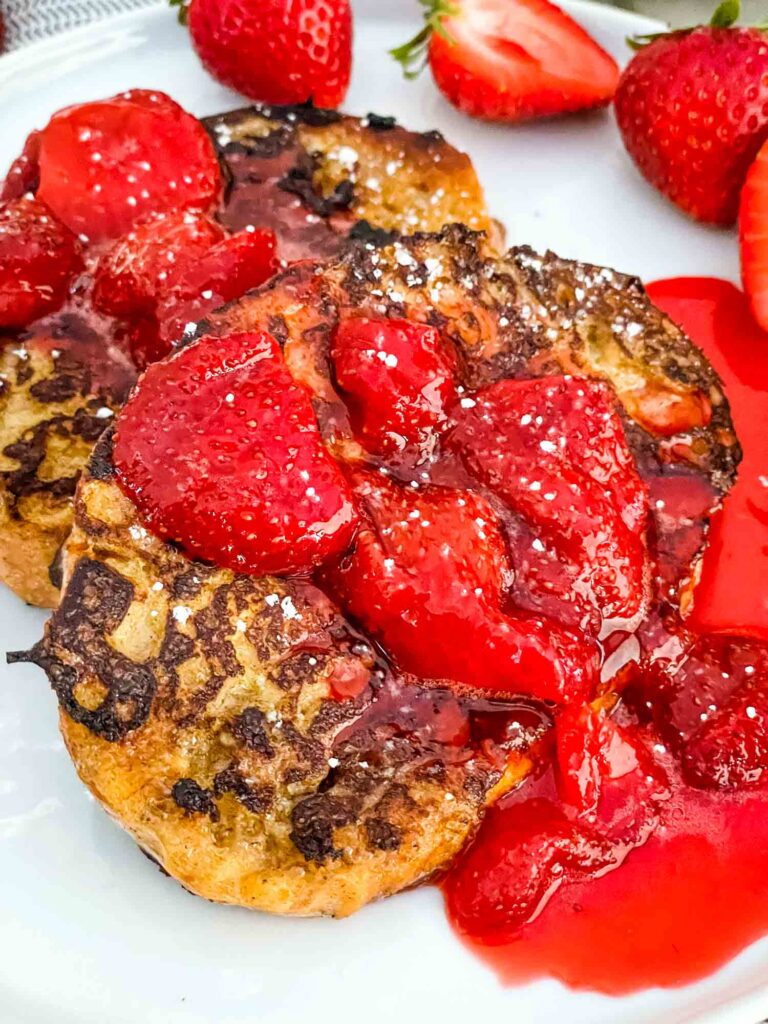 Kim's Tips
Drying out the bread is important so that it does not dissolve or turn mushy when put in the custard.
Strawberry sauce can be made in advance and refrigerated for a faster breakfast or brunch.
Want to keep the French toast warm while you finish baking? Put the oven on warm or a very low temperature (200-250) and put a cookie cooling rack on top of a baking sheet in the oven. Add the finished toast to the rack in the oven as they are done.
By using the cooling rack, air can circulate under the bread and it will not get soggy from heat trapped against the pan.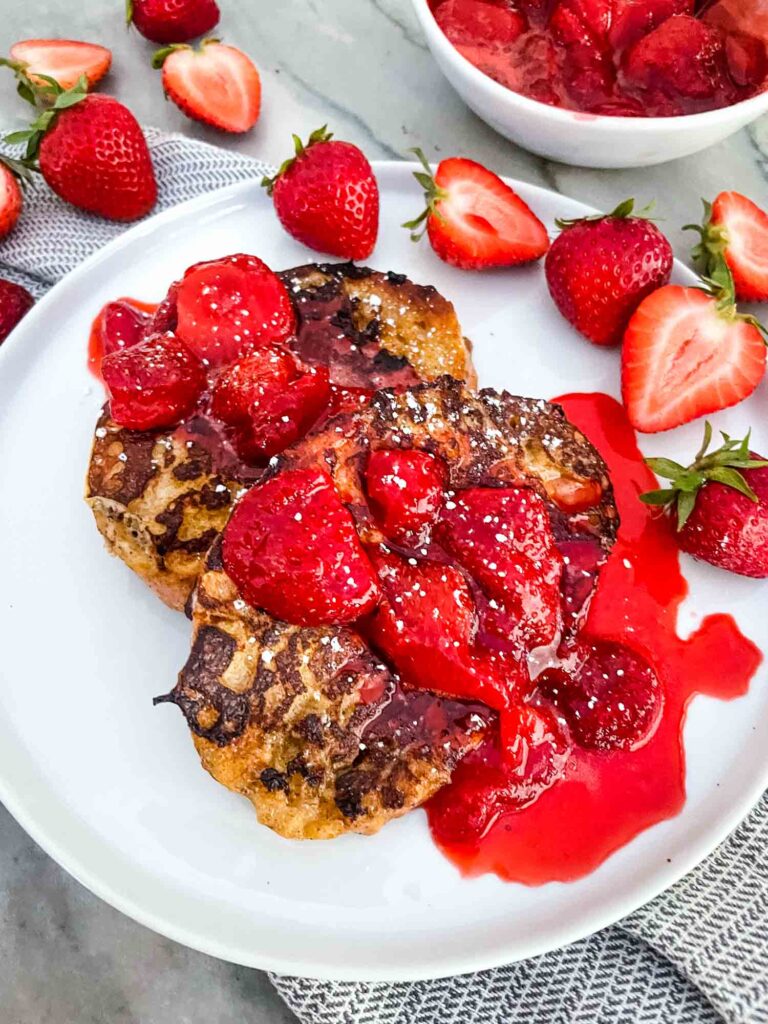 FAQs
What is the trick to French toast?
Soaking the bread in the egg custard mixture is what gives it the richness and flavor!
And in order for the soak to work well, the bread first needs to be toasted. Otherwise, it would be mushy!
How do I make sure French toast is not soggy?
Make sure to toast the bread so that it is already dry when sitting in the custard.
And then when soaking, make sure to not oversoak where too much moisture is absorbed.
In cooking, make sure the heat is not too high where it could start burning on the outside before cooking properly.
Follow the instructions and you should be just fine!
Should I leave my bread out overnight for French toast?
Yes, you can leave the bread out overnight, already sliced, if desired. I prefer to just toast it the morning of while I get everything else ready as written in the recipe.
Can I use stale bread for French toast?
Yes, you can. If not sliced already it will likely crumble, but is a great way to use that bread and skip the drying out process.
What type of bread is used for French toast?
The three most typical types are brioche, French, or challah. But you can be flexible and use other breads like Italian or wheat.
Why does my French toast turn out eggy?
It is possible the eggs where not beaten well enough and still had chunks or strands that you found in certain areas.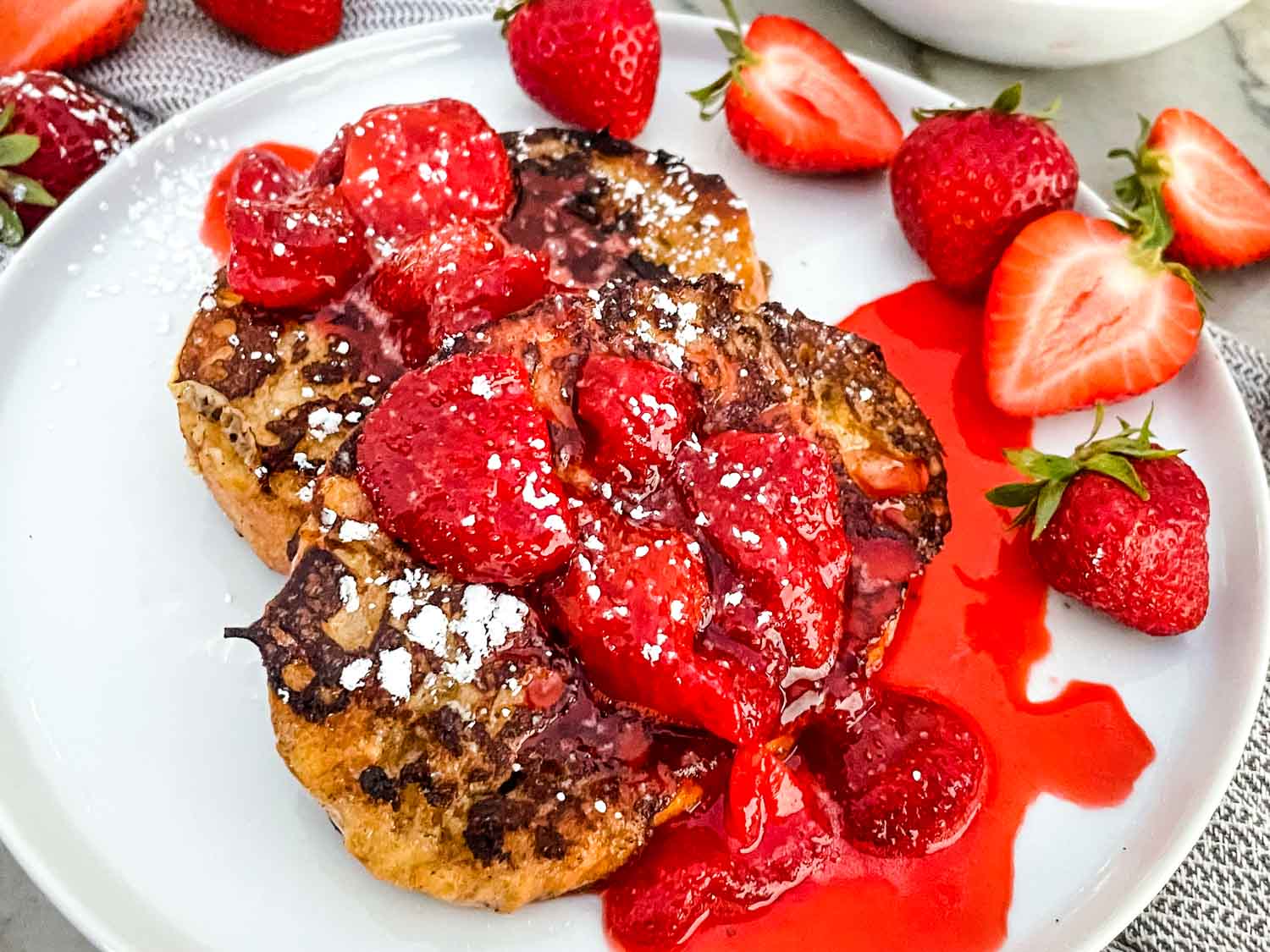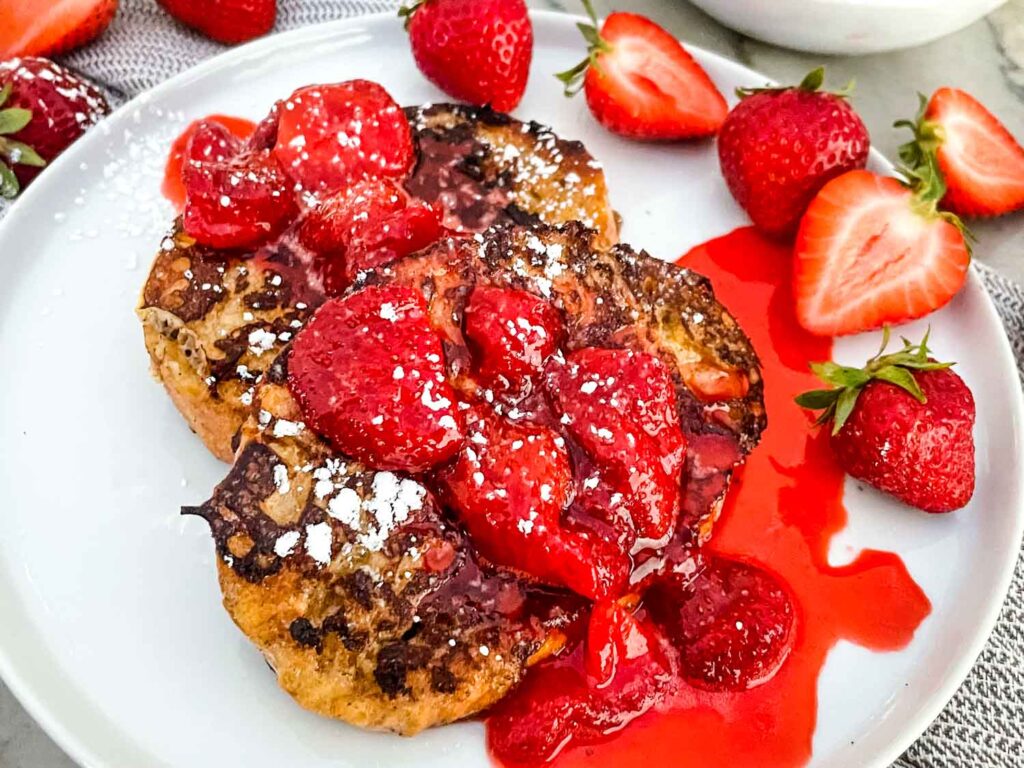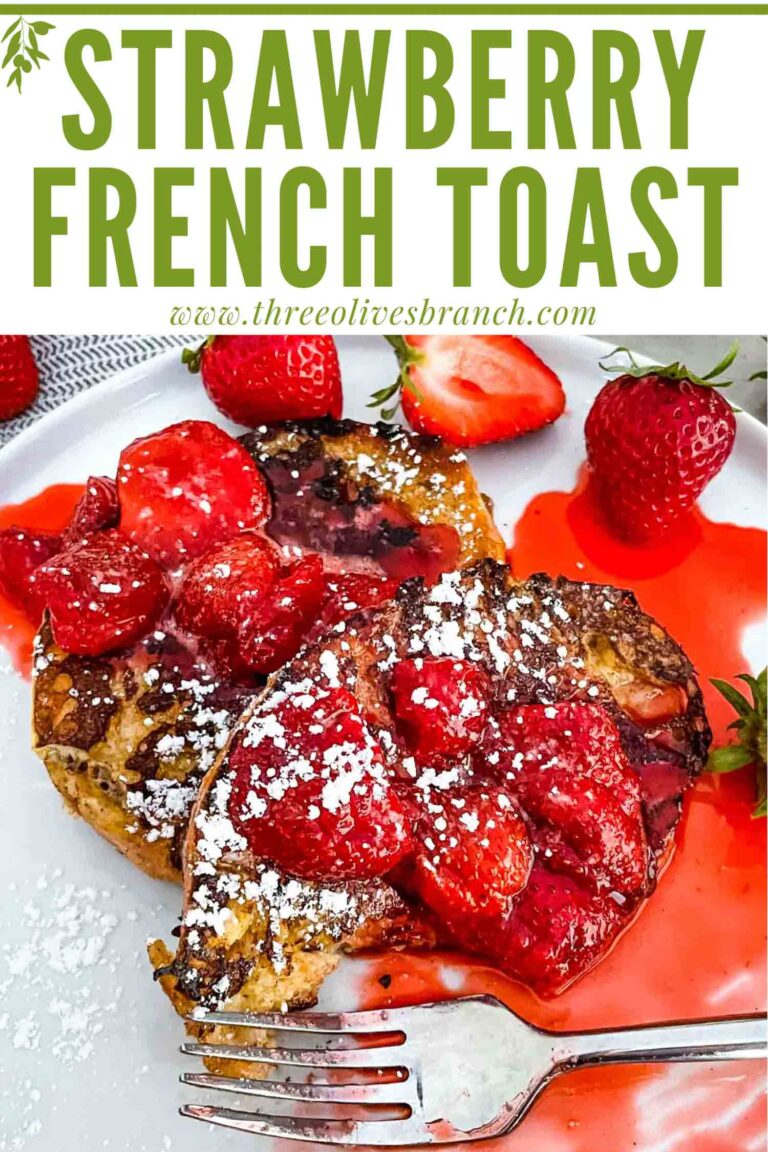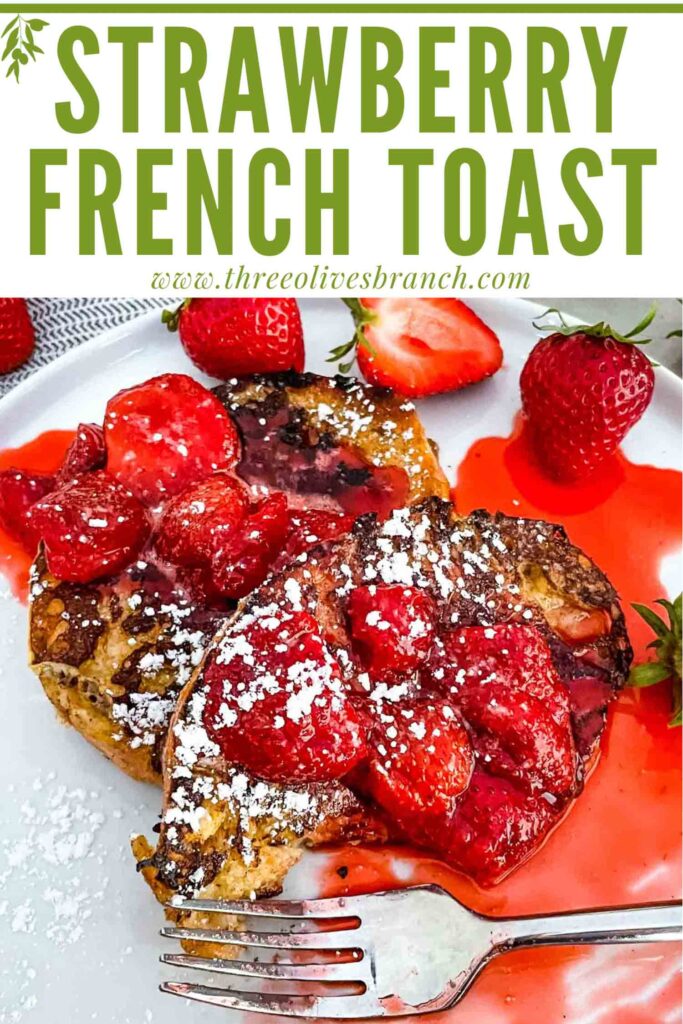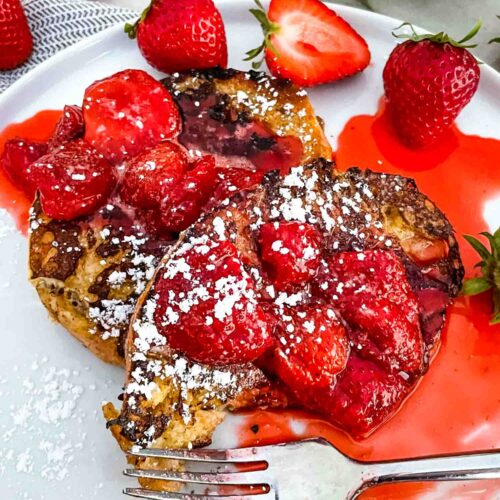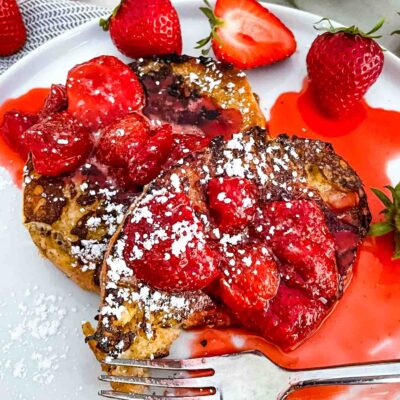 Strawberry French Toast
Strawberry French Toast is a delicious breakfast or brunch recipe! Bread soaked in a custard and cooked until crisp, then topped with a strawberry sauce.
Print
Pin
Rate
Instructions
Slice your bread into pieces approximately 3/4 to 1 inch thick as desired.

Lay the bread out on a baking sheet and place in the oven for the bread to dry out, approximately 15 minutes. Remove the bread from the oven.

If you want to keep the cooked French toast pieces warm as you make them later, leave the oven on with a baking sheet that has a cooling rack sitting on top (for better air circulation) in the oven.

While the bread is drying out, in a large and shallow dish whisk together 2 Tablespoons of the butter (melted first), milk, eggs, sugar, vanilla, ground cinnamon, and salt.

Once combined, whisk in the flour until incorporated well.

Preheat a large nonstick skillet on the stove over medium heat.

Place two pieces of bread in the custard batter and soak for 30 seconds per side.

Put a small bit of butter (about 1/2 Tablespoon) into the skillet. When melted, add both pieces of the soaked bread.

Cook for about 2-2.5 minutes per side, developing a golden brown color on each side.

Move the cooked toast to either the warming station inside the oven or on plates to serve.

Repeat with the remaining bread.

Serve with the strawberry sauce, powdered sugar, or syrup as desired.
Nutrition
Serving:
1
piece with sauce
|
Calories:
143
kcal
|
Carbohydrates:
16
g
|
Protein:
3
g
|
Fat:
8
g
|
Saturated Fat:
4
g
|
Polyunsaturated Fat:
0.5
g
|
Monounsaturated Fat:
2
g
|
Trans Fat:
0.2
g
|
Cholesterol:
50
mg
|
Sodium:
74
mg
|
Potassium:
126
mg
|
Fiber:
1
g
|
Sugar:
11
g
|
Vitamin A:
274
IU
|
Vitamin C:
23
mg
|
Calcium:
53
mg
|
Iron:
1
mg
More Brunch Recipes
By