Air Fry Salmon is a fast and easy fish filet recipe. A great beginner air fryer recipe that is gluten free and keto low carb. A fresh, simple, and healthy seafood dish.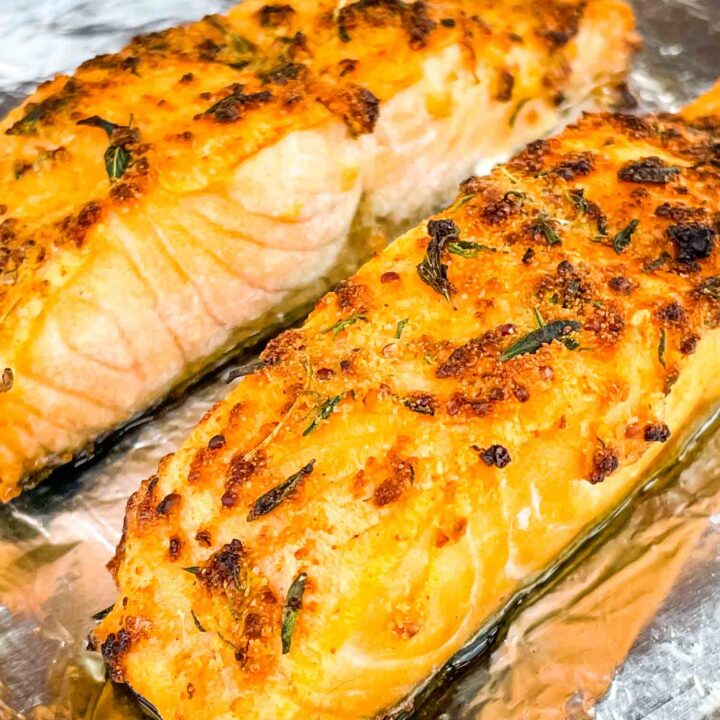 This Air Fry Salmon recipe is fast, easy, and healthy! A great fish recipe with simple flavors that will pair well with just about anything.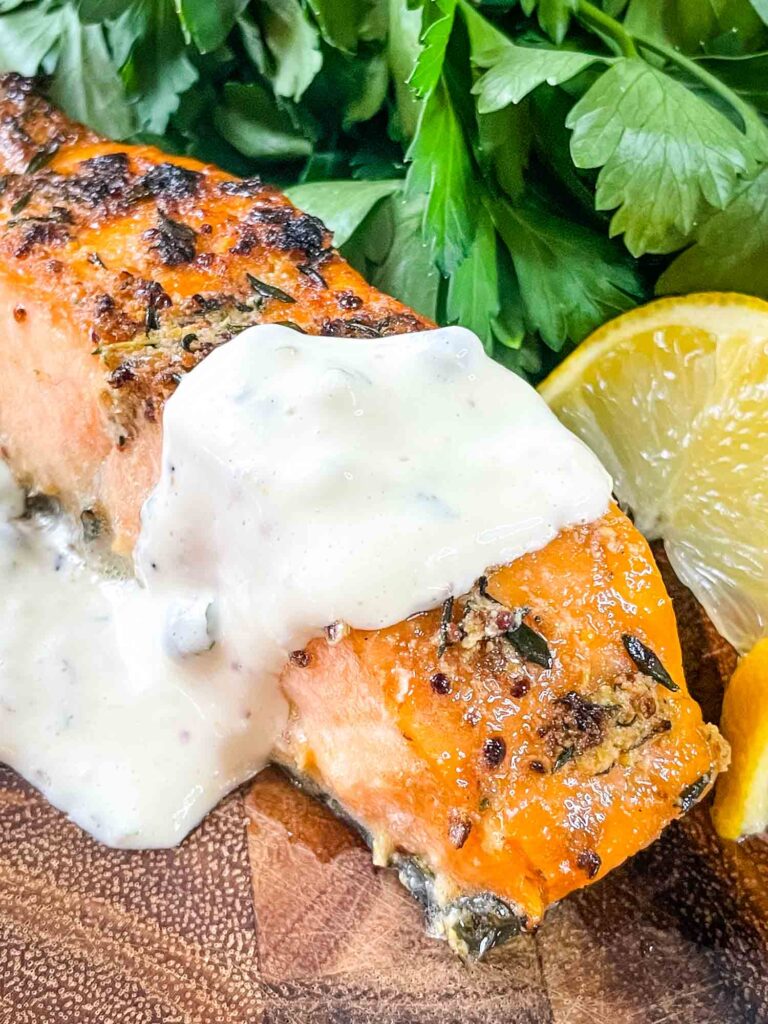 Healthy Salmon Recipe
This healthy seafood recipe is a great crowd pleaser, plus it is dairy free, gluten free, and keto low carb to accommodate multiple dietary needs.
The flavors used in this fish dinner are simple enough to pair with many things but still exciting and delicious!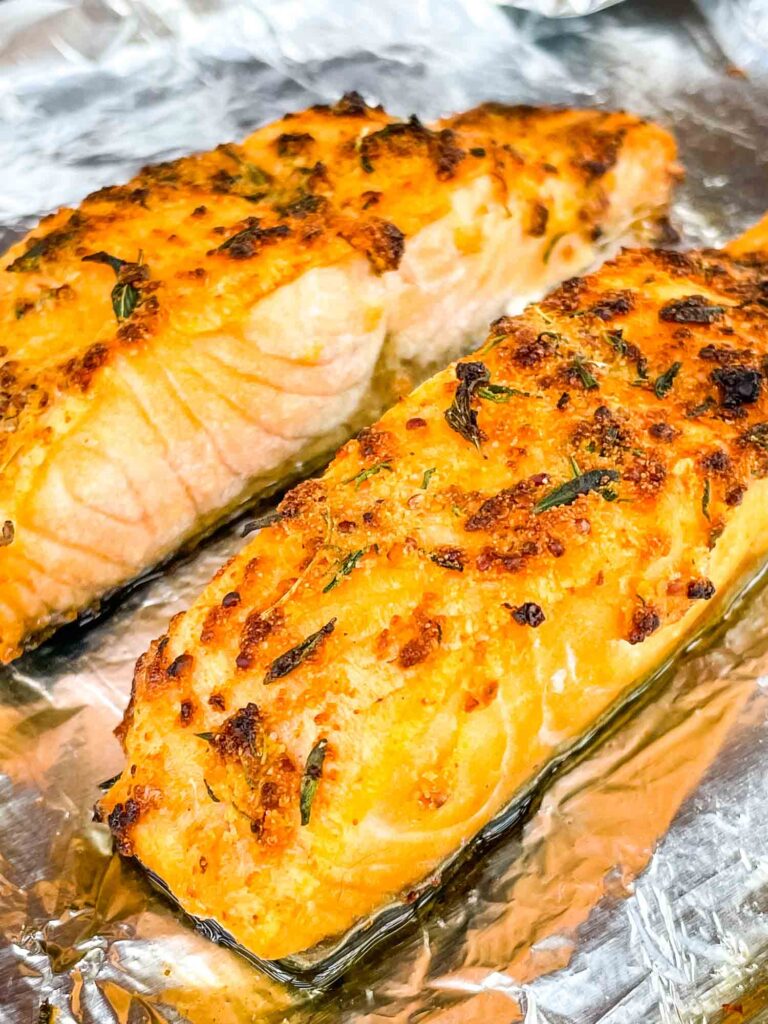 Air Fryer Salmon Marinade – Ingredients Needed
Here is what you need to make this air fry salmon:
Vegetable Oil
Garlic Powder
Dried Thyme
Dijon Mustard
I highly recommend also serving the salmon with lemon wedges and a classic remoulade sauce which is perfect for seafood!
Instruction Overview
Mix the sauce ingredients together in a small bowl. Place your fish fillets on a piece of tin foil in the air fryer basket. You can also choose to put the fish directly on the basket, but first spray it with a non-stick spray.
There is always a risk of fish sticking and tearing, so I use foil just in case.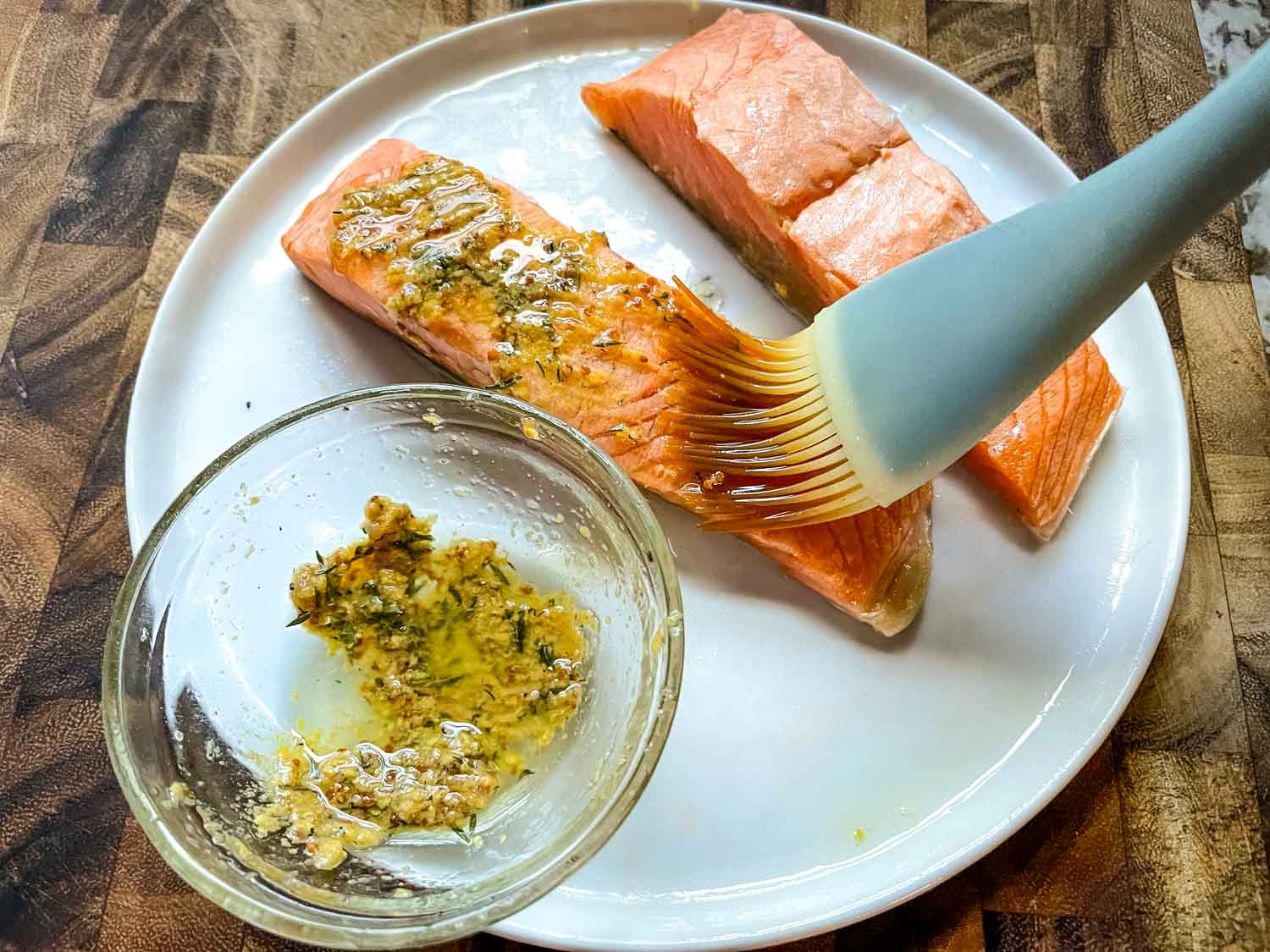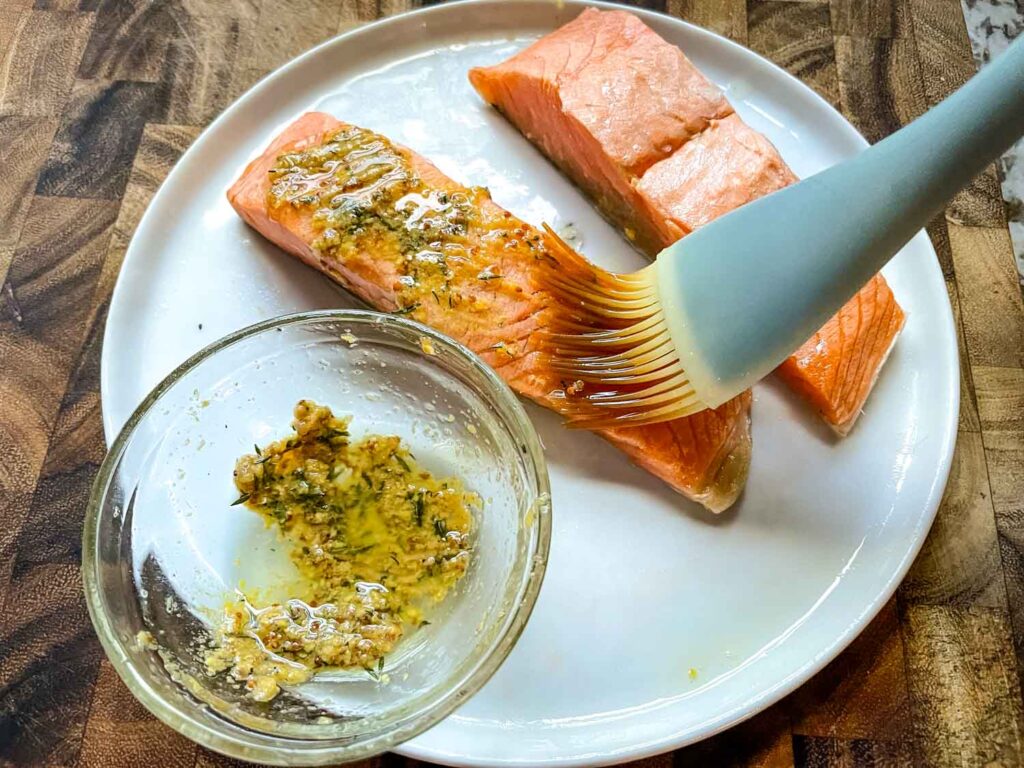 Baste the sauce onto the fish and cook at 400F for 7-8 minutes.
What temp should salmon be cooked at?
Whether cooking in an oven or air fryer, I like to cook salmon at 400F.
Regarding the internal temperature, the FDA recommends cooking to 145F however many chefs and cooks prefer cooking it to 125F.
It is also important to note that there will be carryover cooking once the salmon is taken out of the oven or air fryer, so you can expect the internal temperature to continue to rise.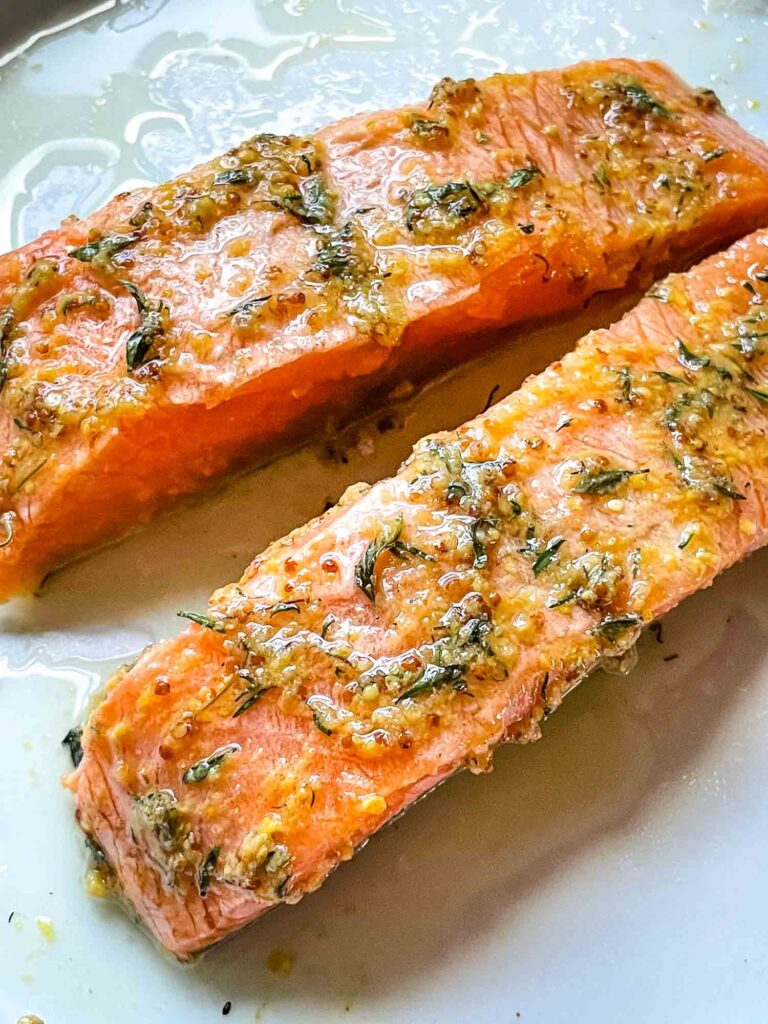 How long does it take to air fry salmon in the air fryer?
This will vary slightly with the temperature.
For this recipe, I like to cook it at 400F. And at 400F, I find it is best to cook the salmon for about 7-8 minutes. If you want the salmon more well done, 10 minutes.
The fish portions that I tend to use are 4 ounce portions, 1.5 inches wide, 1.5 inches tall, was perfect for them to be just cooked through and flaky. If your salmon pieces are different sizes, weights, or even shapes in how thick they are, you may want to adjust your cooking time up or down accordingly.
Cooking fish, just like steak, has several variables that affect cooking since we are not using perfectly symmetrical pieces every time we make it.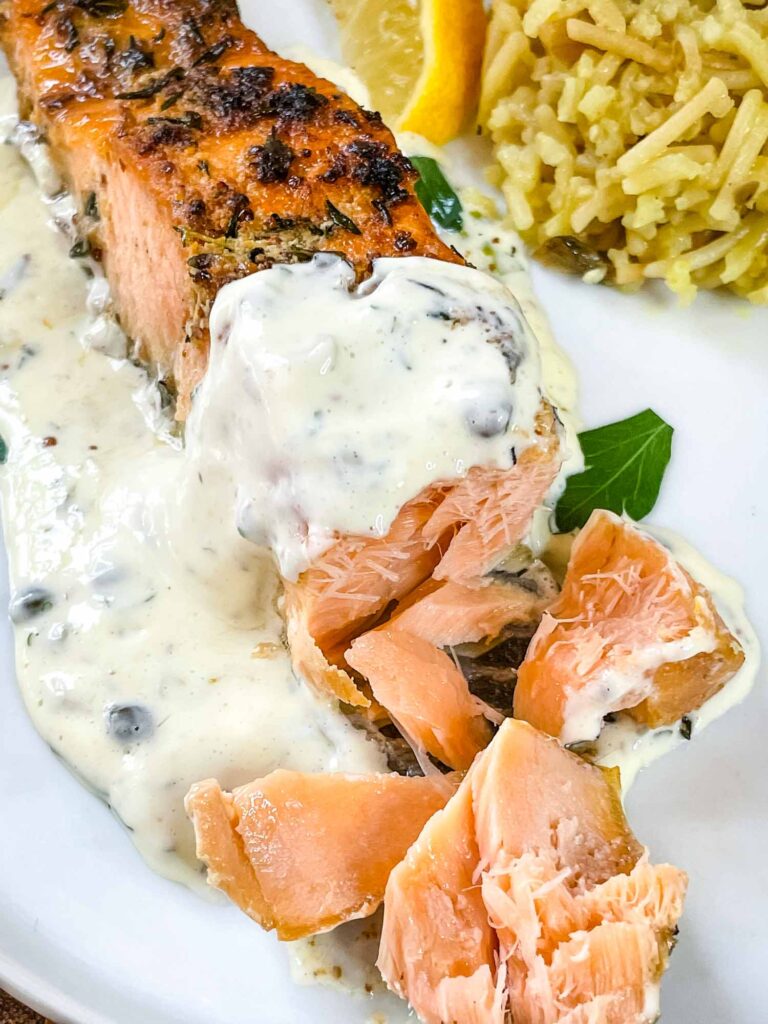 Do you have to flip salmon in air fryer?
No!
When you are using the basket in an air fryer, there is room for air circulation under and around the food. So no need to flip the salmon as the air can reach all surfaces at the same time.
How do I make food crispy in my Airfryer?
You just need a small amount of an oil for everything to crisp up!
In this recipe, we have that oil in the sauce with the other herbs and flavors.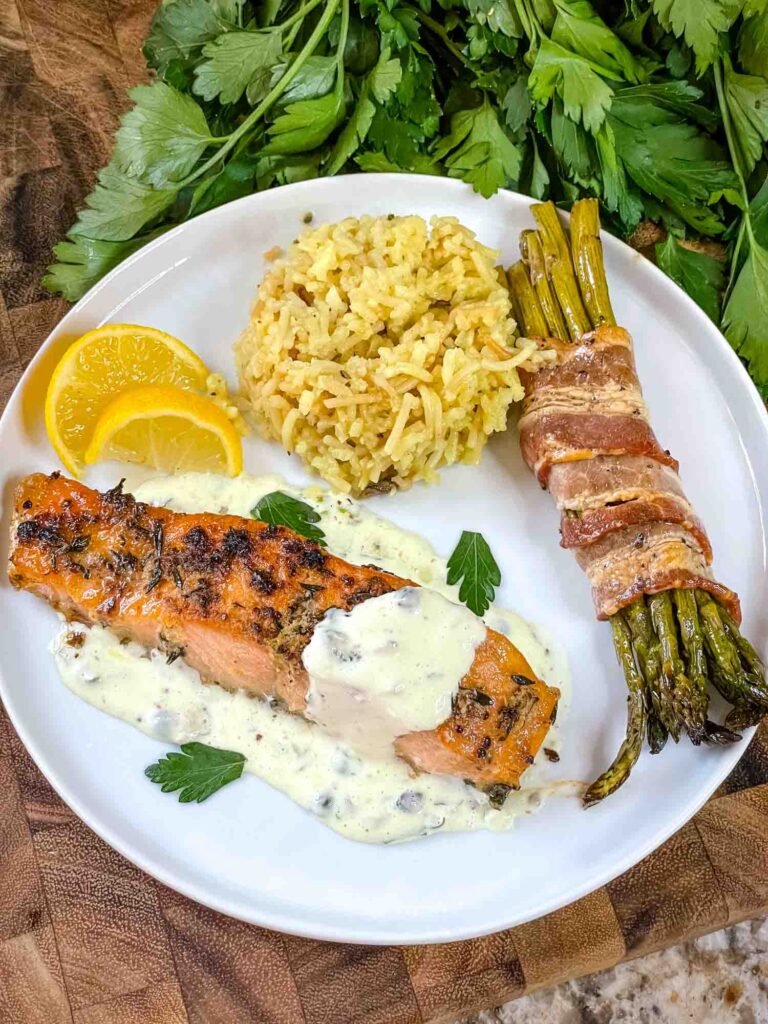 What to Serve with Air Fried Salmon
Our classic remoulade sauce is perfect for seafood, especially salmon!
And pictured above is our Asparagus Wrapped in Bacon.
Since the fish is simple flavors, you could pair just about anything with this fish!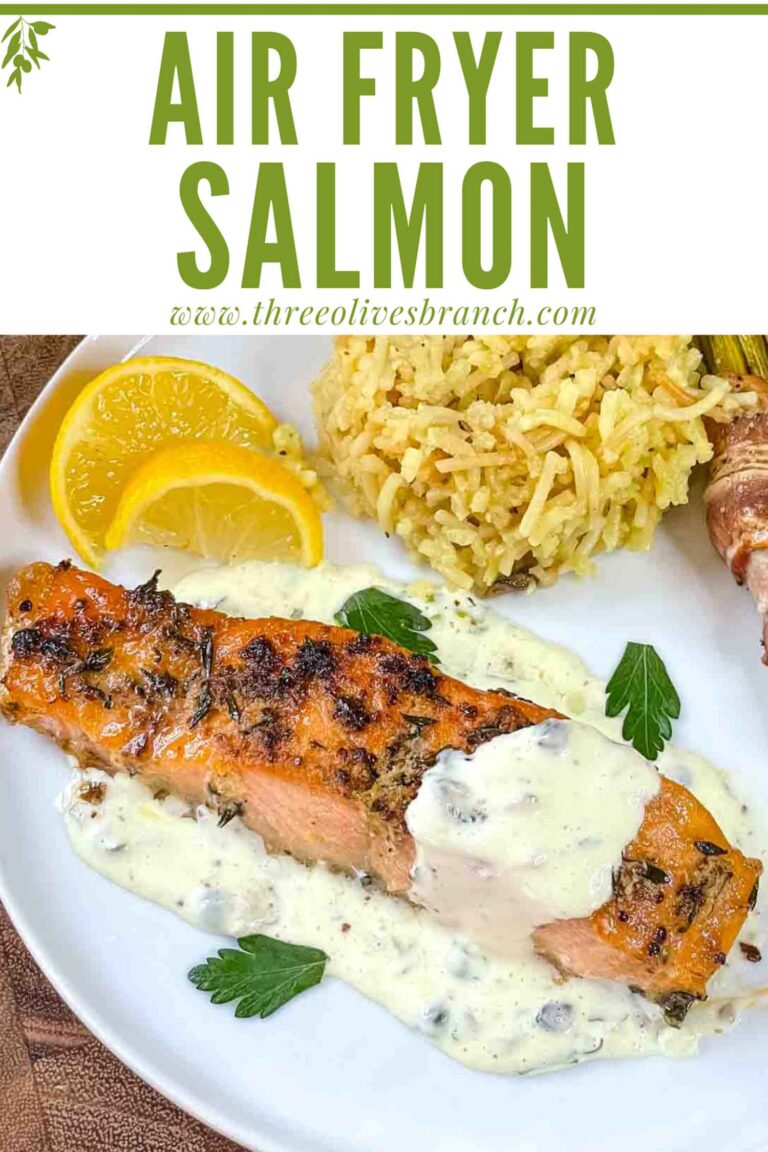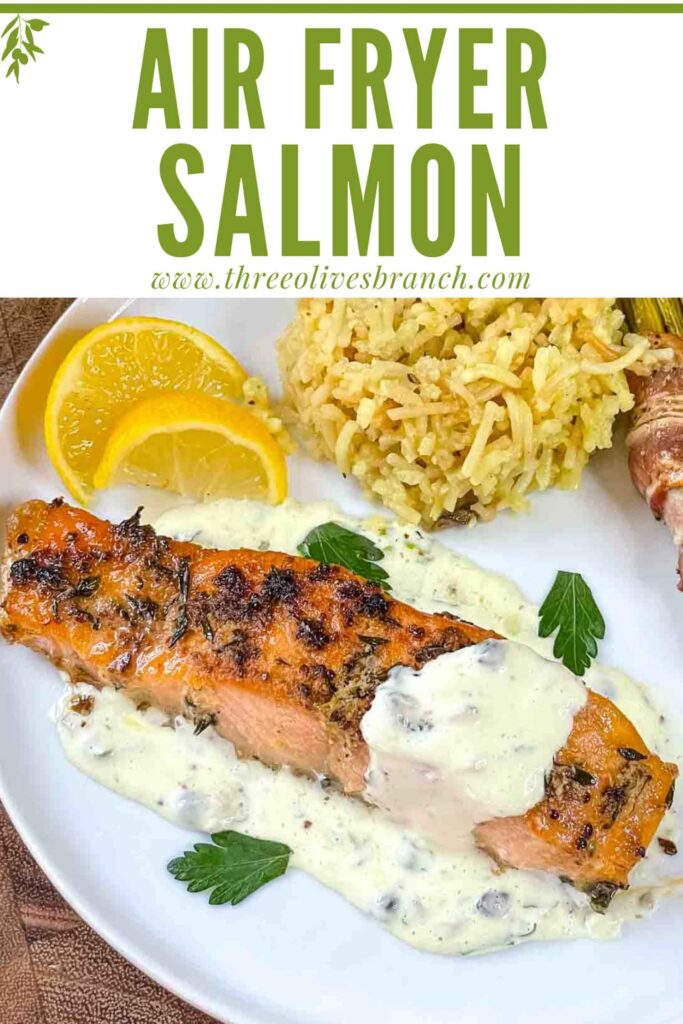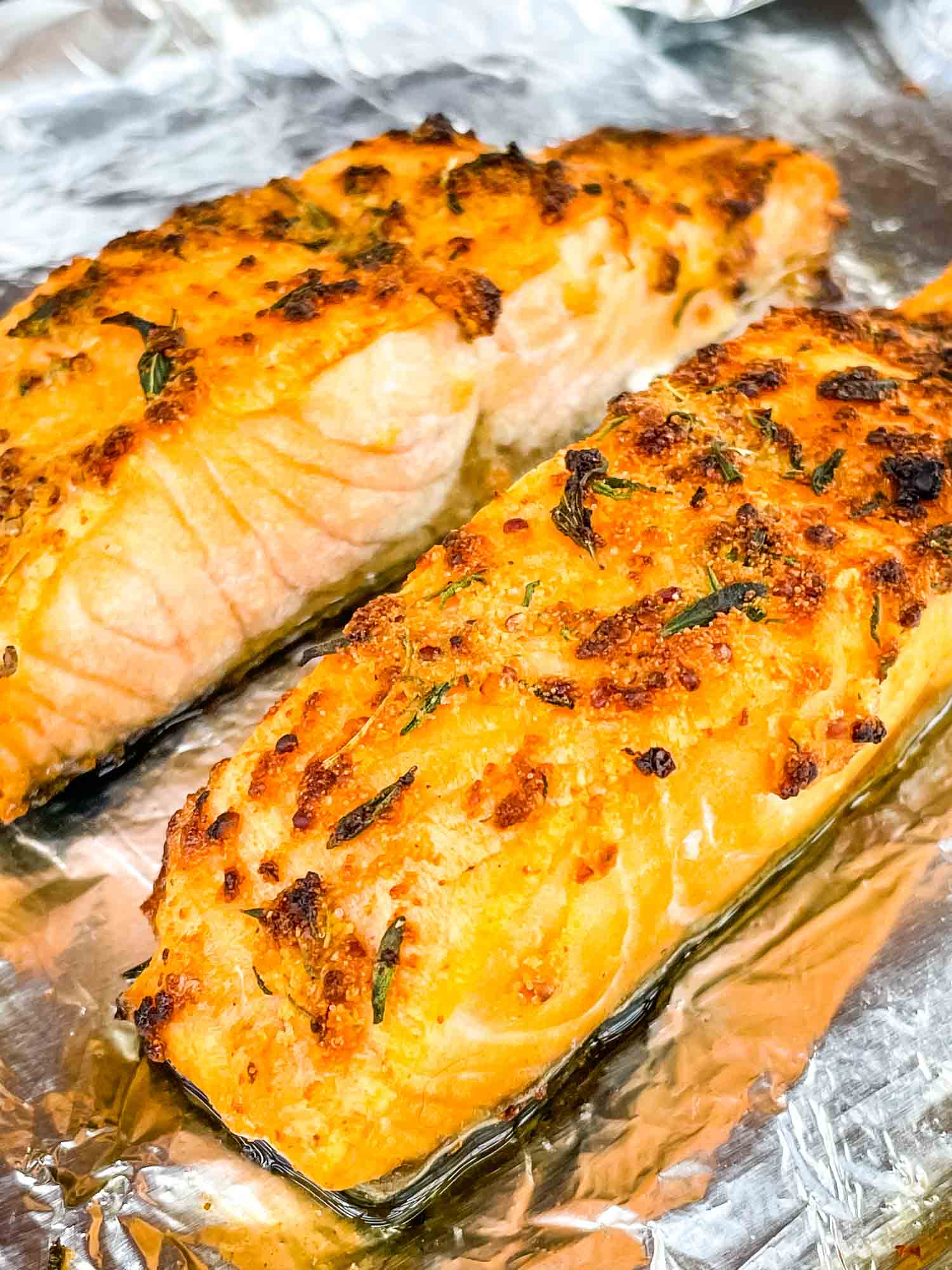 Instructions
Pat your fish portions dry with a paper towel.

Make your marinade sauce by combining the thyme, garlic, mustard, salt, and vegetable oil in a small bowl.

Put the salmon skin side down on the air fryer basket. Use foil if desired to help prevent sticking, or spray the basket with non-stick spray.

Spread the marinade mixture over the pieces of salmon.

Place the salmon in your air fryer basket, not touching.

Air fry the salmon at 400°F for 7 minutes. Cooking time will vary, see note.

Serve immediately with lemon wedges and remoulade sauce.
Notes
If you are planning to eat the skin, make sure the scales have been removed. You can ask your fish monger to do this, or you can do it by running the flat back edge of a knife in the opposite direction of the scales.
Cooking Time: About 7 minutes for 4 ounce portions, 1.5 inches wide, 1.5 inches tall, was perfect for them to be just cooked through and flaky. If you want the fish more on the rare side, reduce cooking time. Also adjust time up or down depending on size of the salmon steaks, including thickness. You can check for doneness by gently prying into the thick section of the salmon to check for its color, like you would chicken.
4 ounce portions might seem small but is a standard size for salmon. Salmon is a richer and heavier fish than others. You can increase the portion size as desired, just adjust your cooking time as needed.
Want to make this in a standard oven? Cook at 400F for about 8-10 minutes.
Nutrition
Serving:

1

serving

|

Calories:

165

kcal

|

Carbohydrates:

1

g

|

Protein:

23

g

|

Fat:

7

g

|

Saturated Fat:

1

g

|

Polyunsaturated Fat:

3

g

|

Monounsaturated Fat:

2

g

|

Cholesterol:

62

mg

|

Sodium:

355

mg

|

Potassium:

568

mg

|

Fiber:

1

g

|

Sugar:

1

g

|

Vitamin A:

56

IU

|

Vitamin C:

1

mg

|

Calcium:

20

mg

|

Iron:

1

mg

By