This Bacon Green Bean Casserole is a delicious homemade side dish for Thanksgiving and holiday meals. Add cheddar cheese for a fun twist! You will love the amazing taste of a homemade casserole for your table.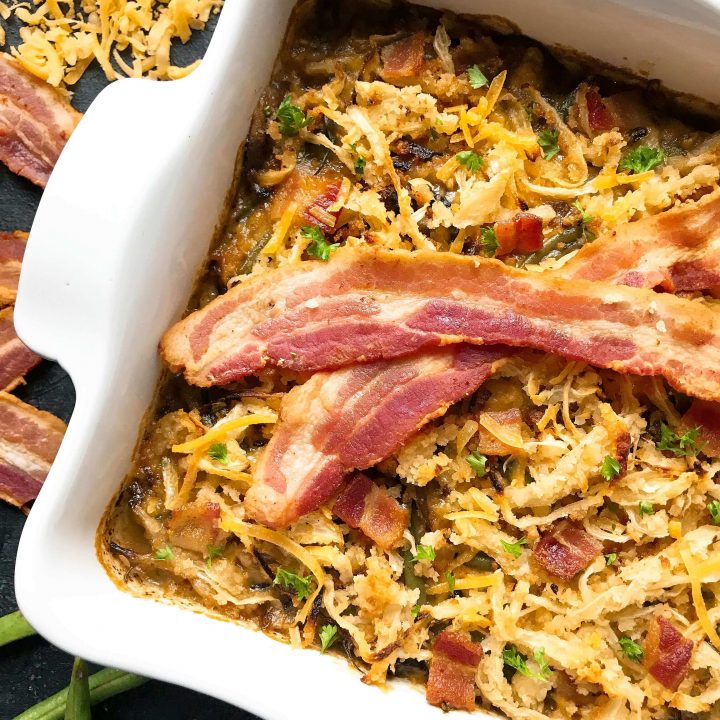 This Bacon Green Bean Casserole is a twist on a classic!  Homemade green bean casserole is cooked with bacon. Kick it up a notch by adding cheddar!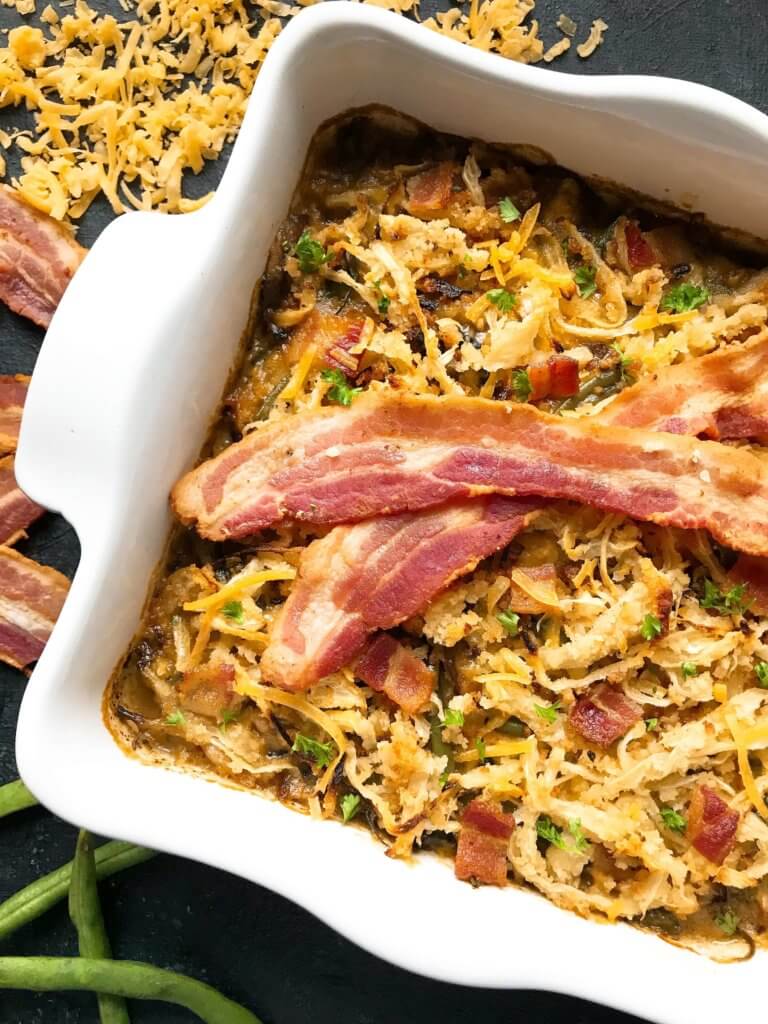 This post contains affiliate links.
Bacon Green Bean Casserole
The "typical" green bean casserole that a lot of people find on their holiday tables is traditionally made with cream of mushroom soup and canned fried onions. 
One year I decided to make it from scratch instead and OH MY!  It is just amazing and completely worth the additional steps and time to make it. 
Sometimes I will skip making my own fried onions and use the canned onions.  But I will ALWAYS make the sauce from scratch now.
If I am not going all in with this bacon version, I love to make my Parmesan Garlic Green Bean Casserole which has just a hint of cheese and lots of garlic for an upscale take on the classic flavors.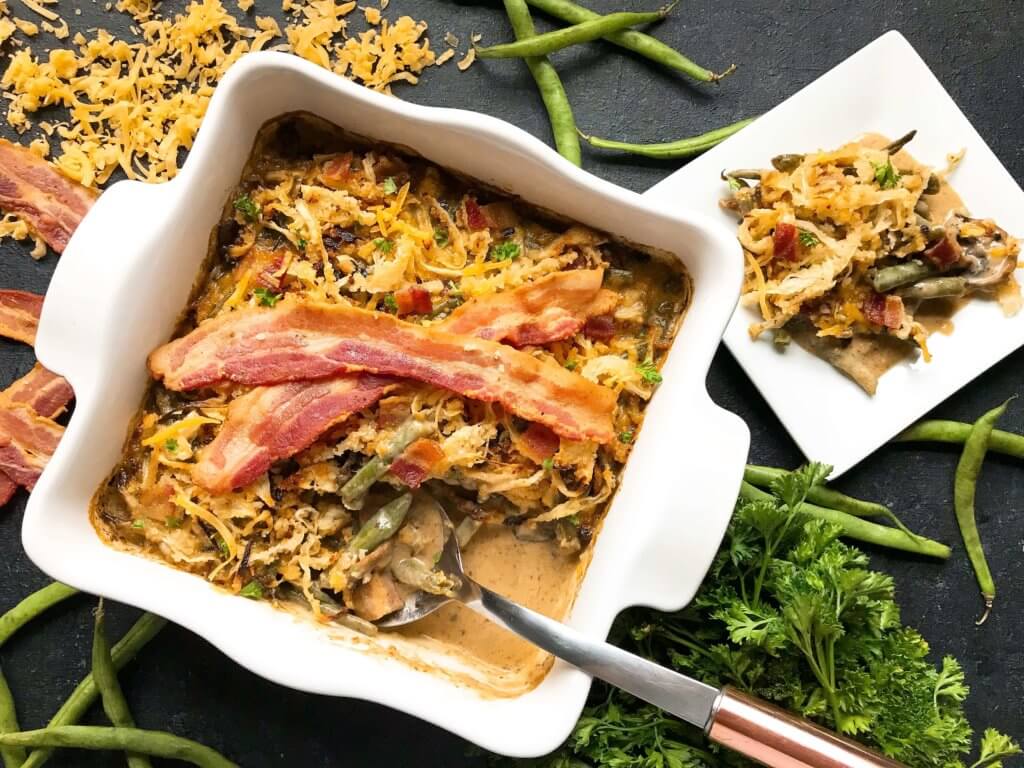 Cheese or no cheese?
This Bacon Green Bean Casserole  is a variation to the traditional green bean casserole that you typically see on Thanksgiving. 
If desired, it is delicious adding the cheddar cheese to the recipe. The sauce is cheddar based and made in some leftover bacon fat.  Bacon is chopped and tossed in with the green beans, and some extra cheese is sprinkled on top with the onions.
The cheddar adds additional flavor and creaminess.
Is Green Bean Casserole supposed to be soupy?
No. While it is definitely saucy, it should not be soupy. Soupy would be a really thin sauce.
If your sauce is looking soupy, either add more cheese (if using) or you need more thickener such as flour or cornstarch.
The sauce will get a little thicker as it is heated and as the thickener cooks into the sauce.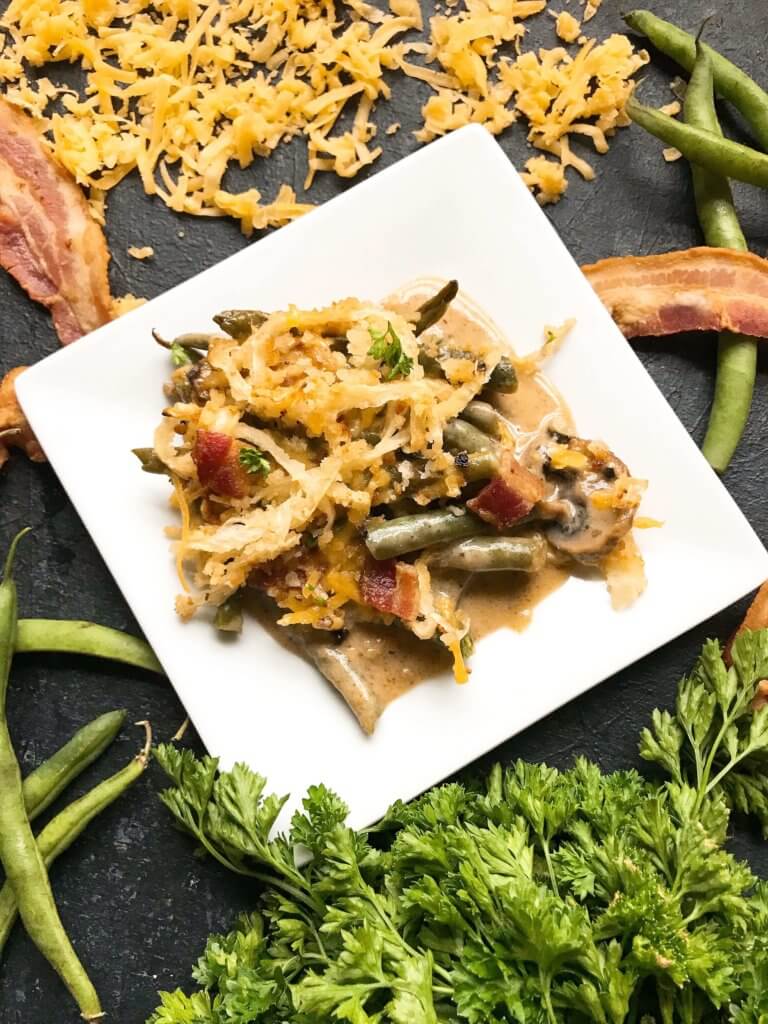 Can you prep green bean casserole the night before?
Yes! There is always SO MUCH COOKING happening on holidays, but I will always make a green bean casserole from scratch now. 
What I really love about this recipe is you can easily make the fried onions (or use the canned version) and the casserole itself ahead of time.  Just keep the onions separate. 
Then when you are ready to serve, pop the onions on top and finish baking the casserole. 
I will spend at least one day making absolutely everything I can in advance for holiday meals so when the day comes, I can spend more time with friends and family, and less time in the kitchen.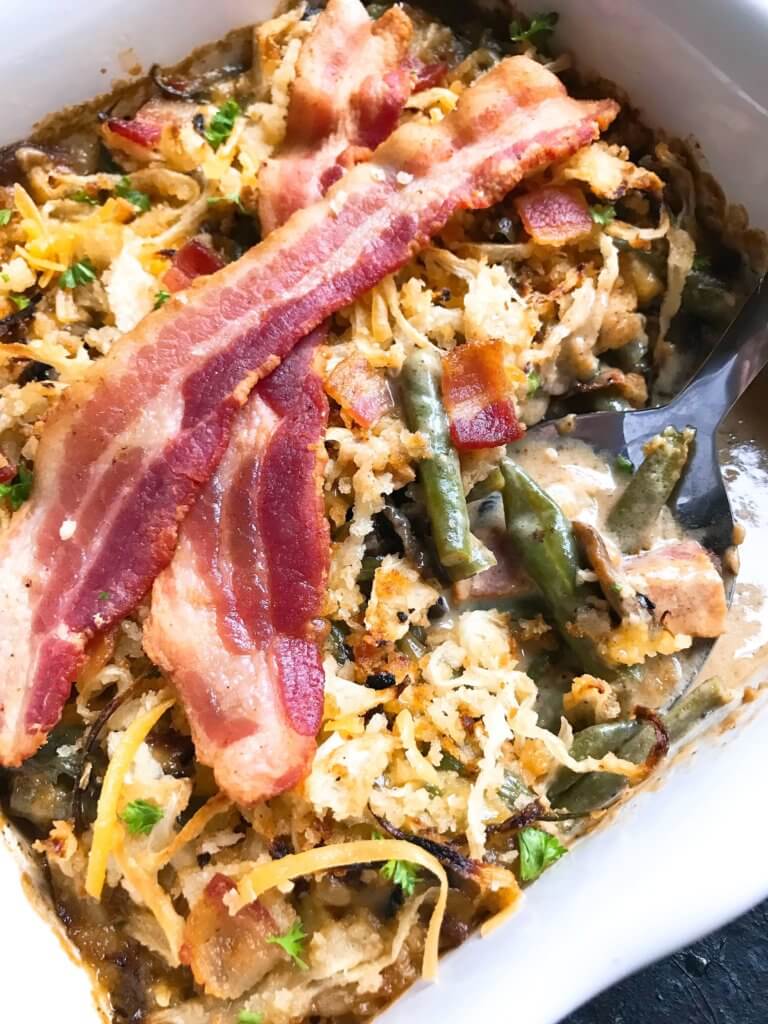 A fun green bean casserole from scratch like this is a great way to add some variety and interest to the holiday table.  With bacon, cheese, and fried onions, it just screams comfort food!  What is your favorite side at the holiday table?
Does anyone actually like green bean casserole?
This is obviously very subjective, but most people tend to say they eat it at the holidays because it is part of the tradition, regardless of whether they truly love it or not.
I used to eat it and like it growing up with the "classic" recipe. But now that I am making homemade versions I cannot get enough! I just love it and the flavor is so amazing.
Thanksgiving Recipes
Delicious recipes for Thanksgiving!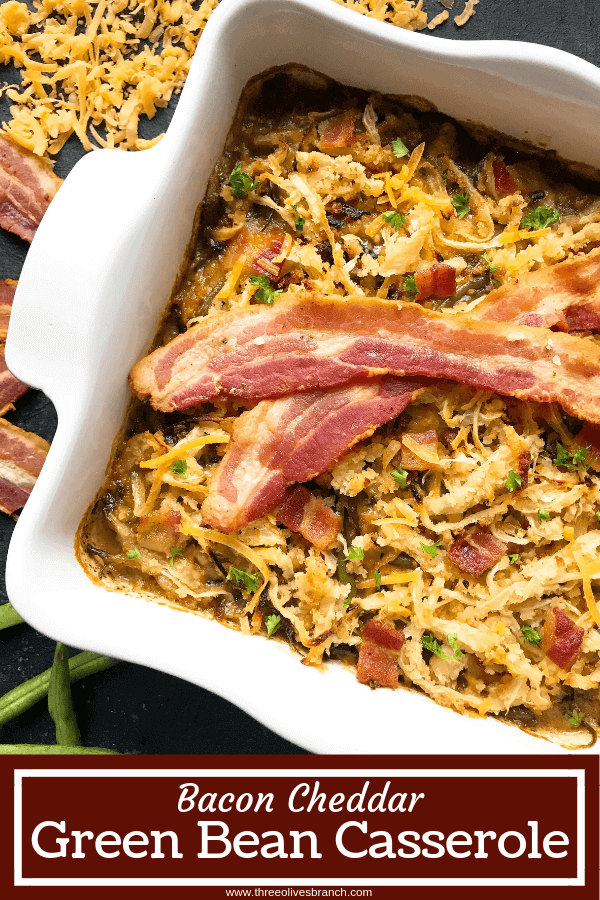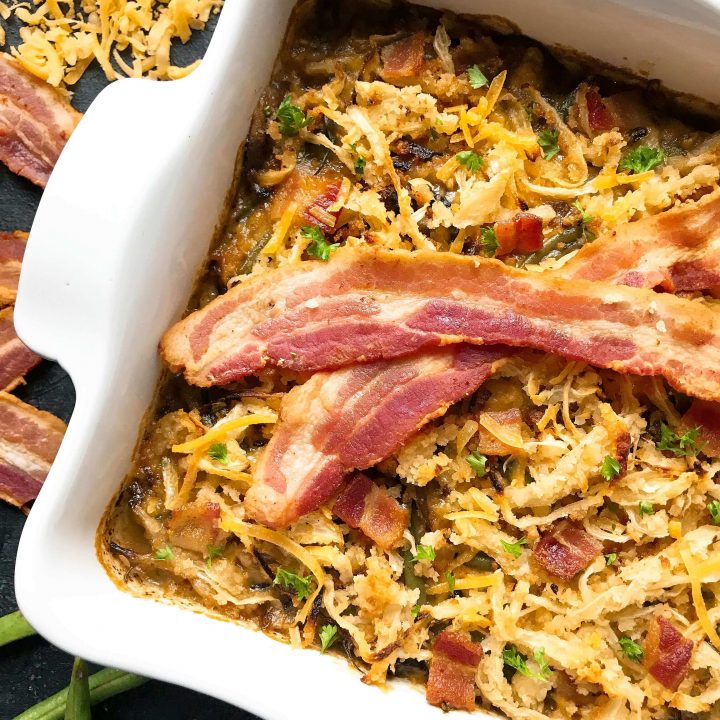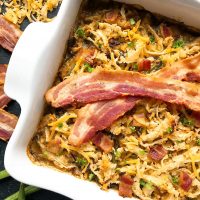 Bacon Cheddar Green Bean Casserole
This Bacon Green Bean Casserole is a delicious homemade side dish for Thanksgiving and holiday meals. Add cheddar cheese for a fun twist! You will love the amazing taste of a homemade casserole for your table.
Print
Pin
Rate
Instructions
Prepare the fried onion topping. Preheat the oven to 475F. Slice the onion thinly. Place onion in a small bowl. Add the remaining fried onion topping ingredients and toss to combine. Use as much milk as is necessary for it to just stick together.

Spread the dredged onion out on a silicone baking mat lined baking sheet. Bake until just golden brown, approximately 20-30 minutes. Toss the onions at least once during baking to toast all sides. When done, set aside.

While the onions are cooking, cook the bacon. Reserve the bacon fat from the skillet. Chop when cool. Set aside.

While the onions are cooking, also prepare the green beans. Bring a large pot of water to a boil over high heat. Trim the beans and cut into 1-2 inch long pieces. Add the green beans to the boiling water and cook until just blanched, 5 minutes. Remove the beans from the hot water. Immediately drain the beans and put them in a large bowl of ice water to stop the cooking process. Set aside.

Make the sauce. In a large skillet, add two Tablespoons of the reserved bacon fat (or use butter) over medium high heat. Add the mushrooms, salt, and black pepper. Stir to combine and cook until the onions just start to release some liquid, approximately 3-5 minutes.

Add the garlic cloves. Stir and cook another 1 minute until fragrant.

Sprinkle the flour on top of the mushrooms and stir to combine. Cook for one minute to slightly toast the flour.

Add the stock and cook for one minute. Reduce the heat to medium low and add the milk. Cook until the sauce has slightly thickened, approximately 5 minutes.

Remove the sauce from the heat and add the chopped bacon and 1 cup of cheddar cheese (if using). Stir to combine until the cheese is melted.

Add the green beans to the sauce and stir. Season the sauce to taste as needed with salt or pepper.

When ready to serve, heat oven to 400F. Place the green bean mixture in a casserole dish. Top with the fried onions, the remaining 1/2 cup cheddar cheese, and additional chopped bacon if desired. Bake until bubbling, approximately 10-15 minutes. Serve immediately.
Notes
The onions and casserole can be made in advance, then add the onion on top and resume from step 10 when ready to serve.
This serves 6 smaller portions, or 4 large portions. It can easily be doubled or tripled!
Nutrition
Serving:

1

serving

|

Calories:

417

kcal

|

Carbohydrates:

25

g

|

Protein:

16

g

|

Fat:

29

g

|

Saturated Fat:

12

g

|

Polyunsaturated Fat:

4

g

|

Monounsaturated Fat:

11

g

|

Trans Fat:

1

g

|

Cholesterol:

56

mg

|

Sodium:

973

mg

|

Potassium:

525

mg

|

Fiber:

3

g

|

Sugar:

8

g

|

Vitamin A:

916

IU

|

Vitamin C:

12

mg

|

Calcium:

258

mg

|

Iron:

2

mg

By