This Thanksgiving Stuffing with Cranberries, Kale, Pecans, and Wild Rice is packed with lots of mix ins and flavors for a textured holiday dressing. Not soggy and mushy, rice adds texture and flavor. A great fall side dish for Friendsgiving.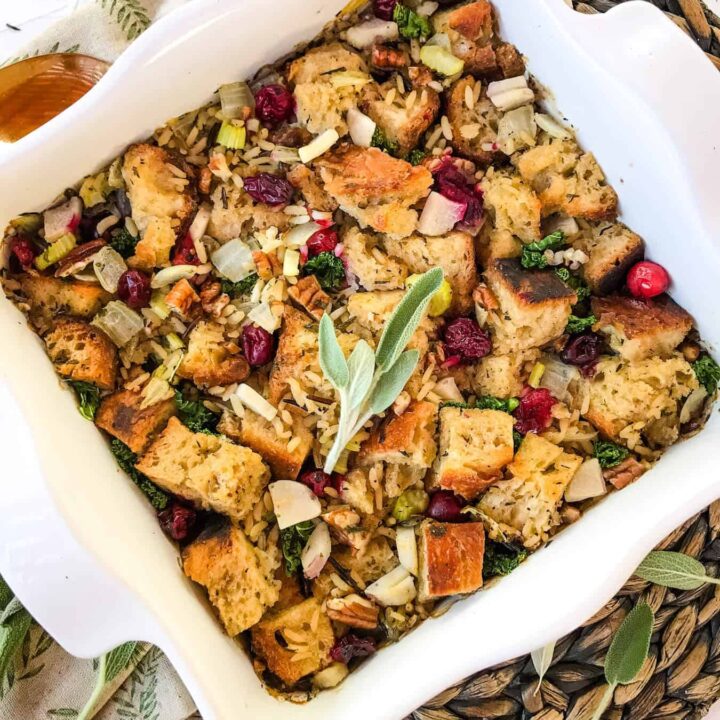 Make your Thanksgiving side dish recipes exciting with this Thanksgiving Stuffing with Cranberries, Kale, Pecans, and Wild Rice!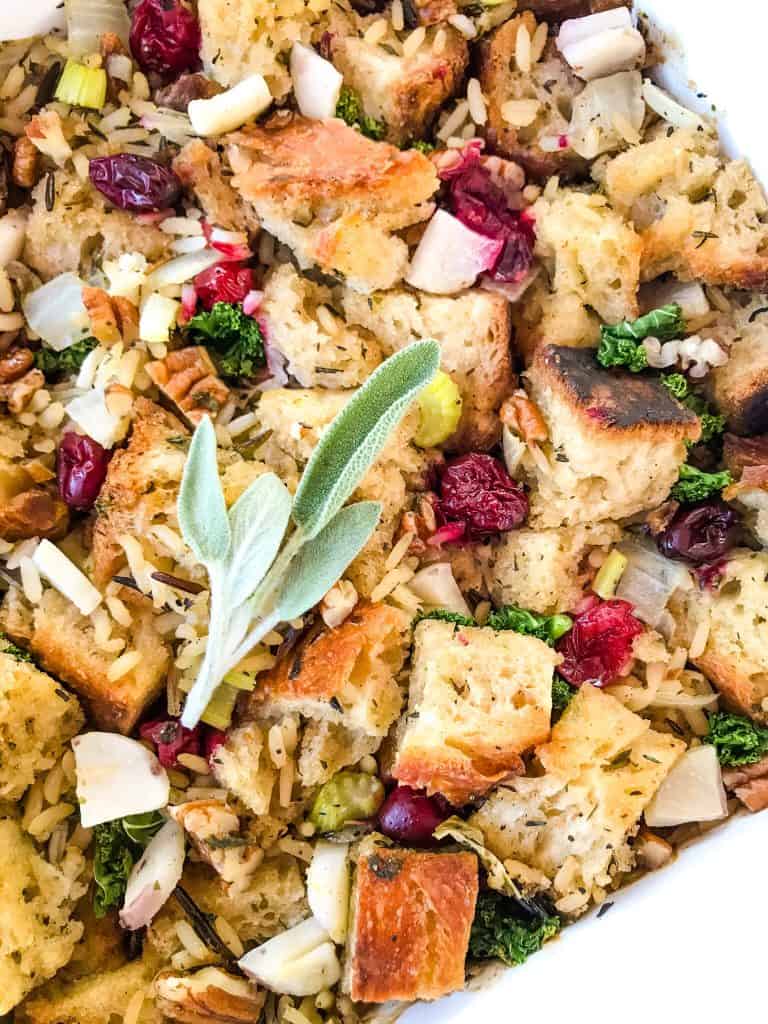 Thanksgiving is my absolute favorite food holiday!
In our family, even though we are a bunch of cooks, we keep it traditional and the exact same food every single year.
But I always host a Friendsgiving to experiment and do fun, unique Thanksgiving recipes!
This Thanksgiving Stuffing with Cranberries, Kale, Pecans, and Wild Rice has been my favorite homemade stuffing recipe to date!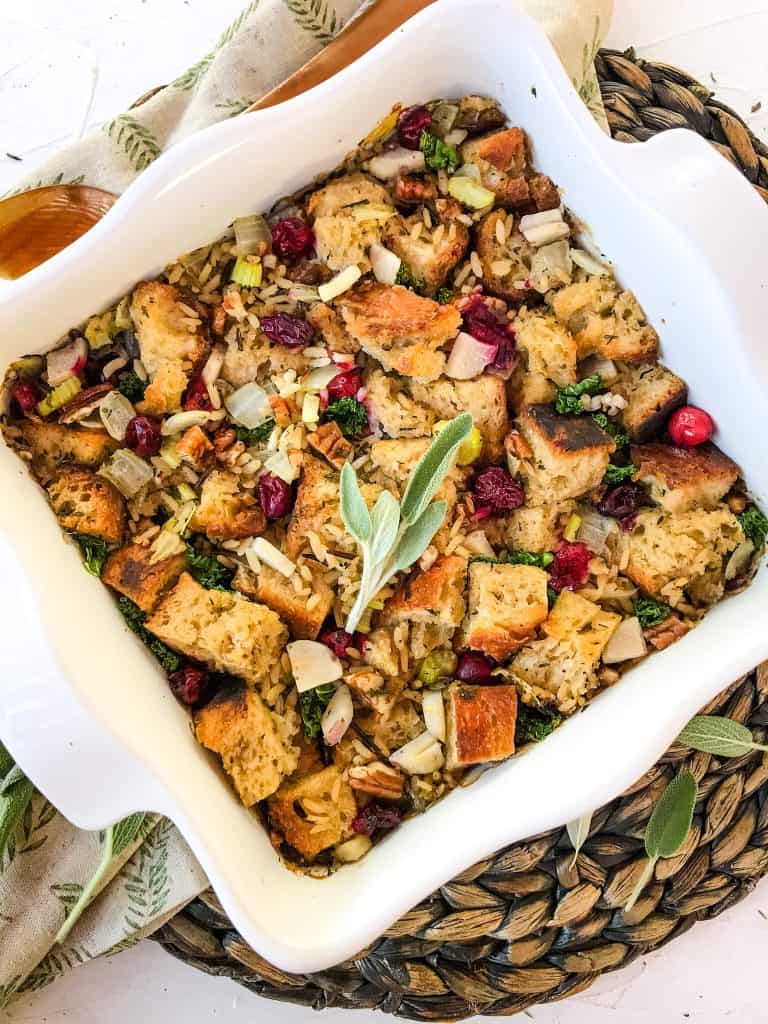 Stuffing or Dressing?
The Southern United States tends to call it dressing, versus the other regions calling it stuffing, so it may strictly depend on where you live or are from.
Some also say that stuffing is when you stuff it inside the turkey, and dressing is when it is cooked outside of the turkey.
We have always called it stuffing in our family, and would stuff our family recipe in the bird, plus cook extra on the side. And dressing sounds more like something you refer to for salad.
But regardless of what you call it, it is amazing!
Thanksgiving dressing is mandatory in my world for the holiday, regardless of what is in it.
You just can't have a Thanksgiving without a stuffing!
It is also one of the foods that I make sure to make extra of so there are lots of leftovers.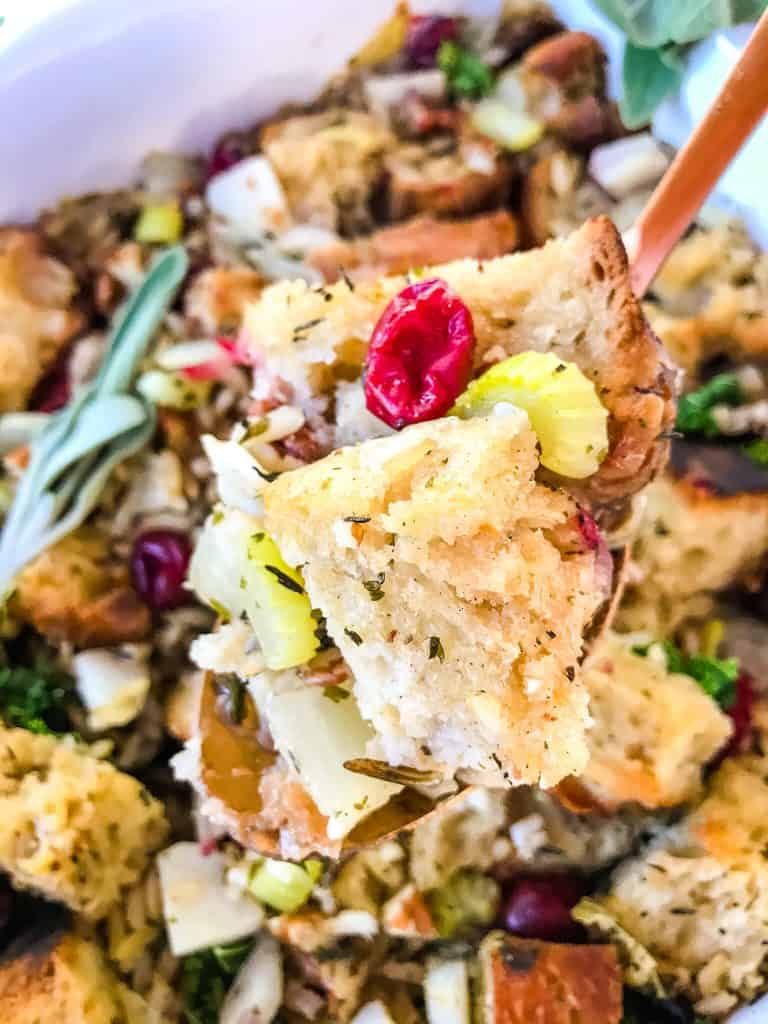 Do you put egg in stuffing?
I do choose to use eggs for this stuffing. The eggs act as a binder for all of the ingredients as well as adding some lift to help make it lighter and fluffier.
To Cook Inside the Turkey or in a Dish?
I am a huge fan of cooking stuffing inside a turkey, however there are some food safety concerns that come with it. So make sure if you do, that you are cooking the stuffing until it is a safe temperature.
This could mean that the turkey is overcooked, so the stuffing might need some extra time in the oven or some pre-cooking.
My sister gets automatic dibs on the turkey stuffing every year and the leftovers as well.
When you taste it side my side, you can definitely taste a difference as the seasoning from the turkey seeps into the stuffing as well.
How do you know when stuffing is done?
Regardless of whether it is cooked inside a turkey or in a dish, the stuffing temperature should read 165F to know it is cooked properly.
When in a dish, you can also tell it is done when the top pieces are dry and getting golden brown. The moisture will be absorbed and there will be a very slight jiggle.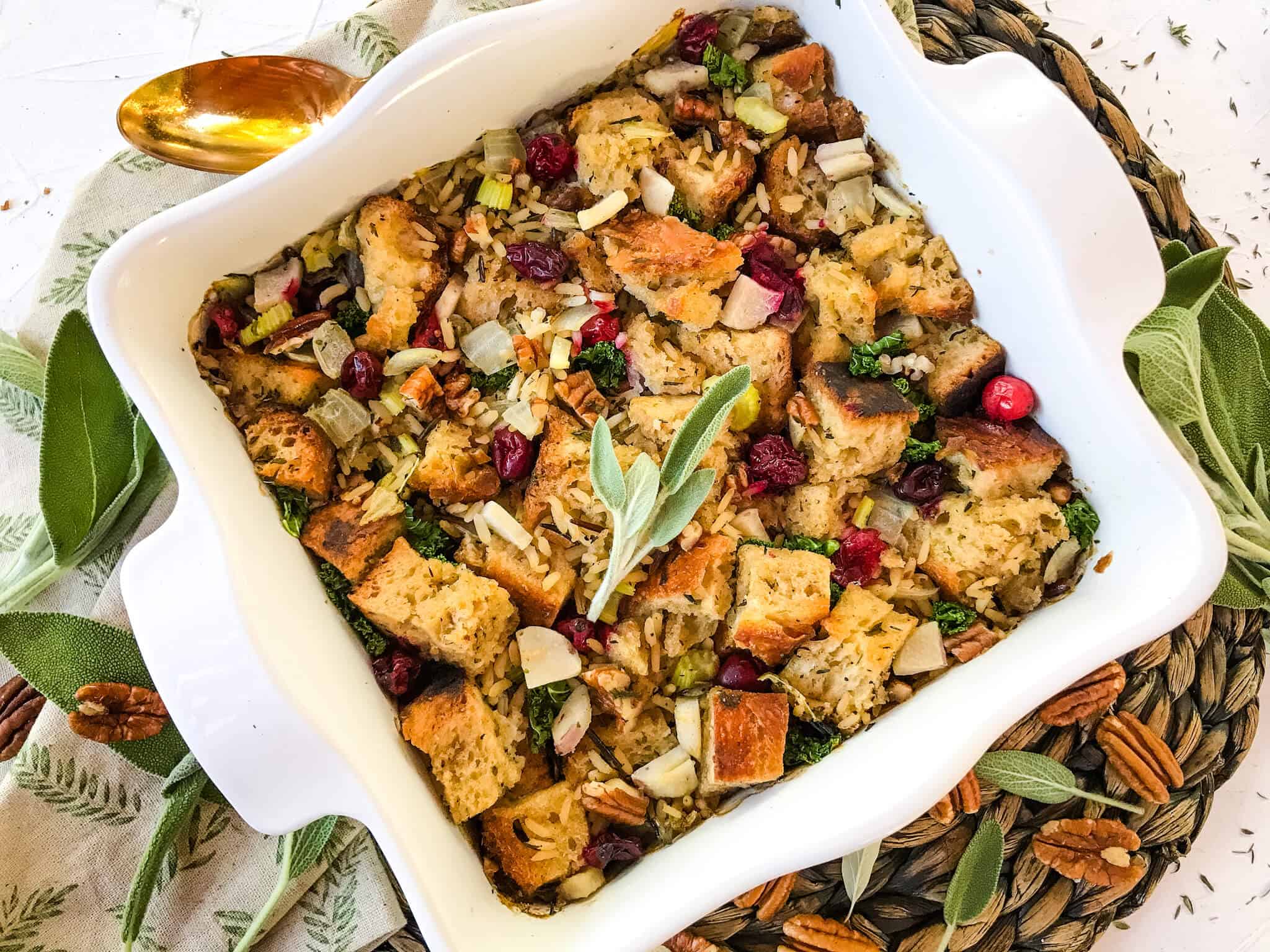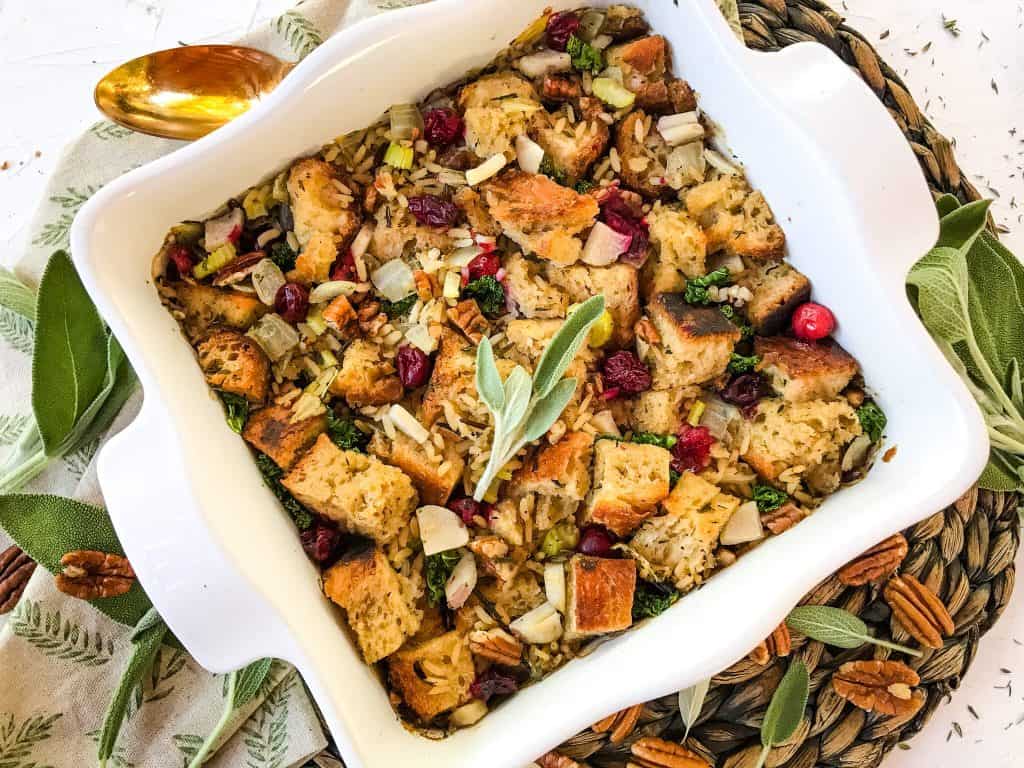 Rice in a Stuffing?
So hear me out!
I grew up with stuffing always having a wild rice mixture in it. And I LOVE it.
The best part about it is the texture it brings to the dressing recipe.
I made this exact recipe for a Friendsgiving one year, and a few people were skeptical.
But they also fell in LOVE and now add rice to their dressings every time.
Ingredient Substitutions
The beauty of cooking is making recipes your own and using what you have.
I love using fresh cranberries in this Thanksgiving Stuffing with Cranberries, Kale, Pecans, and Wild Rice because they bring moisture and tartness, but dried will also work (being sweet instead).
Either pecans or walnuts will work just fine.
And spinach is a great substitution for kale.
You can also get everything prepped in advance, before adding moisture, to make Thanksgiving day even easier.
I am a huge believer in prepping as much as you can for holidays!
This also means preparation in your plan such as finding Tips for a Perfectly Roasted Turkey.
Thanksgiving Side Dishes
Delicious side dish recipes for Thanksgiving!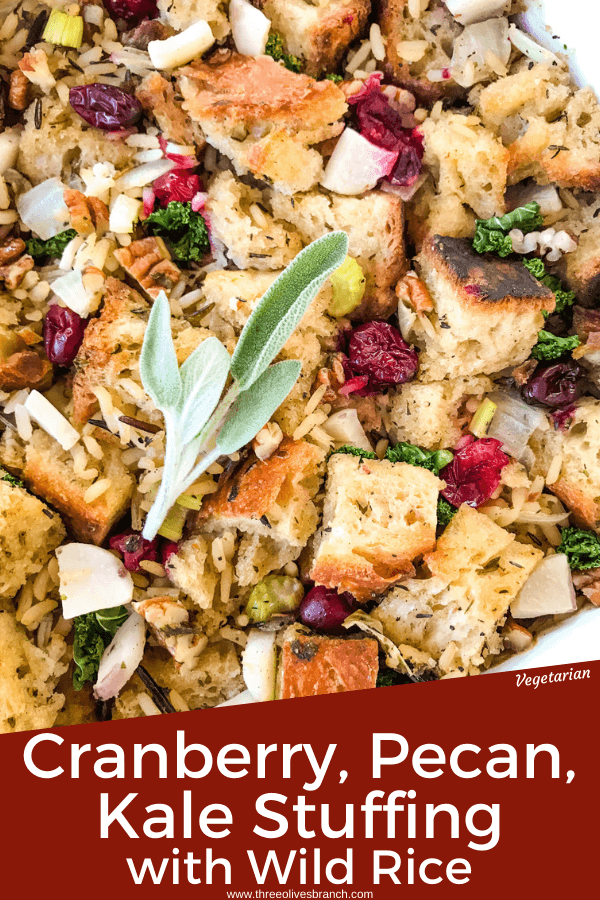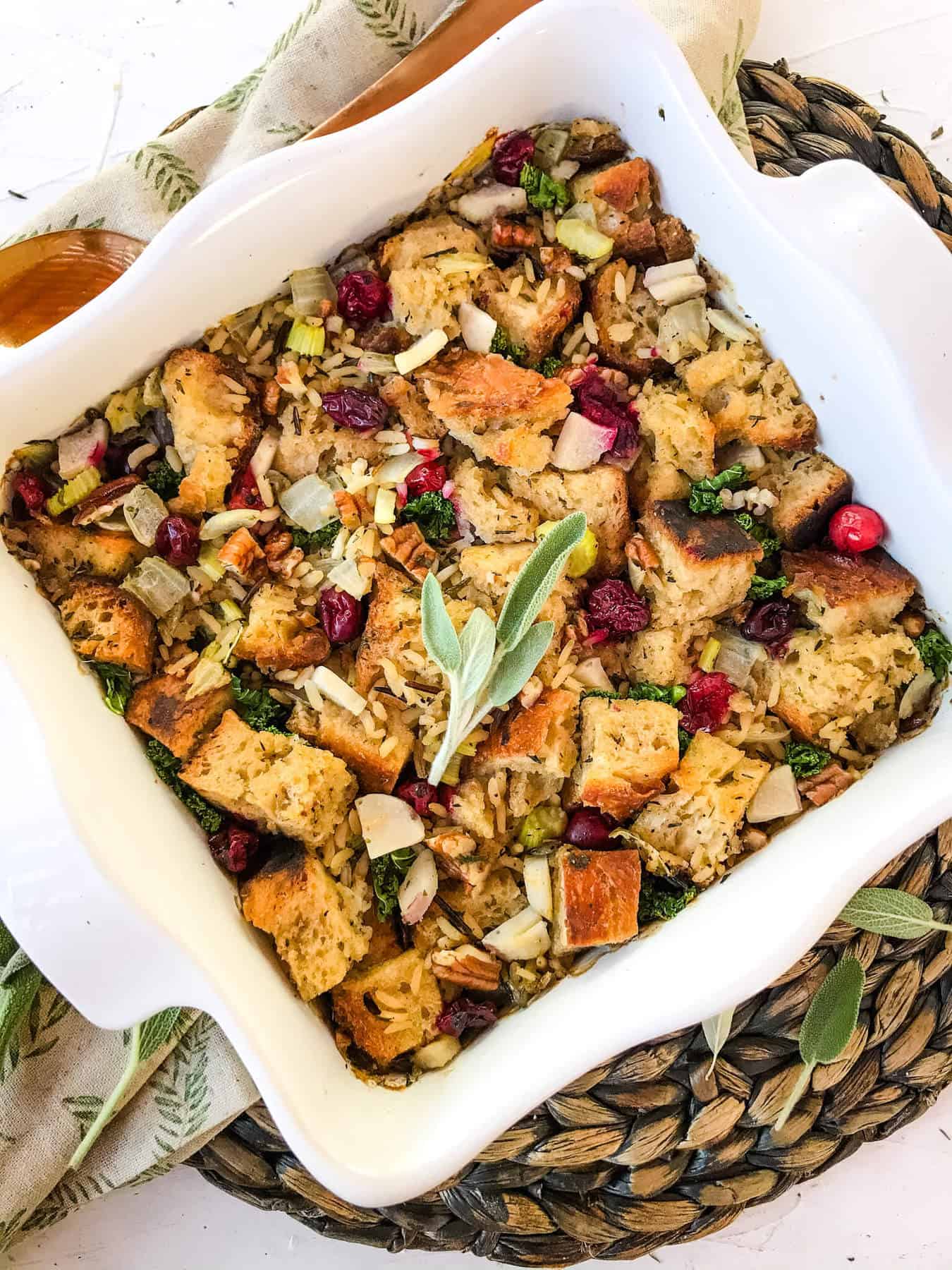 Ingredients
12

cups

bread

cut into 1 inch cubes

½

cup

unsalted butter

1 ½

cups

onion

white or yellow, chopped

1

cup

celery

chopped

2

Tablespoons

fresh sage

finely chopped, or 2 teaspoons dried

1

teaspoon

salt

1

teaspoon

black pepper

2

cups

vegetable stock

or chicken stock

2

large

eggs
Instructions
Preheat oven to 250°F or warm setting. Cut your bread into 1 inch cubes (12 cups total) and spread out on a baking sheet. Place in the warm oven and bake until the cubes are dry, approximately 45 minutes. Remove from oven and set aside.

Adjust oven to 350°F. Spray a 9×13 inch baking dish with cooking spray.

In a medium pot, melt the butter over medium heat. Add the onion, celery, sage, salt, and black pepper. Simmer until the vegetables are softened, approximately 5 minutes.

Whisk the eggs and stock together in a large bowl. Add the bread cubes, chopped water chestnuts, and onion sage mixture. Toss to combine and pour into the prepared baking dish. Cover with foil.

Bake the stuffing for approximately 35-40 minutes, or until the moisture is absorbed and stuffing is setting.

Remove the foil cover and continue cooking another 15 minutes to crisp up the top. Serve warm.
Notes
If using a very soft bread like French bread, be very gentle when cutting to avoid smashing the bread and losing volume. Use a serrated knife and a gentle grasp.
A dense bread is recommended as it will hold its shape better and provide more texture.
This can be made up through assembly in advance and then refrigerated. Bake when ready to serve.
Nutrition
Serving:

1

serving

|

Calories:

366

kcal

|

Carbohydrates:

46

g

|

Protein:

11

g

|

Fat:

16

g

|

Saturated Fat:

8

g

|

Polyunsaturated Fat:

2

g

|

Monounsaturated Fat:

4

g

|

Trans Fat:

1

g

|

Cholesterol:

77

mg

|

Sodium:

1092

mg

|

Potassium:

260

mg

|

Fiber:

4

g

|

Sugar:

7

g

|

Vitamin A:

608

IU

|

Vitamin C:

3

mg

|

Calcium:

149

mg

|

Iron:

3

mg

By