This Onion and Sage Stuffing (Dressing) is a classic Thanksgiving dinner side dish recipe. Vegan friendly, vegetarian, and packed with lots of flavor. Make in advance for an easy holiday meal.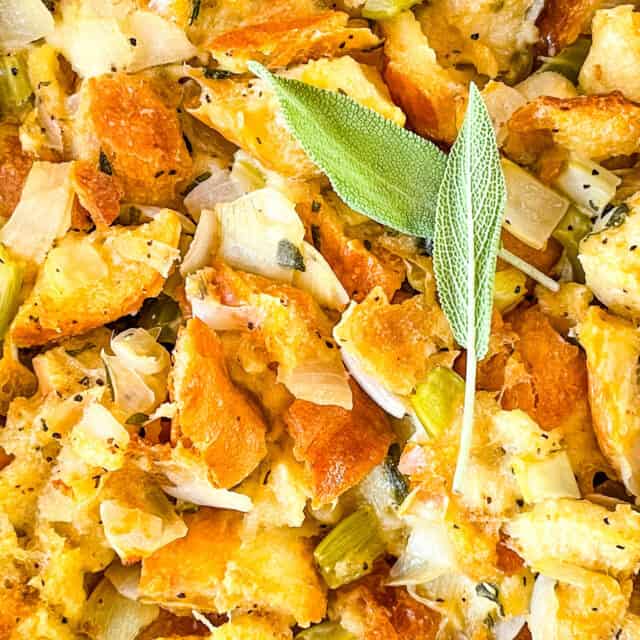 Onion and Sage Stuffing (Dressing) is a perfect side dish for Thanksgiving, Christmas, or any holiday. Make it is advance for an easy day-of. Classic flavors that are the perfect backdrop for the rest of your meal.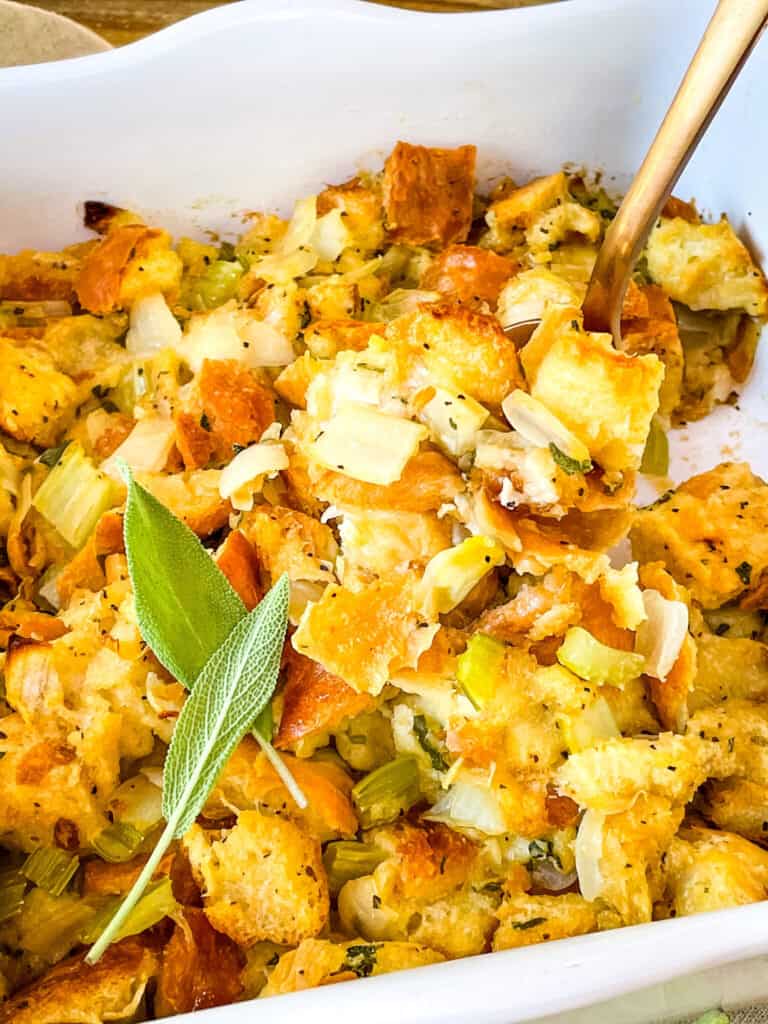 I absolutely love Thanksgiving. It is my favorite food holiday.
Stuffing is one of the most important parts of Thanksgiving for me and is absolutely mandatory!
This Onion and Sage Stuffing is a classic recipe with tons of flavor, and one of my new favorites to make!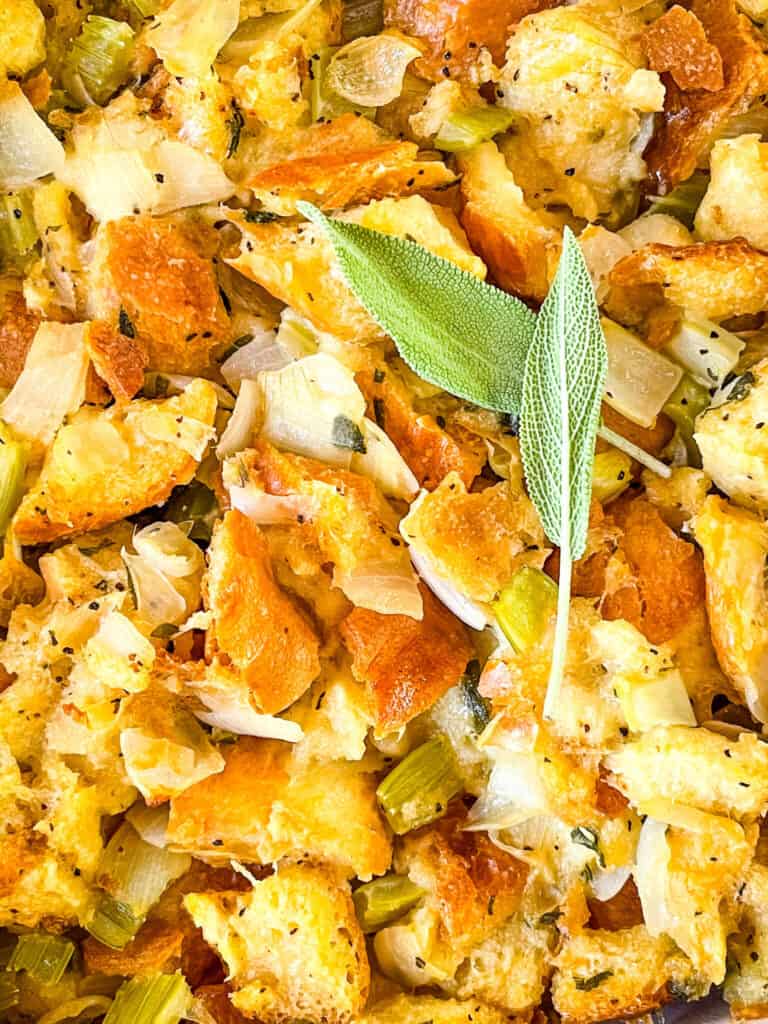 Stuffing or Dressing?
The Southern United States tends to call it dressing, versus the other regions calling it stuffing, so it may strictly depend on where you live or are from.
Some also say that stuffing is when you stuff it inside the turkey, and dressing is when it is cooked outside of the turkey.
We have always called it stuffing in our family, and would stuff our family recipe in the bird, plus cook extra on the side. And dressing sounds more like something you refer to for salad.
But regardless of what you call it, it is amazing!
Thanksgiving dressing is mandatory in my world for the holiday, regardless of what is in it.
You just can't have a Thanksgiving without a stuffing!
It is also one of the foods that I make sure to make extra of so there are lots of leftovers.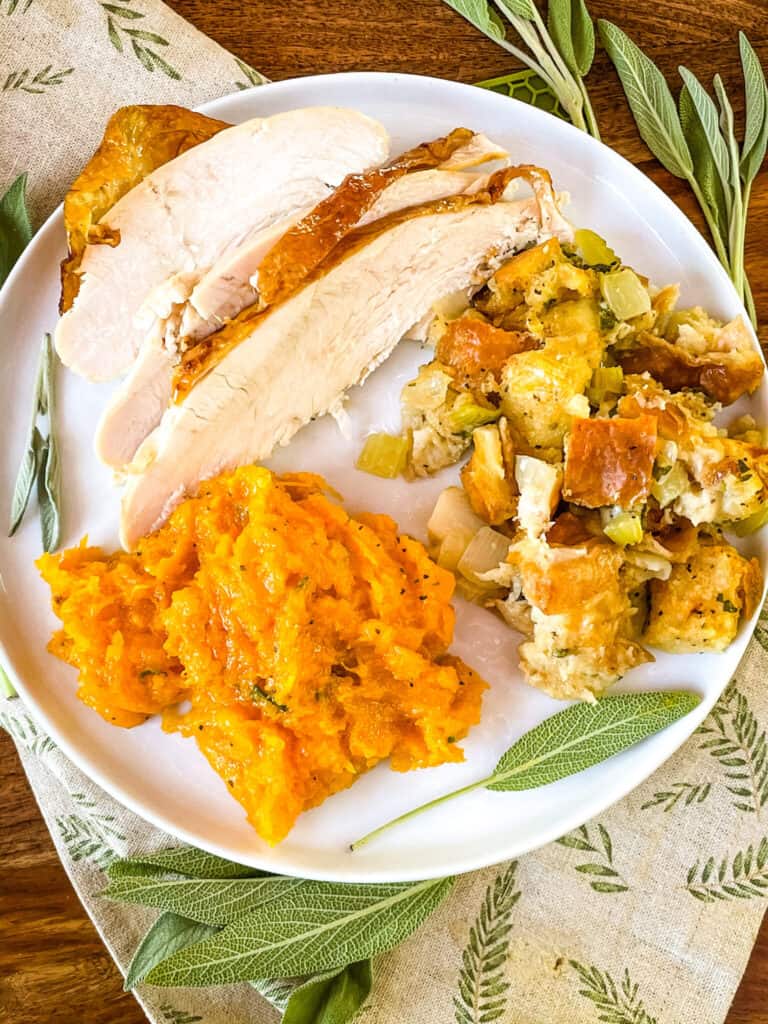 Bread Selection
The bread you use for this stuffing is versatile. Anything in the realm of a rustic bread, French bread, or Italian bread will work well.
I prefer to use a dense, rustic bread because it has a less mushy texture in the end product and holds its volume well.
Drying Out the Bread
It is VERY important to dry out the bread cubes before cooking. By making them dry, they will soften back up beautifully when you add the liquids.
If you used soft bread that was not toasted, the liquids would cause it to disintegrate.
There are two ways you can prep your bread cubes, which can also be done up to 2 days in advance:
Cut them up, lay them out on a baking sheet at room temperature, and toss once in a while. The air will naturally dry them out over a day or two (depending on humidity).
Dry them out in the oven. This is my favorite method. Cut up the bread, lay them out on a baking sheet, and place in an oven at 250F (or warm). Toss occasionally until they are dried out but not too crunchy. This takes about 30-45 minutes.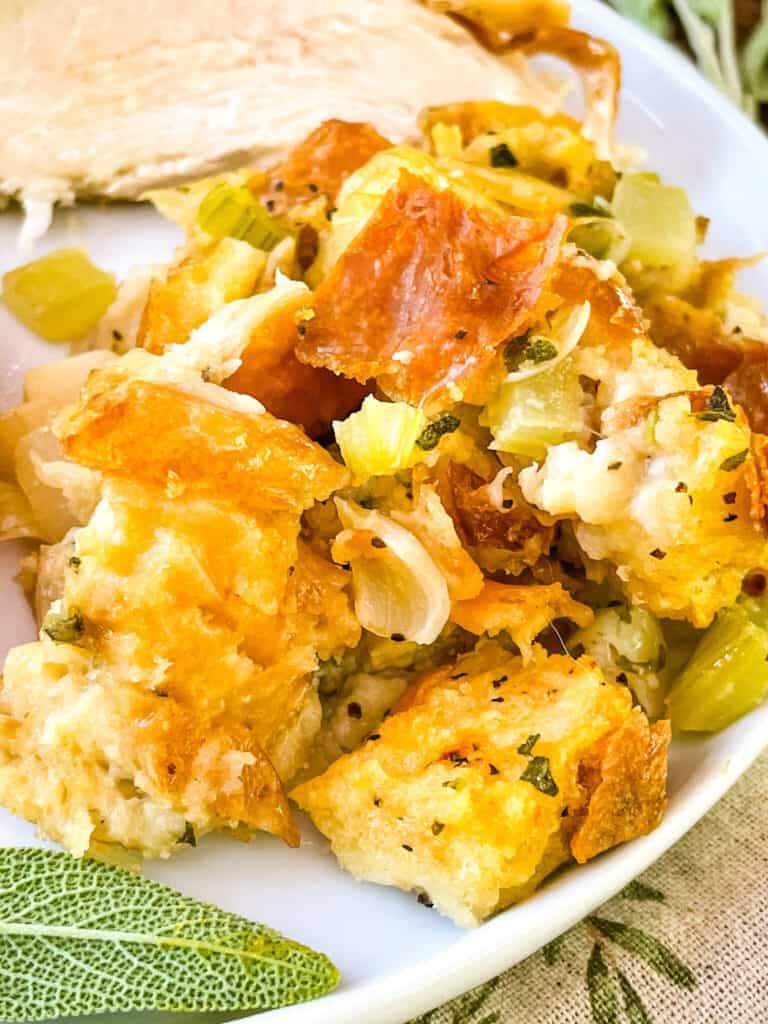 Preparing in Advance
Homemade stuffing recipes are perfect to make in advance so that the day of a holiday, all you need to do is bake!
Simply assemble all the way to where you would bake, but refrigerate instead.
Then proceed as written in the recipe when you are ready to cook it.
Yes, you can bake in advance, refrigerate, and reheat, but it dries out more this way and takes almost just as long. So it is easier to just bake it when ready to serve.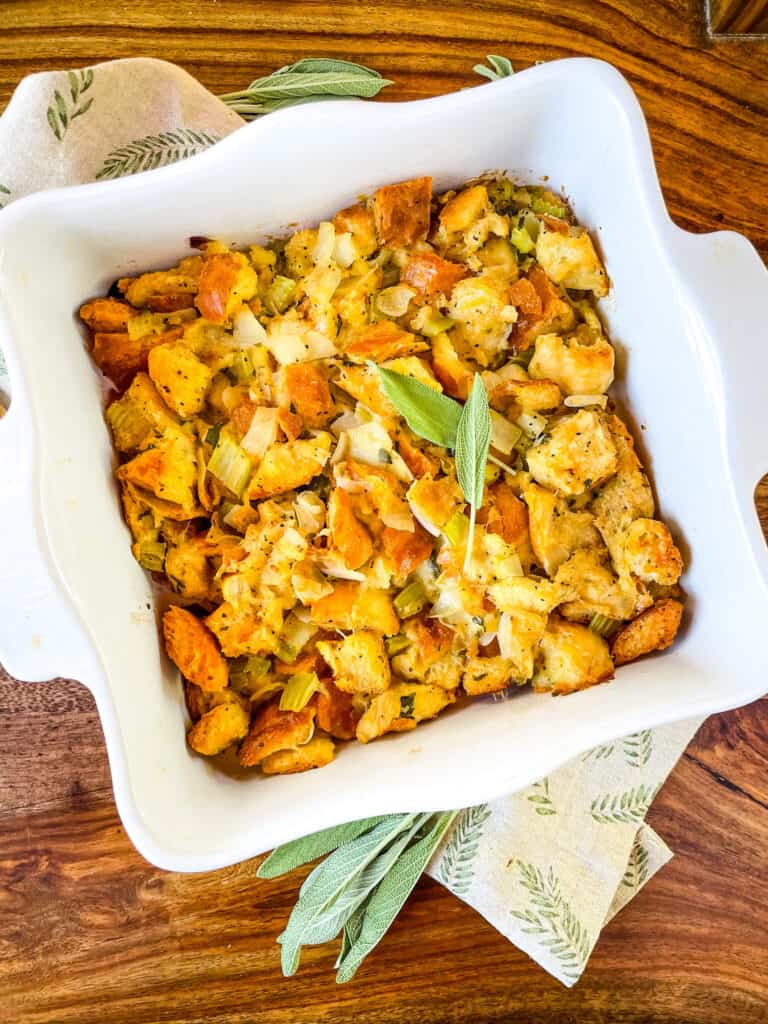 To Cook Inside the Turkey or in a Dish?
I am a huge fan of cooking stuffing inside a turkey, however there are some food safety concerns that come with it. So make sure if you do, that you are cooking the stuffing until it is a safe temperature.
This could mean that the turkey is overcooked, so the stuffing might need some extra time in the oven or some pre-cooking.
My sister gets automatic dibs on the turkey stuffing every year and the leftovers as well.
When you taste it side my side, you can definitely taste a difference as the seasoning from the turkey seeps into the stuffing as well.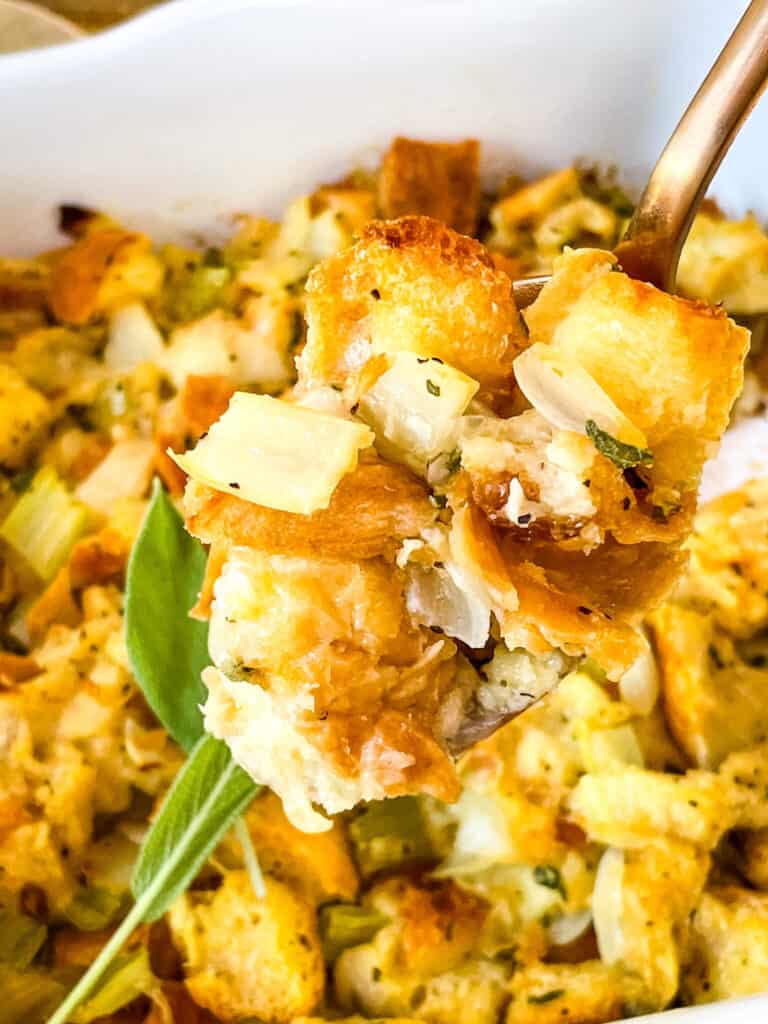 Thanksgiving Side Dishes
Delicious side dish recipes for Thanksgiving!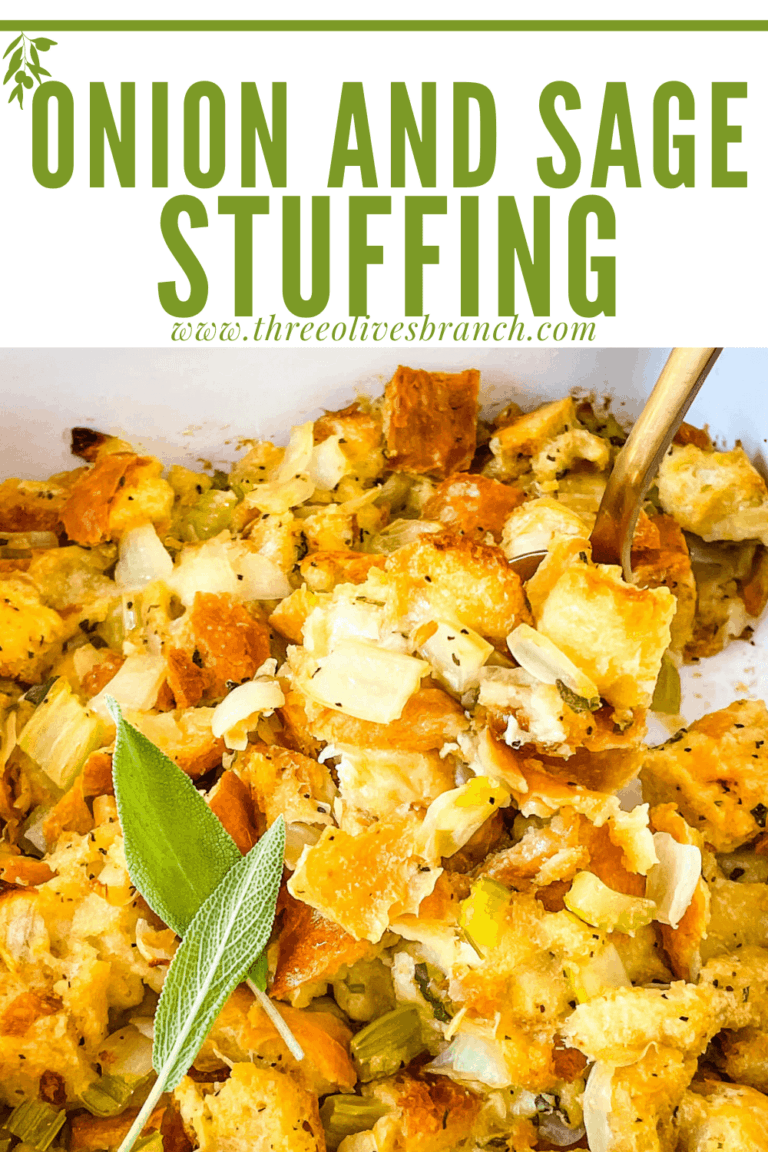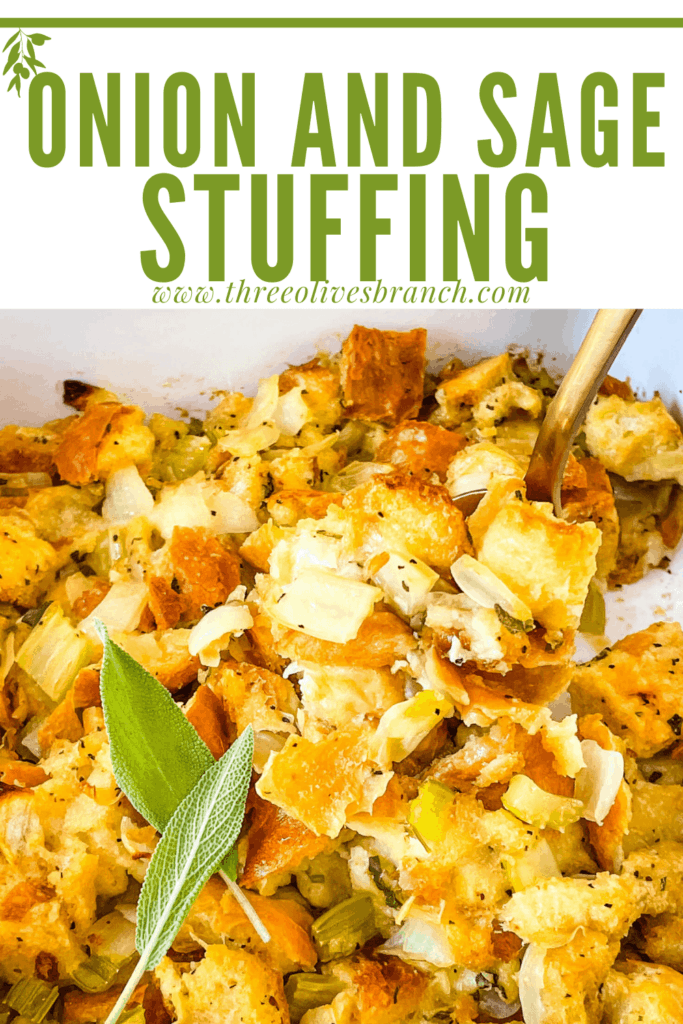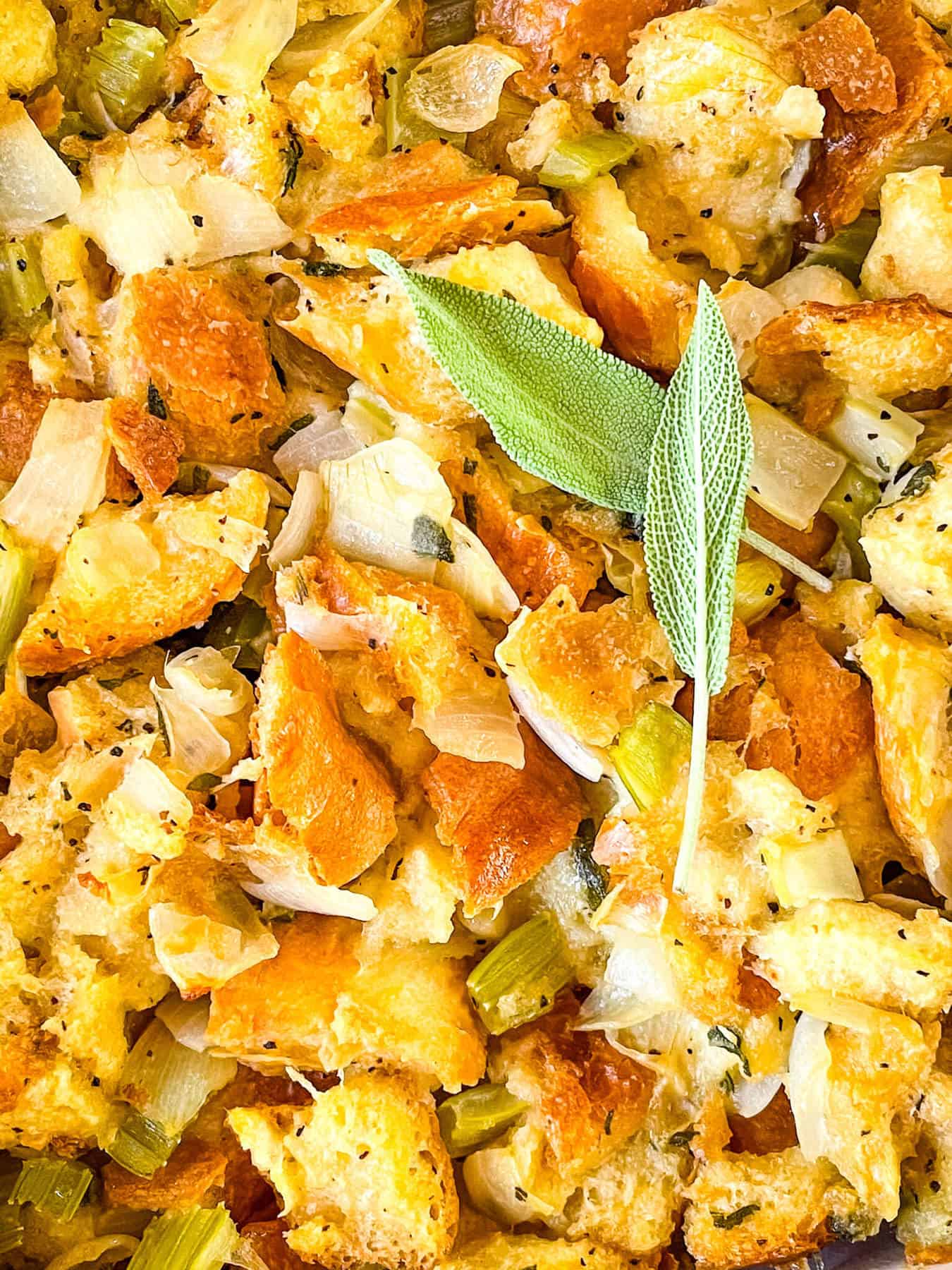 Ingredients
12

cups

bread

cut into 1 inch cubes

½

cup

unsalted butter

1 ½

cups

onion

white or yellow, chopped

1

cup

celery

chopped

2

Tablespoons

fresh sage

finely chopped, or 2 teaspoons dried

1

teaspoon

salt

1

teaspoon

black pepper

2

cups

vegetable stock

or chicken stock

2

large

eggs

8

ounces

water chestnuts

diced, optional
Instructions
Preheat oven to 250°F or warm setting. Cut your bread into 1 inch cubes (12 cups total) and spread out on a baking sheet. Place in the warm oven and bake until the cubes are dry, approximately 45 minutes. Remove from oven and set aside.

Adjust oven to 350°F. Spray a 9×13 inch baking dish with cooking spray.

In a medium pot, melt the butter over medium heat. Add the onion, celery, sage, salt, and black pepper. Simmer until the vegetables are softened, approximately 5 minutes.

Whisk the eggs and stock together in a large bowl. Add the bread cubes, chopped water chestnuts, and onion sage mixture. Toss to combine and pour into the prepared baking dish. Cover with foil.

Bake the stuffing for approximately 35-40 minutes, or until the moisture is absorbed and stuffing is setting.

Remove the foil cover and continue cooking another 15 minutes to crisp up the top. Serve warm.
Notes
If using a very soft bread like French bread, be very gentle when cutting to avoid smashing the bread and losing volume. Use a serrated knife and a gentle grasp.
A dense bread is recommended as it will hold its shape better and provide more texture.
This can be made up through assembly in advance and then refrigerated. Bake when ready to serve.
I like to use a can of chopped water chestnuts and a box of wild rice for texture, but they are totally optional.
One large loaf of French, Italian, or rustic bread is enough for this recipe.
Nutrition
Serving:

1

serving

|

Calories:

380

kcal

|

Carbohydrates:

49

g

|

Protein:

11

g

|

Fat:

16

g

|

Saturated Fat:

8

g

|

Trans Fat:

1

g

|

Cholesterol:

77

mg

|

Sodium:

1094

mg

|

Potassium:

293

mg

|

Fiber:

5

g

|

Sugar:

8

g

|

Vitamin A:

608

IU

|

Vitamin C:

3

mg

|

Calcium:

151

mg

|

Iron:

4

mg

By