Bacon Wrapped Smokies are a delicious appetizer or snack recipe perfect for a holiday, party, or game day. Little smokies sausages wrapped in bacon with a brown sugar mustard mixture. Perfect football Super Bowl food recipe or Thanksgiving Christmas and Easter snack.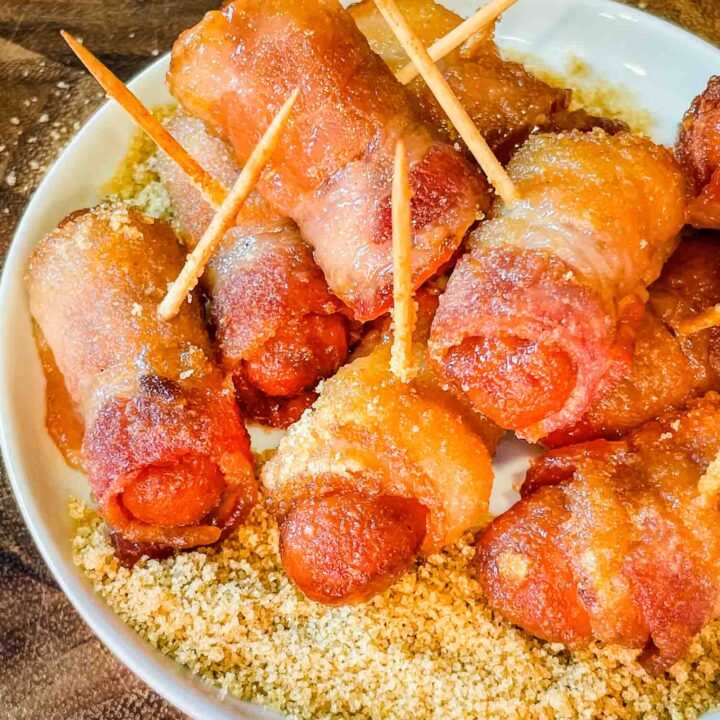 These Bacon Wrapped Smokies are inspired by a family classic that we serve at all holidays! Little smokies are wrapped in bacon and a mixture made from brown sugar and mustard. A fast and easy appetizer that everyone will love!
Bacon Wrapped Smokies with Brown Sugar
These easy appetizer bites are inspired by a family classic that is always made for holidays and game day.
I have used the same sweet and savory balance of brown sugar and mustard in a pork-focused finger food.
This four ingredient recipe is so easy to make! They only take a few minutes for assembly and will be a hit!
They always disappear SO fast when I make them.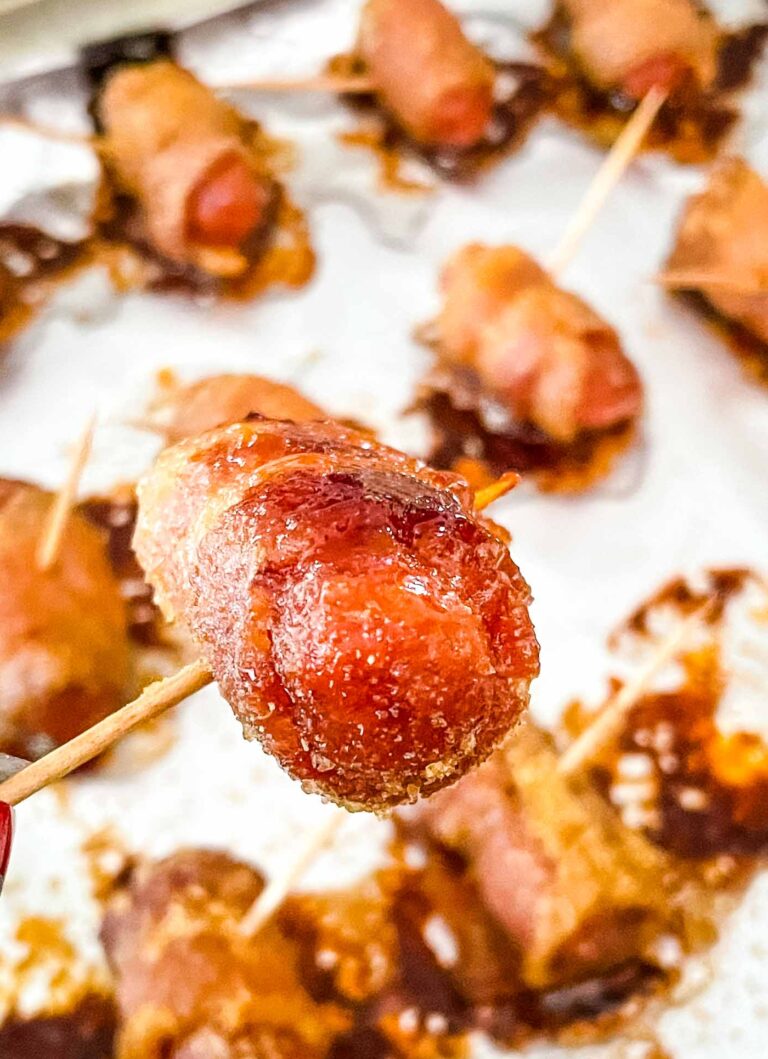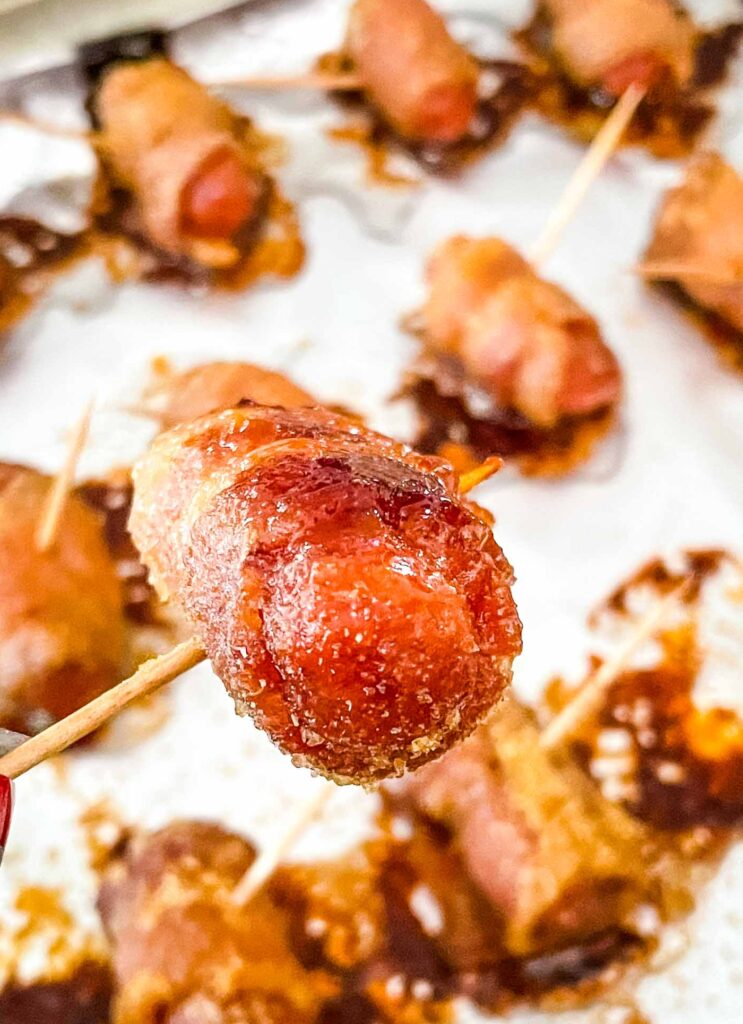 Ingredients Needed
You only need a few things to make these bacon lil smokies:
Bacon
Little Smokies (any flavor or variety)
Brown Sugar
You can use any flavor and variety of both bacon and the little sausages that you like.
There are bout 40 or so sausages in a typical package, and you will need one slice of bacon for every 4 sausages, so about 10 slices of bacon.
Instruction Overview – How to Make Bacon Wrapped Little Smokies
These little appetizers come together in no time!
First cut your bacon into 4 pieces per strip (unless you want them bacon heavy – in that case, 3 pieces per strip and you will need more bacon).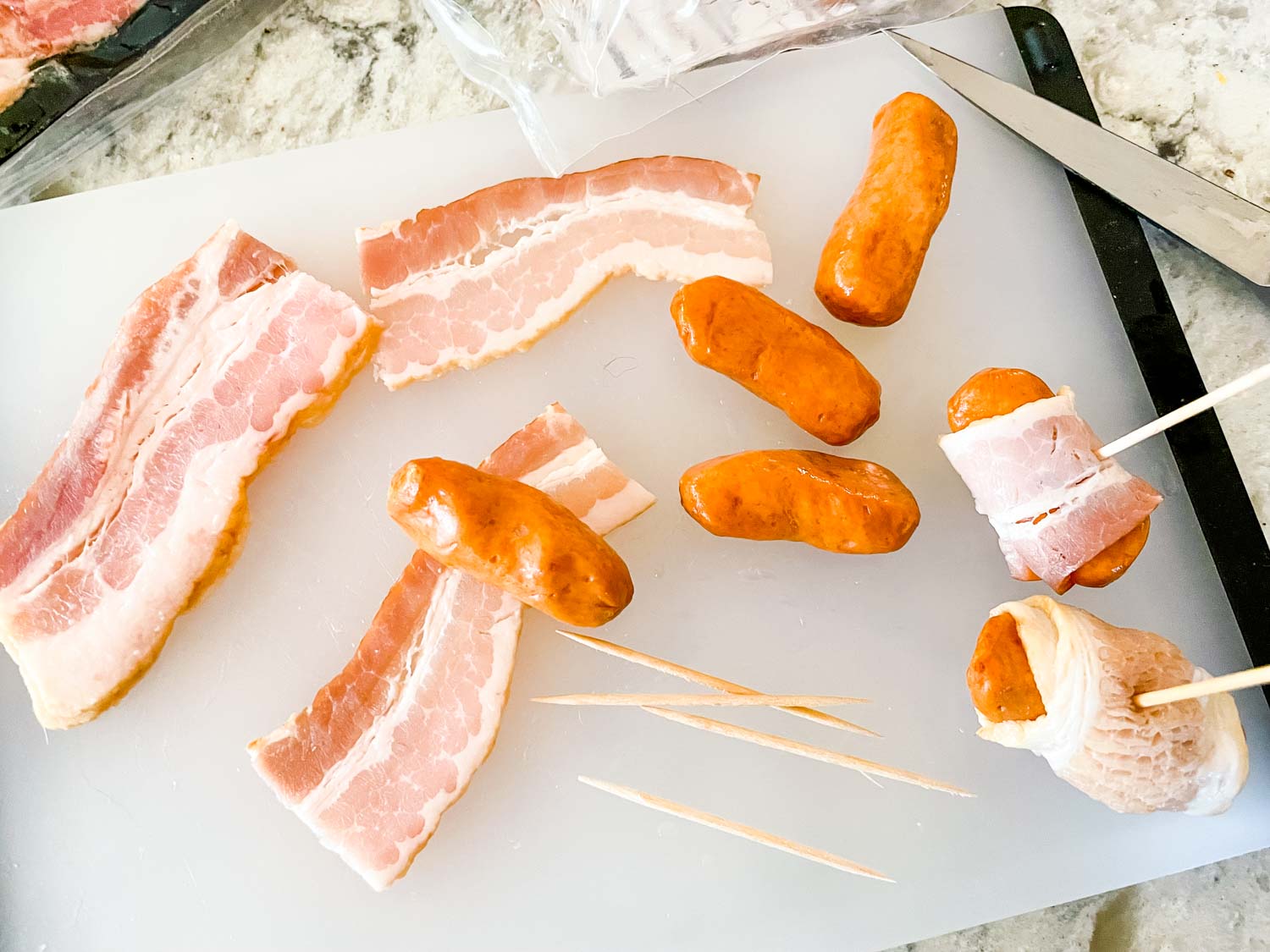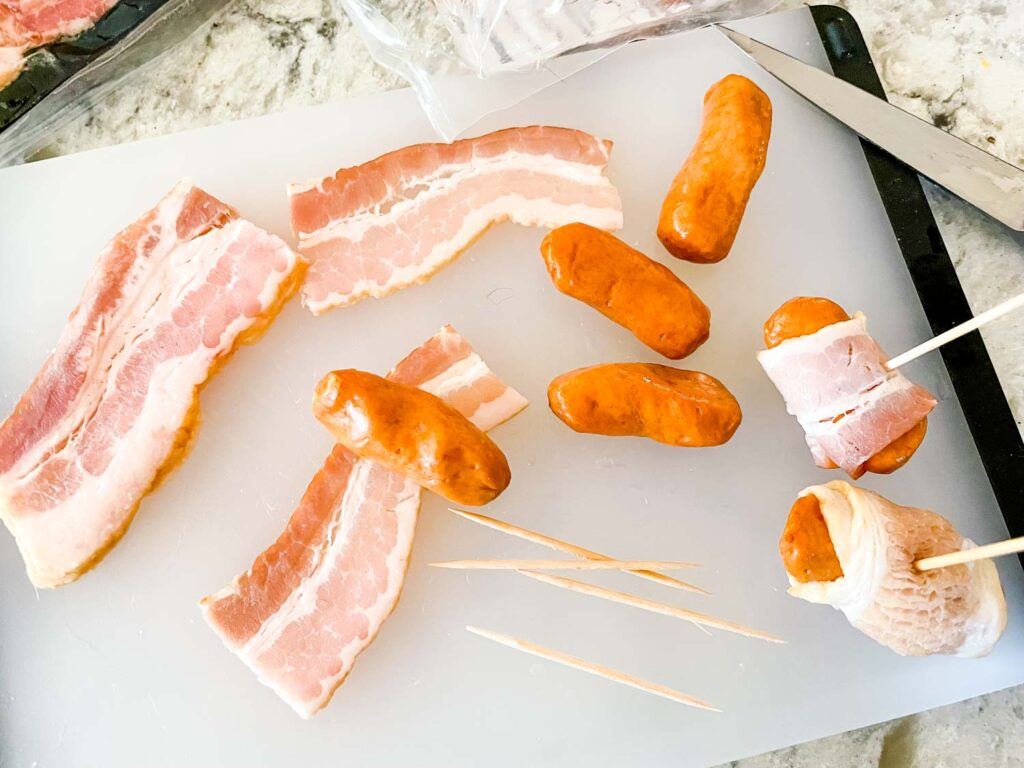 Roll a little sausage into each piece of bacon. Secure it with a toothpick sticking all the way through the bacon on the bottom end (so they hold together better).
Combine the brown sugar and mustard. Toss the rolled smokies in the mixture, and then toss them all a second time to get a good layer of flavor on them.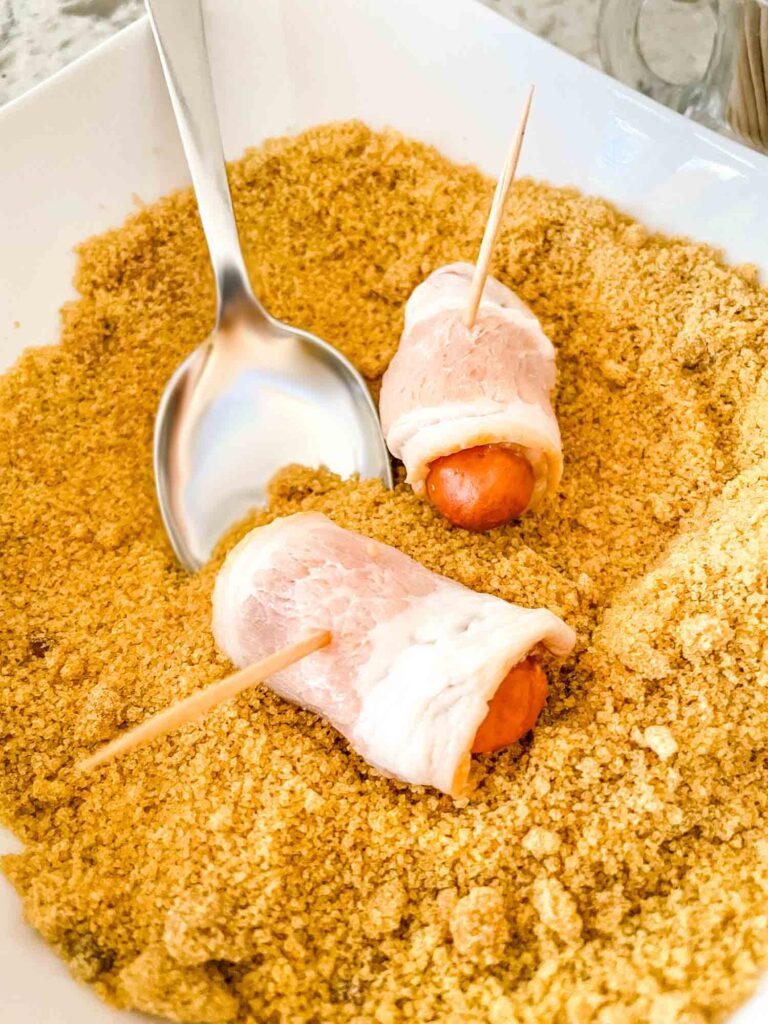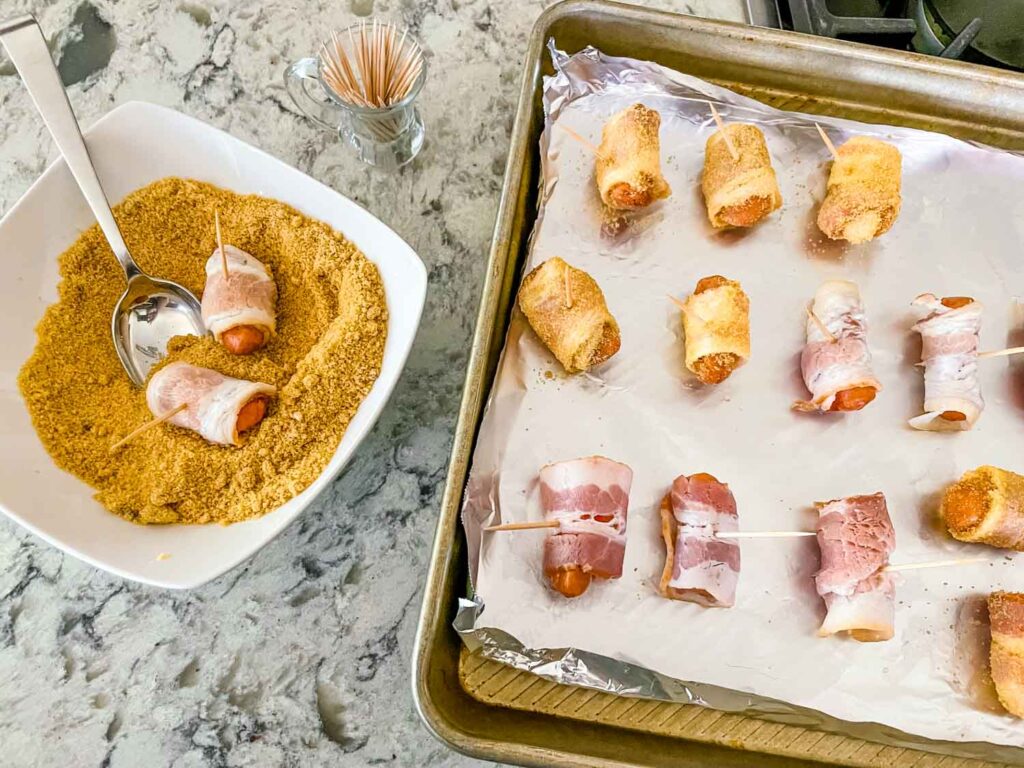 Bake for 20-25 minutes until your desired bacon doneness. 25 minutes should result in a crisper bacon texture. Serve warm.
I like to serve them up with a spicy mustard sauce, creamy honey mustard sauce, or even barbecue sauce. But they are amazing without any sauce, too!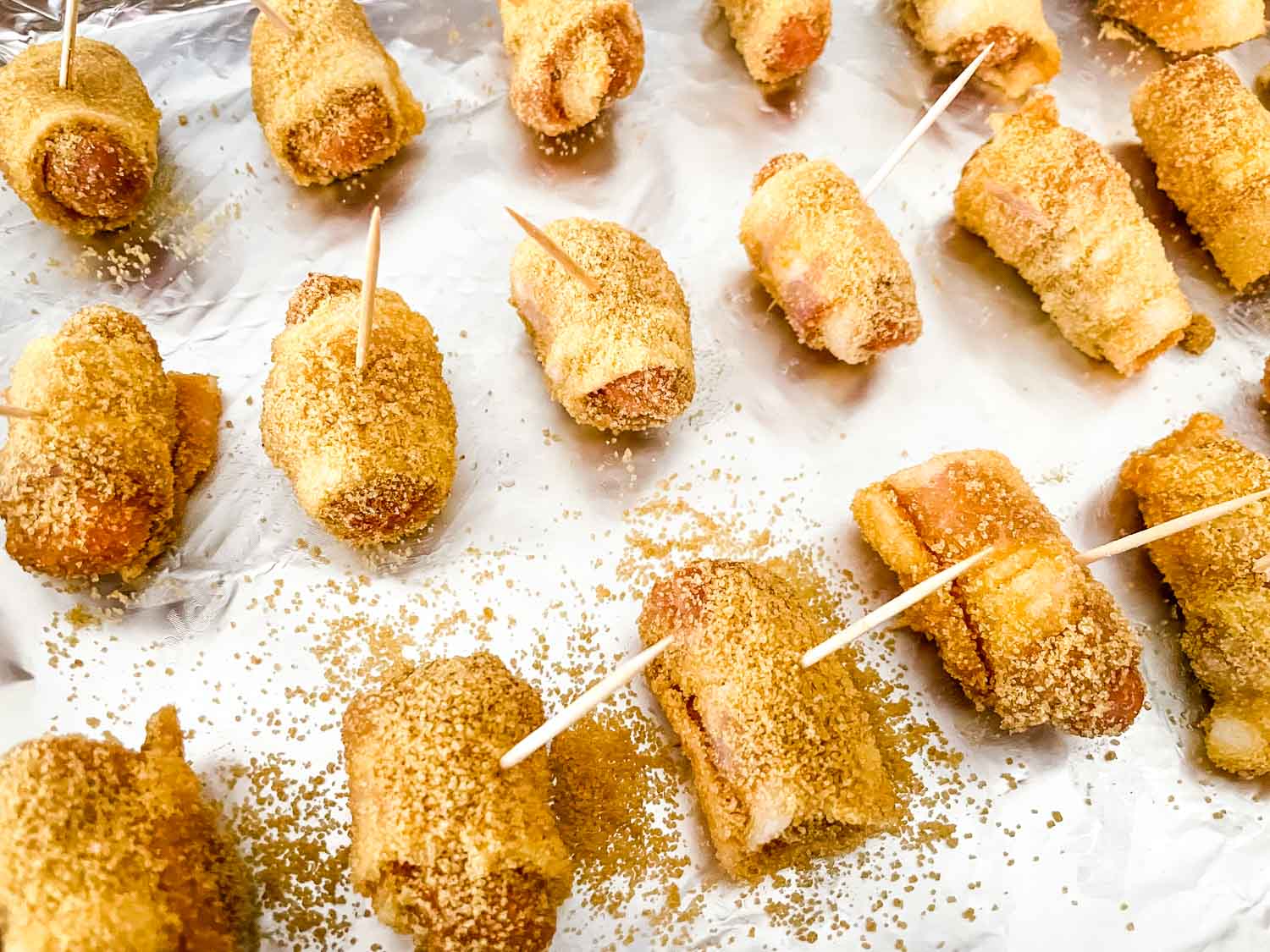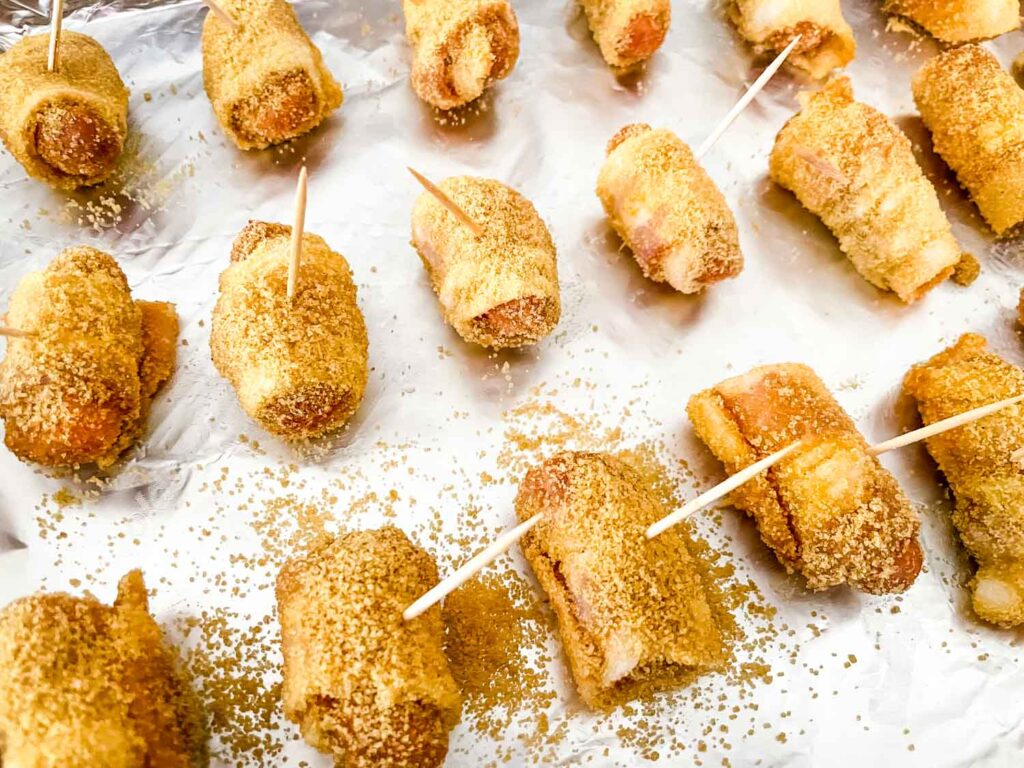 Seasoning Mix Adjustments
This recipe works best when it is close to even for brown sugar and mustard powder. There is just enough of a subtle kick balanced with sweetness.
If you want to go the sweeter route, reduce the dry mustard to 1/4 cup (or even less if desired).
Want to make it spicier? Add a little cayenne or increase the mustard to 1/2 cup and reduce the brown sugar to 1/3 cup.
Bacon Wrapped Smokies Crockpot
Want to make these in the slow cooker?
I still recommend securing them all with toothpicks, especially in the crock pot, so they hold together.
Put about a third of the sugar mustard mixture on the bottom of the crockpot, then half the smokies, then another third of mixture, then the rest of the smokies, then the rest of the mixture.
Cook on low for about three hours. They are done when the sugar is bubbling and the bacon looks cooked.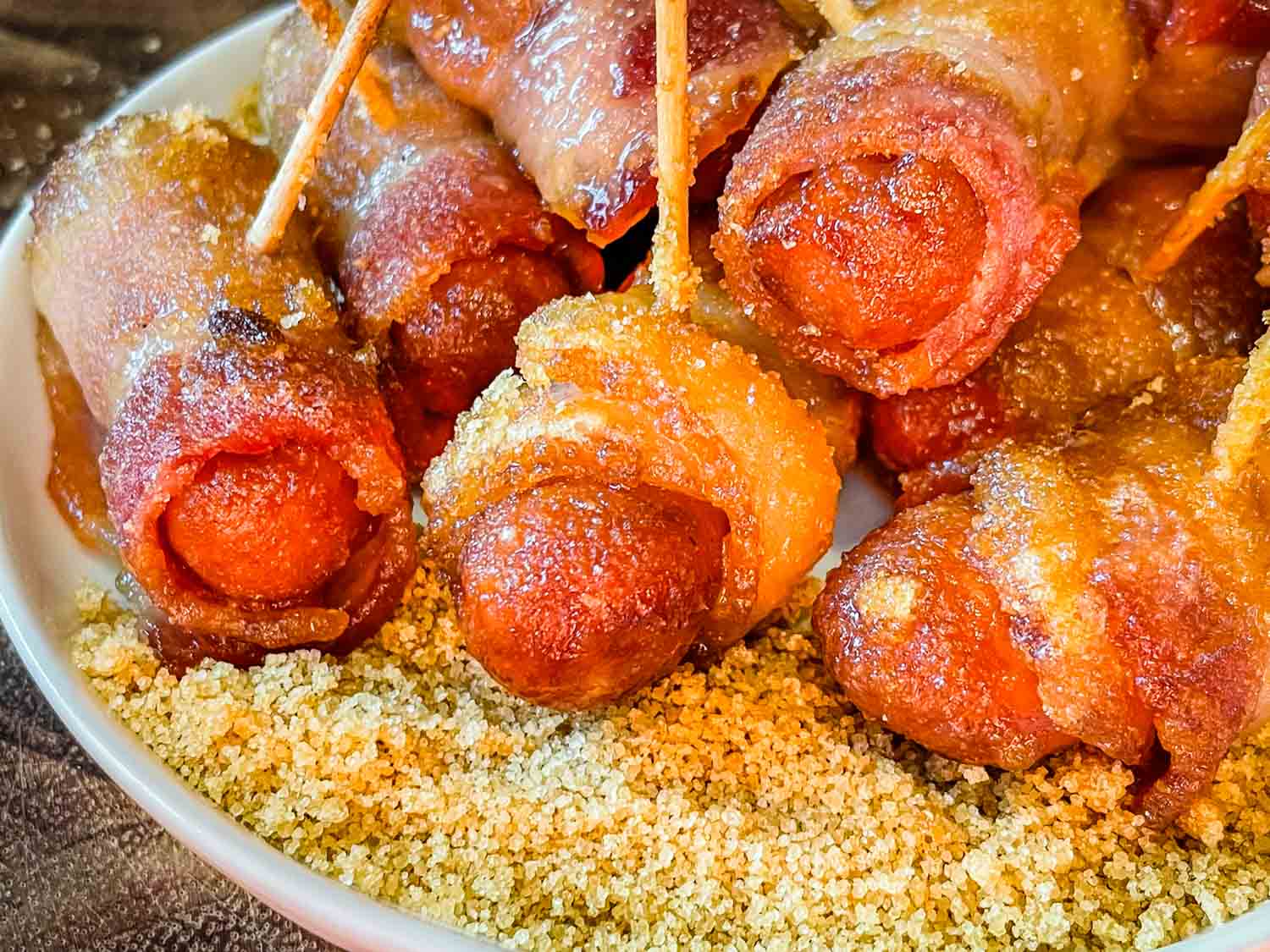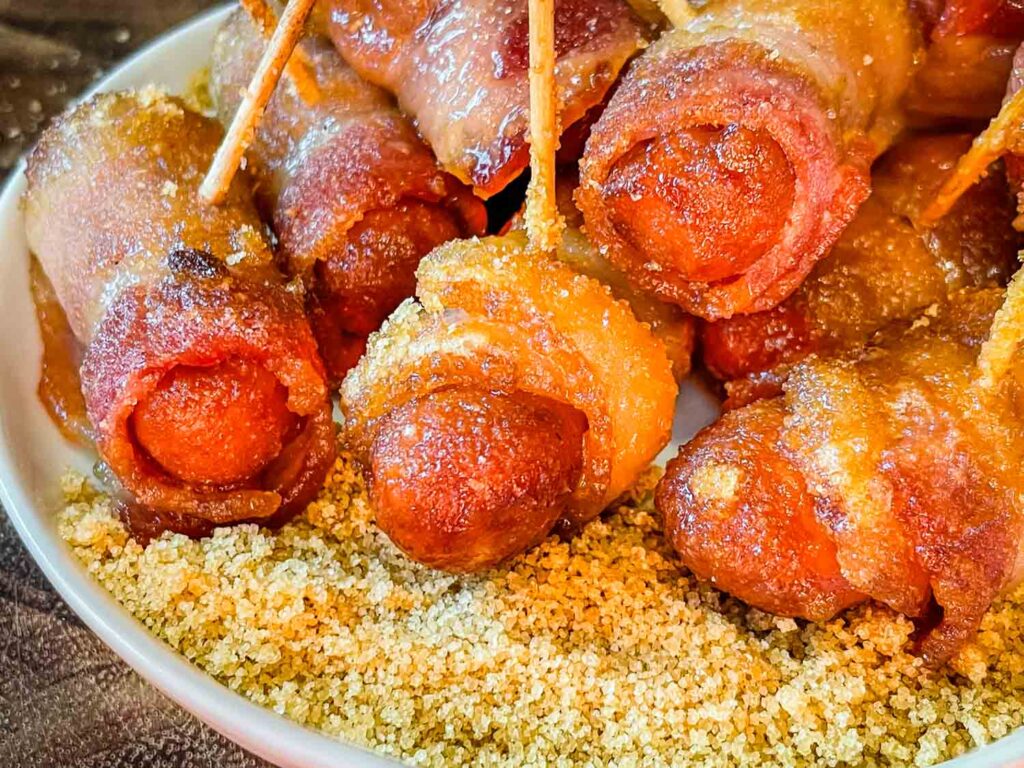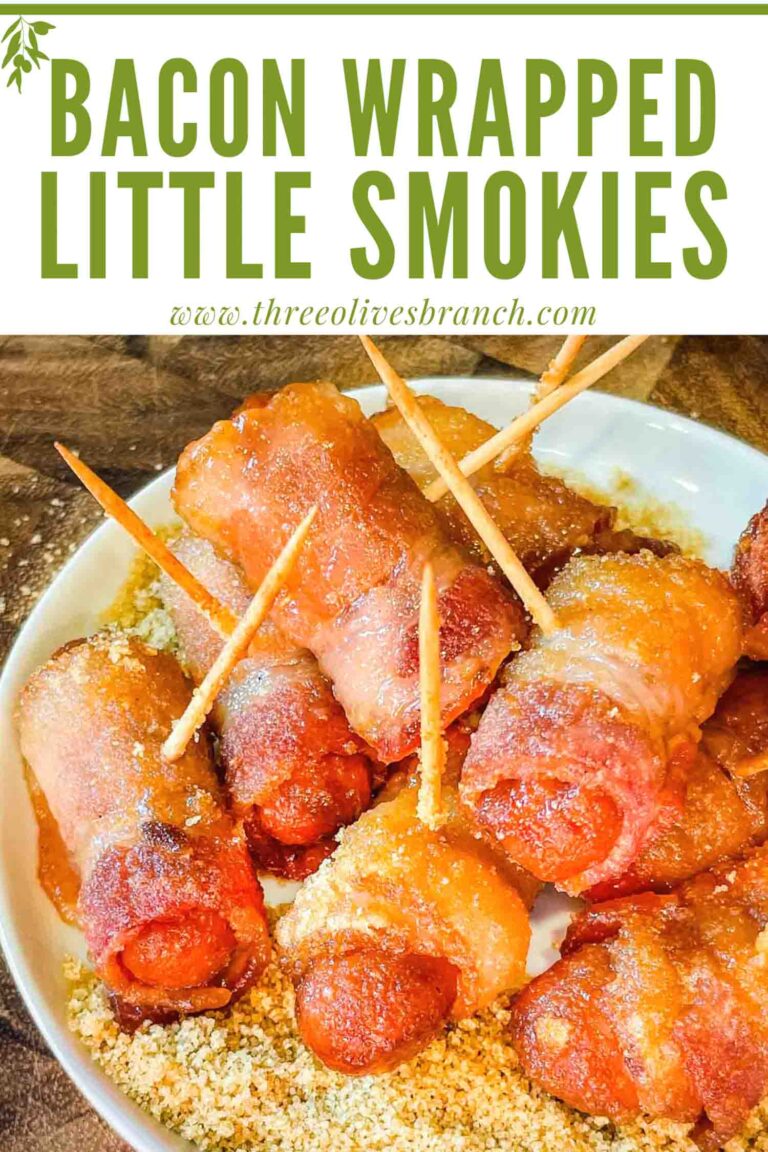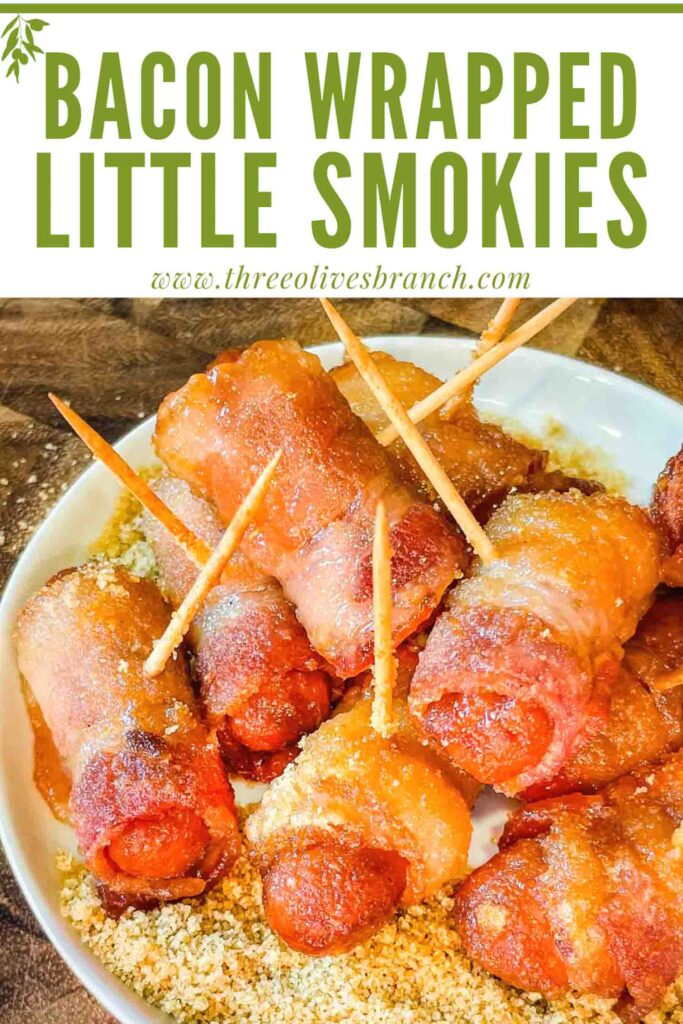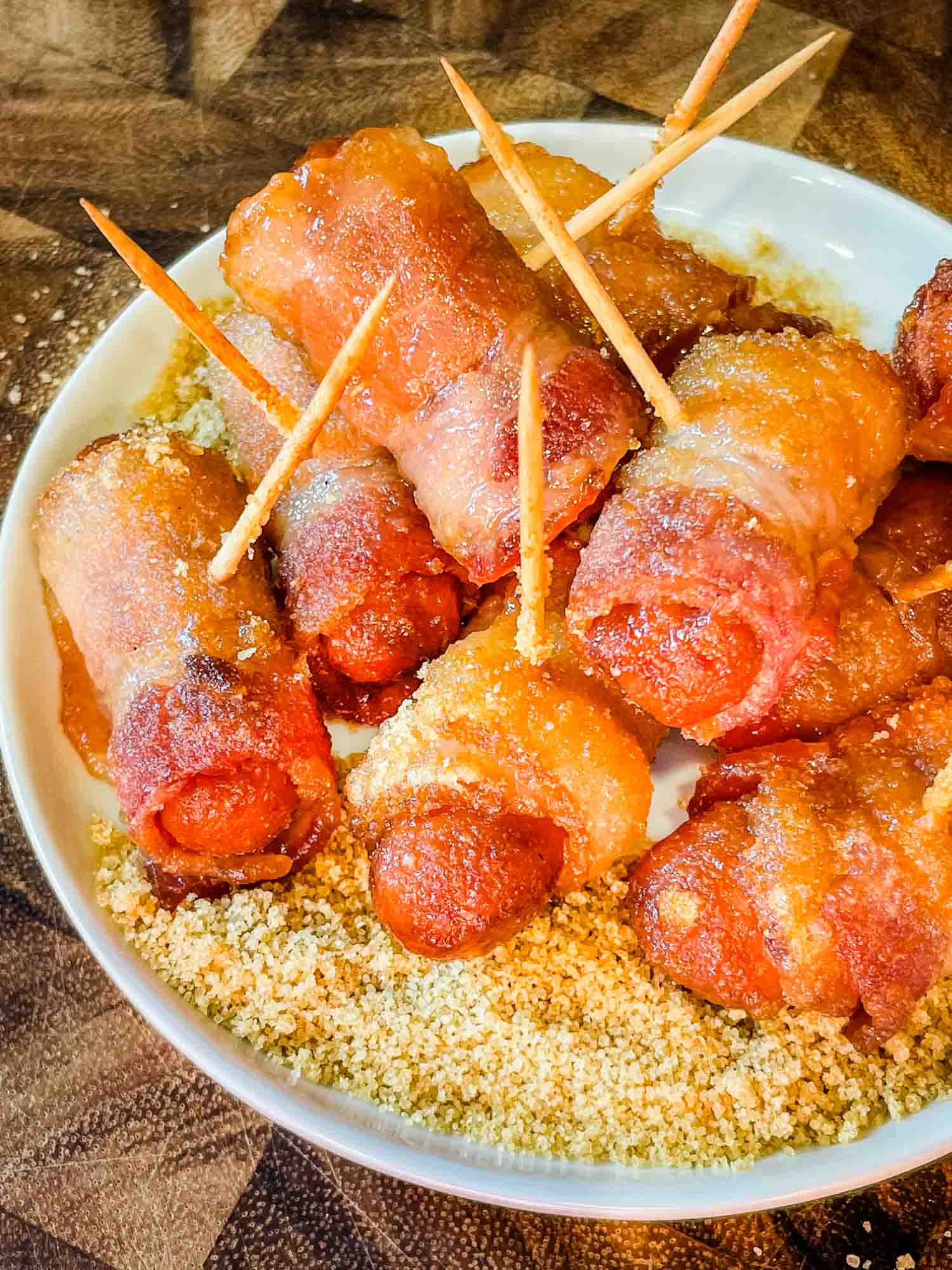 Servings:
40
pieces (approx.)
Instructions
Preheat over to 325 F.

Mix brown sugar and dry mustard in a small bowl.

Cut the bacon slices in half and half again, so that you get 4 small pieces from each strip of bacon.

Take one little smokie at a time and wrap the bacon around it, securing with a toothpick.

Place the wrapped smokies into the sugar mustard bowl (you can do several as a time, how ever many will fit with room to move the dry mixture) and use a spoon to coat each piece. Make sure you get all the sides and the ends as well.

Transfer the bacon smokies to a baking sheet or dish that is lined with either tin foil or a silicone mat.

Once you get through all of them, take little smokie and do a second coating of the brown sugar mustard mixture. This will give you a stronger flavor.

Start on one end of the baking sheet and work your way over to make sure you hit them all. (Faster, easier way but with less coverage: wrap them all, throw them on the sheet or in the dish, and throw all the topping across the tops).

Bake for approximately 20-25 minutes until the bacon is cooked as desired. Serve warm.
Notes
There are about 40 little smokies in one package. You may need a piece or two of bacon more (or less) depending on exactly how many little smokies you have.
You can use 1/3 slice of bacon per smokie if desired for a stronger bacon flavor.
If you want them to be sweeter, use 1/4 cup dry mustard.
These can be made without toothpicks if desired. Place the smokies with the bacon seam side down to help them stay rolled up, but you may still get some that unroll since they are not secured with a toothpick.
Nutrition
Serving:

1

peice

|

Calories:

73

kcal

|

Carbohydrates:

3

g

|

Protein:

2

g

|

Fat:

6

g

|

Saturated Fat:

2

g

|

Polyunsaturated Fat:

1

g

|

Monounsaturated Fat:

3

g

|

Trans Fat:

1

g

|

Cholesterol:

11

mg

|

Sodium:

152

mg

|

Potassium:

42

mg

|

Fiber:

1

g

|

Sugar:

3

g

|

Vitamin A:

2

IU

|

Vitamin C:

1

mg

|

Calcium:

7

mg

|

Iron:

1

mg

By