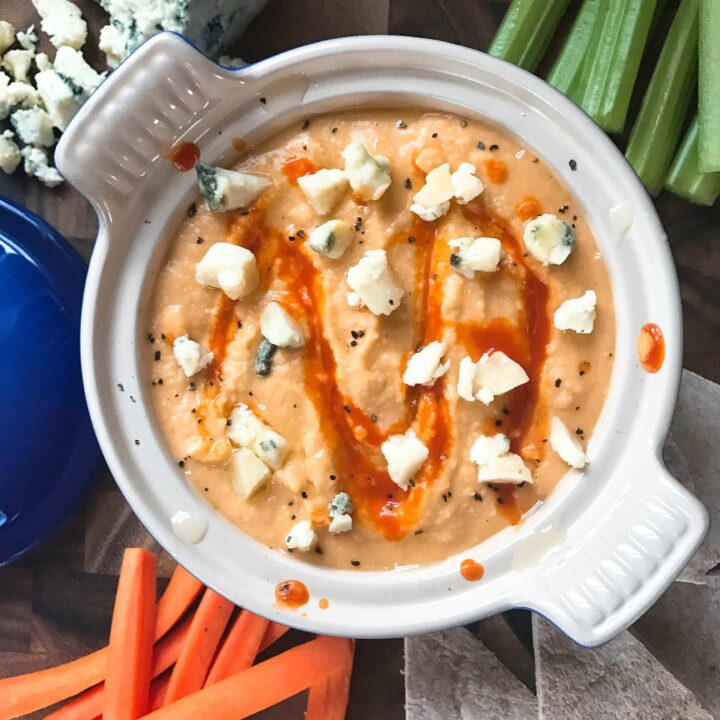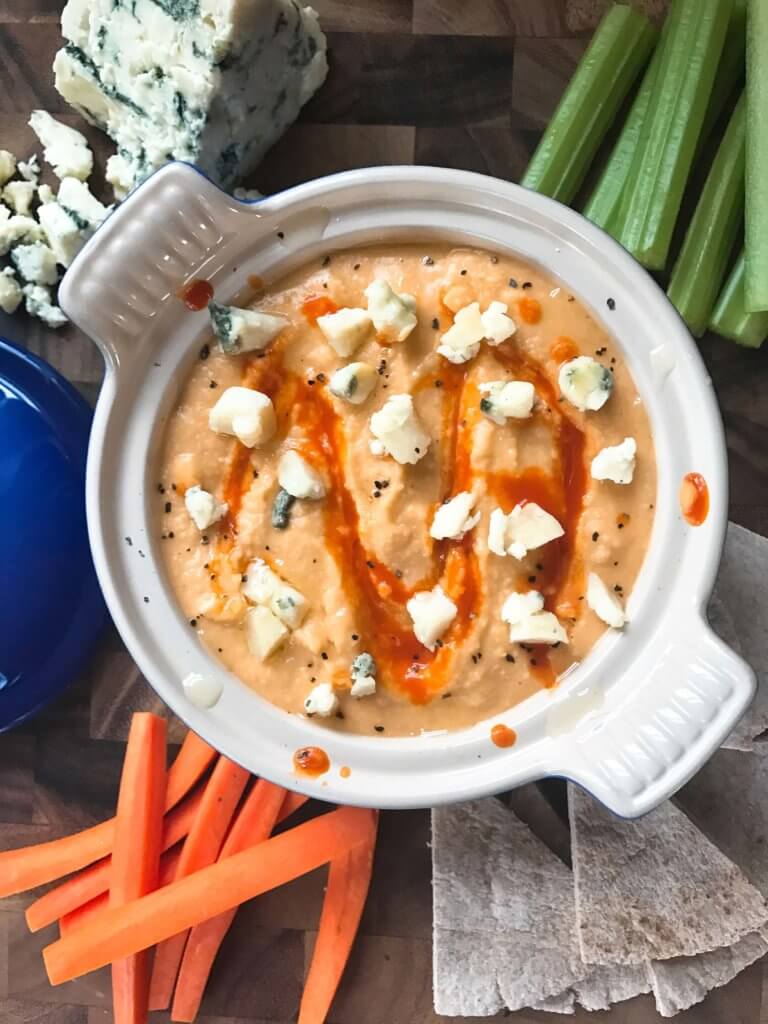 Wings are a classic snack during football games.  But everyone seems to bring indulgent snacks to the game and I find myself looking for some lighter and healthier options beyond a boring vegetable platter.  This Buffalo Wing Hummus is a great way to get some of those classic game day flavors in a healthier dish!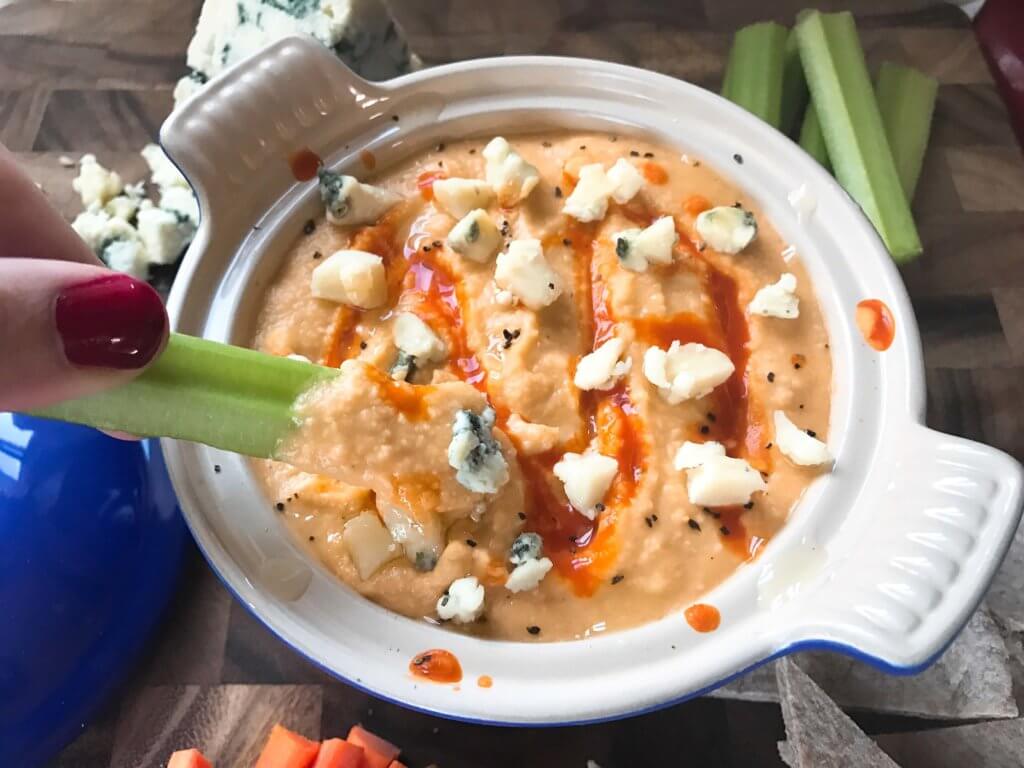 One thing I love about hummus is how fast and simple it is to make.  Just throw all the ingredients in a food processor, blend, and you are good to go!  If you do not have a food processor, you need one!  I have two and I use them alllllll the time.  They can do so many things: shredding, slicing, blending, etc.  We buy brick cheese and it is shredded in seconds.  This affiliate link is for a food processor very similar to the one that I have.  I could not live without mine!  You can also try it with a blender however I have found that it can be difficult to get the hummus smooth.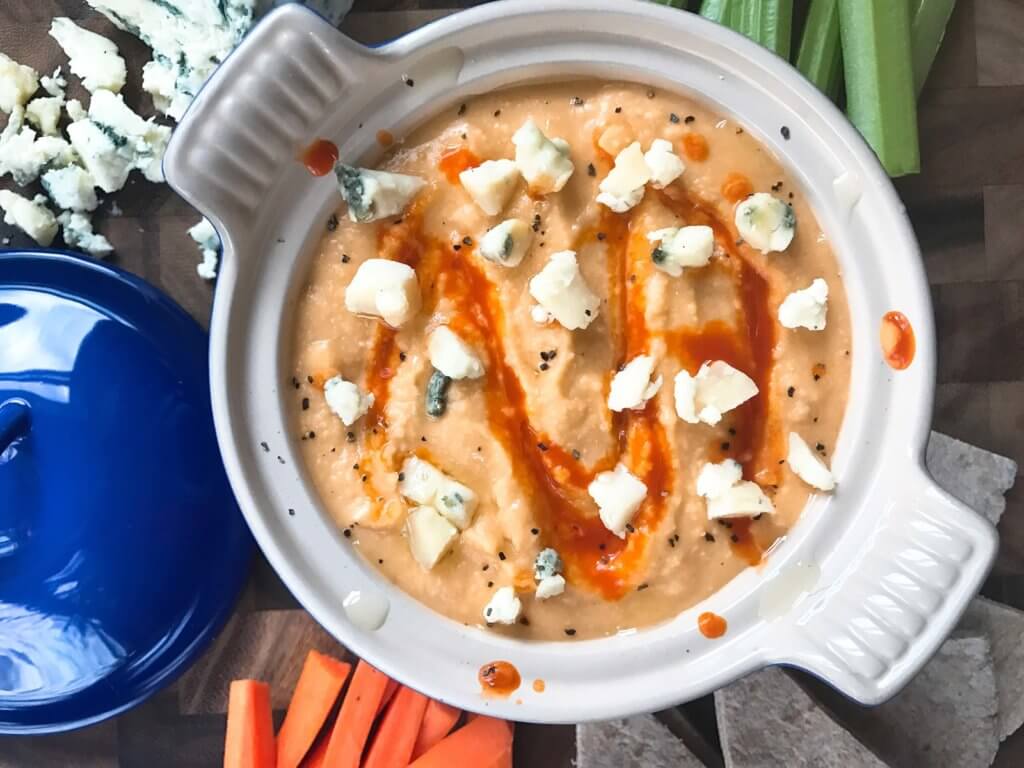 I personally LOVE blue cheese, so I load up my Buffalo Wing Hummus with a lot of it.  If you are on the fence, try a better quality blue cheese and not the stuff that comes pre-crumbled.  I know a lot of people are not on the blue cheese wagon, but there is a difference of taste and flavor with the quality of the cheese.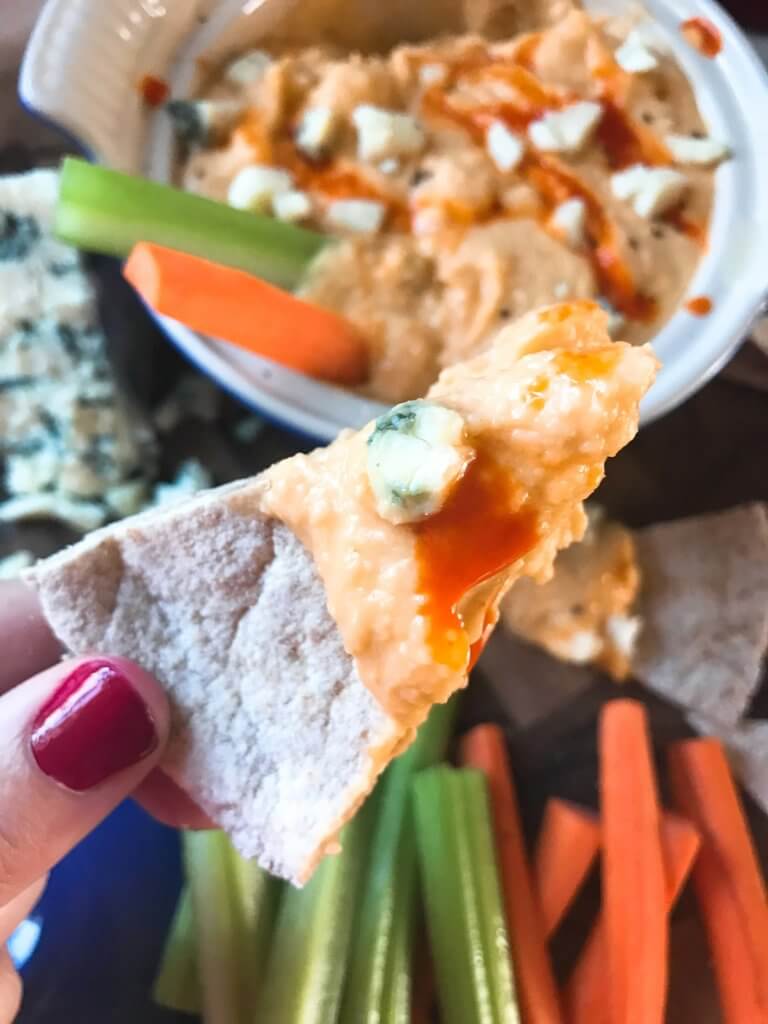 But if you are not a blue cheese person, you can easily substitute for another crumbled cheese such as queso blanco or anything else that you like.  You can also control the heat of this Buffalo Wing Hummus with how much buffalo wing sauce you put in there.  This affiliate link takes you to my favorite buffalo wing sauce.  Note that this is a different sauce than hot sauce!

What are your favorite game day snacks?
Follow these affiliate links to get everything you need!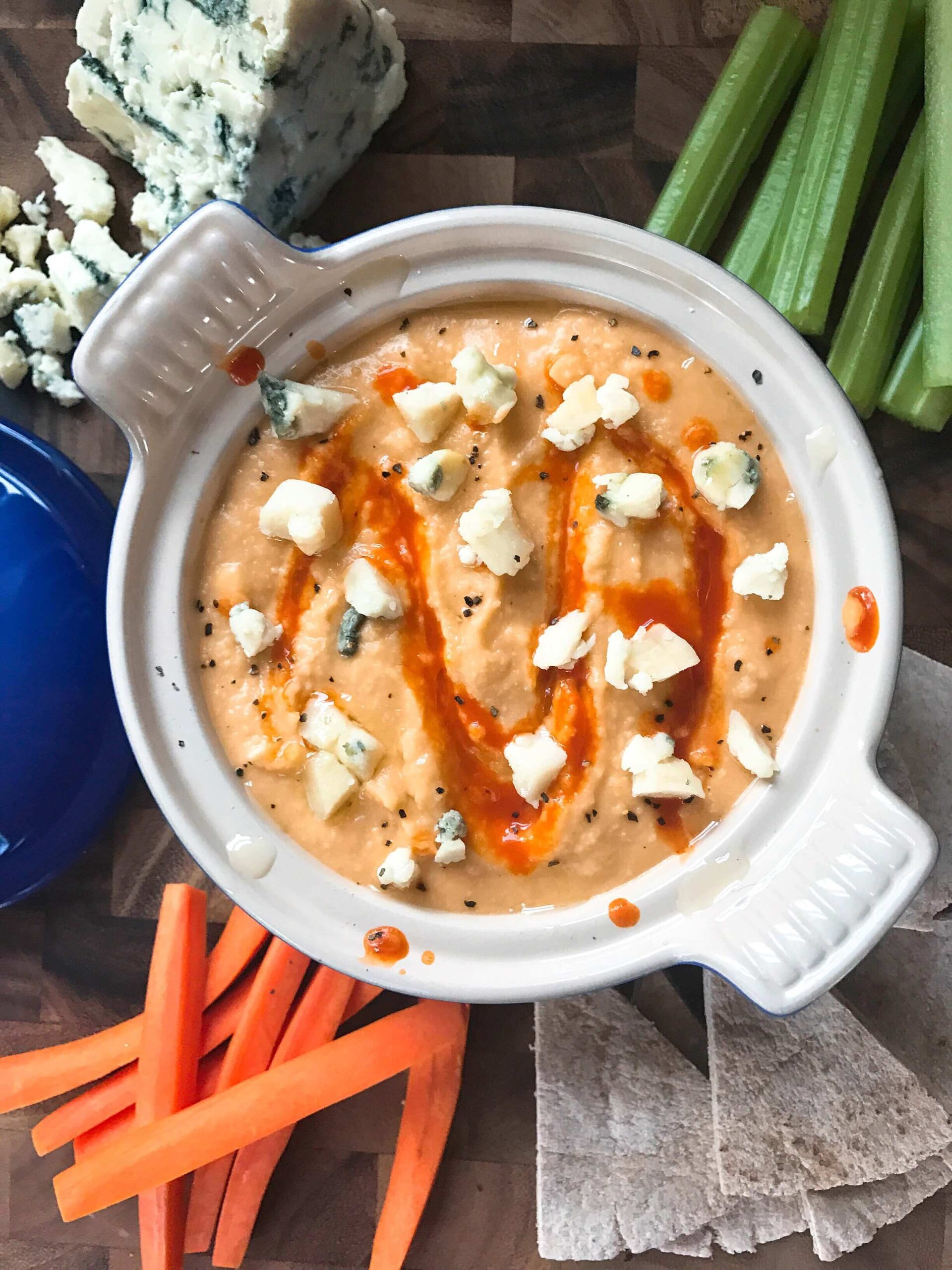 Instructions
If you do not have roasted garlic: Put garlic cloves with the skin still on in a nonstick skillet and heat over medium low heat. Roasting the garlic will take approximately 40 minutes. Rotate the cloves every 10-15 minutes so that they are roasted on all sides. Set aside to cool. (You can also use raw garlic, reduce to 2 cloves).

When garlic is cool enough to handle, peel the skins off the cloves. Add the garbanzo beans, garlic, lemon juice, salt, tahini, olive oil, and hot wing sauce to food processor. Put the lid on and process until you reach your desired consistency, approximately 10-15 seconds. If the mixture is too thick, add water 1 Tbsp at a time and process briefly to combine. Taste and adjust seasoning, including hot wing sauce, to your liking.

When complete, use a spatula to put the hummus in a bowl. Add the blue cheese crumbles and stir to incorporate. Garnish with additional blue cheese crumbles if desired. Refrigerate for one hour and serve chilled with pita bread, carrots, and celery.
Notes
I found that 1 Tbsp of hot wing sauce was enough to give the dip a kick without being too strong.  But if you are worried about the heat, start with one teaspoon at a time and continue incorporating more at the end until it is to your liking.

Use your favorite vegetarian blue cheese for vegetarian version.

By