Beer Braised Chicken Thighs makes an easy dinner idea! This chicken recipe is cooked on the stove in beer (stout or ale is best, such as Guinness) until tender. A great Irish inspired recipe for St Patrick's Day or a budget friendly meal. Gluten free.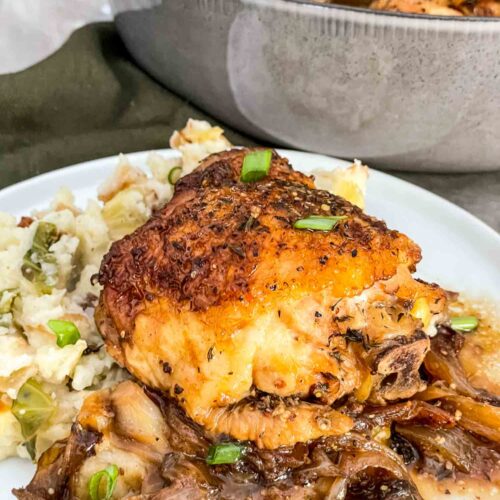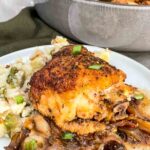 These easy Beer Braised Chicken Thighs are full of flavor! A budget friendly chicken dinner idea. Serve it up on top of potatoes, noodles, or rice.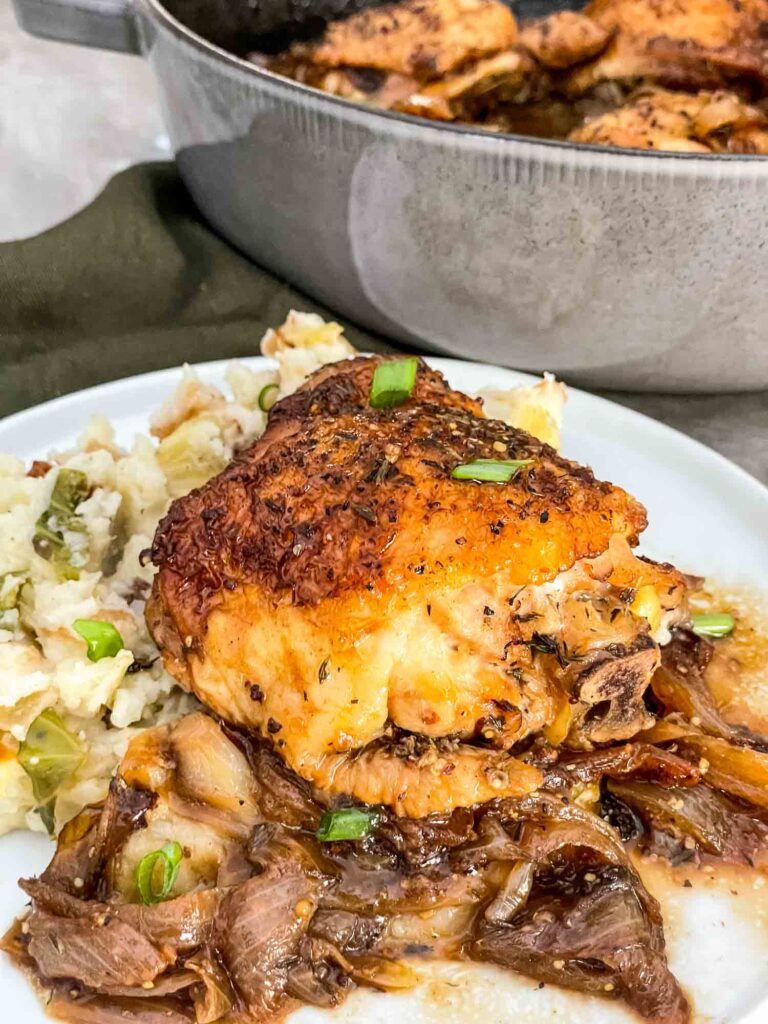 Why You Will Love This Recipe
Braised foods are full of deep flavors and this Beer Braised Chicken Thighs recipe is just that!
Make this chicken dinner idea in one pot on the stove with a budget friendly cut of meat.
Whether making this Irish meal for St Patrick's Day or any family meal, you will love these flavors!
Ingredients
These are the ingredients you need for braised chicken thighs:
Chicken Thighs
Butter
Yellow Onion
Dijon Mustard
Butter
Bay Leaves
Dried Thyme
Garlic Powder
Stout or Ale Beer
Chicken Stock
Salt
Black Pepper
Chicken – Bone in, skin on thighs are best for flavor. Boneless skinless thighs can work but will have a shorter cooking time.
Beer – A dark stout (such as Guinness) or ale is best.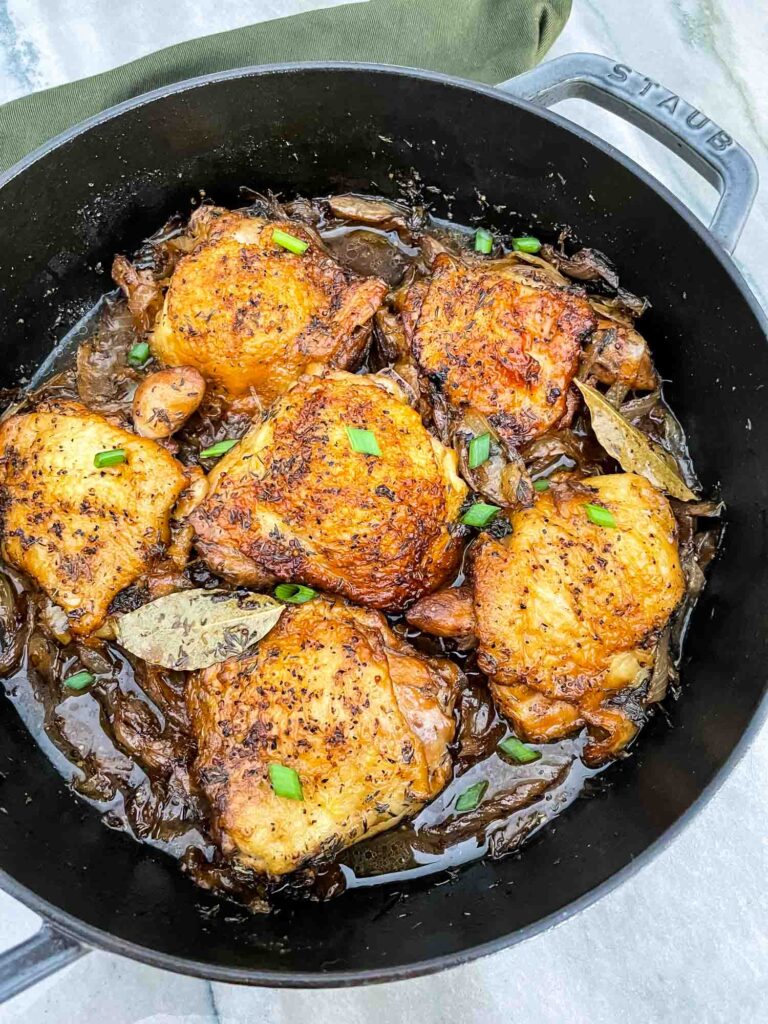 Equipment
This is the equipment you need to make the recipe:
Measuring Cups
Measuring Spoons
Knife
Cutting Board
Large Cooking Spoon
Tongs
Braiser – A braiser is a shallow cooking dish with a lid, similar to a large cast iron or short Dutch oven.
Instruction Overview
Heat the braiser on the stove over medium heat.
Pat the chicken dry and season both sides.
Melt the butter in the braiser and brown the chicken on both sides.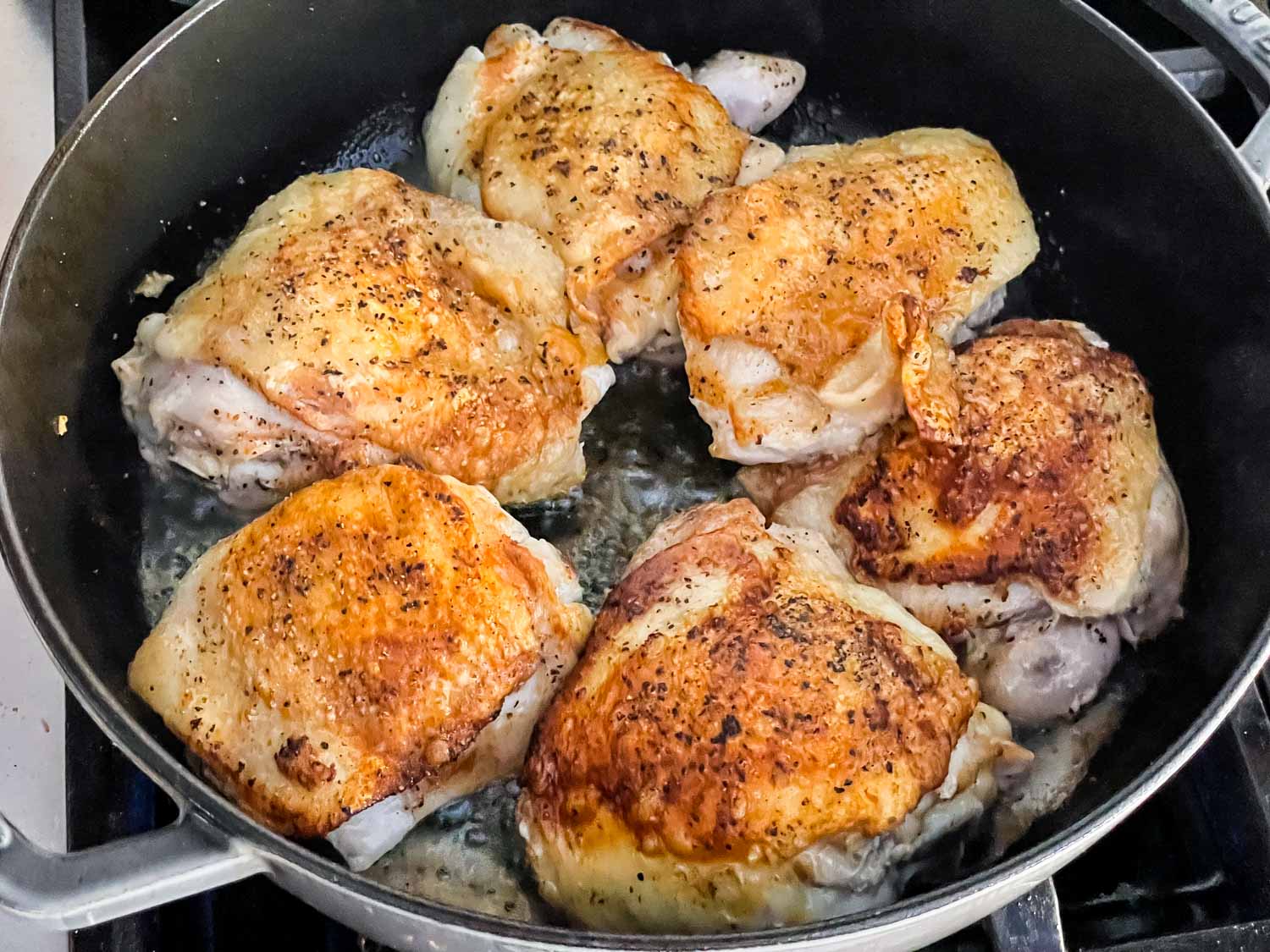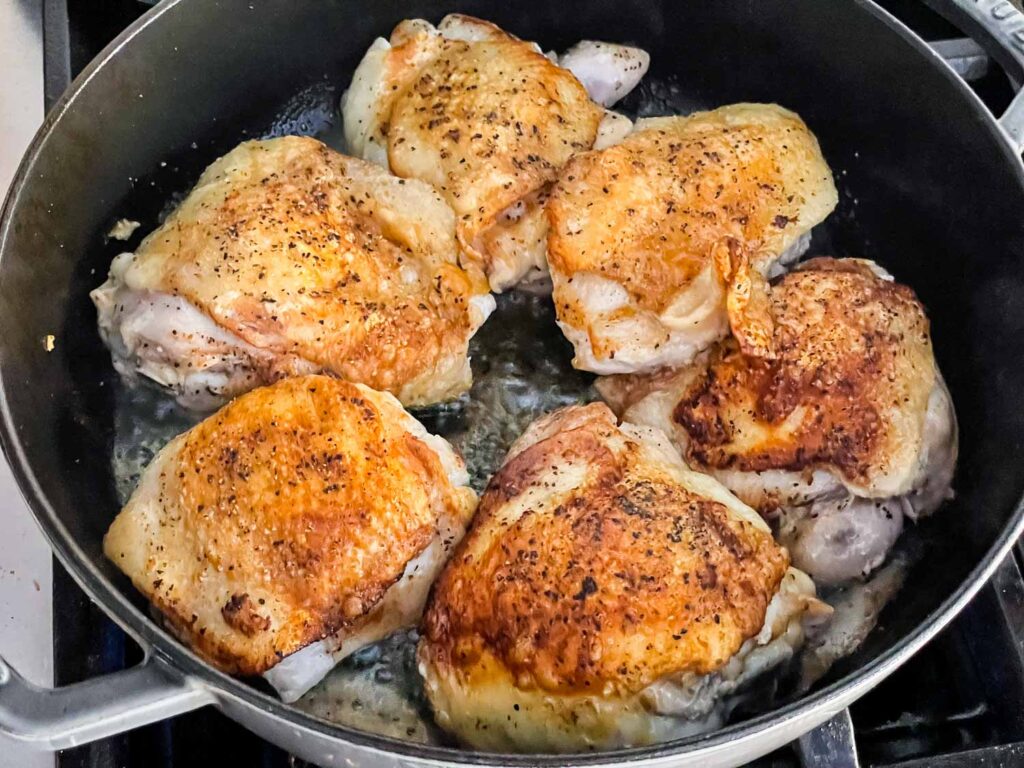 Remove the chicken from the braiser and set aside.
Add the slices onions and cook until soft.
Add the spices.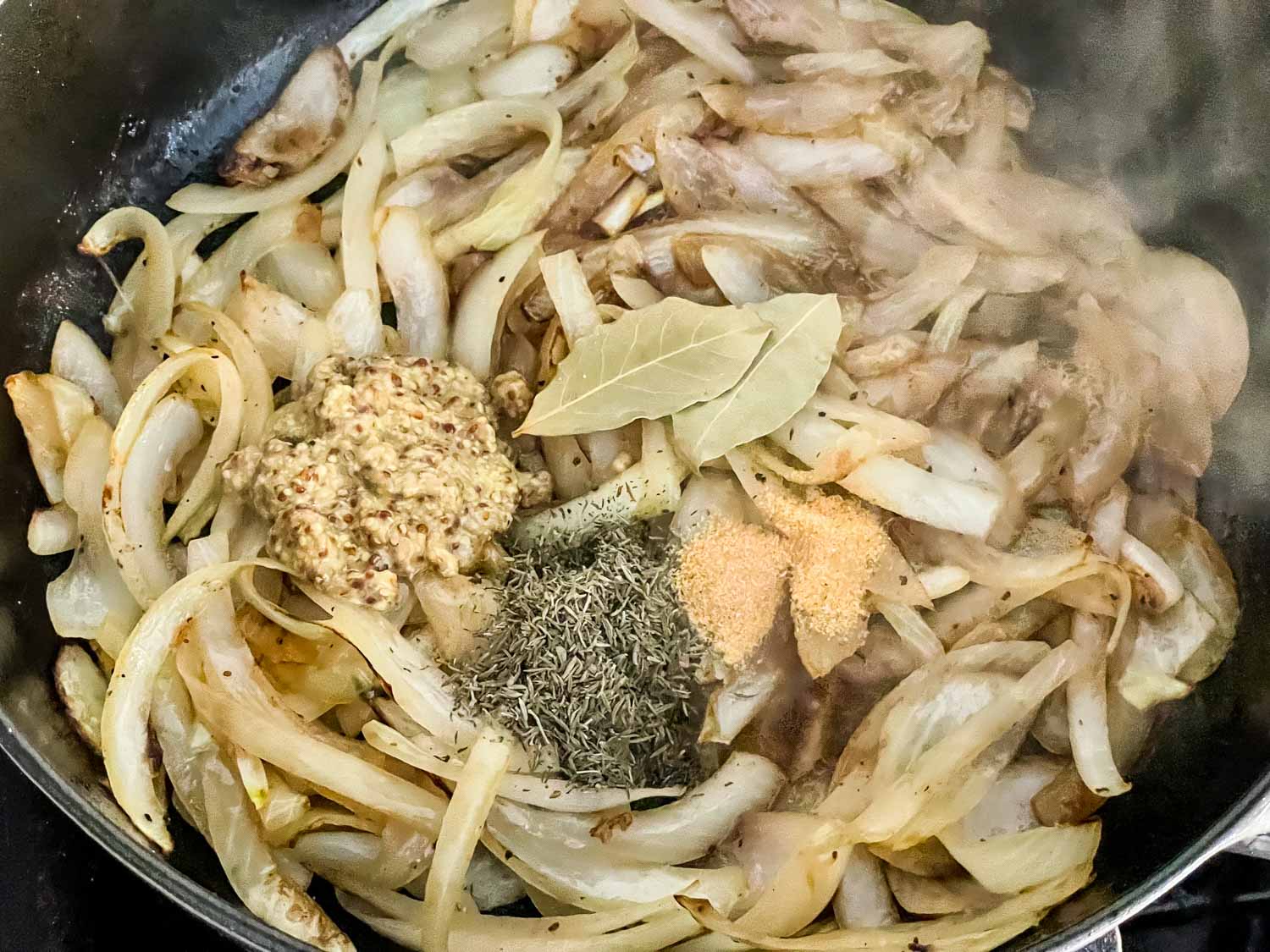 Add the beer and chicken stock and scrape up browned bits from the bottom of the pot.
Put the chicken pieces back in.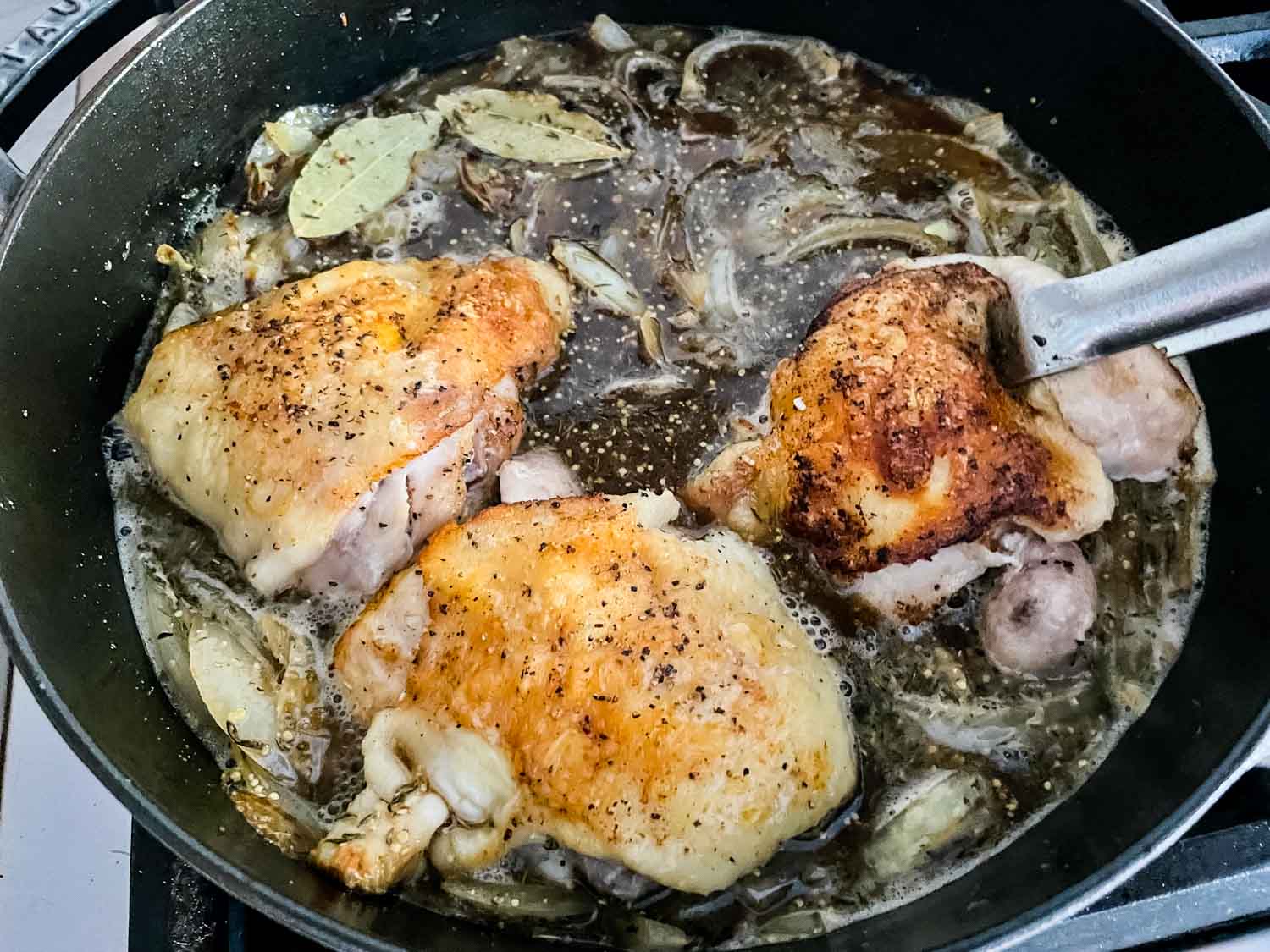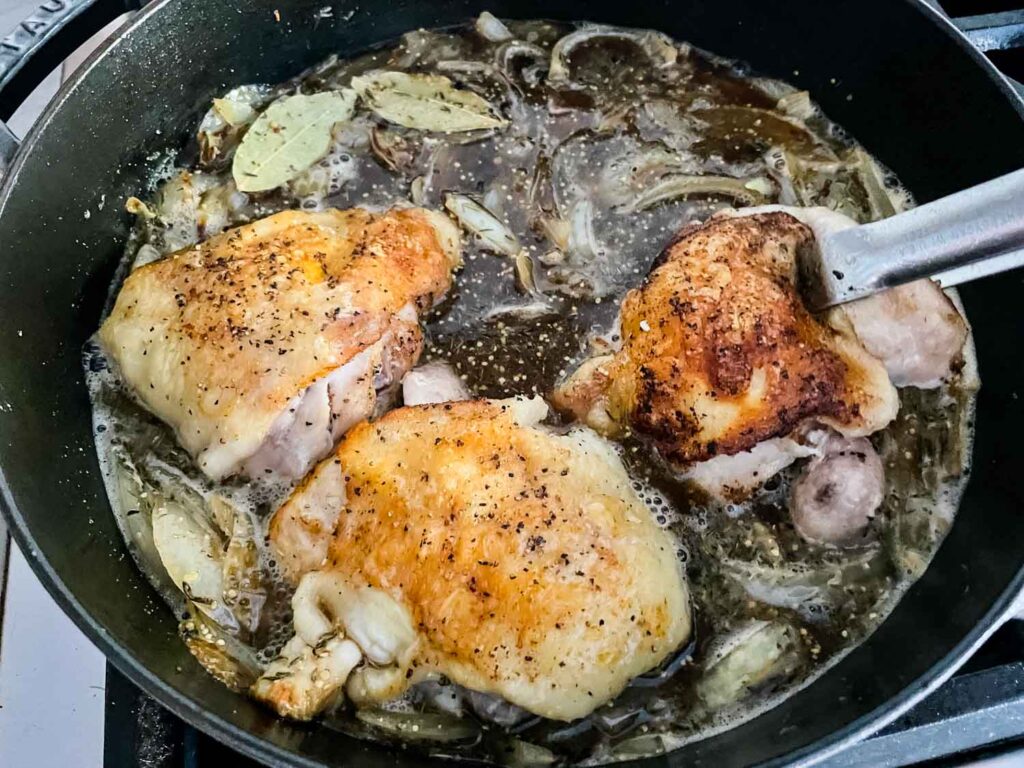 Bring to a simmer.
Add the chicken back in.
Cover and cook until the chicken is cooked through.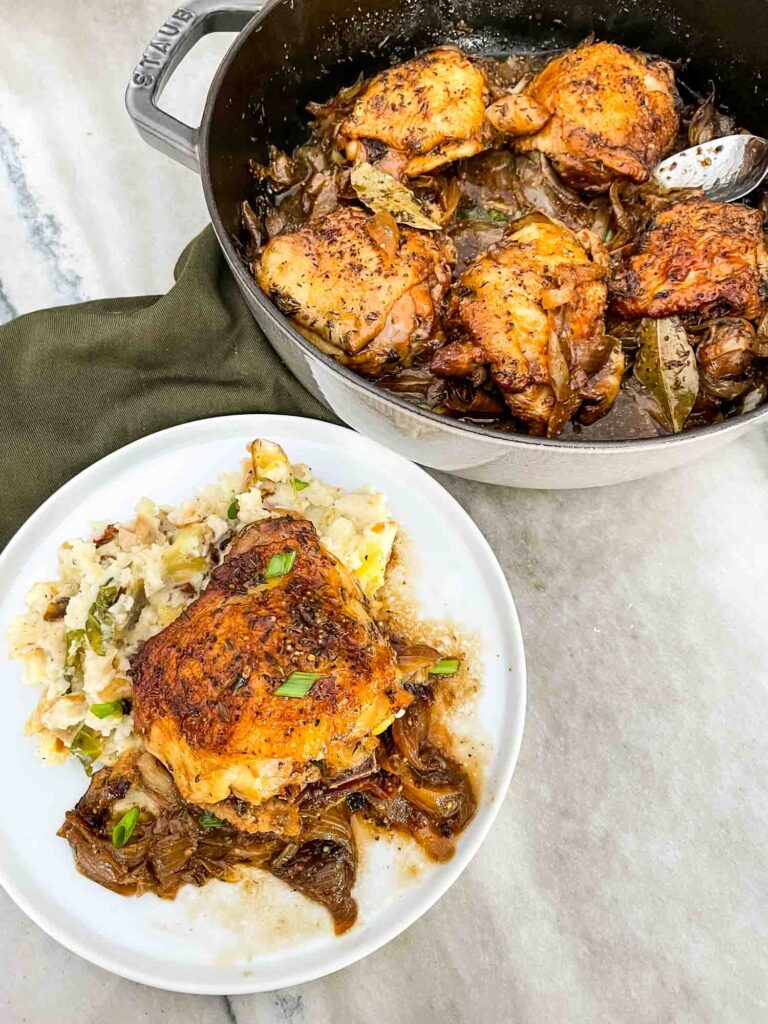 Modifications and Substitutions
Beer – Use darker beers such as porters and ales. Lighter beers that are hoppy like an IPA will end up tasting bitter.
Cooking can also be finished in the oven instead of on the stove top. Bake covered at 350 for about 45 minutes until the thighs register a temperature inside of 170F.
Kim's Tips
Add more stock or water if needed to get more sauce.
Don't forget to serve up the onions and sauce as well!
This recipe is AMAZING on top of my Colcannon with Bacon recipe! Colcannon is mashed potatoes mixed with cooked cabbage, onions, and in this case, bacon!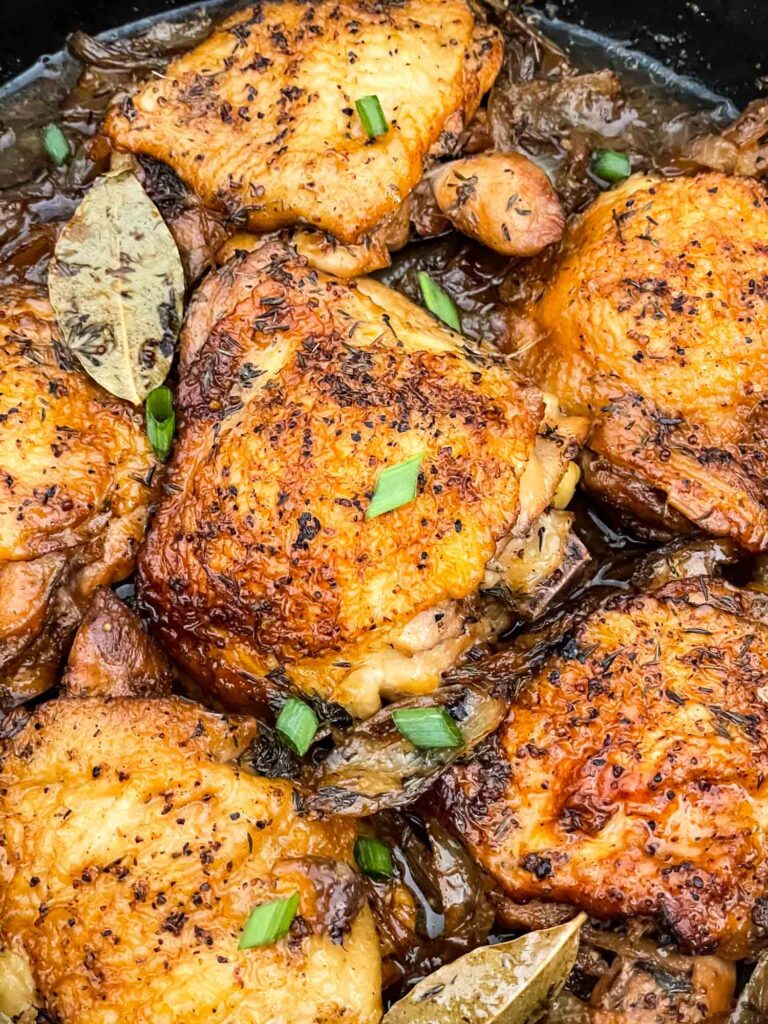 FAQs
What is a braiser?
A braiser is a shallow pot-like cooking vessel. It is perfect for foods like this because it is deeper than a skillet and easier to use than a tall pot.
You could also use a cast iron or deep skillet with a lid or a pot.
Why do people braise chicken?
Braising meat makes it tender and helps prevent it from drying out since it is cooked in liquid.
This liquid also brings lots of flavor to the meat, and then acts as a sauce!
Does braising tenderize chicken?
Yes! It makes it tender and moist.
What to serve with braised chicken?
Braised chicken is great with potatoes, noodles, rice, and bread.
I love to serve it on top of my Colcannon with Bacon!
Can you braise chicken too long?
Yes, but it is much more difficult to do than when cooking chicken without braising.
Since braising is done with liquid, the liquid it is sitting in helps prevent it from drying out.
In order to cook it too long, it would require cooking long enough for much of the liquid to cook off and therefore dry out the chicken.
How do you crisp chicken skin after braising?
If you want to crisp up the skin after cooking, put the chicken under the broiler in the oven (without a lid or cover) for just a minute or two.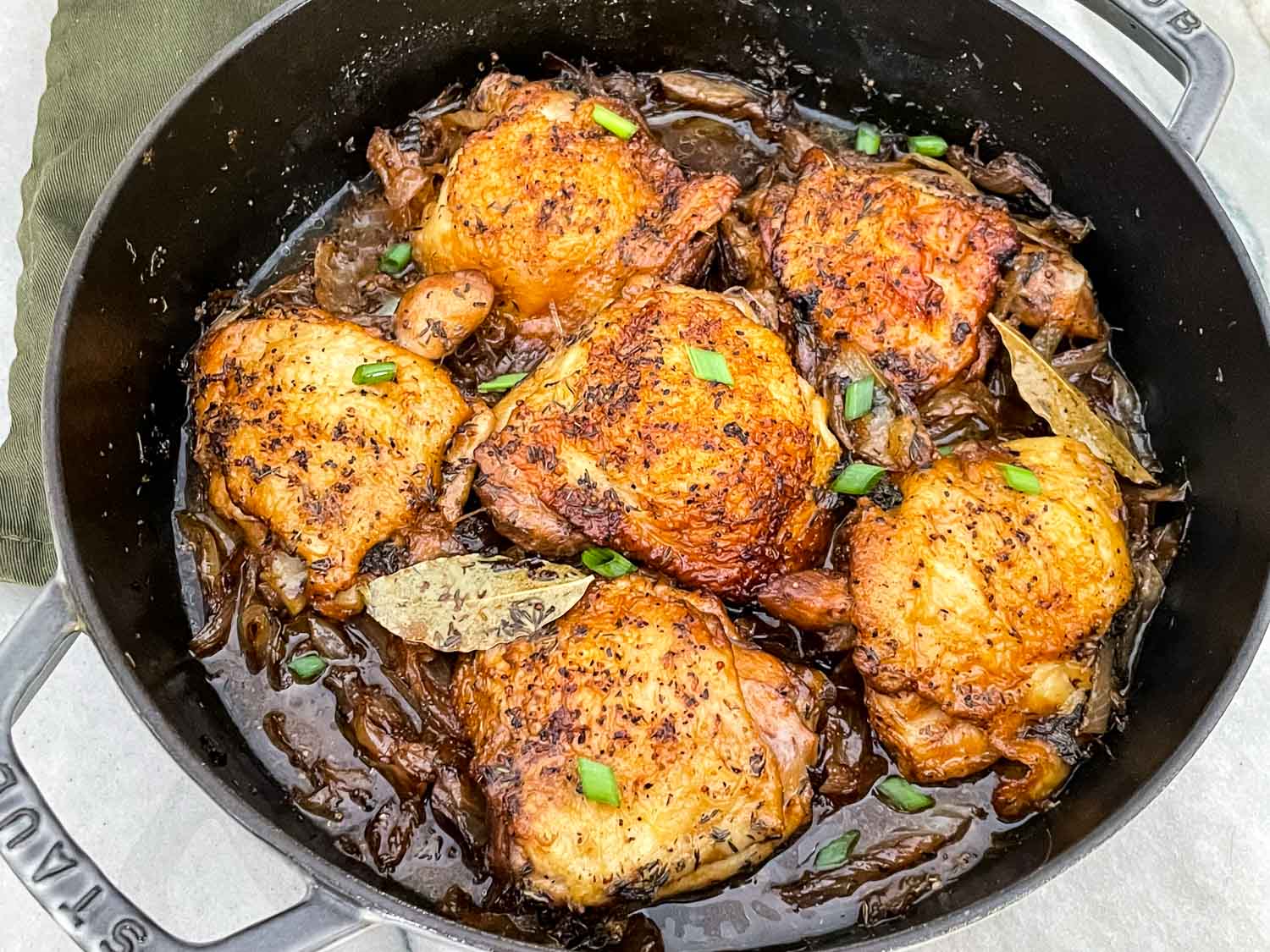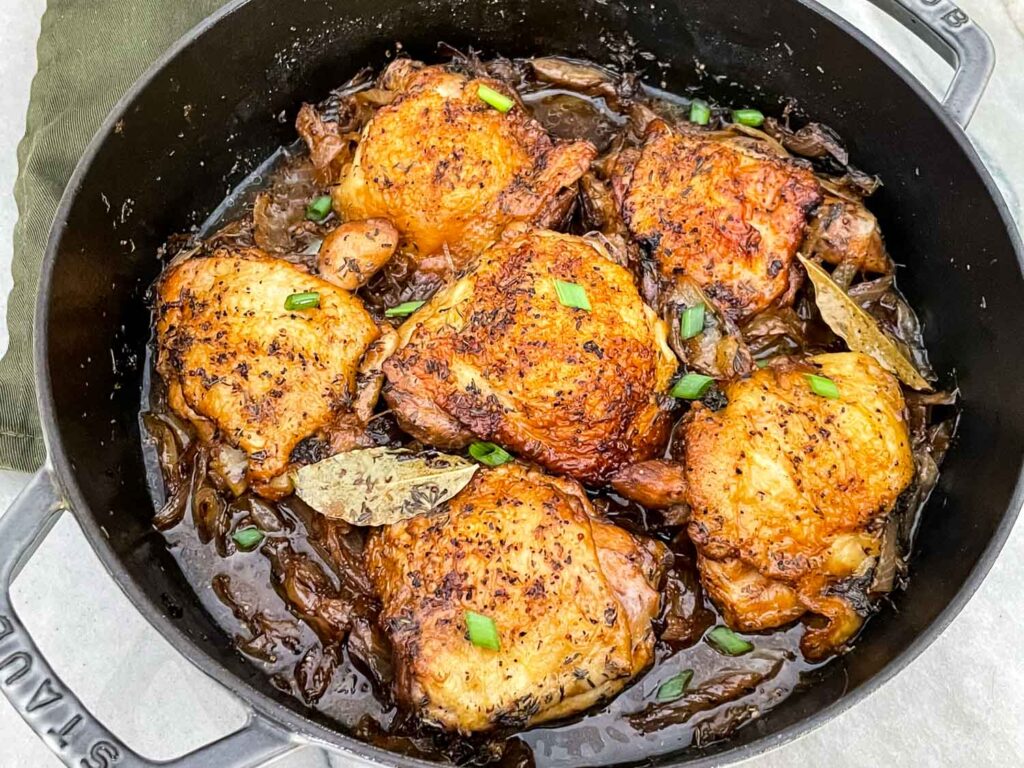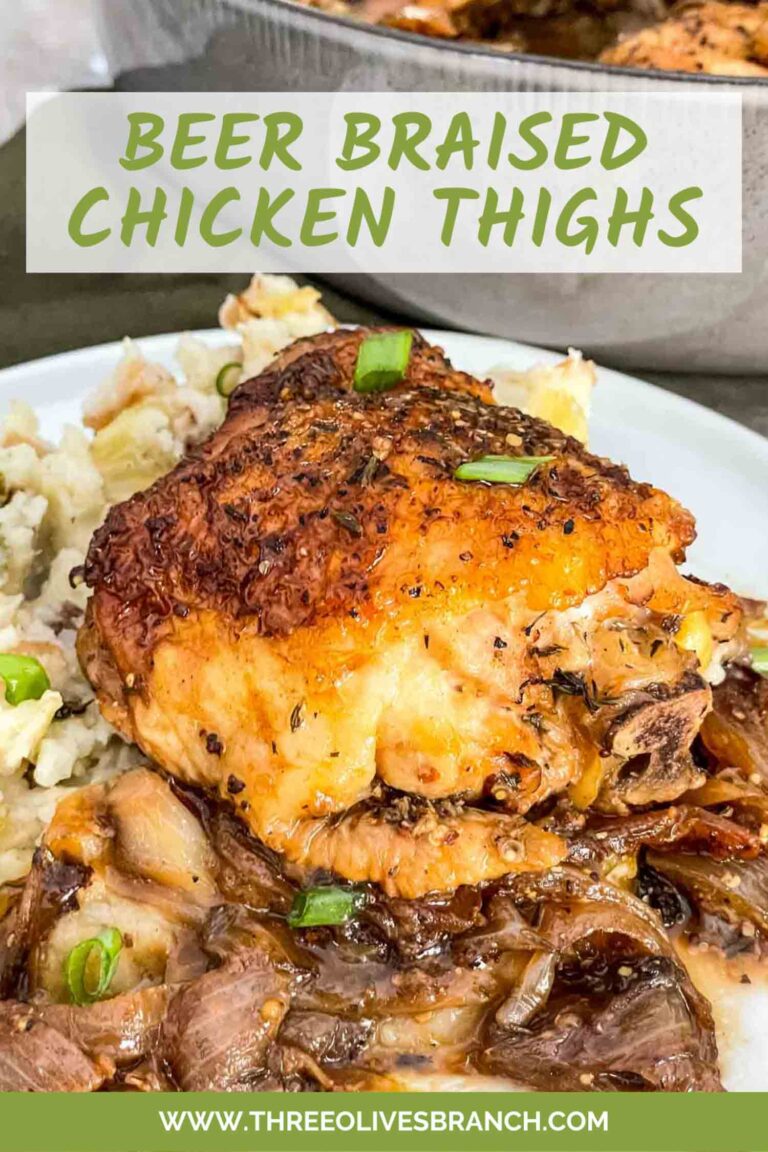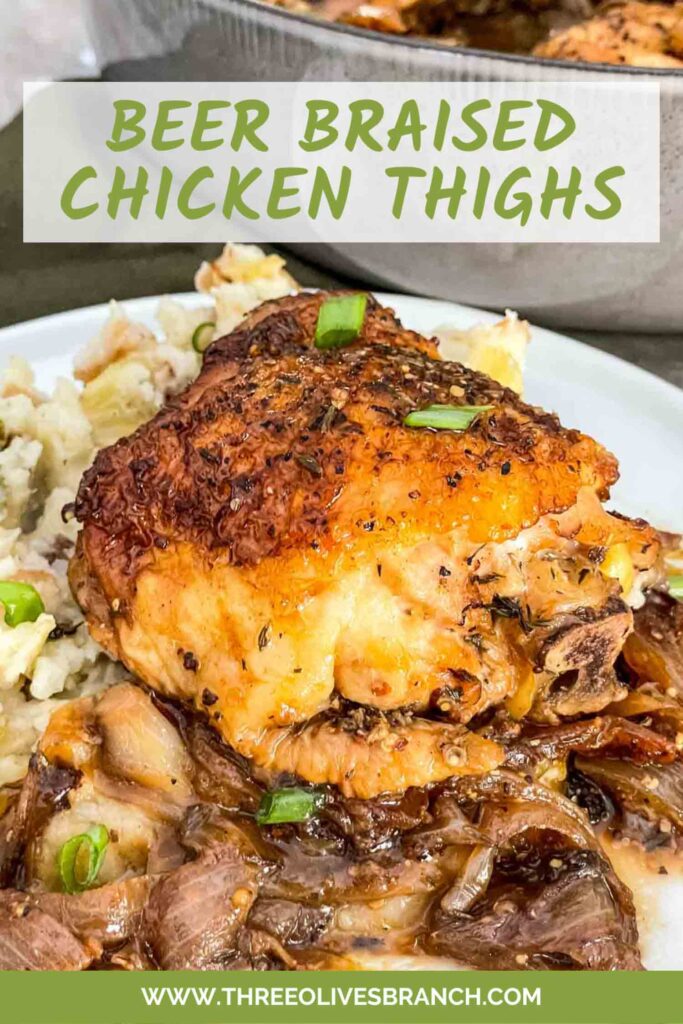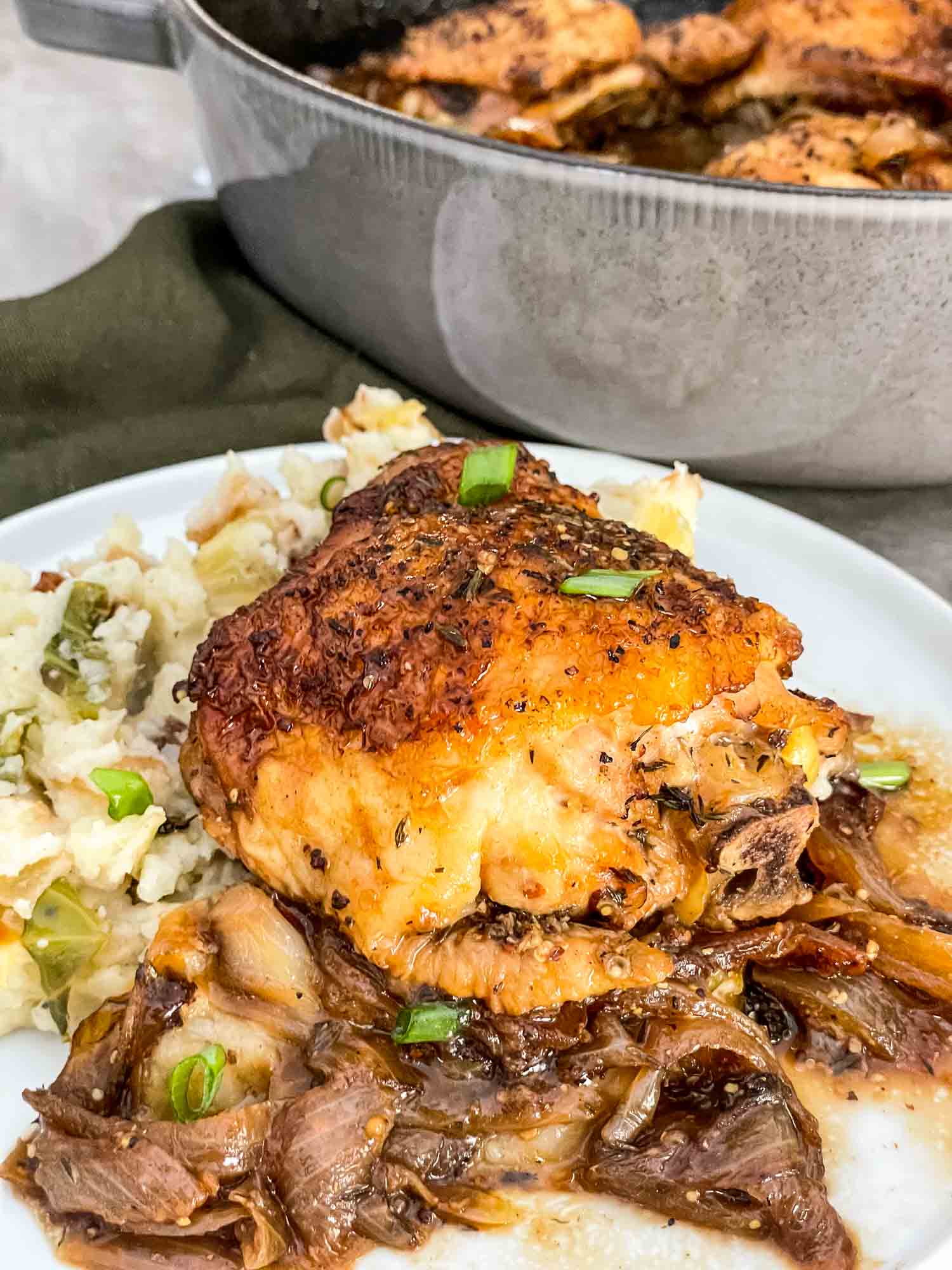 Equipment
Braiser

or other large skillet with lid, or pot
Instructions
Heat a large shallow pot or skillet over medium heat.

Pat the chicken thighs dry with paper towels.

Season the chicken on both sides with some salt and pepper.

When the skillet is hot, add the butter to melt.

When butter is melted, add the chicken thighs, skin side down.

Cook until browned, without moving them, about 5 minutes.

Flip the chicken and brown the second side, about 3 minutes more.

Remove the chicken and set aside on a plate to rest.

Drain any excess fat from the skillet so there is about 2-3 Tablespoons left. Return to the heat.

Peel and slice the onions approximately 1/4 inch thick.

Add the sliced onions to the skillet the chicken was cooked in.

Cook the onions, stirring occasionally, until they are soft and starting to lightly brown, approximately 7-10 minutes.

Add the bay leaves, thyme, garlic powder, and mustard. Stir to combine and cook until fragrant, about 30 seconds.

2 bay leaves,

2 teaspoons dried thyme,

½ teaspoon garlic powder,

2 Tablespoons Dijon mustard

Add the beer and chicken stock. Gently scrape up browned bits on the pan with your spoon.

12 ounces stout beer,

1 ½ cups chicken stock

Bring to a simmer and add the chicken thighs back into the pan.

Cover and cook until the chicken registers 170°F, approximately 25-30 minutes.

Season the sauce if needed to taste with salt and pepper. Serve warm with rice, potatoes, or noodles.
Nutrition
Serving:
1
serving
|
Calories:
358
kcal
|
Carbohydrates:
19
g
|
Protein:
22
g
|
Fat:
20
g
|
Saturated Fat:
5
g
|
Polyunsaturated Fat:
4
g
|
Monounsaturated Fat:
8
g
|
Trans Fat:
0.1
g
|
Cholesterol:
113
mg
|
Sodium:
239
mg
|
Potassium:
536
mg
|
Fiber:
3
g
|
Sugar:
8
g
|
Vitamin A:
119
IU
|
Vitamin C:
12
mg
|
Calcium:
61
mg
|
Iron:
2
mg
More Chicken Thigh Recipes
More Irish Recipes
St Patrick's Day Irish Recipes
By