Cod with Grapefruit Relish is a fresh and healthy white fish dinner recipe. Pan seared cod is topped with the citrus and basil topping. A perfect spring or summer fast seafood recipe.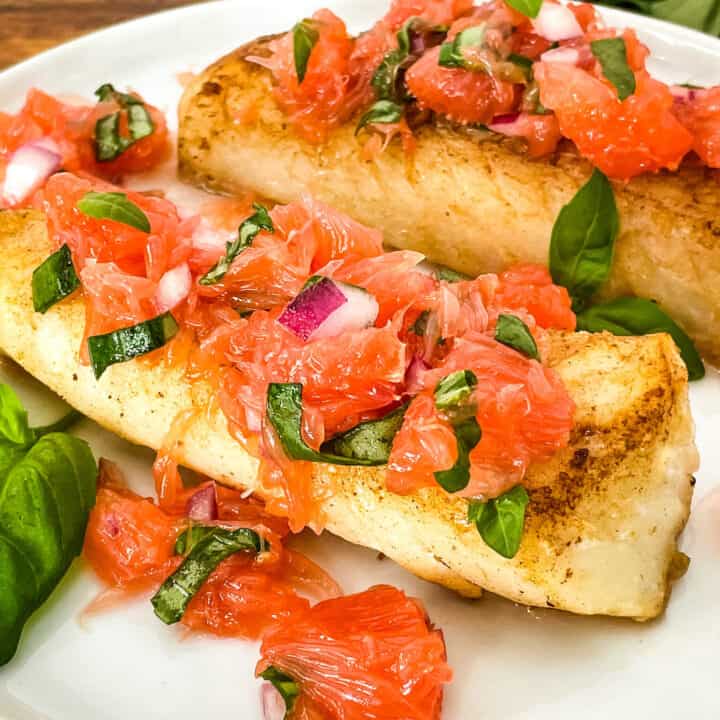 This Cod with Grapefruit Relish is a fresh, fast, and easy dinner recipe. Healthy cod is topped with a citrus relish after being pan seared.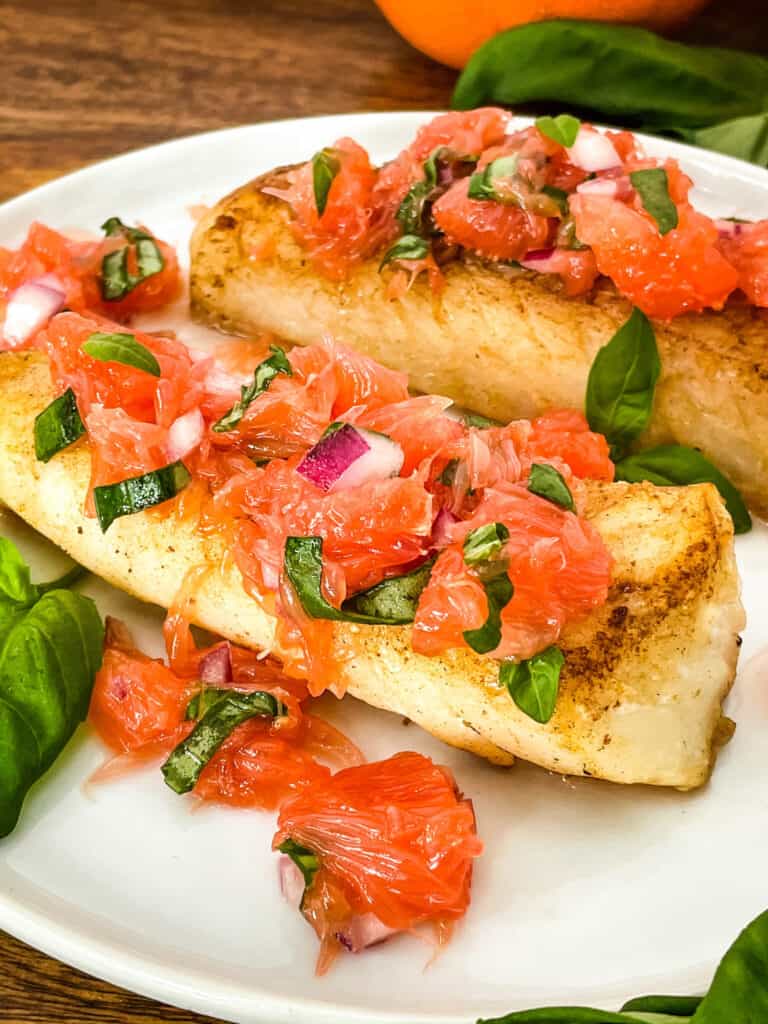 I just love fresh and bright flavors, and this white fish recipe is just that!
At first, I was a little skeptical about going this direction with the basil and grapefruit relish. But it is SO good! I could eat a bowl of it just by itself.
The red onion is subtle and brings just a little spice and crunch, with the basil bringing an earthy freshness.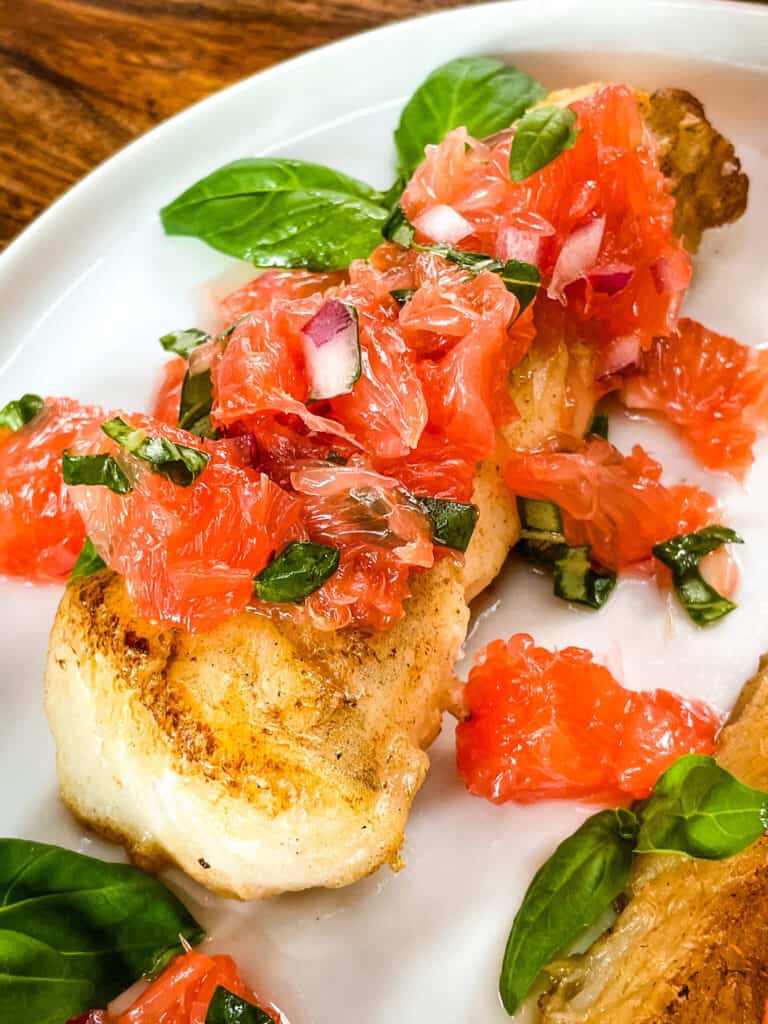 What is Cod Like?
Cod is a white, flaky fish. It has a very mild taste which means it is a great fish for a crowd!
It should not smell nor taste strongly of fish.
Cod is very easy to find and typically very affordable.
The fish steak pieces may come in long steaks like salmon, irregular pieces, or as large fillets.
I purchase cod loins which will give you steaks similar to salmon like what you see in the picture. Any shape or size will work, just adjust cooking time accordingly based on thickness.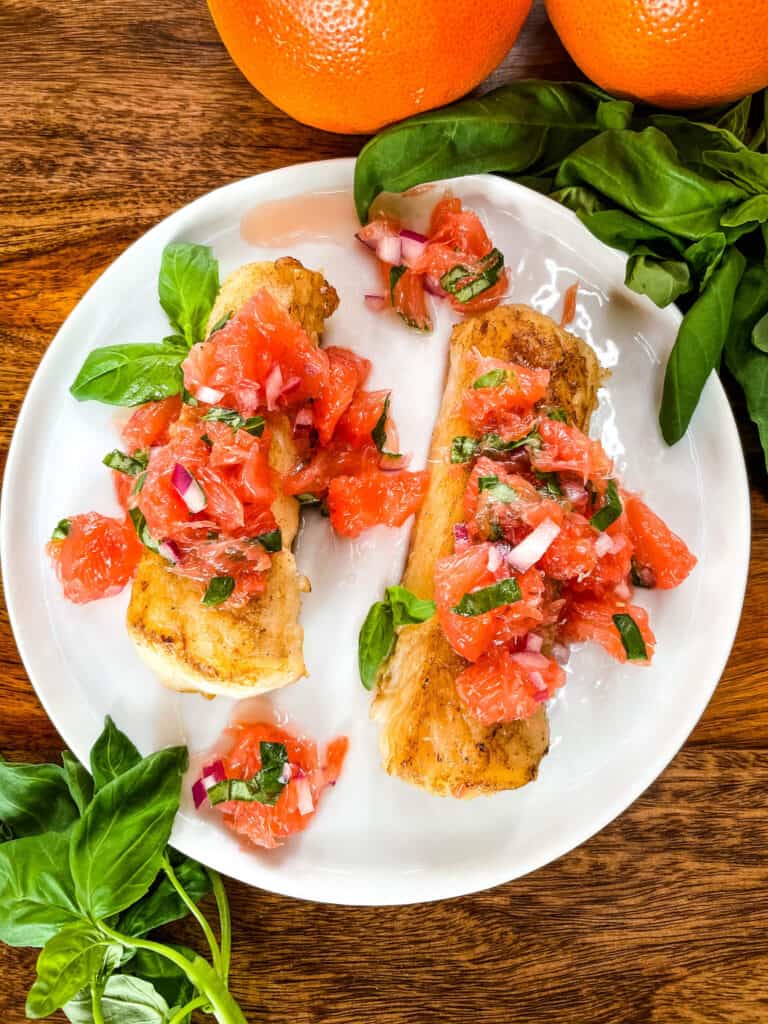 Other Fish Options
Want to use something other than cod?
Other white, flaky fish will work as a substitute, such as grouper, mahi mahi, sea bass, or tilapia.
I love to serve this up on grilled swordfish!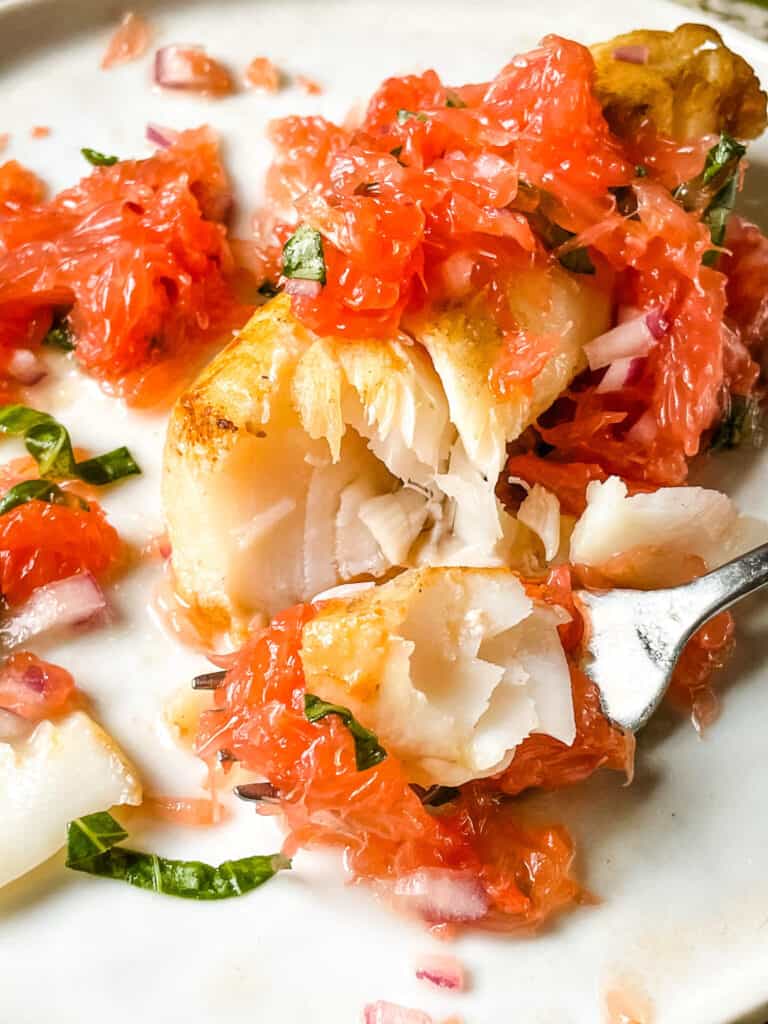 Cooking the Cod
I have tried a few different ways to cook cod quickly in a pan, and this method has been my favorite so far.
Using butter, not oil, in the pan has given me the best results. The butter seems to result in less sticking and also gives the fish a much better light golden color when cooking. The oil did not really brown the fish at all.
Once you have the fish in the pan, you do not want to move it around. Let it do it's thing to cook and get some color before gently flipping.
The first side you put down in the pan also seems to turn out the prettiest in color and staying intact, so consider that if presentation is a concern.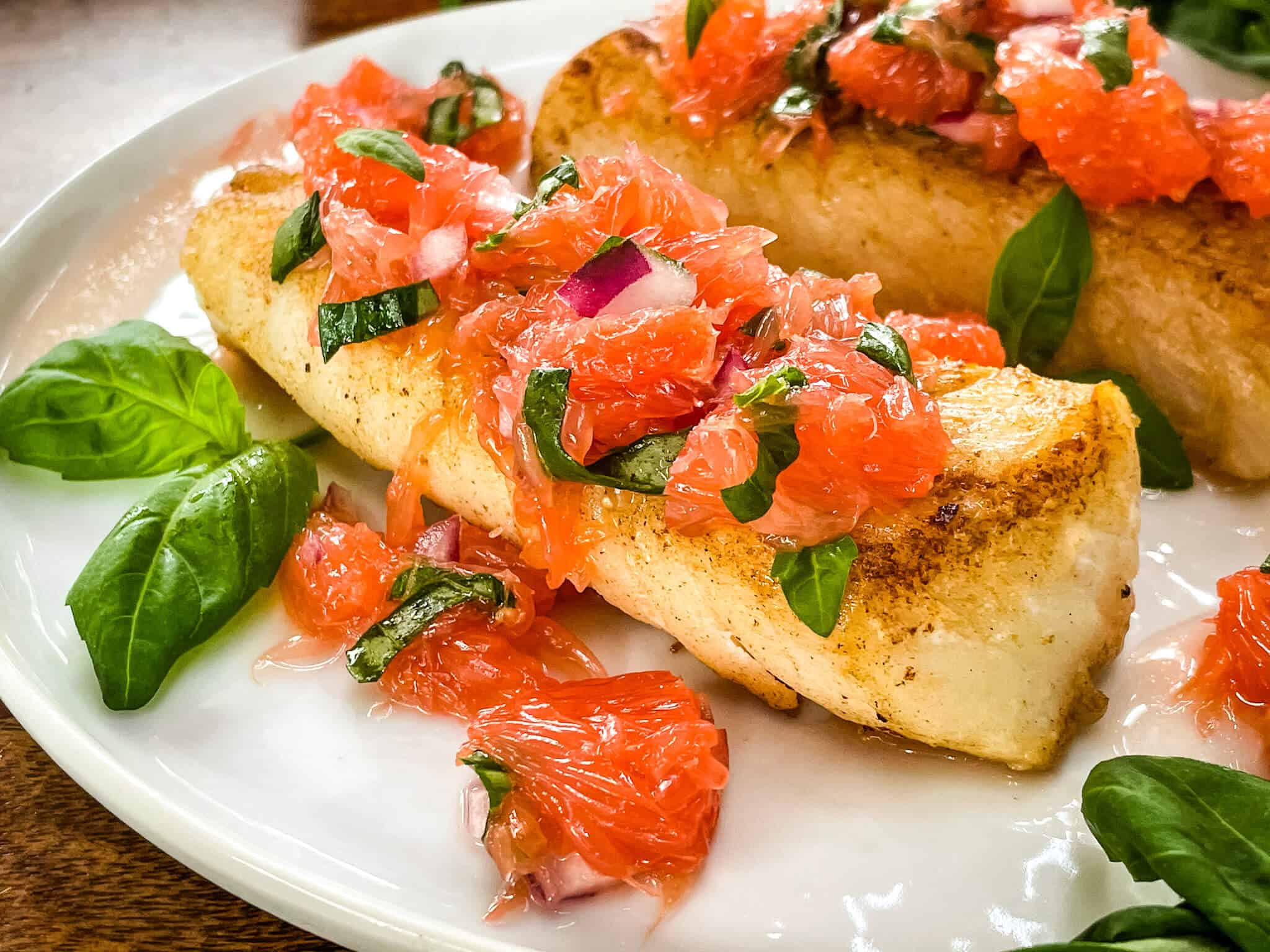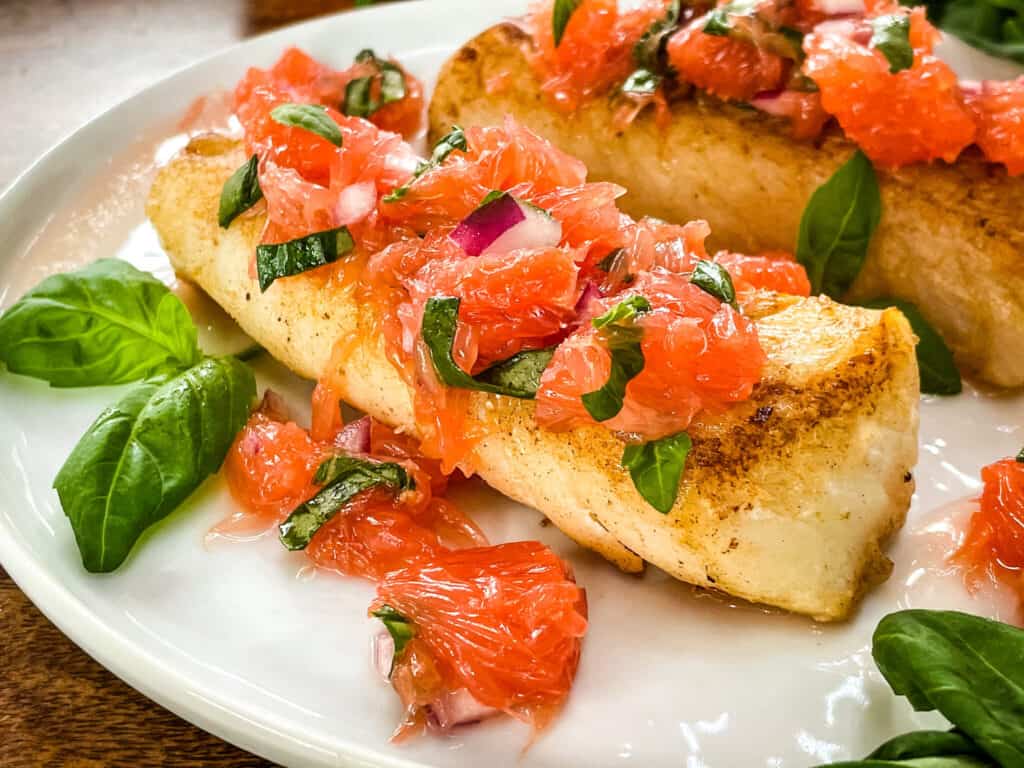 Sides for Cod with Grapefruit Relish
Here are some great side dish options to serve alongside the fish!
Light and Fresh Side Dishes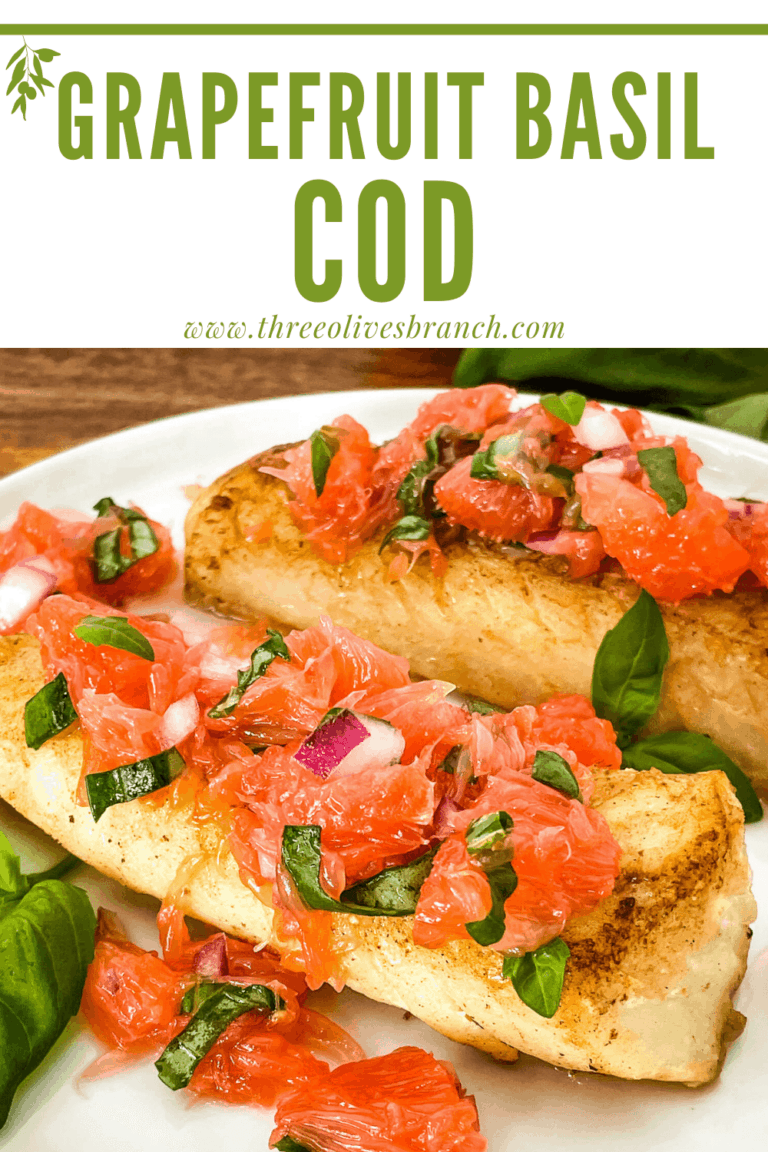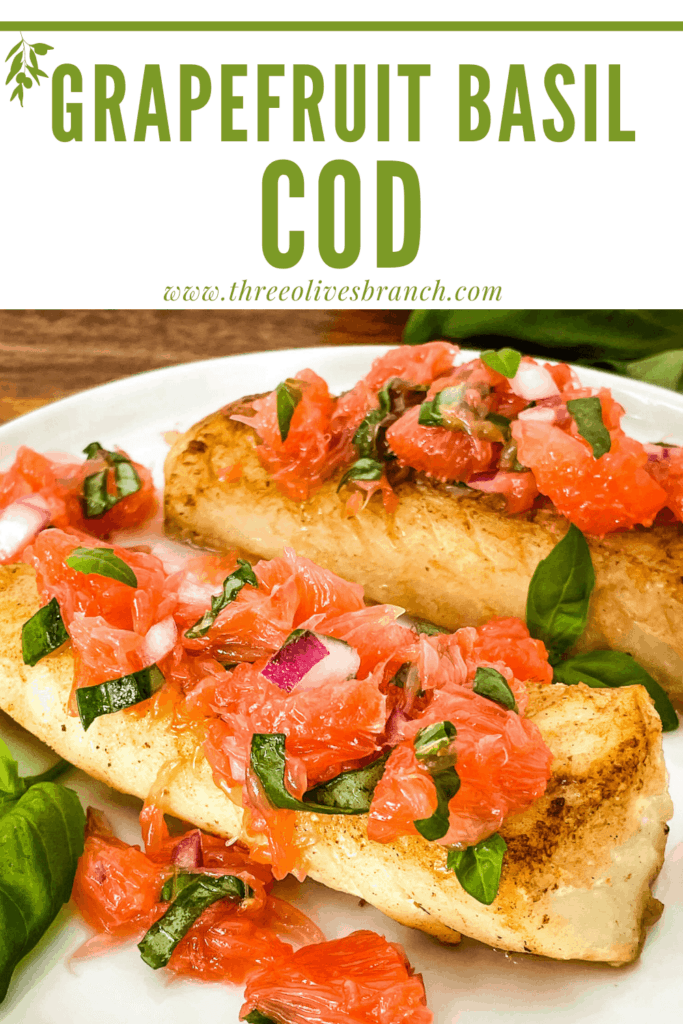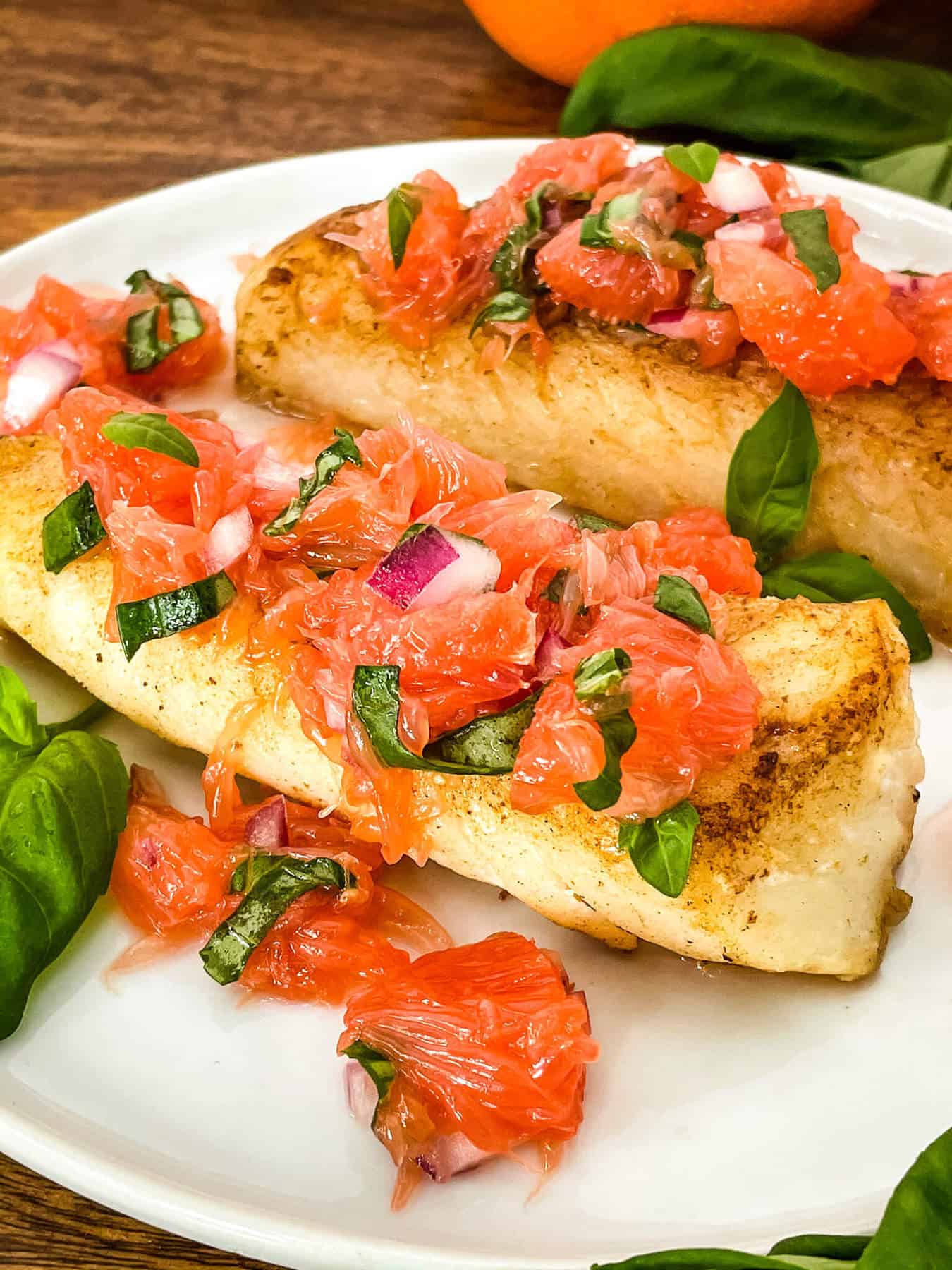 Instructions
Dry off the fish with a paper towel and lightly season all sides with salt.

Melt the butter in a nonstick skillet over medium high heat.

When hot, add the fish and cook for about 2 minutes until browning.

Gently flip with a spatula, reduce heat to medium, and cook the second side, approximately 3-4 minutes more until cooked through. Remove from the pan and set aside.

Meanwhile, make the grapefruit relish. Cut the top, bottom, and skin off of the grapefruit and then slice your knife right next to each segment to remove them, leaving you with just the flesh wedges (see picture).

Cut the grapefruit wedges that you have removed into chunks (a little larger than you want, as they will break some with mixing) and place in a small bowl. Squeeze the "guts" (leftover white membrane from the grapefruit) of one grapefruit into the small bowl to get some of the liquid.

Add the finely diced red onion, basil, lemon juice, and the olive oil to the grapefruit. Stir gently to combine. Season to taste with salt and pepper. If too tart, add a little sugar as desired.

Top the fish with the relish, or serve on the side. Serve immediately.
Nutrition
Serving:

1

serving

|

Calories:

217

kcal

|

Carbohydrates:

14

g

|

Protein:

21

g

|

Fat:

9

g

|

Saturated Fat:

4

g

|

Trans Fat:

1

g

|

Cholesterol:

64

mg

|

Sodium:

112

mg

|

Potassium:

655

mg

|

Fiber:

2

g

|

Sugar:

9

g

|

Vitamin A:

1745

IU

|

Vitamin C:

42

mg

|

Calcium:

51

mg

|

Iron:

1

mg

By