Copycat Maggiano's Tuscan Mussels are a fast and easy seafood recipe. Bring this Italian shellfish home with sun-dried tomatoes, beans, and basil in a white wine sauce. Gluten free and keto low carb.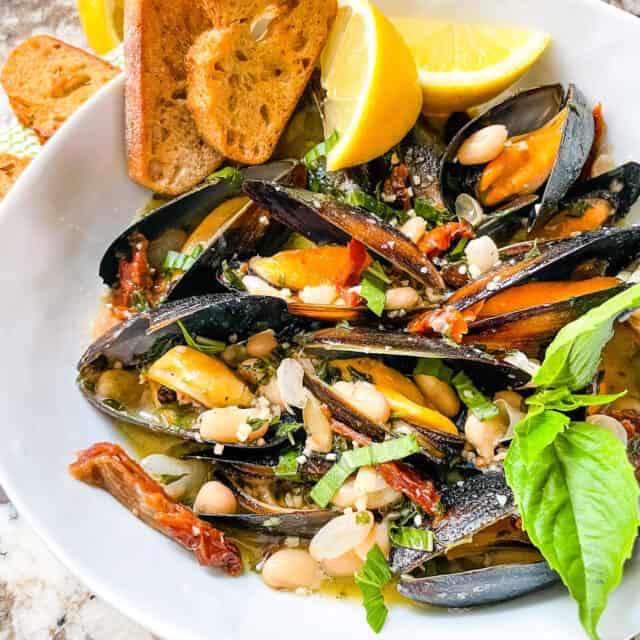 These Copycat Maggiano's Tuscan Mussels are a fast and easy Italian seafood recipe perfect as an appetizer or main course!
Mussels are cooked with beans, sun-dried tomatoes, and basil in a white wine sauce.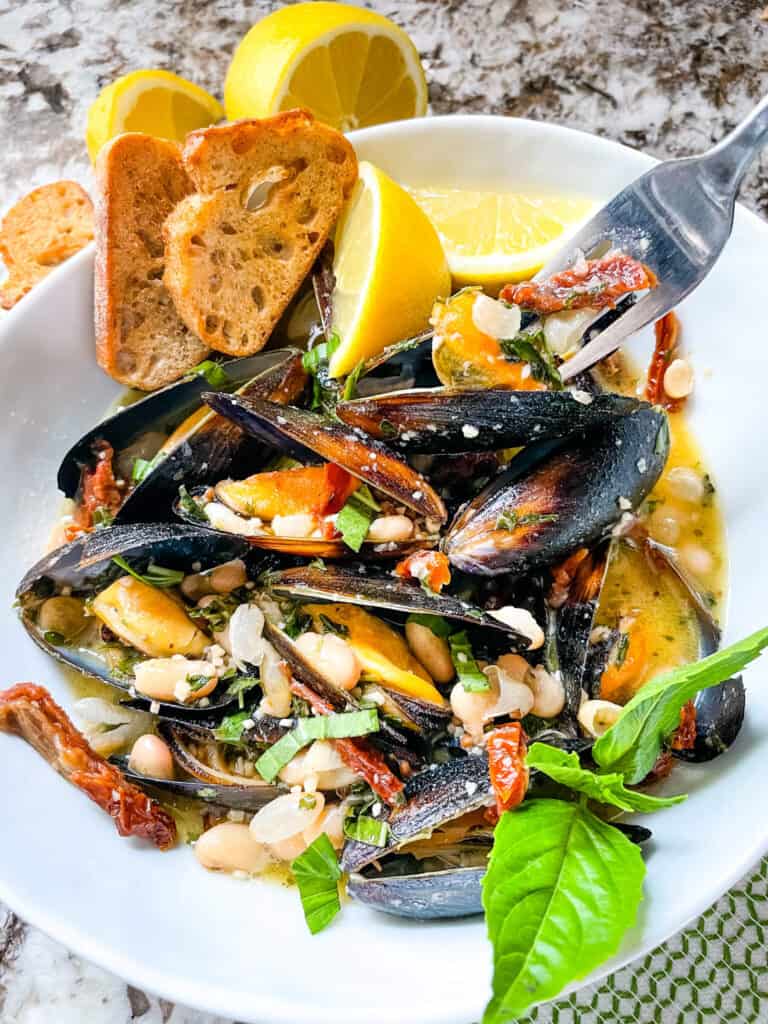 Mussels Recipe
I just love Maggiano's! It is a smaller chain Italian restaurant that has a lot of unique food. These Copycat Maggiano's Tuscan Mussels are one of their popular appetizers!
Something I love about seafood is how incredibly fast it cooks. You can have an amazing meal ready in just minutes.
These mussels are cooked in a white wine sauce with great northern beans (or cannellini beans), sun-dried tomatoes, and fresh basil with garlic.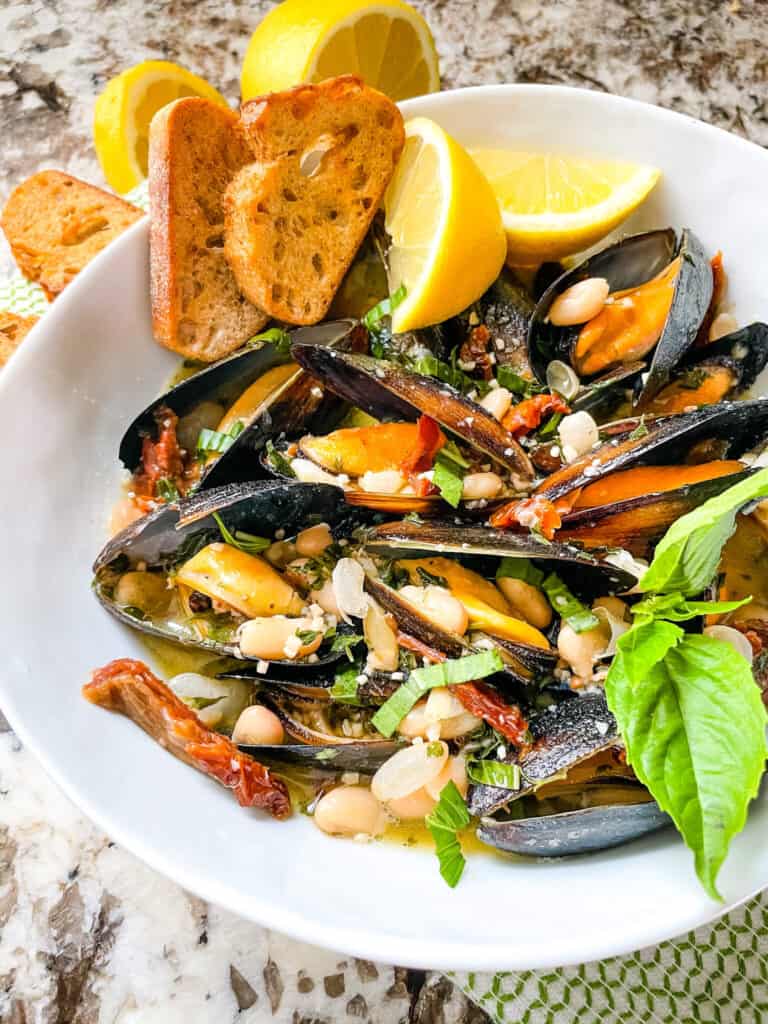 Ingredients Needed
Here is what you need to make this mussels recipe:
Mussels
Great Northern Beans (canned is perfect, or another white bean)
Sundried Tomatoes
Garlic
White Wine
Basil
Butter
Lemon Wedges
Oil
What Do Mussels Taste Like?
Mussels have a slight ocean taste with a hint of earthy, mushroom-like flavors.
Are Mussels Rubbery?
Mussels are soft and chewy but should not taste rubbery unless they are overcooked.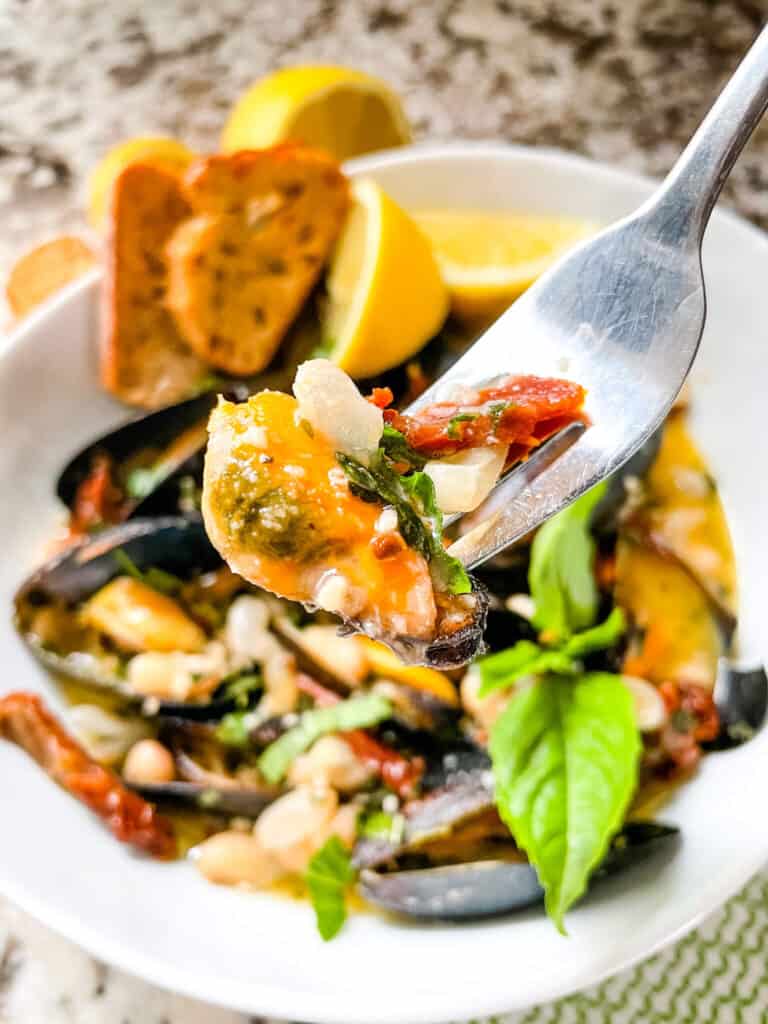 Do You Have to Wash Mussels Before Cooking?
Mussels have what is called a "beard" attached to them which looks like a fuzzy, strong string coming off the shell.
This beard is what they use to attach themselves to a rock.
You want to make sure they are clean and the beards are removed before cooking. Most mussels sold are already clean.
How Can You Tell if Mussels are Bad?
Before cooking, open mussels should close when tapped.
After cooking, they should pop open.
If either of these things does not happen, they should be tossed out.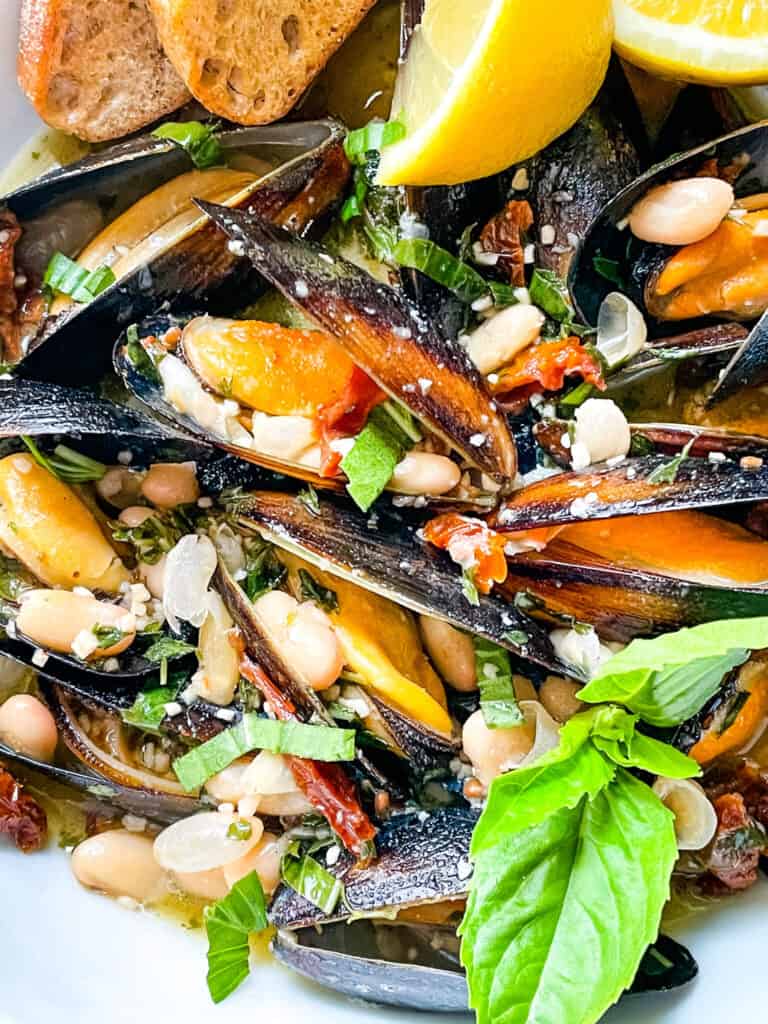 How to Make Mussels
Any mussels that are open already need to be tested to determine if they are dead. Give the open mussel a firm tap. If it closes, you are good to cook it. If not, they are dead and should not be used before cooking.
Heat a large skillet with the oil and when hot, add the garlic and cook until fragrant.
Add the white wine and mussels, cover, and let steam to cook. Discard any mussels that did not open during cooking.
Reduce the heat and add the basil, beans, and tomatoes to heat through. Then add the butter and serve!
How Long Does Mussels Take to Cook?
When cooking, they should open within 3 to 5 minutes.
After 3 minutes, remove those that are open and keep cooking in 1 minute intervals, removing those that are open each time.
After 5-6 minutes, if any are closed, odds are they are not going to open and it is best to toss them. This means that they were dead already and it is best to not take the chance of eating them.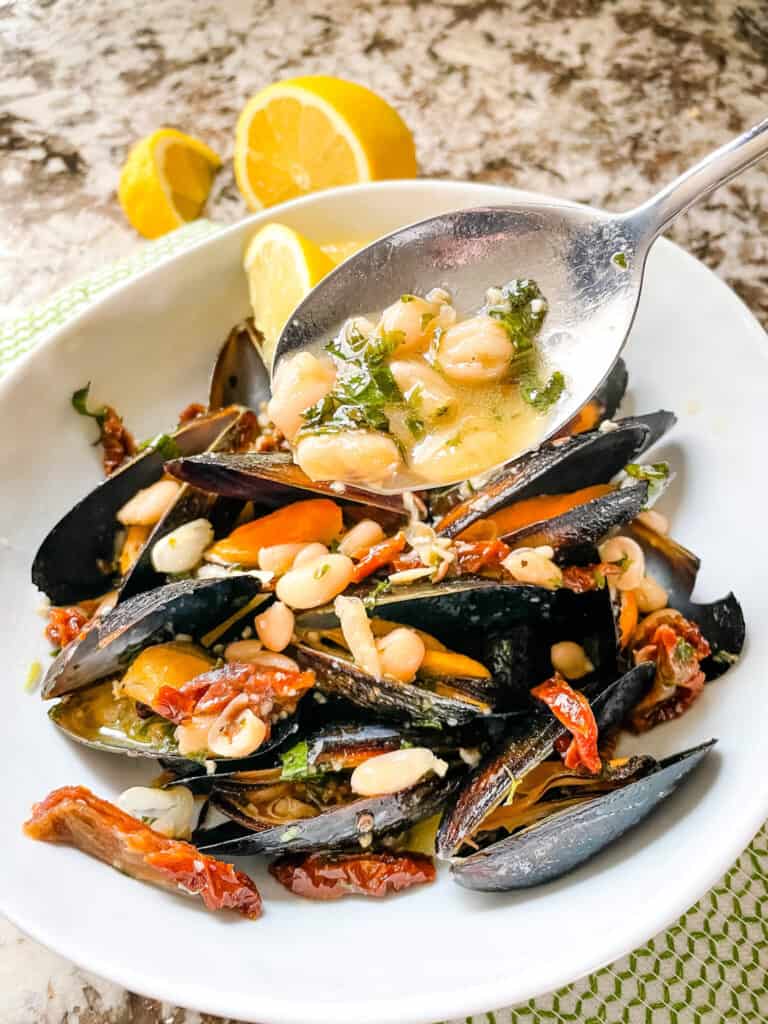 How Do You Know when Mussels are Done?
When they have popped open!
What Happens if you Overcook Mussels?
Overcooked mussels will be very tough.
The mussels should open at a somewhat similar rate so once most all are opened, you are ready to go!
What is the Best Method of Cooking Mussels?
Mussels are best cooked through a steaming process.
This is done by using a liquid, such as wine or stock, and covering the seafood so that the cooking liquid creates a hot steam.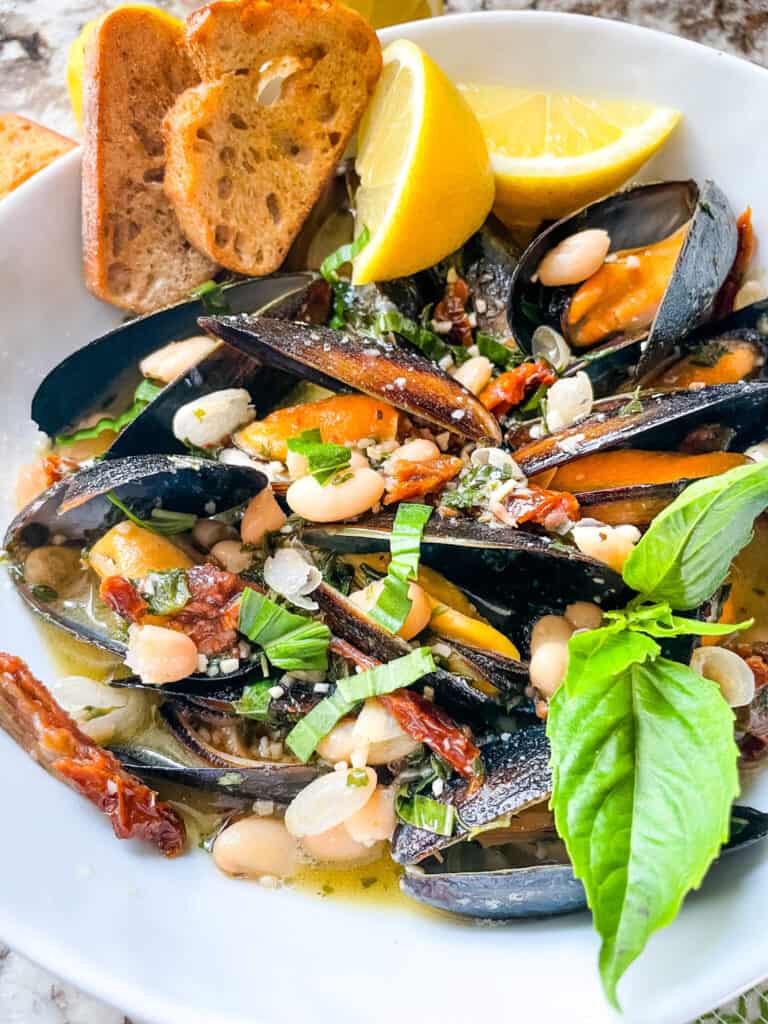 Serving Time!
Mussels are best when served with a bunch of lemon wedges and a pile of toasted bread, like crostini.
The lemons bring great acid to the dish, and the bread is perfect for soaking up all of that yummy sauce!
You could also choose to serve this over pasta or vegetables like asparagus.
This makes enough for 2-3 main courses at 1/2 to 3/4 pound per person, or up to 6 people for an appetizer.
There are about 20-24 mussels in a pound, so adjust the recipe as needed for the number of people you are serving, the course, and whether any other food is being served.
What Goes Well with Mussels for Dinner?
While this recipe is a meal in itself, you can also serve it up with some other items:
Rice
Bread
Salad
Roasted Potatoes
Pasta (and use the cooking sauce as the pasta sauce!)
Do You Eat the Whole Inside of a Mussel?
Yes, you can eat everything inside the mussel shell.
Do You Chew or Swallow Mussels?
Mussels can be chewed a few times before swallowing.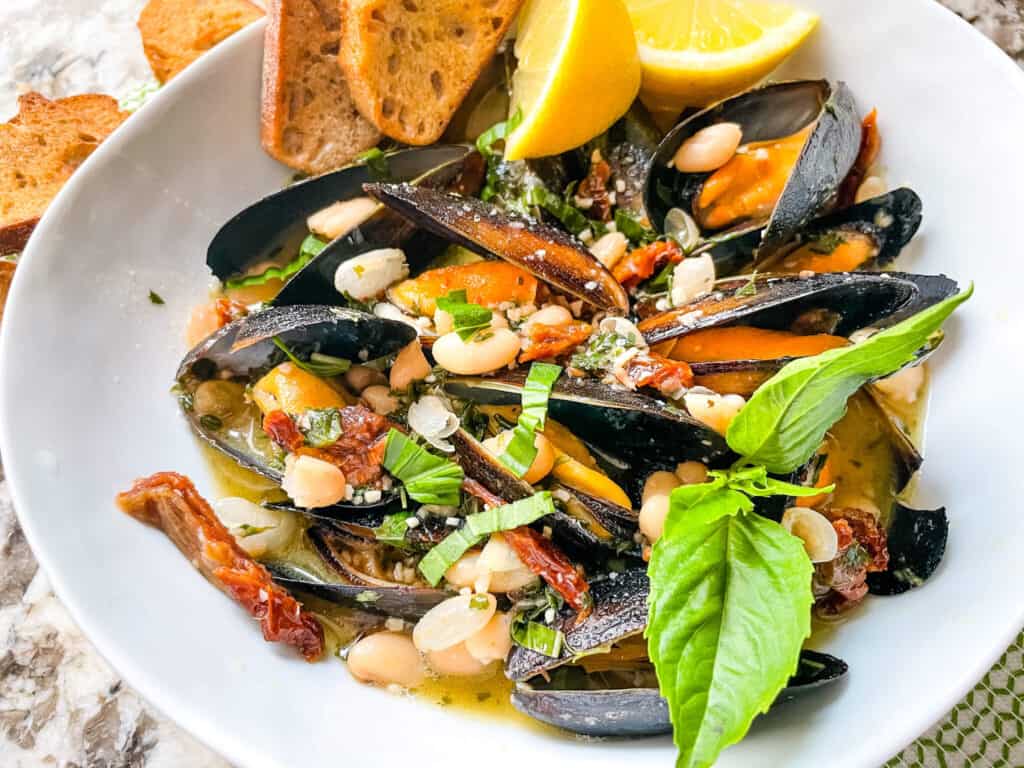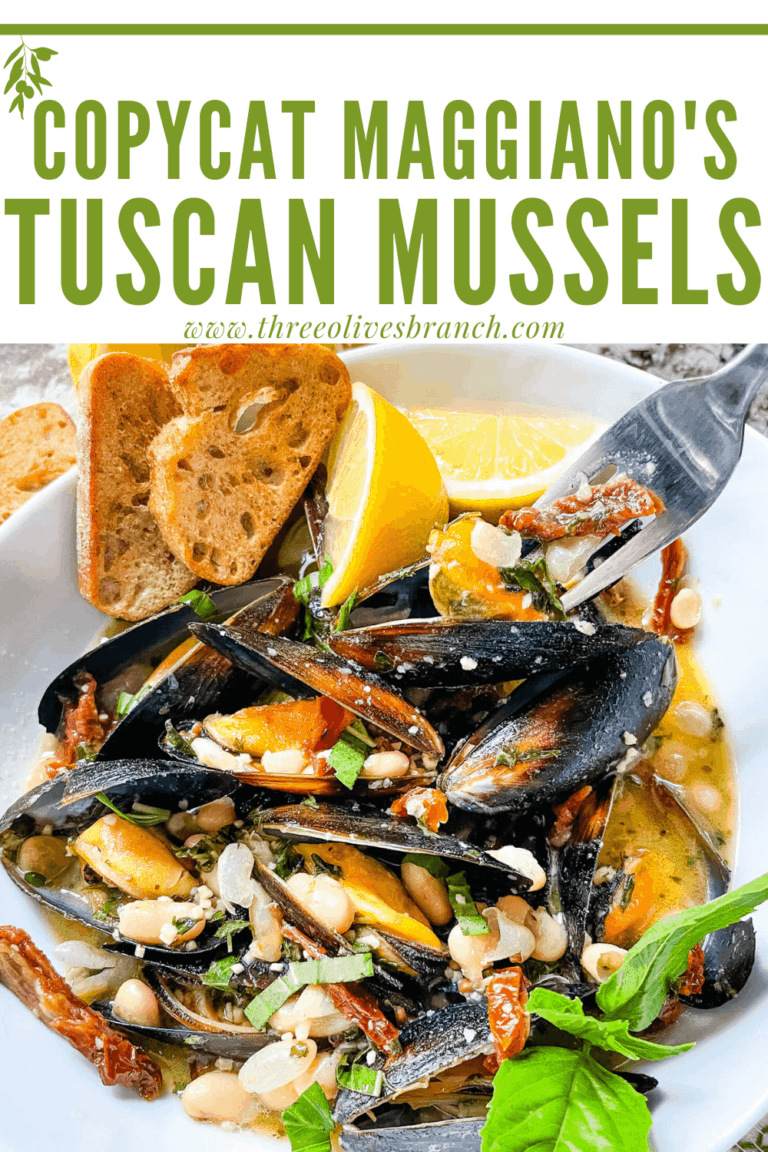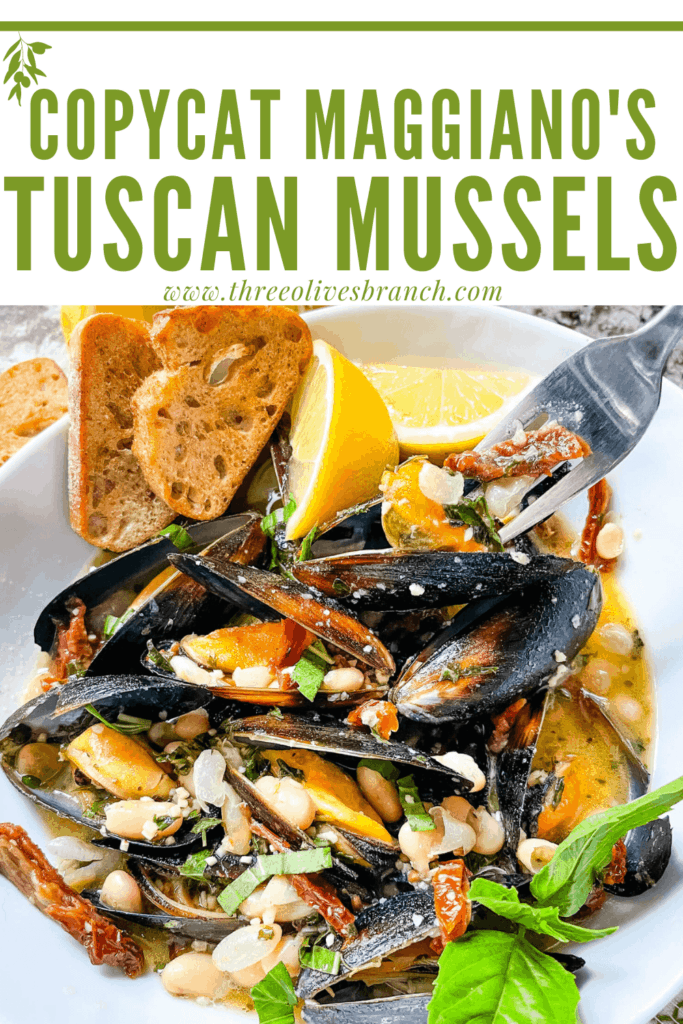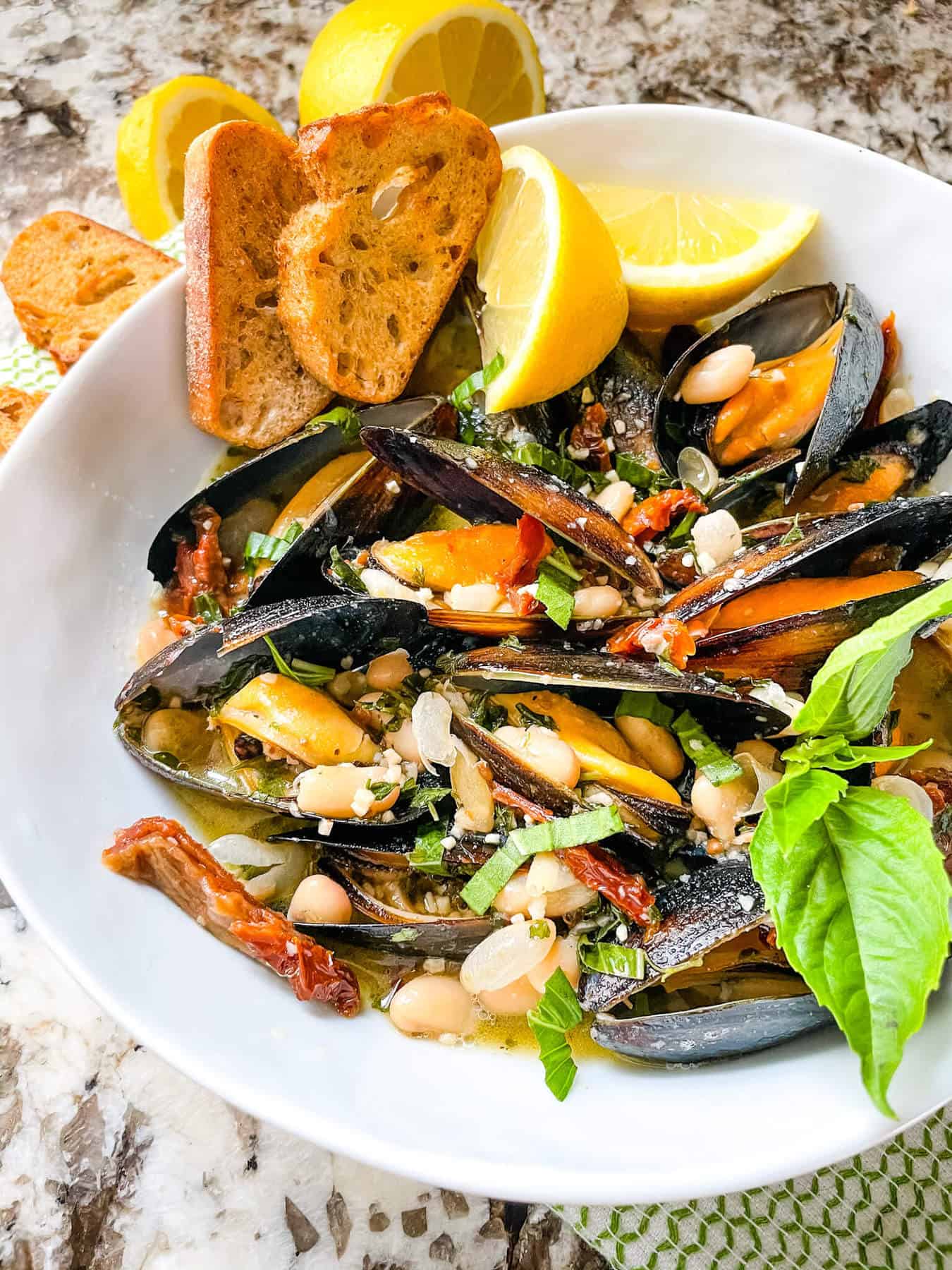 Instructions
Het a large skillet over medium heat. Add the oil and heat until the oil is hot.

Add the garlic to the oil and cook 30 seconds until fragrant.

Add the white wine and mussels to the skillet, cover, and cook until the mussels are opened, approximately 3 minutes. If not all mussels have opened, remove those that are, and continue cooking, covered, in one minute intervals. If at 6 minutes any mussels have not opened, discard them. Return all mussels to the skillet.

Reduce heat to low. Add the beans, tomatoes, and basil. Cook for 1 minute.

Add the butter until melted and remove from heat. Season to taste with salt and pepper. Pour the mussels and the sauce in a bowl. Serve immediately, ideally with toasted bread and lemon wedges.
Notes
This is enough for two main course servings at around 3/4 pound per person. Can serve up to 6 as an appetizer.
Mussels are best served with toasted crostini or bread to soak up all the extra sauce!
Nutrition
Serving:

1

serving

|

Calories:

969

kcal

|

Carbohydrates:

67

g

|

Protein:

39

g

|

Fat:

43

g

|

Saturated Fat:

15

g

|

Trans Fat:

1

g

|

Cholesterol:

94

mg

|

Sodium:

702

mg

|

Potassium:

1978

mg

|

Fiber:

12

g

|

Sugar:

8

g

|

Vitamin A:

1029

IU

|

Vitamin C:

24

mg

|

Calcium:

214

mg

|

Iron:

12

mg

By