Dill Pickle Pasta Salad with Bacon is an easy pasta salad recipe. Creamy pasta with cheese, bacon, and dill pickles. BBQ or grilling side dish for 4th of July, Memorial Day, and Labor Day cookouts.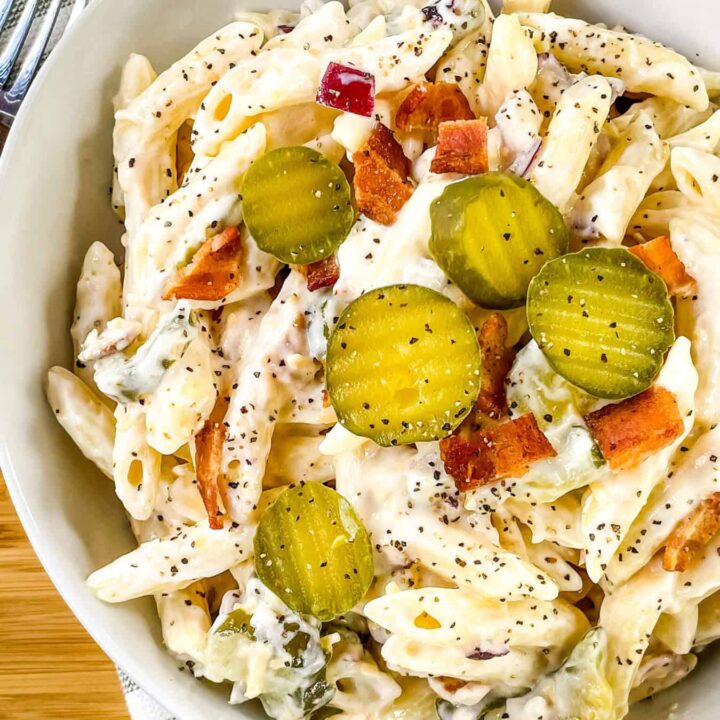 This Dill Pickle Pasta Salad with Bacon is a perfect side dish for your BBQ or grilling event! Easy to make and packed with great flavors for a fun and unique pasta salad recipe.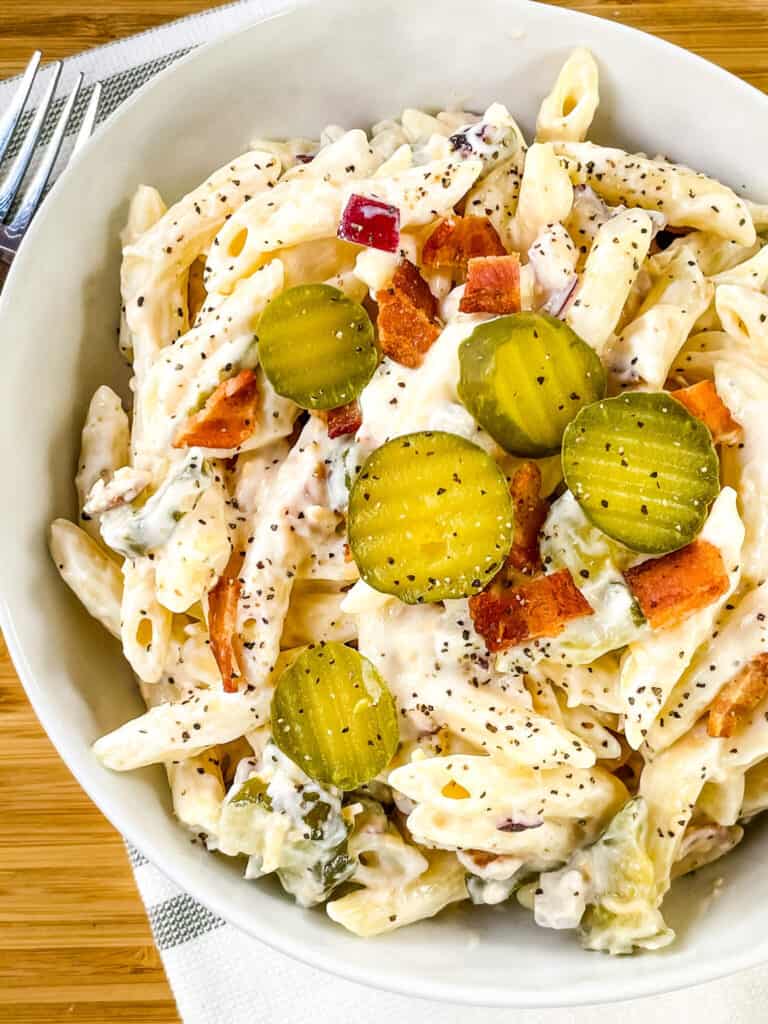 This Dill Pickle Pasta Salad with Bacon has become a house favorite! The combination and balance between the dill, bacon, cheese, and red onion is just too yummy! No one flavor overpowers the others so you can taste every bit of goodness that is in there.
Pickle flavored recipes are a lot of fun in the summer, like my Dill Pickle Flavored Salt.
This pasta can easily be made into a vegetarian pasta salad by omitting the bacon.
And with classic flavors, it is still a perfect side dish for any grilling recipe! I love to make it with burgers or my Three Pepper Dry Rub Chicken.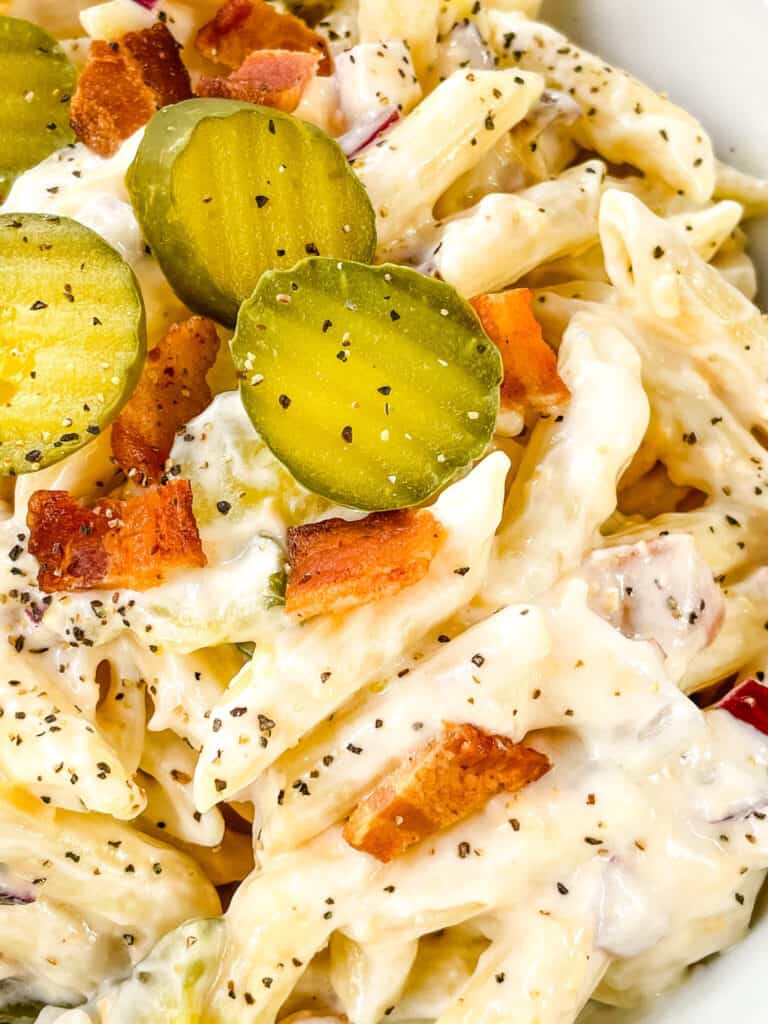 Tips for Dill Pickle Pasta Salad with Bacon
Here are a few of my tips for making a perfect pasta salad!
I always chill the pasta after it has been cooked and before I put anything on it. Because the pasta is not warm, it will not absorb the sauce. This means the pasta will stay al dente instead of getting softer and also not soak up the moisture, which would make it less creamy.
If making in advance, store the sauce and pasta separately. If the pasta is stored in the sauce too long, it will absorb some of the sauce and become less creamy. Instead, keep them in separate containers and mix just before serving.
Make sure your pasta is al dente! Not soft and mushy! Nothing is worse than super mushy pasta, especially in a pasta salad. Make sure you follow the box instructions for al dente, where the pasta is cooked through but still has a firm bite or texture to it (not crunchy, just firm).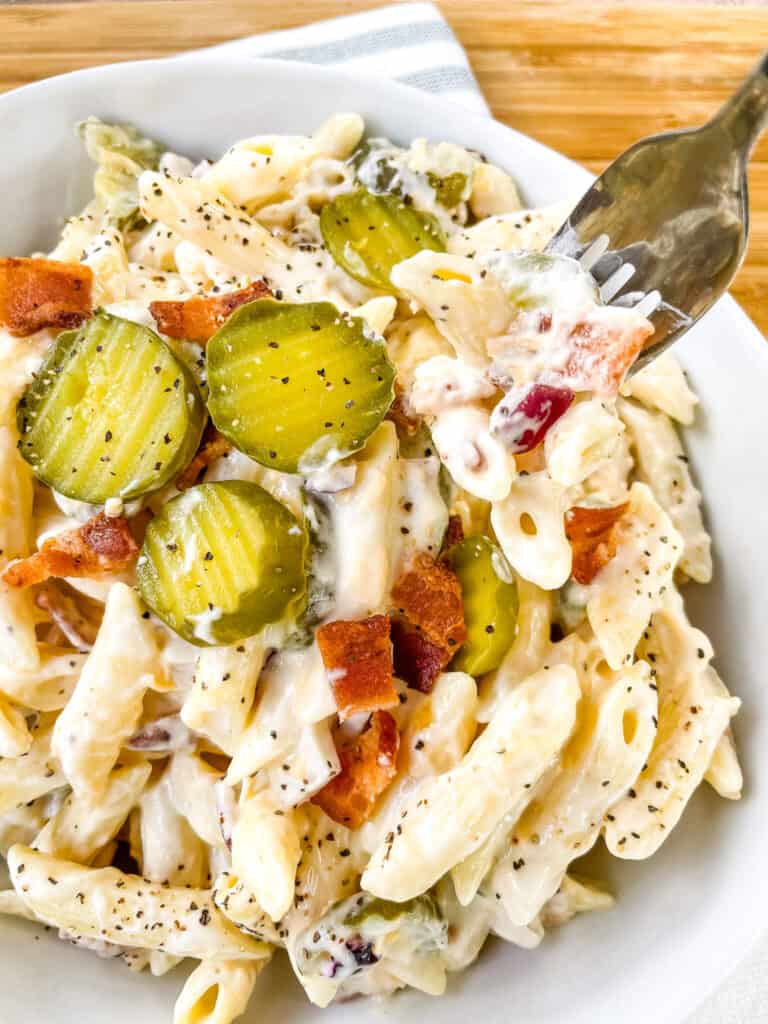 Ingredients
These are the ingredients that you will need for the pasta:
Any shaped pasta works. I like to stick with shapes that do not have a ton of edges and ridges, because the more edges and ridges, the more sauce you need to coat it all. So pasta like rotini will need more sauce for the same creaminess. My favorite here is penne pasta.
And use more of any mix ins that you like to make it perfect for you! Use more or less pickles, cheese, onion, and bacon.
Dill Pickle Pasta Salad without Mayo
Want to skip the mayo? You can easily substitute plain Greek yogurt in place of the mayo.
The yogurt will have more of a tang, similar to sour cream. If you want to balance that out, try adding a little olive oil to the mix to taste.
Making the Pasta Salad
To make this Dill Pickle Pasta Salad, first cook the pasta to al dente as per box instructions and also have your bacon cooked.
Make the pasta dressing by combining the ingredients, and season to taste with more pickle juice or spices as needed.
Then when ready to serve, toss the pasta with the dressing and mix ins. If you want it creamier, add more mayonnaise or sour cream/Greek yogurt.
Want to bring a really strong pickle flavor? You can either add more pickles, or add a Tablespoon or two of fresh dill to the mix! I would not add too much pickle juice because it will become a very thin dressing. The dill or pickle chunks are the best way to go for pickle flavor.
Use any pickle brand or shape that you like, and just cut them into bit sized pieces (as large as you want them floating around).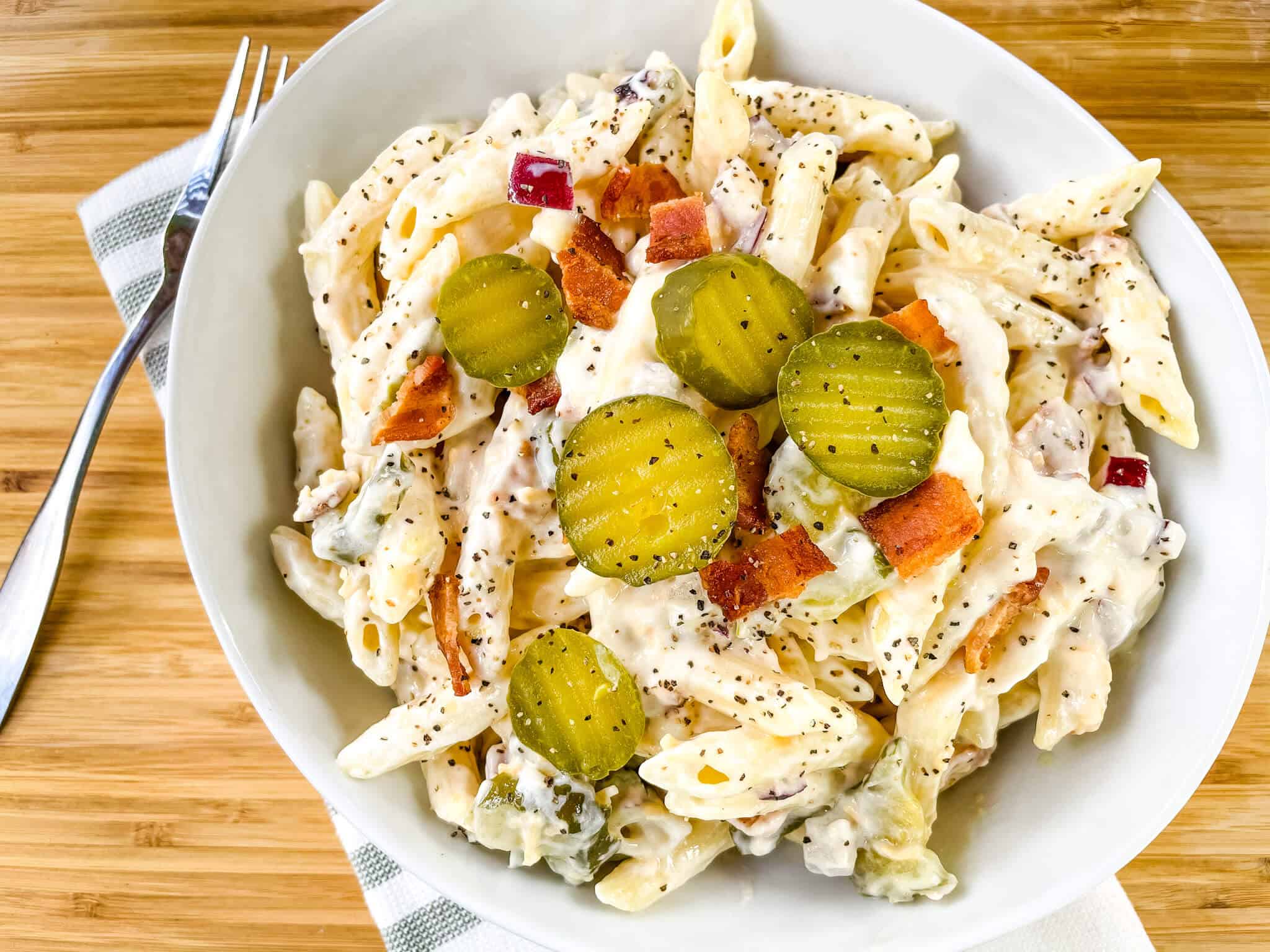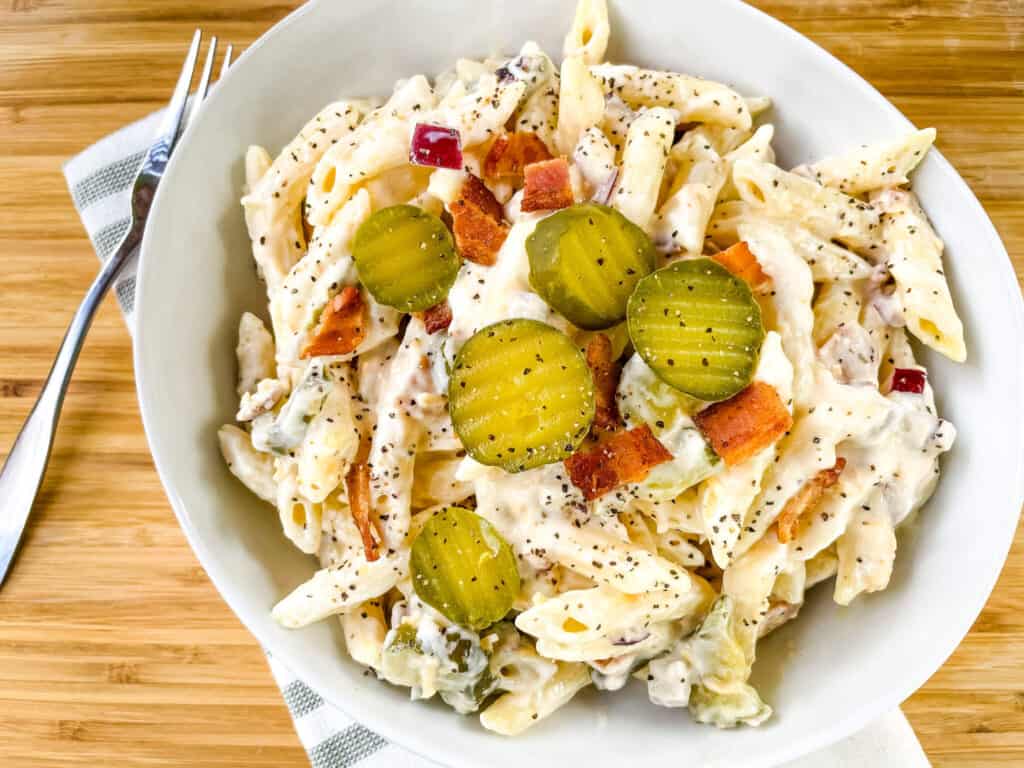 BBQ and Grilling Main Courses
Main course ideas to go along with your favorite BBQ and grilling sides!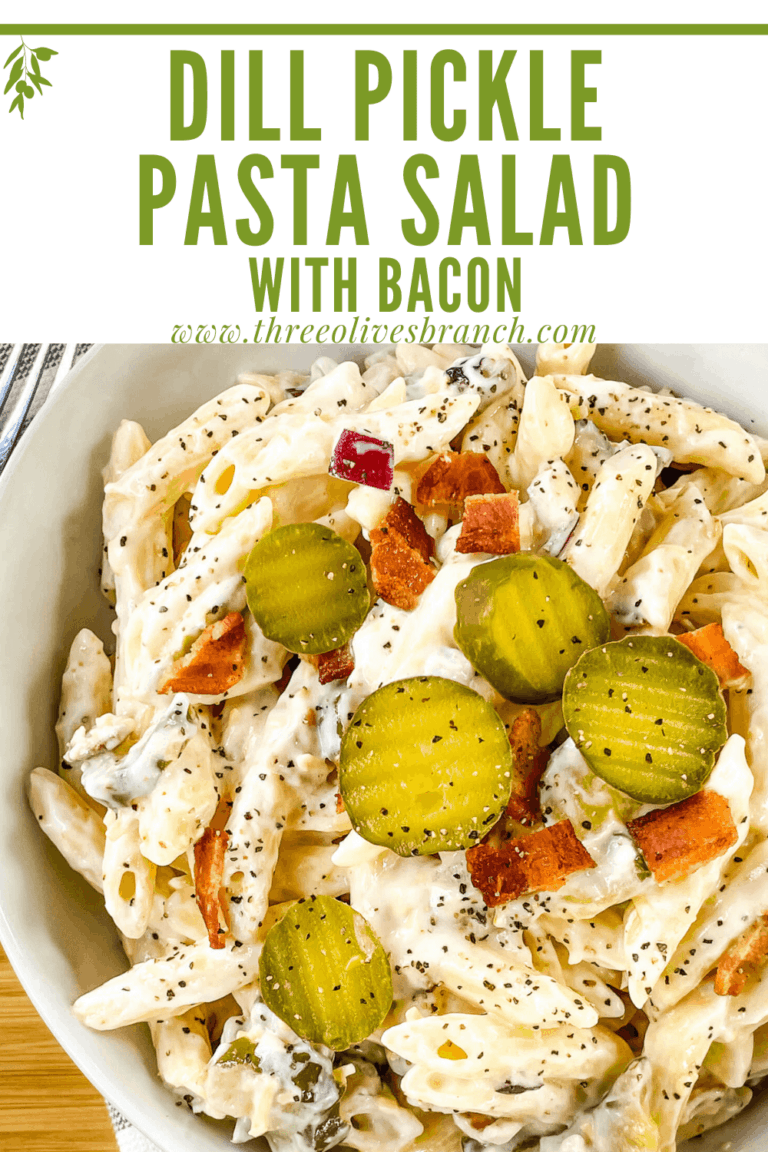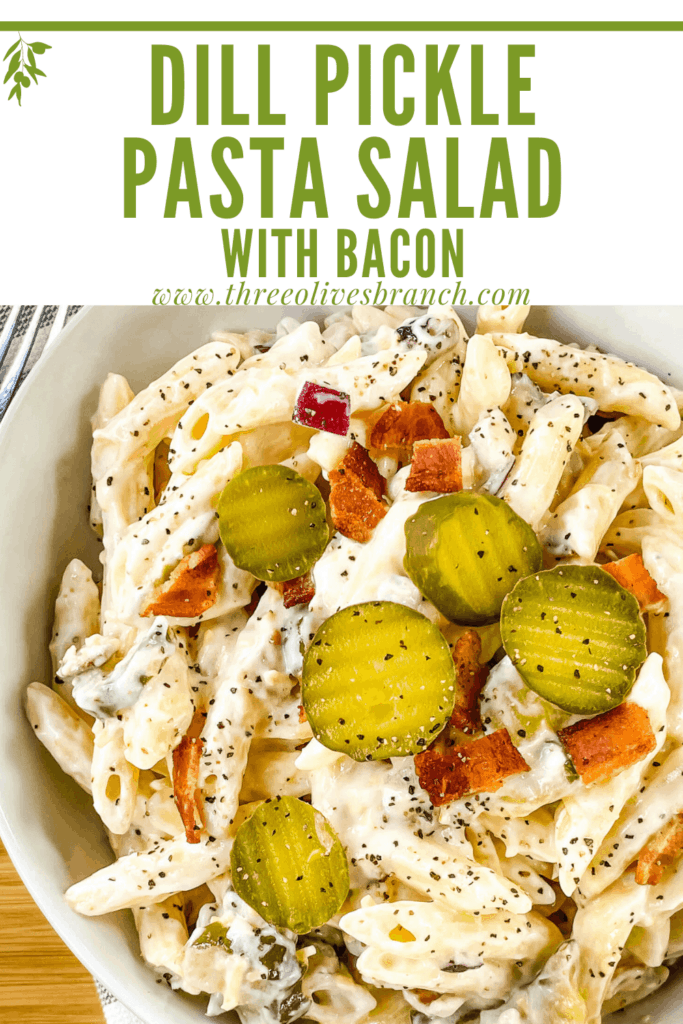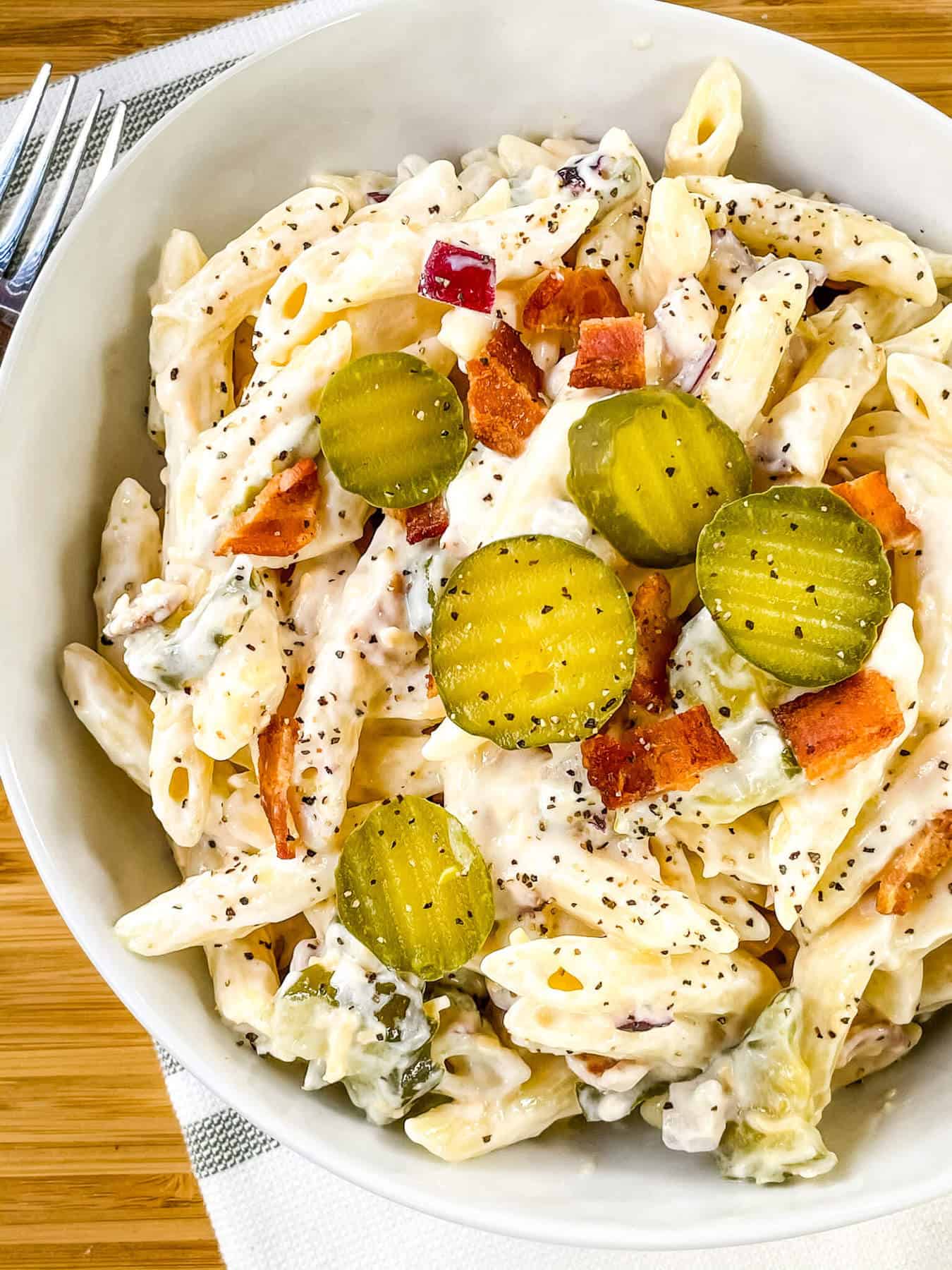 Instructions
Cook the pasta as per package directions until al dente. Drain, toss with a little olive oil, and chill until no longer warm.

Cook your bacon and chop.

Make the dressing by combining the mayonnaise, Greek yogurt (sour cream), pickle juice, garlic powder, salt, and hot sauce in a medium bowl. Whisk together and season to taste with salt, black pepper, hot sauce for heat, or garlic powder.

Add the chilled pasta, chopped bacon, chopped pickles, cheddar, and red onion to the bowl. Mix everything to combine. If desired, make creamier by adding more mayonnaise or yogurt/sour cream.
Notes
Use more pickles, bacon, or cheese as desired.
For an extra creamy pasta salad, add more mayonnaise or yogurt/sour cream.
Want more pickle flavor? Either use more chopped pickles or add a Tablespoon or two of fresh dill.
If making more than a few hours in advance, it is recommended to store the sauce and pasta separately and mix when ready to serve.
This salad is best if chilled when served.
Nutrition
Serving:

1

serving

|

Calories:

380

kcal

|

Carbohydrates:

31

g

|

Protein:

11

g

|

Fat:

24

g

|

Saturated Fat:

6

g

|

Trans Fat:

1

g

|

Cholesterol:

28

mg

|

Sodium:

683

mg

|

Potassium:

165

mg

|

Fiber:

1

g

|

Sugar:

2

g

|

Vitamin A:

145

IU

|

Vitamin C:

1

mg

|

Calcium:

99

mg

|

Iron:

1

mg

By