An easy and light quinoa salad tossed with Greek salad ingredients and an oregano vinaigrette.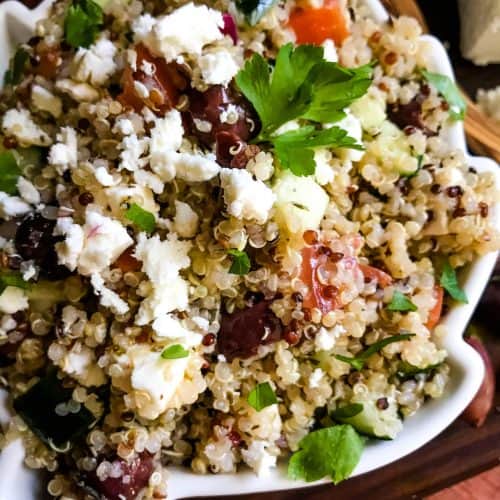 This Greek Quinoa Salad is a delicious and filling side dish recipe that can be used as a replacement for a grain, like rice, or as a salad. Serve it warm or cold!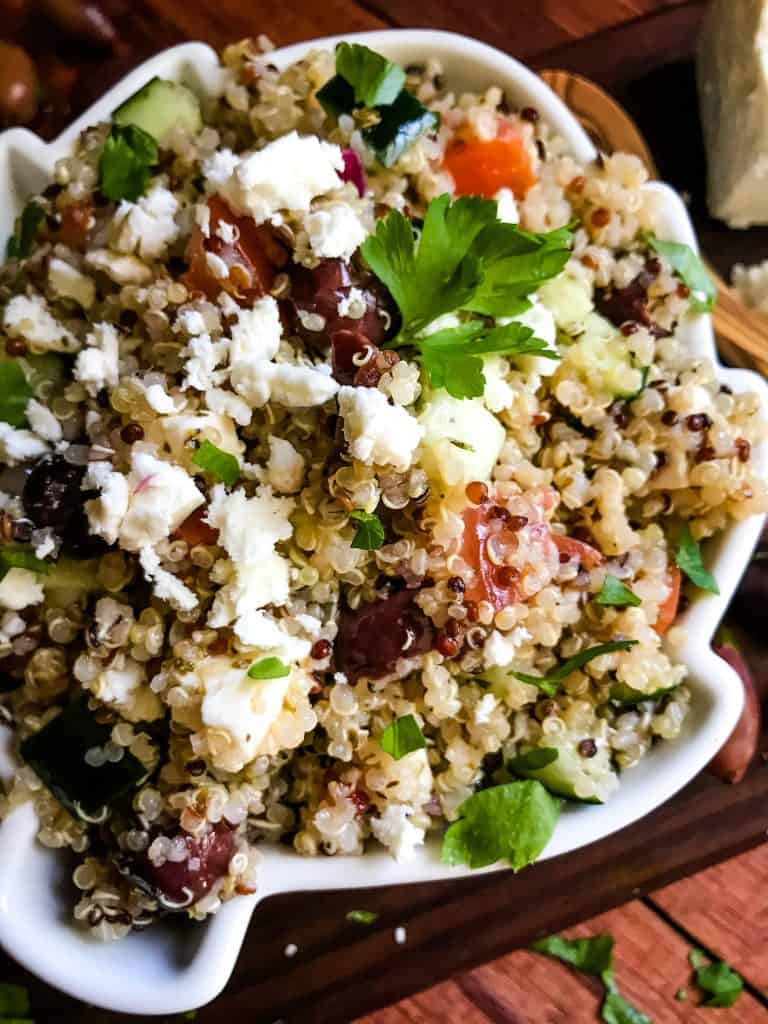 This post contains affiliate links.
I got turned on to quinoa a while ago when it was first getting popular, and I love it! This Greek Quinoa Salad uses the same great flavors of a Greek salad tossed in quinoa with an oregano vinaigrette.
This quinoa recipe is perfect as is, whether eaten cold or warm, but would also be great on top of a bed of lettuce!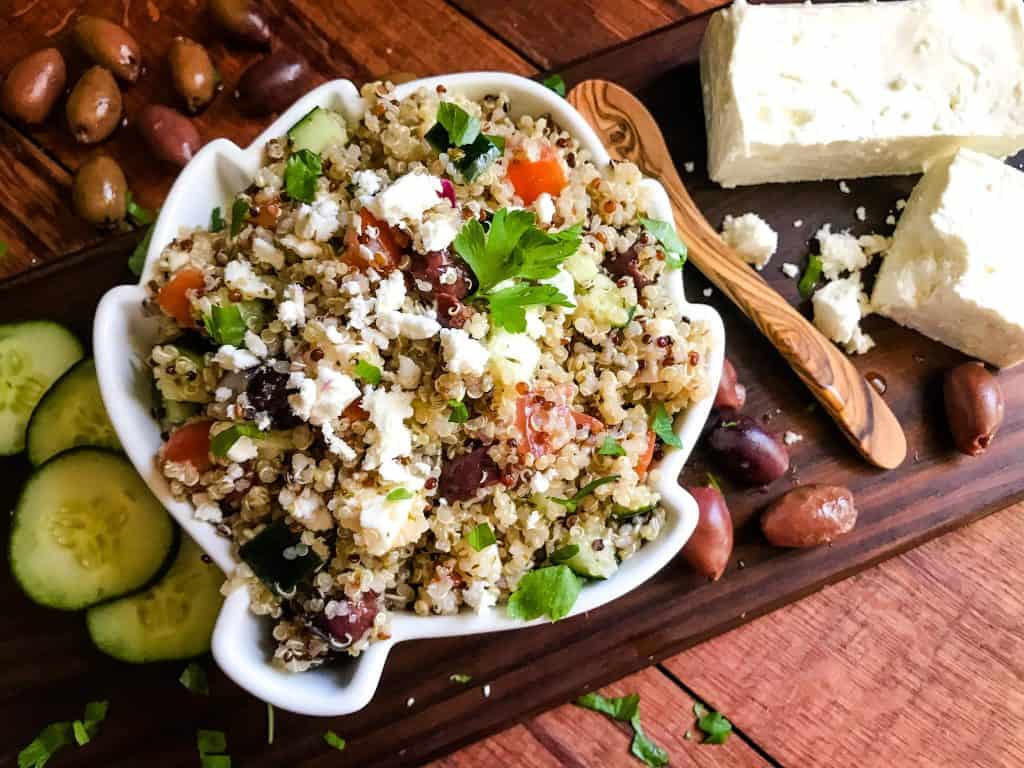 What is quinoa?
Quinoa is technically a seed and is considered a complete protein. It is full of nutrition and fills you up fast!
I am a huge fan of quinoa and love to use it as a substitute for rice or pasta in many recipes. If you have never had it before, it can be intimidating.
I would describe it like a round rice that keeps its texture.
Quinoa is great for salads that have lots of mix ins and ingredients, like our Quinoa Tabbouleh.
And cooking quinoa it is just like rice, with a 1:2 ratio of quinoa to water.
This tri-color quinoa is beautiful, but any color or mixture of quinoas will work well for this recipe. The tri-color quinoa is a mix of white, black, and red quinoa. All white quinoa is the most common and typically the cheapest option.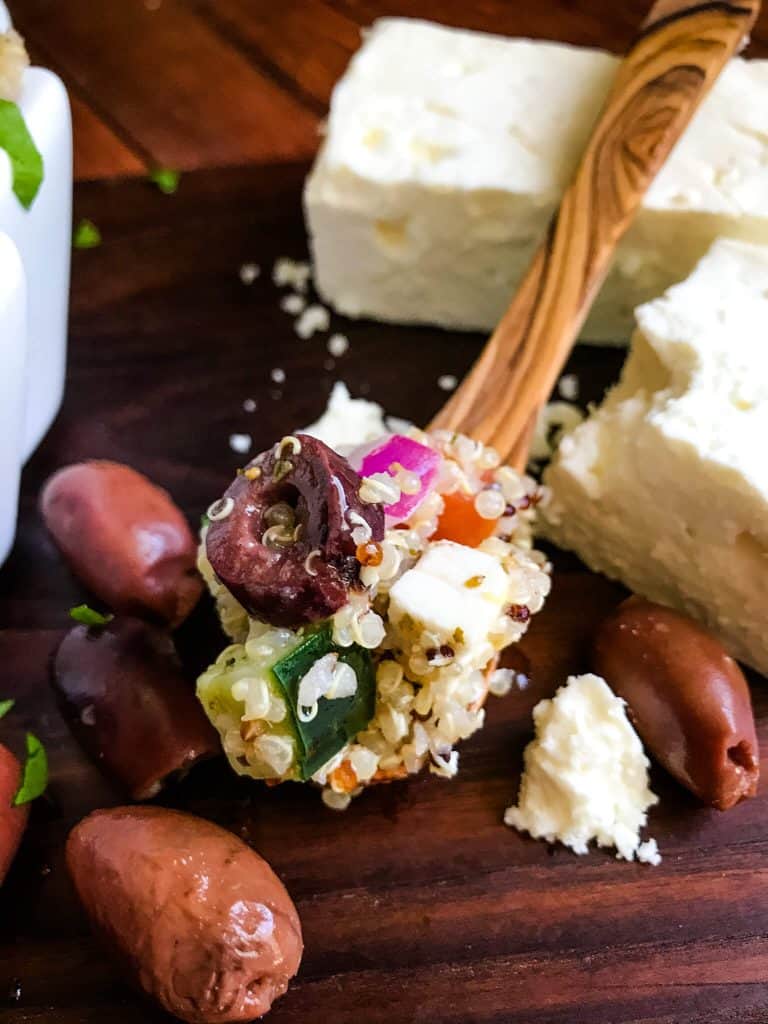 And one cup of dry quinoa is the same as a pound of pasta. While the volume is different, it gives you about the same amount of servings.
If you do not want to use quinoa, you could use the same amount of couscous or a pound of pasta. (You might need to make extra dressing if you choose pasta to coat it all).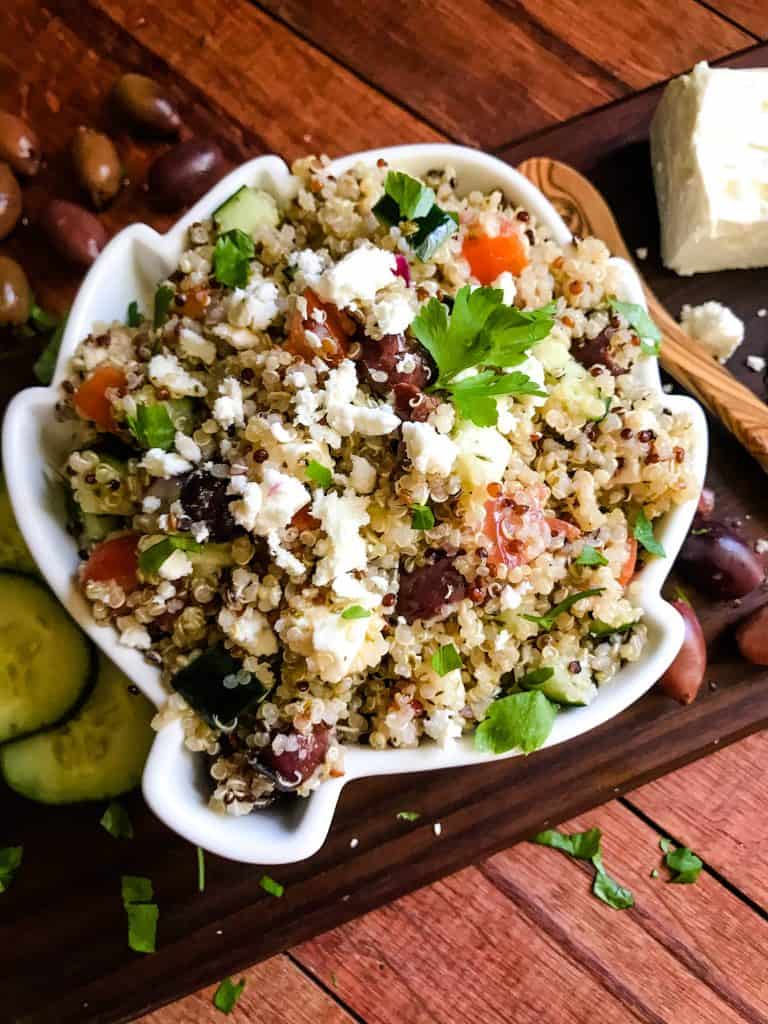 The mix ins for this quinoa salad are the classics from a Greek salad. I was able to visit Athens, Greece when I was in Italy for college, and Greek salads were on all the menus.
Their salads are incredibly simple and fresh, a trend I noticed in Europe. It was large chunks of tomatoes, cucumber, and feta, sometimes with olives and onion.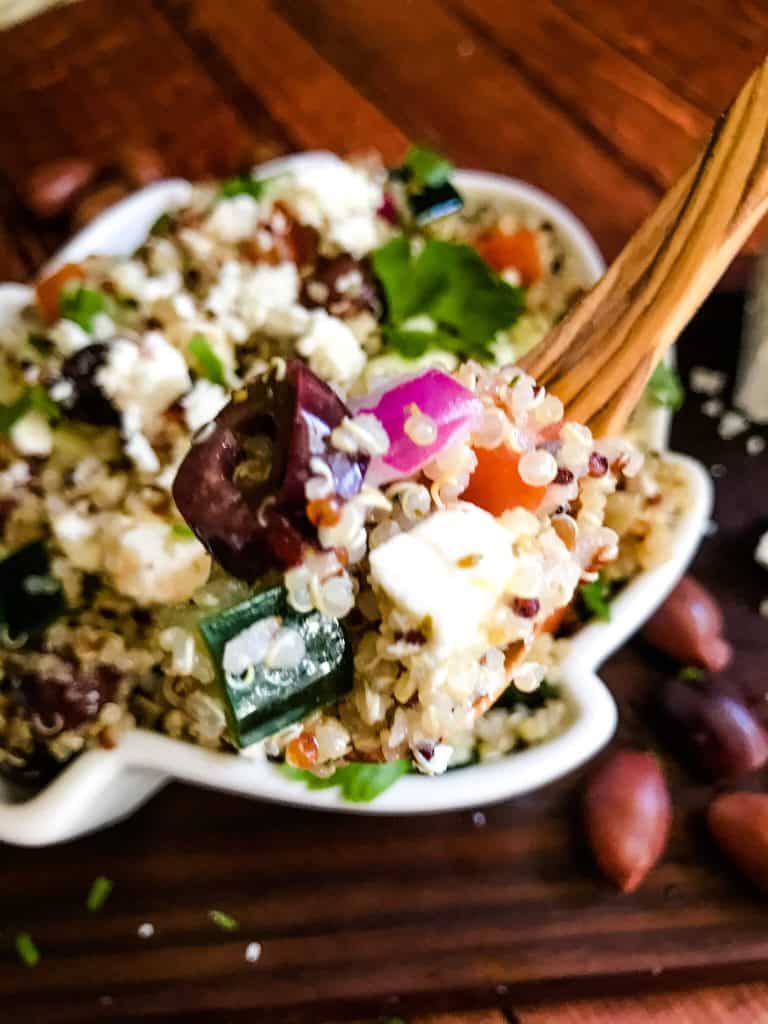 Add as much as you want of any ingredient that you love! For me, that is olives, so I add a lot more off those!
Kalamata olives are more traditional for Greek recipes. They are similar to a black olive but have more of that deep olive flavor and are a little more tart. Any olive that you love will work, including black olives.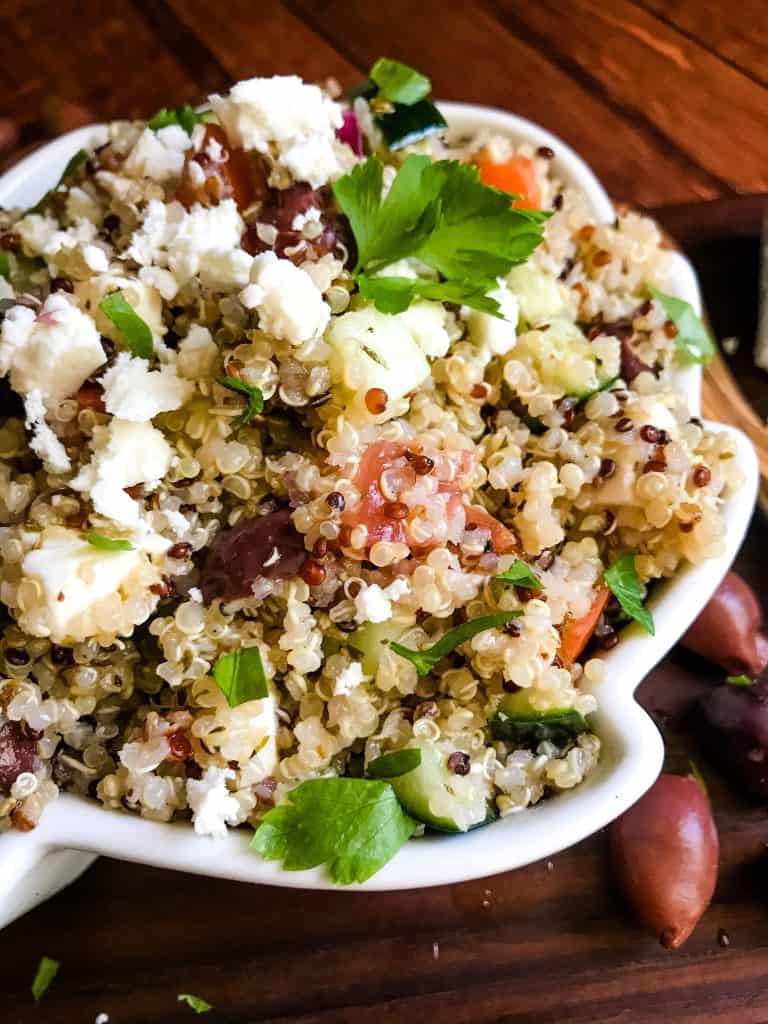 Greek Inspired Recipes
Recipes drawing on Greek flavors and favorites!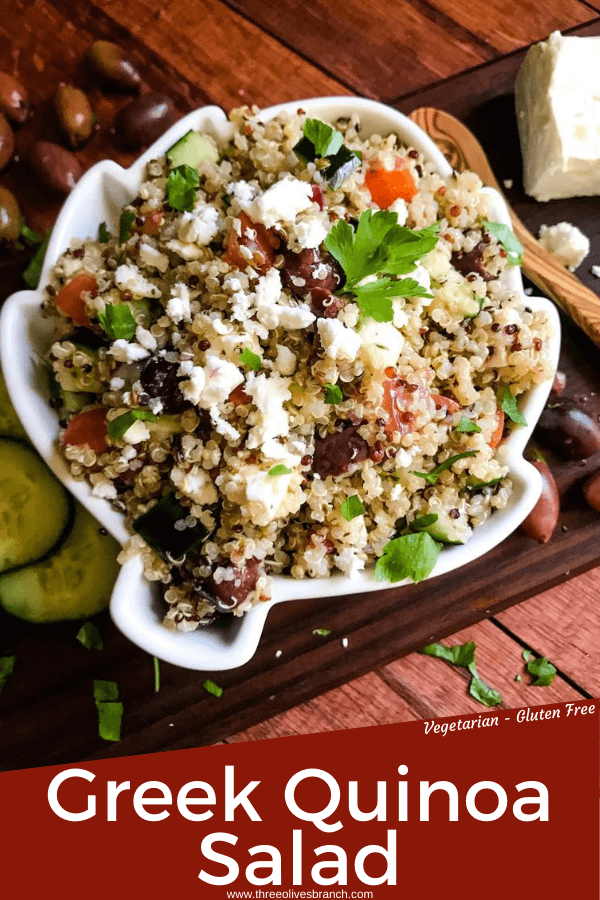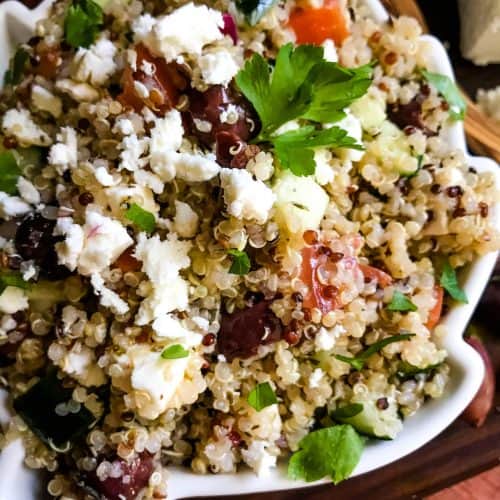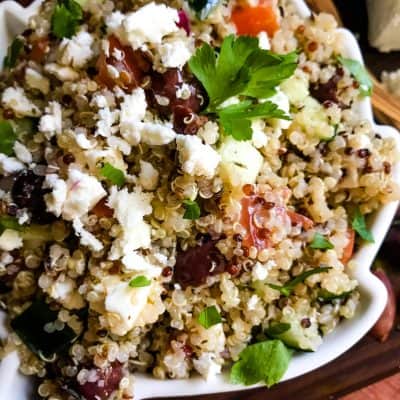 Greek Quinoa Salad
An easy and light quinoa salad tossed with Greek salad ingredients and an oregano vinaigrette.
Print
Pin
Rate
Instructions
Cook the pasta as per package directions (put the quinoa in a medium pot with 2 cups of water. Bring to a boil, cover, and reduce heat to low. Simmer to cook, approximately 10-15 minutes, until the quinoa is soft but has texture like rice).

While the quinoa is cooking, cut the cucumber, onion, tomatoes, olives, and feta.

To make the dressing, in a small bowl combine the oil, vinegar, juice from 1/2 lemon, mustard, oregano, garlic powder, 1/4 teaspoon salt, and 1/4 teaspoon black pepper. Whisk to combine.

When everything is ready, add all ingredients and the dressing to the quinoa. Toss to coat and season to taste with salt and pepper.

Serve either immediately, or chill to serve cold. If desired, sprinkle some chopped fresh parsley on top right before serving.
Notes
Add more of any ingredient that you love, such as feta or cucumber.
This will serve around 6 people as a side dish. Quinoa is very filling and goes further than the volume may appear it will.
Nutrition
Calories:

277

kcal

|

Carbohydrates:

23

g

|

Protein:

7

g

|

Fat:

18

g

|

Saturated Fat:

4

g

|

Cholesterol:

11

mg

|

Sodium:

330

mg

|

Potassium:

262

mg

|

Fiber:

3

g

|

Sugar:

2

g

|

Vitamin A:

200

IU

|

Vitamin C:

11

mg

|

Calcium:

96

mg

|

Iron:

2

mg

By