Halloween Ghost Meringues are a perfect spooky Halloween recipe! Gluten free dessert made with egg white and sugar. Easy to make meringue cookies! Perfect for your holiday party.

Serve up a spooky treat at your Halloween party with these Halloween Ghost Meringues! Simple gluten free cookies shaped like ghosts.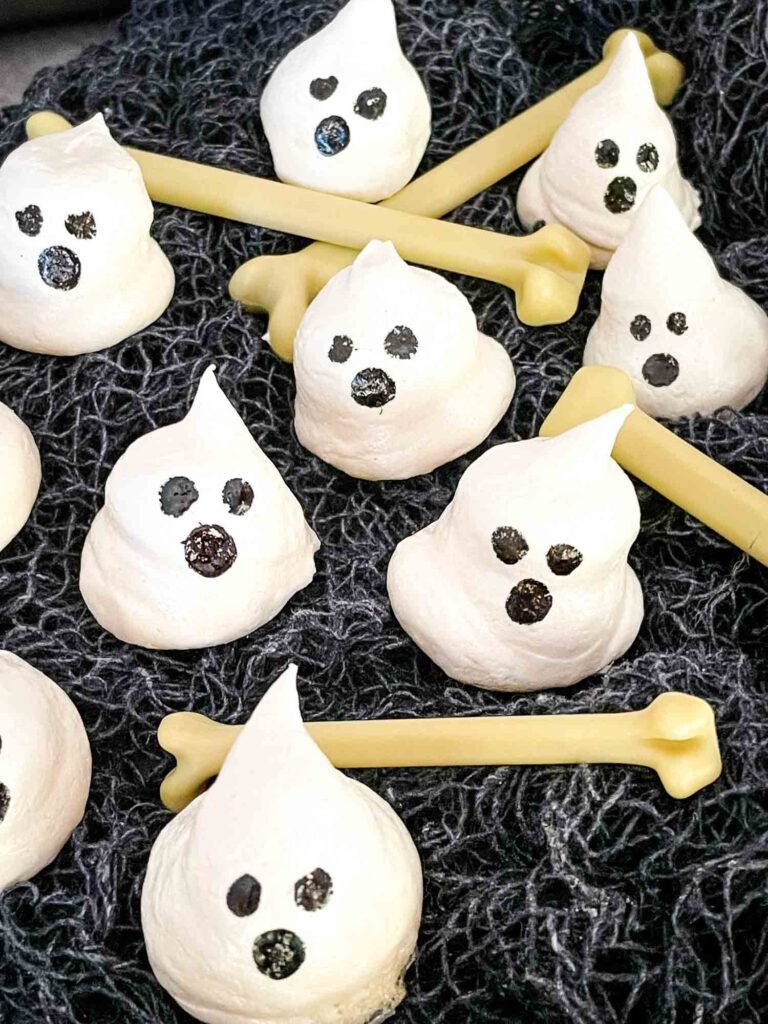 Meringue Cookies
Halloween is such a fun holiday and I love serving up tricks and treats that are festive and fun!
These Halloween Ghost Meringues are delicious, fun, and adorable dessert finger foods perfect for the season.
Find more of our sweet and savory Halloween recipes below under the recipe card to fill up your table!
What Do Meringues Taste Like?
A meringue has almost a light cloud-like texture to it that is crisp with a little bit of a chewy texture.
It is overall sweet, primarily made from sugar and egg whites.
What is the Difference Between Meringues and Pavlova?
Pavlova is similar to a meringue, however the inside of a pavlova is soft and the inside of a meringue is dry.
What Ingredients Do I Need to Make Meringue?
Here is what you need for this recipe:
Egg Whites
Sugar
Cream of Tartar
Vanilla Extract
Cornstarch
Salt
Black food dye is recommended over food coloring because it is thicker and a denser color. If you use food coloring, it is likely it will let some white show through.
Alternatively, you can use an edible black marker and simply draw on the meringues.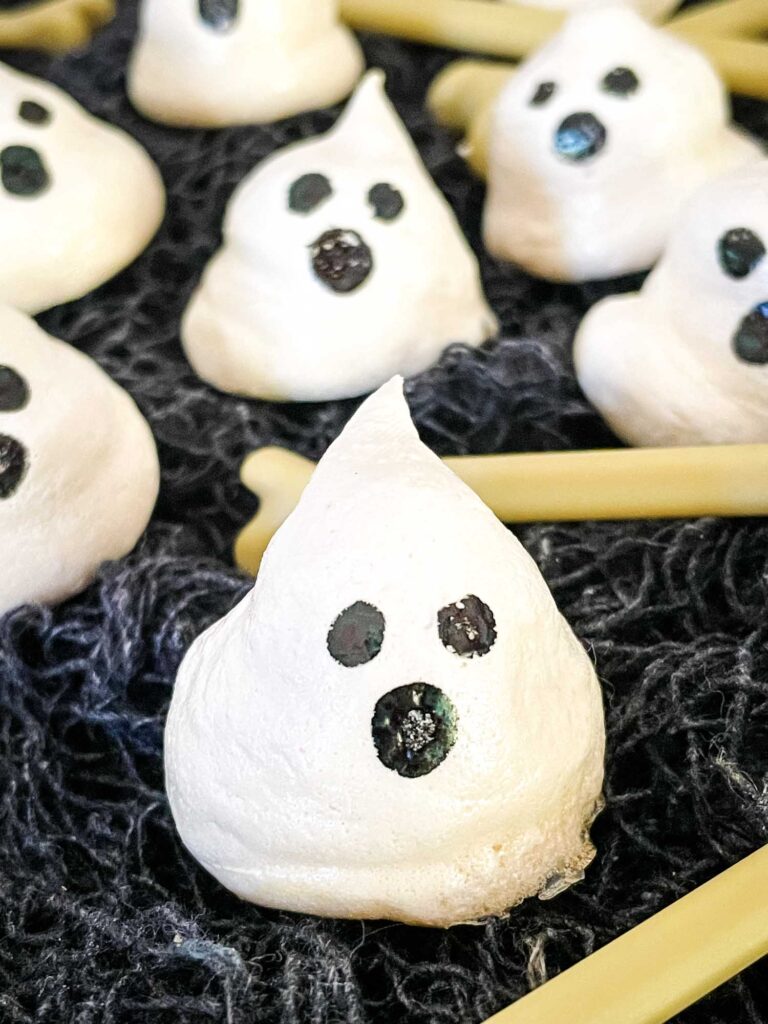 What is the Perfect Meringue Secret?
The cream of tartar! It helps stabilize the egg whites which helps it keeps it shape.
Will a Little Bit of Egg Yolk Ruin Meringue?
Yes in that any little bit of yolk will make it almost impossible for the egg whites to puff up.
To avoid any accidents, crack one egg at a time into a little bowl before adding to the mixer.
How to Make Ghost Meringues
First you want to whip up your egg whites with the vanilla and cream of tartar, which is a very important step as this is how we get the air into the mixture to help the meringue get its shape and texture.
Once the meringue is looking soft almost like clouds, add the sugar, cornstarch, and salt, and continue beating until glossy and thick.
You want stiff peaks which means when you turn the beaters upside down, the meringue stays in a peak pointing up and does not flop over. If it bends over, keep whipping!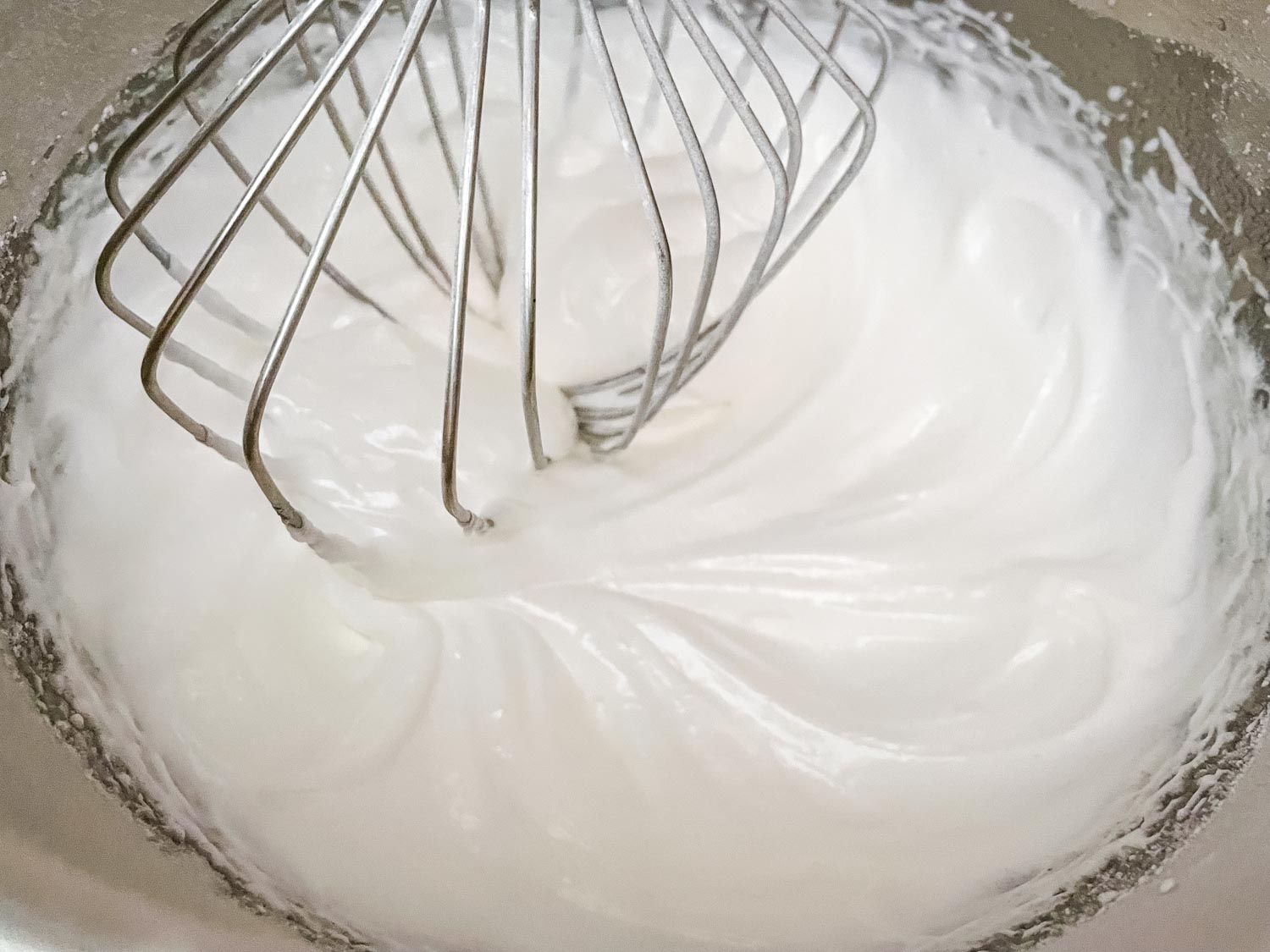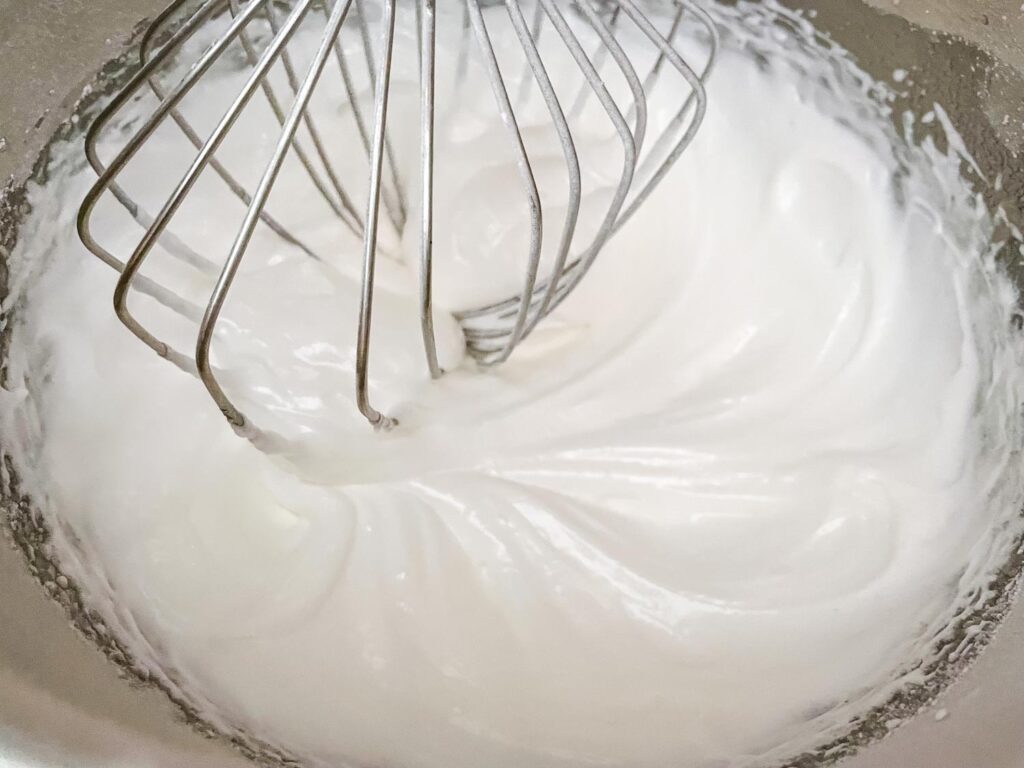 Put the meringue into a piping bag and immediately pipe into ghost shapes on baking sheets.
Do this by slowly pulling the tip of the bag up as you pipe to make them taller and not flat disks. I like to leave the little points at the top pulling away to represent the ghost tip!
Bake them and then let them dry out in the oven to make sure they are crisp and cooked.
Then use black food gel and a Q tip to draw the eyes and mouth onto each ghost.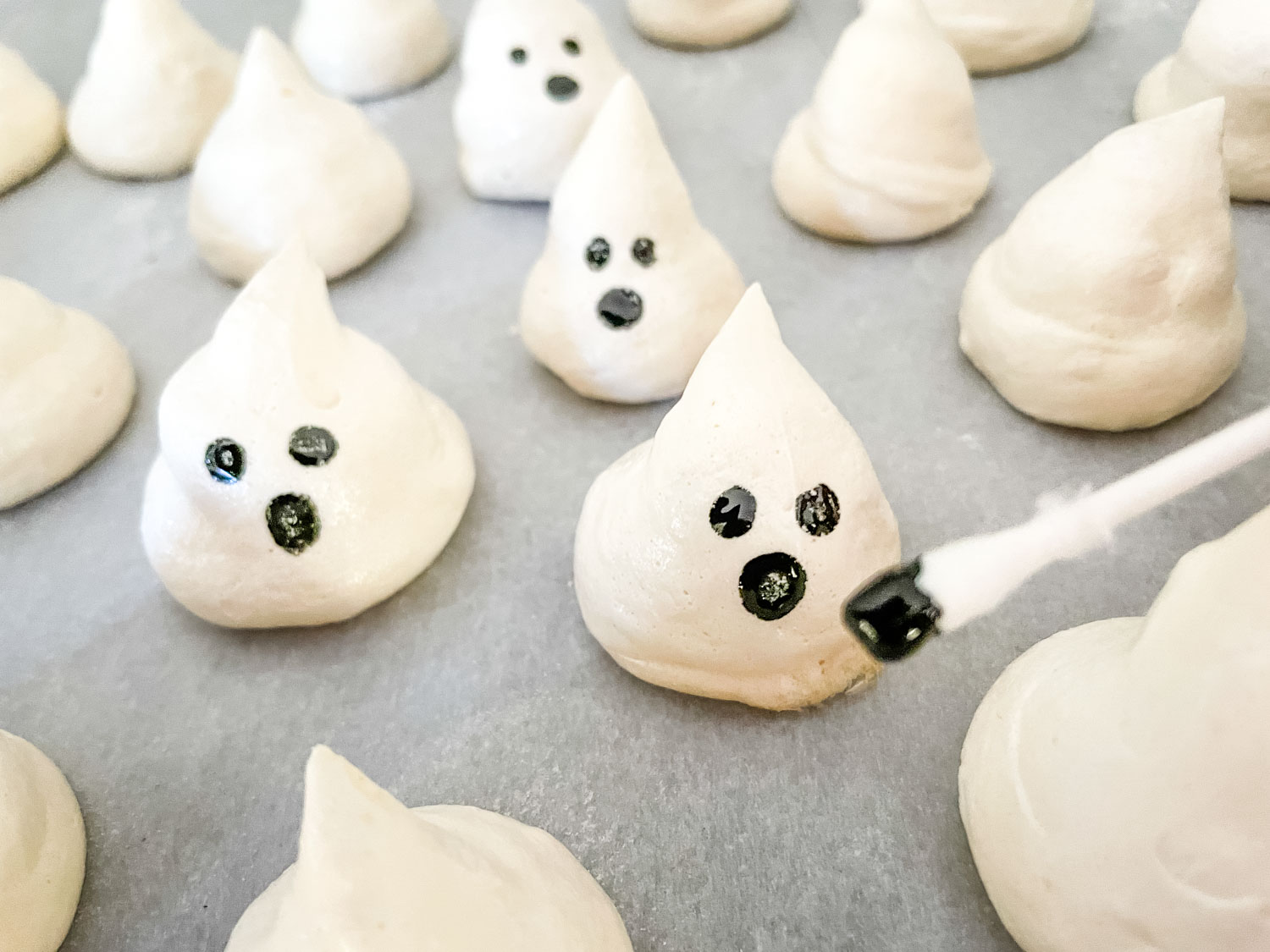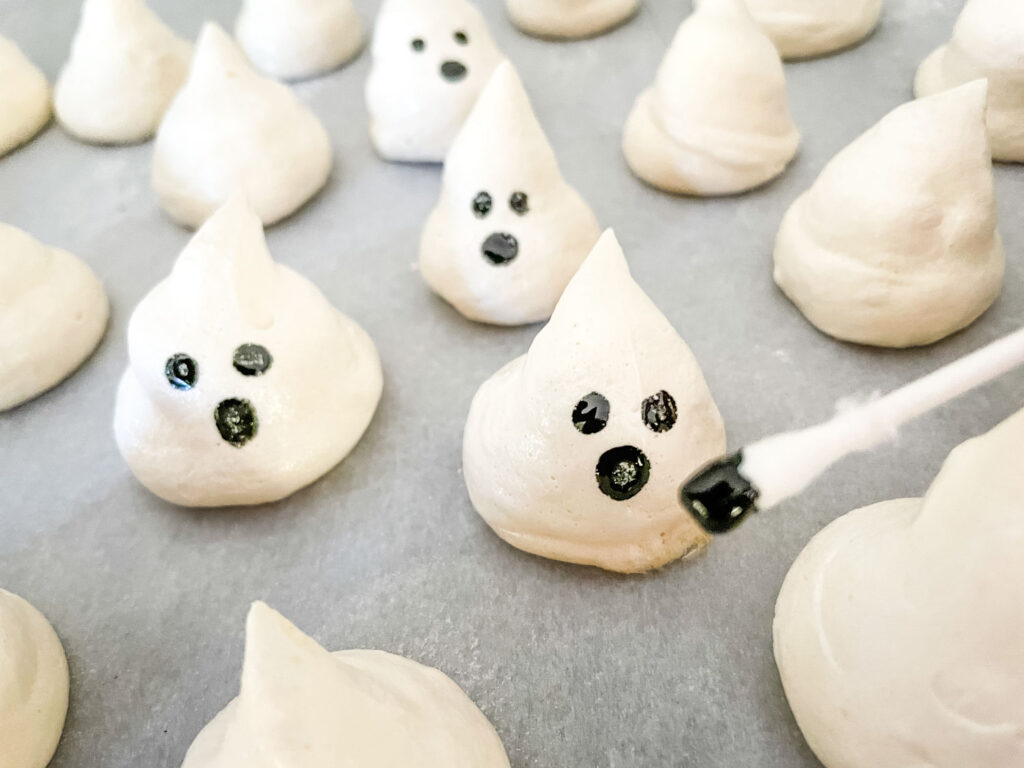 How Do I Make the Ghost Faces?
I prefer to use a black food gel with a cotton swab as shown in the picture above.
The food gel is thicker and a denser color which makes it perfect for this recipe.
Alternatively, you can try a black food coloring but it is much thinner and much more likely to run. Instead, I would recommend the alternative of using an edible black marker to draw on each piece.
Why Do Meringues go Yellow?
This happens if they are overcooked.
Why Are My Meringues Chewy?
This could happen if the meringues were slightly underbaked as they did not dry out completely.
It could also be that the air is humid and the extra moisture in the air is affecting the meringue.
How Do You Keep Meringue Crispy?
Make sure they are completely cool before storing, as any trapped heat will soften the meringue.
Store them in an air tight, dry and cool place.
How Long Do Homemade Meringues Last?
These will last up to two weeks in an airtight container.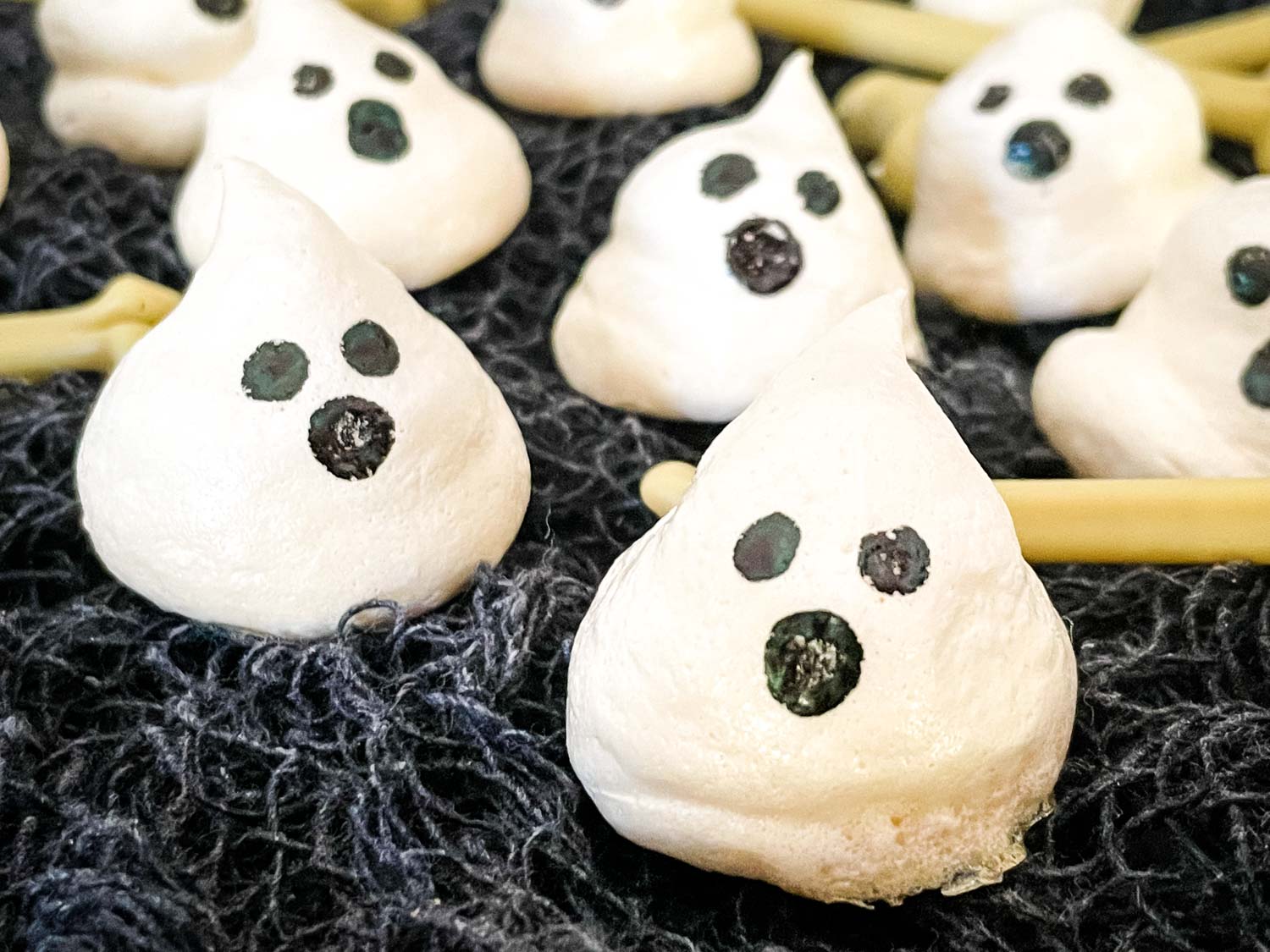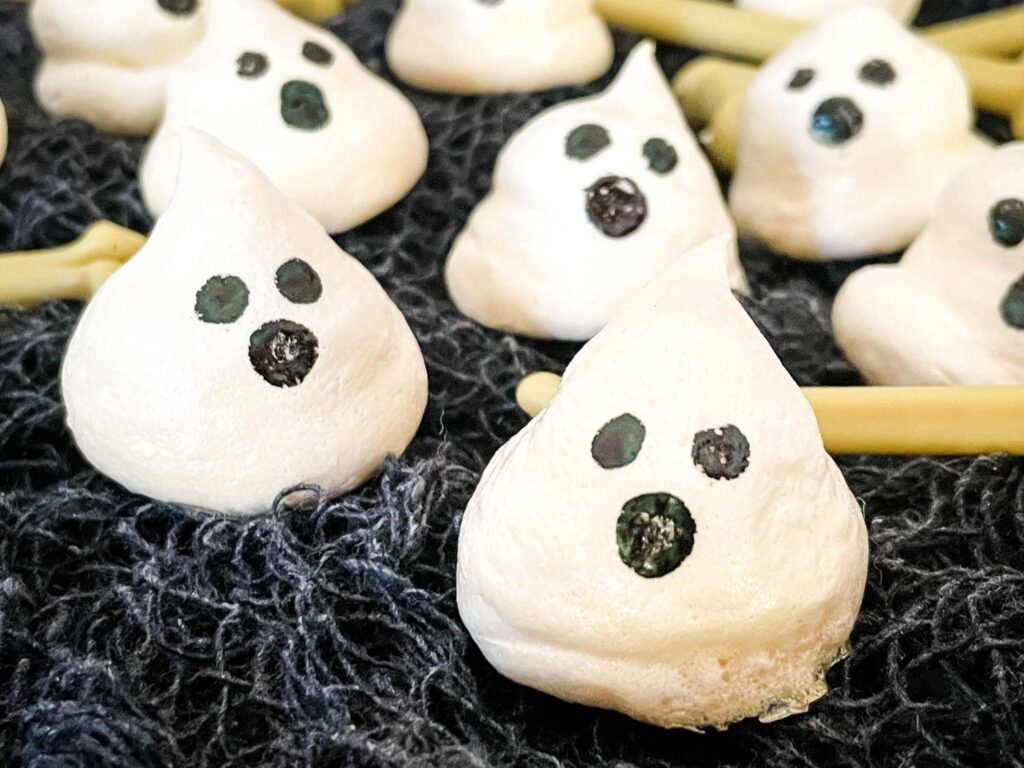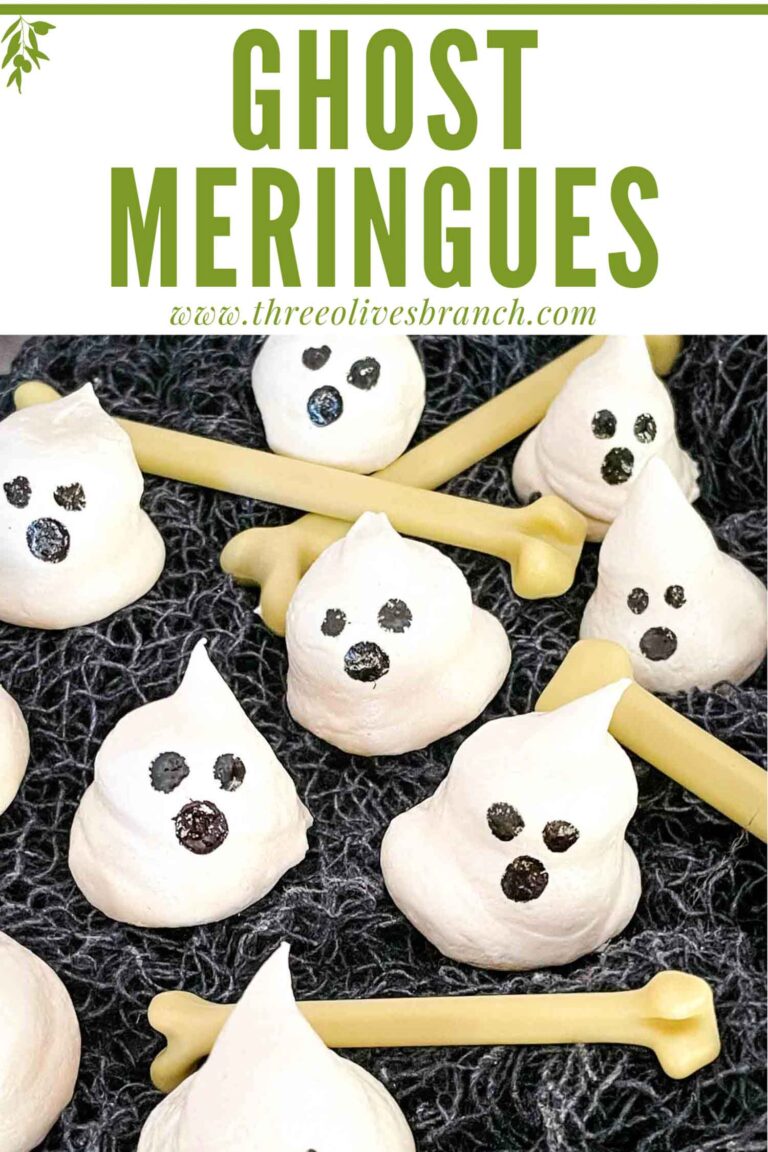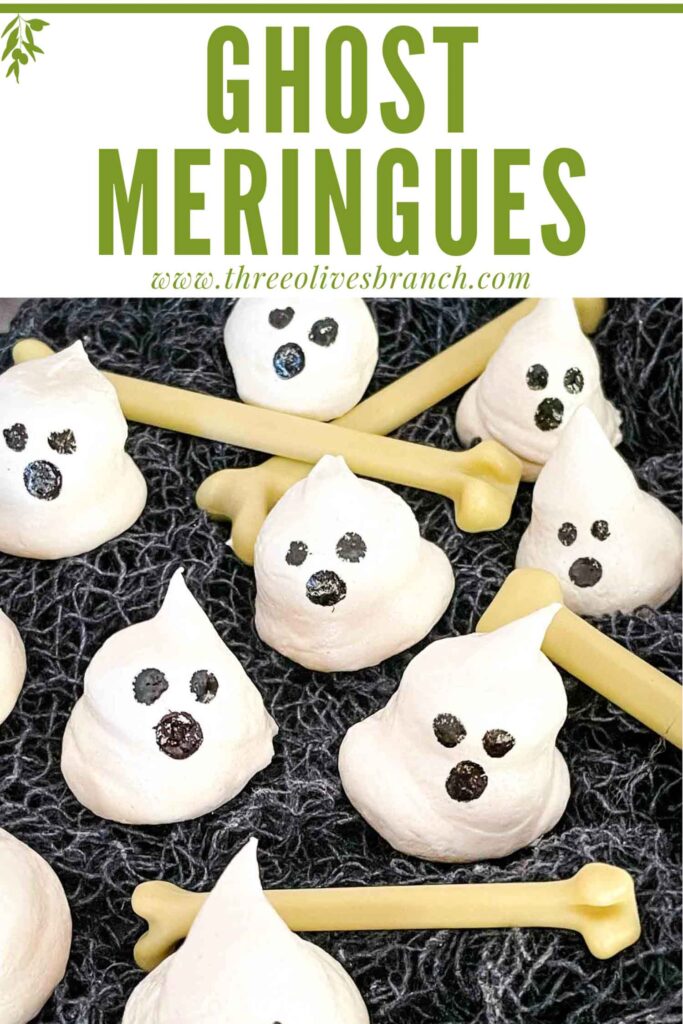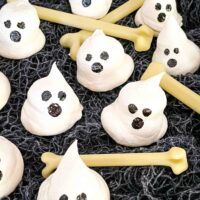 Halloween Ghost Meringues Recipe
Halloween Ghost Meringues are a perfect spooky Halloween recipe! Gluten free dessert made with egg white and sugar. Easy to make meringue cookies! Perfect for your holiday party.
Print
Pin
Rate
Equipment
Piping Bag

or plastic bag with tip cut off
Instructions
Preheat oven to 225°F with two racks in the lower middle and upper middle positions.

Line two baking sheets with parchment paper.

In a small bowl combine the sugar, cornstarch, and salt.

Put the egg whites, vanilla extract, and cream of tartar in the bowl of a stand mixer and mix with the whisk attachment at medium low speed (3 or 4) until the eggs are foamy, about 1-2 minutes.

Increase the speed to medium high and beat until the egg whites are soft and fluffy like clouds, about 2 minutes.

Slowly pour in the sugar mixture, while the mixer is still running, over the course of 30-60 seconds.

Continue beating at medium high speed until the eggs are a glossy and thick white color and hold stiff peaks (meringue does not flop over when you flip a beater upside down).

Put the meringue into a piping bag with an opening about 1/4-1/2 inch wide. (I like to use a size 12 tip which is 1/3 inch wide, but you can just cut the bag).

Pipe mounds of the meringue onto the baking sheets, pulling up slowly as you pipe to make ghost shapes.

(If you do not pull the bag up as you pipe, you will end up with flat discs).

Use all of the meringue across the two baking sheets and then place in the oven.

Bake for one hour, flipping the trays around and also switching which one is on top half way through.

When done baking, turn the oven off and let the meringues cool in the oven for at least an hour.

Let the meringues cool completely before decorating. Use a cotton swab dabbed into the black food gel to dab circles on each ghost, making the eyes and mouth.

Store in an air tight container for up to 2 weeks.
Notes
Exact quantity will vary with the size of each ghost.
You can also use a hand mixer following the same instructions.
Nutrition
Serving:
1
ghost
|
Calories:
13
kcal
|
Carbohydrates:
3
g
|
Protein:
0.3
g
|
Fat:
0.01
g
|
Sodium:
10
mg
|
Potassium:
7
mg
|
Fiber:
0.001
g
|
Sugar:
3
g
|
Calcium:
0.2
mg
|
Iron:
0.005
mg
Halloween Recipes
Celebrate Halloween with these fun holiday recipes!

By