Hocus Pocus Spell Book Rice Krispie Treats are a perfect dessert recipe for Halloween! Also a fun recipe for watching the movie, decorated to look like the witch spell book for potions.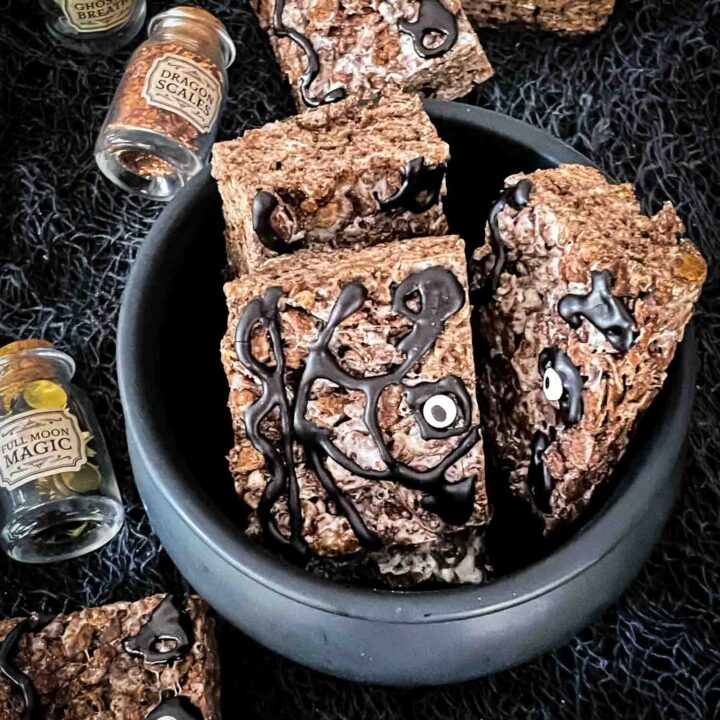 Make magic for your Halloween part or movie night with these Hocus Pocus Spell Book Rice Krispies Treats! Cocoa cereal is dressed up to look like the iconic potion book.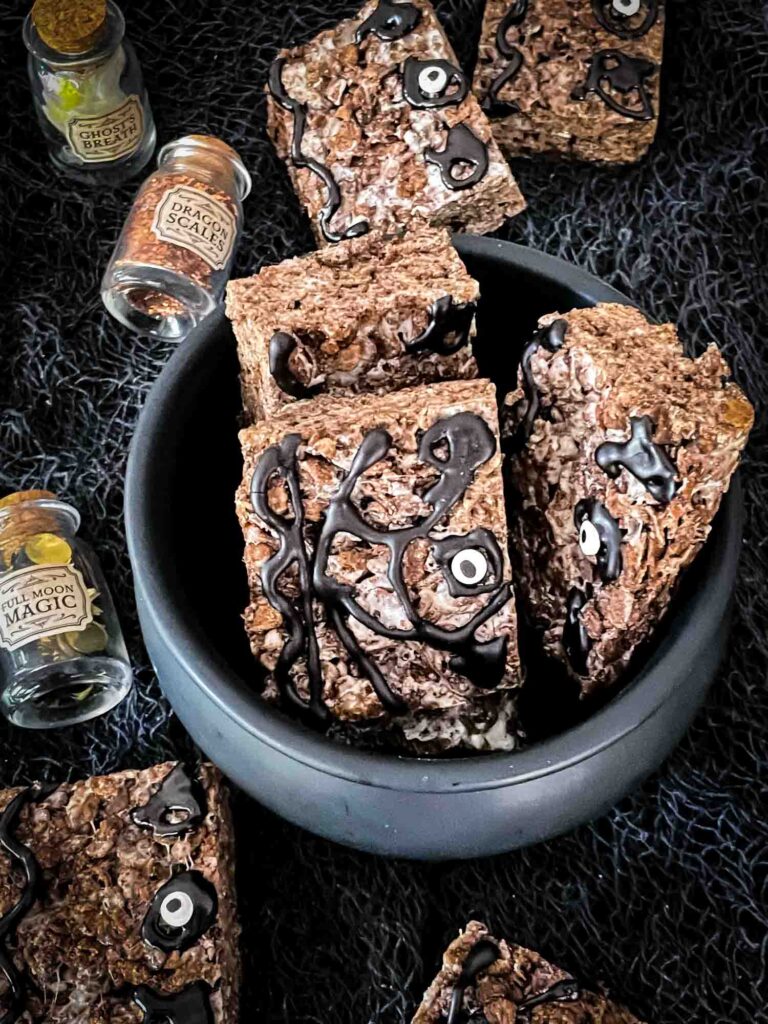 Why You Will Love This Recipe
A fan favorite classic dessert is dressed up as a perfect recipe for Halloween or movie watch party!
These are so fun and easy to make with classic flavors. Hocus Pocus is a family favorite every year, and I love making foods that fit into the theme for the night!
Cocoa rice krispies treats give us a brown spell book that is dressed up with icing and candy eye.
Easy and fast to make!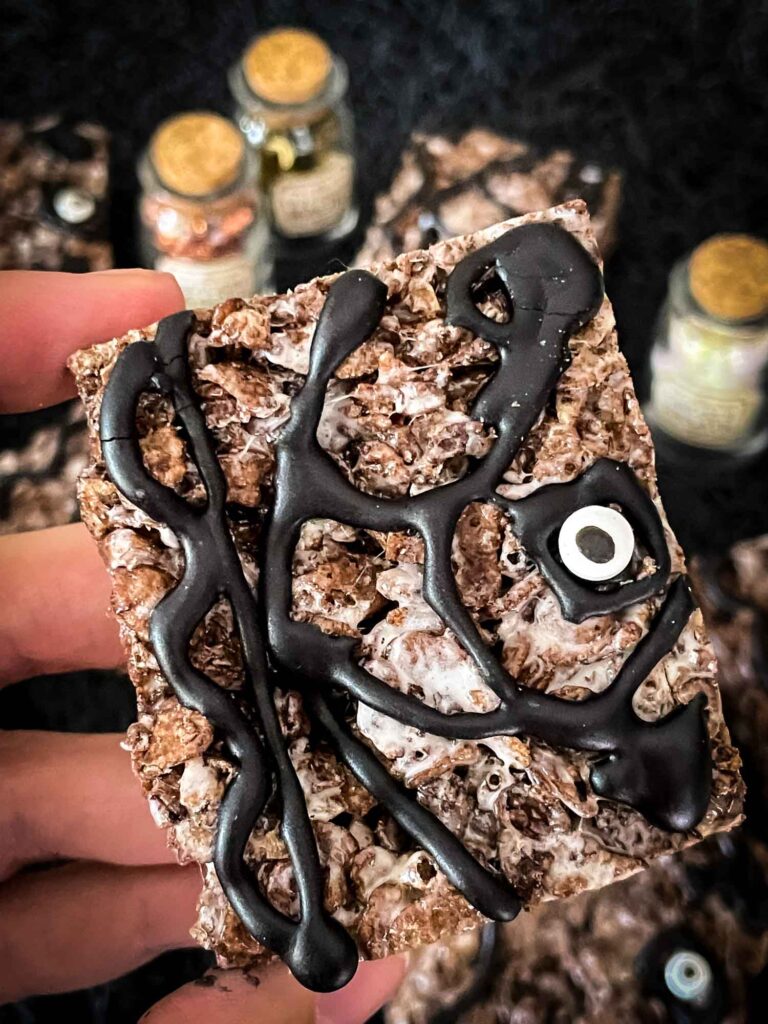 Ingredients
These are the ingredients you need for this Halloween rice krispie treat recipe:
Butter
Mini Marshmallows
Cocoa Cereal
Black Icing
You can use any cocoa cereal for this recipe. I had a hard time finding cocoa rice cereal, so I used flakes instead. Based on the shape and size (how many edges there are to cover of each piece), you may need to use more or less cereal or marshmallow.
Candy Eyes – I like to use the smaller candy eyes as they look in proportion to the rest of the treat.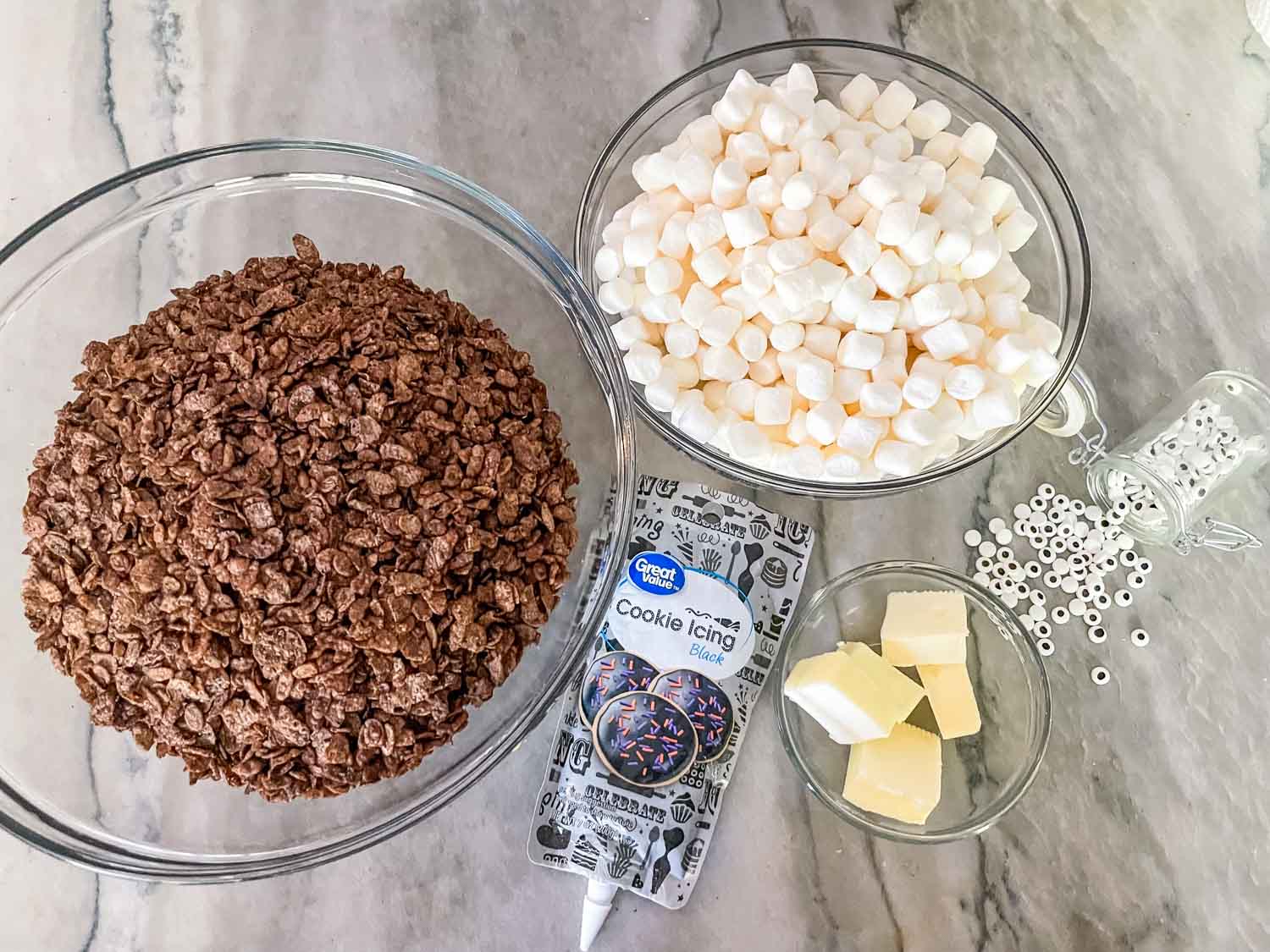 Equipment
This is the equipment you need to make this recipe:
Large Pot
Rectangle Baking Dish (9×13 inches)
Parchment Paper
Nonstick Spray
Knife
Spatula
Instruction Overview
Put a medium or large pot over low heat on the stove.
Add the butter and when melted, add the marshmallows.
After the marshmallows are melted, add the cereal and stir to mix.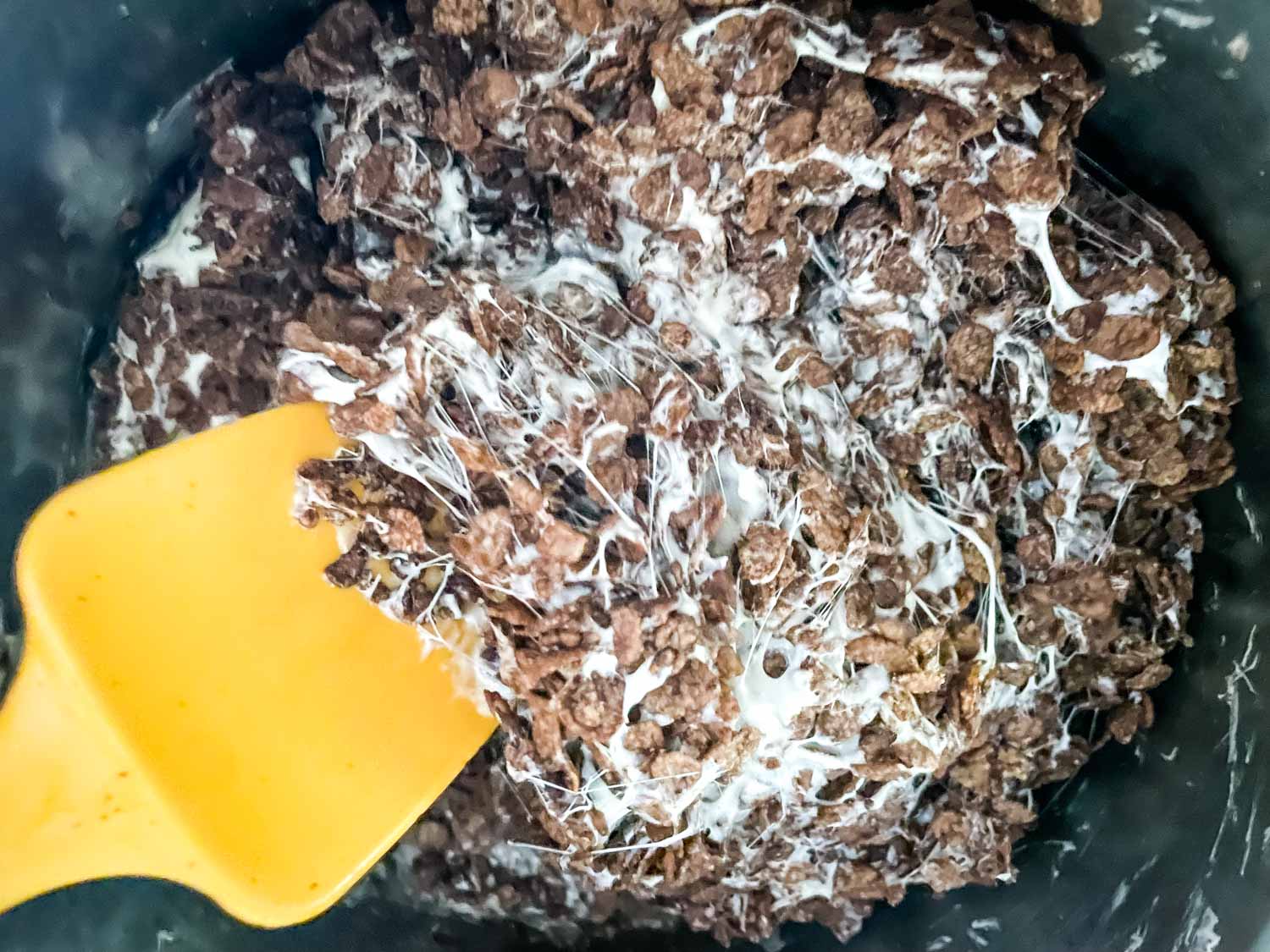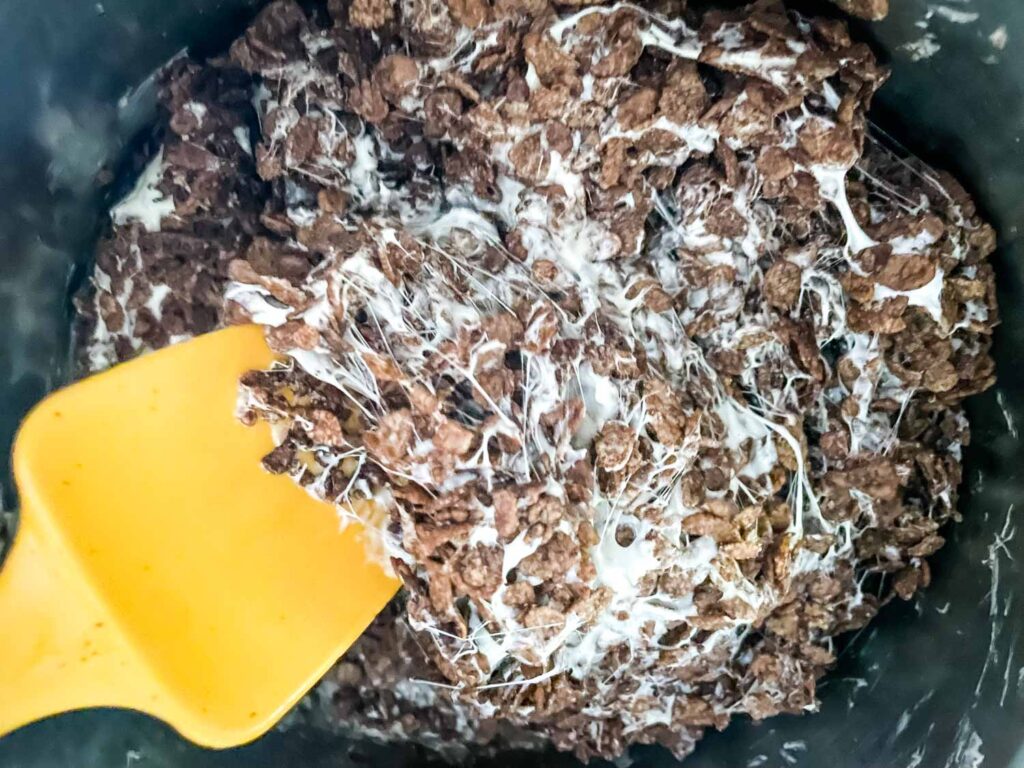 Pour the mixture into a baking dish that has been lined with parchment and nonstick spray.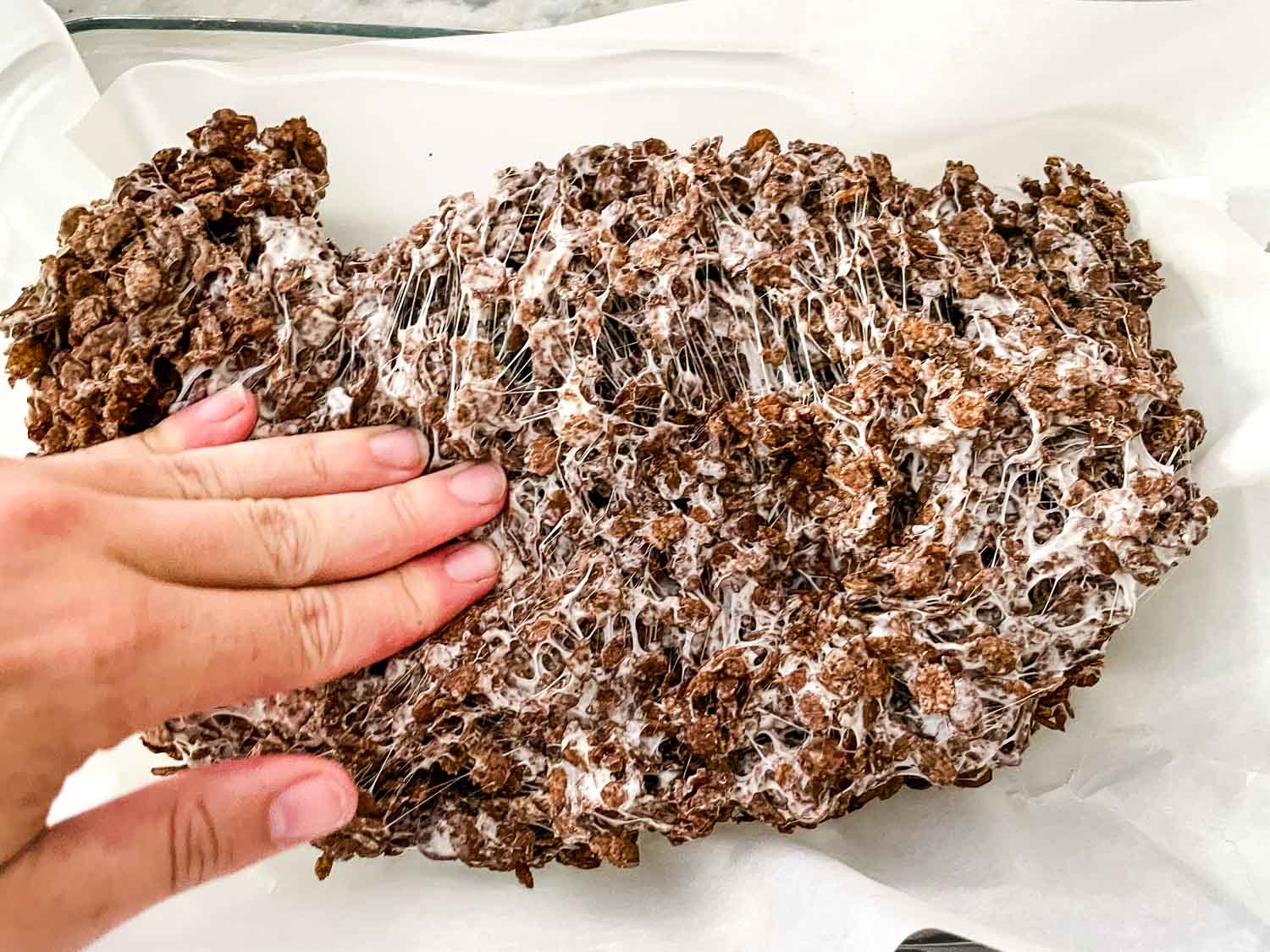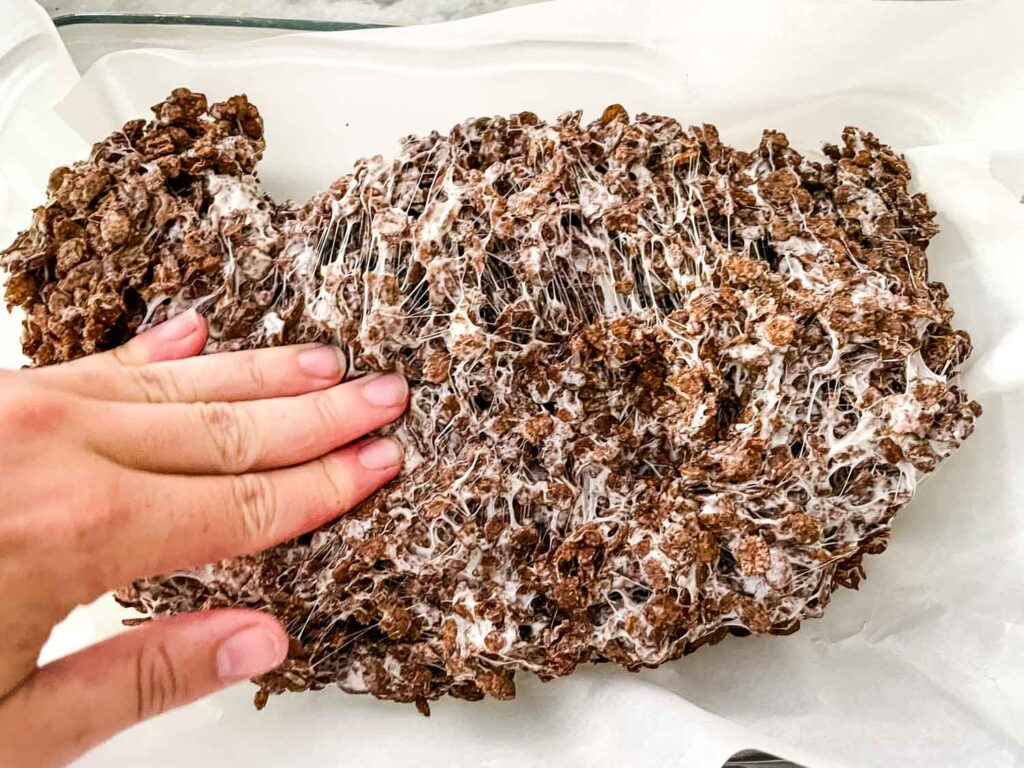 Press the mixture into the dish evenly.
Let sit until cooled.
Cut into twelve rectangles. Based on your dish shape, cut long ways into three rows. Then cut short ways into four rows to make rectangles.
Trim any treat as needed to get the shape you want (so easy for some to end up square!).
Take each rectangle and draw the spell book markings with the black icing. You can add as much or little icing decoration as desired.
Add a candy eye to the right side.
Store in an air tight container.
Decorating Instructions
To make the decorations on top, first start with the squiggle on the left binding side.
Then add a circle to the middle right and adhere a candy eye with a little blob of icing in the center.
Add some swirl squiggles in the two right corners.
If desired, add the stitching lines as well across the book as shown in the image below.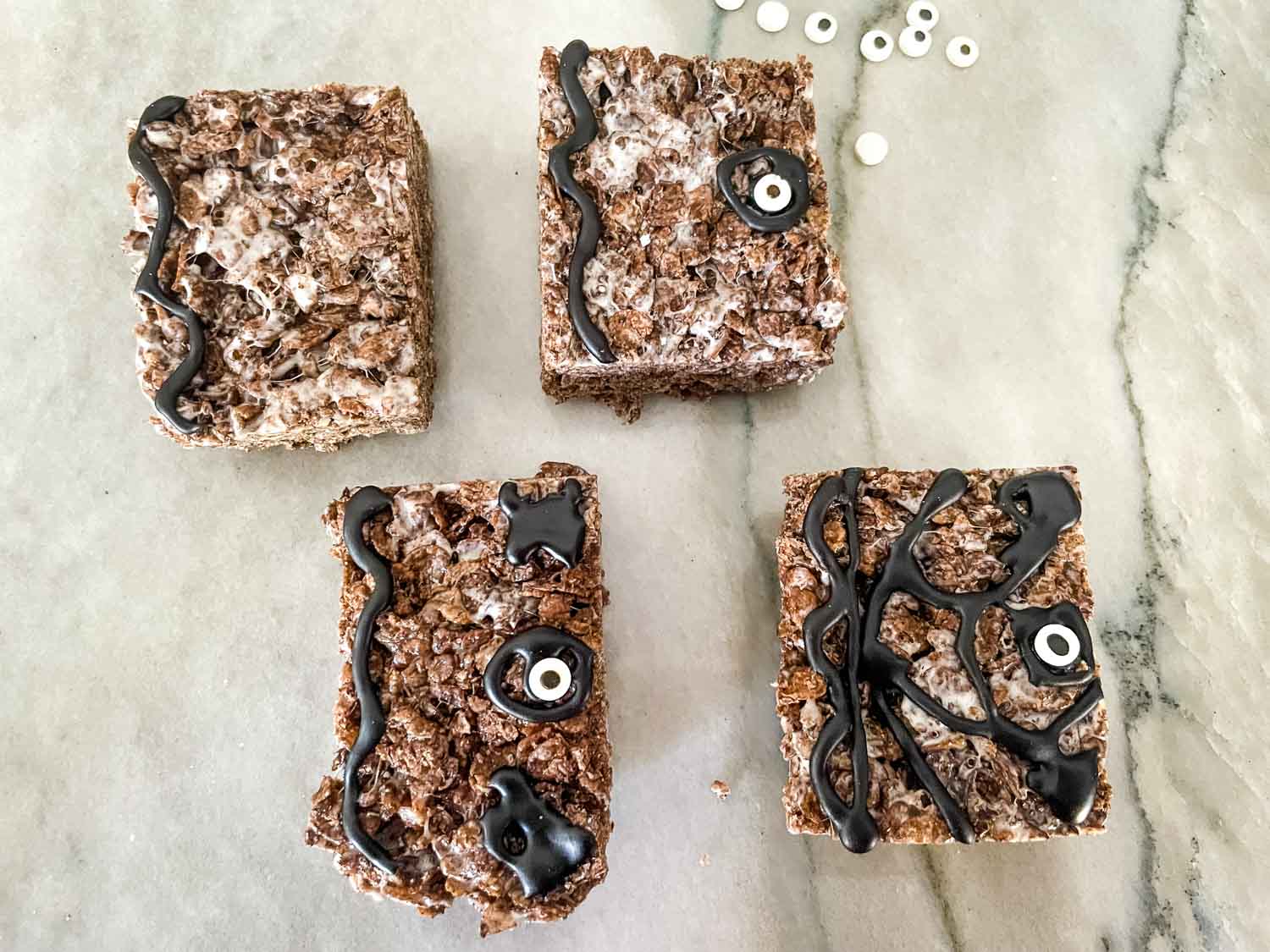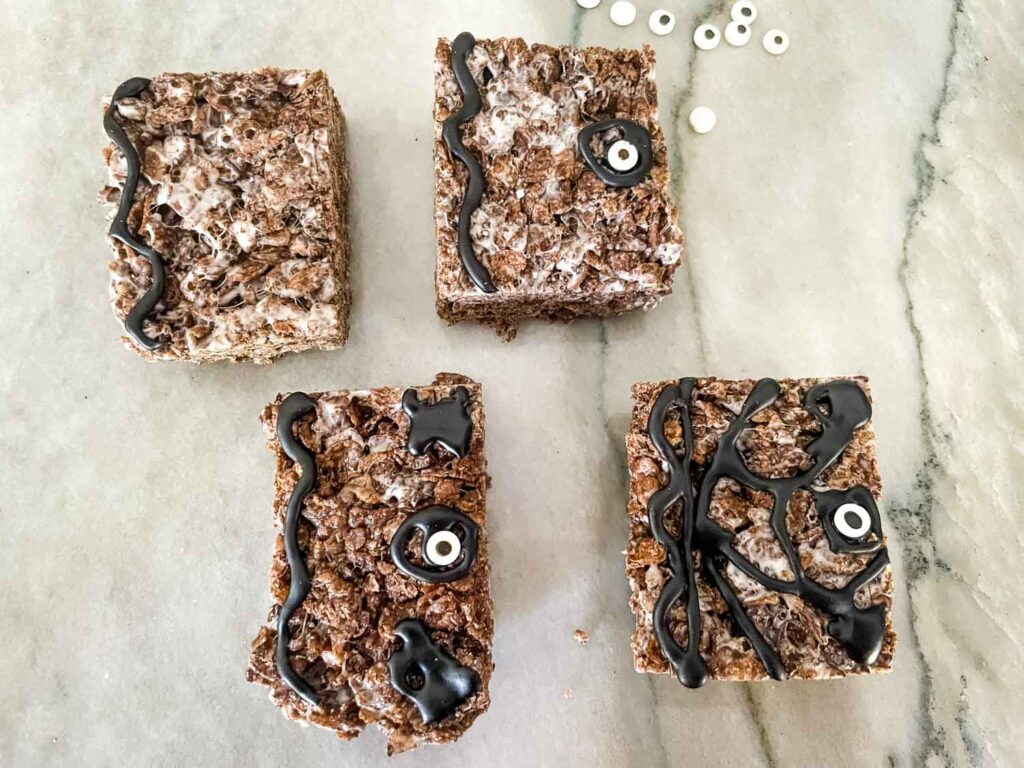 It is up to you how many or few details you want to include with the treats. I like 3 and 4 above the most, and did half and half for the batch.
YouTube Video
Modifications and Substitutions
You can use any cocoa cereal for this recipe. You may need to adjust ratios of the butter and marshmallow based on how much "edge" there is on the cereal (round will be less edges, flatter is more edges).
Larger marshmallows will also work. They will take longer to melt, or you can roughly cut them up to speed up the melting process.
Kim's Tips
Spray your hands with the nonstick spray as well so the mixture does not stick to you as you press it in the pan.
After cutting the treats into pieces, trim any if desired to get them into a rectangular shape or to eliminate rounded edges.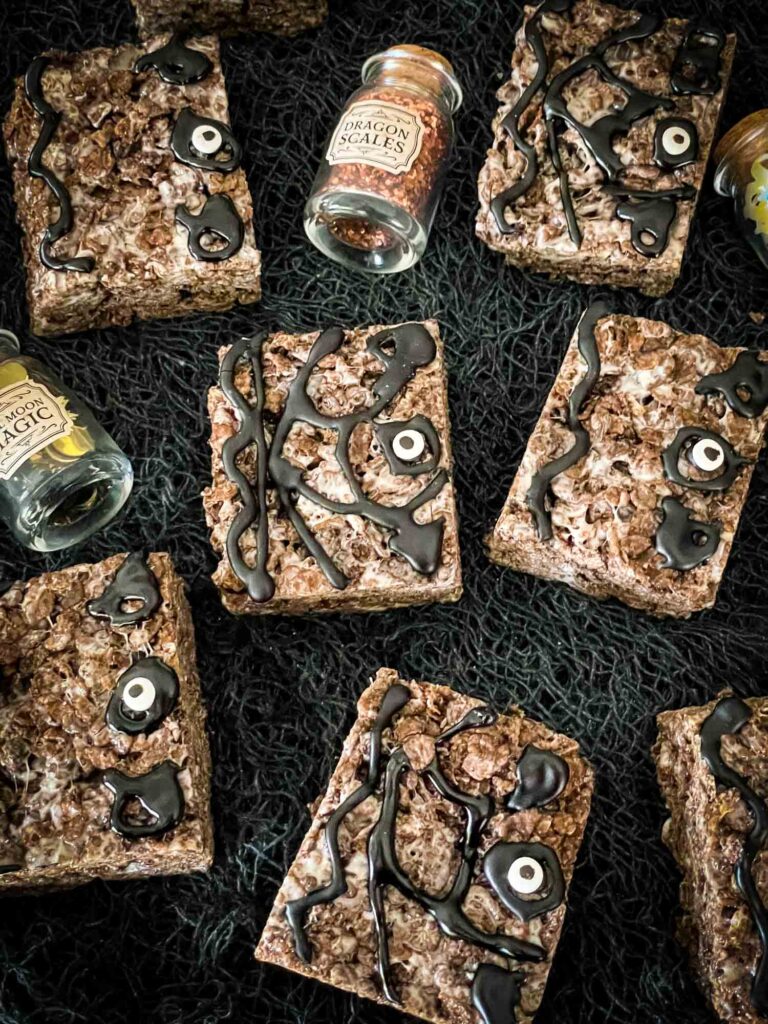 FAQs
How long should Rice Krispie Treats Cool before cutting?
At least 30 minutes. Wait until the marshmallow has set and they are not warm, otherwise they could continue to shift their shape.
How do you cut Rice Krispie Treats neatly?
Use a sharp knife. You can also spray the knife with more nonstick spray to more easily slide through the treats.
Why did my Rice Krispie Treats turn out hard?
The marshmallow could have been heated too high, causing the sugars to seize up and harden.
How long do Rice Krispie Treats last?
Treats last 2-5 days in an air tight container. They taste best the fresher they are.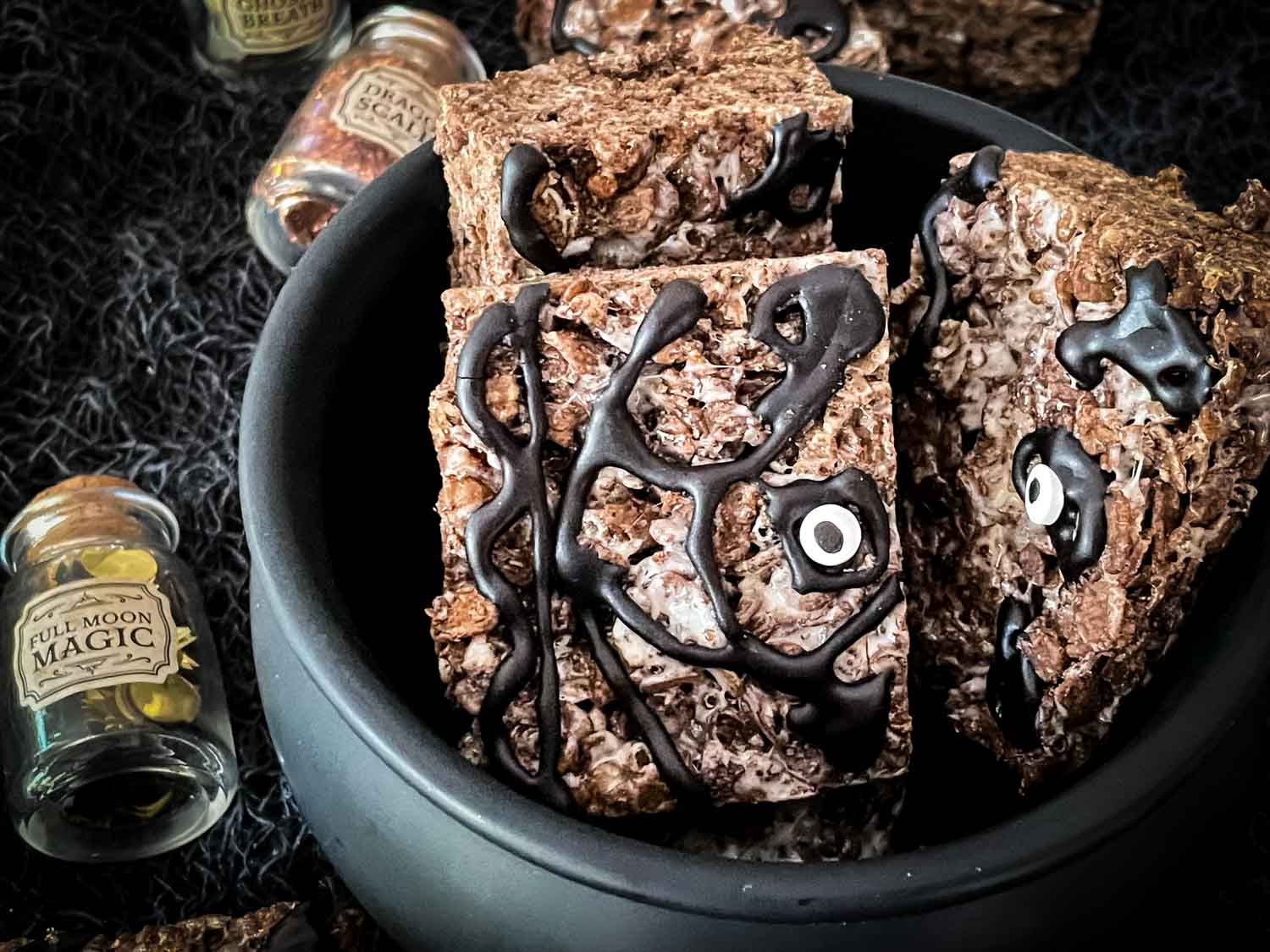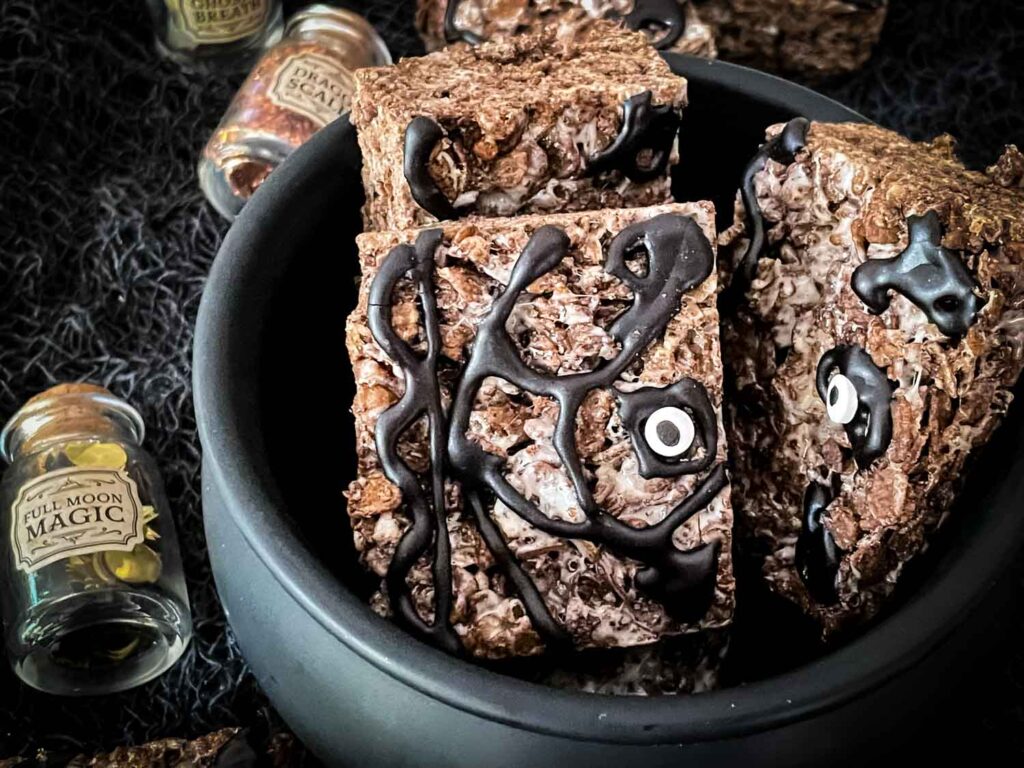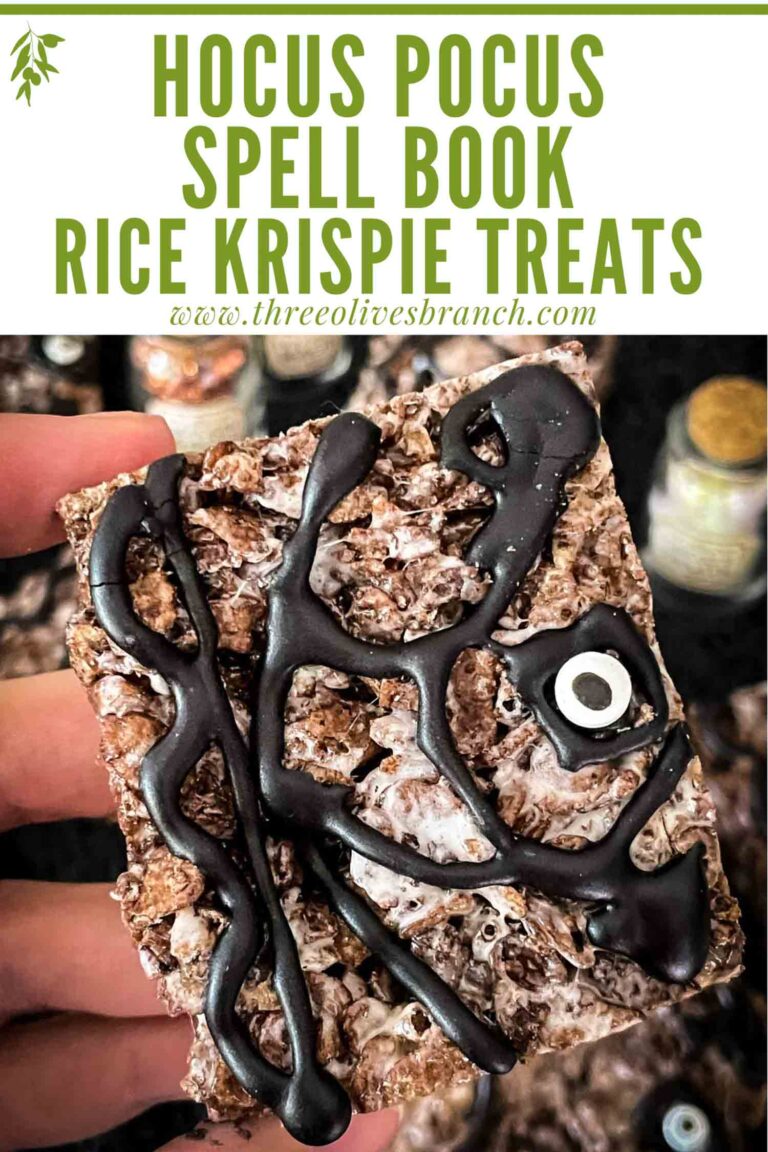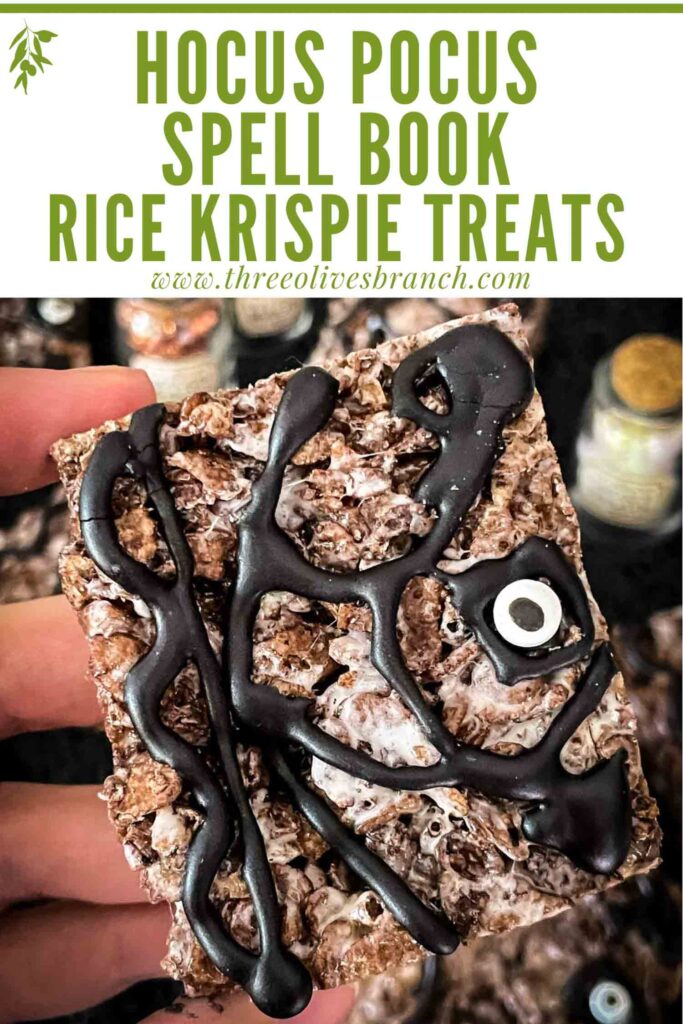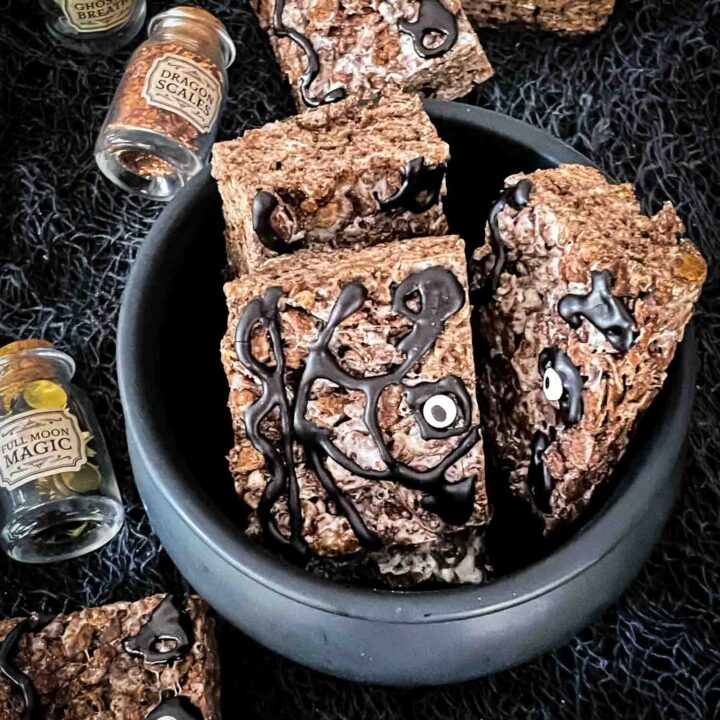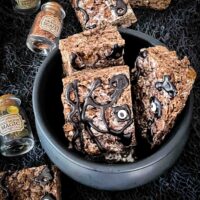 Hocus Pocus Spell Book Rice Krispie Treats
Hocus Pocus Spell Book Rice Krispie Treats are a perfect dessert recipe for Halloween! Also a fun recipe for watching the movie, decorated to look like the witch spell book for potions.
Print
Pin
Rate
Instructions
Heat a large pot over medium low heat on the stove. Add the butter and melt.

Add the marshmallows and stir occasionally until melted.

Do not heat too high as it will cause the marshmallow to brown.

Remove from the heat.

Add the cocoa cereal and stir to combine.

Pour the mixture into a baking sheet that was first lined with parchment paper, and then sprayed with non-stick spray.

Spread the mixture into an even layer.

Let sit until cool, at least 30 minutes.

Remove the treats from the dish by lifting the parchment paper.

Cut the treats into 12 pieces by first cutting in half short ways, and then cutting each half in half again short way, giving you 4 columns.

Then cut all the columns into three even rows.

Trim any pieces as needed to get your spell book shape.

Pipe the design on each piece by doing the following:

1) A squiggle line down the left side

2) A circle in the middle right, with a dollop in the middle which a candy eye is placed on

3) Swirled designed in both right corners

4) If desired, the stitching marks across the book

Repeat with all remaining pieces.

Let dry until frosting is set and store in an air tight container for up to 5 days.
Video
Notes
You may need more marshmallow depending on which type of cocoa cereal you use, as some have more edges than others and need more "glue".
If more marshmallow is needed, simply melt quickly on the stove or in the microwave and add to combine before pressing in the pan.
Nutrition
Serving:
1
treat
|
Calories:
126
kcal
|
Carbohydrates:
30
g
|
Protein:
1
g
|
Fat:
1
g
|
Saturated Fat:
0.2
g
|
Polyunsaturated Fat:
0.1
g
|
Monounsaturated Fat:
0.1
g
|
Trans Fat:
0.001
g
|
Cholesterol:
0.4
mg
|
Sodium:
94
mg
|
Potassium:
24
mg
|
Fiber:
0.1
g
|
Sugar:
14
g
|
Vitamin A:
937
IU
|
Vitamin C:
9
mg
|
Calcium:
6
mg
|
Iron:
4
mg
More Halloween Recipes
Halloween Recipes
Celebrate Halloween with these fun holiday recipes!

By