Halloween Mummy Meatballs are a fun spooky Halloween recipe! Serve as a dinner main course or savory appetizer. Frozen meatballs wound with crescent dough bandages and finished with eyes. Easy to make holiday recipe!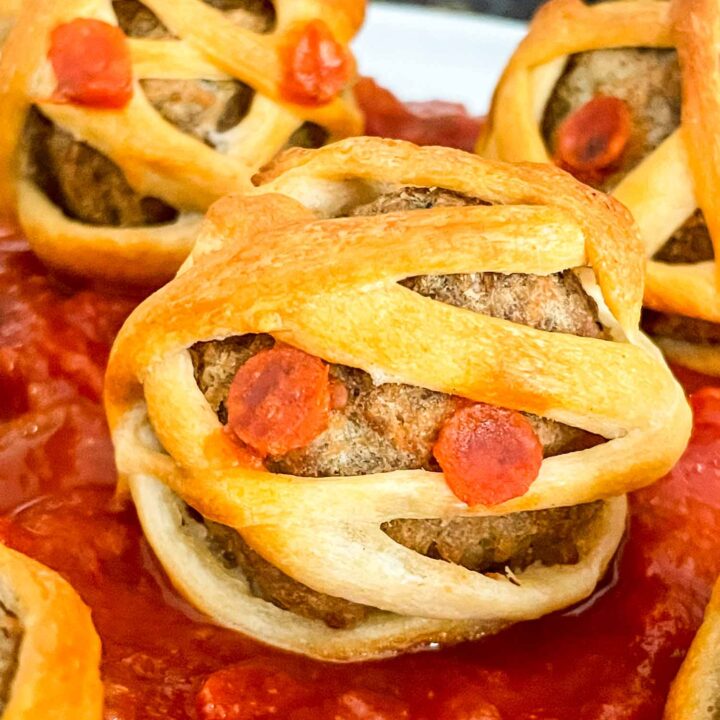 This spooky recipe is incredibly easy to make and a great meal to serve up for Halloween! Halloween Mummy Meatballs make a great dinner pasta topper or party appetizer.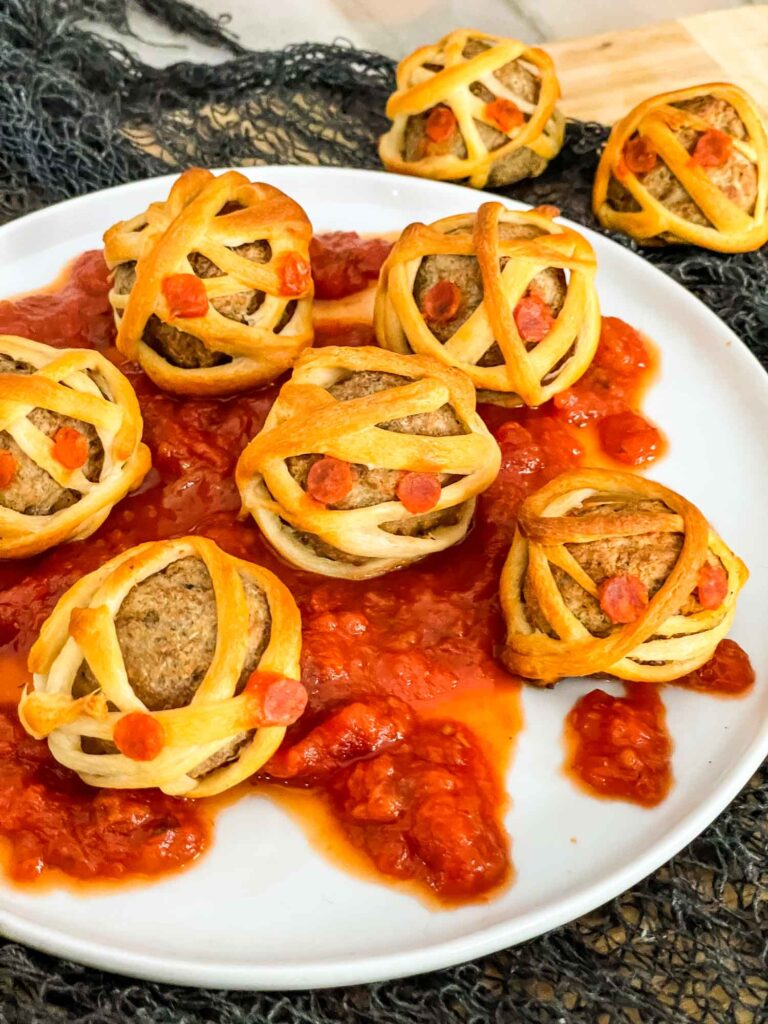 Halloween Appetizer Recipe
I just love Halloween party food, especially recipes that are not sweet since there are so many of those already!
These Halloween Mummy Meatballs are super easy to make savory snack, perfect for a party or crowd! And while the mummy hotdogs are popular, I wanted to change it up a little bit!
I love serving them up alongside my Halloween Pizza Potato Skins for great party finger food that everyone will love.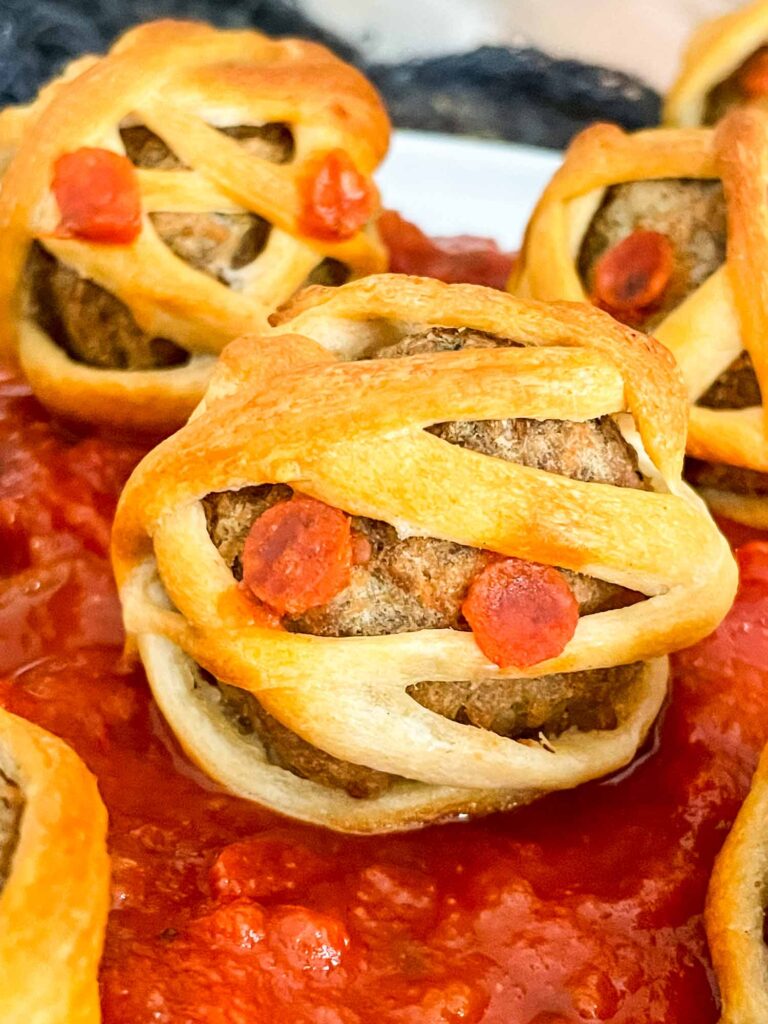 What Do You Bring to a Halloween Party?
I love bringing something that has classic flavors everyone will love, but is themed for Halloween as much as possible!
These meatballs are perfect because not only are they dressed for the occasion, but they are familiar flavors, easy to eat, and a great savory option to go with all those sweets!
What Do I Need to Make the Halloween Meatballs?
You only need a few ingredients!
Pepperoni (or other eye of choice, see below section)
Serving Sauce of Choice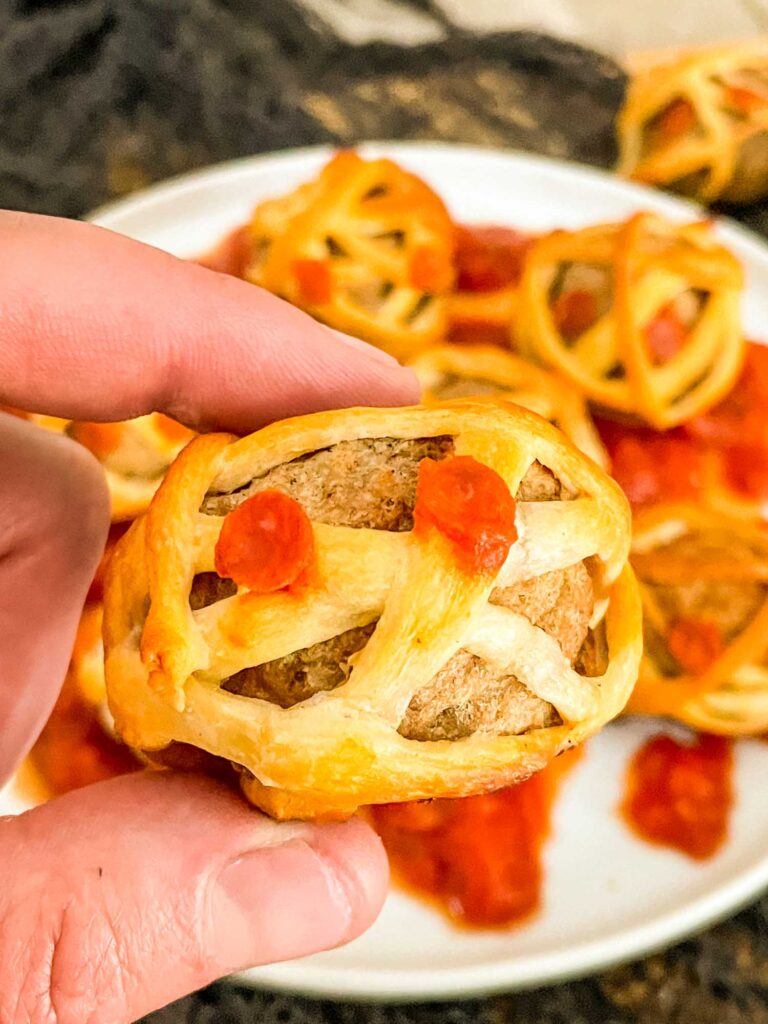 What Are the Best Meatballs to Use?
You can use any type of meatball that you like, whether it is beef, pork, chicken, or veggie. I prefer to go with classic, frozen meatballs.
And the meatballs can be made while still frozen, just make sure that they are pre-cooked (not raw meat).
If raw and you need to cook the meatballs, cook them before adding the bandages and stop about 10-15 minutes shy of the cooking time. Then proceed with this recipe.
What Are Other Options for the Eyes?
I cut pieces out of larger pepperoni with a metal piping bag tip to make these small eyes.
You could also use the following ingredients instead:
Mini Pepperoni (already small!)
Olive Pieces
Pepper Pieces
BBQ Sauce (or other thick sauces that would work flavor wise for how you are serving them)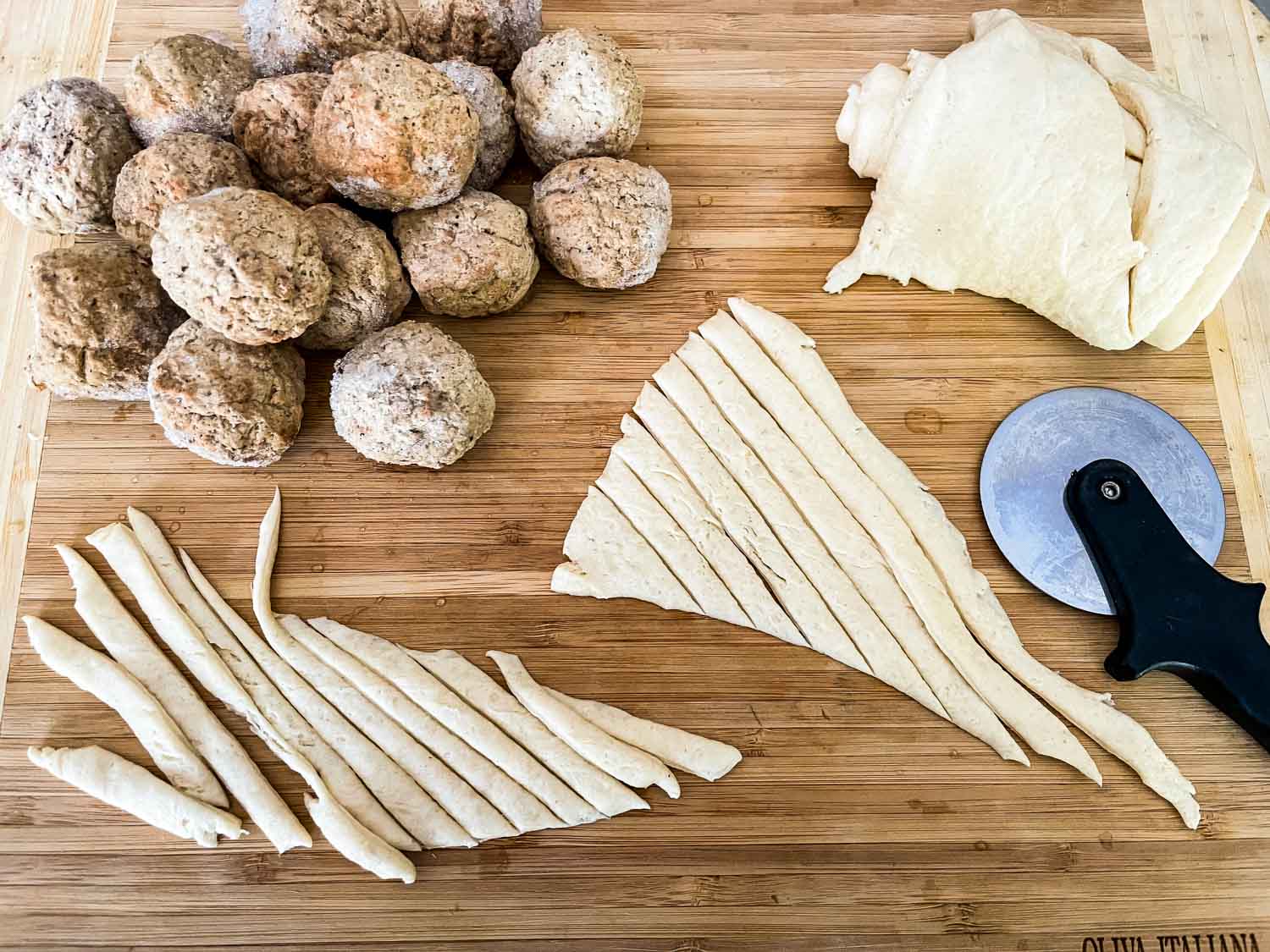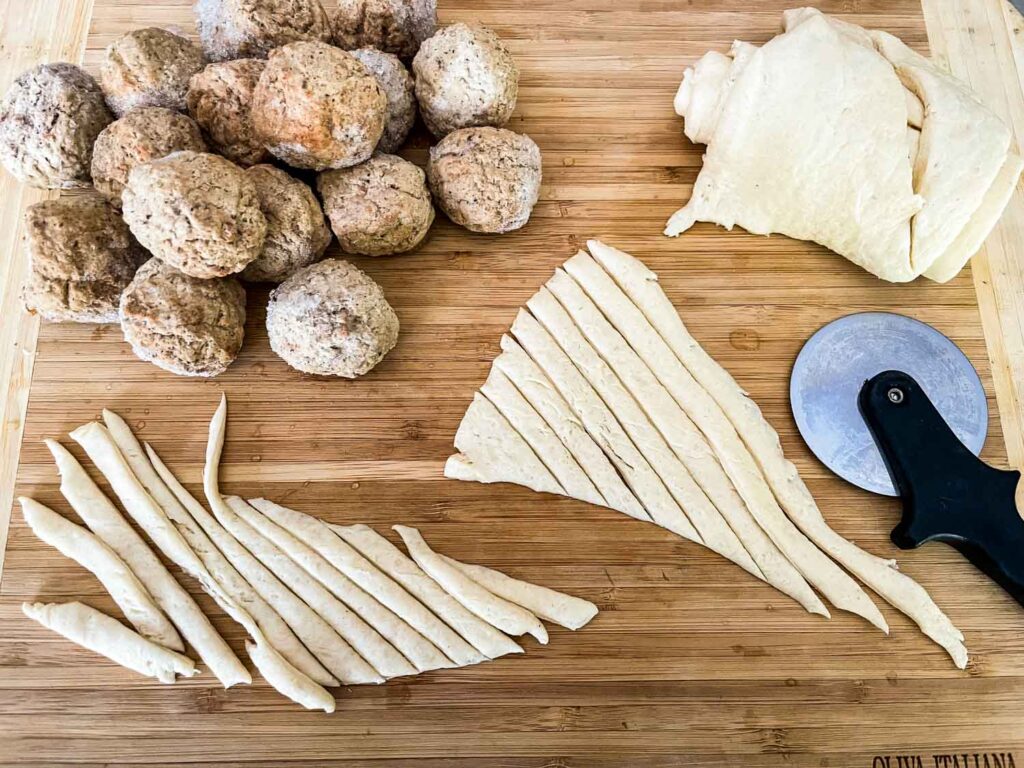 How to Make Halloween Meatballs
Cut up your crescent dough into thin strips. Any direction is fine!
The stretch a piece or two of the dough around each meatball. Hold the end in place with a finger and gently pull the dough around in circles, haphazardly. Press the end into a bandage to help it hold.
Repeat with remaining meatballs and add more dough to the meatballs that need some more bandages.!
Cook them at 400F for about 15 minutes, until they are heated through and the dough is a golden brown.
Let them cool slightly, enough to handle, before putting on the eyes.
I made eyes by using the tip of a frosting tip to press and cut out eyes from regular pepperoni. See section above regarding alternative eye options!
Use a little sauce or water to stick the eyes onto each meatball. Serve with your sauce of choice or on pasta!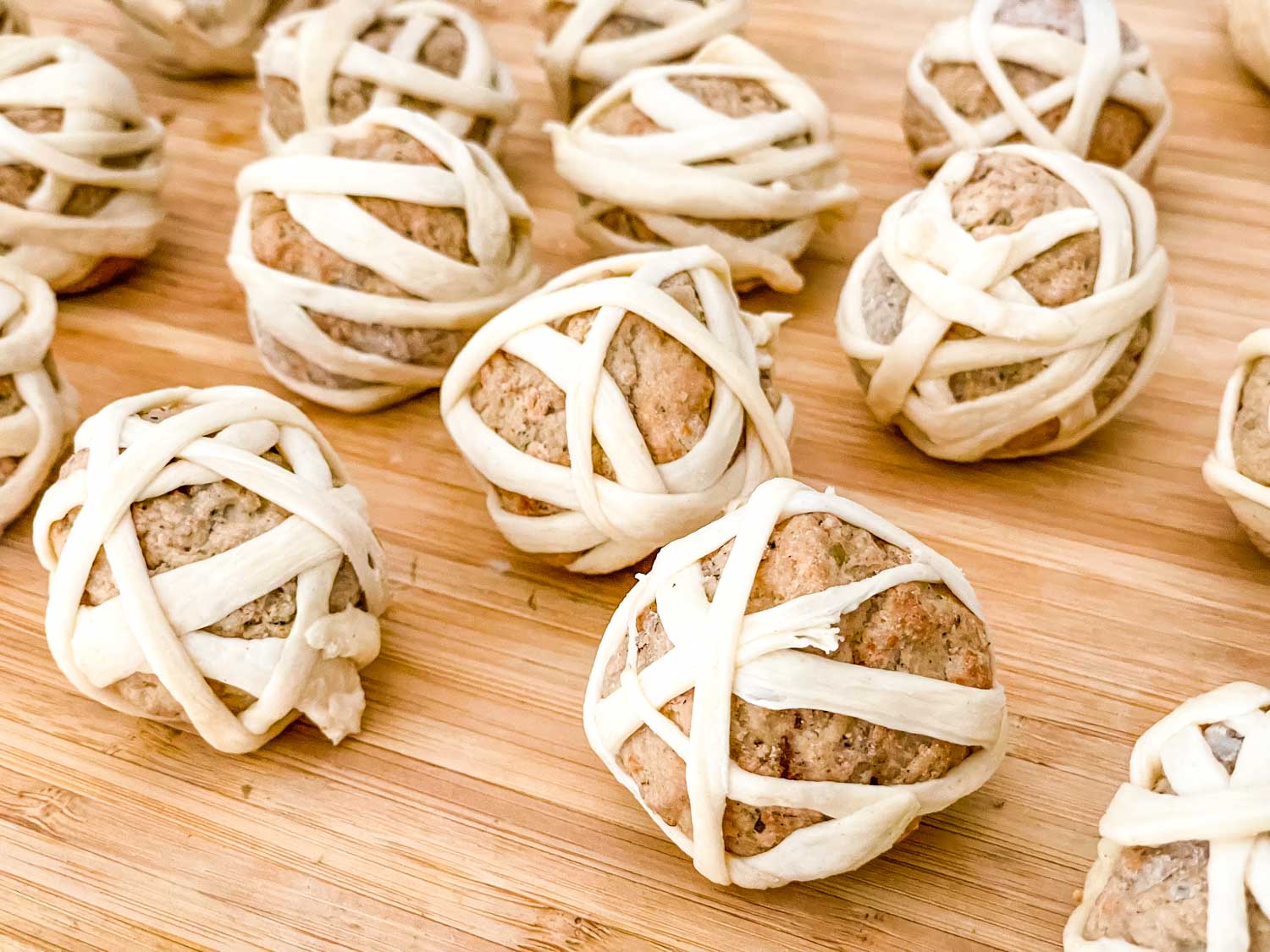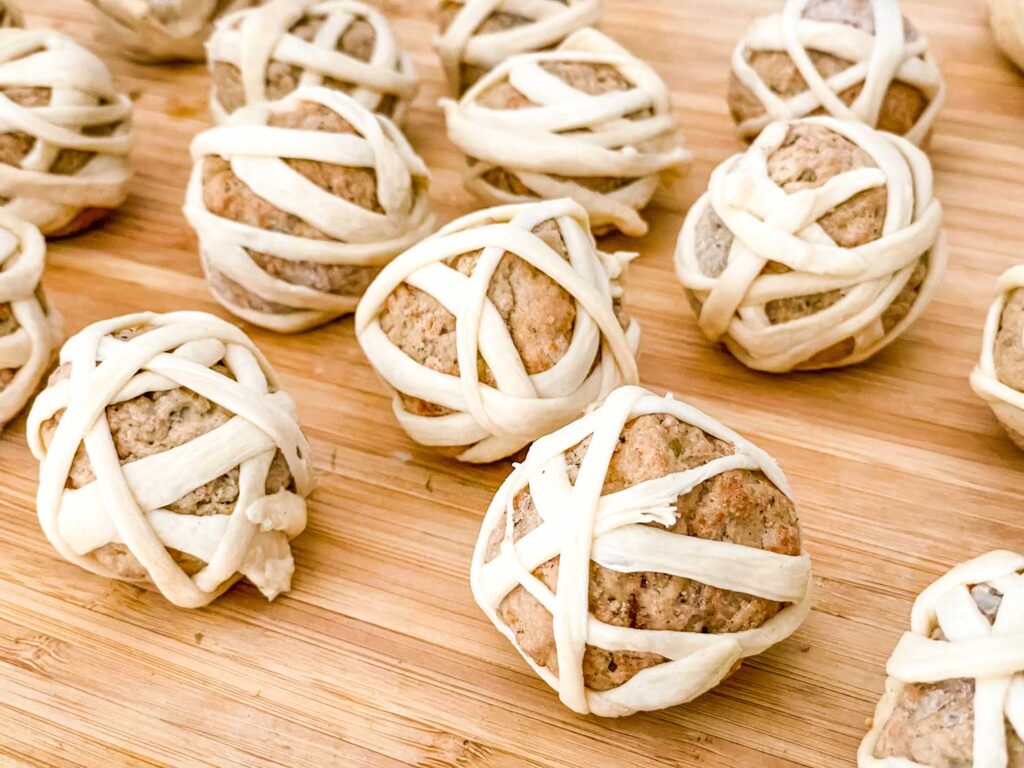 Serving the Meatballs
These meatballs are perfect served on top of noodles with sauce for a Halloween dinner.
They also make a perfect spooky Halloween platter appetizer recipe! You can serve with any dipping sauces desired whether going Italian with a marinara, barbecue with BBQ sauce, cheese sauces, etc.
And then just match up the ingredient you use for the eyes (see section above) based on what flavor works best!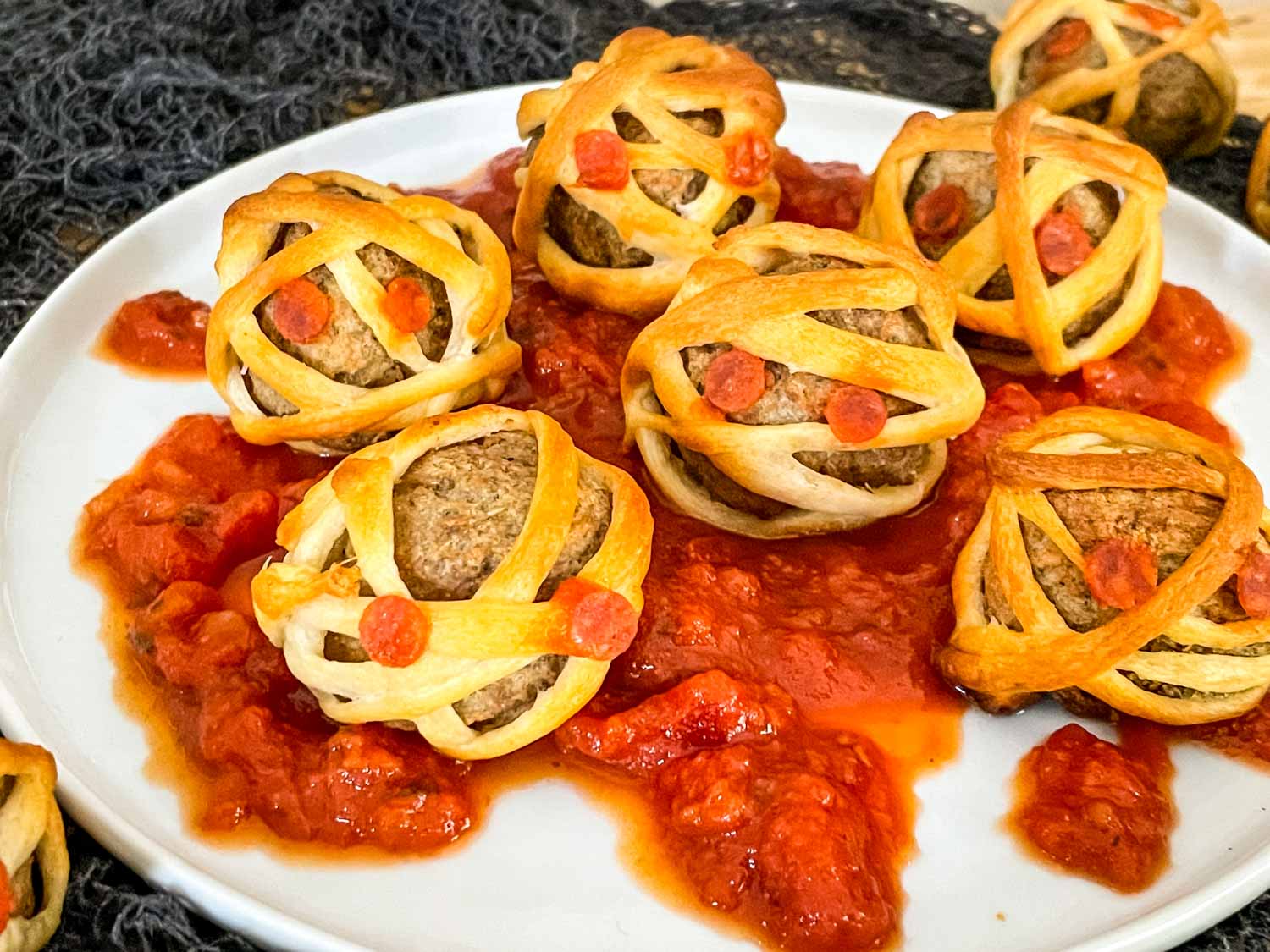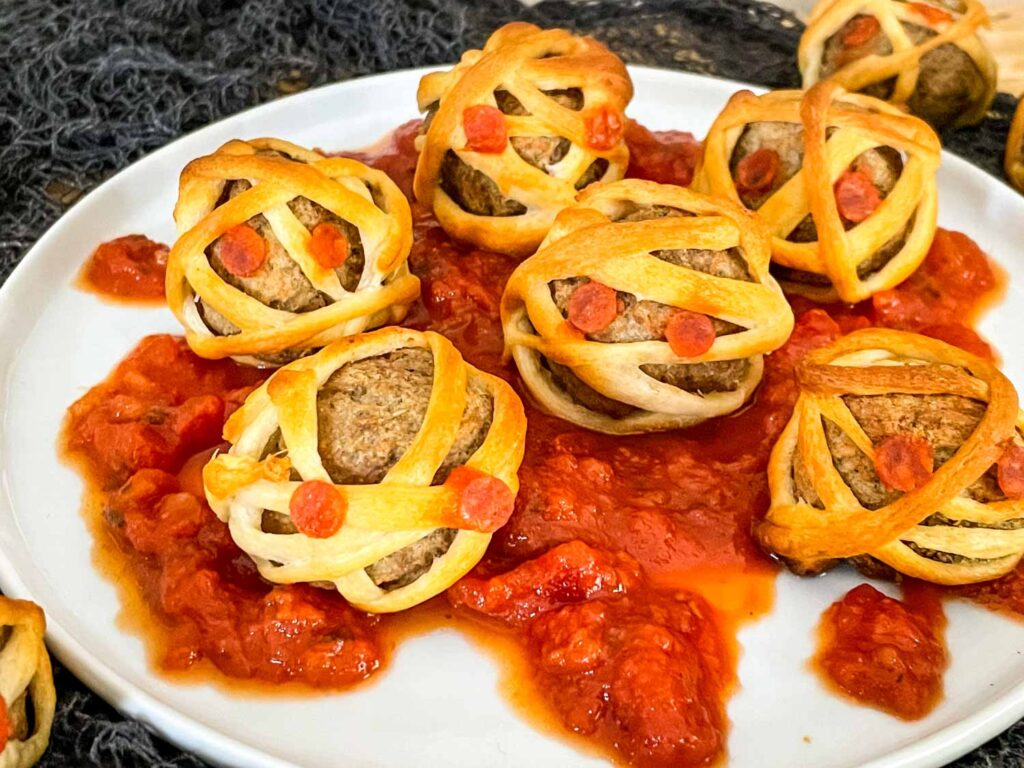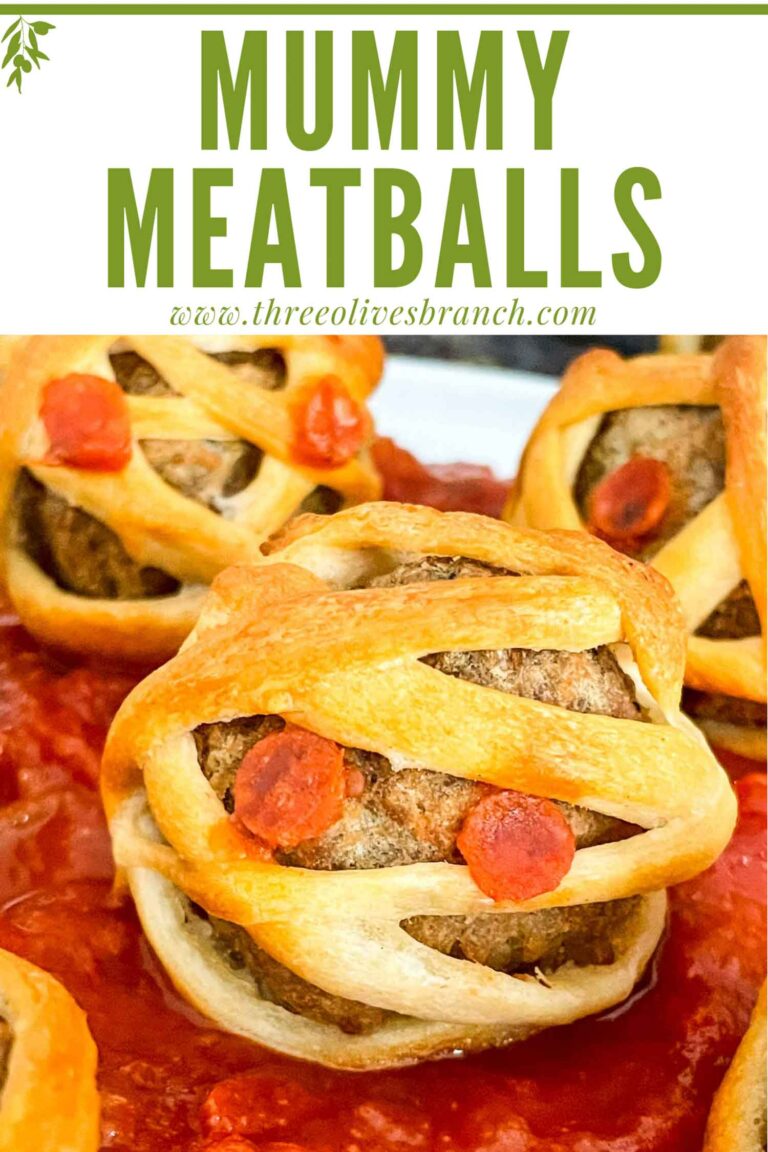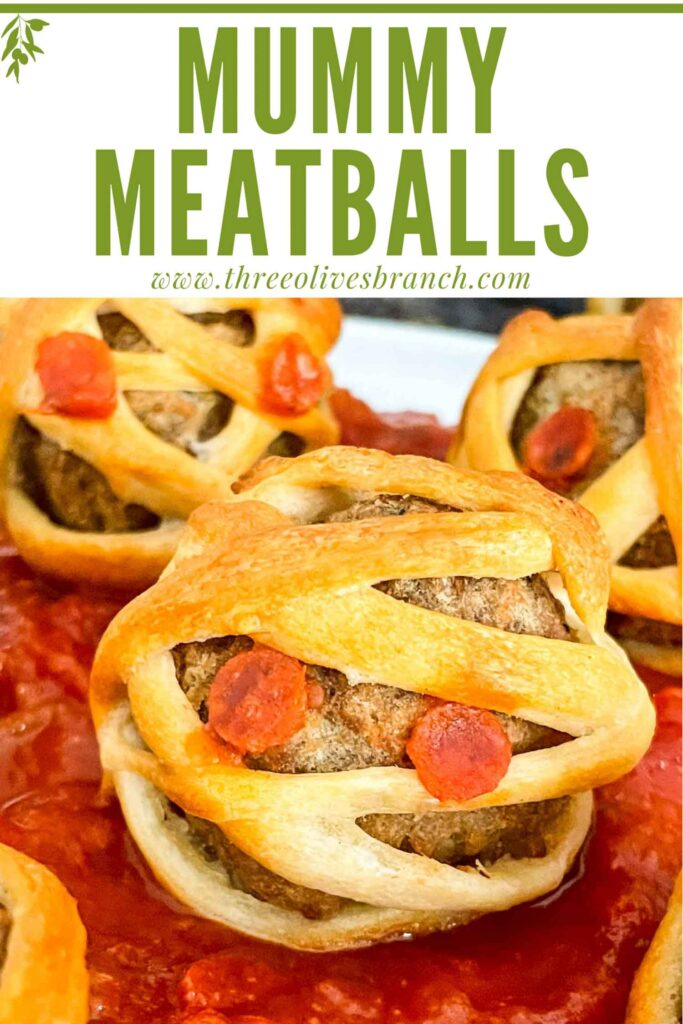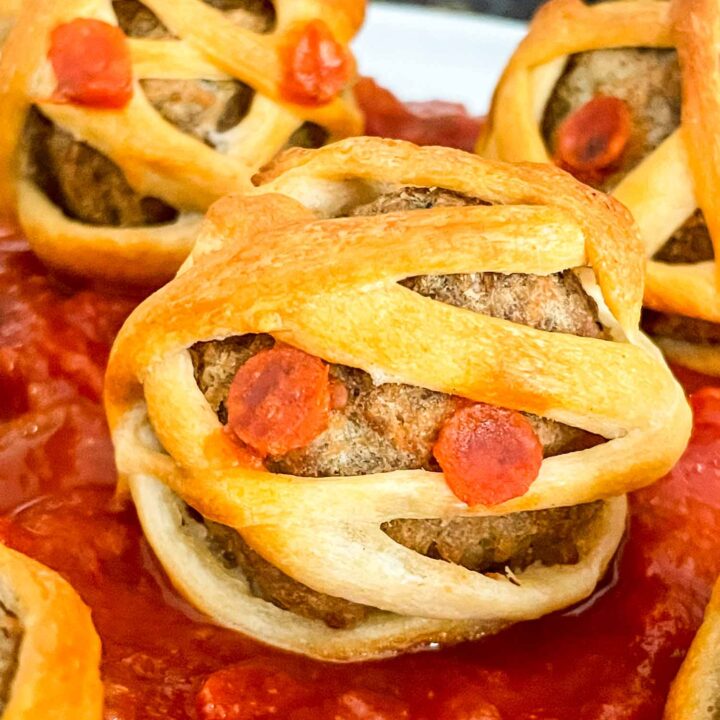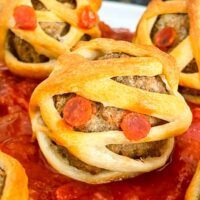 Halloween Mummy Meatballs
Halloween Mummy Meatballs are a fun spooky Halloween recipe! Serve as a dinner main course or savory appetizer. Frozen meatballs wound with crescent dough bandages and finished with eyes. Easy to make holiday recipe!
Print
Pin
Rate
Instructions
Unwrap the crescent dough and cut half the package into thin strips about 1/4 inch wide.

Take one to two strips of the dough and wrap around each meatball. Hold one end in place with your hand while pulling to gently stretch the dough around in haphazard patterns. Press the dough into other parts of the dough for it to stick.

Repeat with all meatballs and go back to add more bandages with additional leftover dough as desired.

Bake the meatballs until heated through and the dough is golden brown, about 12-15 minutes.

Meanwhile, cut the eyes out of the pepperoni.

Use the tip end of a pastry tip (or hole punch) and press out small circles of pepperoni as the eyes.

After the meatballs have cooled slightly, use a little sauce or water to adhere two eyes to each mummy.

Serve as desired on top of pasta or with desired dipping sauce.
Notes
Frozen meatballs work perfect here. Make sure they are precooked so we only need to heat them through. If raw, cook meatballs as package directs and pull them out 15 minutes before they are done and then proceed with the recipe.
You can also find mini pepperoni to use instead although they are a little large. Alternative options for the eyes include dots of a sauce (mustard, ketchup, BBQ), pieces of olives, pieces of peppers, etc. 
Use a dipping sauce that pairs well with the eyes you have selected and/or options you want to provide. Ideas include marinara, pesto, alfredo, BBQ sauce, cheese sauce, sweet and sour.
Nutrition
Serving:
1
meatball
|
Calories:
63
kcal
|
Carbohydrates:
3
g
|
Protein:
3
g
|
Fat:
5
g
|
Saturated Fat:
2
g
|
Polyunsaturated Fat:
1
g
|
Monounsaturated Fat:
2
g
|
Trans Fat:
1
g
|
Cholesterol:
10
mg
|
Sodium:
69
mg
|
Potassium:
41
mg
|
Sugar:
1
g
|
Vitamin A:
1
IU
|
Vitamin C:
1
mg
|
Calcium:
2
mg
|
Iron:
1
mg
Halloween Recipes
Celebrate Halloween with these fun holiday recipes!

By