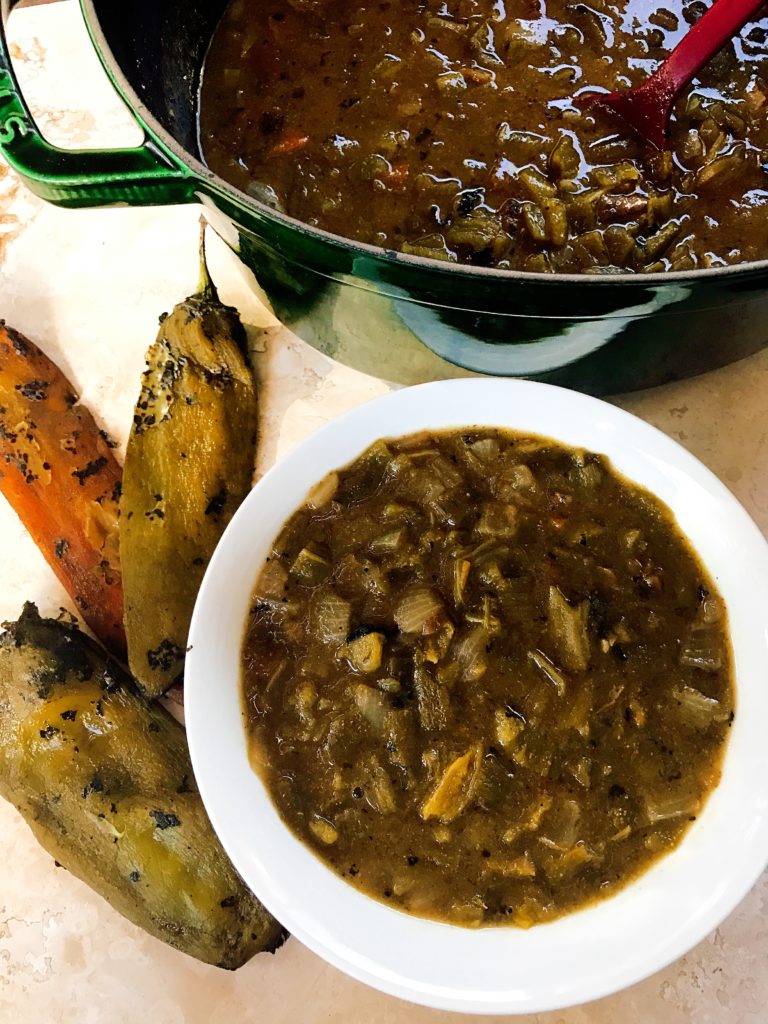 Something about the fall and football season makes me want to cook this Vegetarian Hatch Green Chili every Sunday.
We are lucky enough to have pepper stands throughout the state in the fall and the smell of the peppers roasting is intoxicating.  I stock up on two or three bushels to make sure that I have enough for my Hatch Green Chili cravings plus some extra for various Mexican dishes throughout the rest of the year.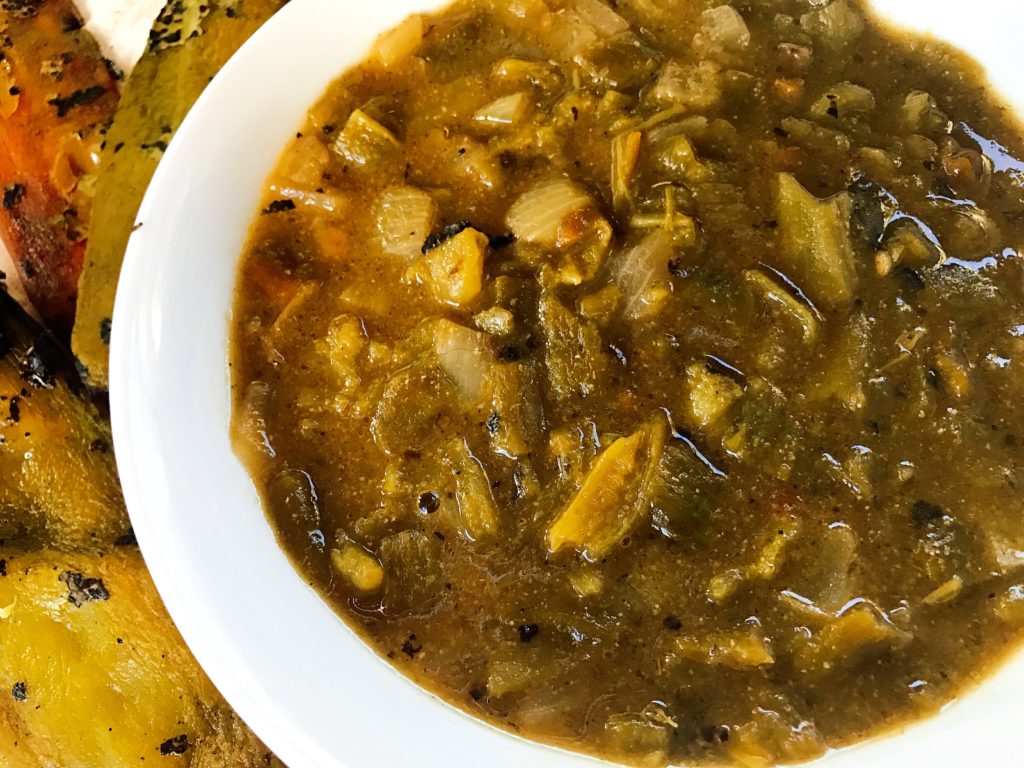 You can easily control the heat level through the green chili powder, enchilada sauce, quantity of jalapenos, and the chile peppers themselves.  This recipe is set for a mild to mild-medium heat level.
I have been getting questions about my pot in the pictures.  I have a couple Staub pieces that I love cooking with when I make things like my green chili.  Staub is a different brand of Le Creuset but I am partial to Staub for a few reasons.  The lids have basting dots which are bumps that allow the moisture to drip back into the mot evenly instead of in a pile.  I also love their colors more (they have darker, richer colors) and this brand is #1 in France over Staub.  I have had zero problems with mine and love them.  The one in this picture is a 5.75 quart oval cocotte which you can find here and I also have a round 4 quart one that you can find here.  I use them all the time and they last forever.  They are completely worth it!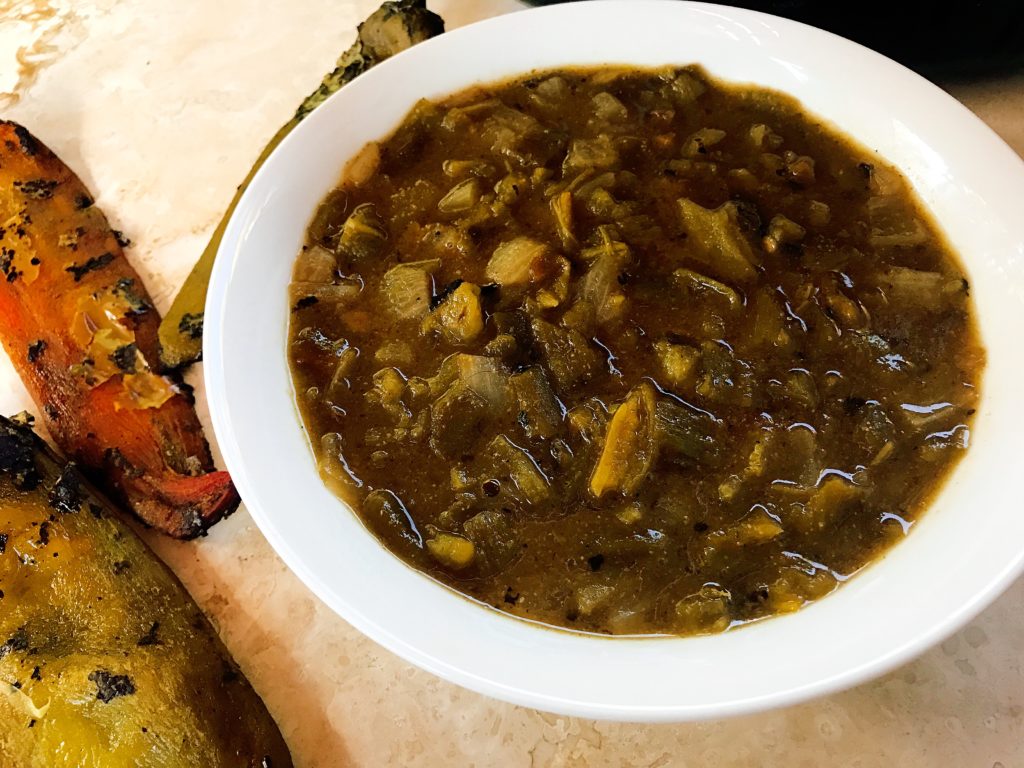 After just a few minutes of assembly, you can leave this Vegetarian Hatch Green Chili on the stove for several hours to do its thing.  It also freezes really well!  Just pack into mason jars and throw in the freezer for perfectly sized portions.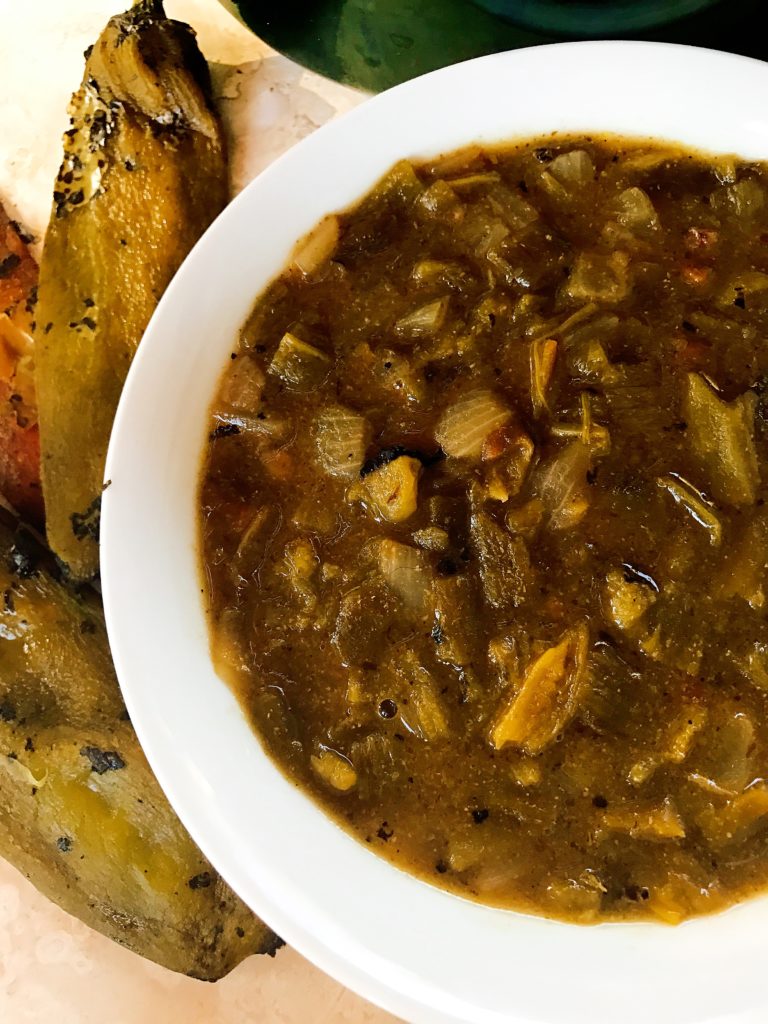 Green chili and Colorado are synonymous, so having recipe like this in your arsenal is sure to impress.  There are so many options for toppings and add-ins, you can please everyone with this recipe.
The longer you let it cook, the better it will taste…if you are able to restrain yourself.  The smell is intoxicating!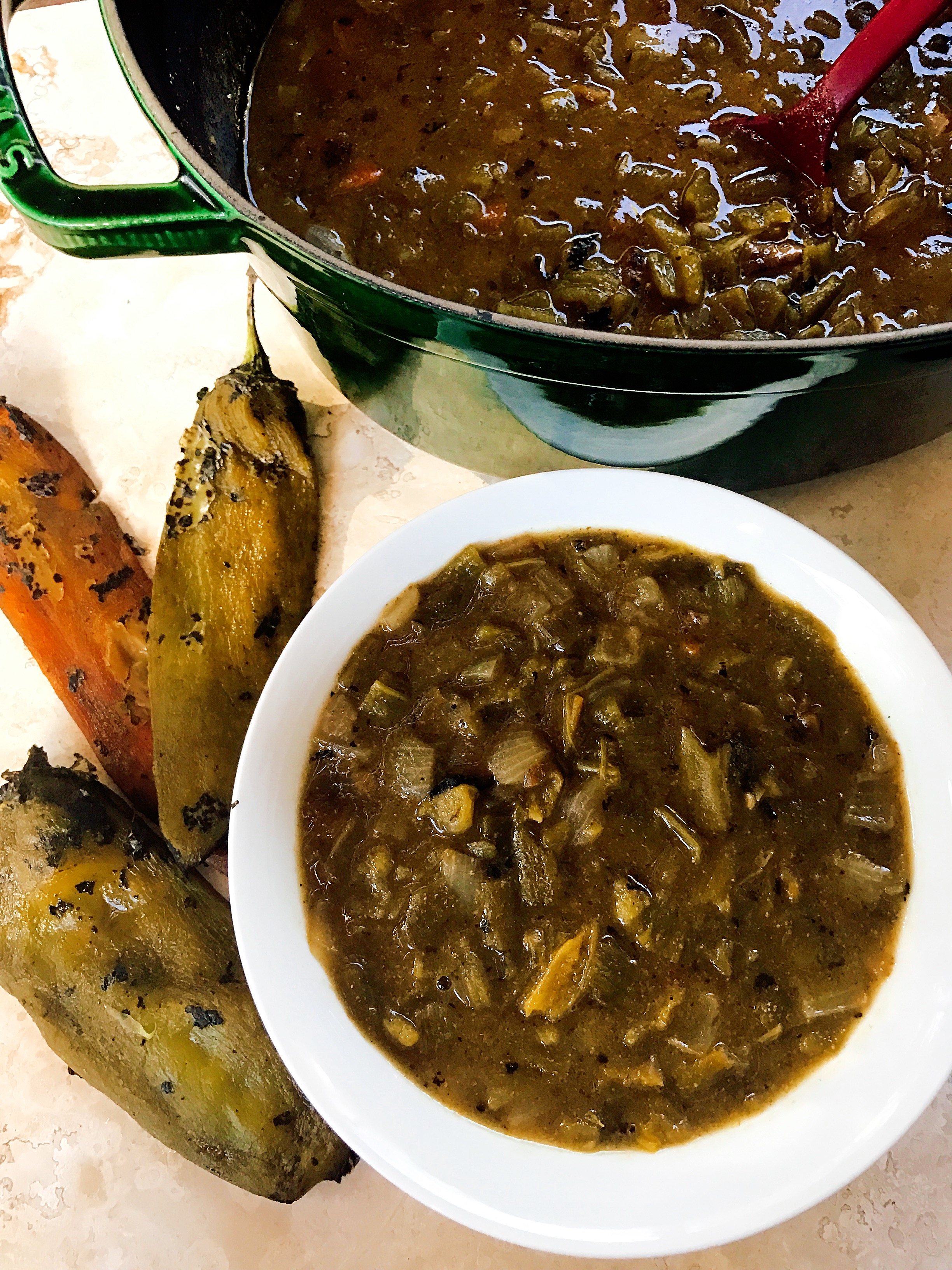 Total Time:
1
hour
30
minutes
Ingredients
1

cup

white onion

diced

2

tsp

garlic powder

1/2

Tbsp

green chili powder

(see note)

1 1/2

tsp

celery salt

1

tsp

dried oregano

1

Tbsp

ground cumin

16-32

oz

vegetable stock

28

oz

green enchilada sauce

(heat and brand of choice) (one large can)

1

bottle

beer

(lager, pilsner, or other lighter beer of choice)

1/2

cup

fresh cilantro

chopped (optional)

1-3

jalapenos

seeded and finely diced

32

oz

fresh roasted Hatch green chiles, heat level of choice,

seeded and peeled (you can substitute the canned kind)
Instructions
Add 2 tablespoons of vegetable oil. Over medium heat, cook onion until translucent, approximately 5 minutes.

Add all of the dried spices: garlic powder, green chili powder, celery salt, dried oregano, and cumin. Saute to toast herbs for approximately 3 minutes.

Add 16 oz of the vegetable stock, green enchilada sauce, beer, cilantro, jalapenos, and green chiles.

Cook, over medium low heat, for at least one hour, preferably three hours. The longer this cooks, the better it tastes and the thicker it gets. Stir occasionally. If the chili becomes too thick, add some more stock a cup at a time.

Finish off the chili with hot sauce for more of a kick as needed, or use as a mix-in. Serve with your favorite toppings or sides.
Notes
You can get green chile powder here.
Nothing beats fresh roasted Hatch peppers, but you can use the canned kind as well.
Use homemade vegetable stock for added flavor.  Learn how to make your own here!
If you are not cooking it long and/or want it thick, add less stock at first and add more slowly as needed to keep it at your desired consistency.
Toppings and sides:
Rice
Baked potatoes
Cheese
Sour cream
Lime
Tortillas
Radishes
Hot sauce