This Hatch Green Chile Pico de Gallo is a fun twist on the fresh tomato salsa classic recipe! Mexican flavors of roasted peppers in a fun dip or topping for Cinco de Mayo and game day. Make mild or hot.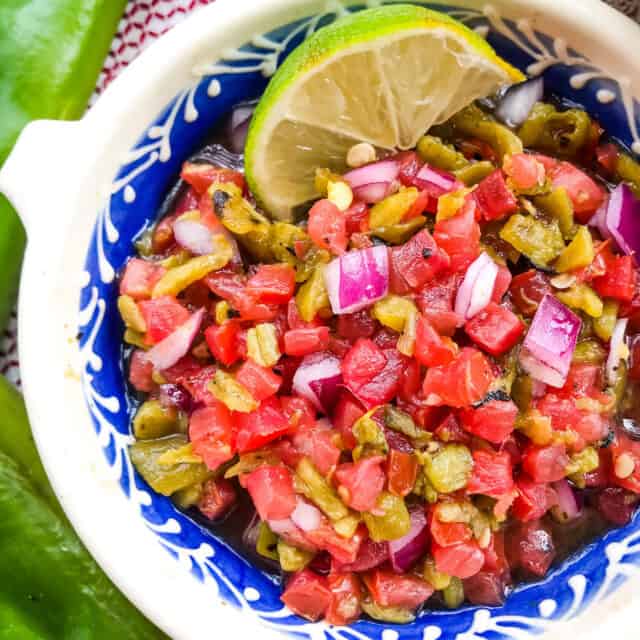 Take it up a notch! This Hatch Green Chile Pico de Gallo is your favorite fresh and chunky salsa with diced green chiles for extra flavor.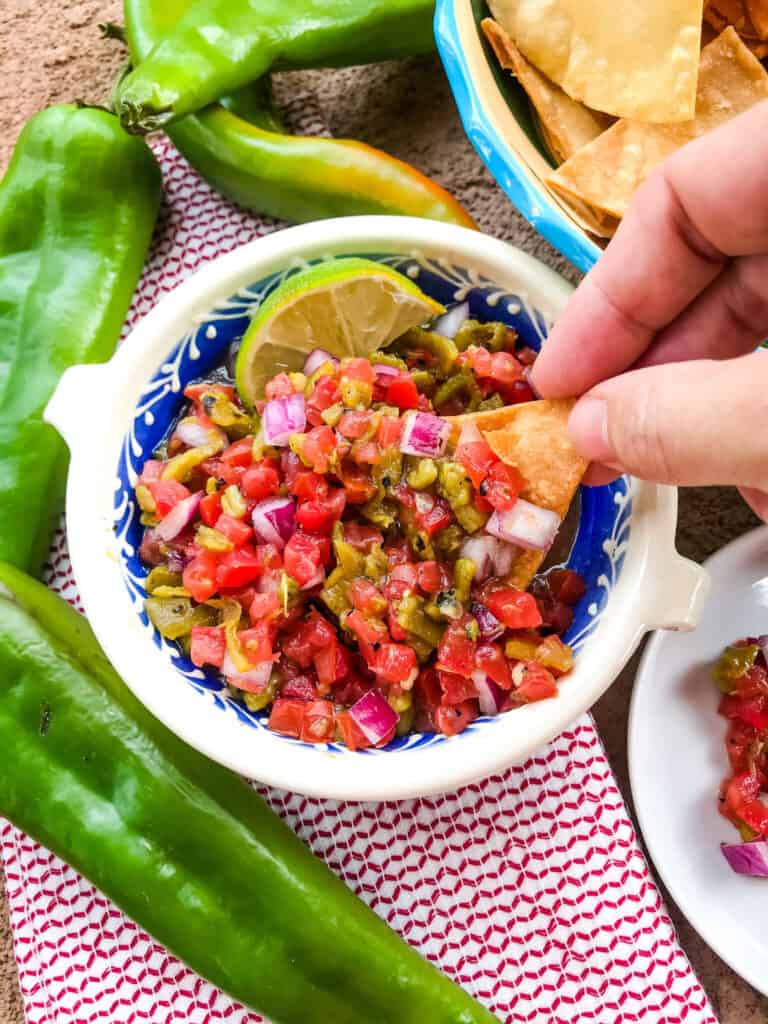 This fresh tomato salsa is SO good!
I was inspired by my popular classic pico de gallo recipe which is requested SO often for parties and events.
Paired up with my love of Hatch green chile peppers instead of jalapenos, and this Hatch Green Chile Pico de Gallo is a fun twist!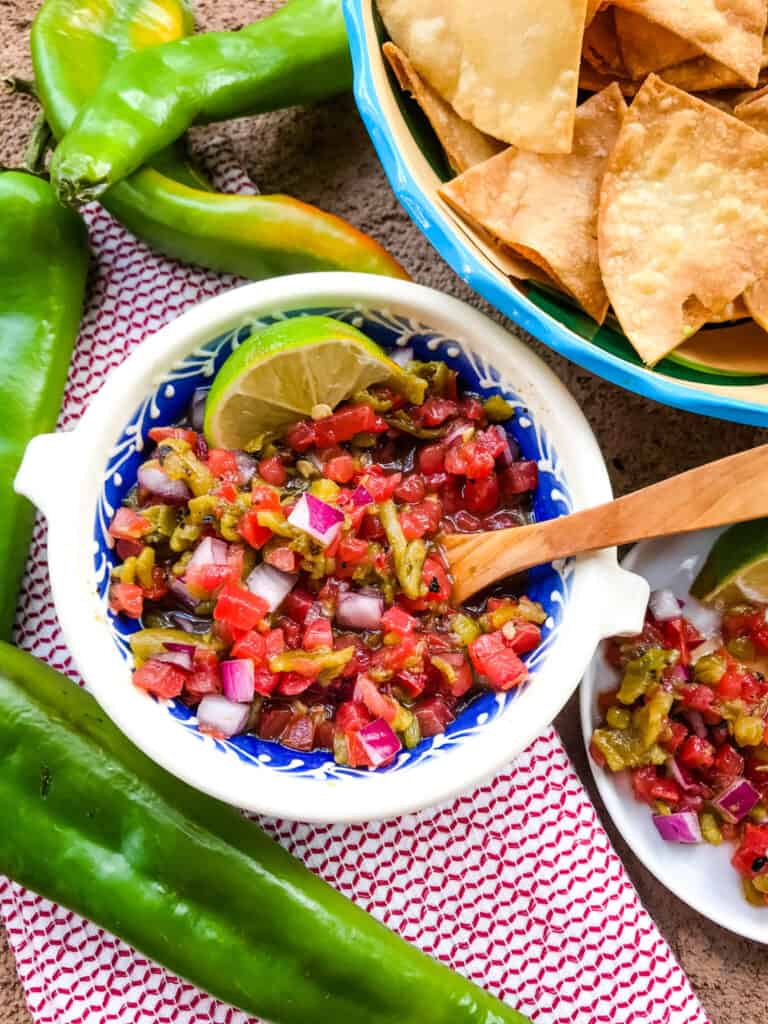 What are Hatch Green Chiles?
Hatch Green Chiles are a little slice of heaven.
These chiles are famously from Hatch, New Mexico.
They range in heat level and have an amazing earthy flavor with a little smokiness from roasting (but not anything like smoked chipotles).
There are several variations now such as Anaheim chiles, which are the same peppers that were taken to Anaheim, CA and changed to be much milder.
If you can find fresh roasted Hatch peppers, those are best. Check your grocer freezer section.
I also loved getting an order of Hatch chiles from The Hatch Chile Store. They came peeled and ready to use in separate one pound bags which makes them PERFECT for freezing!
These are the peppers I used in these pictures and you can just see all of the smokey goodness.
Otherwise, the canned and diced peppers are a good substitute.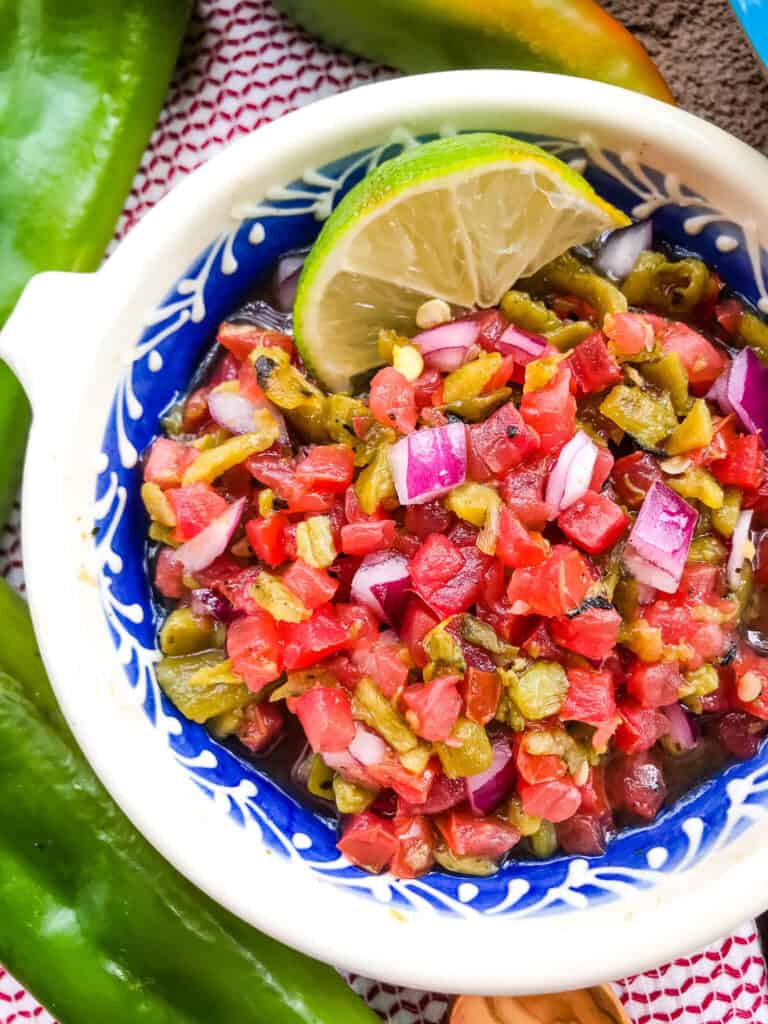 Chopping Everything Up
Making a homemade pico de gallo is a LOT of chopping, especially if you are making a large batch.
I highly recommend getting a chopper, which you can use any time you need to chop, and is especially helpful for things like salsa batches.
There are more industrial choppers very similar to what you see in a restaurant, and since I cook a lot, that is what I have.
There are also smaller, plastic based home cooking choppers that work great as well.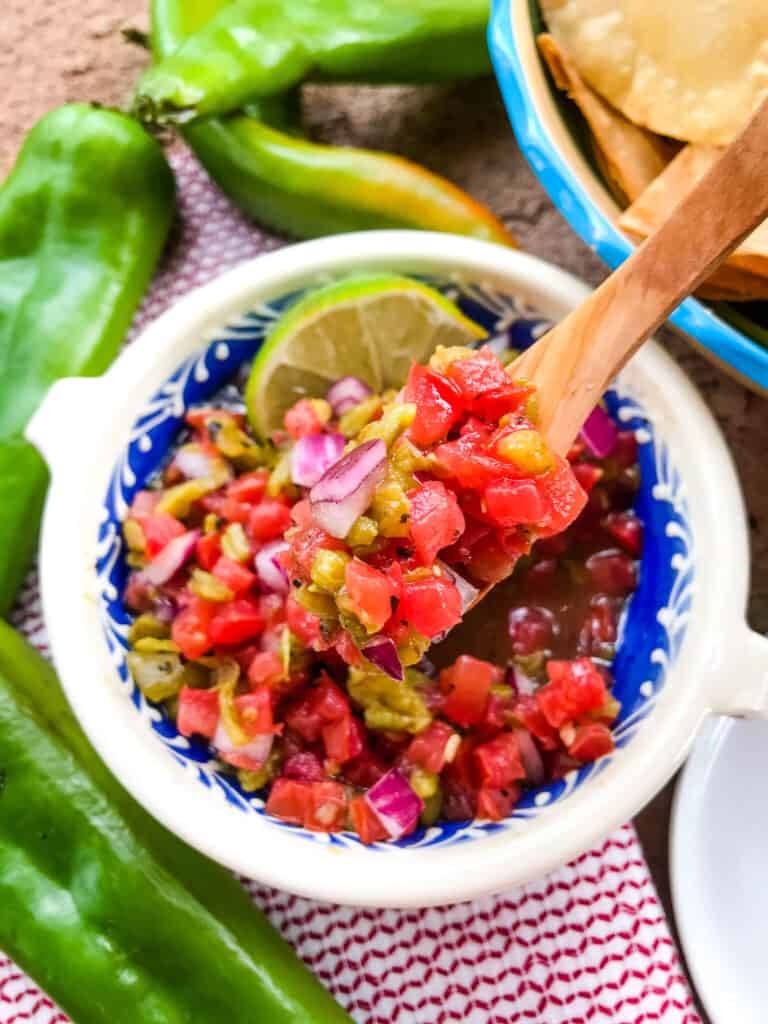 How to Serve the Salsa
This fresh homemade salsa is great as a topper for anything Mexican!
I love that it brings bright and fresh flavors, so I pile it on!
Tacos, enchiladas, burritos, and quesadillas – it all works.
But most of the time this pico is eaten with chips as an appetizer, and it disappears!
There are a lot of Mexican recipes on this site, but here are some of our favorite taco recipes to inspire you!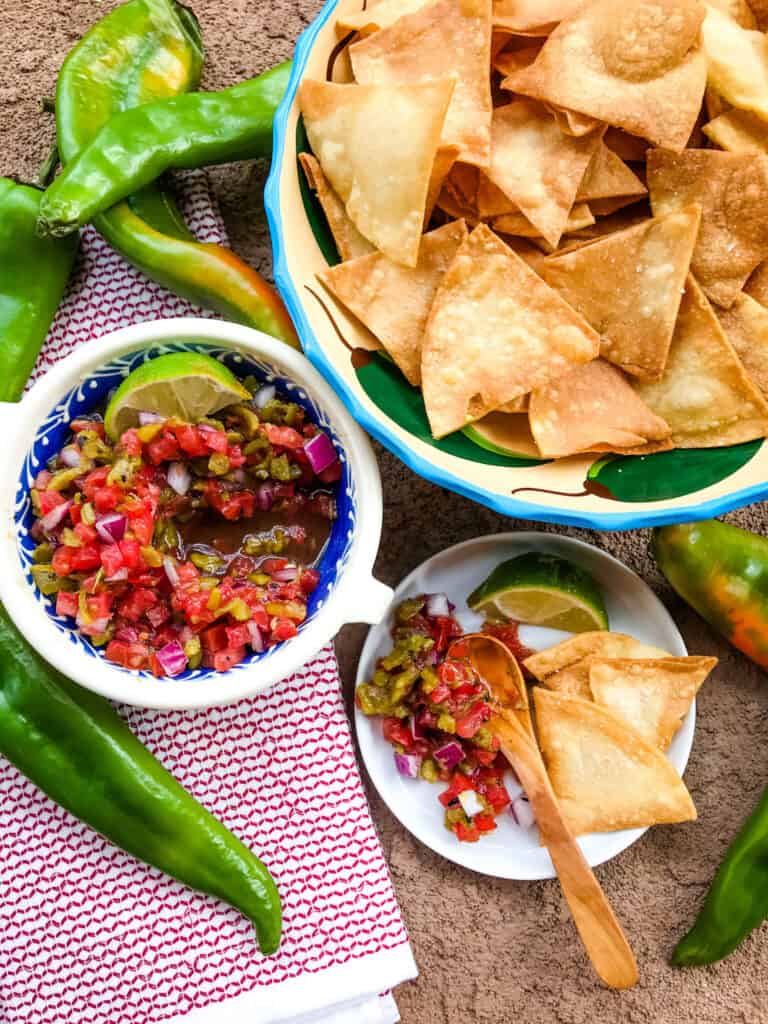 Taco Recipes
Whether Taco Tuesday or any day of the week, these taco recipes will bring excitement to dinner!
More Hatch Green Chile Recipes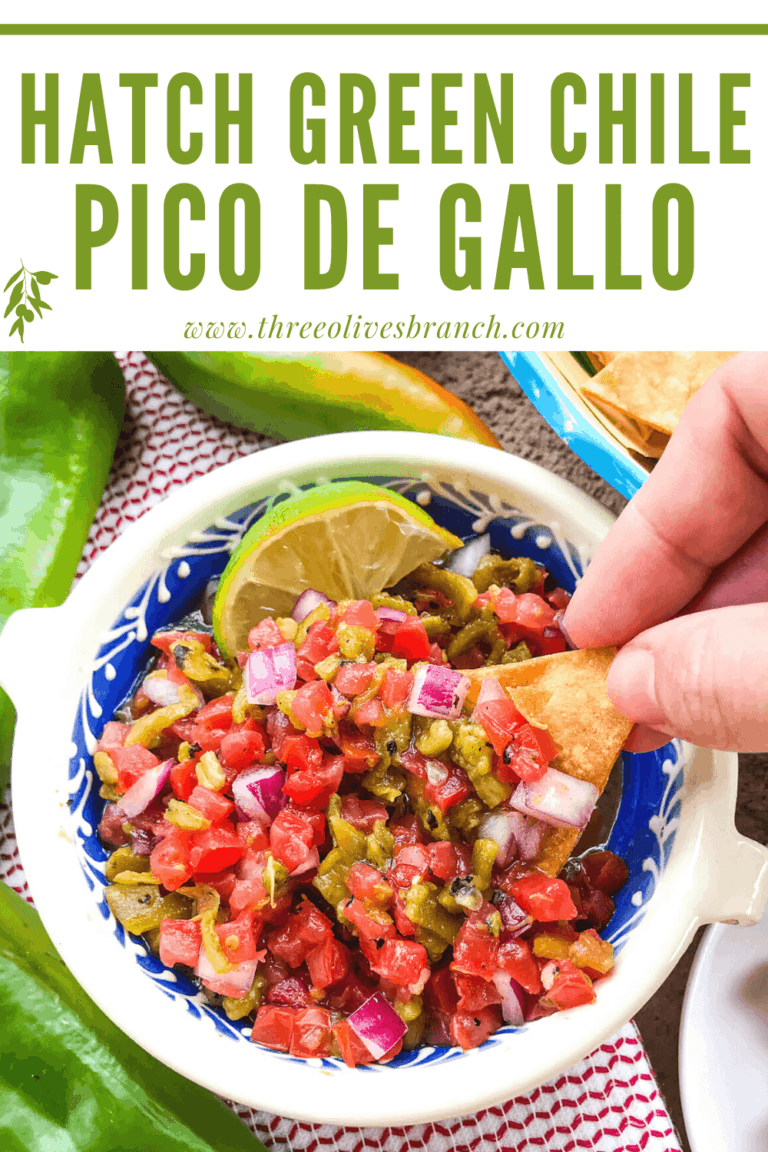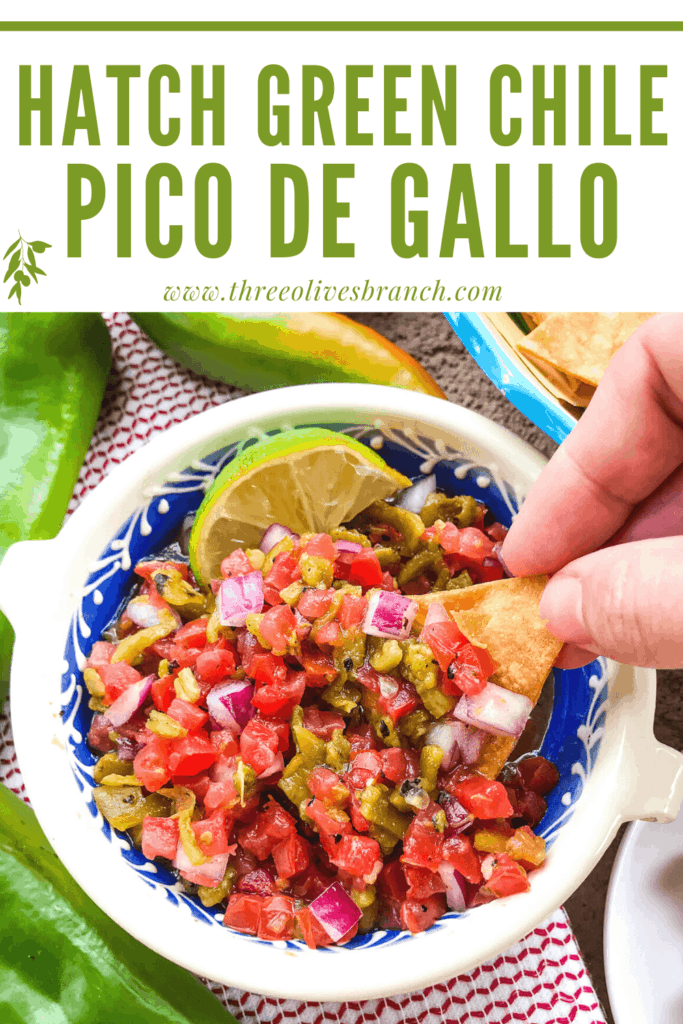 Instructions
Chop your tomatoes into a small dice and discard the guts, leaving just the flesh. Place into a large bowl.

Chop your red onion into the same size and add to the tomatoes.

Add the green chiles to the mixture.

Chop the cilantro by hand and add to the bowl. Mix.

Juice the limes into the tomato mixture and add the salt. Mix again.

Salsa can be served immediately. It is best to refrigerate the pico for at least two hours or until chilled for flavors to develop. The longer it sits, the salt will pull moisture out of the tomatoes and make a sauce.
Notes
After adding each ingredient, watch for the ratio.  I like for there to be a good mix of everything.  It is important to add the jalapeno before the cilantro so that it is easier to identify how much jalapeno is in the mix since they are both green.
Double this recipe for a large batch to feed a crowd.
I recommend getting a chopper, whether a heavy duty chopper or a home cooking chopper. You will love it!
Nutrition
Serving:

1

cup

|

Calories:

105

kcal

|

Carbohydrates:

25

g

|

Protein:

4

g

|

Fat:

1

g

|

Saturated Fat:

1

g

|

Sodium:

172

mg

|

Potassium:

1042

mg

|

Fiber:

7

g

|

Sugar:

13

g

|

Vitamin A:

3008

IU

|

Vitamin C:

66

mg

|

Calcium:

77

mg

|

Iron:

2

mg

By