Hatch Green Chile Mac and Cheese is a delicious homemade pasta recipe! A great American side dish for a summer BBQ, southern soul food, or a versatile side. Creamy white cheddar sauce with roasted peppers.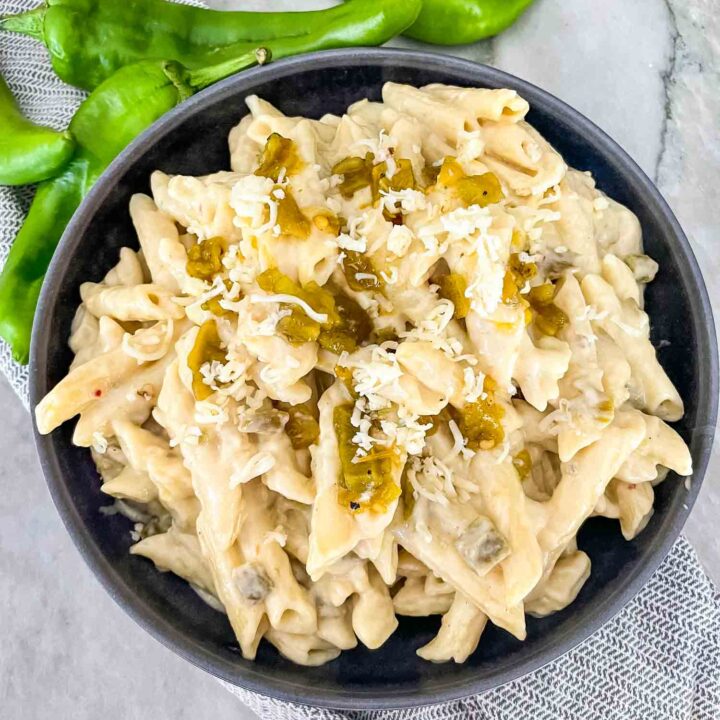 This Hatch Green Chile Mac and Cheese is a delicious homemade macaroni and cheese highlighting the popular roasted peppers in a white cheese sauce.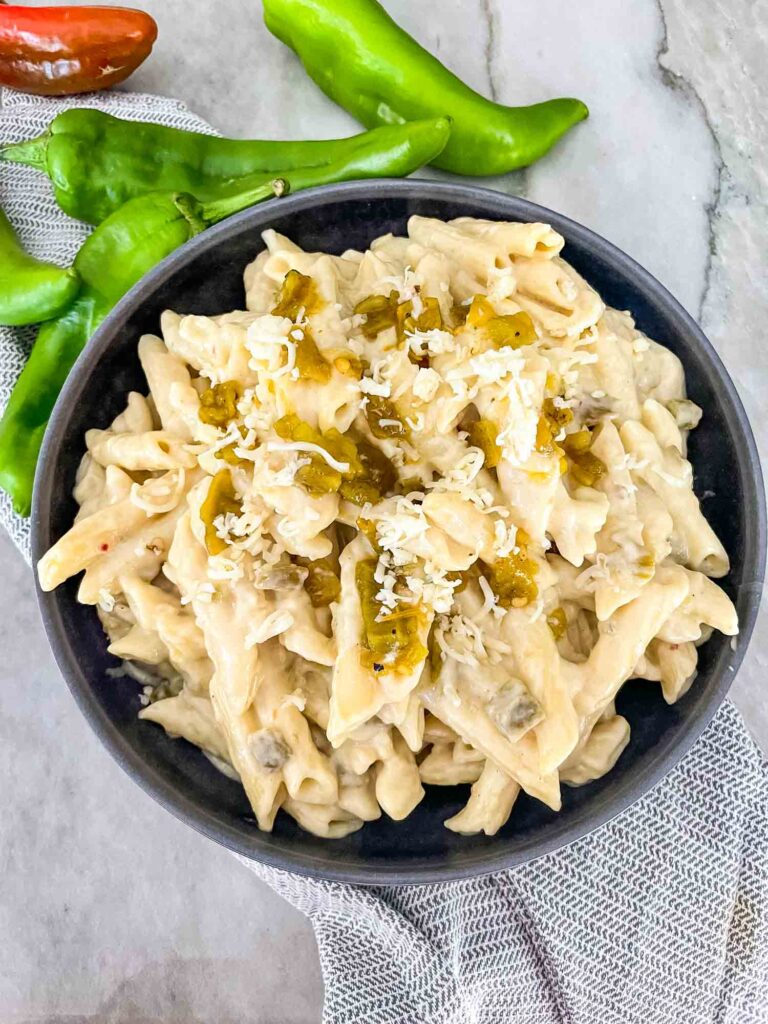 Why You Will Love This Recipe
Homemade mac and cheese is one of those special recipes that screams comfort food.
This pasta side dish works well with summer BBQs, southern food, or as a versatile side.
I also love that this recipe does not used any type of processed cheese blocks, which can be so common in a mac and cheese.
Adjust the heat levels as you prefer and enjoy the amazing flavors of Hatch peppers!
Ingredients
Here are the ingredients you need to make this recipe:
Pasta (shape of choice)
Whole Milk
White Cheddar Cheese
Pepper Jack Cheese (or Monterey Jack)
Hatch Green Chiles
Butter
All Purpose Flour
Garlic Powder
Cayenne Pepper
Salt
Green Chile Powder (optional)
Green Chile Powder – This powder is essentially a ground version of the pepper. It is not required, but I love using it in Hatch green chile recipes like this because it helps bring that pepper flavor through the entire dish and not just where you find the peppers themselves.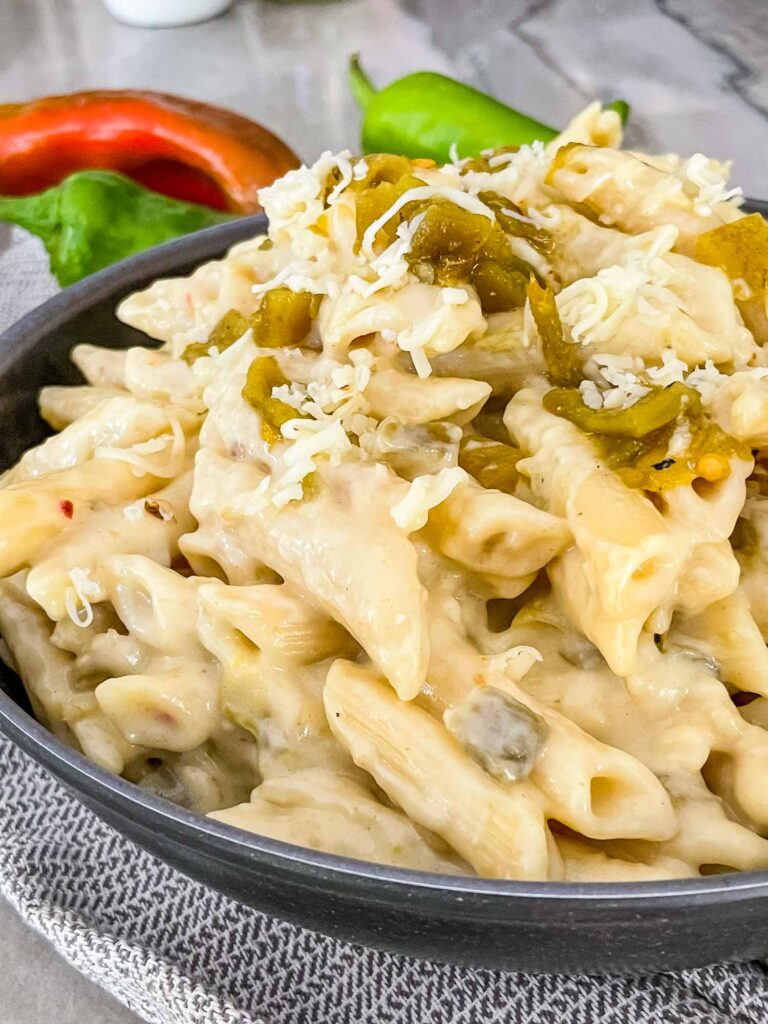 About Hatch Green Chiles
Hatch chile peppers are popular and from the town of Hatch, New Mexico. You can typically find various heat levels of the pepper, with the hottest available earliest in the season.
I love to use the fresh peppers, since I am lucky to have them in this area. If you do not see them in the produce section, I have found that frozen packs of roasted and diced green chiles are the closest substitution.
And of course there are always canned diced green chiles easily accessible.
Another option is to buy Anaheim peppers fresh and roast them yourself. The Anaheim pepper is actually a variety of Hatch peppers that were grown in California. The main difference is they are very, very mild. So to get heat, you will want to add hot sauce.
Pick the heat level of diced Hatch green chiles that you prefer. Think of their heat similar to a salsa. I like to go with mild or medium as I can always make it more spicy but do not want anyone to be uncomfortable with it being too hot!
Equipment
Here are the equipment items you will need:
Large Pot
Colander
Spatula
Serving Vessel such as a Large Baking Dish (9×13 inches -ish)
Instruction Overview
Cook your pasta to al dente as per package directions. Drain and set aside.
Make your sauce in the same pot by first melting the butter. Then add the flour and dry spices.
Add the milk and green chiles and bring to a simmer to warm it through.
Add the cheese and mix until melted. Season to taste.
Then add the pasta back in and mix.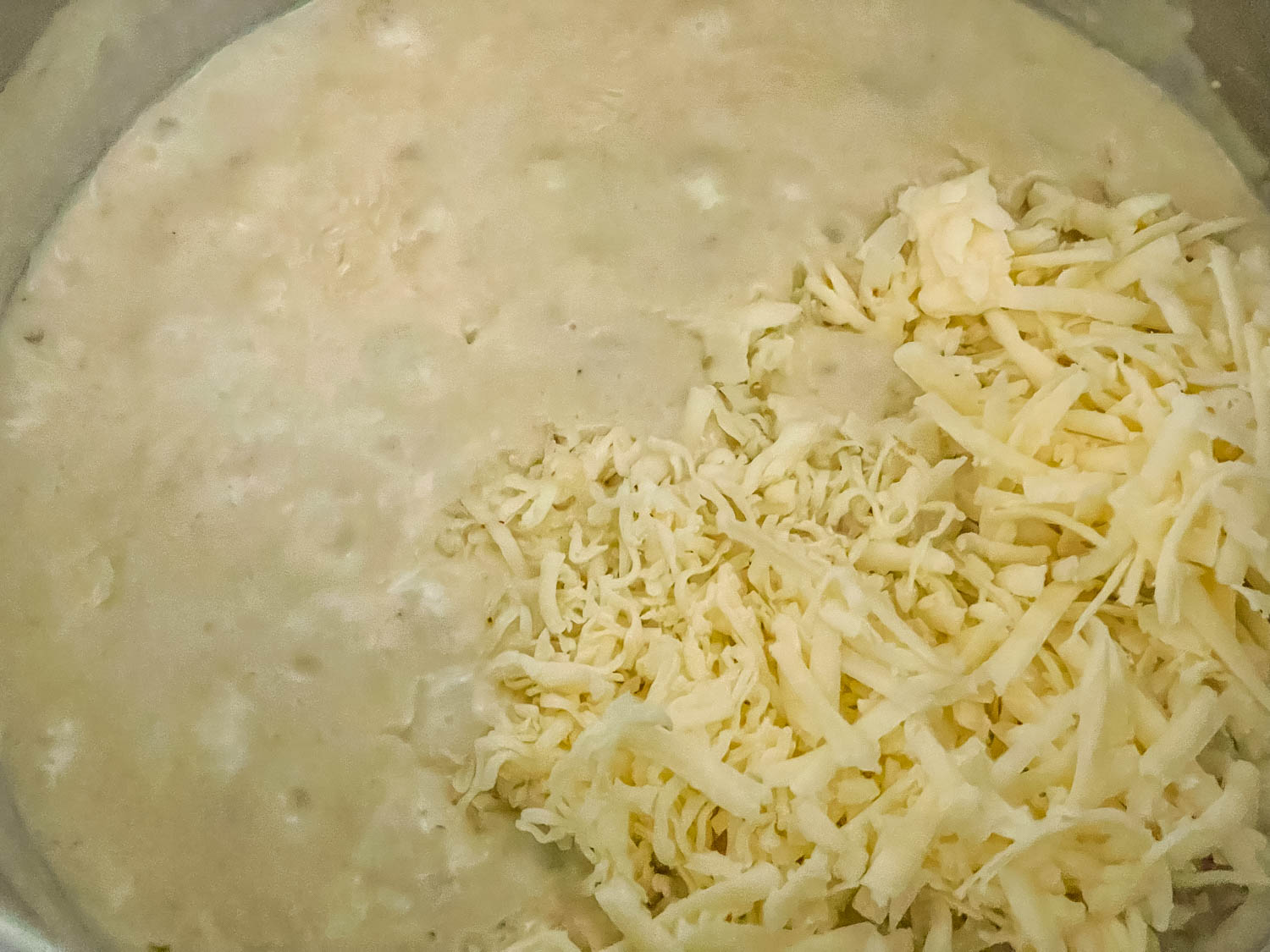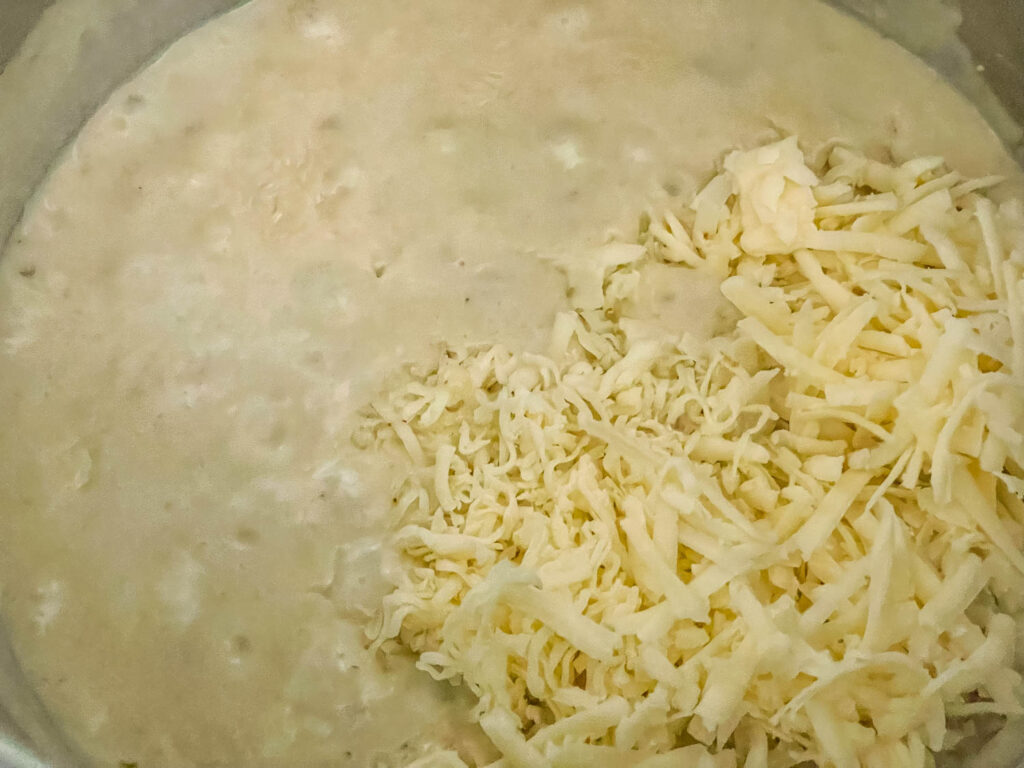 Modifications and Adjustments
Want to make it with a crunchy coating on top? Combine 1/2 cup Panko breadcrumbs with 2 Tablespoons of melted butter. Spread across the top of the pasta in the baking dish and put under the broiler in the oven for just a couple minutes. No need to further cook the pasta, we are just trying to brown the top!
Kim's Tips
The white cheddar really takes this recipe to an amazing place! I made a few versions using just Pepper Jack, Monterey Jack, and other mild white cheeses. The white cheddar is going to give you that strong cheese flavor without overpowering the pepper flavor.
Want to make this in advance? I recommend either keeping the sauce separate until serving, or undercooking the pasta several minutes and making the sauce thinner. As it sits in the refrigerator, the pasta will absorb more moisture, so these options will help you keep it the best it can be!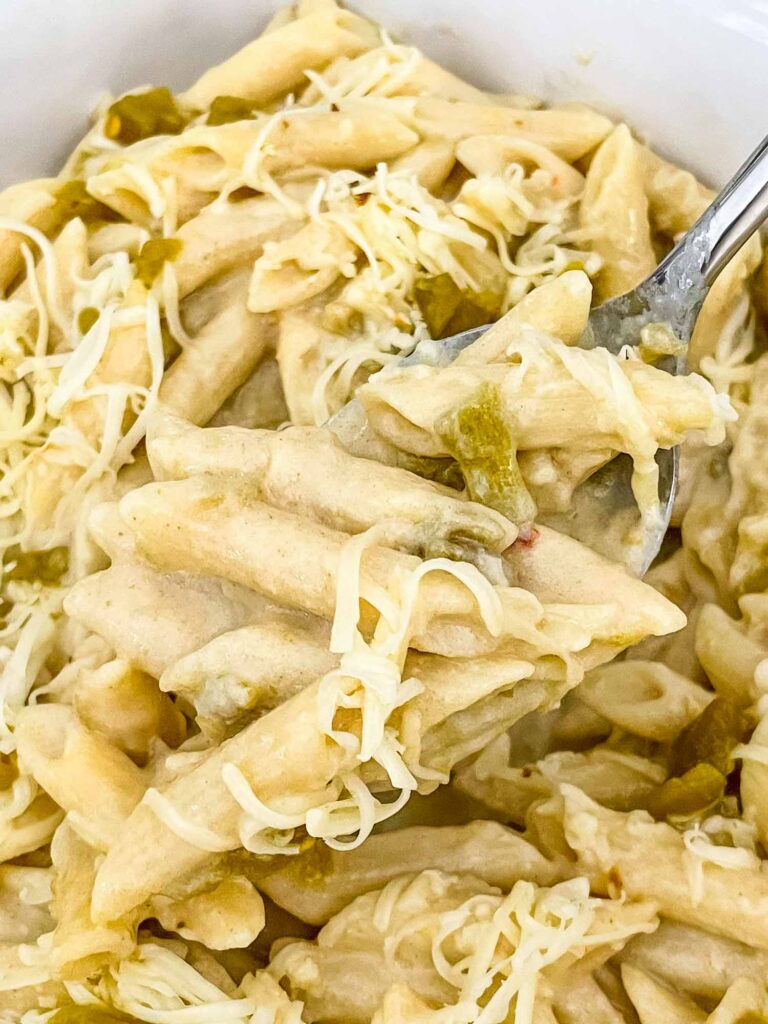 FAQs

Why do you add flour to mac and cheese?
The flour helps to thicken the sauce without adding too much cheese or reducing it too much.
What cheeses make the best mac and cheese?
Cheeses that melt well are important to give you that silky cheese sauce.
For a great cheese taste you want to use a cheese with stronger flavor, such as the white cheddar, and support it with complimenting cheeses, such as the jack.
How do you keep mac and cheese creamy?
Do not bake the pasta, which would cause it to absorb more moisture.
Troubleshooting
Why is my mac n cheese dry?
If you use pasta with too many edges to cover, you will need more sauce and it will appear dry. Pastas with a lot of edges include angel hair (greater outside surface area), rotini (all the ridge edges), and the smaller pasta shapes to name a few.
My favorite shape to use is penne or something similar like gemelli or rigatoni.
Why is my homemade mac and cheese gritty?
The milk was likely too hot when you added the cheese, which causes it to seize up and leave small gritty chunks.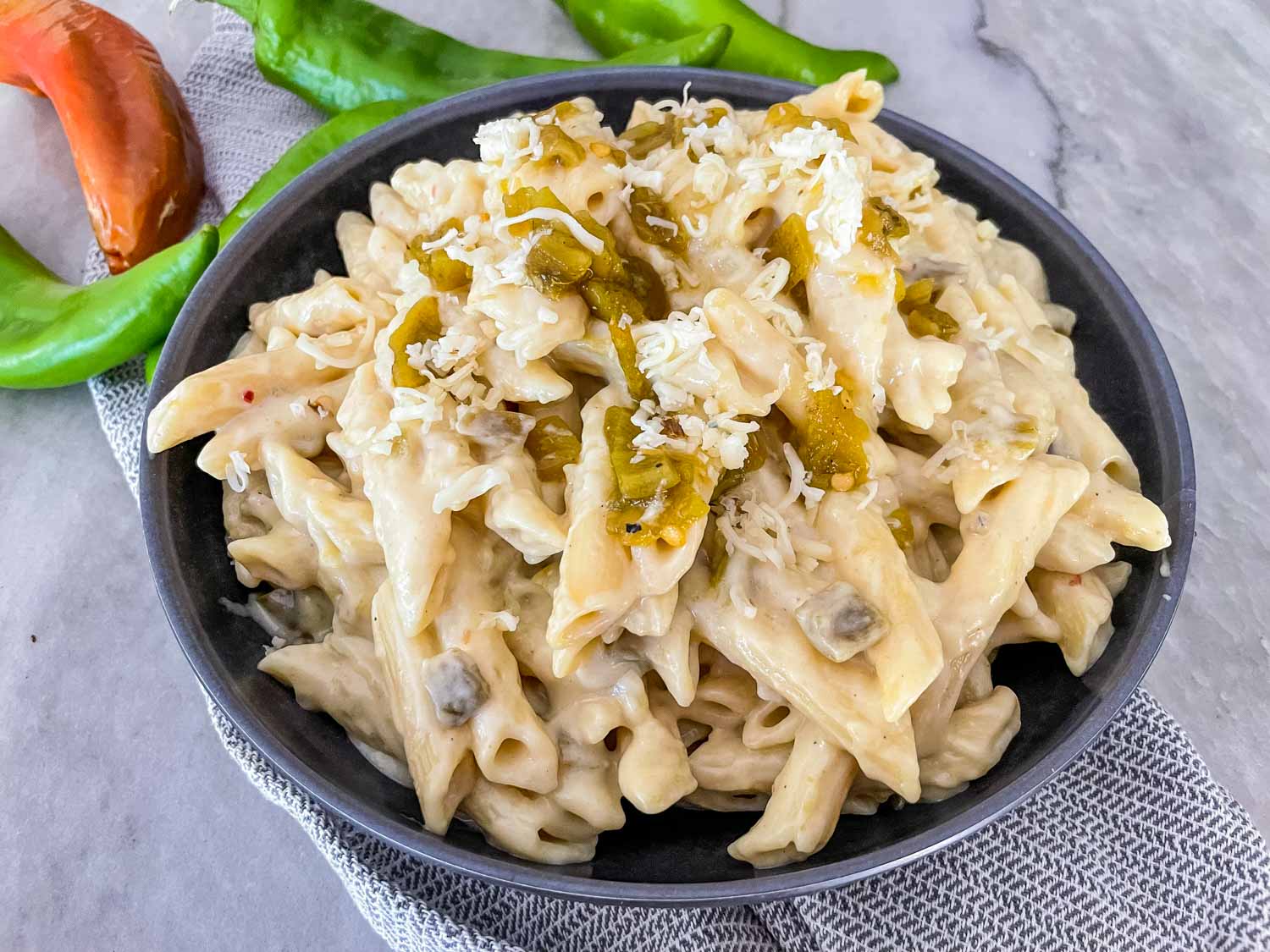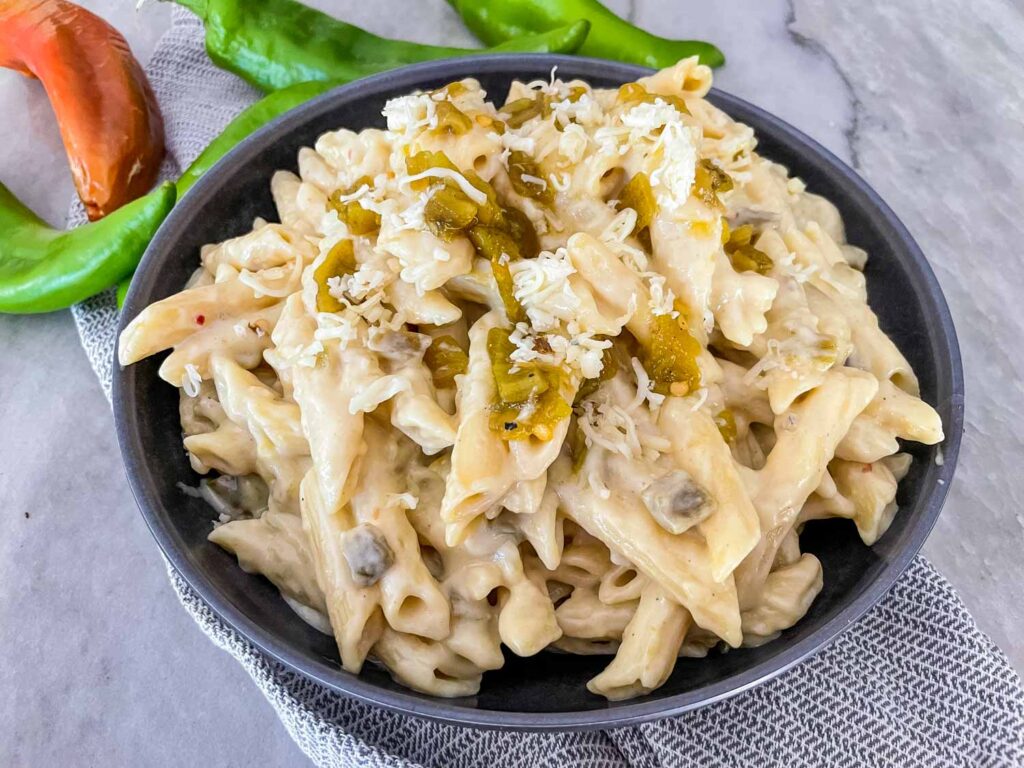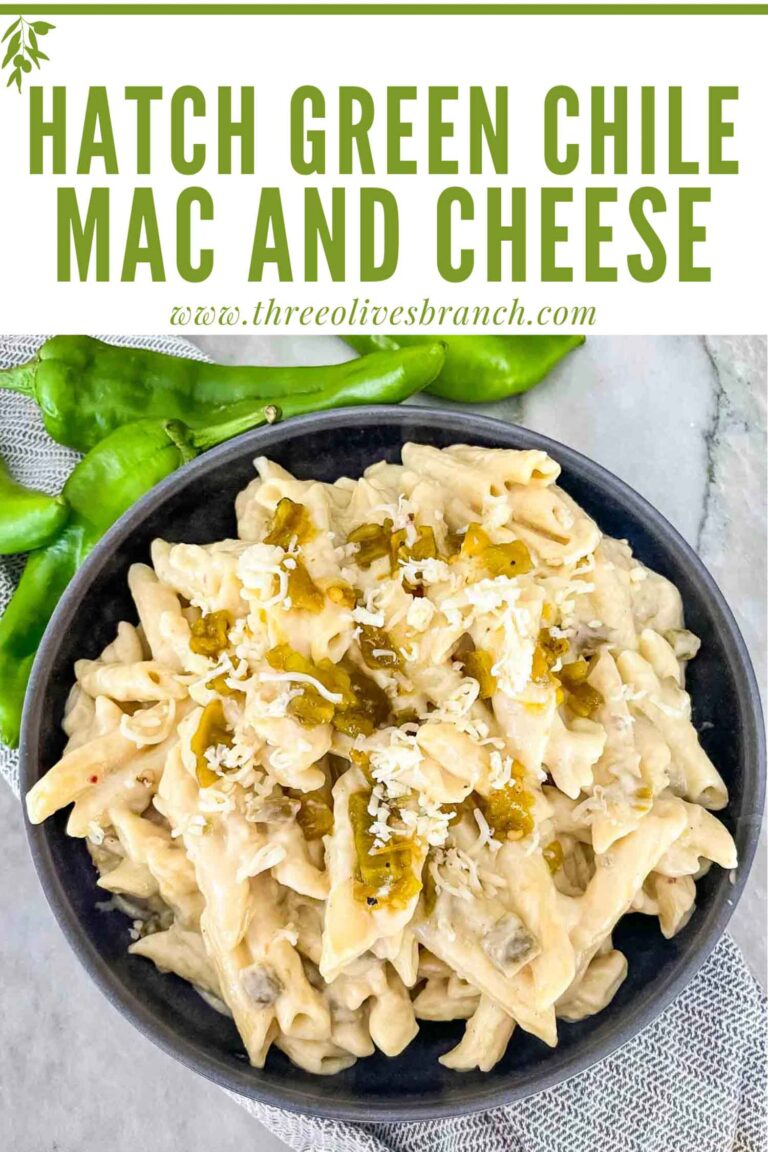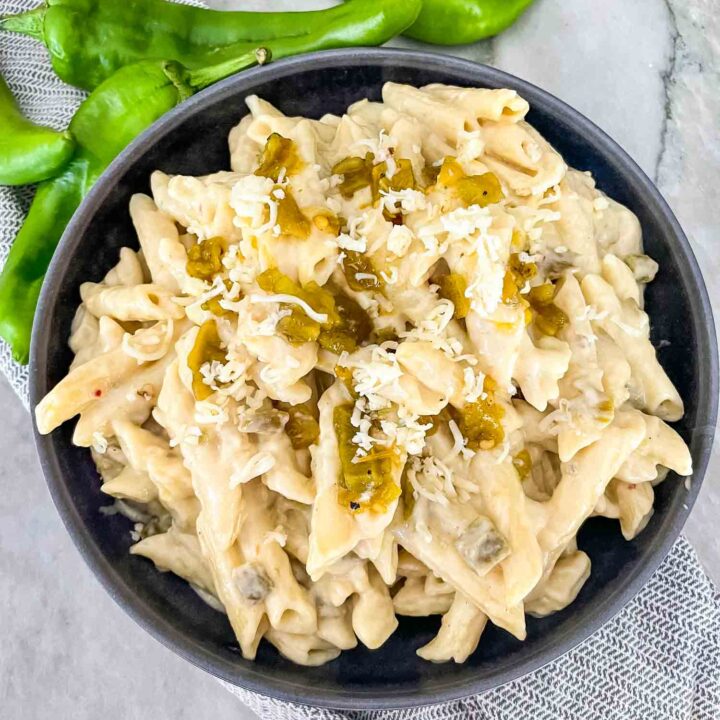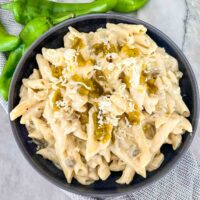 Hatch Green Chile Mac and Cheese
Hatch Green Chile Mac and Cheese is a delicious homemade pasta recipe! A great American side dish for a summer BBQ, southern soul food, or a versatile side. Creamy white cheddar sauce with roasted peppers.
Print
Pin
Rate
Instructions
In a large pot of boiling water, cook the pasta as per package directions for al dente.

When done, drain and set aside.

Put the pot back on the stove over medium heat to make the sauce in. Add the butter.

4 Tablespoons unsalted butter

When the butter has melted, add the flour, green chile powder (if using), garlic powder, salt, and cayenne.

Mix and cook until fragrant and the flour is turning a very light tan, about 2-3 minutes.

¼ cup all purpose flour,

½ Tablespoon green chile powder,

½ teaspoon garlic powder,

1 teaspoon salt,

dash cayenne pepper

Add the diced green chiles and milk. Bring to a simmer for it to heat through.

8 ounces diced green chiles,

2 cups whole milk

Add the cheeses and stir until melted. Season to taste as desired.

1 cup shredded white cheddar cheese,

1 cup shredded pepperjack cheese

Remove from heat. Add the pasta and stir to coat. Serve.
Nutrition
Serving:
1
serving
|
Calories:
232
kcal
|
Carbohydrates:
11
g
|
Protein:
10
g
|
Fat:
17
g
|
Saturated Fat:
10
g
|
Polyunsaturated Fat:
1
g
|
Monounsaturated Fat:
4
g
|
Trans Fat:
0.2
g
|
Cholesterol:
49
mg
|
Sodium:
772
mg
|
Potassium:
353
mg
|
Fiber:
1
g
|
Sugar:
6
g
|
Vitamin A:
951
IU
|
Vitamin C:
7
mg
|
Calcium:
301
mg
|
Iron:
1
mg
More Hatch Green Chile Recipes
Hatch Green Chile Recipes
A collection of just some of our Hatch Green Chile recipes!

By