This Hatch Green Chile Guacamole is a fun twist on the classic Mexican dip! A fast chili peppers recipe that's gluten free, vegan, and keto low carb. Great for game day and Cinco de Mayo fiesta.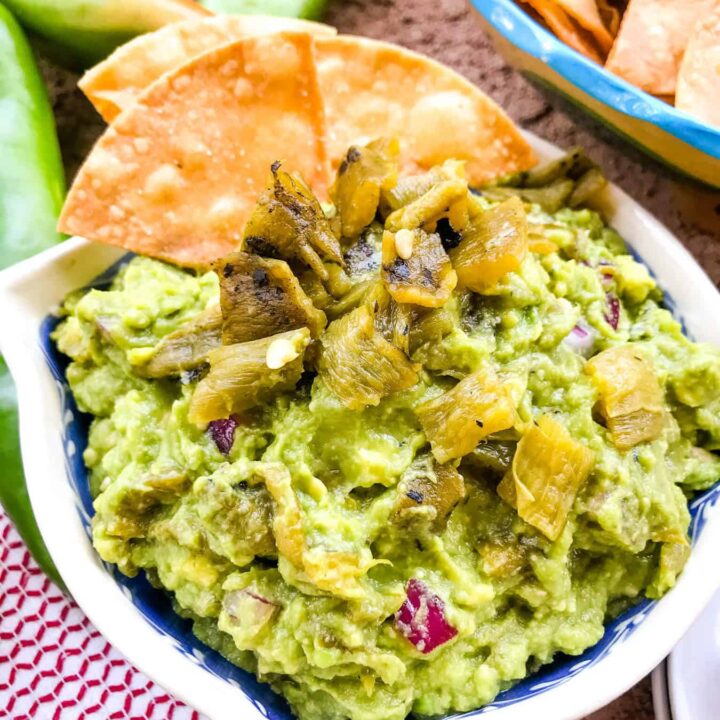 This Hatch Green Chile Guacamole is a fun twist on a classic!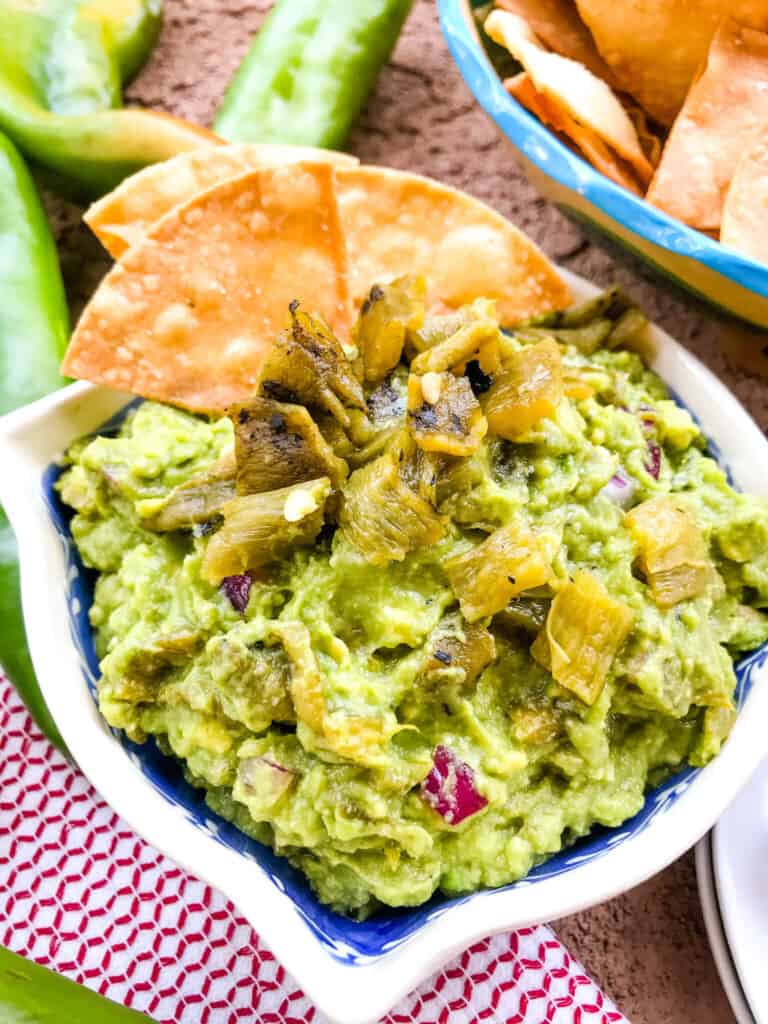 This post contains affiliate links.
I am a huge fan of guacamole, and also anything Hatch green chiles.
This Hatch Green Chile Guacamole is a delicious and fun way to highlight the green chile peppers in a yummy dip.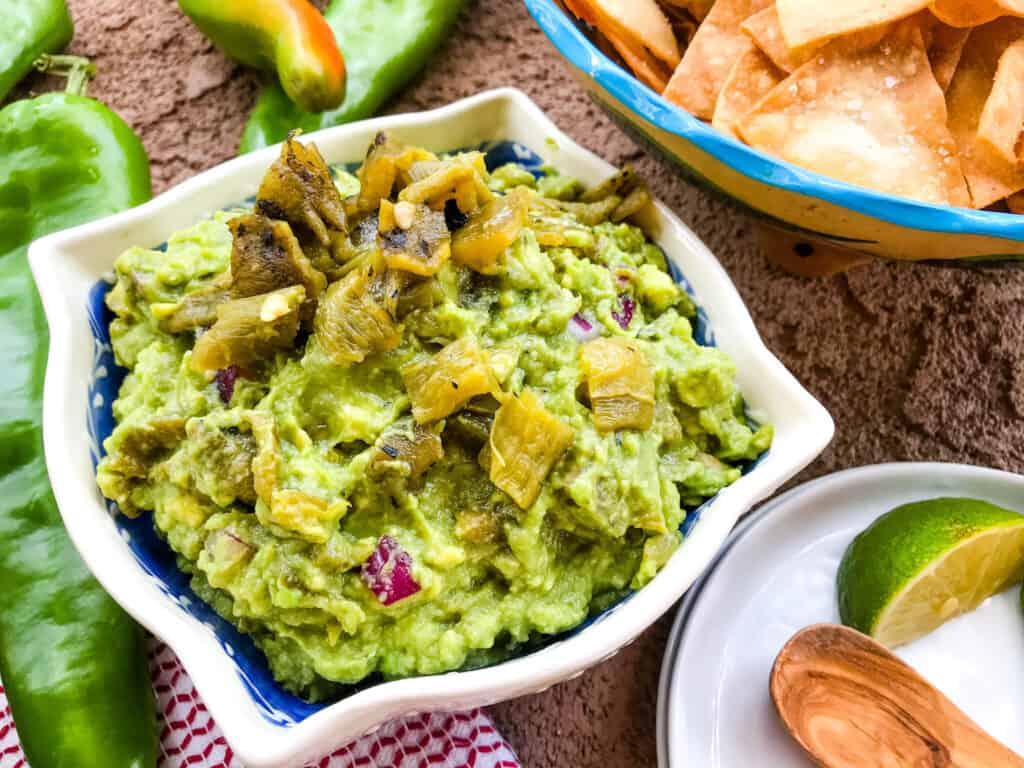 Using the green chile powder is optional, but I find that it really brings a depth of flavor to the guacamole.
This way, you are getting some of the green chile flavor throughout all of the avocado and not just when you get a chunk of a pepper.
It may be a unique spice, but I use it a lot in Hatch recipes!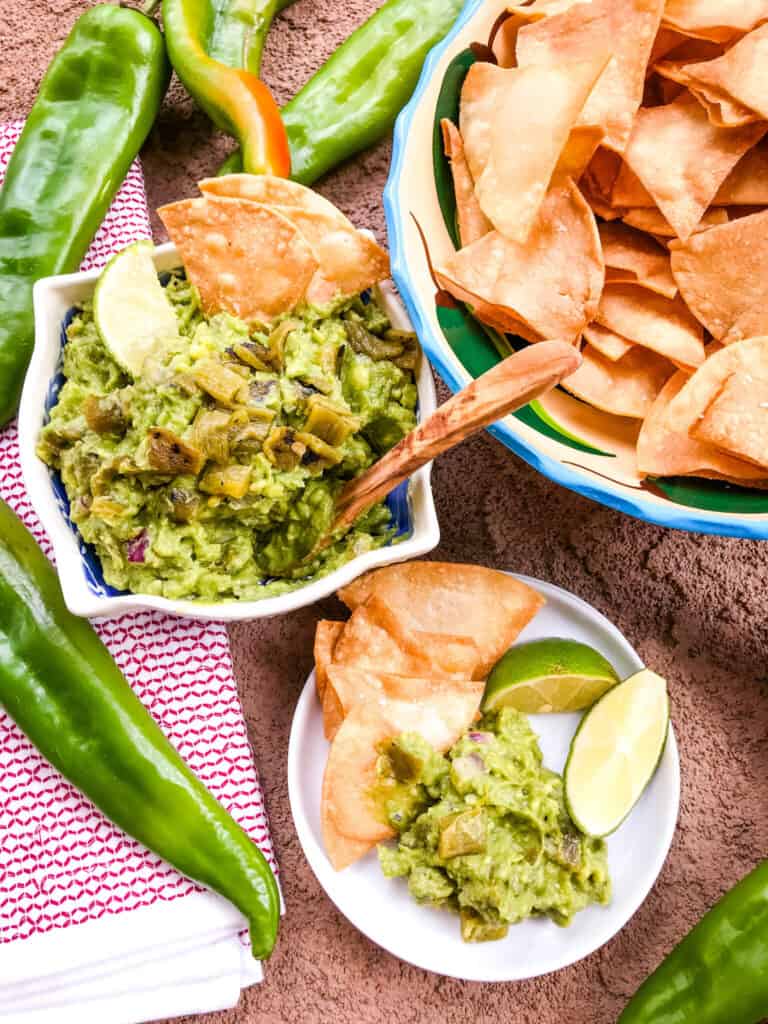 What are Hatch Green Chiles?
Hatch Green Chiles are a little slice of heaven.
These chiles are famously from Hatch, New Mexico.
They range in heat level and have an amazing earthy flavor with a little smokiness from roasting (but not anything like smoked chipotles).
There are several variations now such as Anaheim chiles, which are the same peppers that were taken to Anaheim, CA and changed to be much milder.
If you can find fresh roasted Hatch peppers, those are best. Check your grocer freezer section.
Otherwise, the canned and diced peppers are great.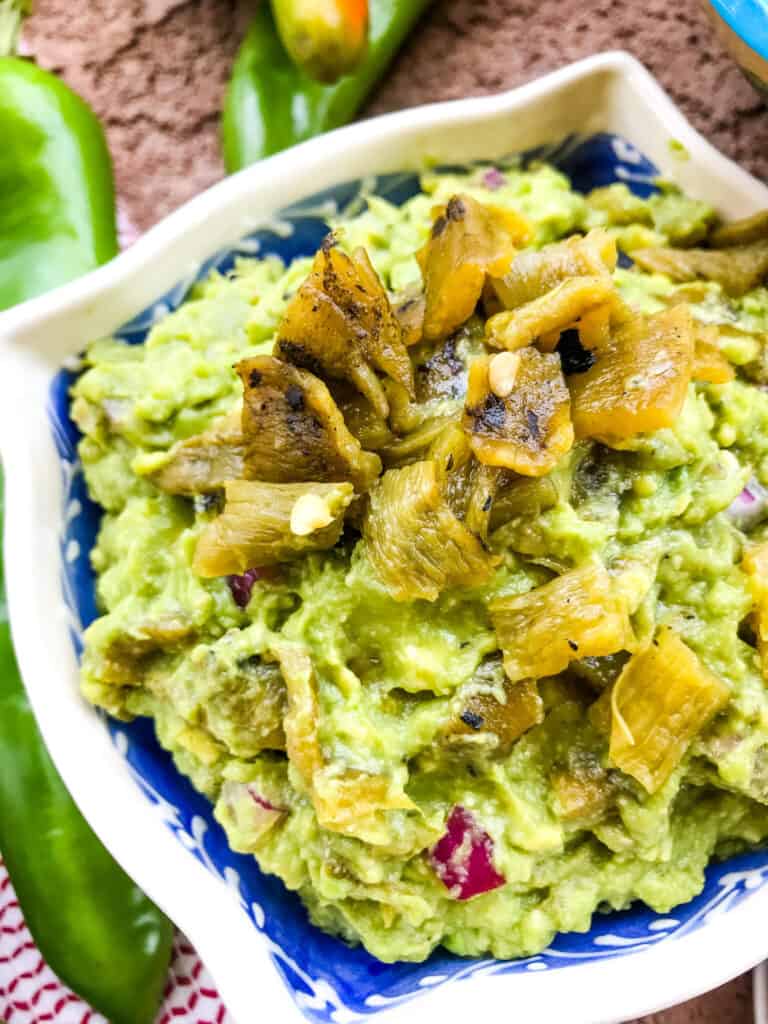 Green Chile Powder
I am a huge fan of using green chile powder in many Mexican recipes, especially when they are green chile themed.
I feel that the powder brings a depth of flavor and green chile essence throughout the food instead of just the pockets of flavor when you bite into the pepper itself.
But if preferred, you can skip the green chile powder completely and it will still taste great.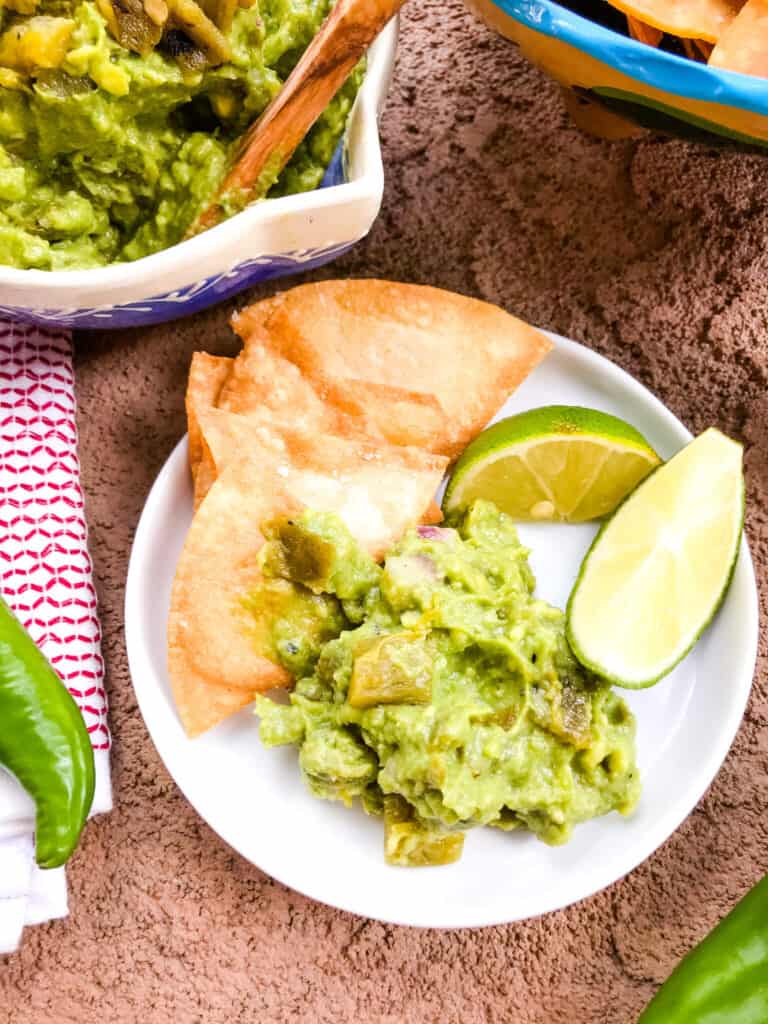 More Hatch Green Chile Recipes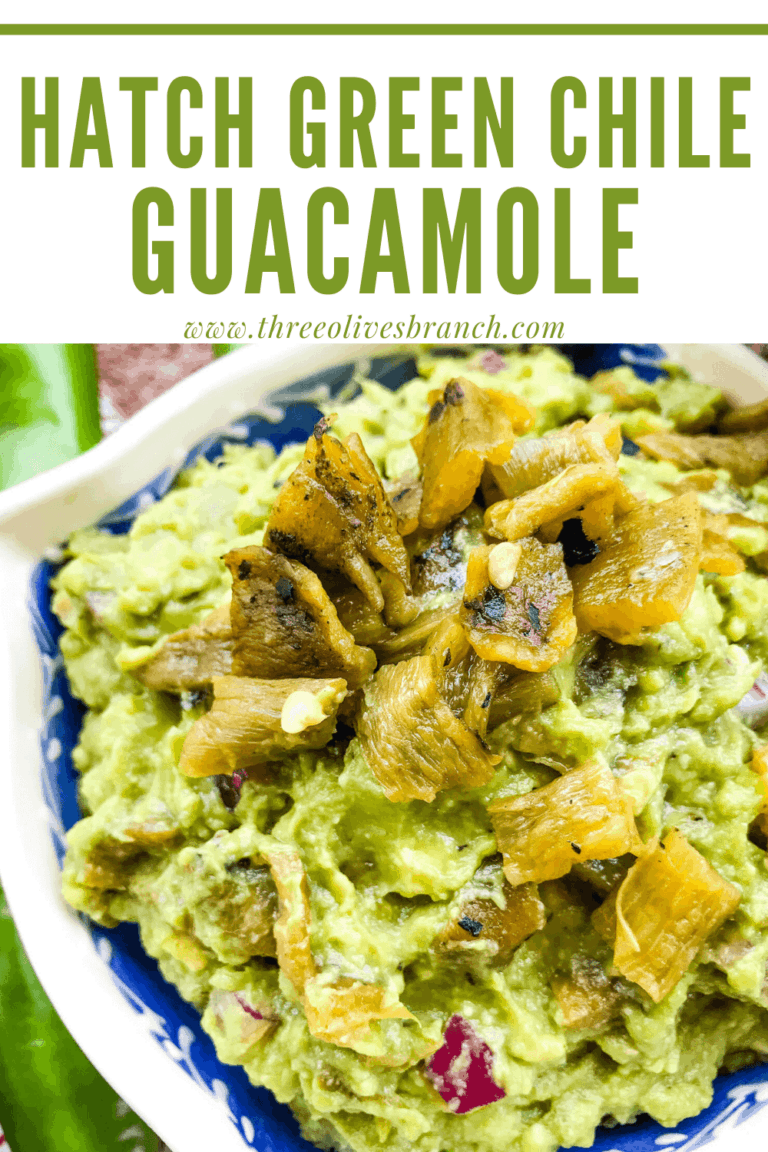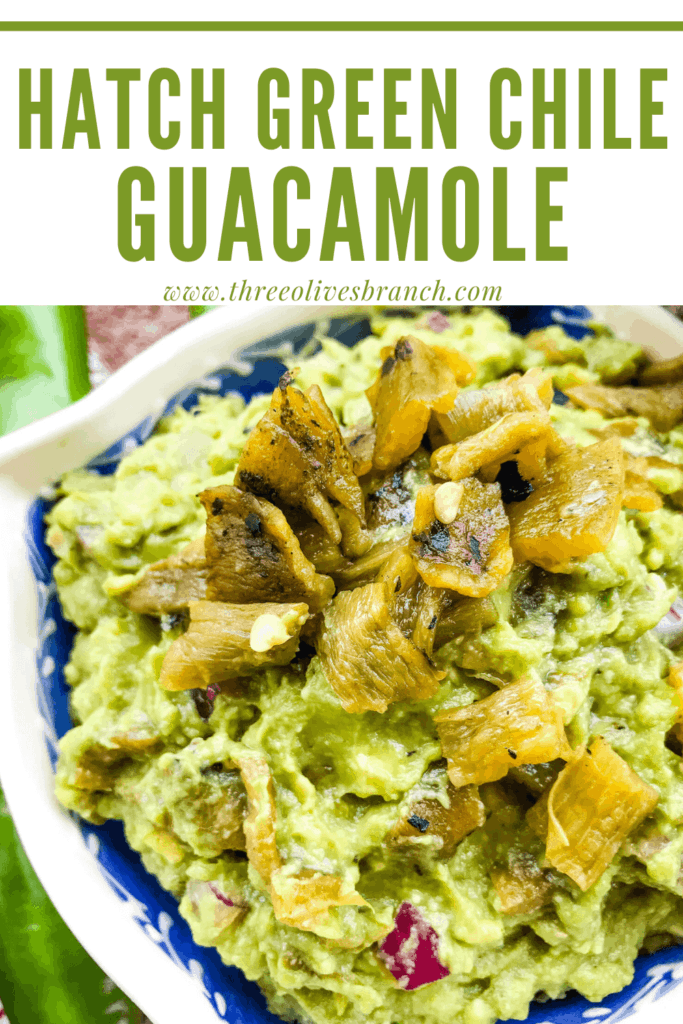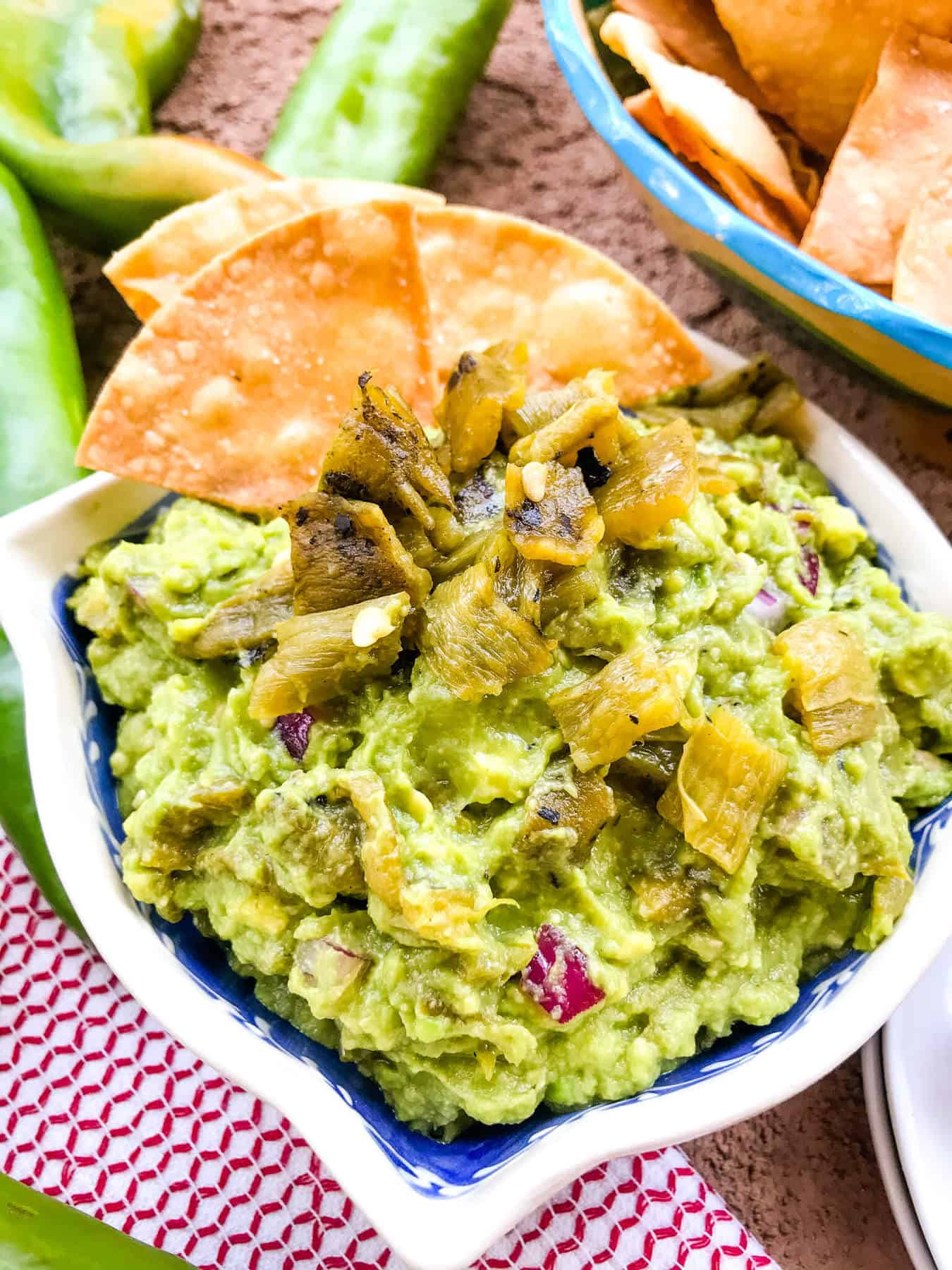 Instructions
Scoop avocado flesh into a small bowl. Mash with a fork until you reach your desired consistency.

Drizzle with olive oil. Add the remaining ingredients. Stir to combine. Season to taste with lime, salt, and chile peppers.

Cover the guacamole with saran wrap by pressing the plastic directly against the guacamole, all the way to the edges. You want to keep the air away from the avocado so that it does not turn brown.

Refrigerate for at least two hours for the flavors to meld and for the dip to chill. Adjust seasoning as needed.
Nutrition
Serving:

1

serving

|

Calories:

171

kcal

|

Carbohydrates:

11

g

|

Protein:

2

g

|

Fat:

15

g

|

Saturated Fat:

2

g

|

Sodium:

84

mg

|

Potassium:

557

mg

|

Fiber:

7

g

|

Sugar:

2

g

|

Vitamin A:

205

IU

|

Vitamin C:

16

mg

|

Calcium:

24

mg

|

Iron:

1

mg

By