Hatch Green Chile Sausage Breakfast Burritos are a perfect meal prep breakfast recipe for on the go mornings! Flour tortillas packed with pork, egg, peppers, cheese, and potatoes with lots of modification options. Take them camping or freeze them for an easy meal idea!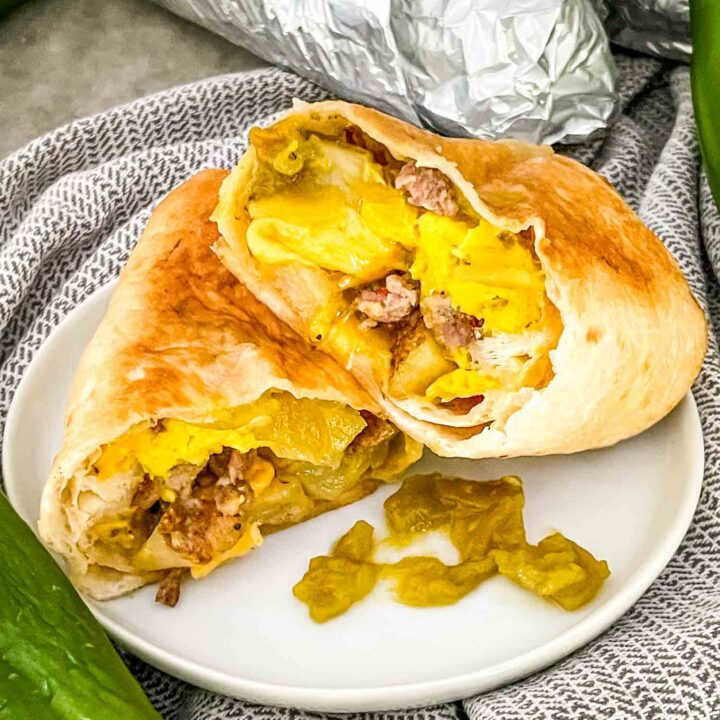 A perfect grab and go breakfast, these Hatch Green Chile Sausage Breakfast Burritos are filled with pork, egg, potatoes, cheese, and peppers in a soft flour tortilla. So good you will want to keep a batch stocked in the freezer!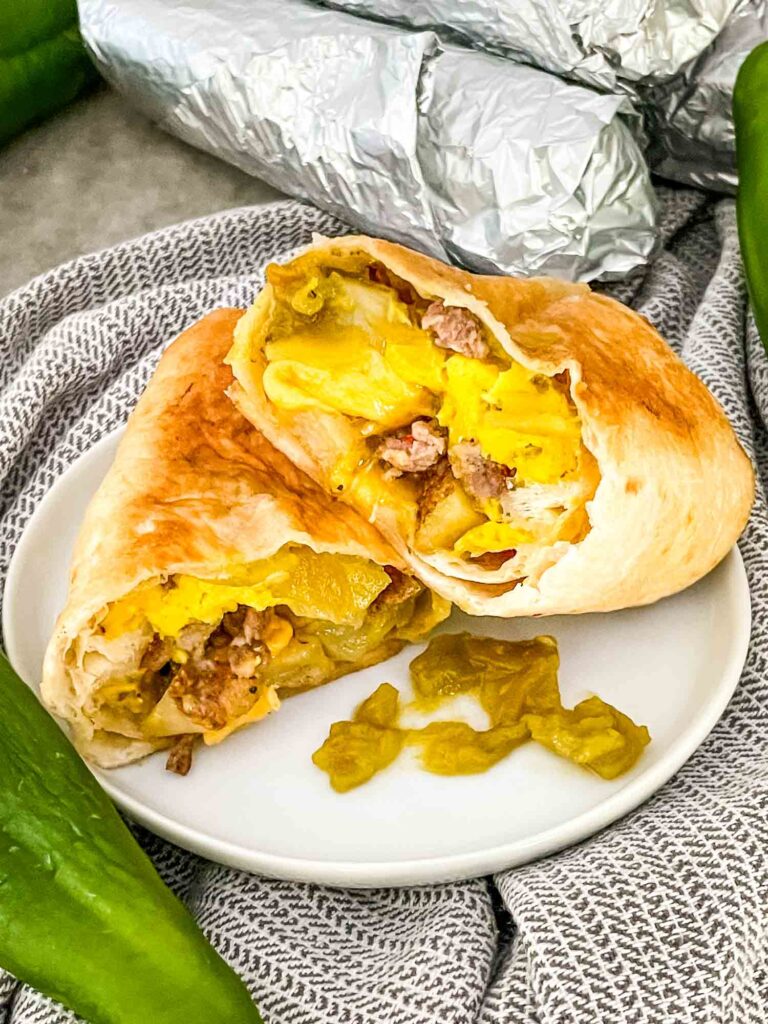 Homemade Burrito Recipe
I just love making homemade breakfast burritos, and they are so popular with our friends and family!
Simple to make and with lots of customization options, these Hatch Green Chile Sausage Breakfast Burritos are full of flavor and a perfect quick and easy breakfast option.
Keep them in the freezer for an easy meal, and you can even take them to a campfire!
What is a Breakfast Burrito Made Of?
Here are the ingredients you need to make these burritos. See section below regarding substitutions and modifications that you can make.
Large Flour Tortillas
Eggs
Ground Sausage
Hatch Green Chiles
Potatoes
Shredded Cheddar Cheese
Garlic Powder
Salt and Black Pepper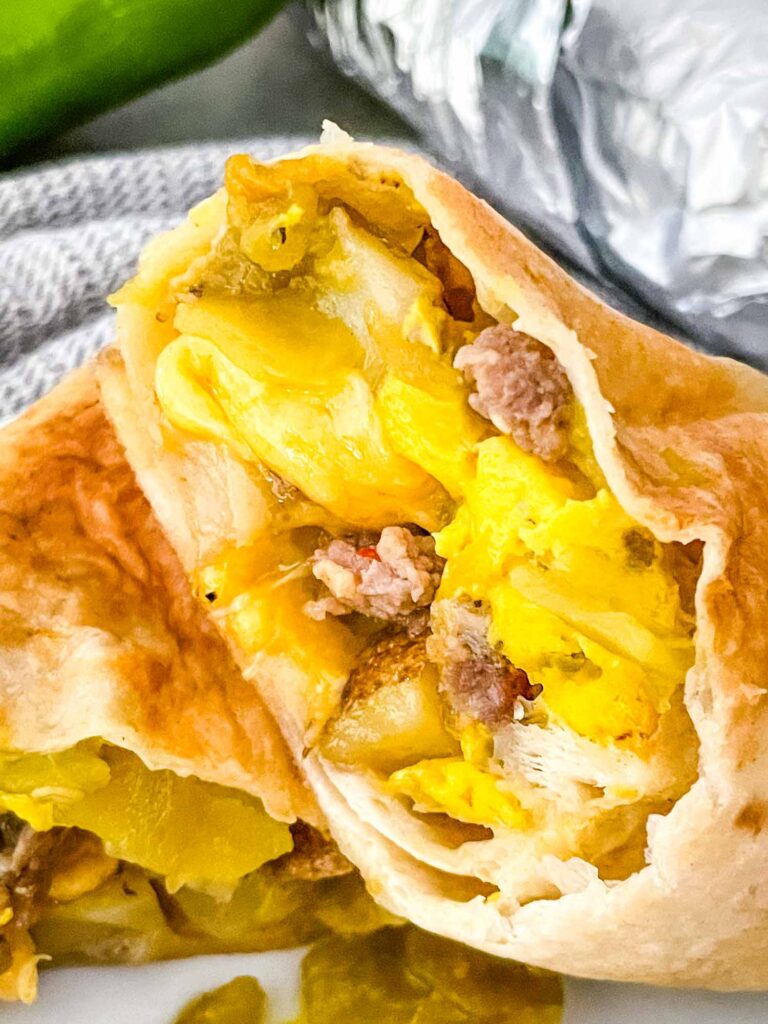 How to Make Breakfast Burritos
First cook your potatoes and have them ready to go.
Then cook the sausage in a skillet and when cooked through, add the eggs, green chiles, and garlic powder.
Grab your tortillas and put a portion of the potatoes, cheese, and the egg mixture in a pile.
Roll them up (see below for specific tips on rolling) and you are ready to go!
Modifications and Substitutions
There are so many ways that you can change up these burritos:
Meats
Use cooked and chopped bacon, or sliced sausage links instead of the ground sausage
Eggs
Easily use just egg whites if desired
Changes
Skip potatoes if you want (I personally LOVE them)
Use any kind of cheese desired
Use a Hatch Green Chili as a sauce instead of the diced peppers, and just pour a little when assembling each one. (One of my favorite modifications!)
Additions
Add other ingredients as desired, such as:
Tomatoes
Hot Sauce
Refried or Whole Beans
Salsas
Onion
How Much Does it Cost to Make Breakfast Burritos?
This will vary with prices in your area, but for the 8 burritos in this recipe it will cost around $8 for the ingredient portions that you are using.
You will still have leftovers of most ingredients such as the rest of a dozen eggs, the other half pound of sausage, etc. to put to use for other recipes!
How Do You Wrap Breakfast Burritos?
Put the filling about a third of the way from the bottom, leaving space on each side.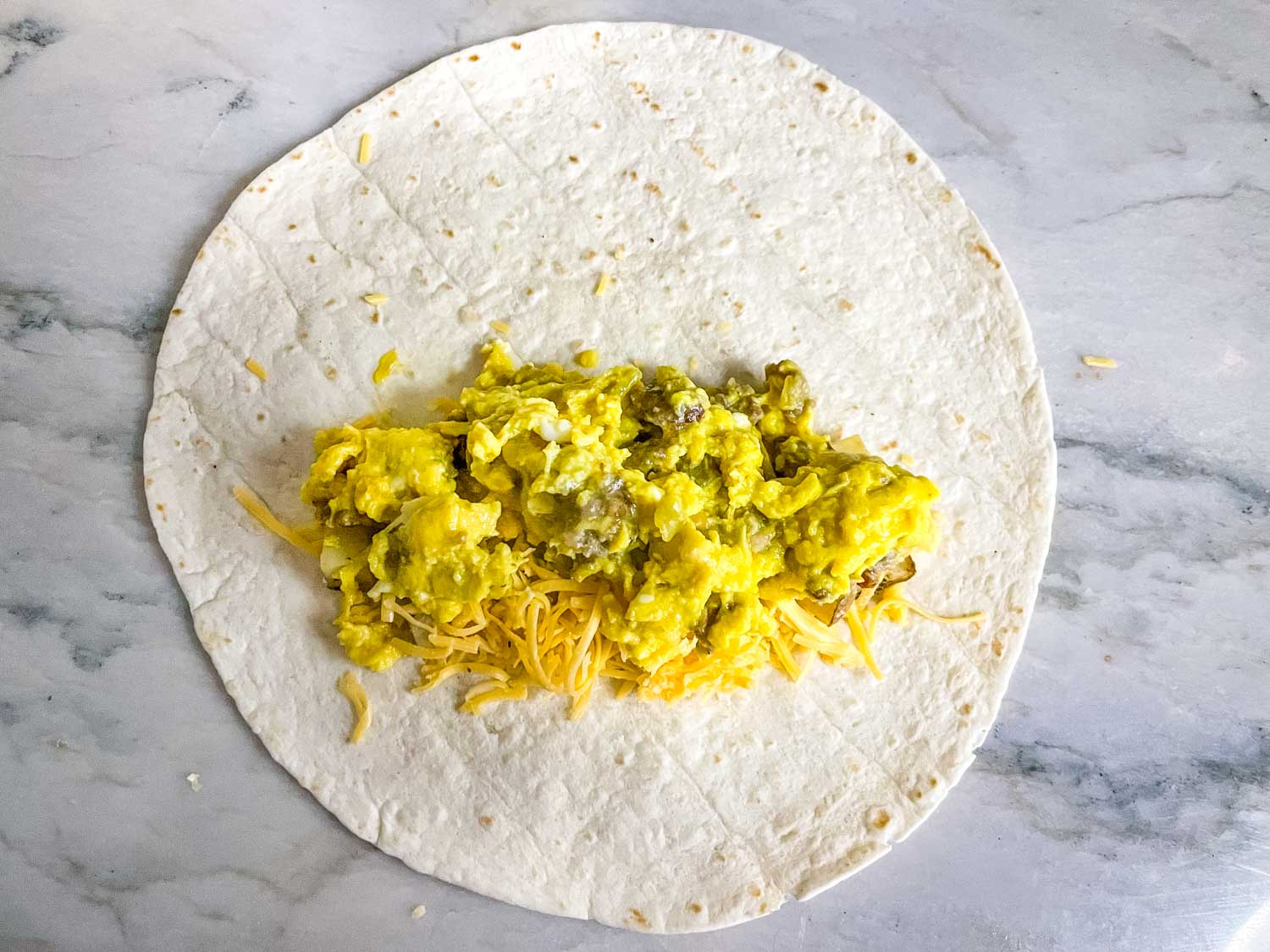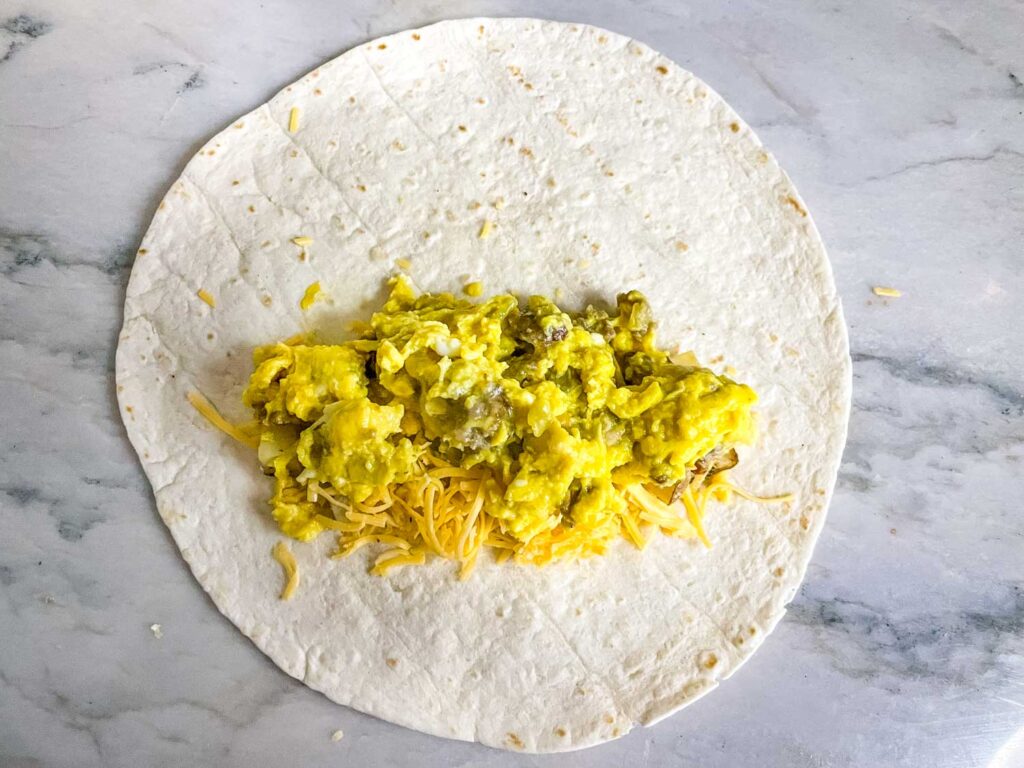 Push the two sides of the tortilla in, and then push the bottom edge up and over the filling, trapping the sides under it.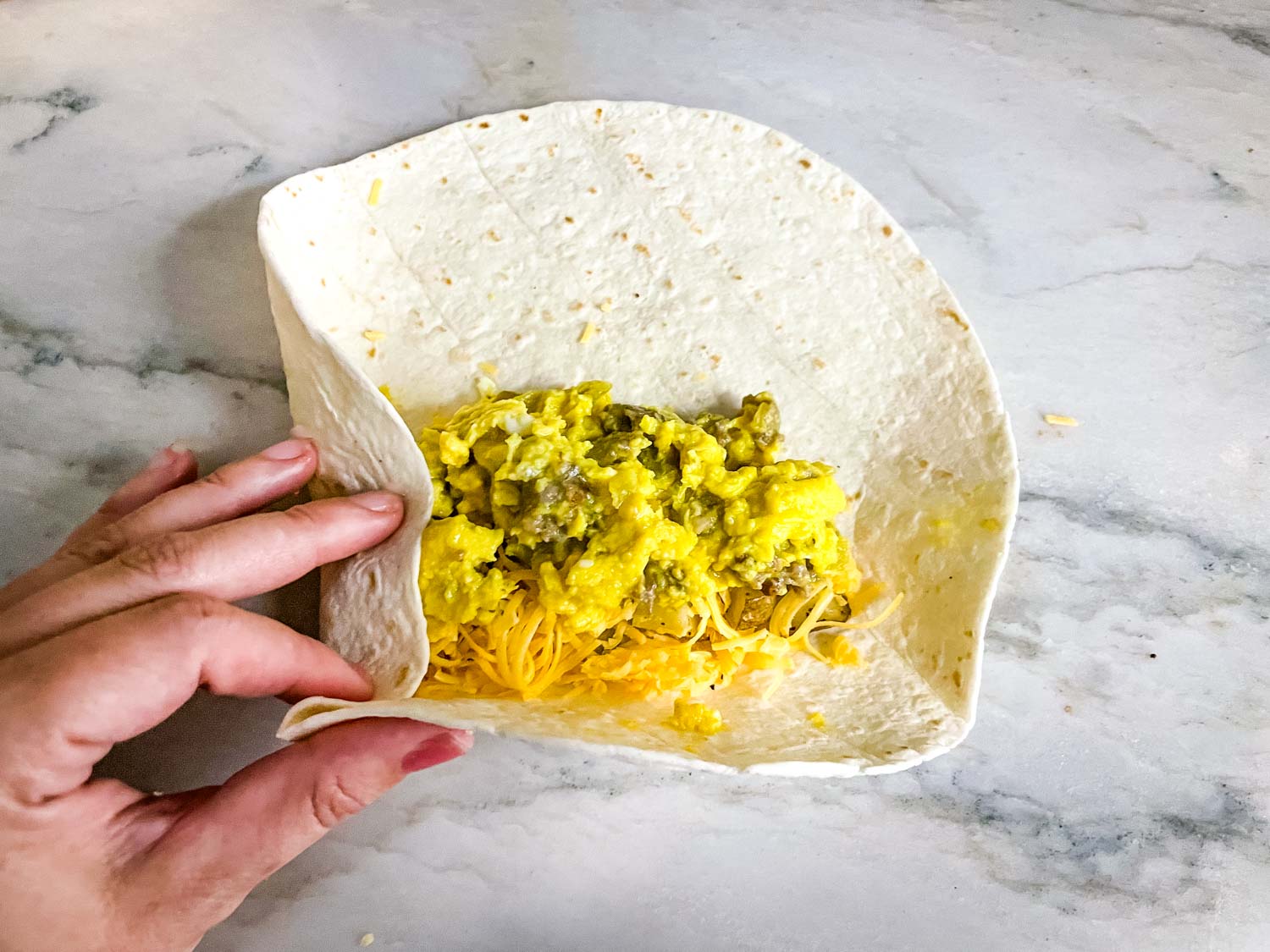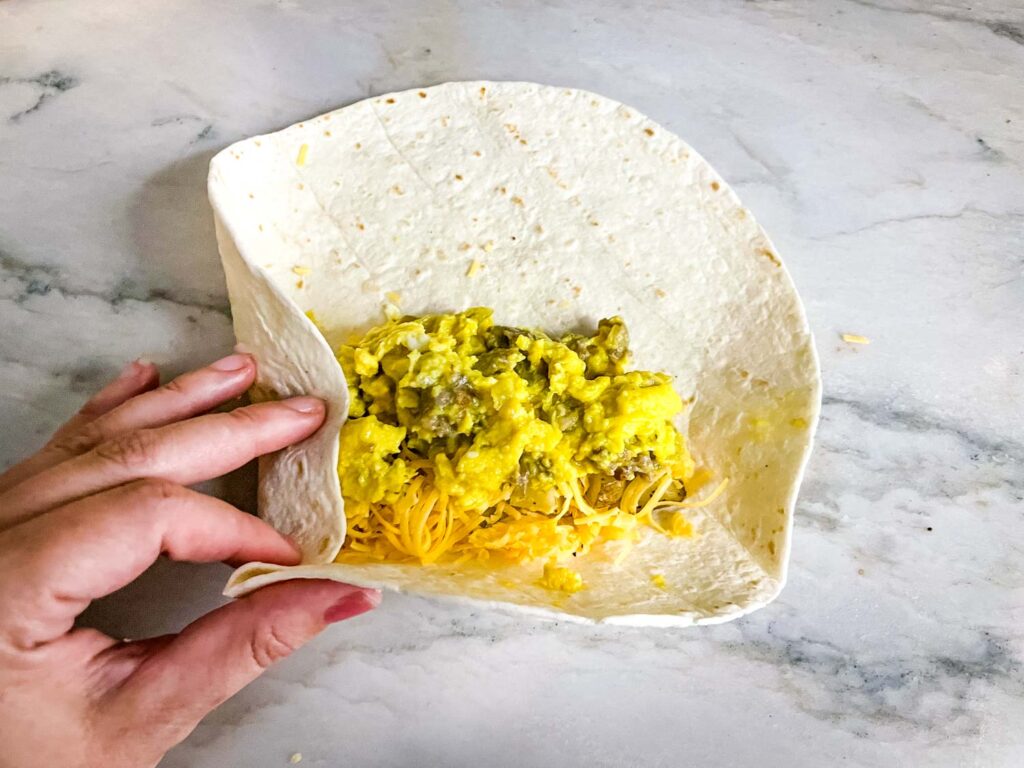 Then tightly continue rolling the burrito all the way up.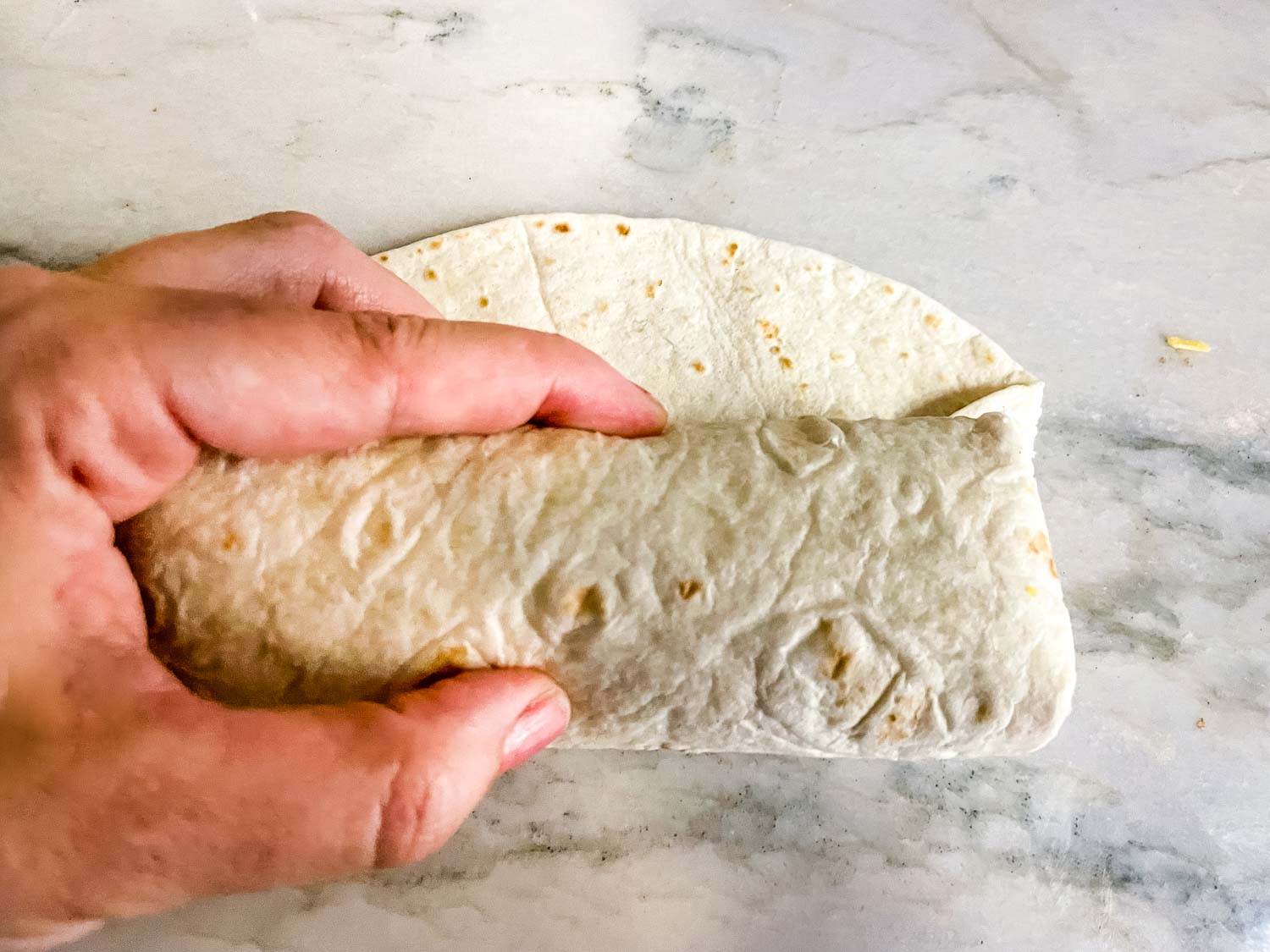 How Much Should You Put in a Burrito?
The quantity in a burrito is important so that you are able to roll it! If there is too much, the fillings will leak out everywhere.
The quantities listed in this recipe work great for a large flour tortilla, even with a little wiggle room.
If using a burrito sizes tortilla, you can use a little more filling.
Why Do My Burritos Fall Apart?
One possibility is that the tortillas are dry and brittle, cracking and folding instead of being soft and pliable. Be sure to use relatively fresh tortillas to avoid this.
Another possibility is that it is not rolled tightly. If loosely rolled, they will tend to unroll.
Why Are My Breakfast Burritos Soggy?
One cause for this is that the filling was overly wet, and that moisture absorbed into the other ingredients and tortilla.
Another possibility is that the filling was very hot, trapped inside the burrito, and turned to steam which makes the tortilla wet. I have never had this happen before, but it is possible.
What Goes with Breakfast Burritos as a Side Dish?
Fresh elements such as a fruit salad, yogurt, or parfait are a great pairing for burritos.
You could also stay with the Mexican food theme and serve them with pinto beans or toppings like homemade guacamole or a fresh pico de gallo salsa.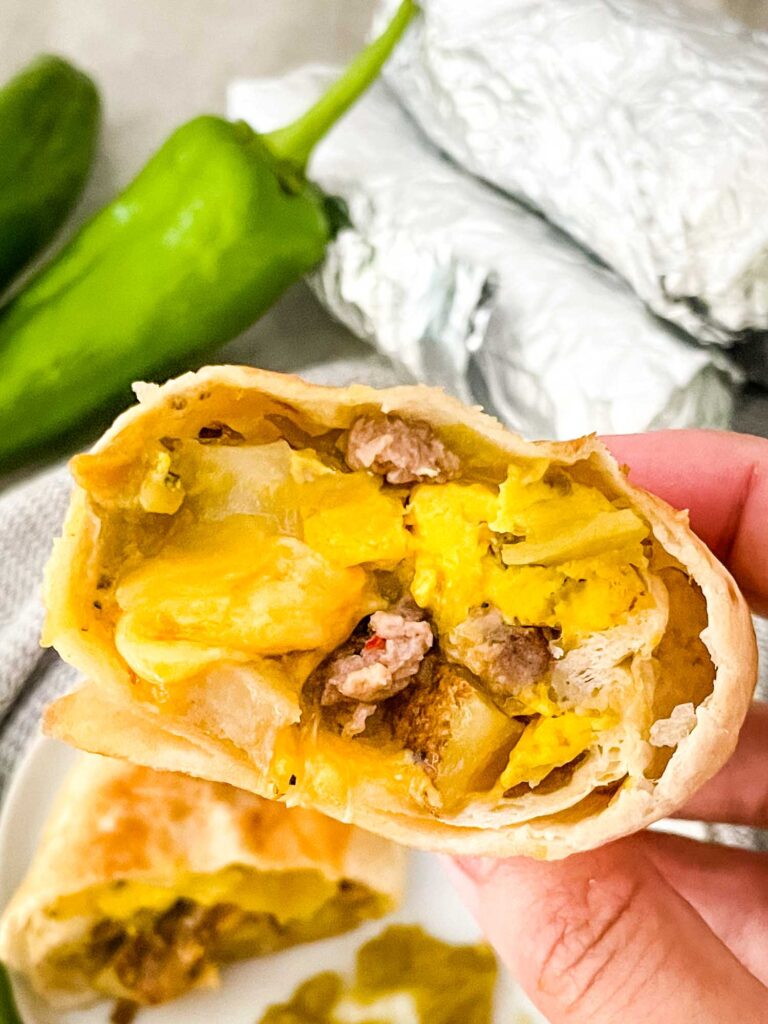 How Do You Keep Breakfast Burritos warm for a crowd?
Can I keep burritos warm in a crockpot? Yes! You can wrap them in foil or parchment paper and place them either in a warm oven or a slow cooker to stay warm.
Wrapping the is important to prevent them from drying out from being exposed to more heat.
How Long will Breakfast Burritos Last in the Fridge?
Wrap them individually in parchment or foil to prevent them from drying out. They can be refrigerated up to three days.
How to Freeze Breakfast Burritos
I love making these burritos and sticking them in the freezer for a fast and easy breakfast, snack, or camping breakfast!
You want to consider where/how you are going to eat them to better understand how you want to prepare them for freezing.
What to wrap burritos in to freeze?
If making for home, I like to wrap them in parchment paper and tape the paper closed. This way they can be microwaved to warm and the paper helps them to steam.
Just wrap, freeze, and place in a resealable bag.
How Do You Freeze Breakfast Burritos so they Don't Get Soggy?
Let the fillings and burritos cool completely before rolling.
Camping Breakfast Burritos
If you want to take these camping (which I seriously recommend as they are always a HUGE hit), I wrap these differently.
After rolling the burrito, spray a square of tin foil with nonstick spray.
Then roll the foil up around the burrito.
I like to freeze them in a resealable bag and stick them in the cooler to make sure they stay cold in transport, and also help keep the cooler cold.
To cook, throw them on a grate over the fire and rotate occasionally.
The nonstick spray is important because otherwise the tortilla is pretty much guaranteed to stick to the foil.
And if you want to label them, such as for different fillings, heat levels, etc, write on the foil with a sharpie UNDER the final wrapping flap. If you write on the outside, you will not be able to read it after the fire darkens the foil.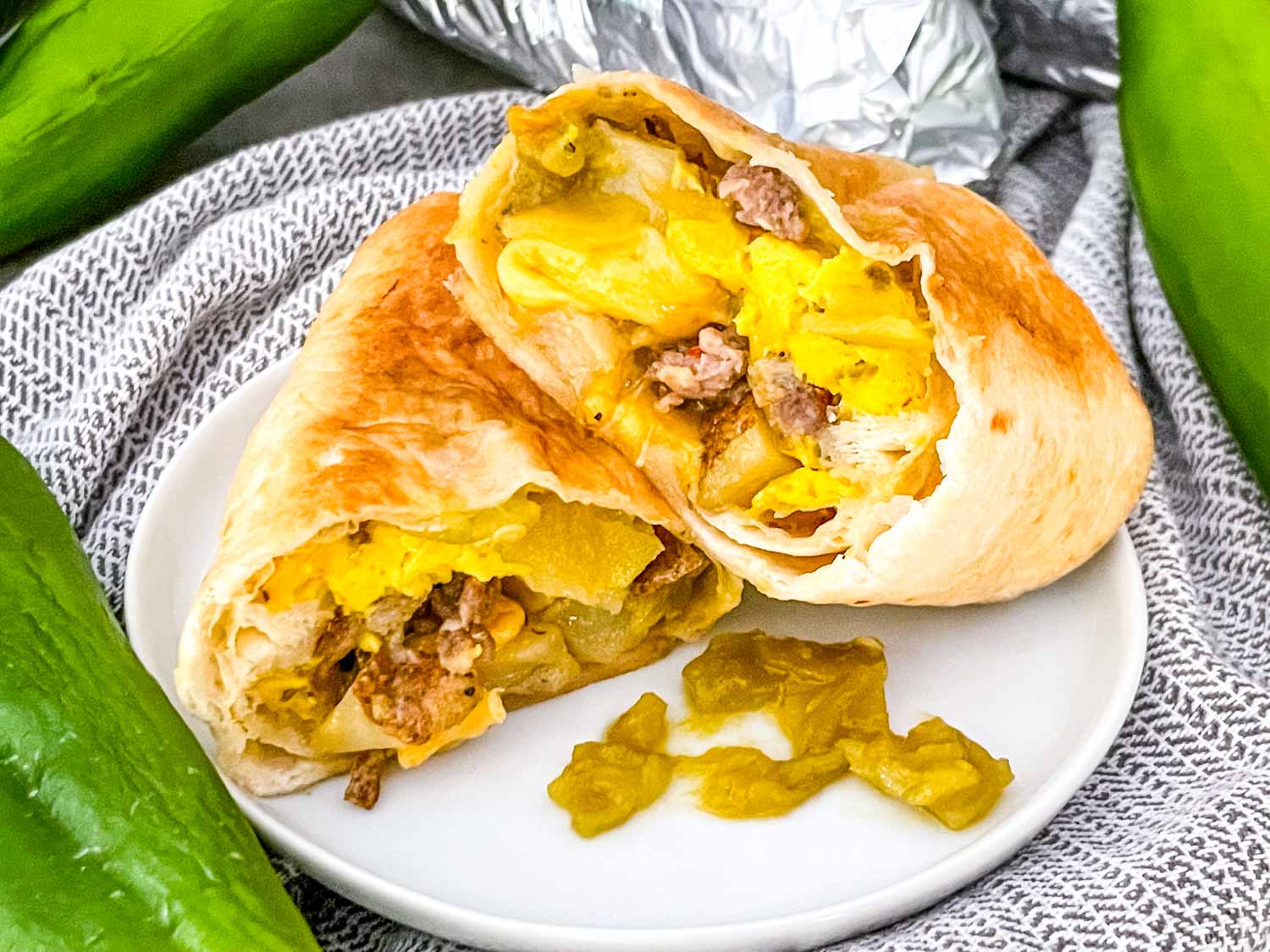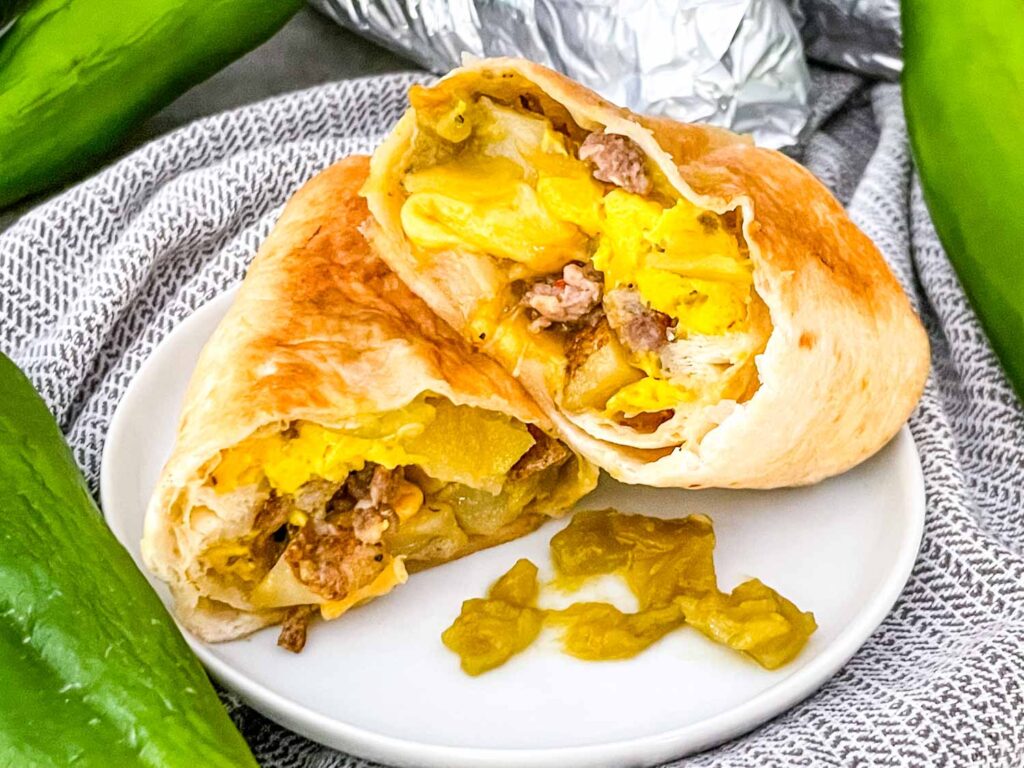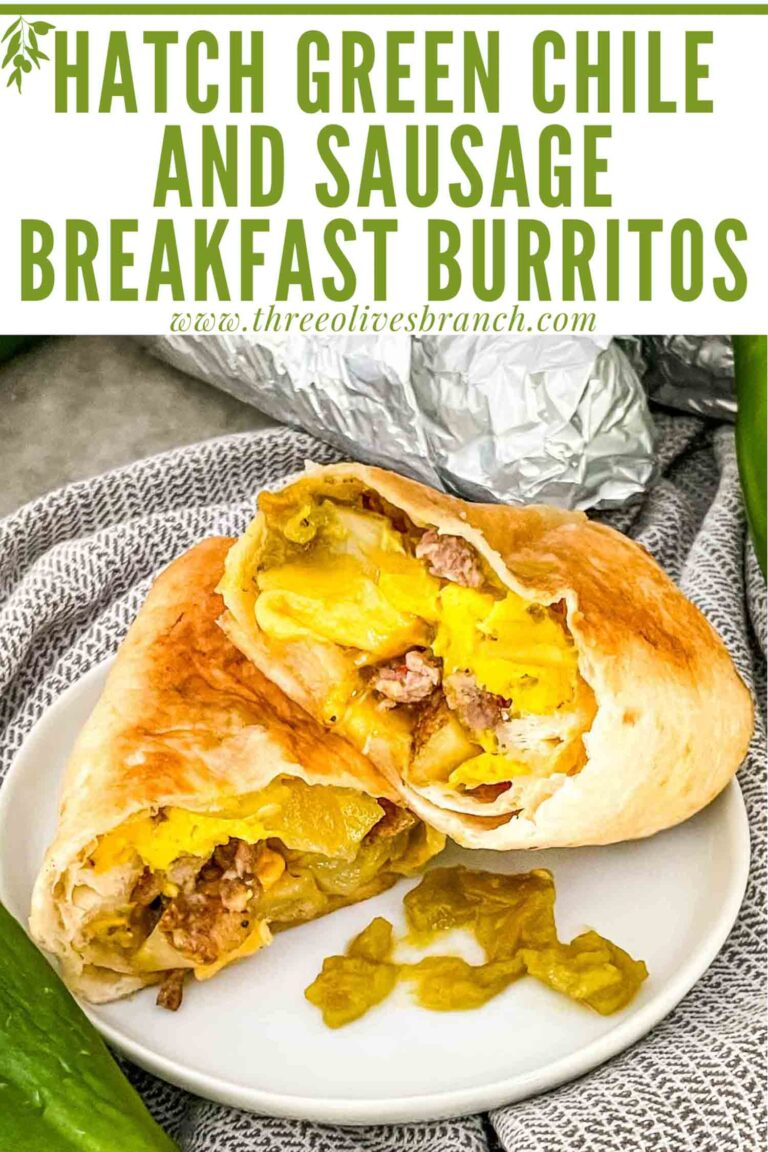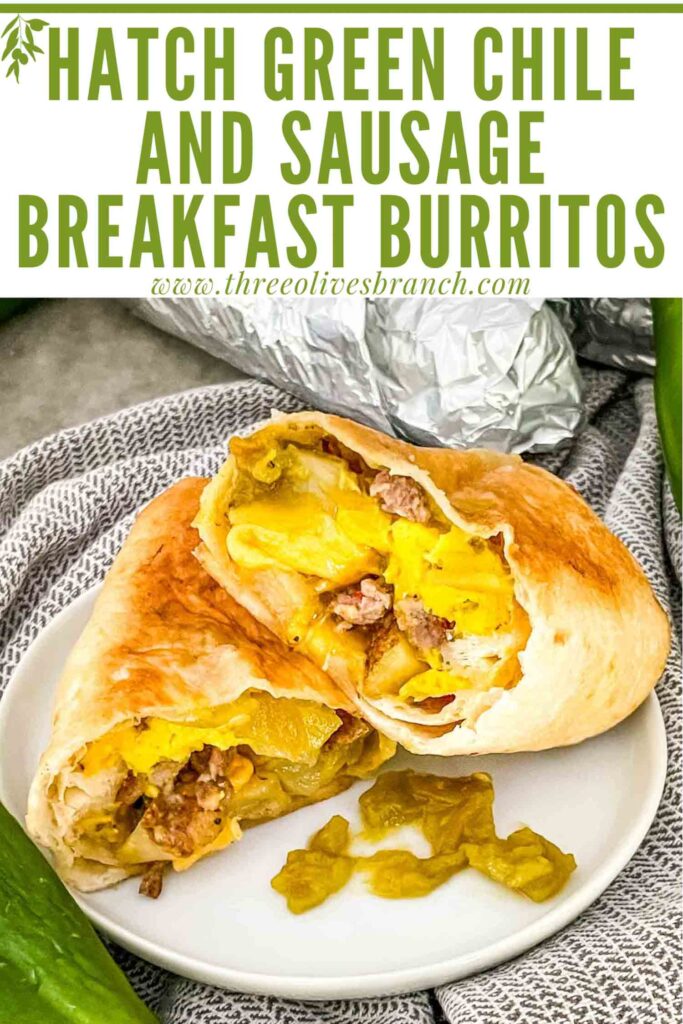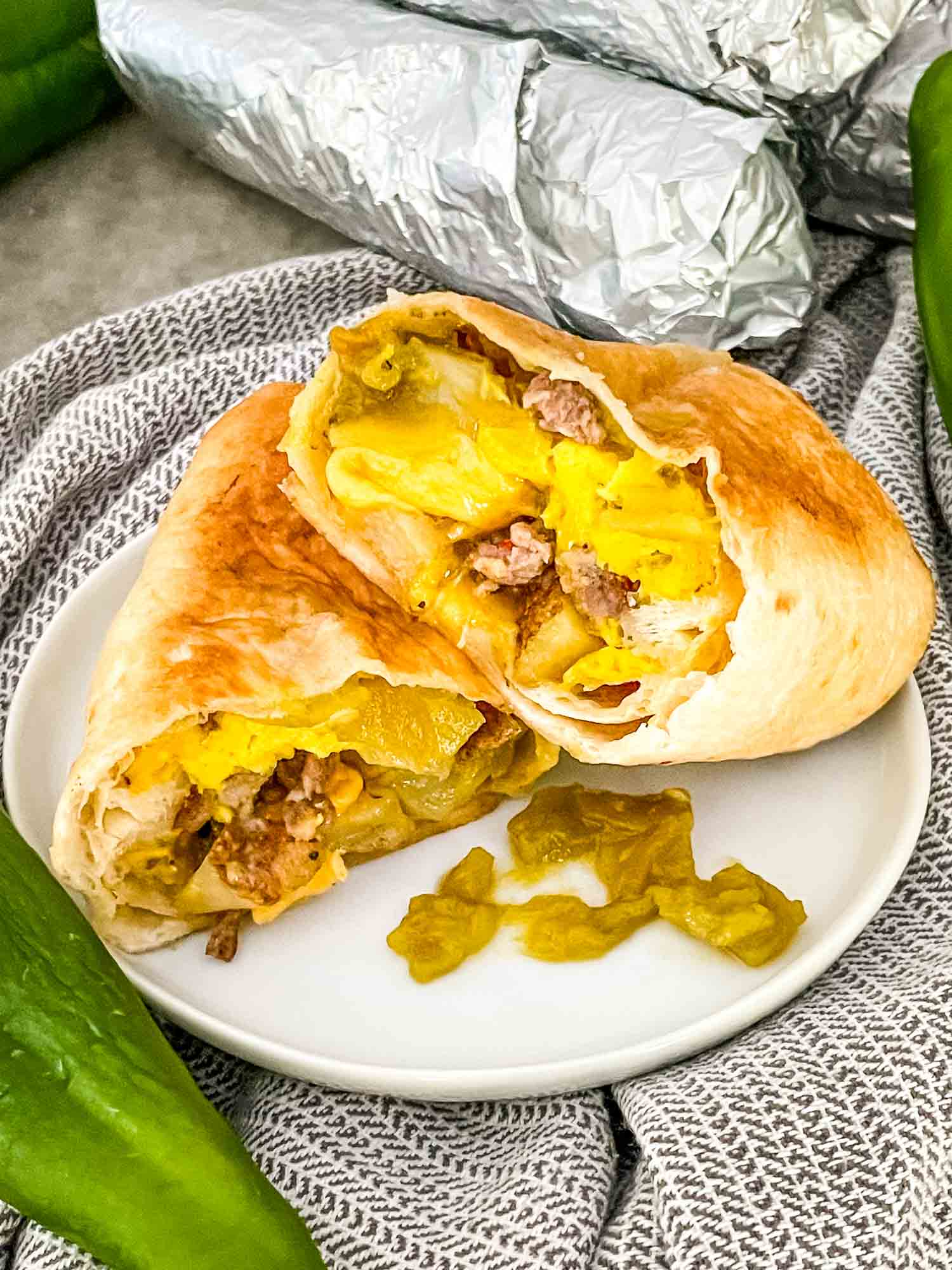 Instructions
Cut the potatoes into small breakfast cubes.

Place on a baking sheet and drizzle with vegetable oil. Season liberally with salt and pepper.

Bake until the potatoes are cooked through and tender, approximately 20 minutes. (Will vary with potato variety and size). Set aside.

Heat a large skillet over medium heat.

When hot, add the sausage and cook through.

Meanwhile, in a medium bowl, whisk together the eggs, green chiles, and garlic powder.

Once the sausage is cooked, add the egg mixture. Gently mix until the eggs are cooked through, or to your desired doneness. Remove from the heat. Season to taste as desired with salt and pepper.

Portion the potatoes and egg mixture into 8.

(I do this by physically making mounds of potatoes, and making indents in the egg skillet like a pizza cut).

Put a tortilla down and place a portion of the potatoes about 1/3 up from the bottom of the tortilla, with some space on the ends.

Put 2 Tablespoons of cheese on top of the potatoes.

Add a portion of the egg mixture on top of the potatoes.

Roll the burrito by folding in the sides of the tortilla, and then flipping up the bottom edge over the flaps and filling.

If needed, pull the filling downward using the folded part of the tortilla to keep the filling in place.

Then keep rolling up the tortilla.

Repeat this process with the remaining ingredients.
Notes
Alternatively you can use frozen shredded or cubed potatoes. Cook according to package directions.
Keep warm for immediate use by wrapping in foil, parchment, or a damp and clean towel either inside a slow cooker or in a low, warm oven.

Freeze by wrapping in foil or parchment and storing in a resealable bag.
If camping over a fire, use foil and first spray it with nonstick spray before adding the burrito to avoid it sticking when cooking.
Nutrition
Serving:
1
burrito
|
Calories:
446
kcal
|
Carbohydrates:
41
g
|
Protein:
20
g
|
Fat:
22
g
|
Saturated Fat:
9
g
|
Polyunsaturated Fat:
4
g
|
Monounsaturated Fat:
7
g
|
Trans Fat:
0.1
g
|
Cholesterol:
221
mg
|
Sodium:
845
mg
|
Potassium:
481
mg
|
Fiber:
4
g
|
Sugar:
3
g
|
Vitamin A:
452
IU
|
Vitamin C:
16
mg
|
Calcium:
230
mg
|
Iron:
4
mg
More Hatch Green Chile Recipes
By