Homemade Mexican Croutons, or southwest croutons, are easy to make! Bread is tossed with warm spices to make a perfect addition to your favorite salads.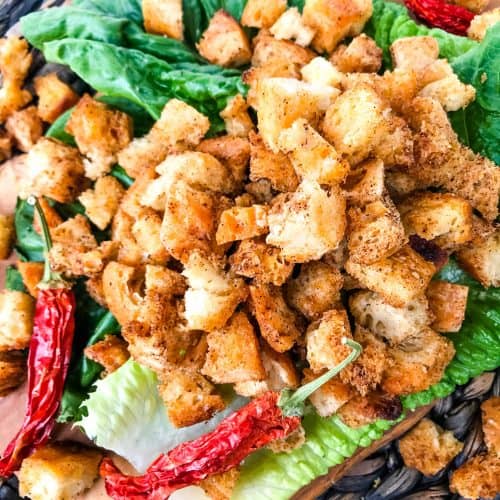 These Homemade Mexican Croutons, or Southwest Croutons, are a delicious addition to your Mexican salads!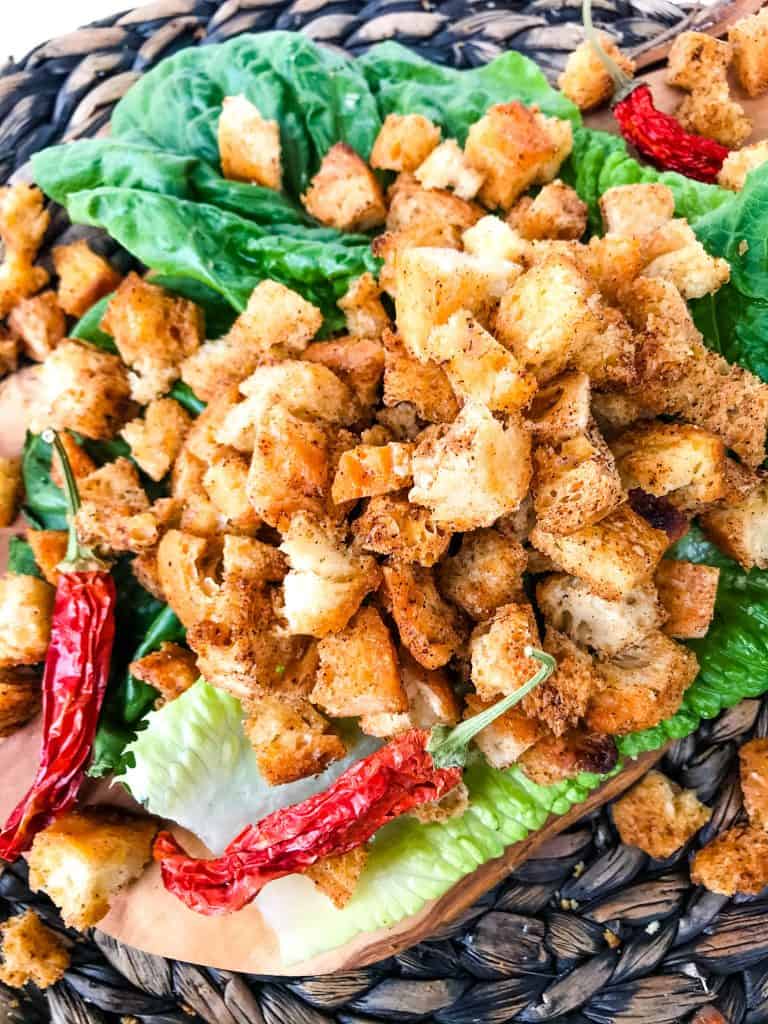 I just love making homemade croutons!
Not only are they so easy to make, but you can give them unique flavors.
These Mexican croutons are perfect for any southwest or Mexican style salads, or even a plain salad that you want to add a lot of flavor to!
When I am making an Italian inspired salad, I love to use my Homemade Parmesan Garlic Croutons.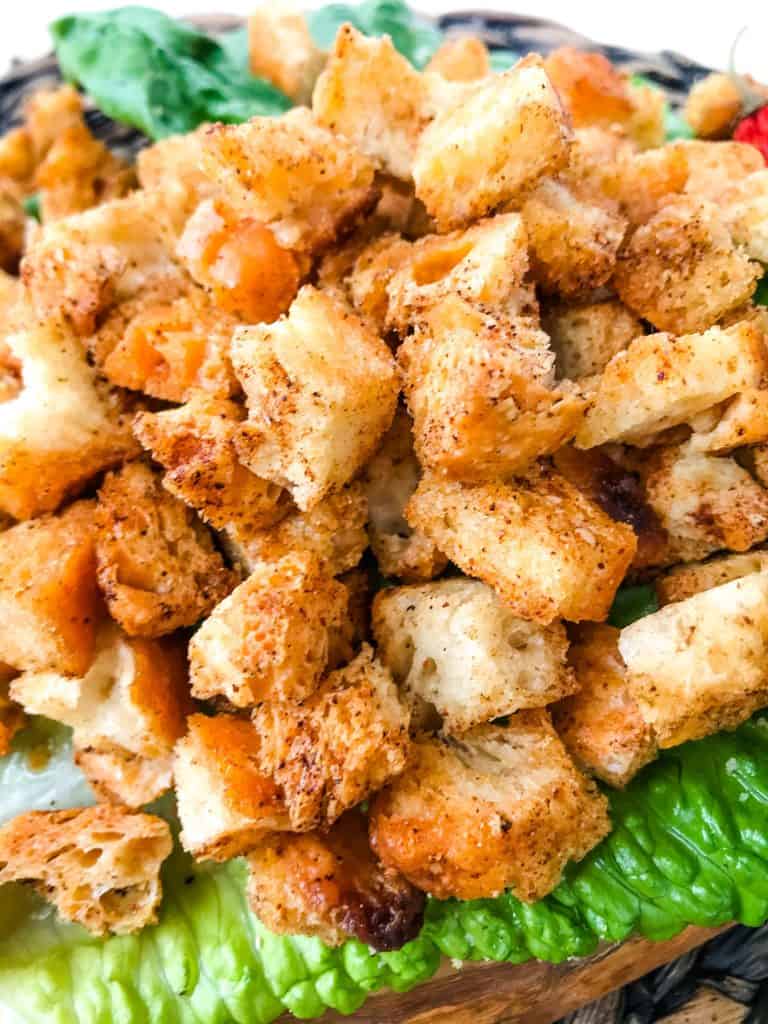 Bread Selection
Making Homemade Mexican Croutons is perfect for any leftover bread that you have, or if your bread is starting to go stale. 
You can use any bread that you want for this crouton recipe.
I prefer to use a denser, rustic bread so that the croutons have more body.
If you use a light bread like sandwich or French bread, the croutons will also be lighter.
Also keep in mind that if you use a bread with any flavor in it that it will also adjust the flavor of the crouton itself.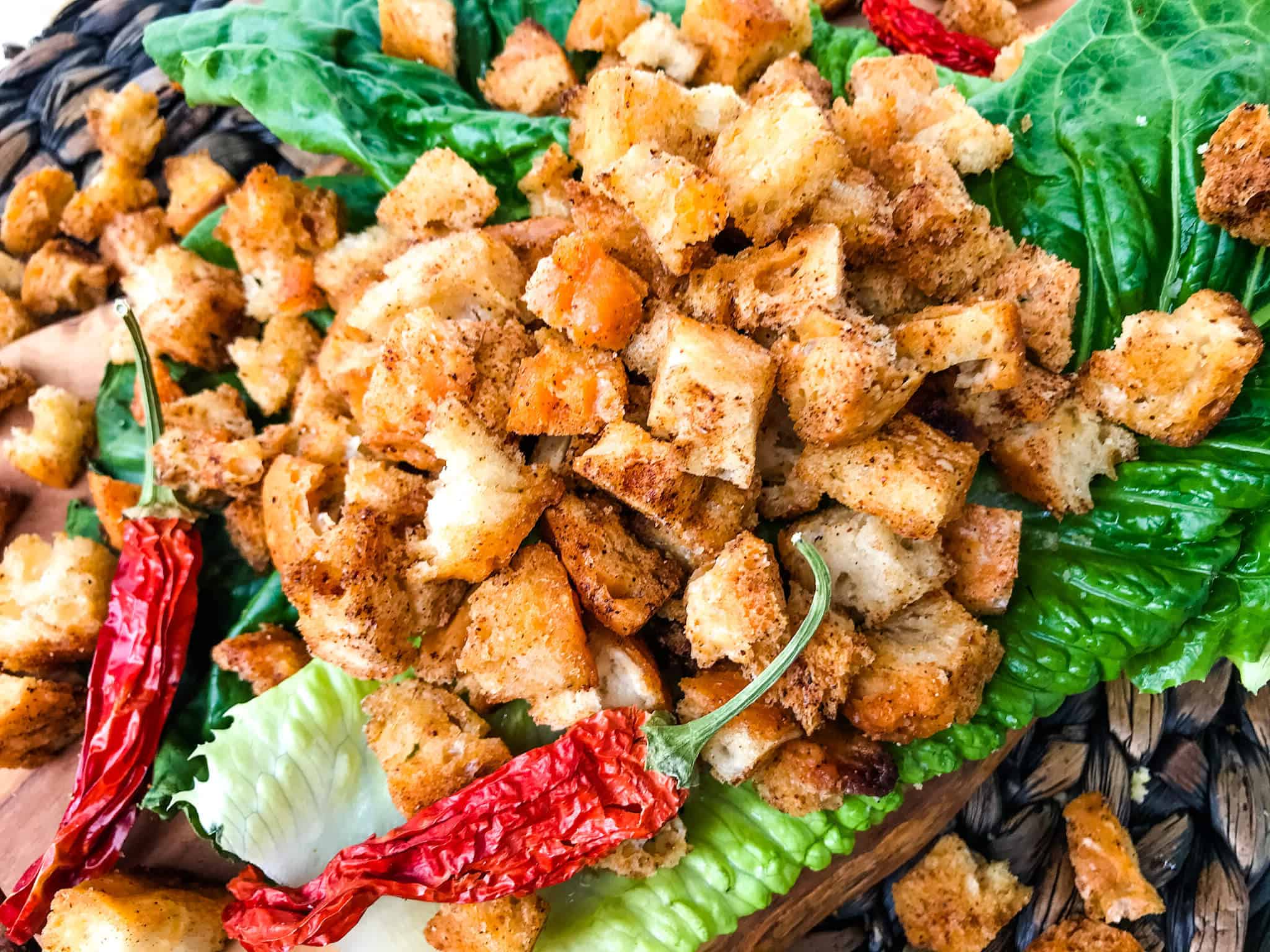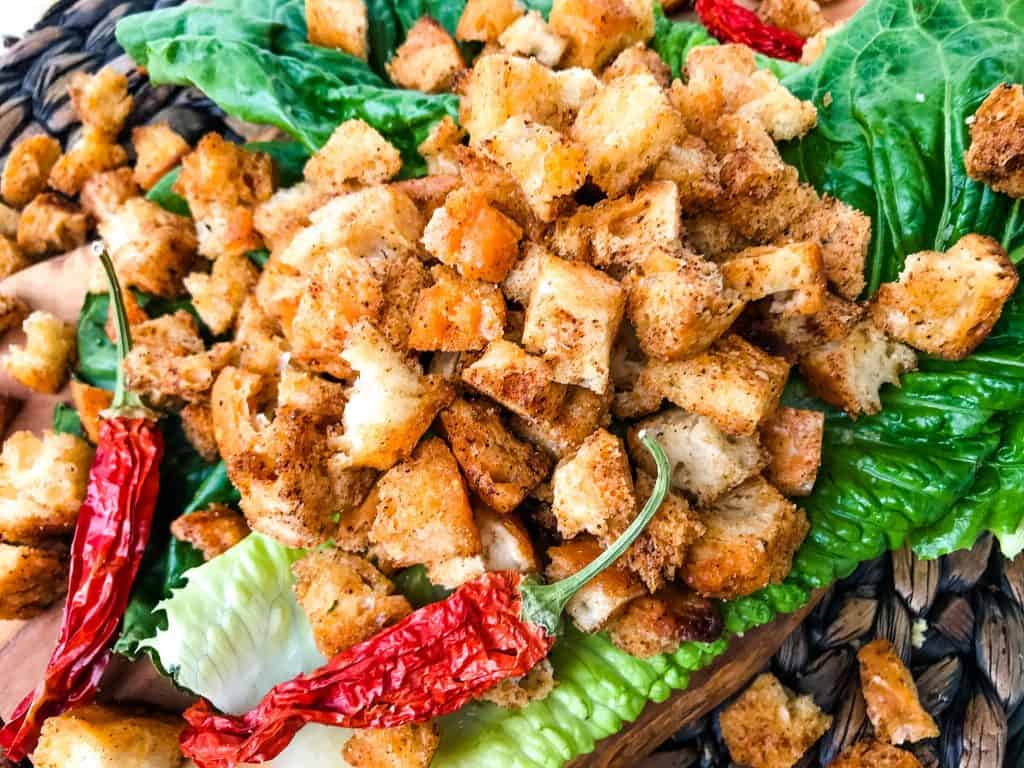 Storing Homemade Croutons
While the homemade croutons are dried out, you will still want to store them in an air tight container.
If they are not stored this way, they can get a stale taste to them.
I love to use spare mason jars. Any type of container or even a resealable bag will work well.
Just make sure that the croutons are completely cooled off before storing so that the heat will not get trapped and turn to moisture.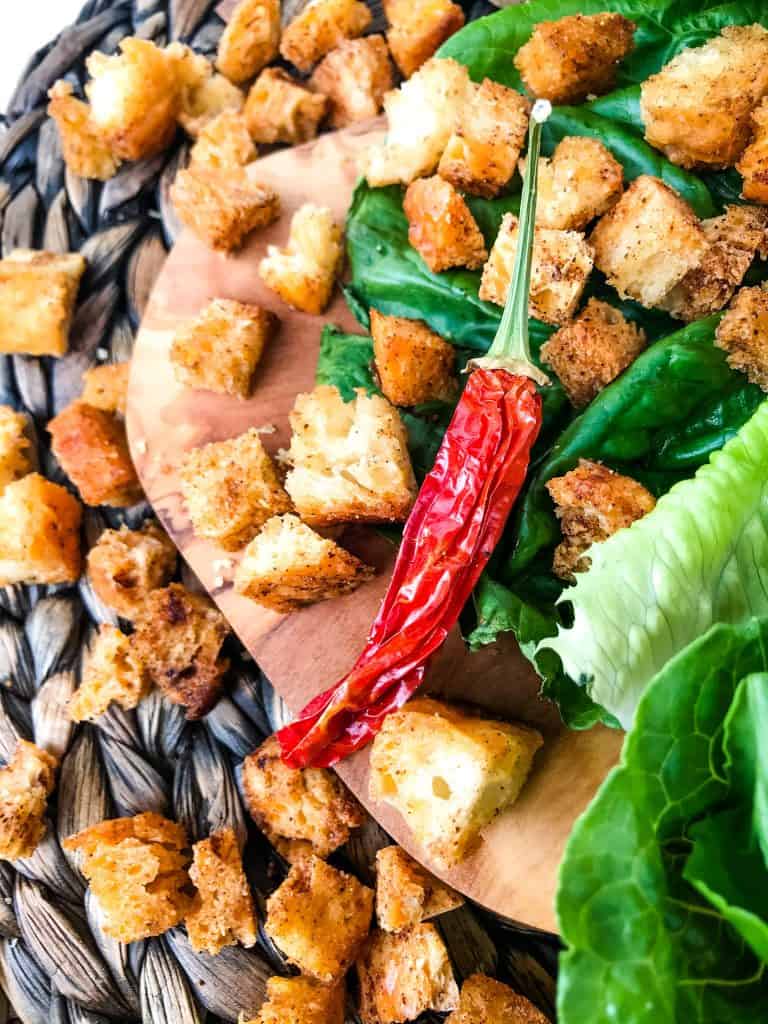 Salad and Dressing Recipes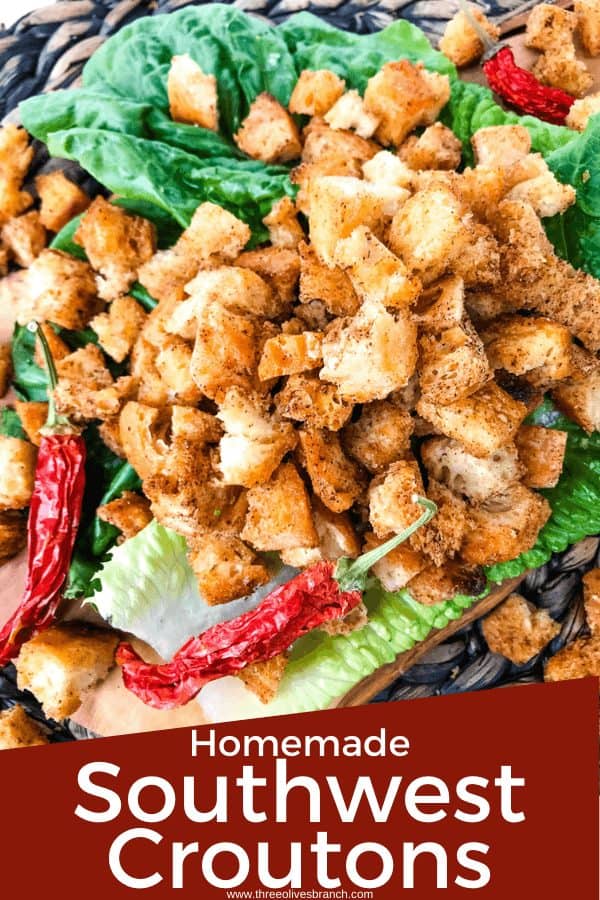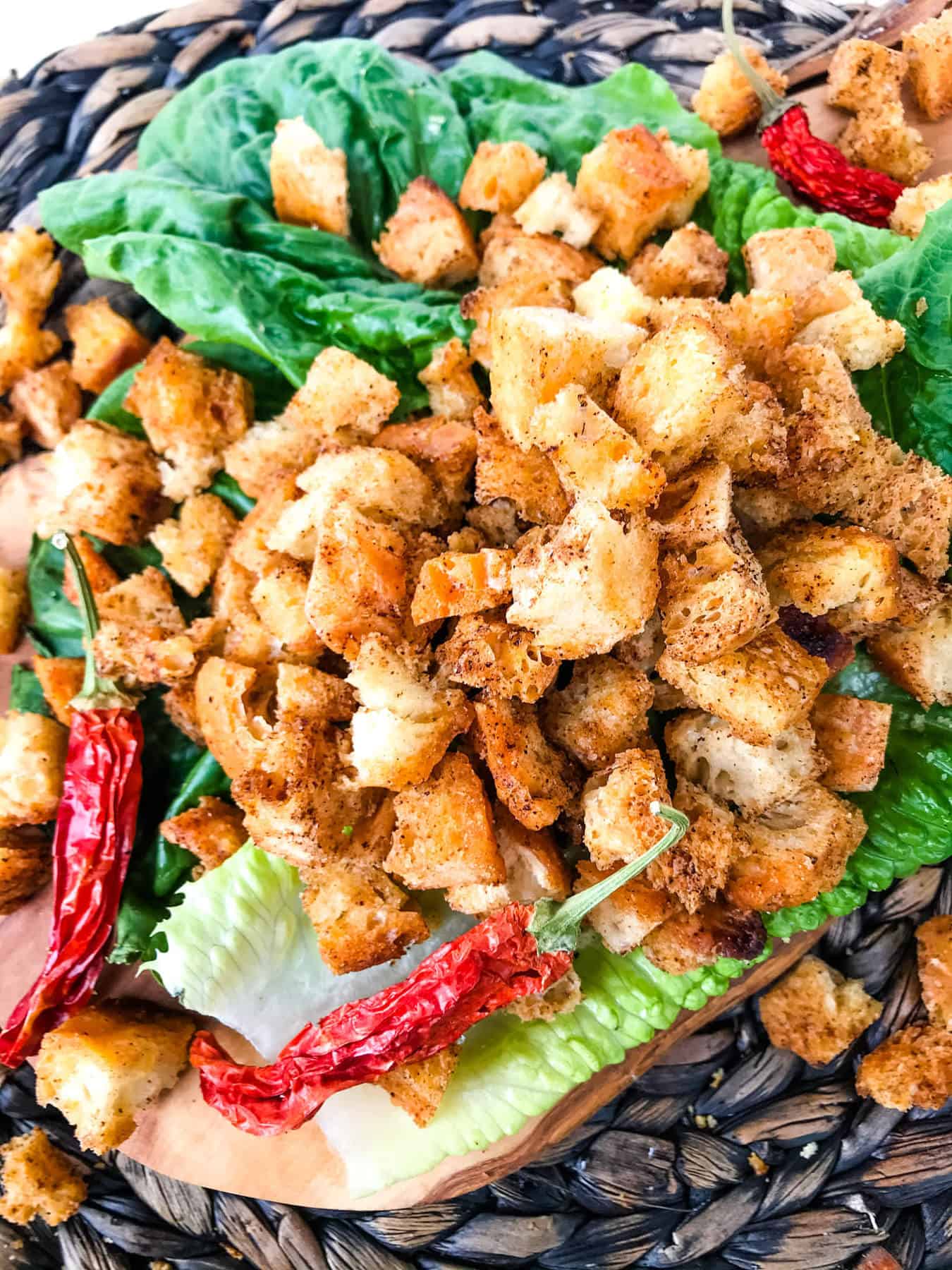 Instructions
Cut the bread into cubes. Set aside.

Mix together the remaining ingredients in a large bowl. Add the bread cubes and toss to coat.

Spread the croutons on a silicone mat lined baking sheet in a single layer.

Bake the croutons until golden brown, approximately 20 minutes.

Remove from oven and let cool to room temperature. Croutons can be stored in a bag or container.
Notes
I prefer to use a dense, rustic bread for croutons but any bread will work. Keep in mind that breads with flavor will change the flavor of the croutons.
Nutrition
Serving:

1

cup

|

Calories:

279

kcal

|

Carbohydrates:

28

g

|

Protein:

6

g

|

Fat:

16

g

|

Saturated Fat:

2

g

|

Trans Fat:

1

g

|

Sodium:

445

mg

|

Potassium:

126

mg

|

Fiber:

3

g

|

Sugar:

3

g

|

Vitamin A:

302

IU

|

Vitamin C:

1

mg

|

Calcium:

82

mg

|

Iron:

2

mg

By