Loaded Potato Salad is a fan favorite side dish recipe for your summer BBQ! Homemade potato salad is perfect for grilling and made with gold potatoes, bacon, cheddar cheese, sour cream, mayo, and green onions. Gluten free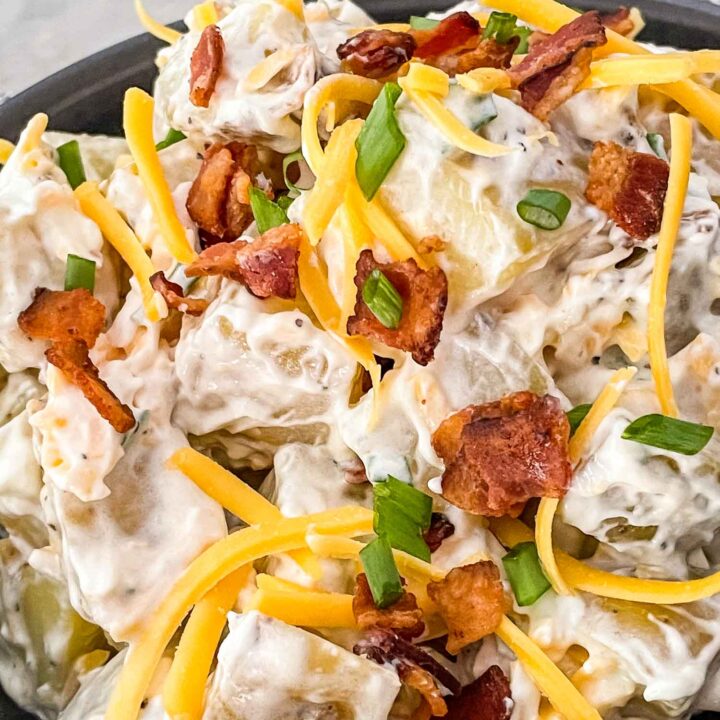 Bring a rave-worthy dish to your summer party with this Loaded Potato Salad! Potatoes are mixed with sour cream, bacon, cheese, and chives for a popular flavor combination.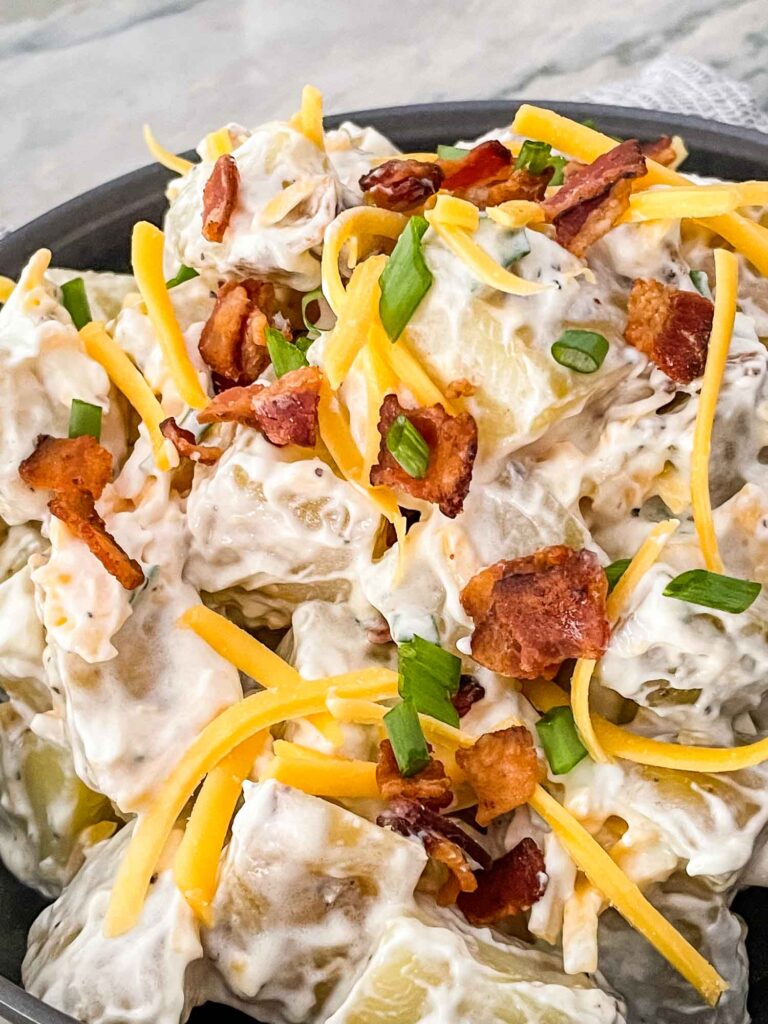 Baked Potato Salad
I am a HUGE potato lover and it was just a matter of time before I made a Loaded Potato Salad!
This simple homemade potato salad recipe uses all the flavors you love of a loaded baked potato.
A delicious side dish recipe for your BBQ party or grilling event.
What is in Loaded Potato Salad?
Here is what you need to make this recipe:
Potatoes (Gold is best)
Apple Cider Vinegar
Cheddar Cheese
Sour Cream
Mayonnaise
Green Onions (or Chives)
Bacon
Salt
Black Pepper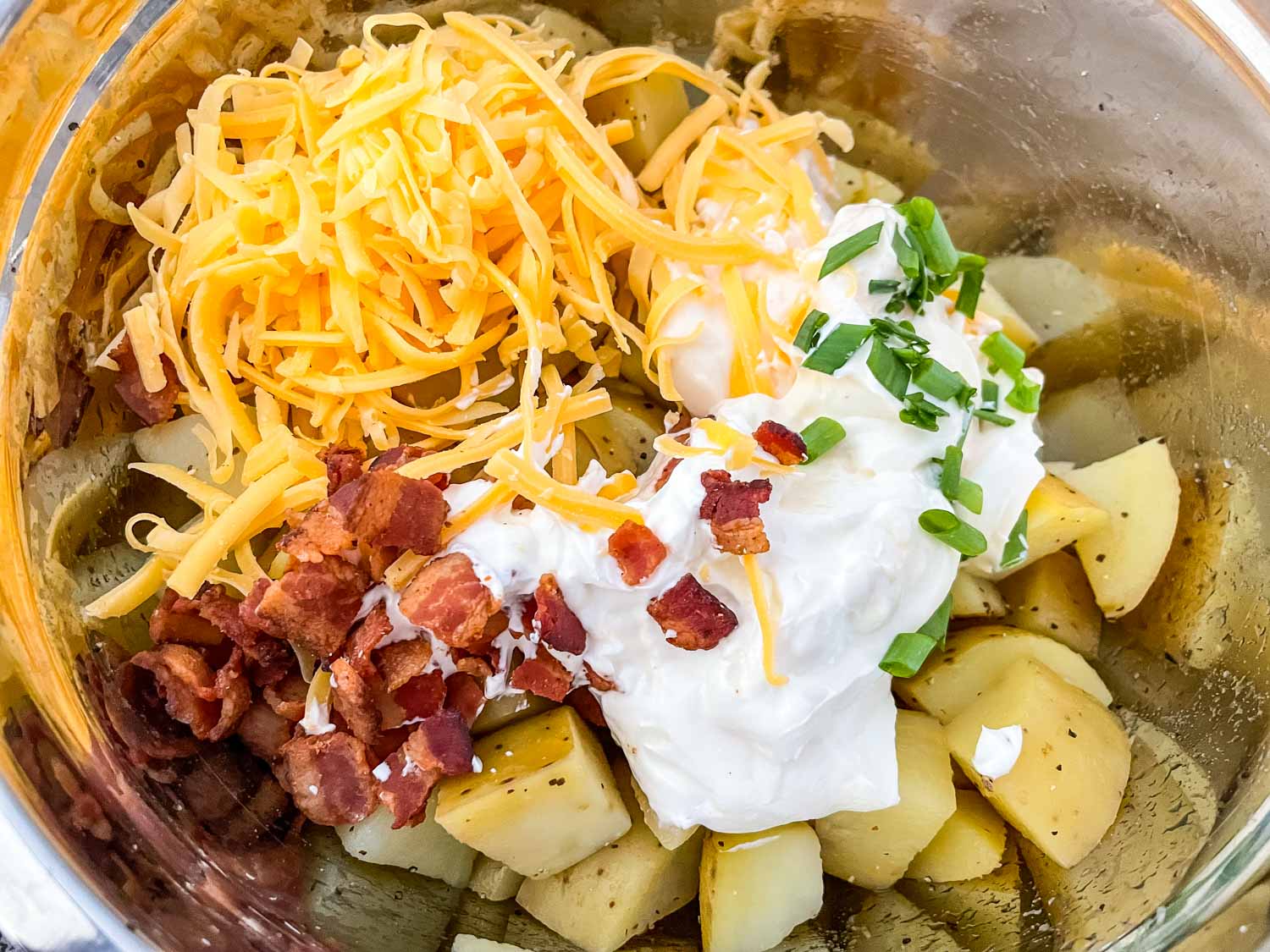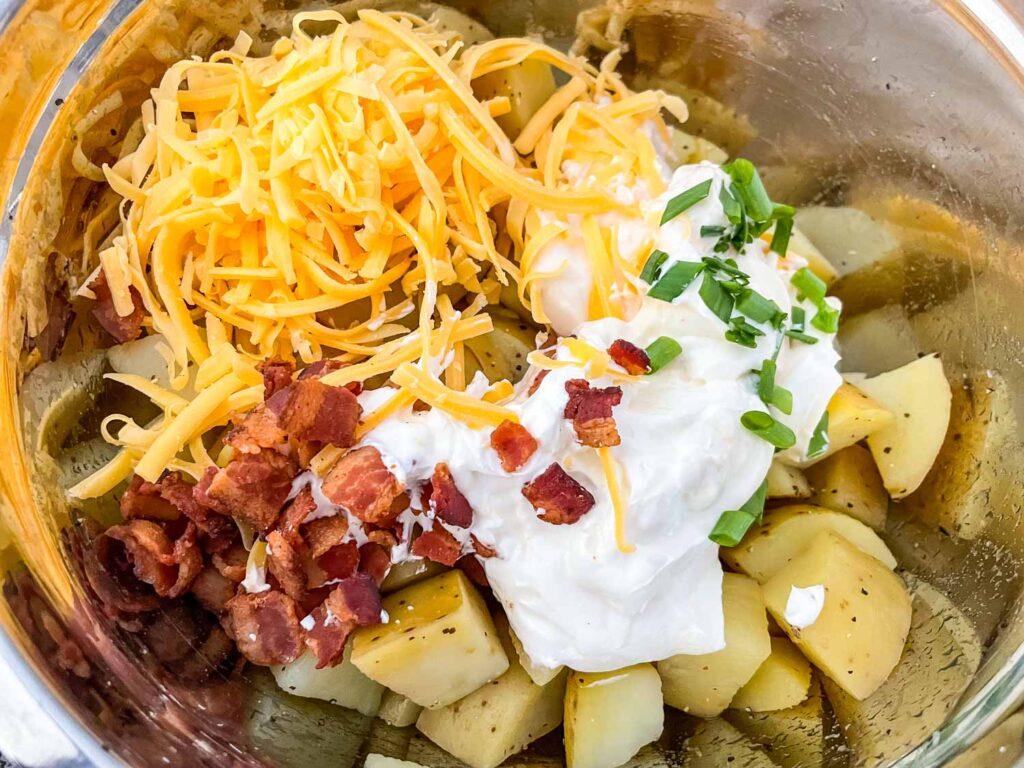 What Kind of Potatoes Do You Use in Potato Salad?
You have some options here, but I recommend Yukon Gold Potatoes. The gold potatoes are waxy which means they will hold together better.
Red potatoes are also great, they also are waxy and hold together well. But I find that their red skins lend a little extra flavor, which would be a preference.
Russet potatoes will work in a pinch but are considered starchy, which means they are more likely to fall apart both in cooking and in mixing. They will have a much softer, crumbly texture.
Is It Better to Boil Potatoes Whole or Cut Up for Potato Salad?
Cut up is best so they cook more evenly compared to a whole potato that is cut up later.
How to Make a Lighter, Healthier Potato Salad
I shy away from trying to identify most recipes or foods as "healthy" because this is so much based upon subjective views of what healthy means. Is it low carb? Low calorie? Low fat? Etc.
So if you are looking to make this recipe lighter, you can use plain Greek yogurt in place of the sour cream. Either completely, or half and half. Plain Greek yogurt has fewer calories, fat, and carbs than sour cream. This swap is a great way to indulge in the decadent flavor with lighter ingredients.
Keep in mind that of course you have all the other ingredients that have their share of fat, carbs, and calories as well, but this is something you can do to bring those counts down a little if desired.
Plain Greek yogurt will bring the same tangy flavor to the potato salad but with less calories and more nutritional benefit.
You could also eliminate the mayonnaise for plain Greek yogurt but will lose a touch of the creamy richness and depth of flavor. But it still tastes good!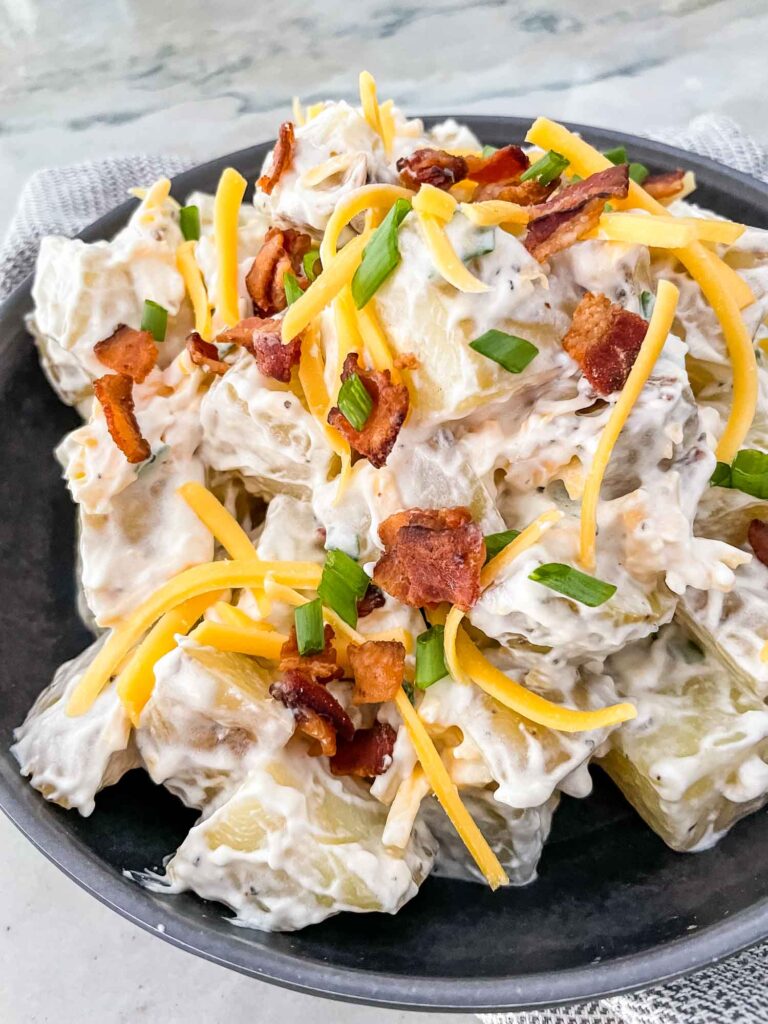 How to Make Loaded Potato Salad
First cube up your potatoes into chunks about 3/4 inch wide. Do I need to peel potatoes for potato salad? No need to peel these potatoes! The peels actually help keep the potato pieces intact.
Boil them until they are just for tender and drain.
Toss them with the vinegar, salt, and pepper. This will season the potatoes (do not worry, the vinegar will not be overpowering!). Chill at least 30 minutes. Should you let potatoes cool before making potato salad? Yes! If they are too hot, it could melt or alter other ingredients as well as absorb liquids too quickly.
Make sure you have your bacon cooked and drained. I like to chop before cooking, but you can do it either way.
When the potatoes are cool and you are ready to serve, toss the potatoes with the sour cream, cheese, bacon, and green onions.
Can I Make Potato Salad in Advance?
Yes! It holds over well and this is a great way to make sure it is really chilled.
I do recommend not mixing the sauce with the salad until serving. Otherwise, the potatoes will continue to absorb moisture and you will end up with softer potatoes and a dryer salad.
What Goes Good with Loaded Potato Salad?
You can find some of our main course barbecue and grilling options down below!
This recipe is versatile in flavor which means it can go with just about anything!
Grilled Meats
Pasta Salad
Fresh Vegetables
Grilled Vegetables
Cornbread
Creamed Corn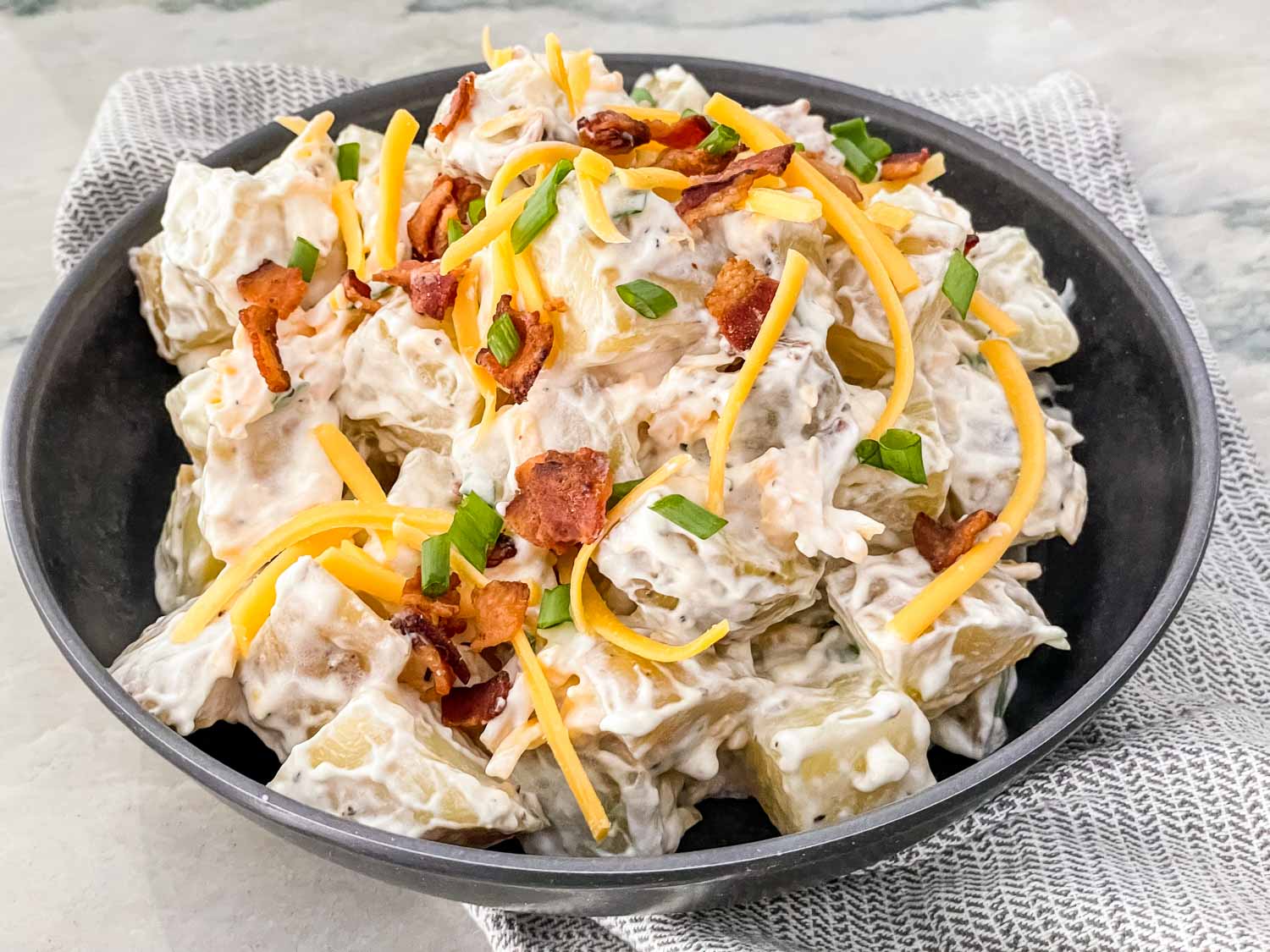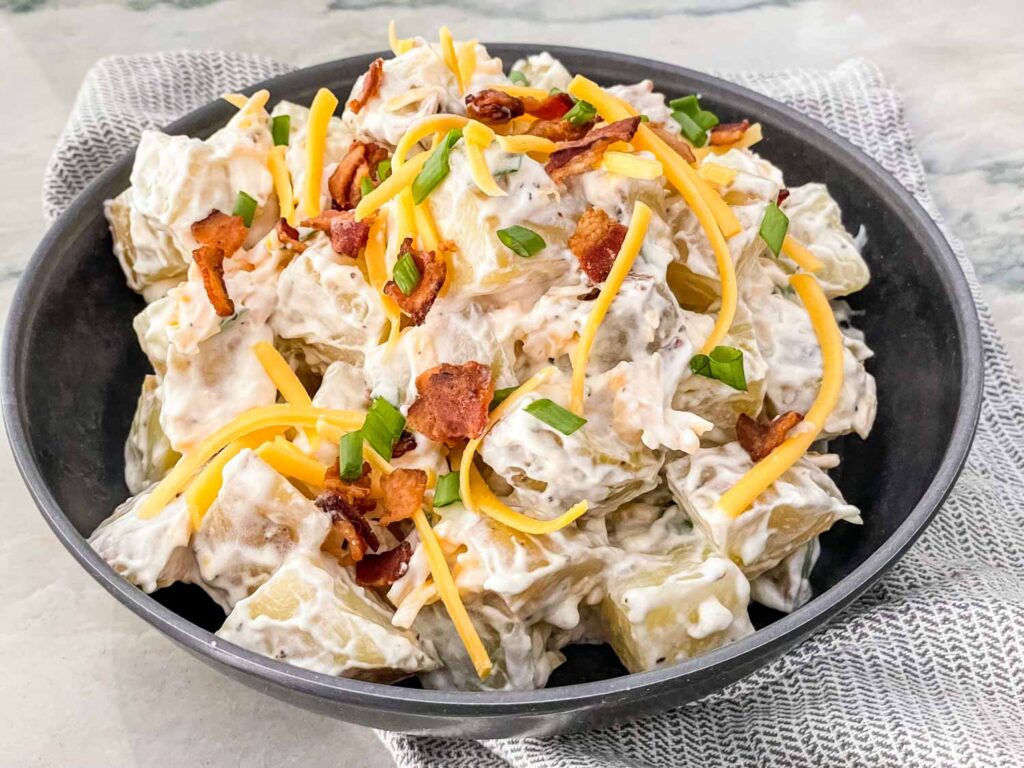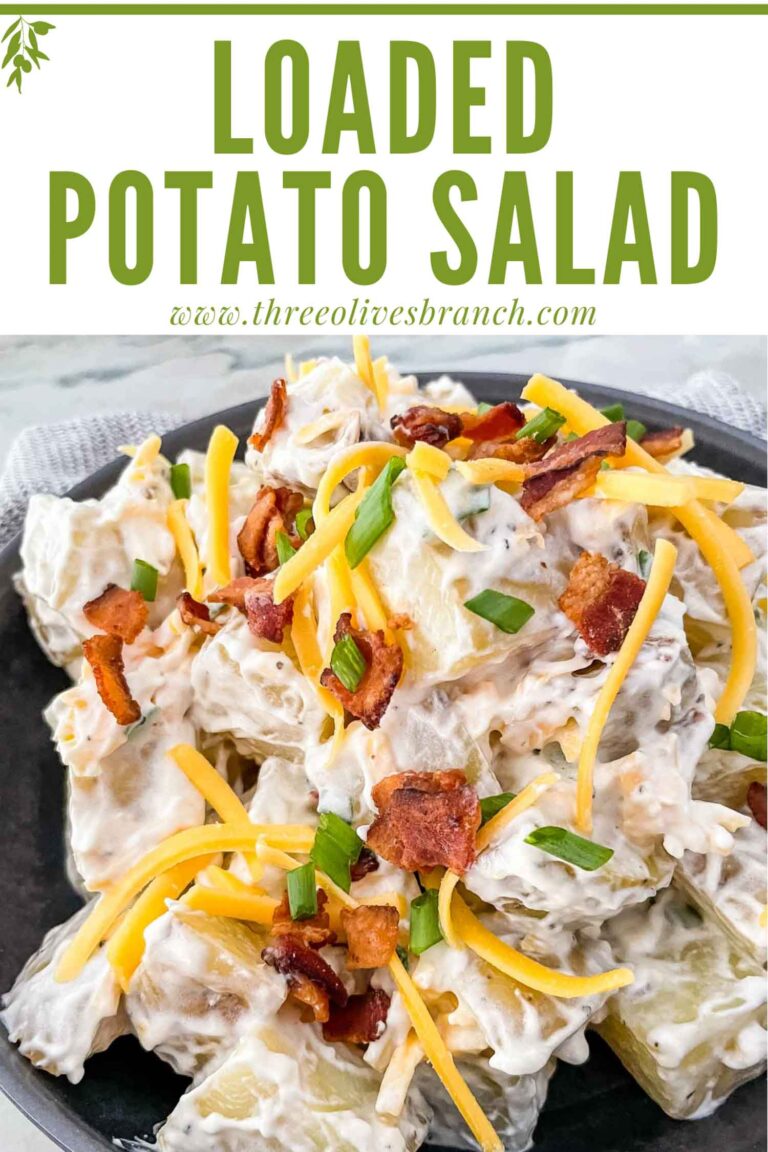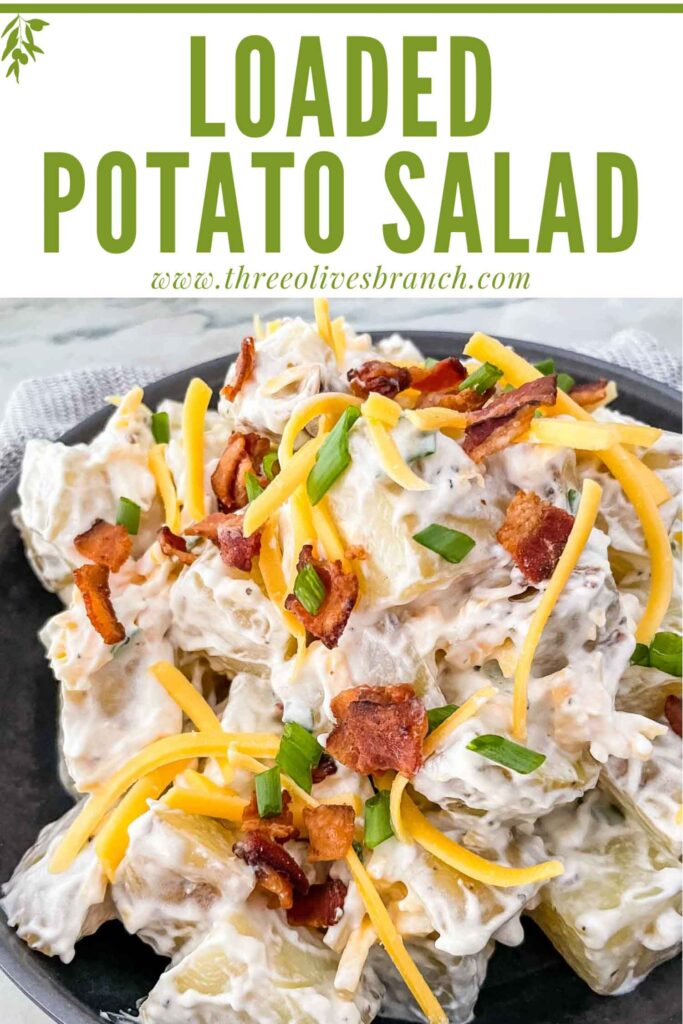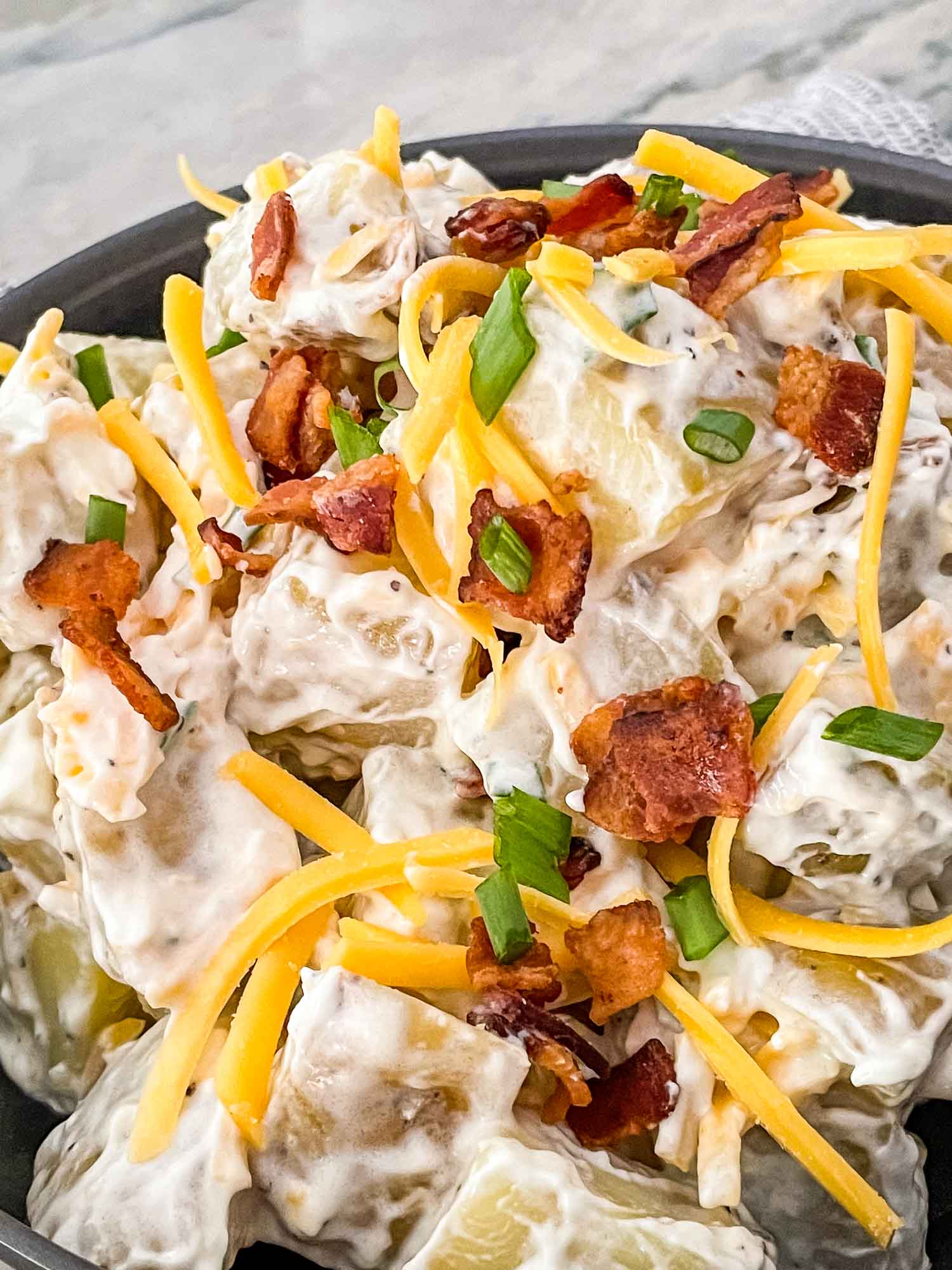 Instructions
Bring a large pot of water to a boil over high heat.

While the water is heating, cut the potatoes into 3/4 inch chunks.

When the water is boiling, add the potatoes. Cook until they are just fork tender, approximately 15-20 minutes.

Drain the potatoes. Toss them with the vinegar, 1/2 teaspoon salt, and 1/2 teaspoon black pepper. Refrigerate until cool, at least 30 minutes.

While the potatoes are cooking or cooling, chop the bacon and cook in a skillet until crisp. Drain and set aside.

When the potatoes are cool and when you are ready to serve, in a large bowl combine the potatoes with the sour cream, mayonnaise, cheese, bacon, and green onions. Season to taste if desired or needed.

Serve cold and garnish with additional bacon, cheese, and green onions if desired.
Notes
Gold potatoes are best as they are waxy and hold together better than a starchy potato, such as a russet.
If you like a saucy potato salad, increase the quantity of sauce you make.
This side can easily be made ahead. I recommend not mixing the sour cream or mayonnaise into the salad until ready to serve. If done too early, the potatoes will absorb more moisture and the potato salad can get dry.
Nutrition
Serving:
1
serving
|
Calories:
448
kcal
|
Carbohydrates:
32
g
|
Protein:
11
g
|
Fat:
31
g
|
Saturated Fat:
10
g
|
Polyunsaturated Fat:
9
g
|
Monounsaturated Fat:
9
g
|
Trans Fat:
1
g
|
Cholesterol:
51
mg
|
Sodium:
532
mg
|
Potassium:
830
mg
|
Fiber:
4
g
|
Sugar:
2
g
|
Vitamin A:
331
IU
|
Vitamin C:
34
mg
|
Calcium:
148
mg
|
Iron:
2
mg
BBQ and Grilling Main Courses
Main course ideas to go along with your favorite BBQ and grilling sides!

By