Mexican Street Corn Potato Salad is a great side dish recipe for a summer BBQ! Gluten free, vegetarian, and a healthy potato salad made with plain Greek yogurt. Mexican Potato Salad inspired by elote perfect for grilling.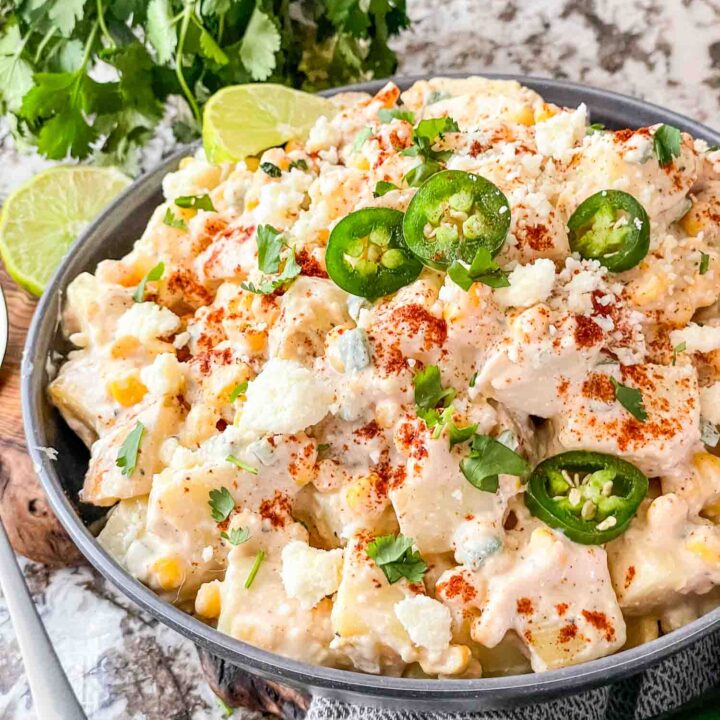 This Mexican Street Corn Potato Salad is a fun side dish for your summer BBQ or grilling event. Easy to make in advance for a crowd for a fun twist on a classic recipe!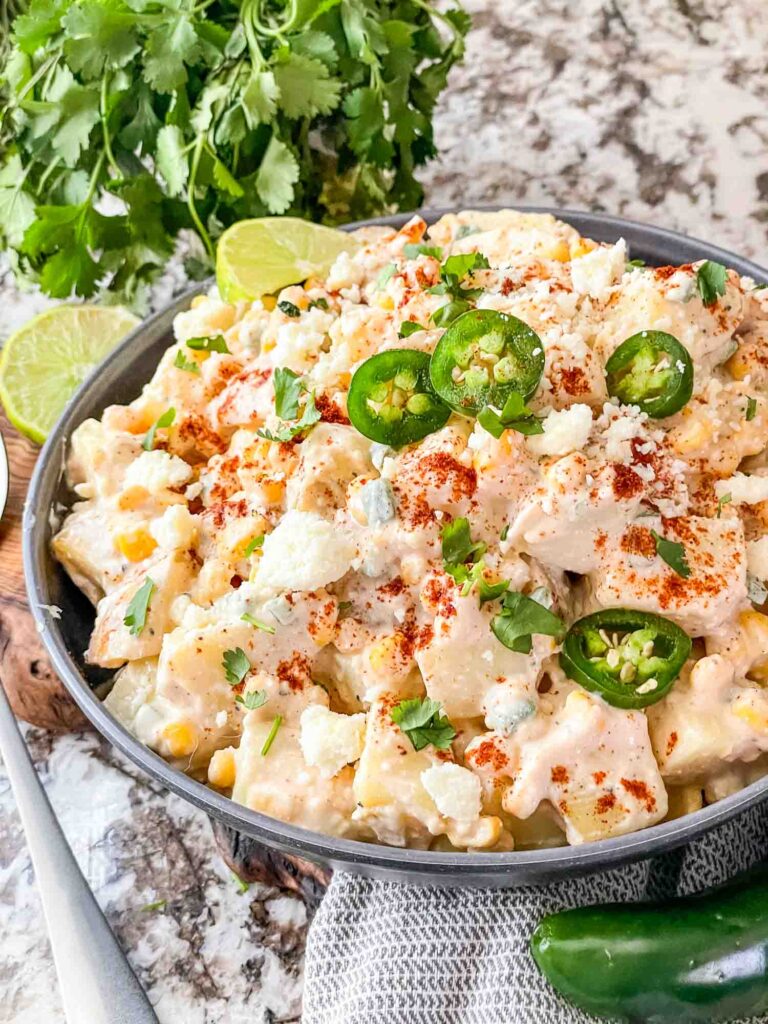 This post contains affiliate links.
Mexican Potato Salad
I love my Mexican Street Corn Salsa and it is one of the most popular recipes on this site – ever!  I
have been incorporating it into different unique recipes and this Mexican Street Corn Potato Salad is a fun twist on these delicious flavors. 
Even with the unique flavors, this potato salad is versatile to serve with just about anything. This gluten-free potato salad is a great side dish for a summer BBQ or grilling party.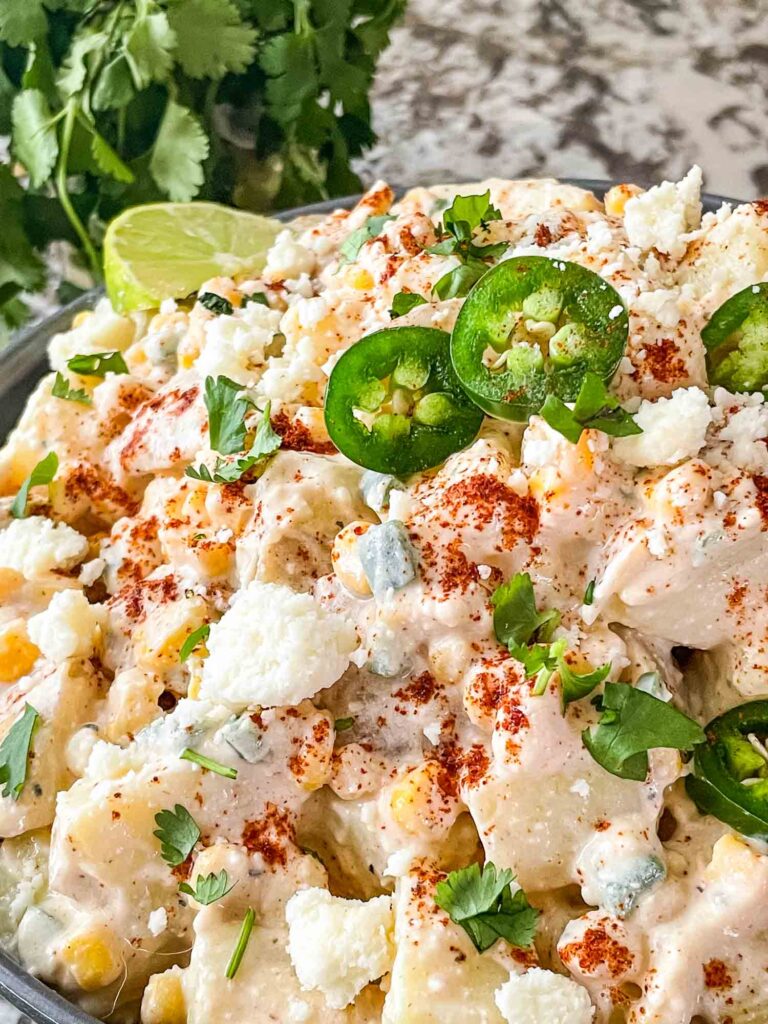 What is Elote? What is Mexican Street Corn?
Mexican Street Corn, also called Elote, is AMAZING. 
A corn cob is roasted and slathered in mayonnaise, chili powder, lime, cilantro, and cotija cheese.  It is a special, special thing. 
One of my favorite party appetizers to make is a Mexican Street Corn Salsa which is always a huge hit.  The flavors are so amazing and simple that they deserve to have a mini line of Mexican Street Corn inspired recipes which you can find here!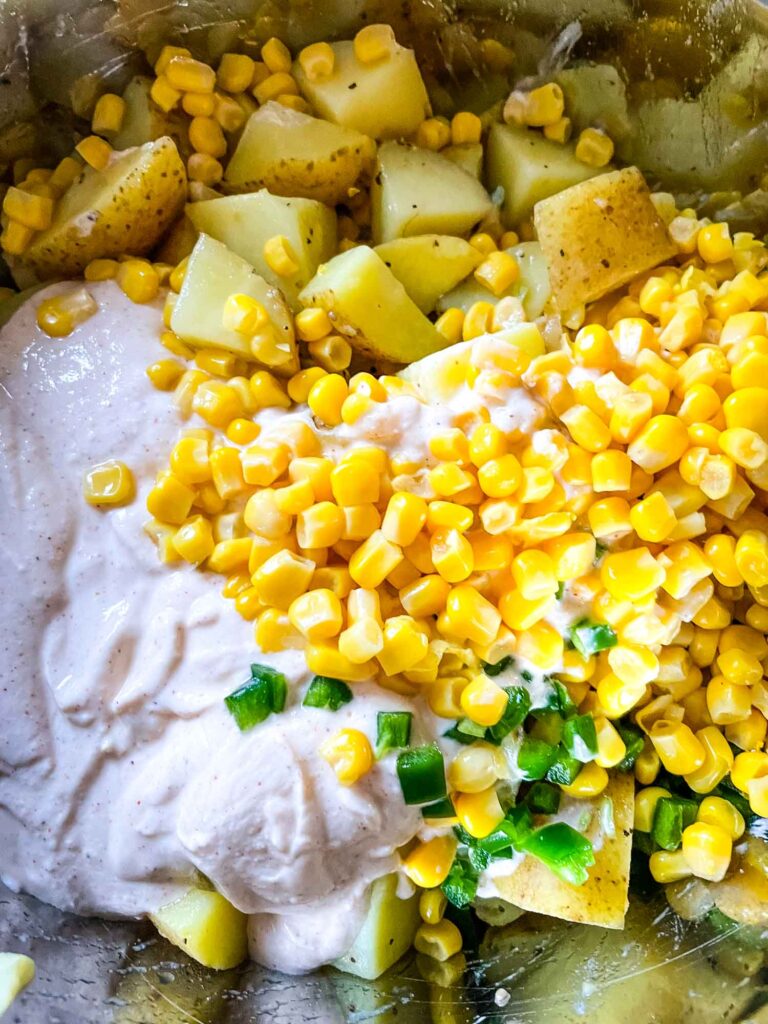 What is in Mexican Street Corn Potato Salad?
Here is what you need to make this potato salad:
Gold Potatoes
Corn (frozen or fresh is best)
Jalapeno
Apple Cider Vinegar
Chili Powder
Plain Greek Yogurt (or a combo of mayonnaise and sour cream)
Lime
Fresh Cilantro (optional)
Cotija Cheese
Salt
Black Peppers
I made this Mexican Street Corn Potato Salad with a healthy spin by using plain Greek yogurt instead of sour cream or mayonnaise.  I am NOT a yogurt person, but in recipes like this you cannot tell! 
You still get the same creamy effect but the seasonings and flavors you mix in cover up any yogurt flavor.  It is a great way to put a healthier spin on a potato salad.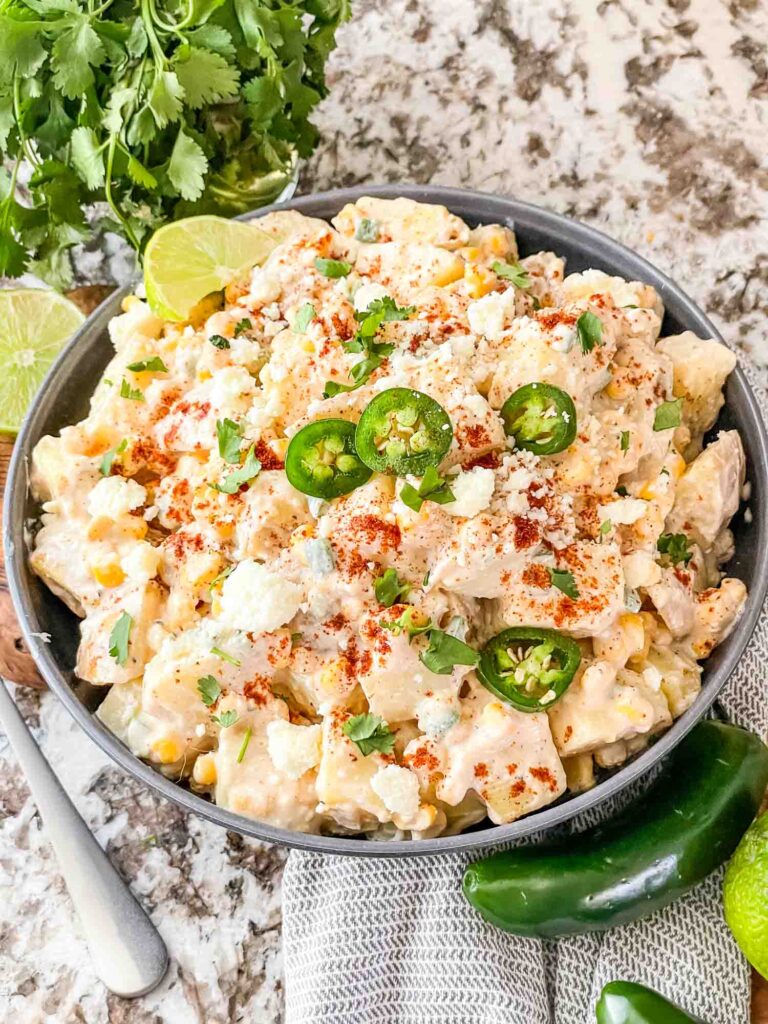 How to Make Potato Salad
First cook the potatoes until they are just fork tender. Then toss them with vinegar, salt, and black pepper and chill.
This vinegar soak will not be overpowering but will bring a lot of flavor to the potatoes themselves!
Meanwhile mix most of the remaining ingredients together and season as desired with chili powder, lime, and/or salt.
Then when the potatoes are cold, mix them with the sauce and the cheese.
I find if I mix the cheese in too early, it melts away. So waiting is best to keep those pockets of cheese!
Chill until ready to serve.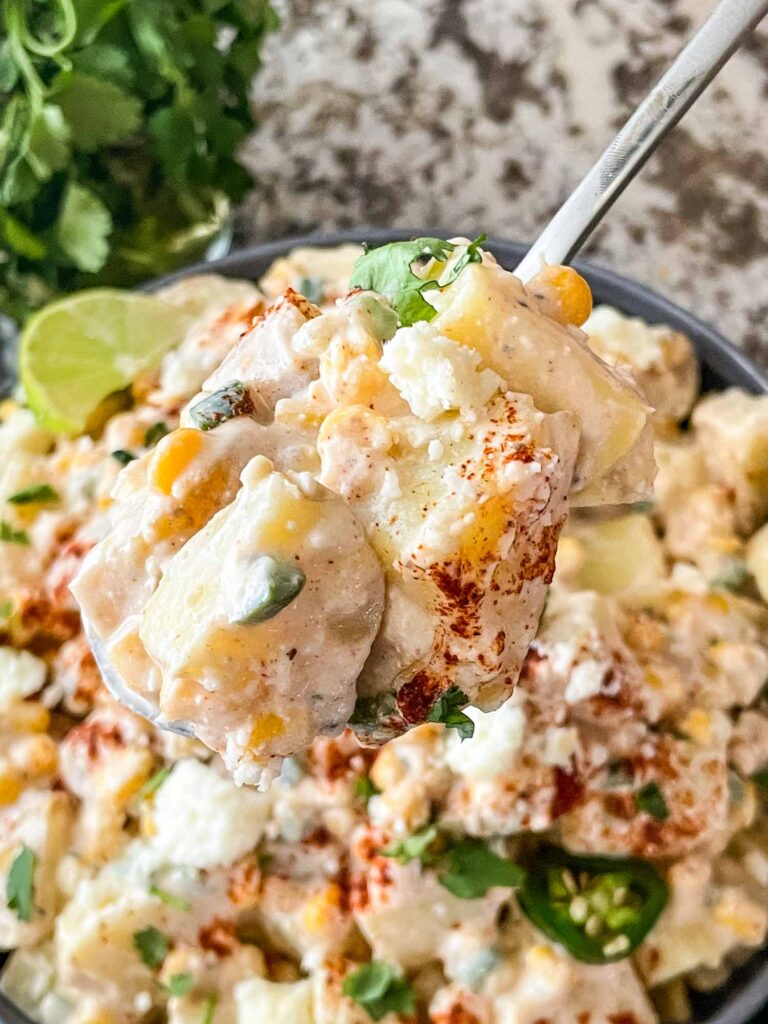 Can I Make Potato Salad in Advance?
Yes!
If you are making it more than a few hours in advance, I recommend keeping the sauce and potatoes separate and then mixing when you are ready to serve.
If they are mixed together too early, some of the sauce liquid is absorbed and the potato salad starts to get dry.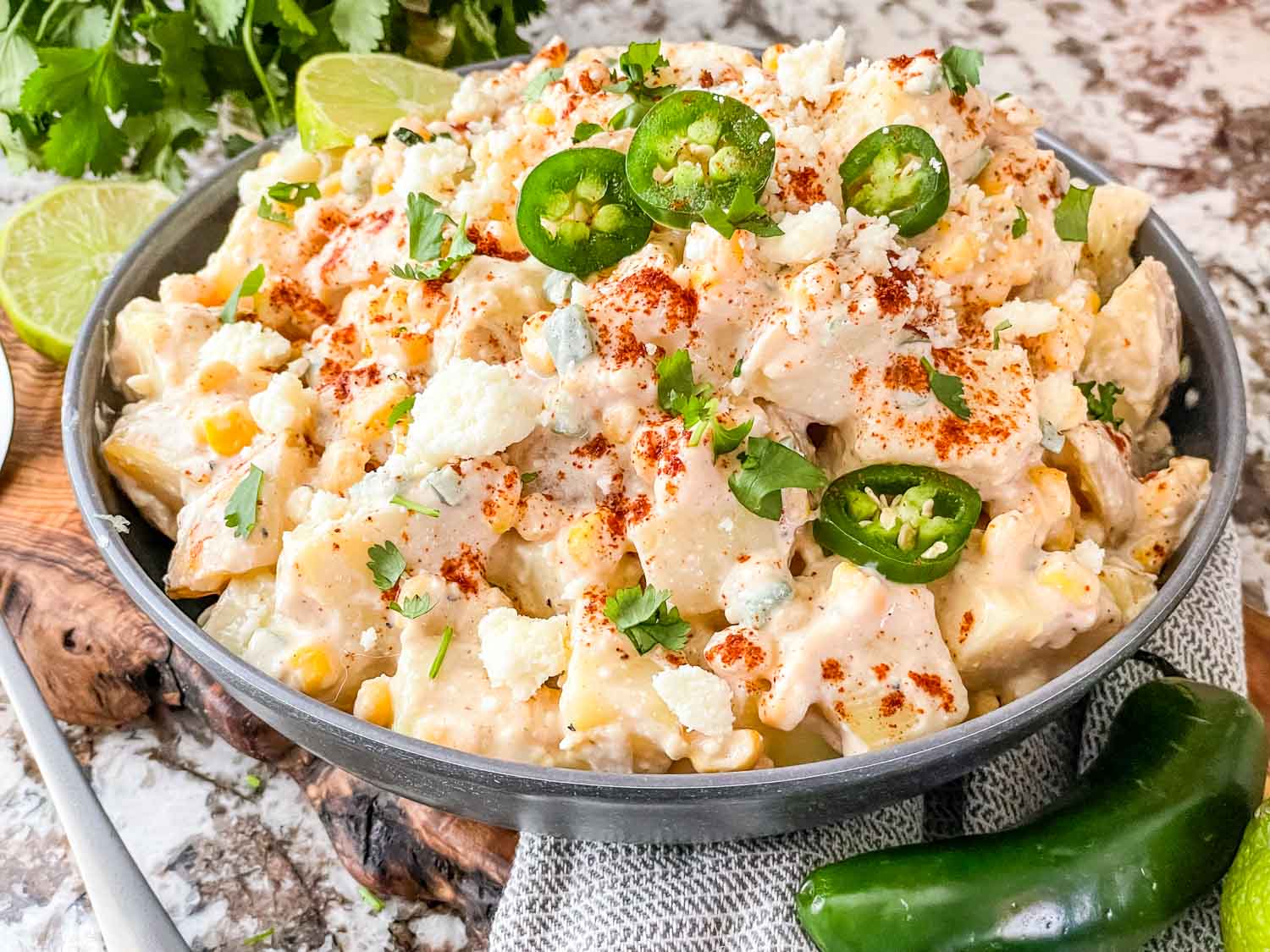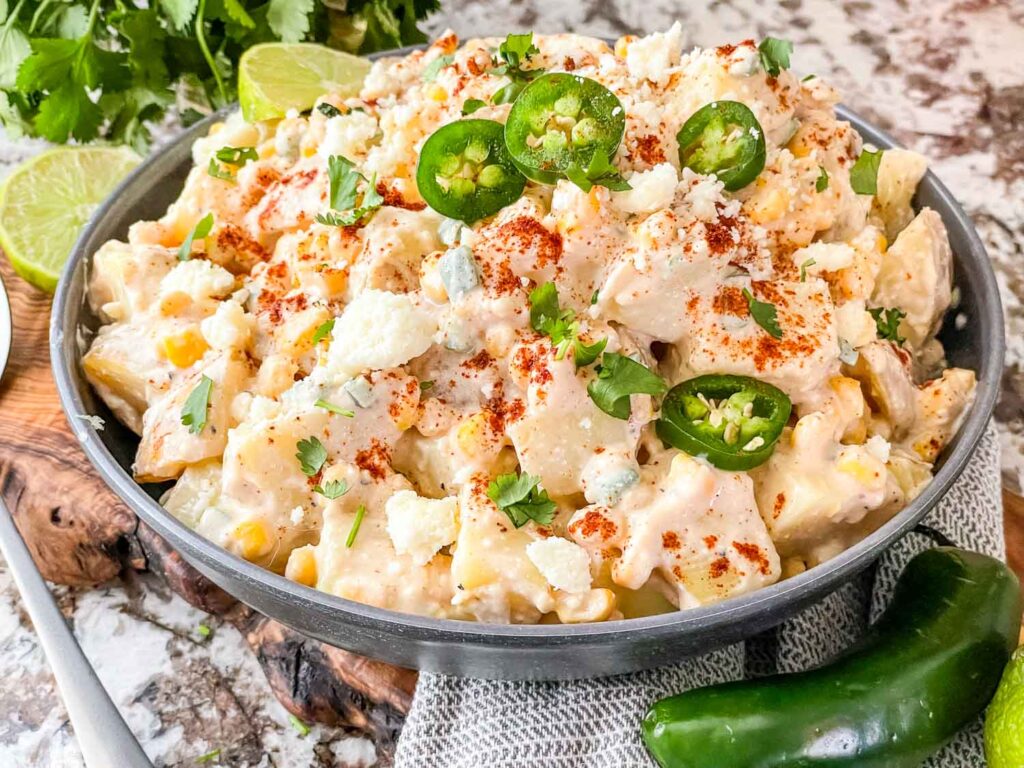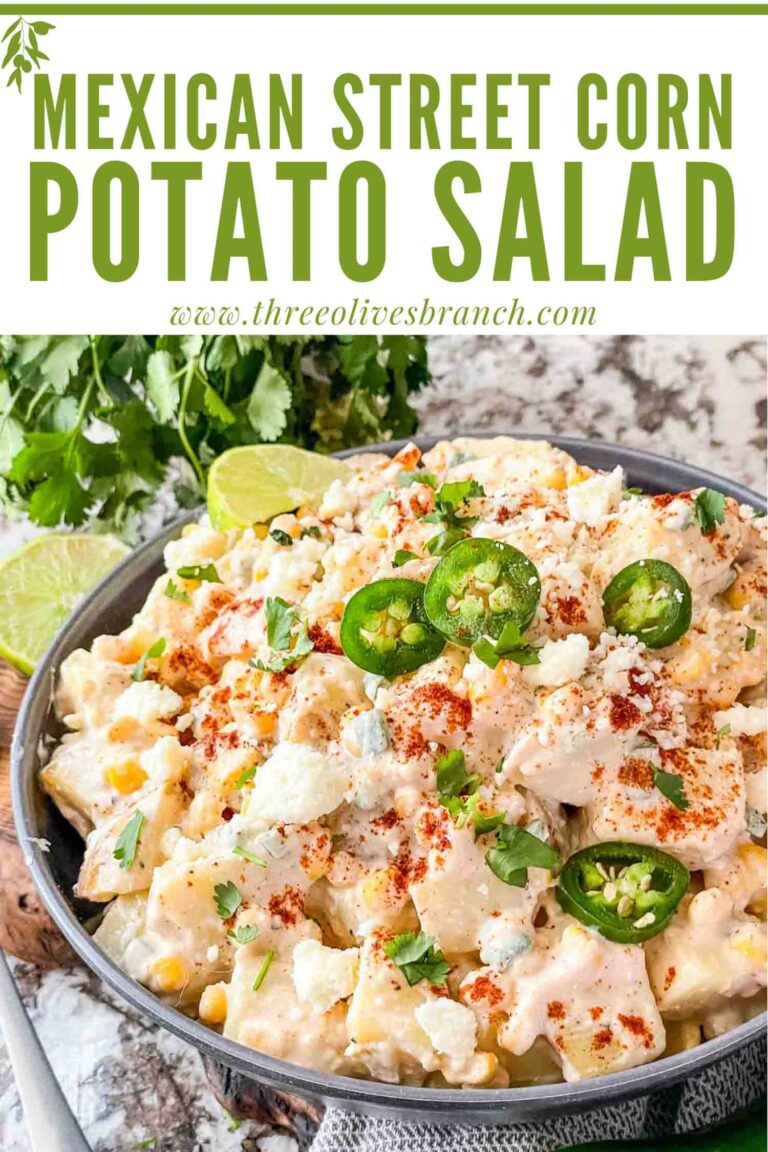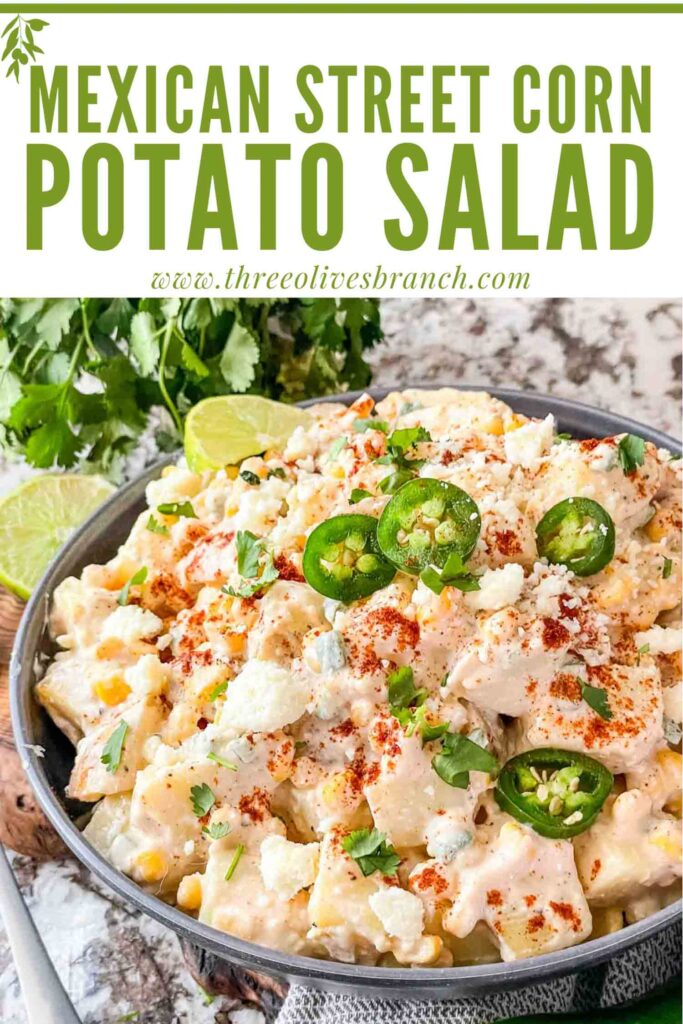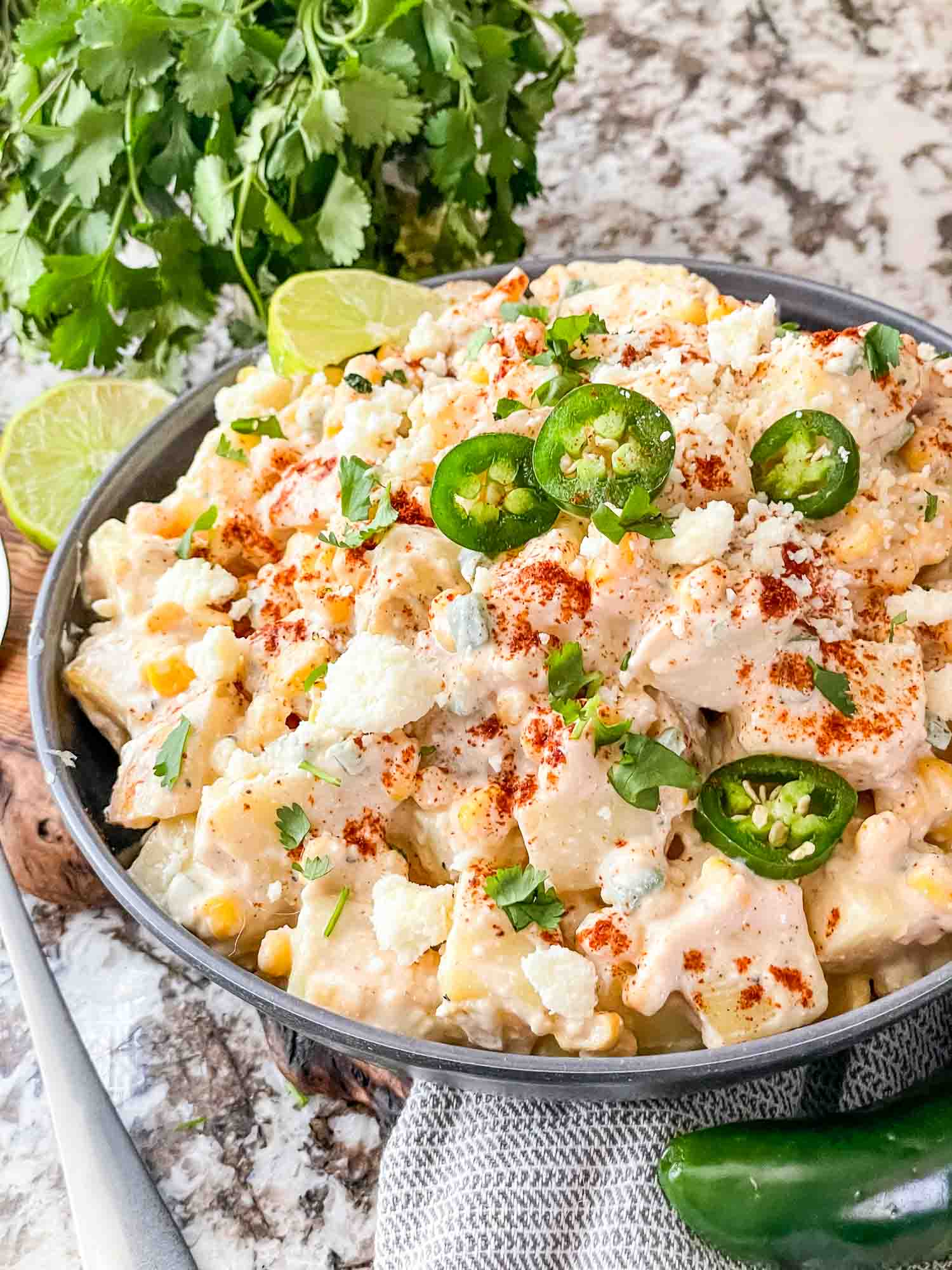 Instructions
Bring a large pot of water to a boil over high heat.

While the water is heating, cut the potatoes into 3/4 inch chunks.

When the water is boiling, add the potatoes. Cook until they are just fork tender, approximately 15-20 minutes.

Drain the potatoes. Toss them with the vinegar, 1/2 teaspoon salt, and 1/2 teaspoon black pepper. Refrigerate until cool, at least 30 minutes.

In a small bowl, combine the Greek yogurt, chili powder, corn, jalapeno, lime juice, cilantro, and 1/2 teaspoon salt. Season to taste as desired with more chili powder, lime, and salt.

When the potatoes are cool, in a large bowl combine the potatoes with the sauce mixture and cotija cheese. Season to taste again if desired or needed.

Refrigerate until ready to serve.
Notes
Gold potatoes are best as they are waxy and hold together better than a starchy potato, such as a russet.
If you like a saucy potato salad, increase the quantity of sauce you make.
I like to use frozen or fresh corn.  You can also use canned corn that has been drained.
To ensure a completely vegetarian dish, make sure to use vegetarian cheese.
You can find cotija cheese at your grocery store in the refrigerated Hispanic section or in the special cheese section.
The heat level on this is mild.  Make it spicy by adding additional jalapeno or chili powder.
This side can easily be made ahead.
Nutrition
Serving:
1
serving
|
Calories:
264
kcal
|
Carbohydrates:
49
g
|
Protein:
11
g
|
Fat:
4
g
|
Saturated Fat:
2
g
|
Polyunsaturated Fat:
1
g
|
Monounsaturated Fat:
1
g
|
Trans Fat:
1
g
|
Cholesterol:
13
mg
|
Sodium:
646
mg
|
Potassium:
1100
mg
|
Fiber:
6
g
|
Sugar:
5
g
|
Vitamin A:
217
IU
|
Vitamin C:
51
mg
|
Calcium:
134
mg
|
Iron:
2
mg
BBQ and Grilling Main Courses
Main course ideas to go along with your favorite BBQ and grilling sides!

By