This Olivier Salad is a delicious and easy potato salad with meat to serve at your summer BBQ! A Russian salad made with ham (or chicken, or sausage), hard boiled eggs, peas, potatoes, carrots, pickles, mayonnaise, and dill. A versatile grilling recipe from Soviet countries.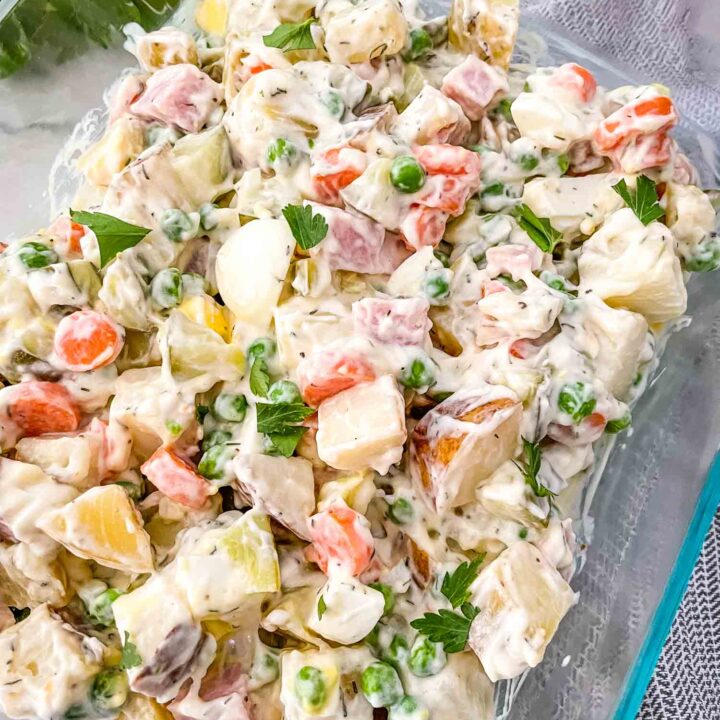 This Olivier Salad is a delicious homemade Russian potato salad recipe that is a perfect side dish for your BBQ cookout! Potatoes, carrots, eggs, and more are mixed in a simple mayo dressing.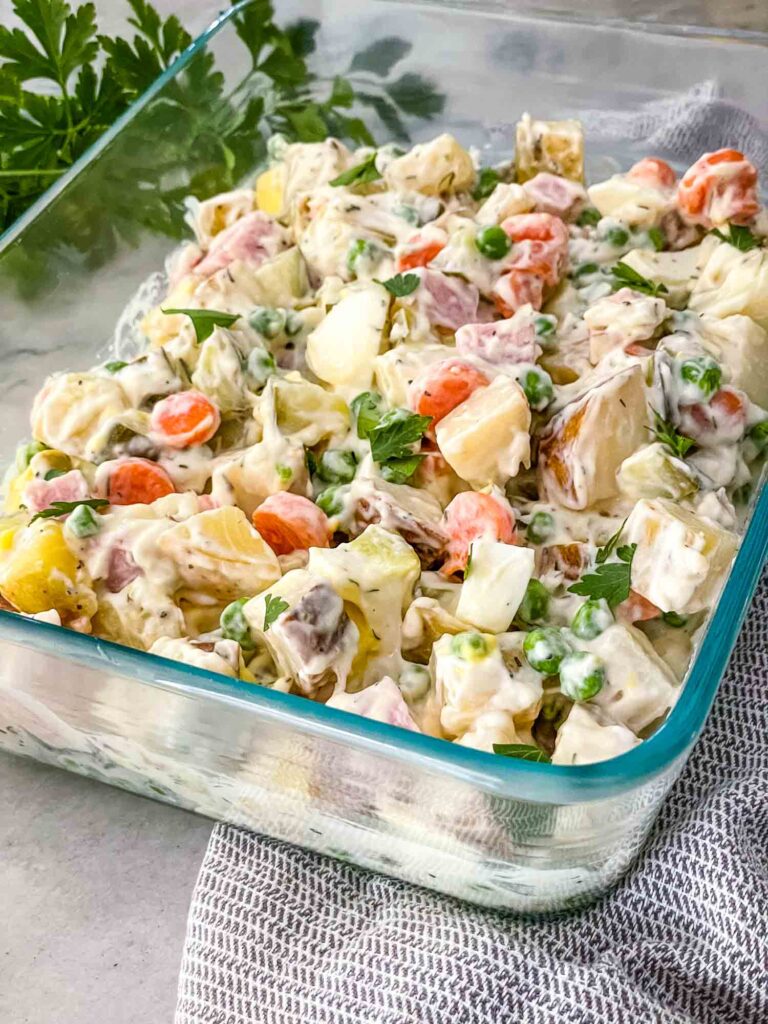 Russian Potato Salad
I made this potato salad for a Memorial Day cookout and it was a huge hit!
The sauce is very simple but gets a lot of flavor and texture from the wide variety of ingredients mixed in.
What is Olivier Salad?
This salad is a popular potato salad recipe from Russia that is primarily made of potatoes, egg, meat, vegetables, and mayonnaise.
Why is it Called Olivier Salad?
It was invented in the 1860s by a Belgian named Lucien Olivier. Where did Olivier salad originate? Hermitage, a popular restaurant in Moscow.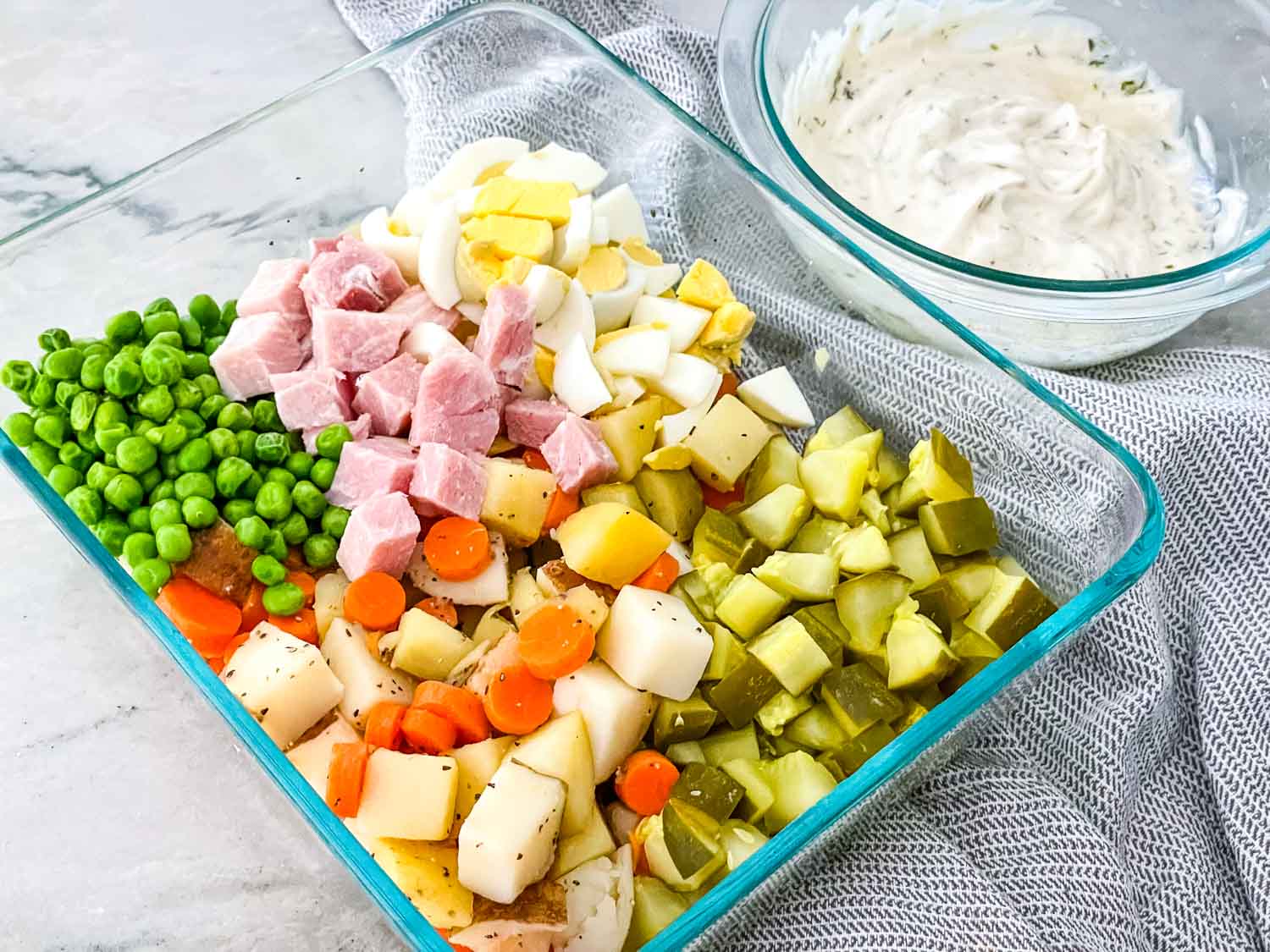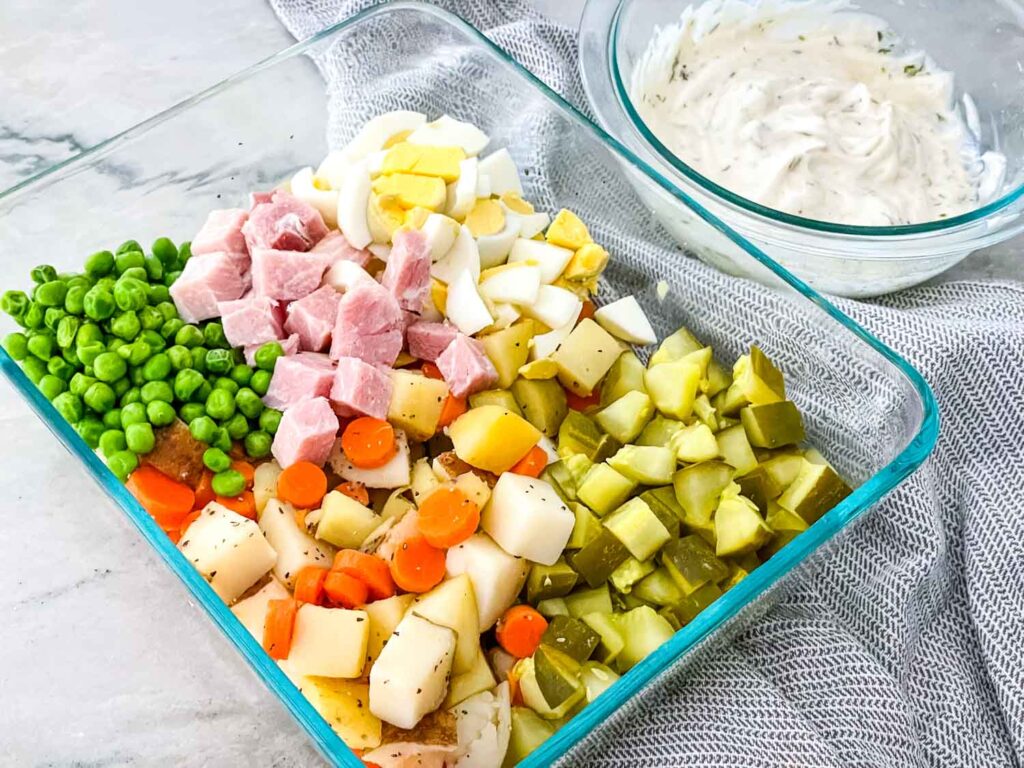 What is in Olivier Salad?
This salad was a specific recipe when it was created but has taken on many variations and changes through the years.
So you will likely see different meats and different ingredients included based on the recipe or region you are looking at.
For this recipe, you will need:
Potatoes (Gold are best)
Carrots
Dill Pickles
Hard Boiled Eggs
Peas
Ham
Mayonnaise
Dill
Salt
Black Pepper
Apple Cider Vinegar
It is also common to see cucumbers, celery, apples, chicken, onions, and other ingredients. These can all be added or swapped out for something if desired based on what you like.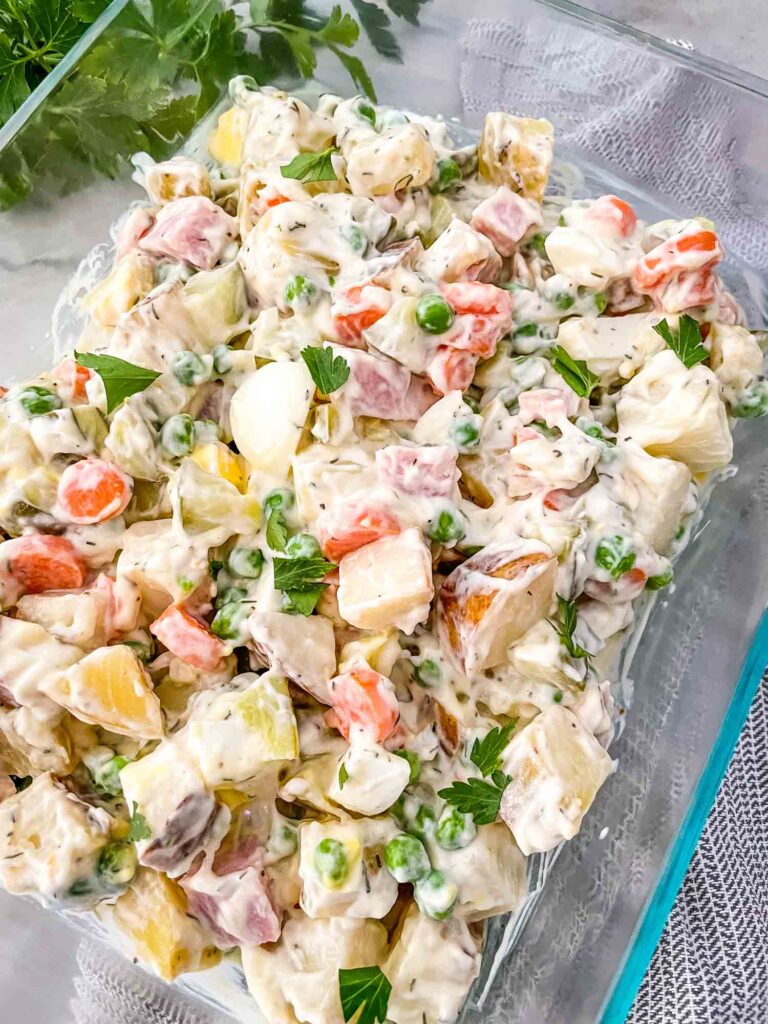 Does Russian Salad have apples?
I have seen several version that do include it. It appears, based on my research, it was not an original ingredient but did become a popular addition.
So do add some if desired for a little bit of sweet and crisp flavor!
Can I Use Canned Peas?
Yes, they can be used. But note that canned peas have been treated and cooked in the canning process which gives them a different taste than fresh or frozen peas. You will want to drain and rinse them before using.
I prefer and recommend the frozen peas because they have a bright, fresh flavor and lots of nutrients that have not been lost in the canning process.
What Type of Ham is Best?
I like to use any leftover ham if I have it. Otherwise, you can check your grocery store for chopped and cooked ham in the meat section. This gives you a manageable portion that is already cut. Note that diced ham tends to be very small pieces.
You can also buy a ham steak, a thick slice of a whole ham, and chop it into pieces. This is what I do!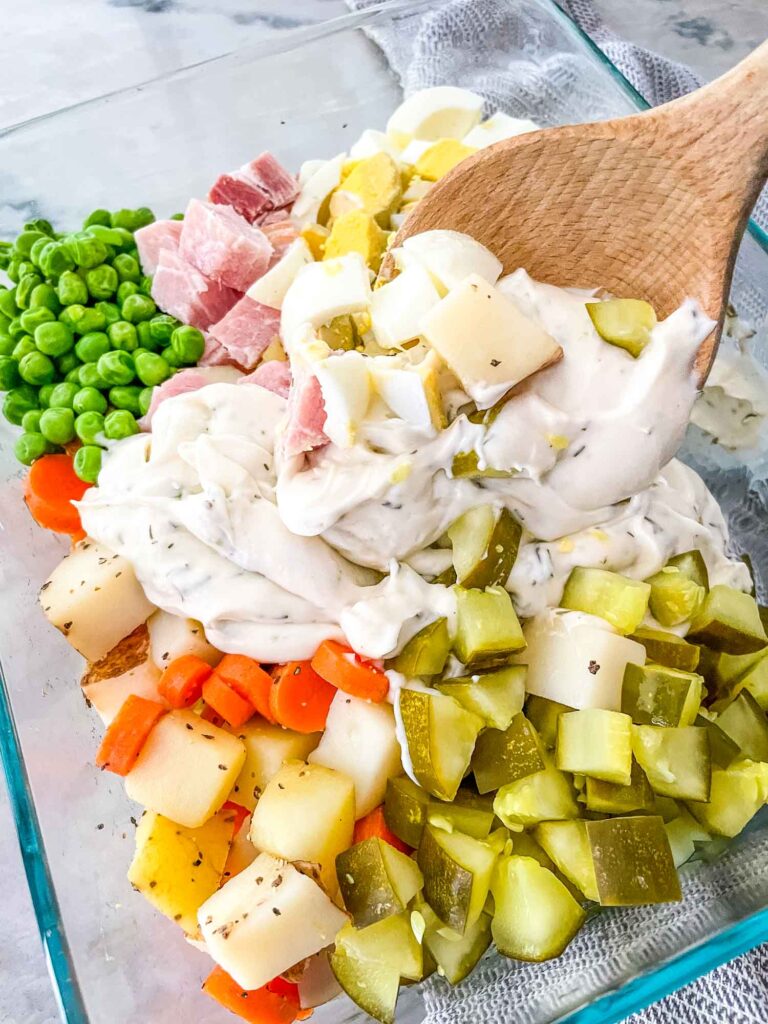 How Do You Make an Olivier Russian Salad?
First cut up your carrots and potatoes. Boil them in water until they are just fork tender.
Mix them with the vinegar, salt, and pepper so they absorb the flavor.
Add the pickles, chopped hard boiled eggs, peas, and ham, and refrigerate.
When you are ready to serve, add the mayonnaise sauce and the fresh dill. Season to taste as desired.
How to Make Hard Boiled Eggs
You will want to boil them for 6 minutes for a softer yolk that is still cooked, or 8 minutes for a harder firmer yolk.
There are a lot of "tricks" and "hacks" out there for boiling and peeling eggs. I have tried SO many of them and none seem to be any better than the others.
Until I tried the Instant Pot method! If you have an Instant Pot, cook them on manual pressure for 5 minutes, do 5 minutes of natural release and then manual release the rest of the time, and then plunge in ice water for 5 minutes. If you are at a high altitude like me (Denver, CO), cook for 6 minutes and 6 minutes natural release.
They peel like a DREAM!
How to make Potato Salad in Advance
Easily have this recipe done and ready to go for your grilling party.
Cook, chop, and mix everything together but do not add the mayonnaise and dill until you are ready to serve.
I have found that if I make a potato or pasta salad and mix the sauce in early, the ingredients absorb a lot of the moisture and the salad ends up dry. Plus the potatoes and vegetables get too soft.
Just have the sauce ready to go and mix last minute for a perfect potato salad!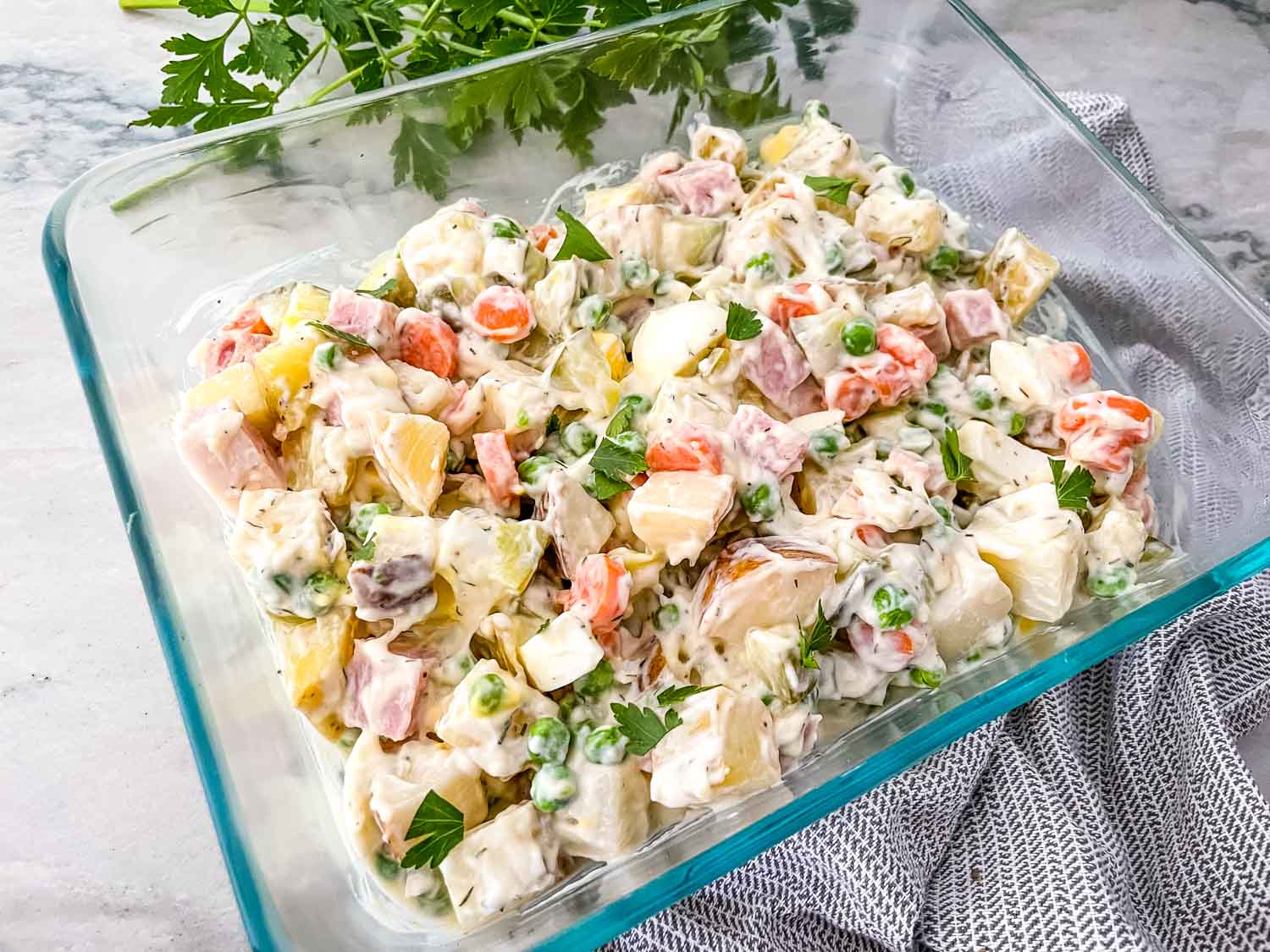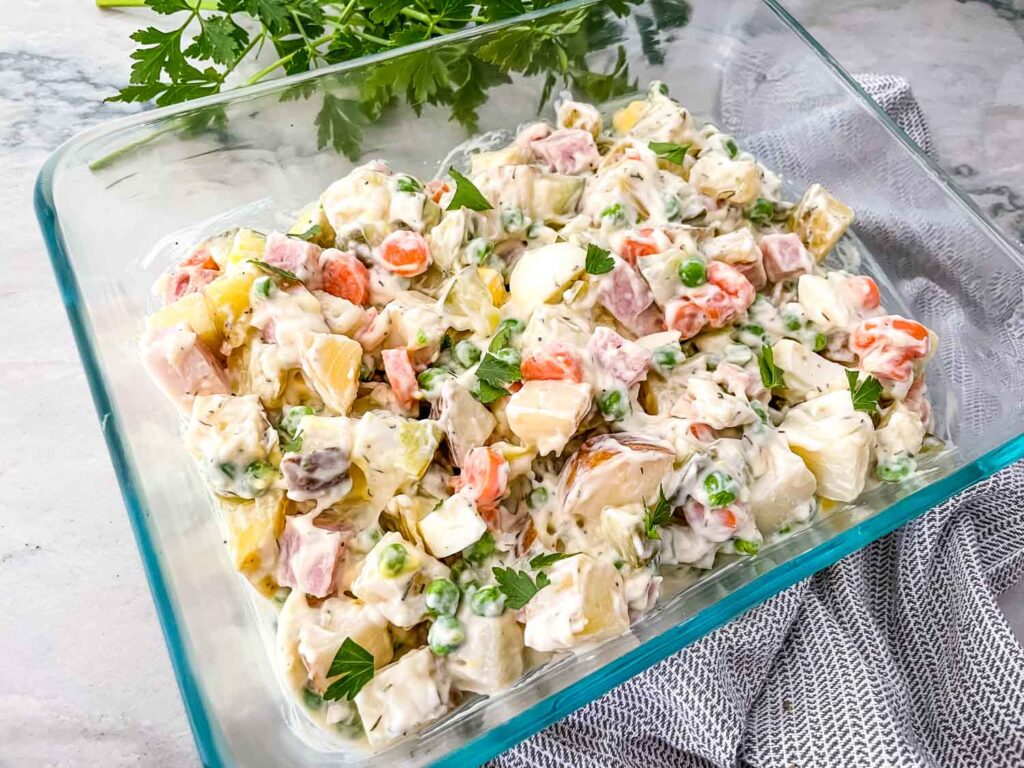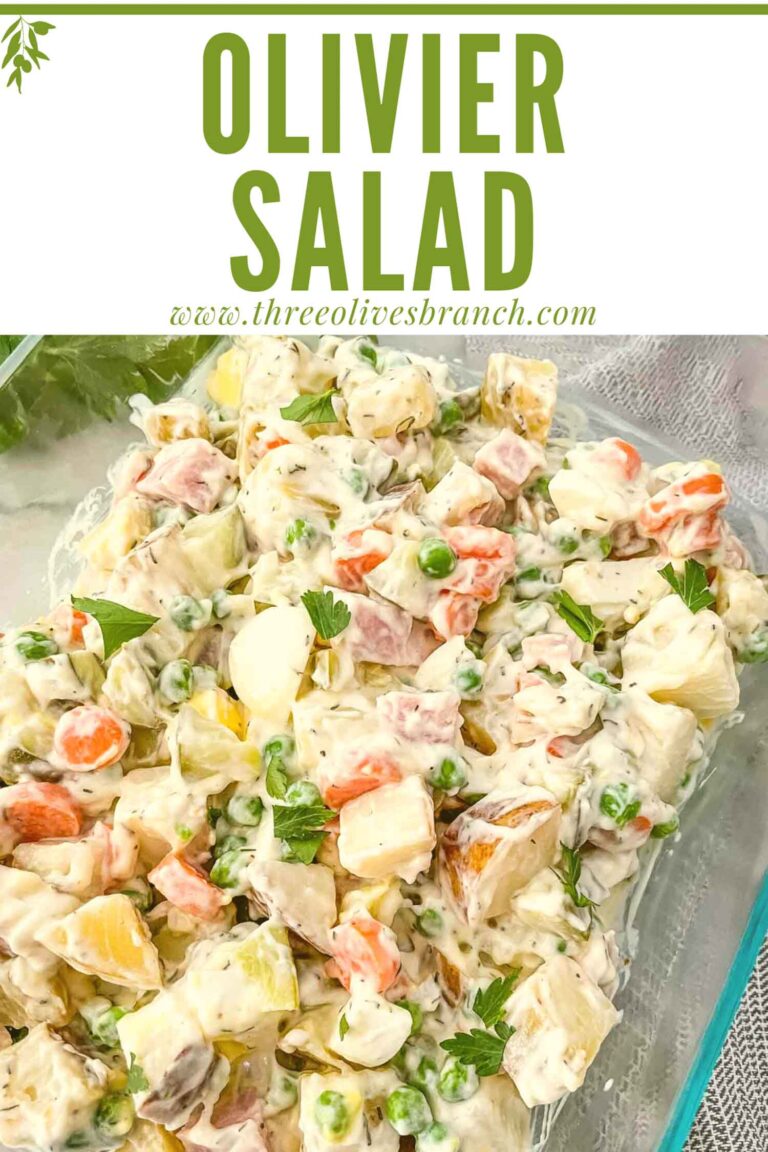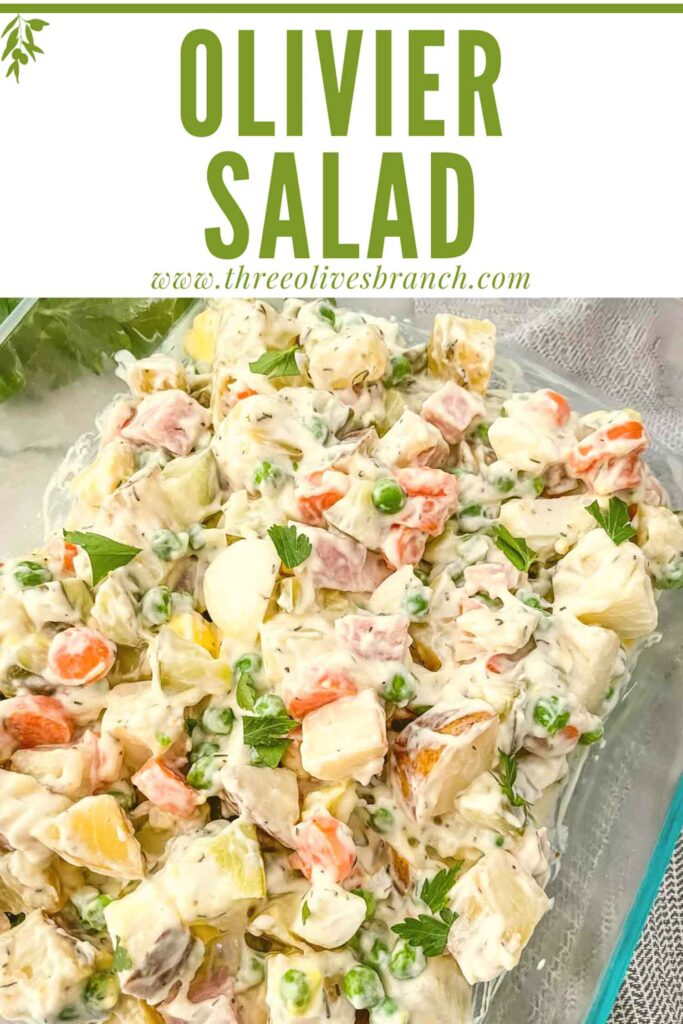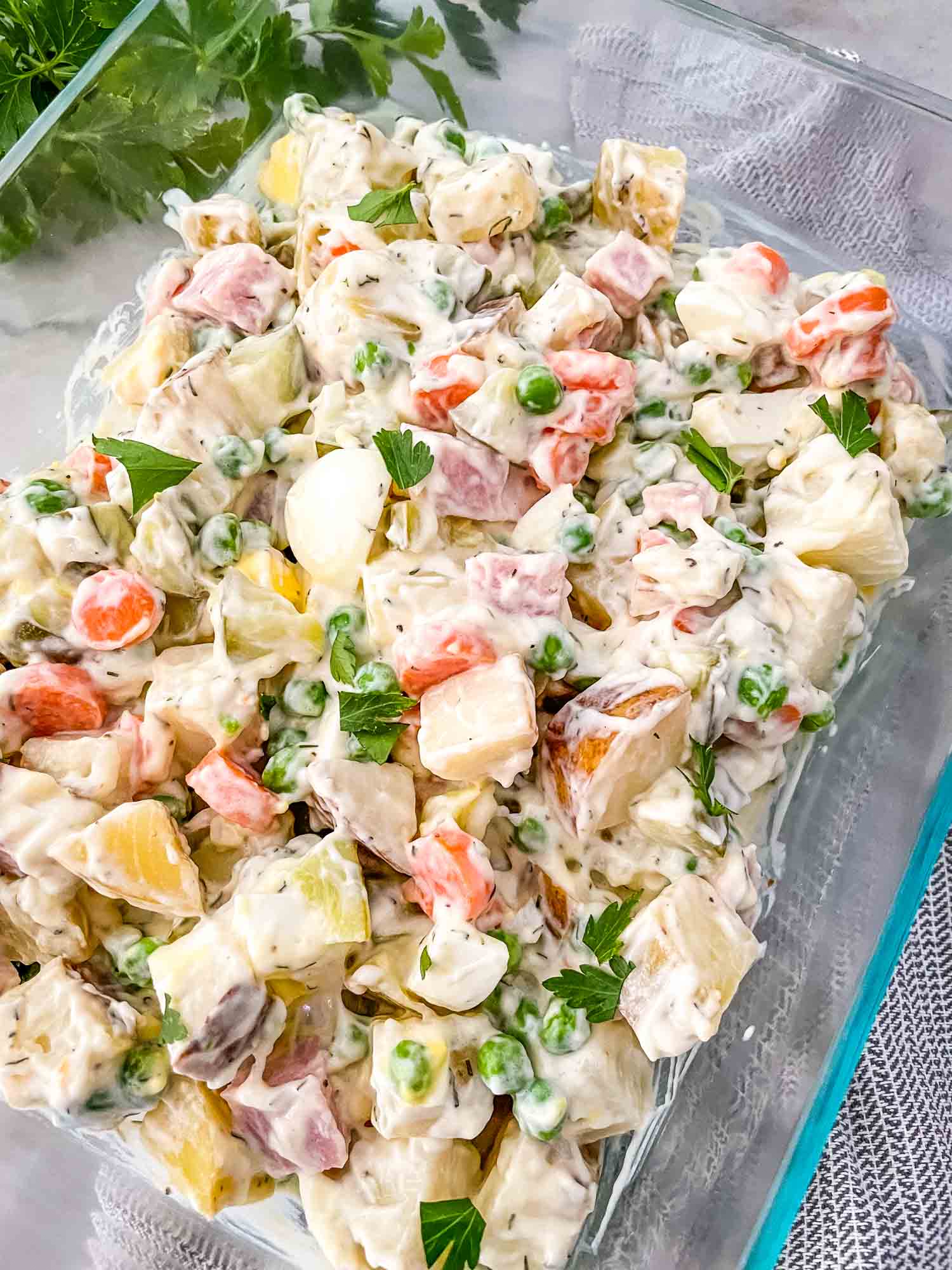 Instructions
Bring a large pot of water to a boil over high heat.

While the water is heating, cut the potatoes into 3/4 inch chunks and dice the carrots.

When the water is boiling, add the potatoes and carrots. Cook until they are just fork tender, approximately 15 minutes.

Drain the potatoes and carrots. Toss them with the vinegar, 1/2 teaspoon salt, and 1/2 teaspoon black pepper.

Chop the hard boiled eggs. Chop up the pickles (this is easiest when using whole pickles or spears to get chunks but any shape works).

Add the eggs, peas, ham, and pickles to the potato mixture. Chill at least 30 minutes.

When ready to serve, add the mayonnaise and dill. Stir to combine and season to taste with salt ad black pepper.

Add more mayonnaise if desired.
Notes
Gold potatoes are best as they are waxy and hold together better than a starchy potato, such as a russet.
If you like a saucy potato salad, increase the quantity of mayonnaise.
Easily make this in advance. I recommend keeping the sauce separate from the salad ingredients and stirring when serving so that the mayonnaise is not absorbed, making the potatoes mushy and the salad less saucy.
Nutrition
Serving:
1
serving
|
Calories:
432
kcal
|
Carbohydrates:
21
g
|
Protein:
13
g
|
Fat:
33
g
|
Saturated Fat:
6
g
|
Polyunsaturated Fat:
17
g
|
Monounsaturated Fat:
8
g
|
Trans Fat:
1
g
|
Cholesterol:
155
mg
|
Sodium:
1064
mg
|
Potassium:
563
mg
|
Fiber:
4
g
|
Sugar:
5
g
|
Vitamin A:
5526
IU
|
Vitamin C:
27
mg
|
Calcium:
60
mg
|
Iron:
2
mg
BBQ and Grilling Main Courses
Main course ideas to go along with your favorite BBQ and grilling sides!

By