Scalloped Cheesy Potatoes are a great starch side dish recipe. Perfect for a holiday like Easter, Christmas, and Thanksgiving. A cheddar cheese sauce layered with sliced potatoes. Also called potatoes au gratin.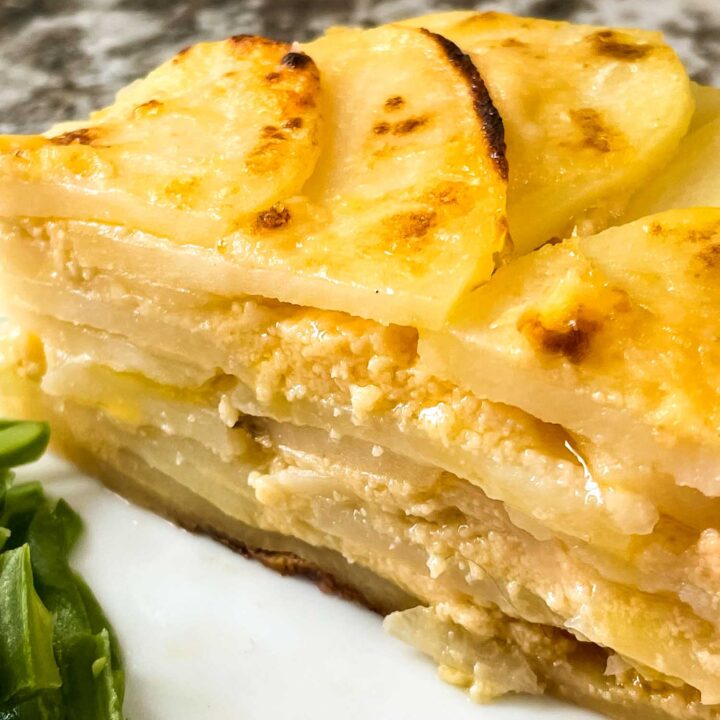 These Scalloped Cheesy Potatoes are one of my all-time favorite recipes! Sliced potatoes are layered with a cheddar cheese sauce ad baked until tender. Makes a perfect side dish recipe for a holiday meal!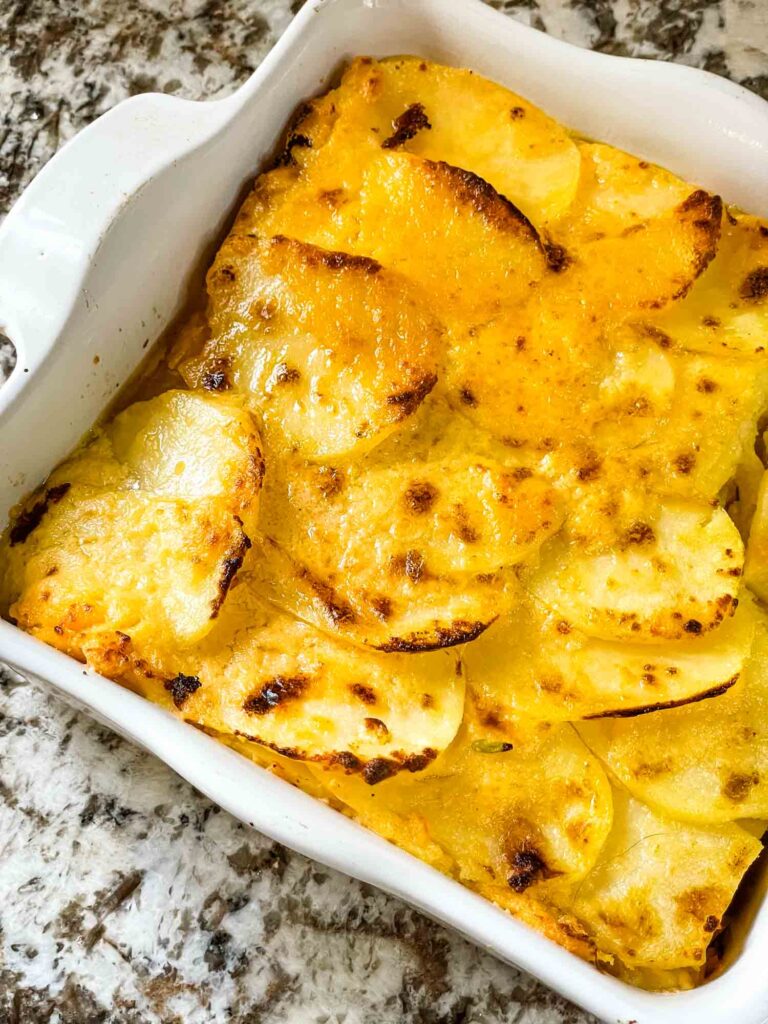 Au Gratin Potatoes
Growing up, scalloped potatoes were a staple at any holiday meal.
To this day, I still consider them mandatory for Easter!
They are a wonderful, special side dish that works well with most main courses and holidays like Christmas and Thanksgiving.
The classic is always a favorite, and once in a while I like to shake it up by turning it into a Broccoli Cheese Scalloped Potatoes!
What is the difference between scalloped potatoes and gratin?
Scalloped potatoes are traditionally made without cheese unless the variation asks for it (such as this recipe!).
Au gratin potatoes have the same milk sauce but also includes cheese being sprinkled in each layer and on top.
What is the difference between scalloped potatoes and cheesy potatoes?
Cheesy potatoes are just like potatoes au gratin, made with a creamy milk sauce and cheese sprinkled in the layers.
And the scalloped potatoes do not traditionally have cheese.
What is the difference between potatoes au gratin and dauphinoise?
Potatoes Dauphinoise are a lesser know variation of this dish. It is traditionally made with heavy cream and gruyere cheese, which is similar to swiss.
The potatoes au gratin does not require heavy cream and is typically made with milk.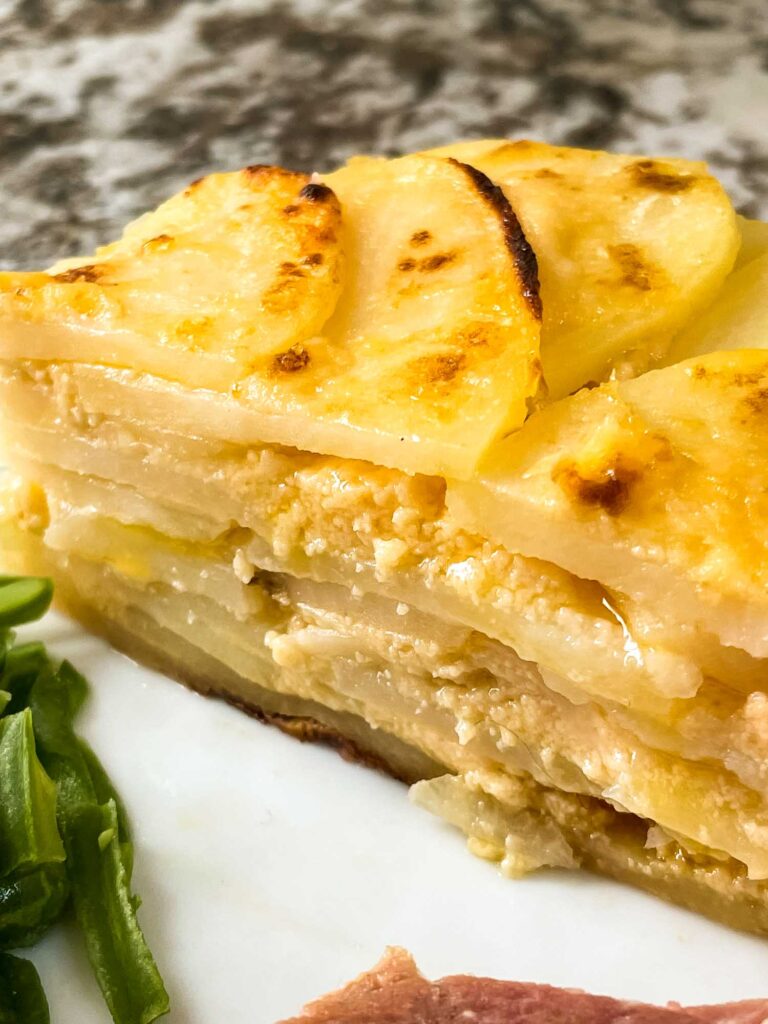 Ingredients Needed for Scalloped Potatoes Recipe
Here is what you need to make these cheesy potatoes:
Russet Potatoes (Yukon Gold would work too)
Milk
Cheddar Cheese
Garlic Powder
Salt and Black Pepper
Flour
Butter
What is the preferred cheese to use for au gratin cooking?
Traditionally, gruyere is the favorite. It tastes very similar to Swiss. But a common modern variation uses cheddar cheese.
I am personally a huge fan of cheddar for its strong flavor.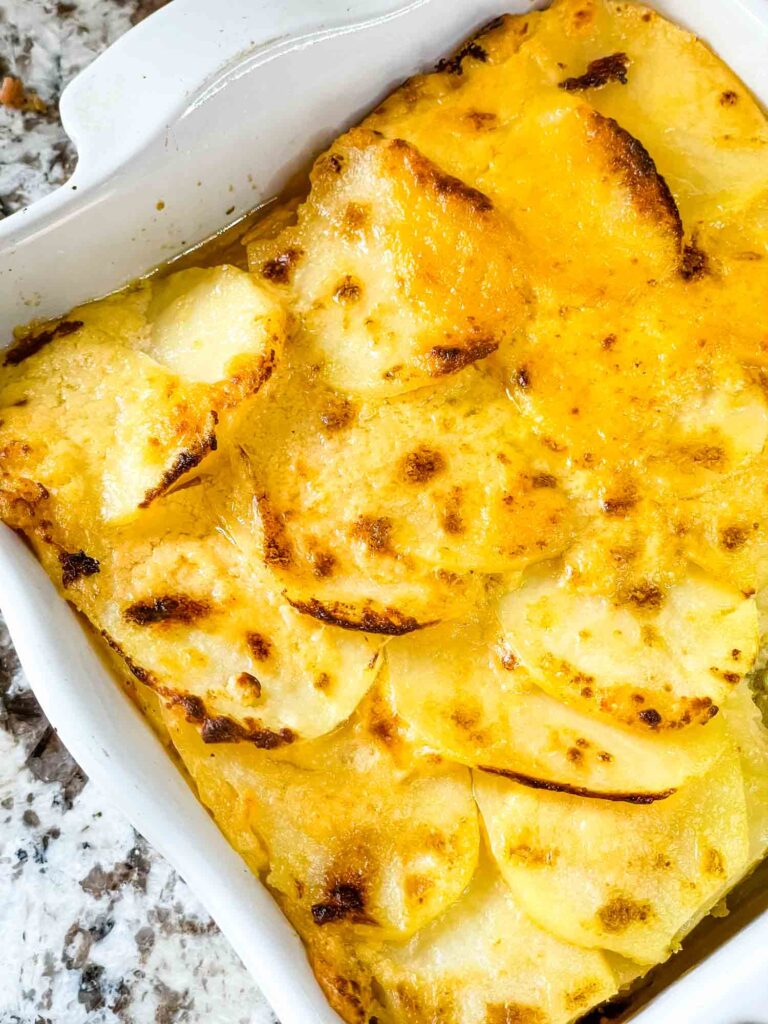 Do you have to peel potatoes for scalloped potatoes?
No! I have made them both ways.
If you leave the peels on, there will be a slightly different taste. Think of a baked potato bite with and without the skin.
Leaving the skins on also makes it look a little more rustic.
They are delicious either way!
How do you tell when scalloped potatoes are done?
I stab the potatoes with a fork in the middle of the dish.
If the fork can slide into the potatoes well, you are good! If it feels crunchy, cook them longer.
Can I Premake potatoes au gratin?
Yes! Easily make and assemble the potato dish up to two days before serving.
Just chill it after assembled but raw and cook the day of.
How far in advance can you slice potatoes for scalloped potatoes?
Cut the potatoes up to a day in advance. You will want to keep them in water to prevent them from turning brown.
But then you will need to make sure you drain the potatoes very well to remove as much water as possible from what they absorbed to prevent your sauce from being too watery.
I try not to cut the potatoes in advance unless I am assembling the entire recipe. Even if in the water, they can turn a pink color.
How to Make Cheesy Scalloped Potatoes
Peel your potatoes if desired and slice them 1/8 to 1/4 inch thick (the thicker they are, the longer they will take to cook. Go with your preference).
Place the potatoes in water if desired to prevent from turning brown/pink.
Make the cheese sauce by first combining the butter and flour. Cook until a very light tan.
Whisk in the milk and garlic powder. When the milk is warm, add the cheese.
Whisk until the cheese is melted.
Get ready to assemble the scalloped potatoes by draining your potatoes well.
Scoop some sauce in the bottom of the baking dish, just enough to cover the bottom.
Place the potatoes across the dish in rows, with each row slightly overlapping the previous.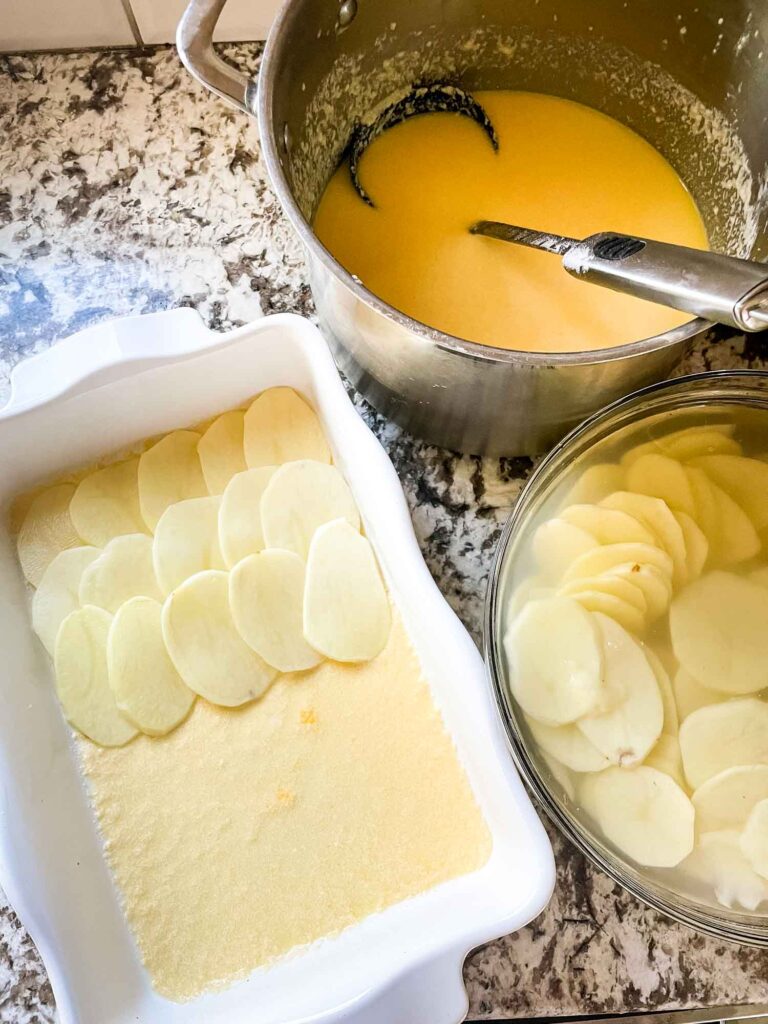 Continue until a full layer is made.
Spoon a little cheese sauce across the layer. Just enough to cover all the potatoes.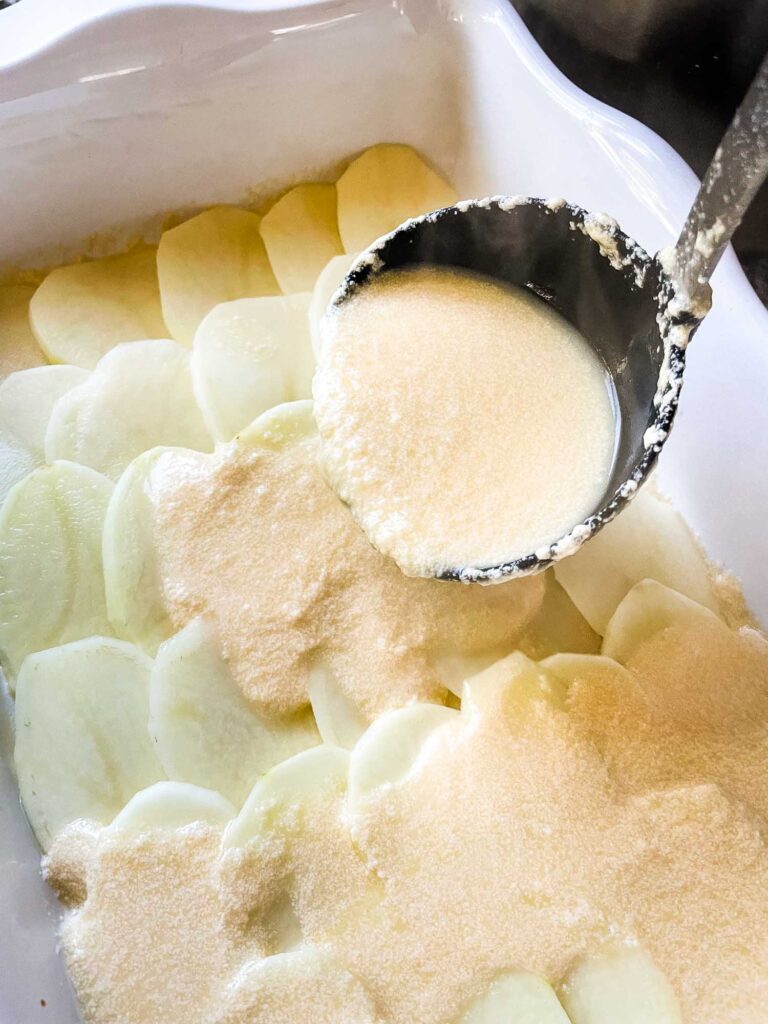 Repeat with the rest of the potatoes and cheese sauce until about an inch from the top of the dish. The sauce bubbles a lot when cooking so you want to give it a little space! You can use more than one dish if necessary.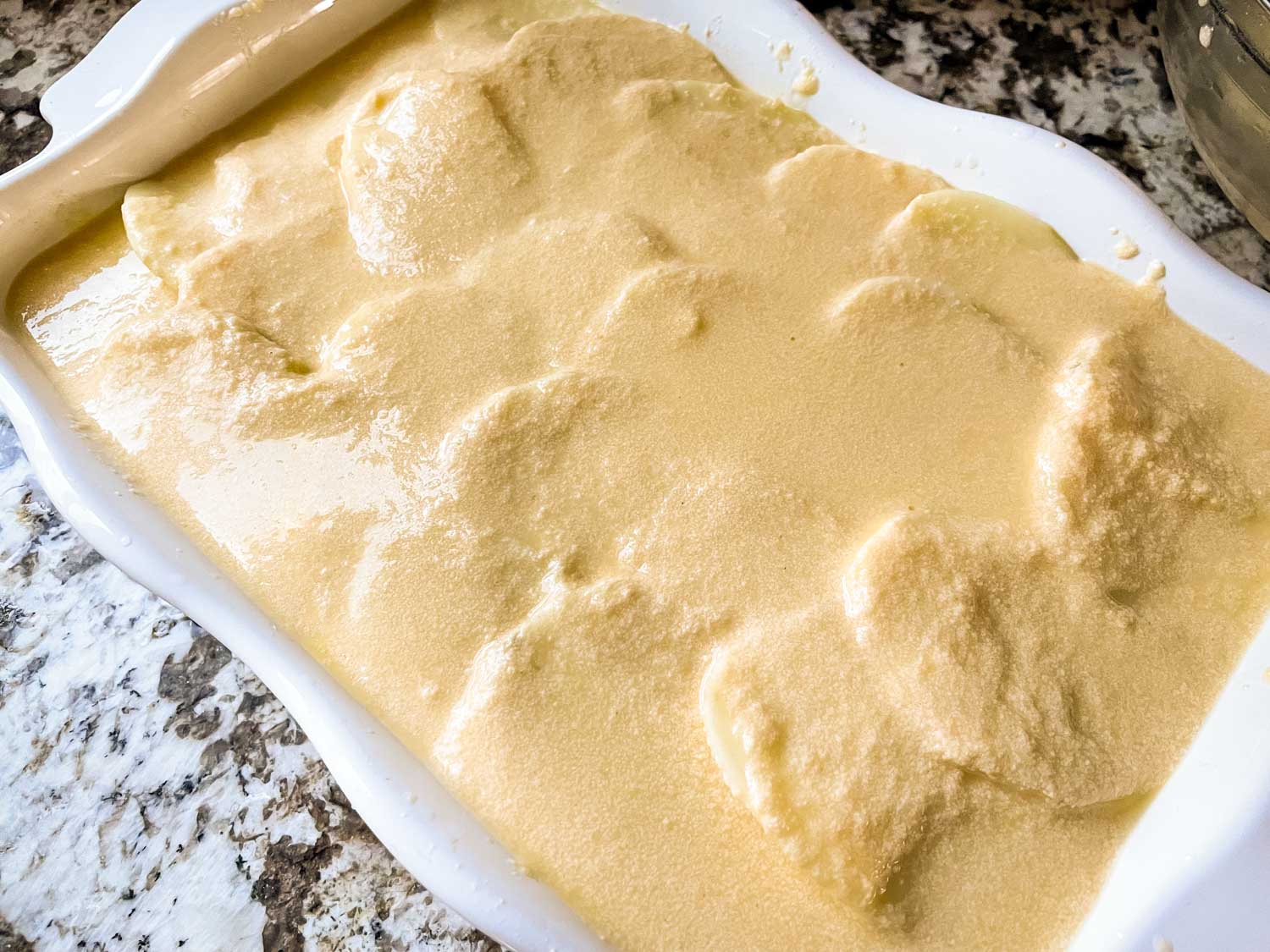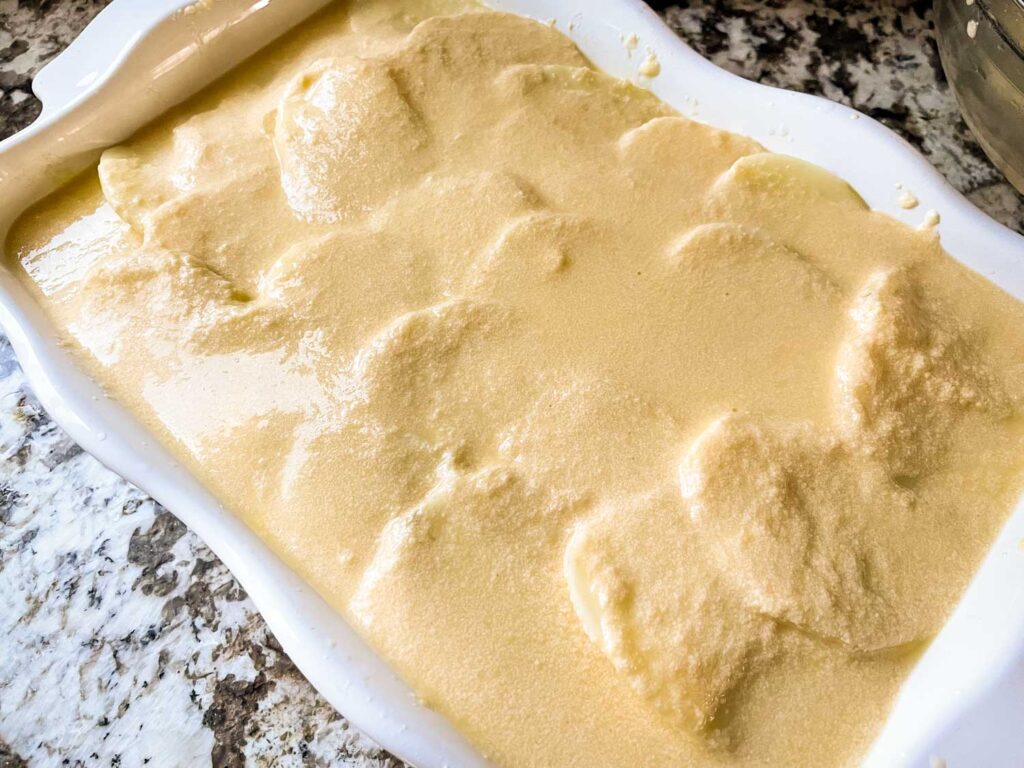 After the layering is finished, cover the dish with tin foil.
Place the dish on a baking sheet in the oven and bake until the potatoes are fork tender in the center, approximately 2 hours.
Remove the tin foil for the last 30 minutes to brown the top.
Let sit 15 minutes or longer before cutting to help prevent the sauce from running out of the layers.
What main dish goes well with potatoes au gratin?
Scalloped Cheesy Potatoes are very versatile and will work with almost anything!
It is a great side dish for holiday meals. My favorite is when it is paired up with a Spiral Ham with Brown Sugar Glaze!
Serve it with anything you like such as turkey, roast, pork, beef, or even just lots of veggies.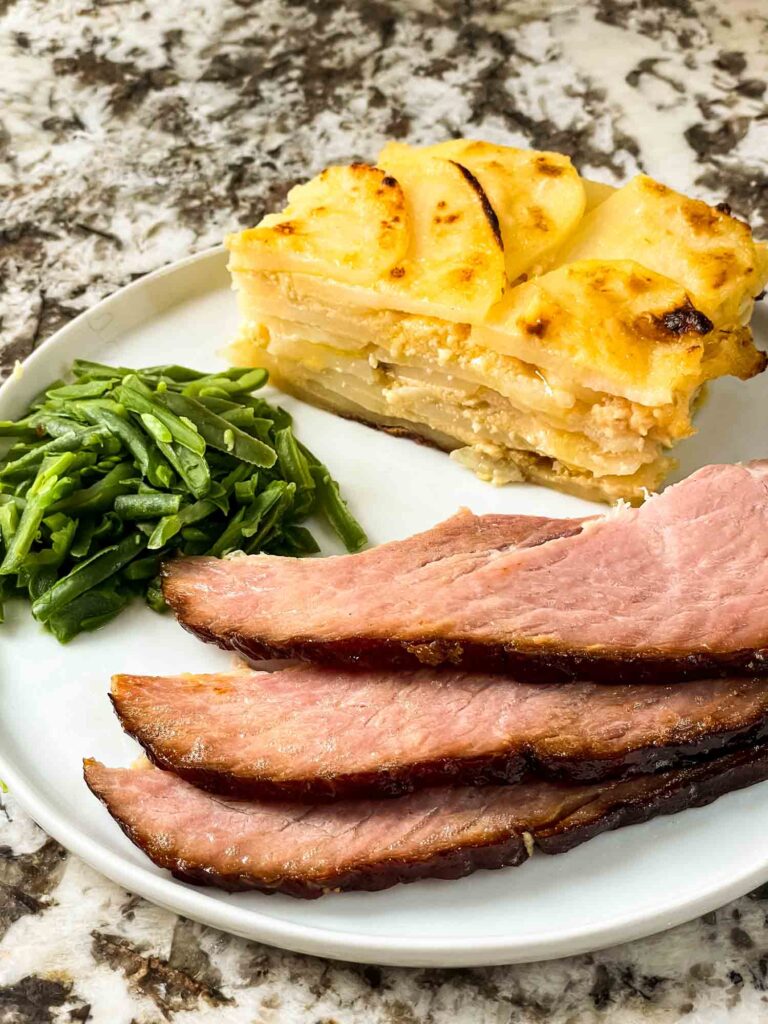 Why are my scalloped potatoes still hard?
This happens to the best of us!
Potatoes have a hard time cooking if they are in acidic liquids. If you follow this recipe, acid should not be the problem.
Sometimes I feel like certain potato batches just do not want to cook. I have seen batches of these cheesy potatoes cook very slowly.
The best proactive approach to take is to give plenty of time for additional cooking just in case. This means cook earlier in the day (with an hour or two of leeway) and keep them warm, covered, in an oven.
Why is my scalloped potatoes watery?
One cause for this is that the potatoes had too much water in them when assembled.
If you choose to soak the potatoes after slicing to prevent them from turning brown, try to drain and remove excess water as much as possible.
It is also possible that the cheese sauce was too thin. Make sure to follow the recipe for the amount of flour/cornstarch you need to use as well as milk.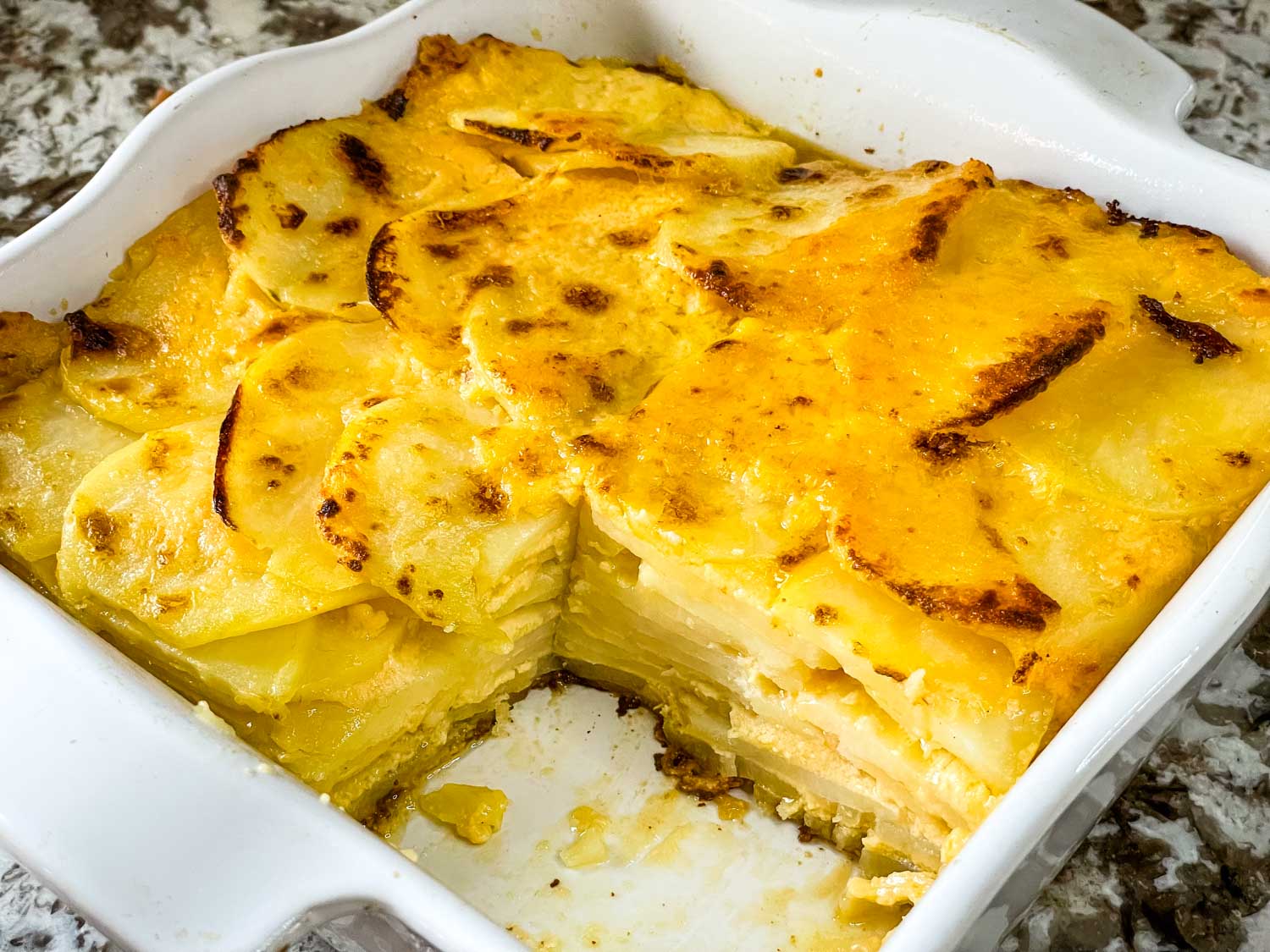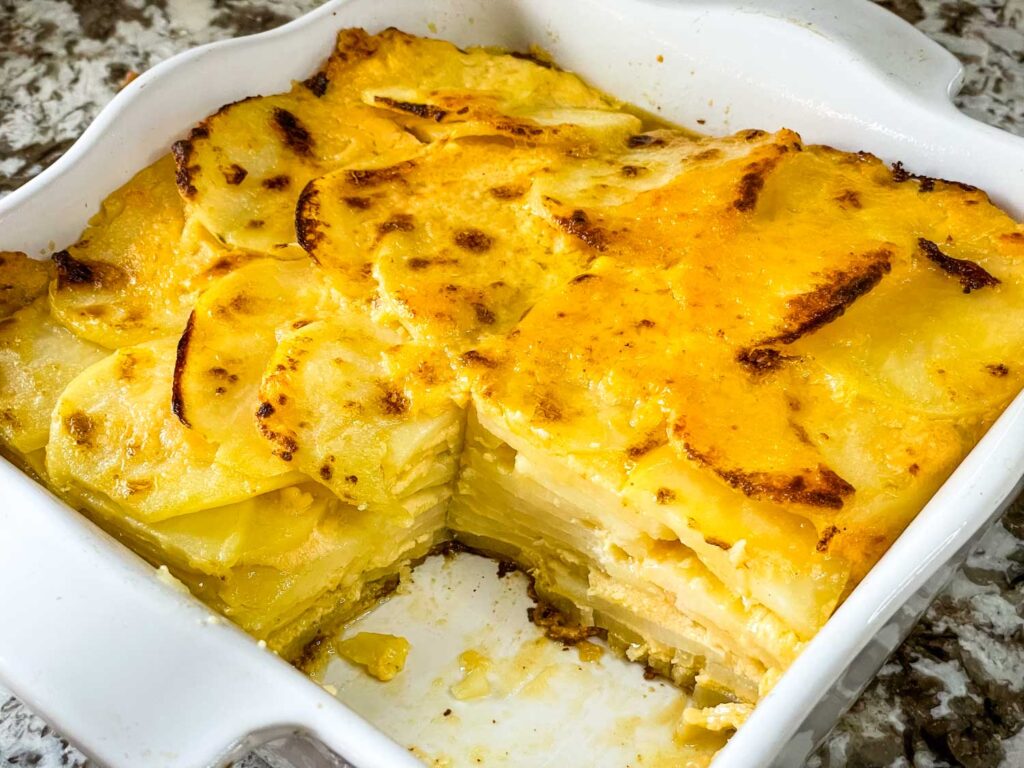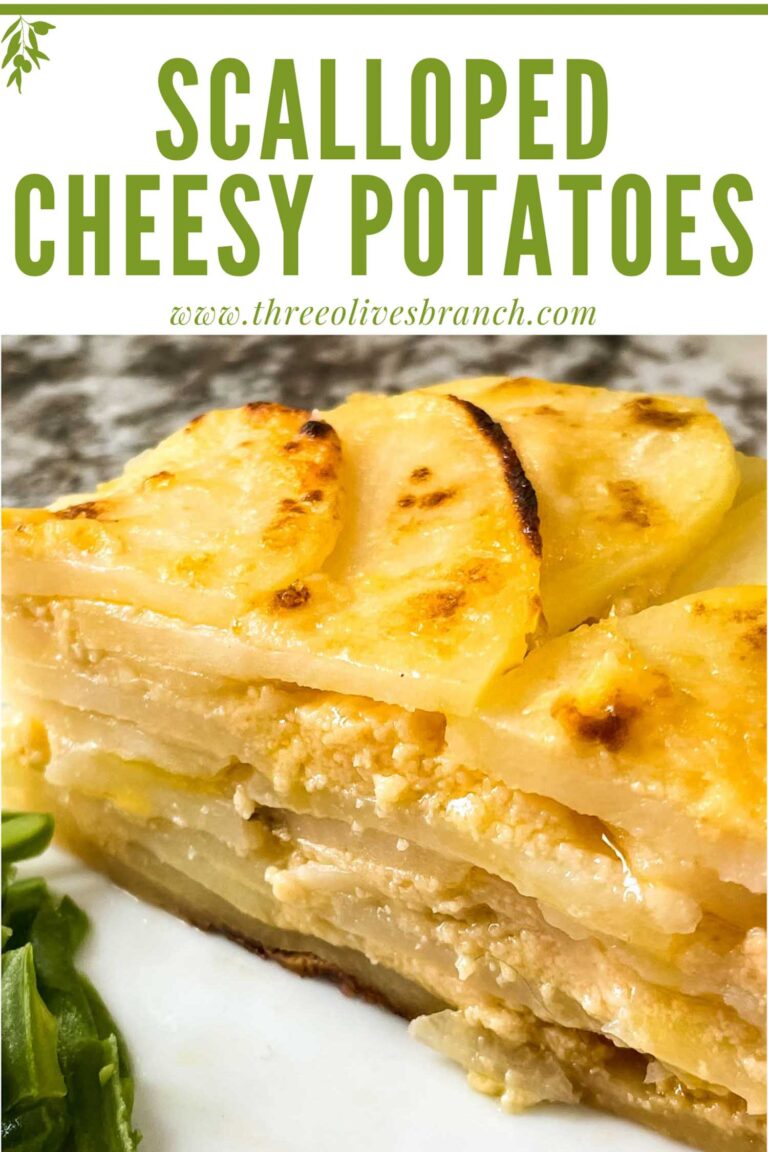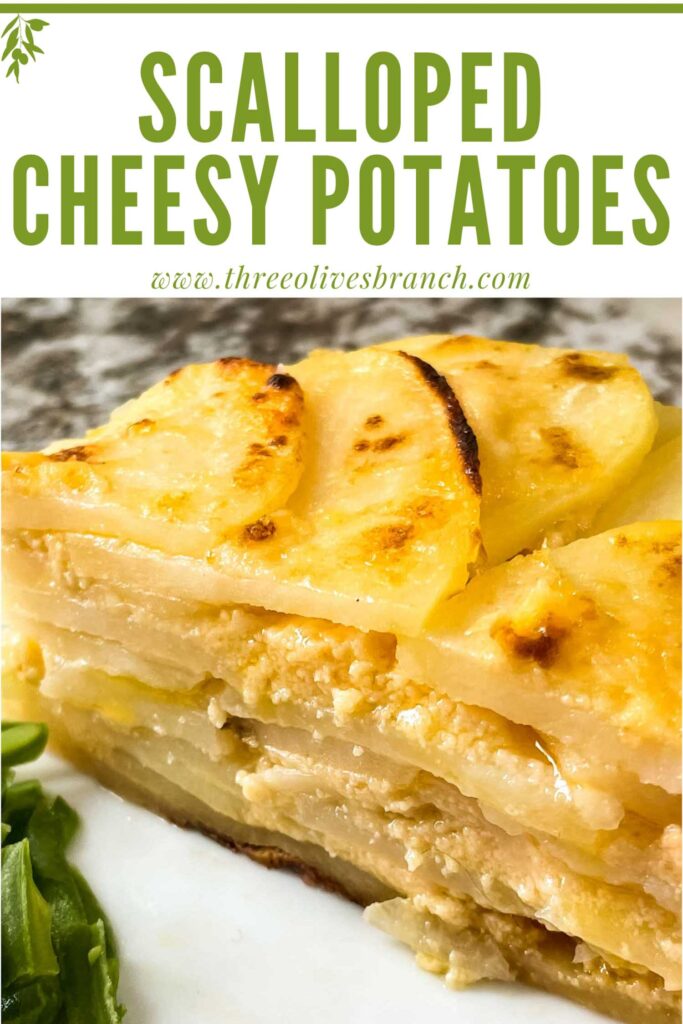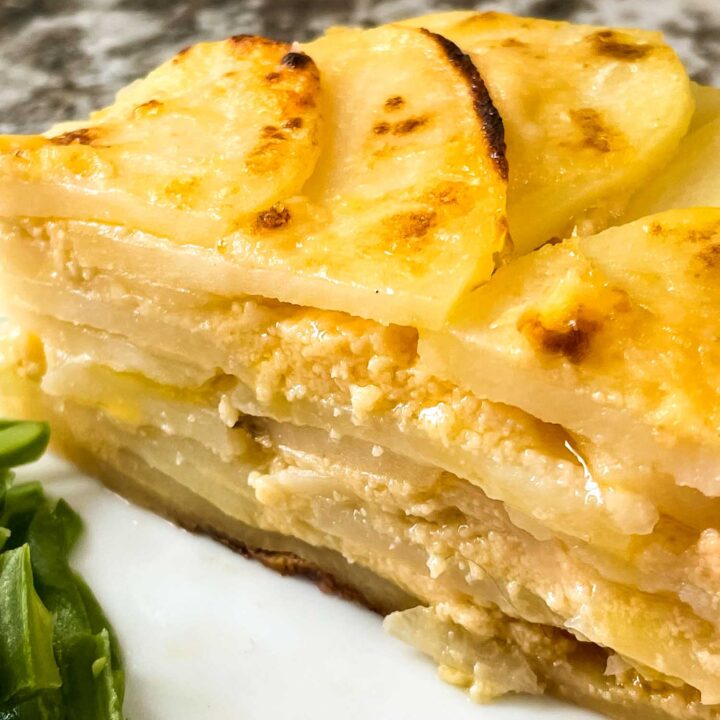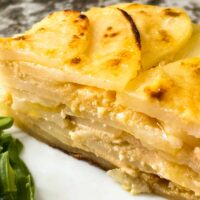 Scalloped Cheesy Potatoes Recipe
Scalloped Cheesy Potatoes are a great starch side dish recipe. Perfect for a holiday like Easter, Christmas, and Thanksgiving. A cheddar cheese sauce layered with sliced potatoes. Also called potatoes au gratin.
Print
Pin
Rate
Instructions
Wash the potatoes and using a mandoline or slicing disk on a food processor, slice the potatoes. It is up to you if you want to leave the skins on or not.

Place potatoes in a bowl of water to keep them from turning brown and set aside.

In a large skillet or pot, heat the butter over medium heat until melted.

Make a roux: Add the flour, whisk into the butter, and continue whisking until it becomes a light brown color.

4 Tablespoons unsalted butter,

4 Tablespoons all-purpose flour

Turn the heat down to low. Add the milk to the pan and whisk into the roux.

Add the cheddar cheese two cups at a time and whisk into the sauce. Make sure that the milk is just warm and not too hot because otherwise it will cause the cheese to curdle.

Add the garlic salt and then salt and pepper to taste. The sauce will thicken later when it bakes and the flavors will concentrate from the roux so be careful when adding the salt.

6 cups cheddar cheese,

½ teaspoon garlic powder,

salt,

black pepper

Continue whisking occasionally until most of the cheese is melted. Turn the heat off.

Preheat the oven to 350°F.

In a large glass baking dish, coat the bottom with some of the sauce (approximately 1/2-1 cup). Lay the potatoes in the dish, slightly overlapping each other, to cover the bottom of the dish in an even layer.

On top of the potatoes, spoon more of the sauce (approximately 1 1/2 cups) to cover the potatoes. Repeat this process for three layers. (The exact size of your baking dish may require more or fewer layers. You can also use two smaller dishes. Just use enough sauce on each layer to cover the potatoes).

Optional: If you like crunchy cheese, you can sprinkle 1/2 cup cheddar on the very top when done.

Cover the dish with aluminum foil. Place the dish on a cookie sheet (it will likely boil over a little and this will help keep your oven clean).

Bake the potatoes until they are fork tender, approximately 2 hours.

When fork tender, remove the aluminum foil and continue baking to brown the top, approximately 30 minutes.

Remove from over and let stand for 15 minutes so that the sauce settles (otherwise the sauce will run out of the potatoes). Serve warm.
Notes
Please note that the exact thickness of the potatoes, how many layers you make, and your exact oven will change the cooking time. It is best to do a test run of these before a holiday or large event so you know a more exact cooking time to ensure they are done on schedule. We have had times where dinner was an hour late because the potatoes were not done!
Nutrition
Serving:

1

serving

|

Calories:

609

kcal

|

Carbohydrates:

41

g

|

Protein:

27

g

|

Fat:

38

g

|

Saturated Fat:

22

g

|

Polyunsaturated Fat:

1

g

|

Monounsaturated Fat:

9

g

|

Trans Fat:

0.2

g

|

Cholesterol:

113

mg

|

Sodium:

604

mg

|

Potassium:

943

mg

|

Fiber:

2

g

|

Sugar:

6

g

|

Vitamin A:

1199

IU

|

Vitamin C:

10

mg

|

Calcium:

755

mg

|

Iron:

2

mg

By