Smoked Chicken Legs are a quick option for your smoker! Delicious summer backyard BBQ recipe dark meat with an easy spice rub. Gluten free grilling dinner idea.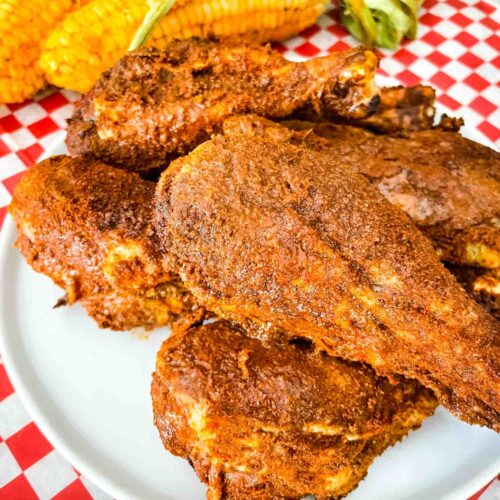 This Smoked Chicken Legs is a delicious, moist, and flavorful smoked chicken recipe. Perfect for a crowd at your summer backyard BBQ.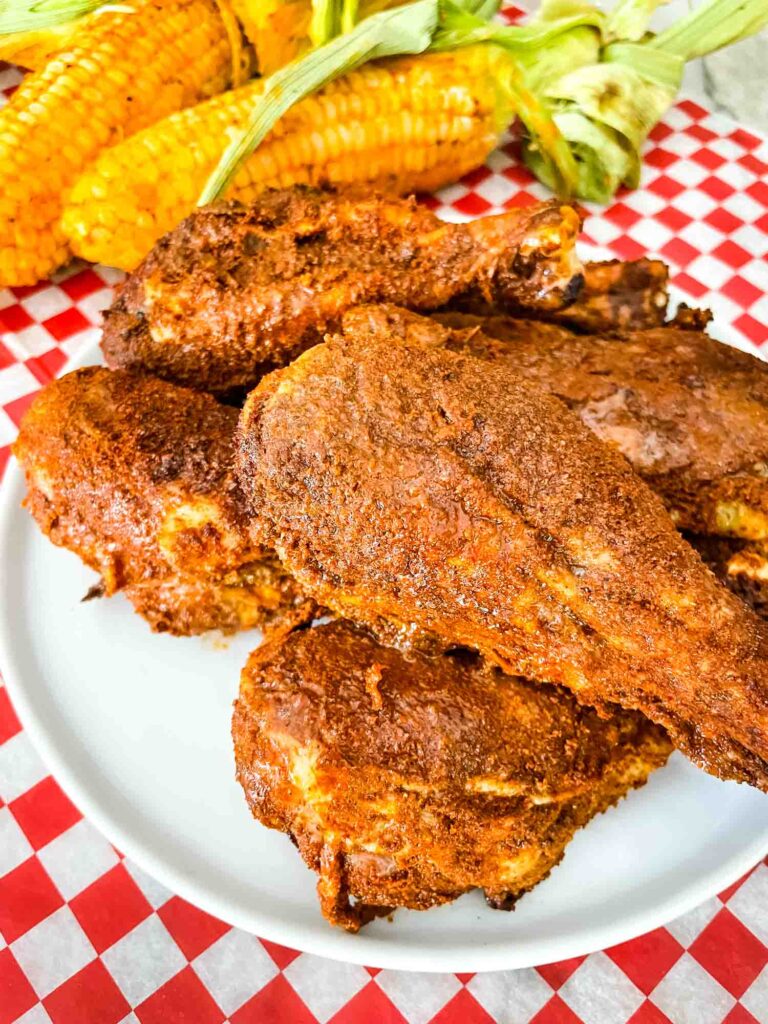 Why You Will Love This Recipe
This budget friendly dark meat recipe is great for a crowd and cooks more quickly than many other smoked meats.
And the smaller size means greater surface area ratio of that "bark" where the dry rub has cooked onto the meat.
Ingredients
Chicken Legs (Drumsticks)
BBQ Sauce
Chili Powder
Onion Powder
Cumin
Brown Sugar
Garlic Powder
Paprika
Dry Mustard
Cayenne
Salt
Smoking Chips/Pellets
BBQ Sauce – I love to use my simple and classic BBQ sauce as it is always a hit! Not too sweet, too spicy, nor too much vinegar. Use any sauce that you love.
BBQ Rub – I use the spices listed above to make a small amount of a BBQ rub. This is my standard go-to rub recipe that I use for so many things! Make a huge batch of it and put it in an empty spice shaker with our bulk BBQ Rub recipe.
Smoking Chips/Pellets – Luckily you can use just about any flavor wood that you may be using for other recipes.
Hickory pellets are our favorite go to since it has a strong and slightly sweet flavor.
Oak pellets are another great option as it is a lighter flavor.
Mesquite pellets are a popular choice that has a strong flavor like hickory but is also sweeter.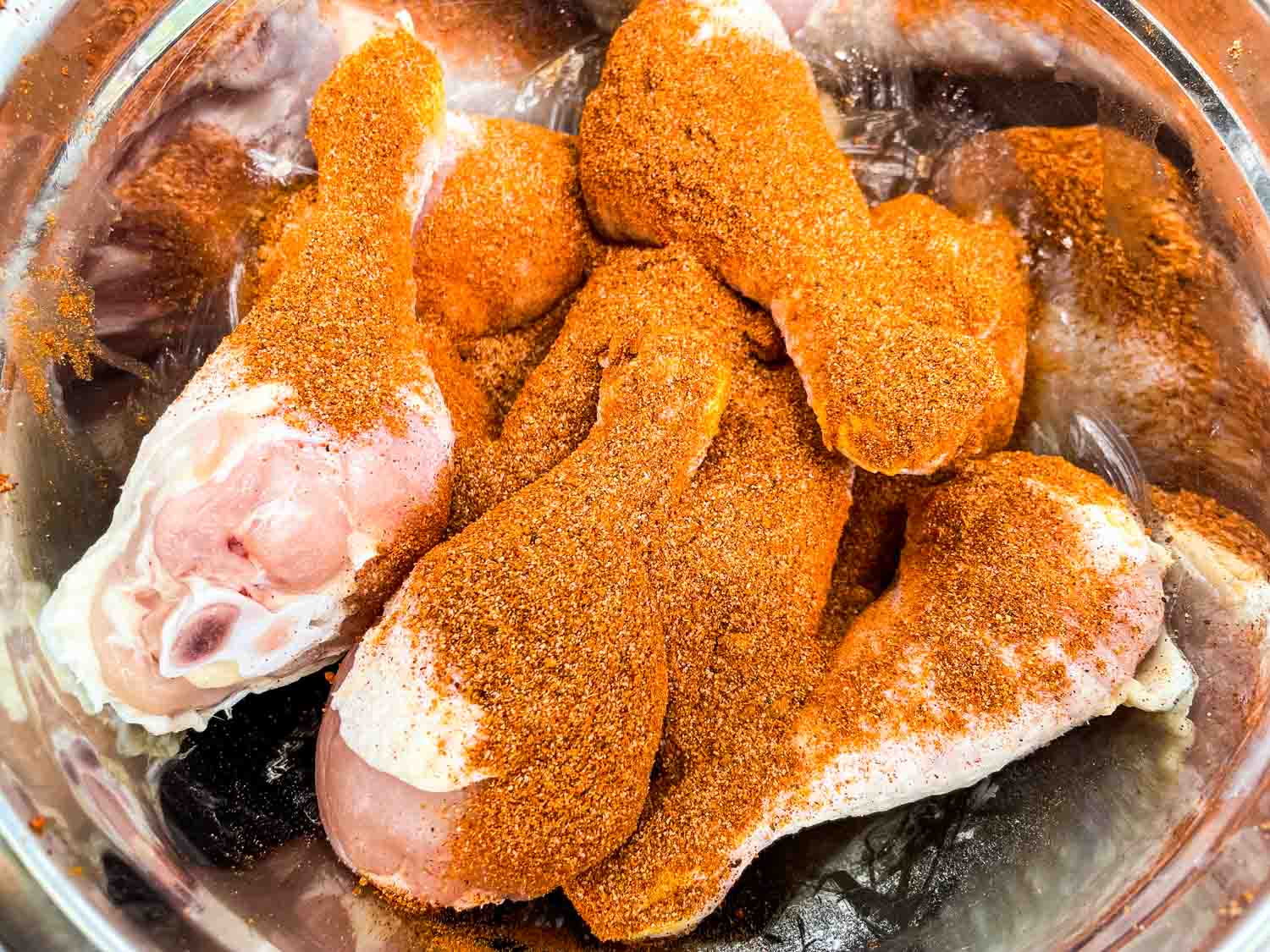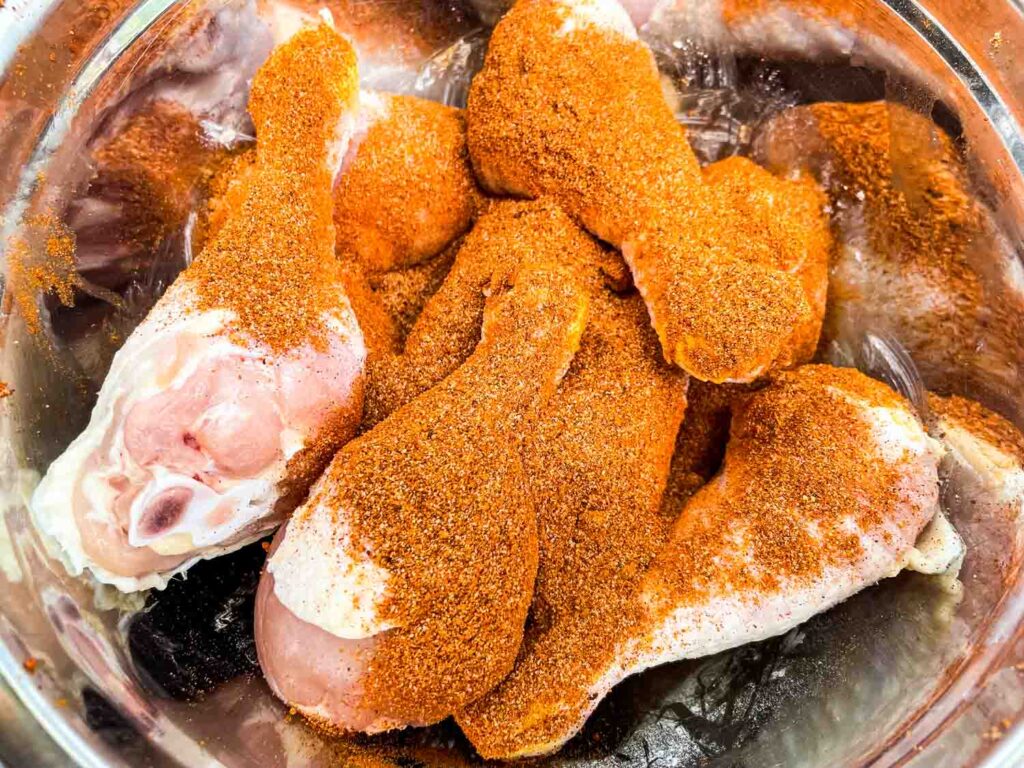 Instruction Overview
How do you smoke chicken legs on a pellet grill? Get your smoker preheating to 225F.
Fill up your smoker with the pellets as instructed by the manufacturer.
Pat the chicken dry and cover with your BBQ rub all over.
Put the chicken in the smoker and cook until it reaches an internal temperature of 175F (since we are using dark meat).
Want to baste with some BBQ sauce? Do this during the last 30 minutes or so. Or leave it as a dry rub and serve sauce on the side!
Using a grill? Follow the same instructions but use wood chips based on the type of grill you have (gas vs charcoal) by searching online.
Smoking with a Pellet Smoker versus a Grill
A pellet smoker is specifically designed for smoking, typically just called a smoker. You would use pellets which are small pill-like pieces of wood that have been pressed together.
You can also smoke in a grill by using wood chips that are soaked in water.
What is preferred?
We have a combo grill/pellet smoker that has both options side by side. The pellet smoker makes it super easy as things are "automated" where the temperature stays constant and you have to do little maintenance during cooking.
A grill requires more work with reloading new chips with water once they run out of steam. It is more effort but a great option if you do not want a literal smoker.
If you plan to do a lot of smoking, I recommend getting a smoker or the combo grill/smoker!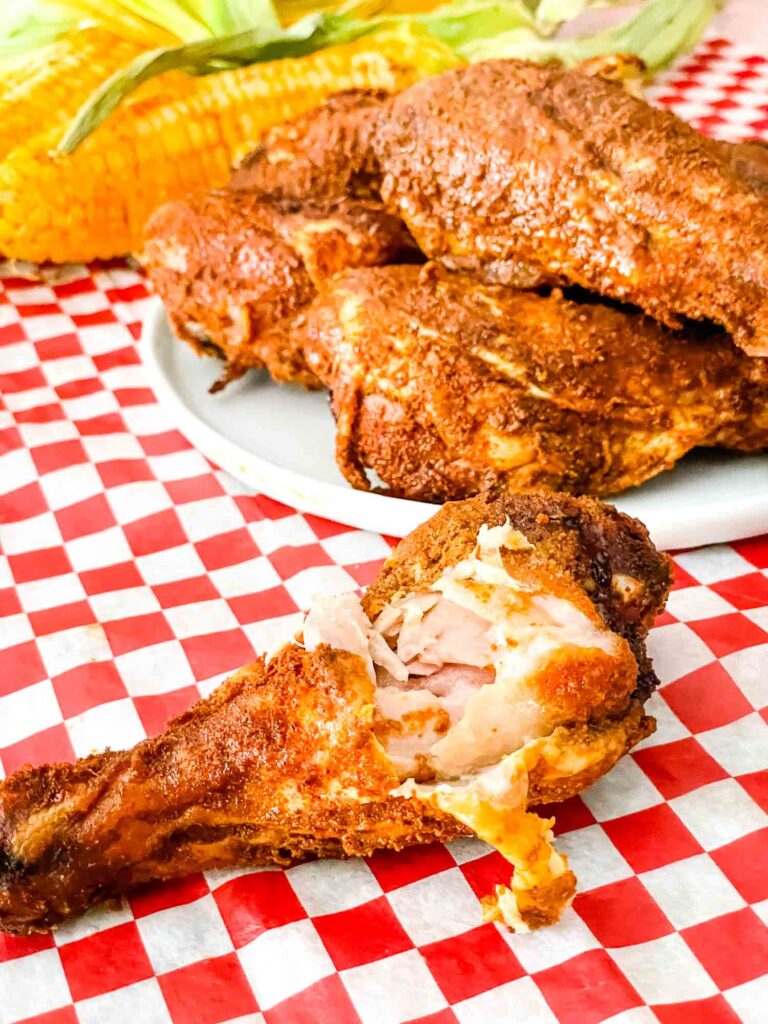 Kim's Tips
Give yourself some extra buffer time for cooking, just in case it stalls. Stalling is when the temperature does not continue to increase inside the meat and delays the finished time to cook.
Use a meat thermometer that can be left in the chicken so you know when it is done and can check on it. We use the Meater digital wireless meat thermometer which is amazing because it has preset options, timers, and alarms.
FAQs
How long do drumsticks take to smoke?
This will vary with the temperature you are smoking at. For 225F, it will take 60 minutes.
What is the best temp for smoking chicken?
225F is perfect. If you have the smoker running for other foods that need a similar but different temperature, such as 200 to 250, you can use that temperature. Just adjust cooking time as needed by checking the internal temperature.
How long does it take to smoke chicken legs at 225?
It will take about 60 minutes as long as it does not stall.
How do you make smoked chicken skin crispy?
Dry the chicken off with a paper towel to remove excess moisture. You can also let the chicken sit in the refrigerator, uncovered, for an hour before cooking. The cold will keep it safe and will help slightly dry out the skin.
Can I smoke frozen chicken?
Yes, however it will take longer to cook fully.
What temperature is chicken done when smoked?
It depends on the cut of chicken. For dark meat, we are aiming for 175F for it to be done.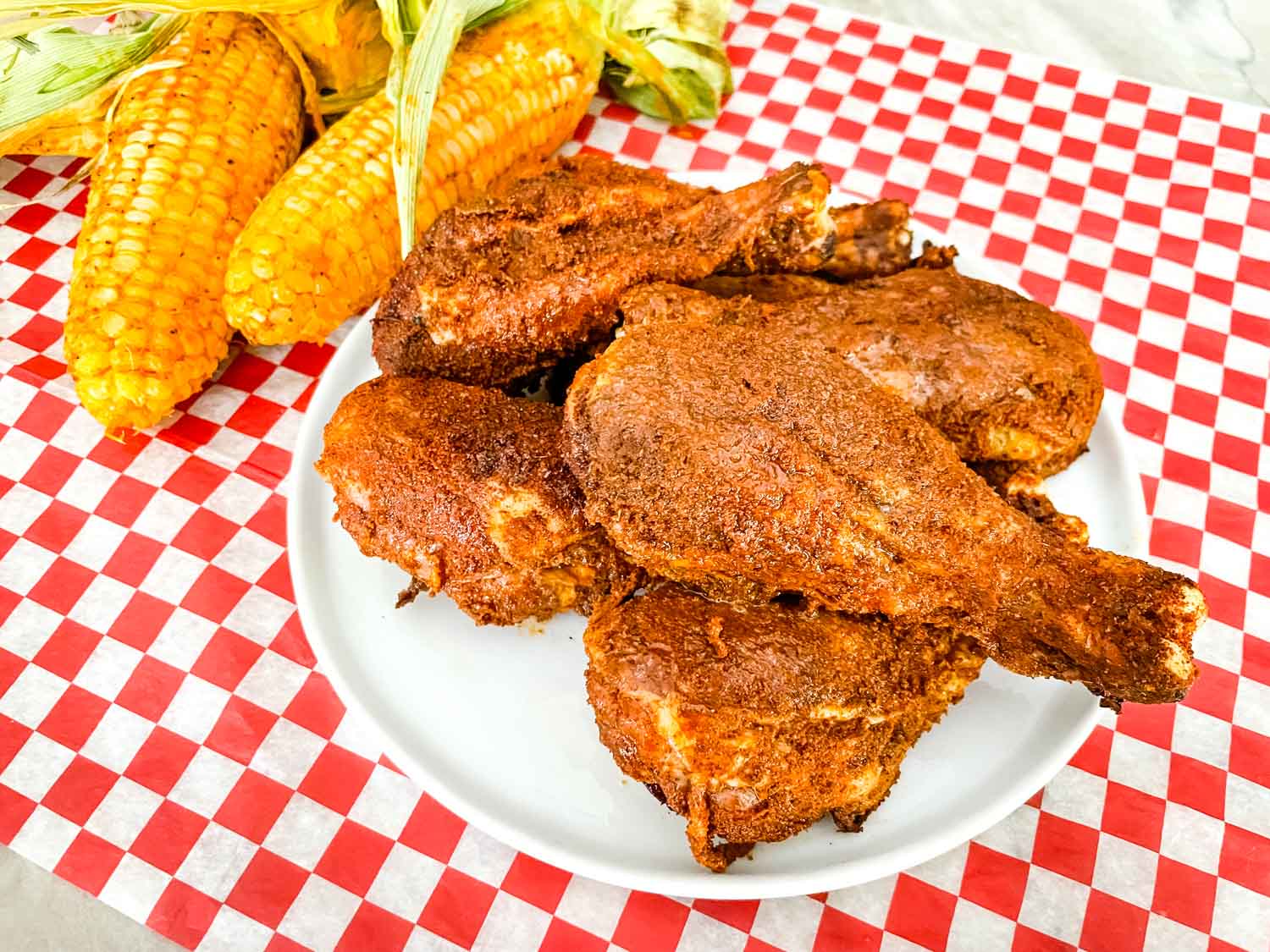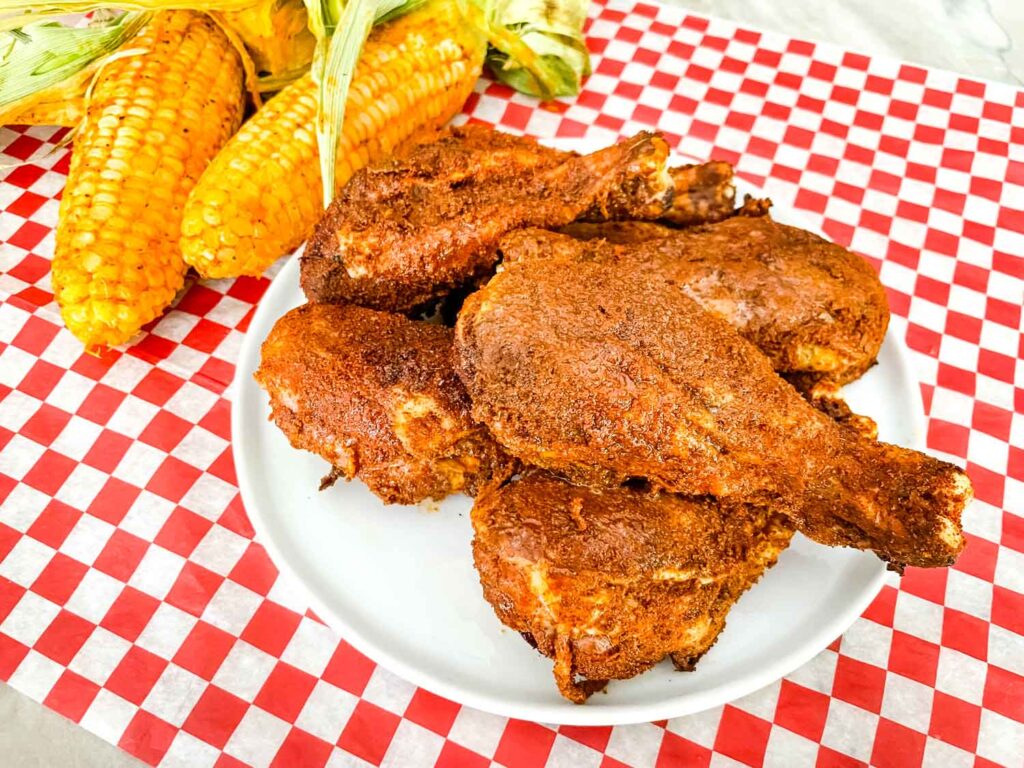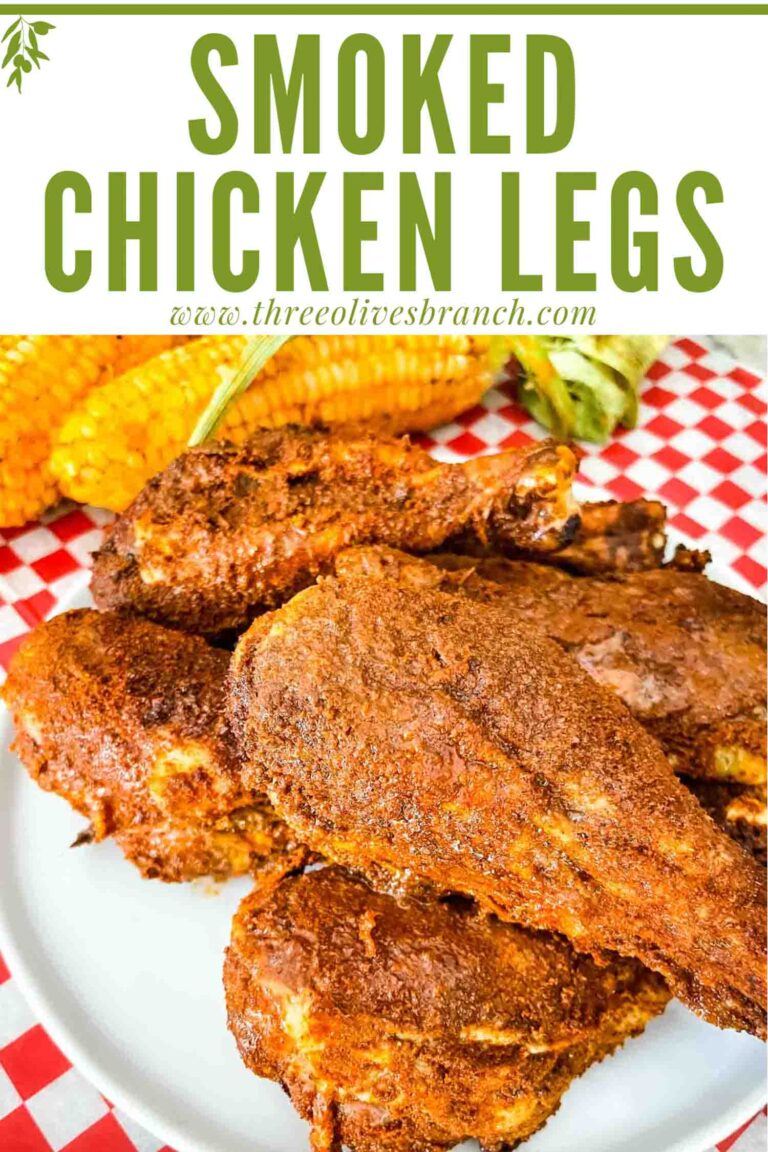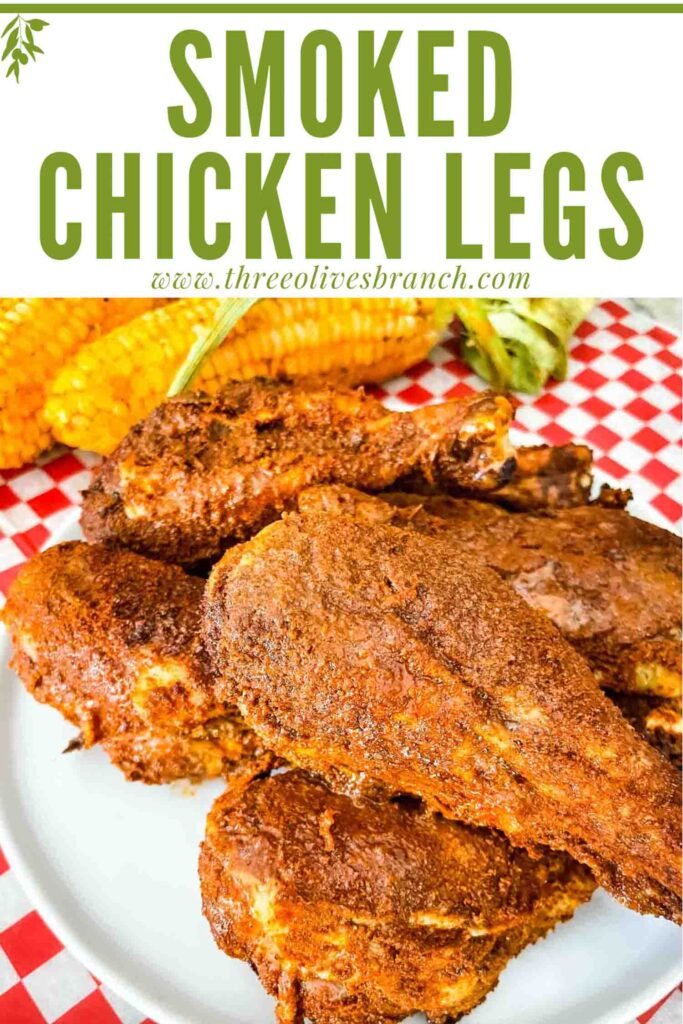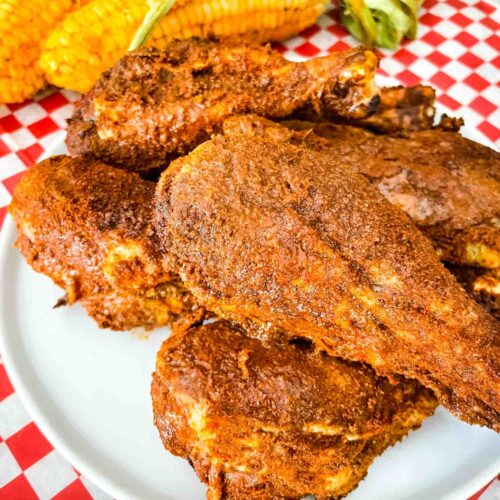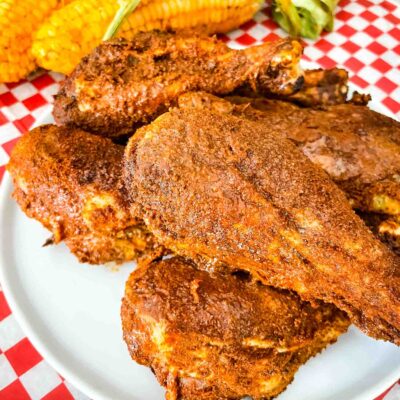 Smoked Chicken Legs
Smoked Chicken Legs are a quick option for your smoker! Delicious summer backyard BBQ recipe dark meat with an easy spice rub. Gluten free grilling dinner idea.
Print
Pin
Rate
Ingredients
BBQ Rub (or use 1/4 cup of your favorite rub)
Instructions
Preheat your smoker to 225F with your wood chips or pellets (I like to use hickory, but use any flavor you like).

If using a grill, put the chips in a metal pant, covered, with venting holes on the grill.

Mix the rub ingredients together.

Pat the chicken legs dry with paper towels.

Rub the spice rub into the drumsticks, covering all surface areas including bones.

If the rub will not stick, use a very small amount of vegetable or canola oil to wet the chicken just enough for the rub to stick.

If desired, let the chicken sit with the rub for at least 30 minutes to help the flavors absorb into the meat (not required).

Put the chicken drumsticks into the smoker after it has preheated to 225°F.

Put a grilling meat thermometer into a leg at the thickest part, not against any bones.

Smoke until the internal temperature is 165-175°F, typically 1-2 hours.

Check the meat after one hour. You might need to smoke longer just depending on your smoker and if the meat stalls at all.

If desired, baste with BBQ sauce the last 30 minutes.

Let rest 15 minutes before serving.
Notes
Want to really crisp up your skin? You have a few options:
Let the chicken sit uncovered in the refrigerator up to 1 hour before smoking
For the last 5 minutes of cooking, amp up your smoker or grill to 400-500F to expose the skin to a high heat.
Nutrition
Serving:
1
leg
|
Calories:
134
kcal
|
Carbohydrates:
3
g
|
Protein:
14
g
|
Fat:
7
g
|
Saturated Fat:
2
g
|
Polyunsaturated Fat:
2
g
|
Monounsaturated Fat:
3
g
|
Trans Fat:
0.03
g
|
Cholesterol:
70
mg
|
Sodium:
577
mg
|
Potassium:
201
mg
|
Fiber:
0.5
g
|
Sugar:
2
g
|
Vitamin A:
383
IU
|
Vitamin C:
0.1
mg
|
Calcium:
14
mg
|
Iron:
1
mg
More Smoker Recipes
By