Smoked Pork Butt is a delicious summer smoker recipe! A great cookout dinner idea for warm weather that makes wonderful pulled pork. Can also use pork shoulder. Gluten free Boston Butt.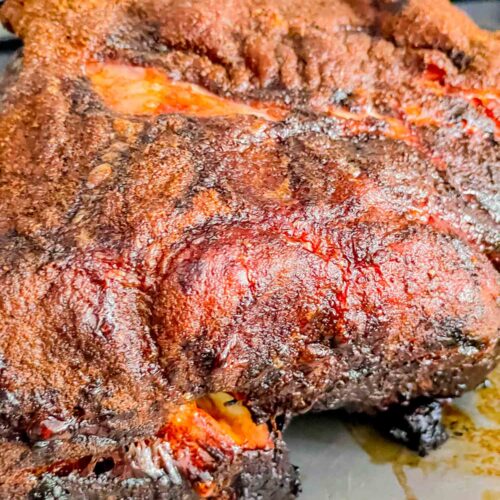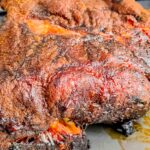 You will love this Smoked Pork Butt for your summer cookouts! Simple ingredients and classic flavors for a delicious pulled pork with lots of smoke flavors.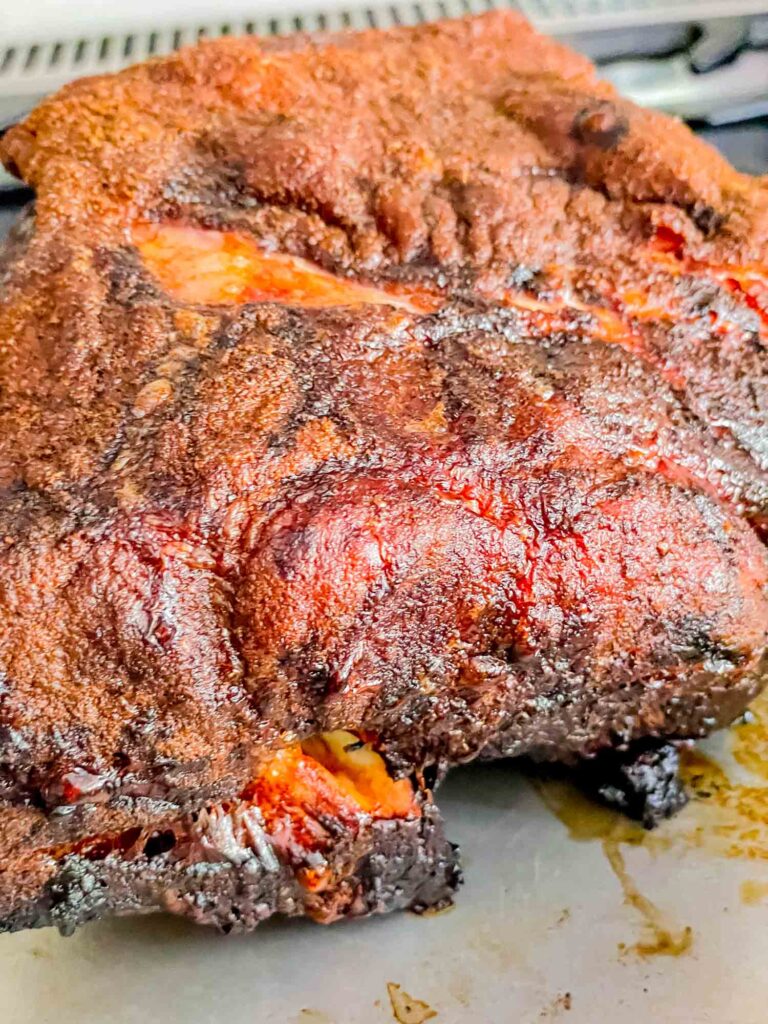 Why You Will Love This Recipe
Smoked Pork Butt (Smoked Pulled Pork) is an affordable and delicious meat for the summer!
Cooked low and slow with easy homemade rub and BBQ sauce, perfect for a cookout.
And leftovers are perfect to make into a pulled pork sandwich, sliders, or to use in our BBQ Pulled Pork Nachos – made with our Beer Cheese Dip!
Ingredients
Here is what you need for this recipe:
Pork Butt (or shoulder, see section below)
Dry Rub
BBQ Sauce
BBQ Sauce – I love to use my simple and classic BBQ sauce as it is always a hit! Not too sweet, too spicy, nor too much vinegar. Use any sauce that you love.
BBQ Rub – I love to use my versatile and delicious BBQ Dry Rub for this recipe! It is full of delicious flavors that are versatile and common in grilling. Make a huge batch of it and put it in an empty spice shaker with our bulk BBQ Rub recipe.
Pork Butt vs Pork Shoulder
What is the difference between pork butt and pork shoulder?
Pork shoulder has more muscle.
Pork butt has more fat.
Both cuts are from the shoulder area. You can use either one.
You will see a difference of opinion for which one is best for pulled pork.
I personally think pork butt is better since the higher fat content helps it to be more tender and moist.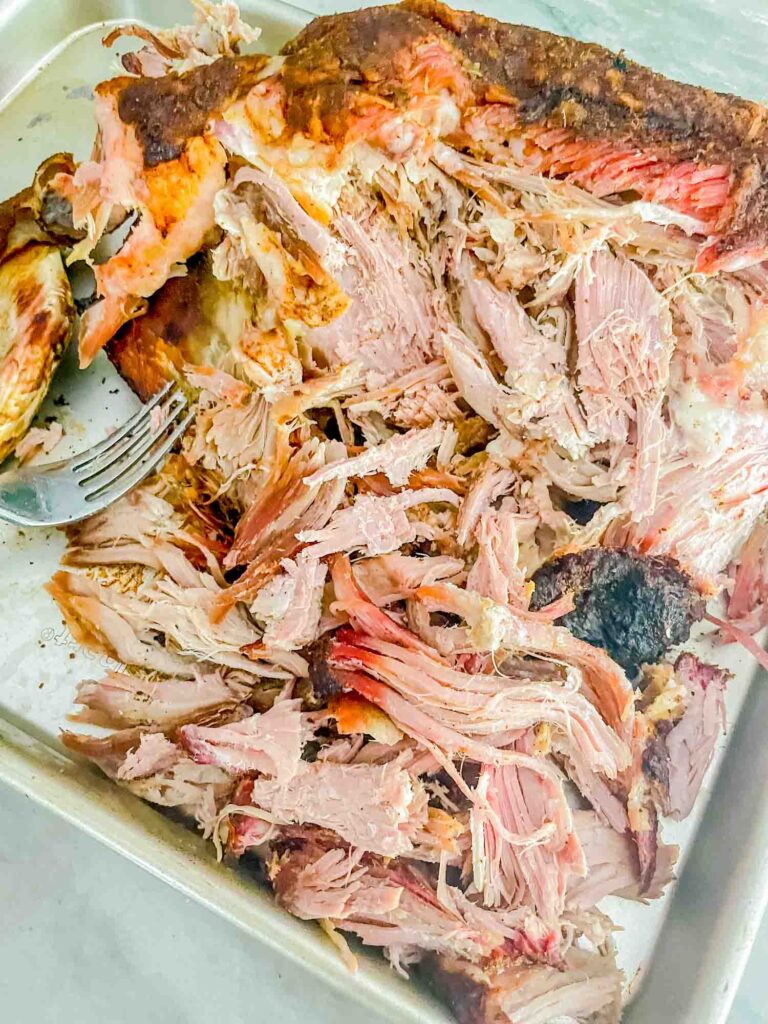 Equipment
This is the equipment you need to make pulled pork:
Smoking Chips/Pellets – Luckily you can use just about any flavor wood that you may be using for other recipes.
Hickory pellets are our favorite go to since it has a strong and slightly sweet flavor.
Oak pellets are another great option as it is a lighter flavor.
Mesquite pellets are a popular choice that has a strong flavor like hickory but is also sweeter.
Instruction Overview
Preheat your smoker.
Make your rub.
Pat the pork dry of excess moisture and add the rub.
Smoke, fat side up, until 200 degrees internal temperature.
Your pork might stall, so it might take longer than anticipated!
Baste with BBQ sauce if desired the last hour.
Let rest at least one hour.
Shred and serve!
You can also slice instead of shredding, but this makes amazing shredded pulled pork!
How Do You Keep Pulled Pork Moist when Smoking?
Make sure you fill your smoker's pan, or place a pan inside it to create a reservoir for moisture. Fill it with beer, apple cider, or even just water.
This moisture will help create a humid environment and help the pork stay moist.
Smoking with a Pellet Smoker versus a Grill
A pellet smoker is specifically designed for smoking, typically just called a smoker. You would use pellets which are small pill-like pieces of wood that have been pressed together.
You can also smoke in a grill by using wood chips that are soaked in water.
What is preferred?
We have a combo grill/pellet smoker that has both options side by side. The pellet smoker makes it super easy as things are "automated" where the temperature stays constant and you have to do little maintenance during cooking.
A grill requires more work with reloading new chips with water once they run out of steam. It is more effort but a great option if you do not want a literal smoker.
If you plan to do a lot of smoking, I recommend getting a smoker or the combo grill/smoker!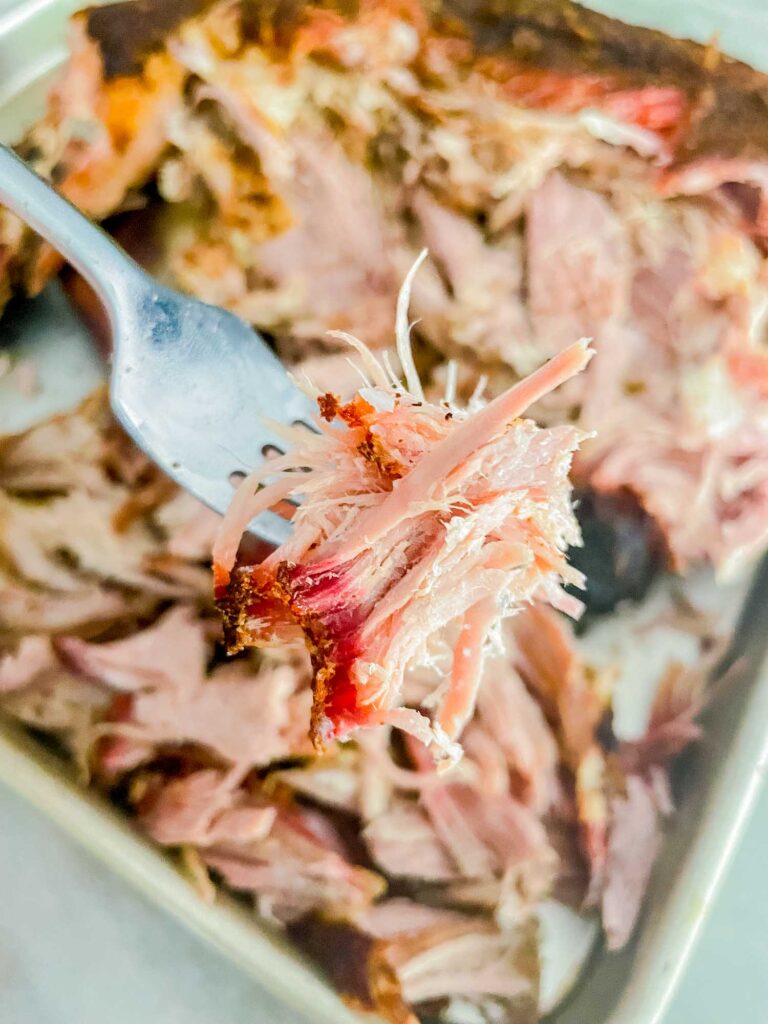 Modifications and Substitutions
You can use a pork shoulder cut as well. See more details below the ingredients list above to learn more about the difference of the two.
Use any BBQ rub or sauce that you prefer, but the ones listed are my favorites! And homemade!
Kim's Tips
Give yourself some extra buffer time for cooking, just in case it stalls. Stalling is when the temperature does not continue to increase inside the meat and delays the finished time to cook.
Use a meat thermometer that can be left in the chicken so you know when it is done and can check on it. We use the Meater digital wireless meat thermometer which is amazing because it has preset options, timers, and alarms.
FAQs
What is the Difference Between Pork Shoulder and Pork Butt?
Should I Trim Fat Off Pork Shoulder?
I only do this if there is an area with an excessive amount of fat.
You want to leave most of it on because it is going to lend moisture and flavor to the meat and is easy to remove when shredding after cooking.
Do you smoke pork shoulder fat up or down?
Fat side up is best so that as the fat melts, it goes down into the meat.
Do You Flip Boston Butt when Smoking?
No need. As long as you have room around the meat for air to circulate, there is no need to move, flip, or rotate the pork.
How long does it take to smoke a pork shoulder at 225?
This would take about 2 hours per pound of meat.
Also plan on extra time as pork roasts are known to stall, just like brisket, which adds to the cooking time as it moves through its temperature plateau.
How long do I cook a pork shoulder at 250 degrees?
This temperature cooks at approximately 90 minutes per pound.
I prefer to cook it at 250 because not only is it faster, and allows more time for working through that stall period (see below), but I have had great results with it!
Consider if you are cooking any other meats and what temperature they need when deciding which one is best for you.
Should you wrap pork shoulder in foil when smoking?
Not necessarily. I choose not to.
The foil would trap moisture inside, which is good if you are worried about dryness. But it also makes it more difficult for smoke to permeate the meat.
Instead, I wrap the pork with foil after cooking and let it sit one hour.
What temp does pork shoulder stall?
This typically happens when the pork internal temperature gets into the 150-170F range. It will appear as if it has stopped cooking and the temperature just won't move.
Wait it out and it will get past that stall!
What Temp Should I Pull my Pork Shoulder?
It is recommended to pull the pork when it hits 202F inside. This is just past the minimal temperature of 195 but is recommended because it is a great temperature for getting that pork to shred easily!
Why is my Smoked Pork Shoulder Tough?
The tough pork happens when the connective tissues inside the meat do not cook off properly.
You achieve this with a low and slow cooking that melts the fats and connective tissues away, making it moist and tender.
Why is my Pulled Pork not Falling Apart?
This likely means the meat did not cook long enough and the connective tissues did not full break down, just as with a tough pork (above).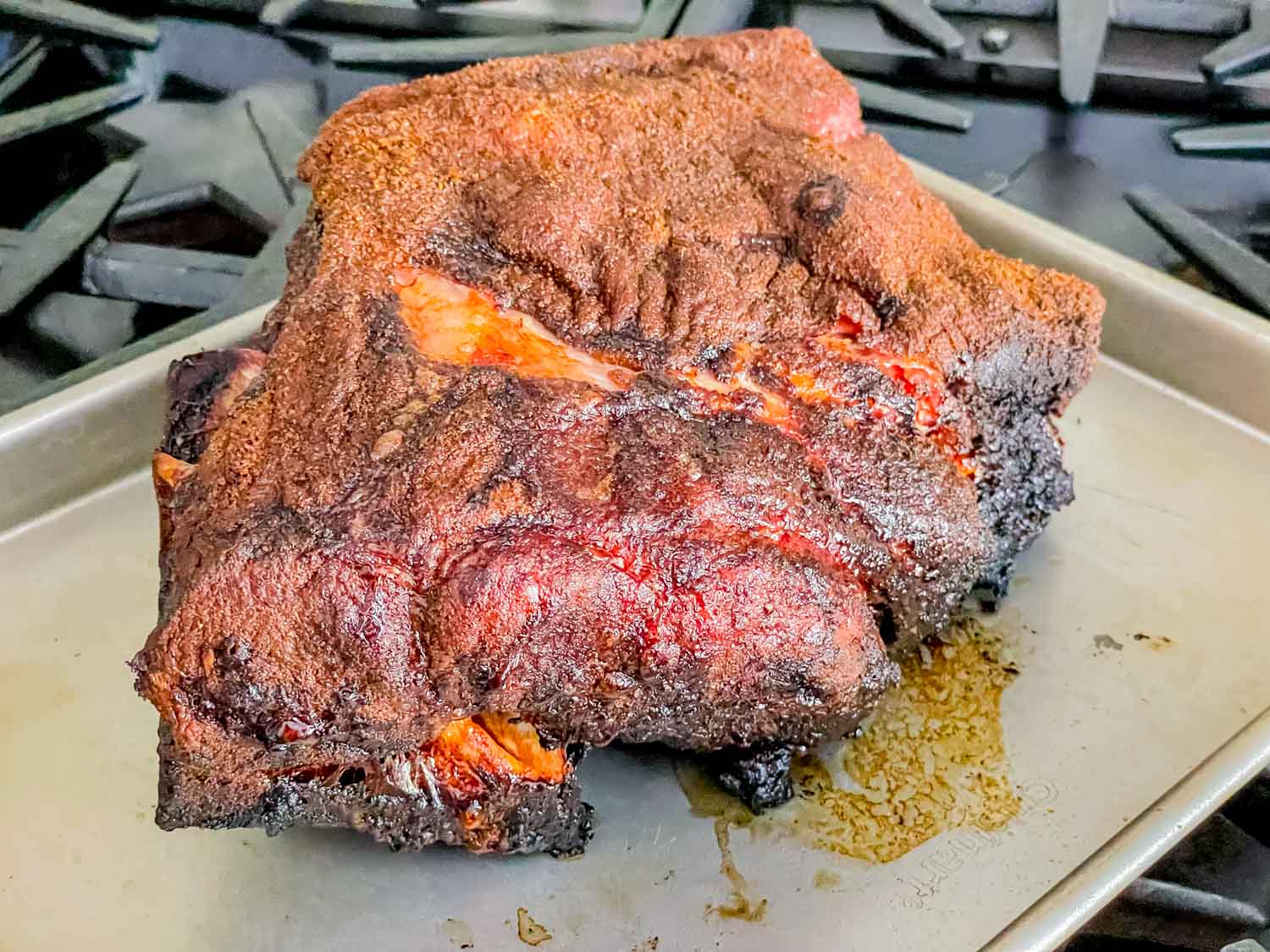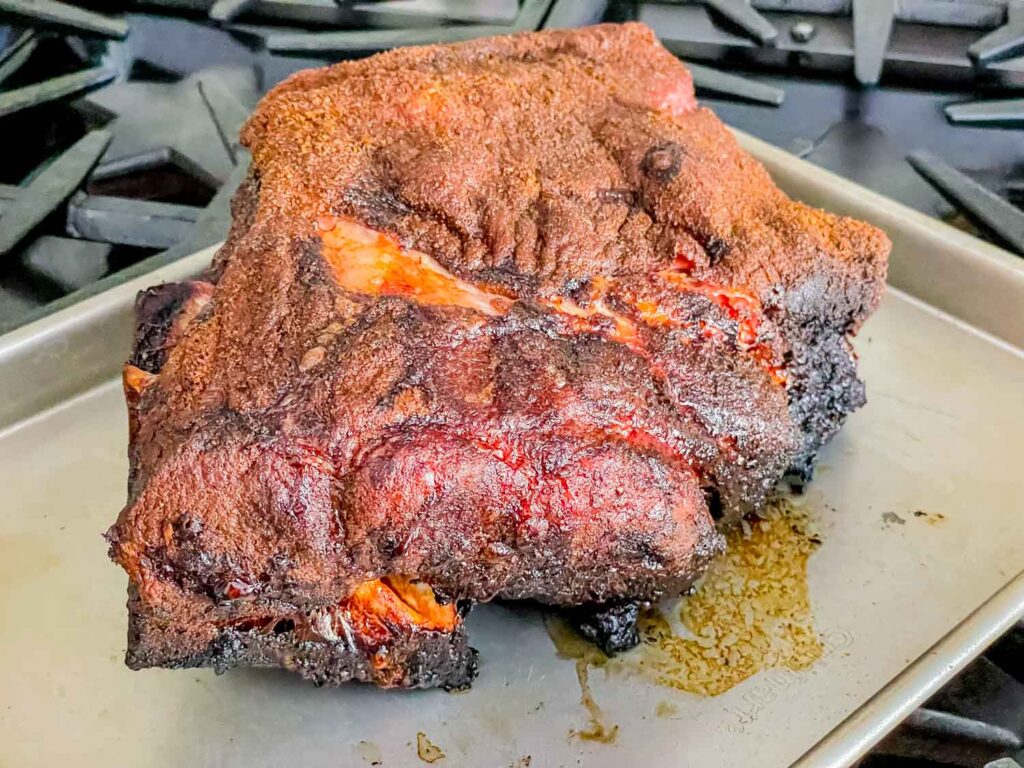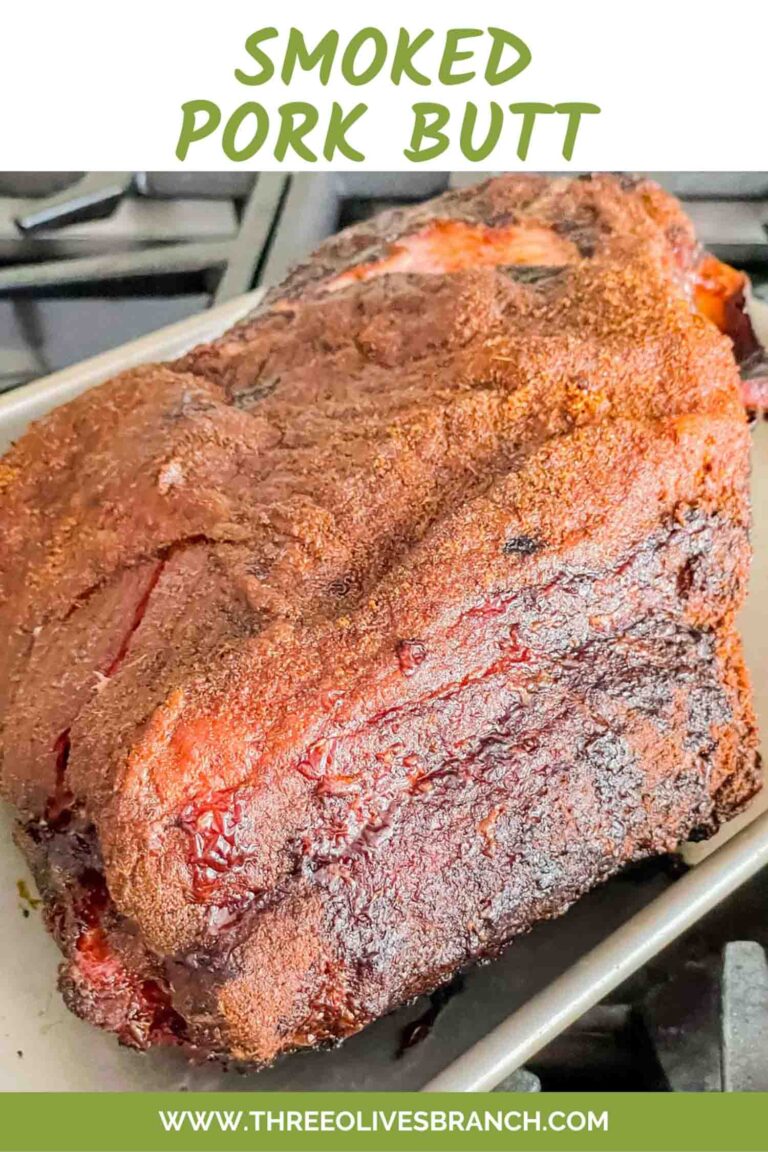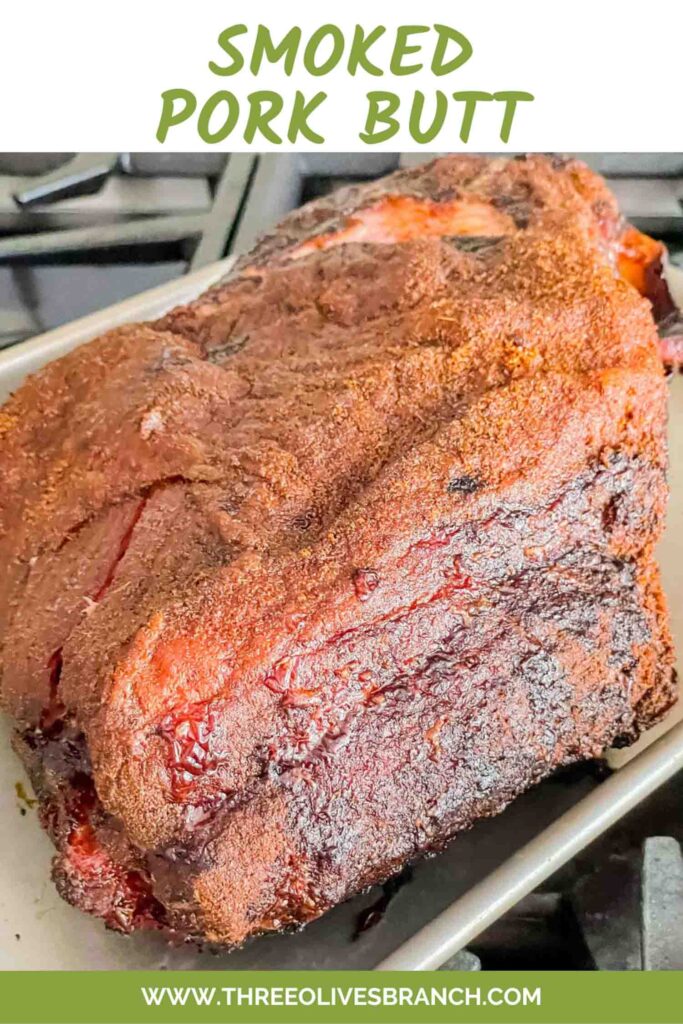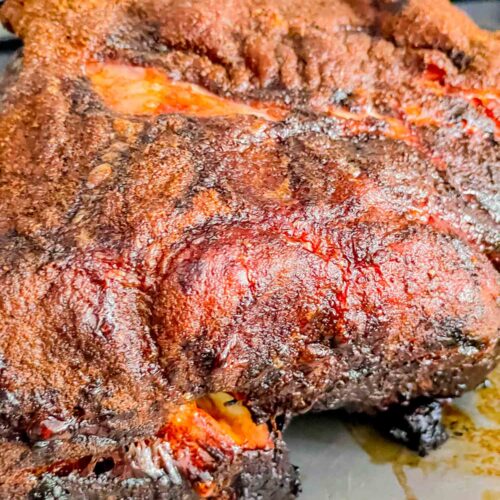 Smoked Pork Butt (Smoked Pulled Pork)
Smoked Pork Butt is a delicious summer smoker recipe! A great cookout dinner idea for warm weather that makes wonderful pulled pork. Can also use pork shoulder. Gluten free Boston Butt.
Print
Pin
Rate
Ingredients
8

pounds

pork butt

(8-10 pound range)

½

cup

BBQ Sauce

optional, for basting near end of cooking
BBQ Rub (or use ⅓ cup of your favorite rub)
Instructions
Preheat your smoker to 250℉ with your wood chips or pellets (I like to use hickory, but use any flavor you like).

If using a grill, put the chips in a metal pant, covered, with venting holes on the grill.

Mix the rub ingredients together.

3 Tablespoons chili powder,

1 Tablespoon onion powder,

2 Tablespoons salt,

2 teaspoons cumin,

1 teaspoon brown sugar,

1 teaspoon garlic powder,

1 teaspoon paprika,

¼ teaspoon dry mustard,

¼ teaspoon ground red pepper

Pat the pork dry with paper towels.

Rub the spice rub into the meat, covering all surface areas.

If the rub will not stick, use a very small amount of vegetable or canola oil to wet the pork just enough for the rub to stick.

If desired, let the meat sit with the rub for at least 30 minutes to help the flavors absorb into the meat (not required).

Put the pork into the smoker, fat side up, after the smoker has preheated to 250°F.

Put a grilling meat thermometer into the middle of the roast.

Smoke until the internal temperature is 200°F, typically 9-10 hours.

You might need to smoke longer just depending on your smoker and if the meat stalls at all.

If desired, baste with BBQ sauce the last hour.

Wrap in foil and let rest at least one hour before shredding and serving.
Notes
If you feel like the outside of the meat is burning before it is done cooking, you can spritz the meat every hour with water or a mixture of half water, half apple cider vinegar.
A pulled pork serving tends to be around 1/3 to 1/2 pound per person. Remember that as meat cooks, it shrinks down and you will lose some weight due to fat melting.
Nutrition
Serving:

1

serving

|

Calories:

308

kcal

|

Carbohydrates:

2

g

|

Protein:

43

g

|

Fat:

13

g

|

Saturated Fat:

5

g

|

Polyunsaturated Fat:

2

g

|

Monounsaturated Fat:

6

g

|

Trans Fat:

0.1

g

|

Cholesterol:

136

mg

|

Sodium:

1045

mg

|

Potassium:

813

mg

|

Fiber:

1

g

|

Sugar:

0.4

g

|

Vitamin A:

523

IU

|

Vitamin C:

0.2

mg

|

Calcium:

42

mg

|

Iron:

3

mg

By