Bruschetta with Mozzarella (Caprese Bruschetta) is a fresh, easy, and light Italian appetizer recipe. Made with tomato, fresh mozzarella, and basil on toasted bread crostini. Great for summer entertaining and party finger food.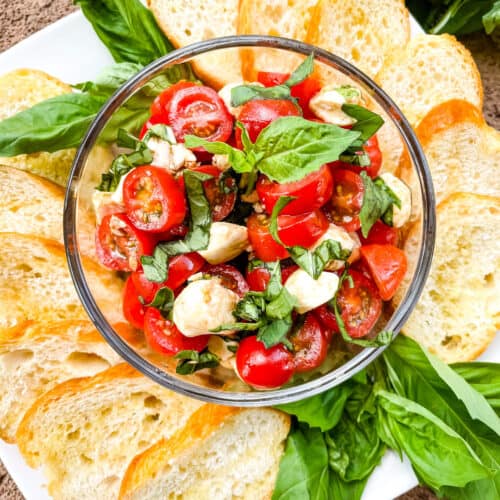 This Bruschetta with Mozzarella (Caprese Bruschetta) is a fast, simple, and fresh appetizer recipe perfect for a party or gathering! Fresh tomatoes, mozzarella cheese, and basil on toasted bread crostini.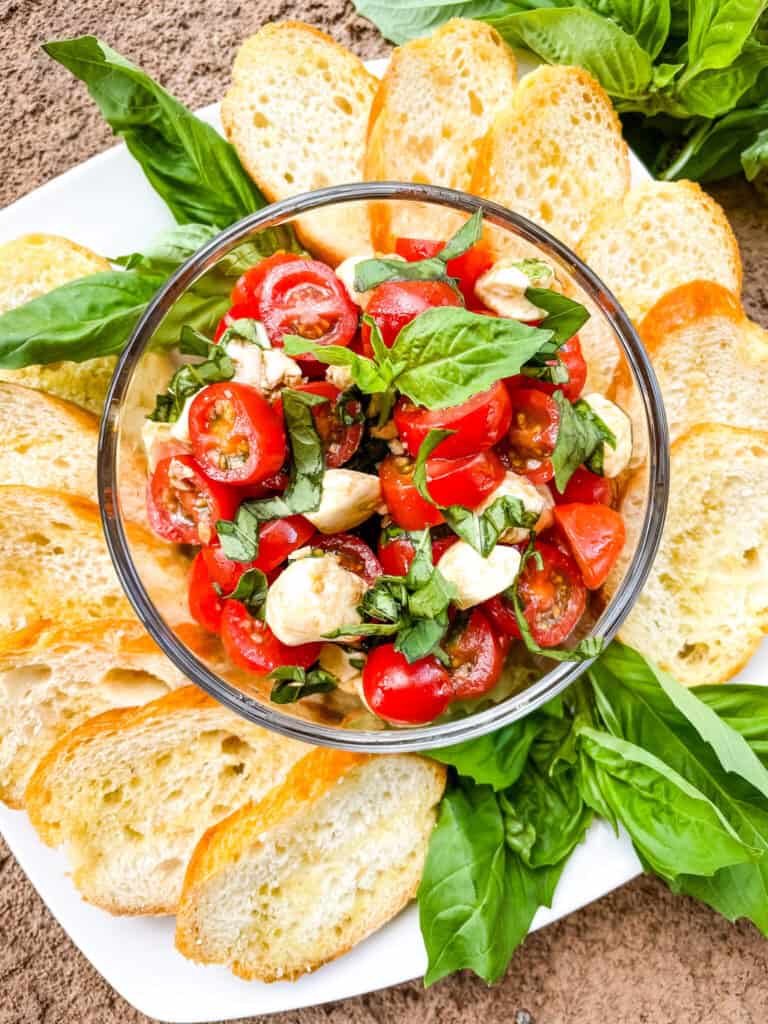 Bruschetta with Mozzarella
I just love the fresh and bright flavors of Italian food.
This crostini recipe is a twist on a classic with the addition of fresh mozzarella cheese to a classic tomato and basil mixture.
Change up the tomato or cheese ratio as desired!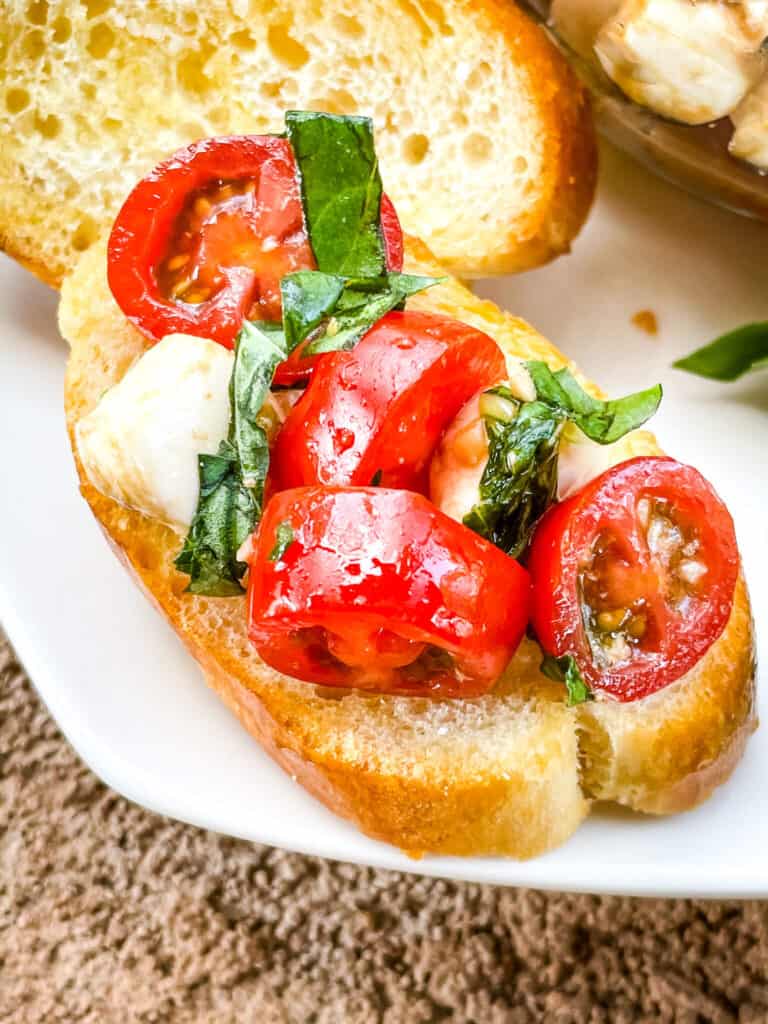 What is the difference between bruschetta and caprese?
Bruschetta is classically known as small toasted bread slices that are topped with a tomato and basil mixture.
Caprese is typically seen as a salad of sliced tomatoes, sliced fresh mozzarella, and fresh basil leaves.
So the primary differences are the cheese and how they are served.
I love to get creative with both bruschetta and caprese recipes, such as my Balsamic Chicken Bruschetta Pasta and Chicken Pesto Caprese Pizza.
Do you serve bruschetta hot or cold?
The toasted crostini can be served warm or room temperature.
The tomato mixture can be served cold or room temperature (such as right after cutting).
There is no real "right" way to do it, so do what works best for you!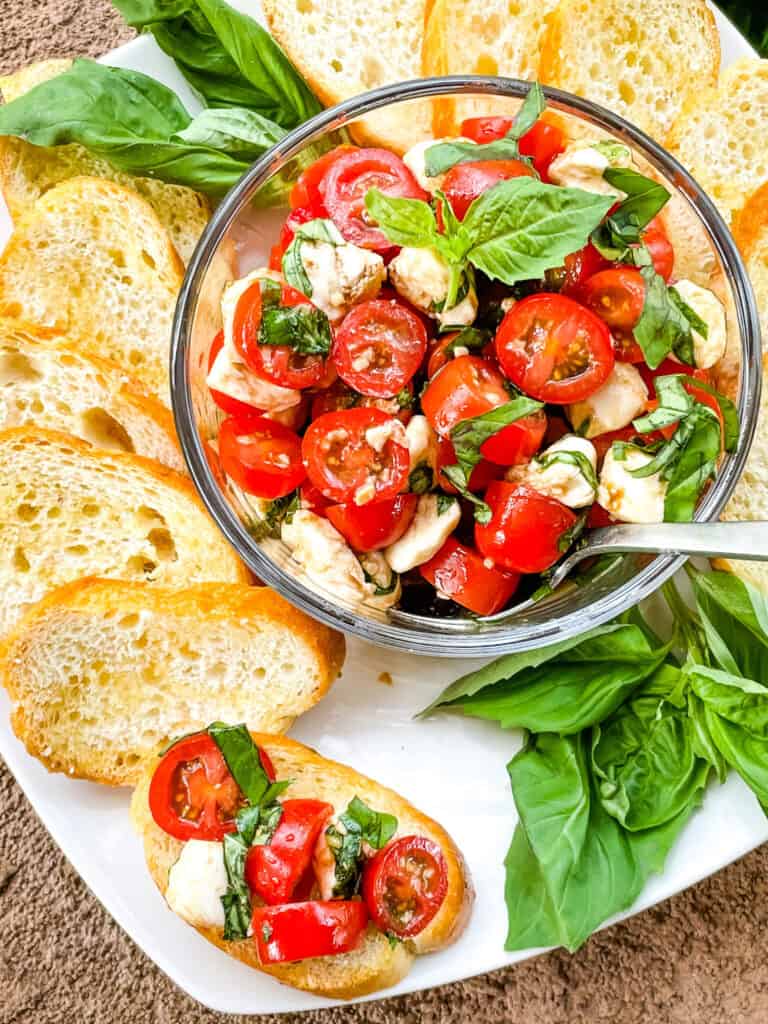 Why is my bruschetta watery?
One main cause of a watery tomato mixture is leaving the seeds and "guts" of the tomatoes in the mix.
If I am using small tomatoes like cherry or grape, I will leave the seeds as there is little moisture. But if you are using larger tomatoes, I recommend removing the seeds and guts before chopping.
Another reason for moisture is salt. Once salt is added to the tomatoes, it will start to pull out the juices and make a sauce.
Help prevent this by adding salt right before serving.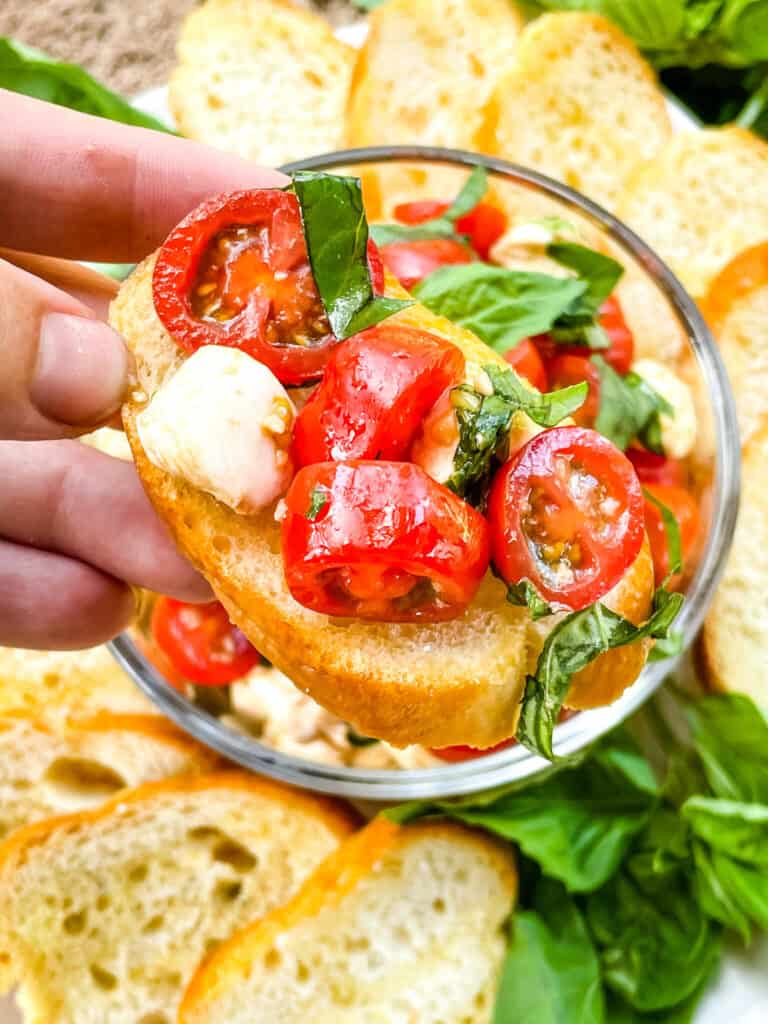 Ingredients
When working with fresh and simple ingredients, what you pick makes a difference.
It is important to use fresh basil as dried basil just does not bring the same flavor in this type of dish.
For tomatoes, I love to use cherry or grape tomatoes since they are sweeter. But you can use larger tomatoes based on what you have on hand or what looks good.
You can also find pre-made crostini in the stores, but I find that it tends to just be stale bread and tastes as such. Making fresh crostini is the way to go if you have time!
And in my opinion, the balsamic is the magic ingredient here that pulls everything together!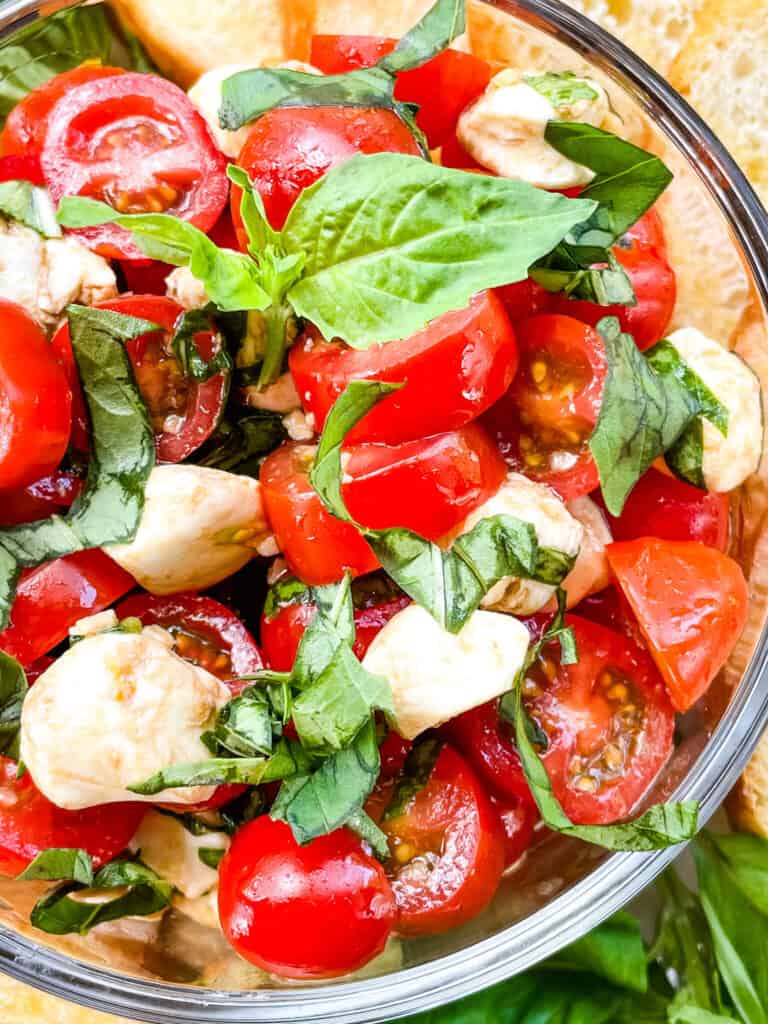 Making the Bruschetta in Advance
I love to make this crostini appetizer ahead of time.
Make your crostini bread pieces and store them in an air tight container. Make sure they are cooled, though, so the heat does not make them soft again!
You can also chop up and mix all of the ingredients together in a bowl and store in the refrigerator. Wait to salt until serving.
Then all you need to do when ready to serve is pull everything out and set it up for eating!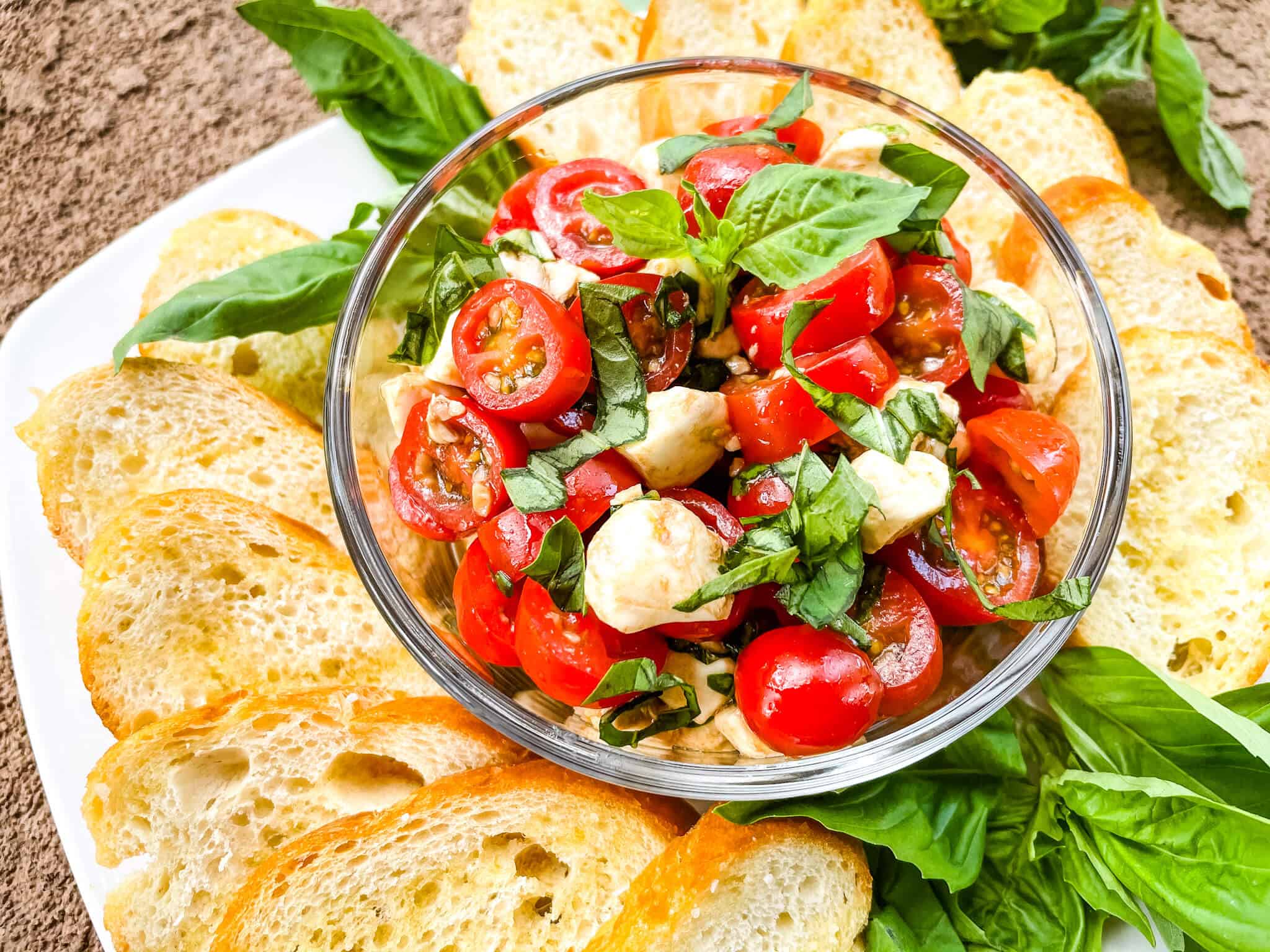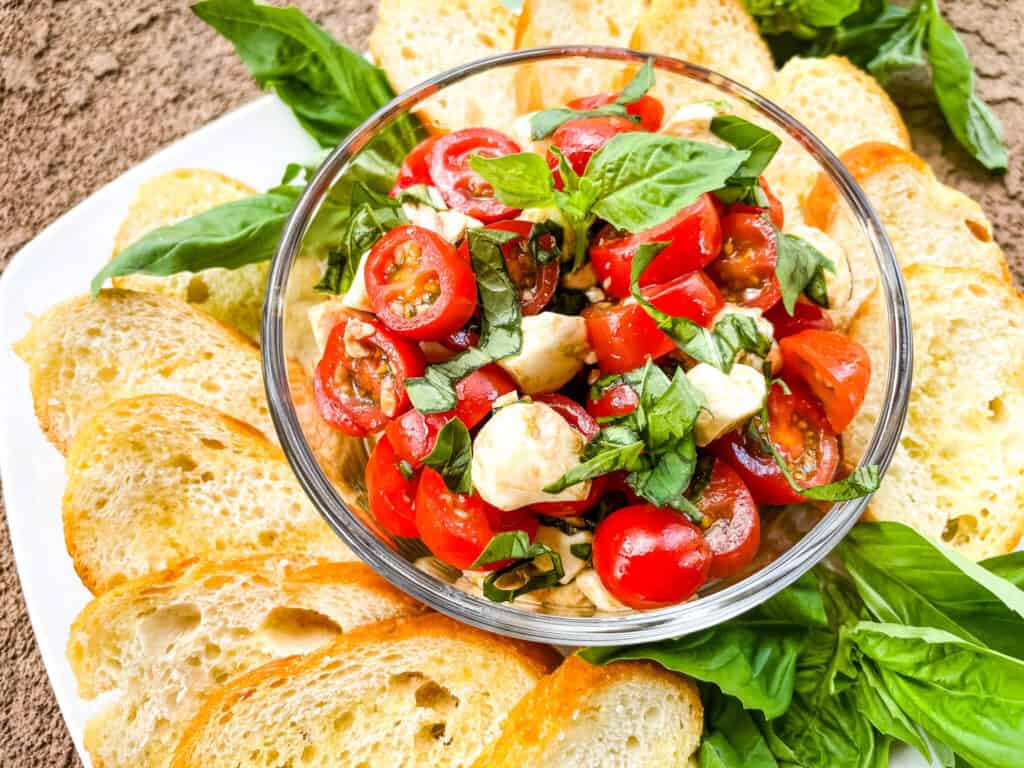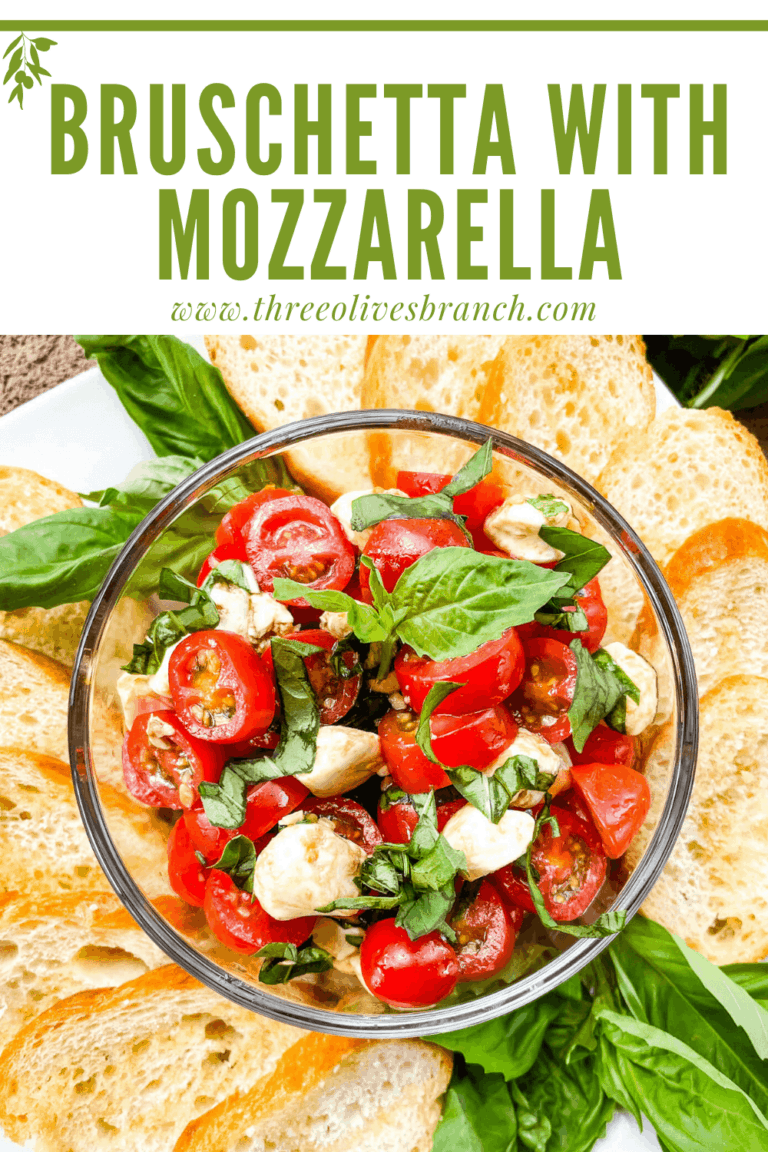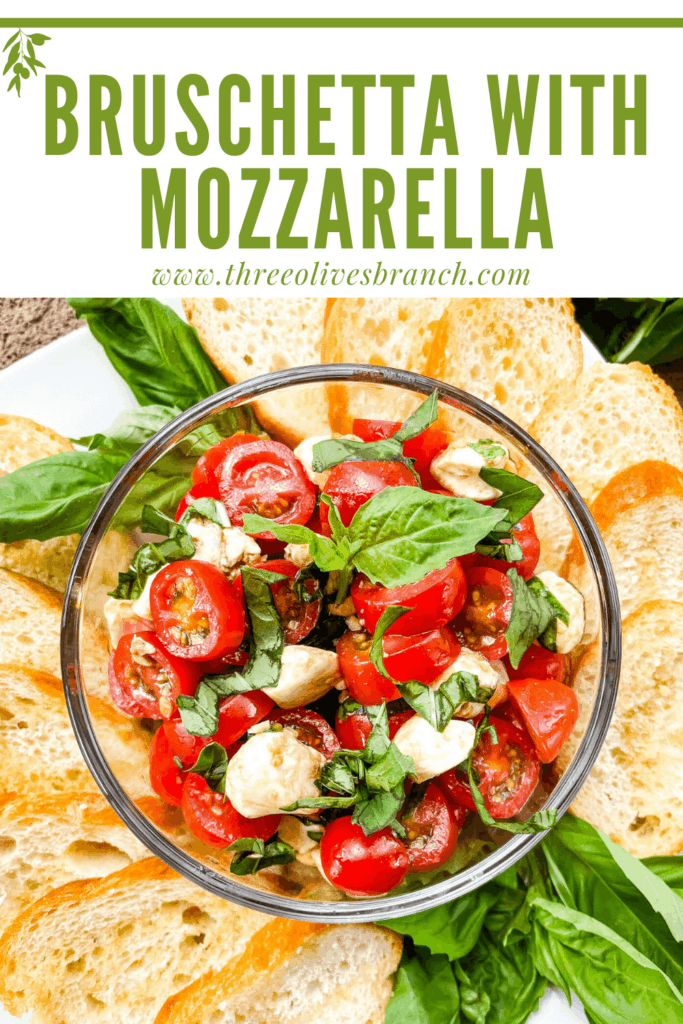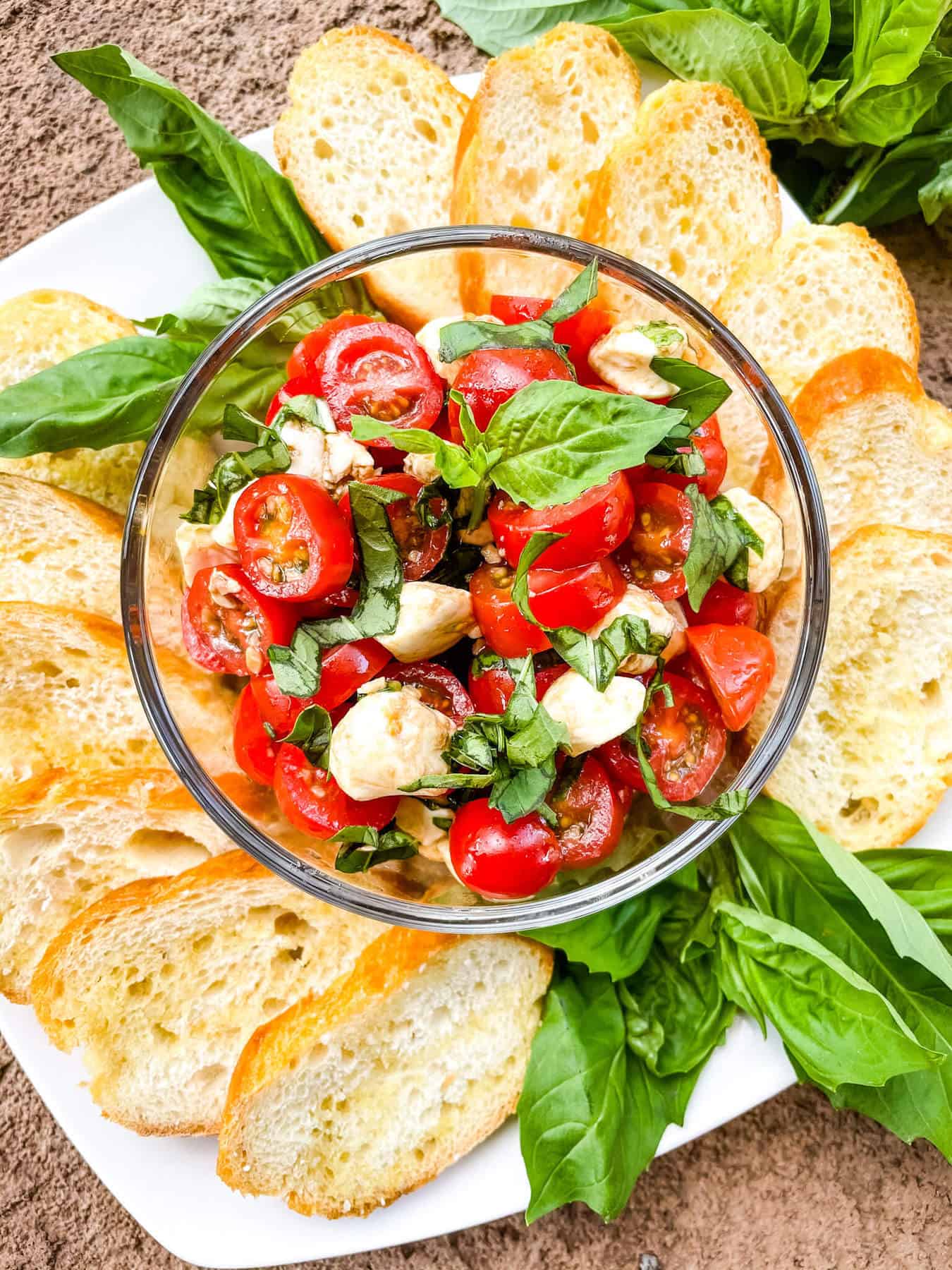 Instructions
Slice your baguette into approximately 36 thin slices. Arrange on a baking sheet in a single layer and drizzle with olive oil. Bake until just slightly toasted, approximately 7-10 minutes. (See link in notes for a more detailed crostini recipe).

While the bread is toasting, assemble the tomato mixture.

Cut the tomatoes into halves (or smaller, depending on how large they are). Place them in a small bowl.

Cut the mozzarella into small chunks and finely slice the fresh basil. Add both to the tomato mixture.

Add the garlic, olive oil, balsamic vinegar, and toss to coat.

Refrigerate the tomato mixture until ready to serve. Season to taste with salt. Serve the tomato mixture either on top of or alongside the crostini.
Notes
Learn how to make the base crostini here!
Crostini bread can be made up to two days in advance and the crostini kept in an airtight bag or container. Make sure the crostini are completely cooled before storing otherwise the trapped heat moisture will re-soften them. Tomato mixture can be stored in a separate container in the refrigerator.
The exact amount of crostini you get will vary with multiple factors: how big your bread slices are, how much topping you put on each bread, and how wide the bread is.
Nutrition
Serving:

1

piece

|

Calories:

32

kcal

|

Carbohydrates:

4

g

|

Protein:

1

g

|

Fat:

1

g

|

Saturated Fat:

1

g

|

Polyunsaturated Fat:

1

g

|

Monounsaturated Fat:

1

g

|

Cholesterol:

2

mg

|

Sodium:

63

mg

|

Potassium:

25

mg

|

Fiber:

1

g

|

Sugar:

1

g

|

Vitamin A:

58

IU

|

Vitamin C:

1

mg

|

Calcium:

23

mg

|

Iron:

1

mg

By