This Chicken and Hatch Green Chile Pozole is an amazing Mexican soup recipe! A hearty dinner recipe idea for cold weather. Warm chicken soup with corn, peppers, and Hispanic spices.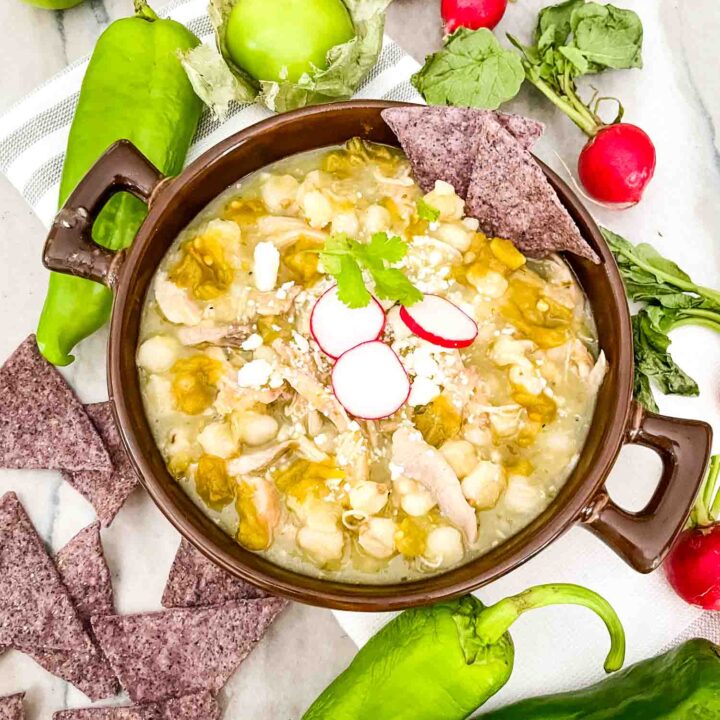 This Chicken and Hatch Green Chile Pozole is an amazing comfort food recipe! A delicious Mexican soup with bright flavors highlighting the famous roasted pepper.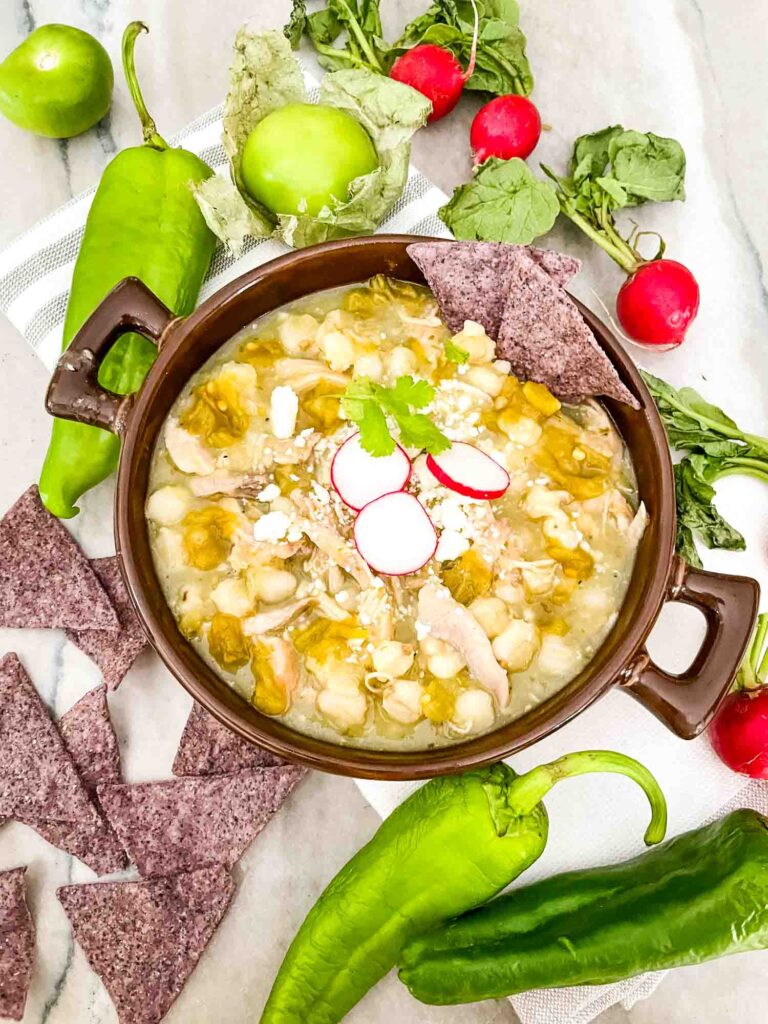 Green Pozole Recipe
If you have never had posole, it is an amazing classic Mexican soup recipe with tons of flavor.
It gets its name from the hominy that plays a central part, bringing tons of corn flavor and texture.
This pozole verde uses a blend of ingredients to get the green color.
This is a great way to enjoy the same great flavors you get in a Hatch Green Chile but with new flavors and texures!
Find more information on this stew and common questions with answers below for how to make this hearty and filling dinner!
Is It Pozole or Posole? What is the Correct Way to Spell Pozole?
Both are correct!
Pozole tends to be more popular in Mexico and Posole more common in areas surrounding Mexico.
How Do You Pronounce Posole?
It sounds like "poe-so-lay."
What is the Origin of Pozole?
Pozole was created in Mexico.
What is Pozole Called in English?
It is still called by the same name, however this soup translates to meaning "stew of maiz kernels" with maiz referring to corn.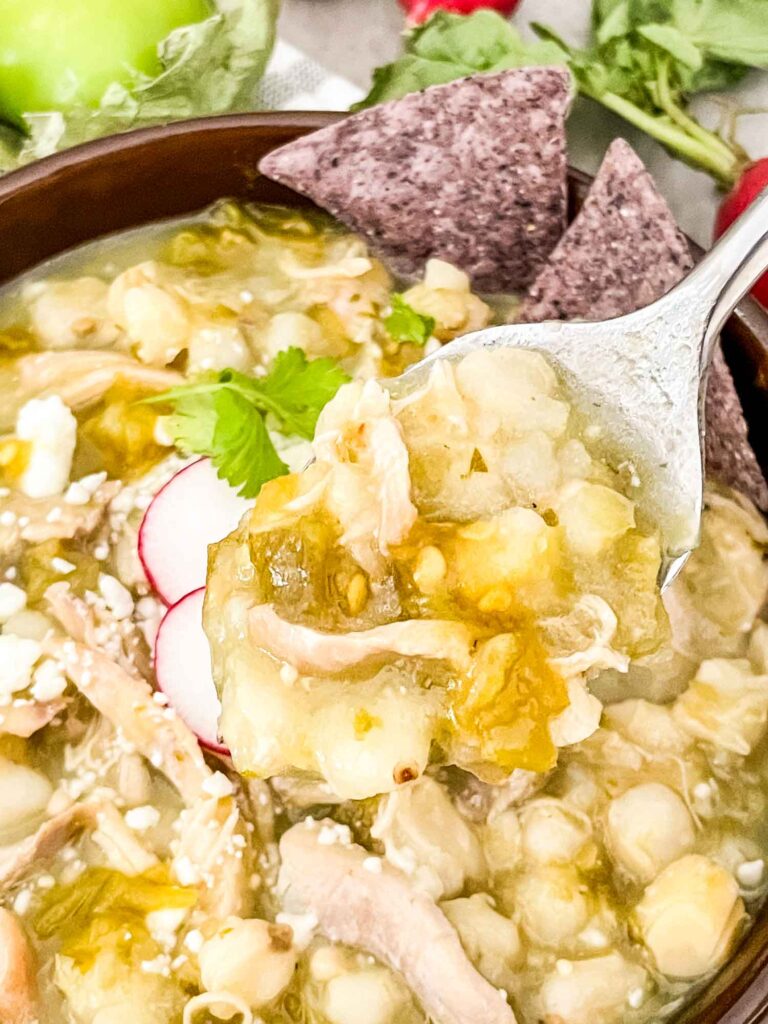 Is Pozole and Menudo the Same?
No. While they are both Mexican soups and have many similar ingredients, the biggest difference is the meat.
What is pozole meat made of? Posole is made with pork or chicken while menudo is made with tripe.
What Are the 3 Types of Pozole?
You will typically find three different variations of posole: red, green, or white.
Red tends to be the most common, followed by green. They are all delicious and use a similar structure but with variations to some ingredients and spices that lend best to the color.
Most also include either chicken or pork, regardless of type.
What's the Difference Between Red and Green Pozole?
A red posole has red ingredients as the base, such as various peppers.
Green posole uses green ingredients in the base, such as tomatillos, cilantro, and green peppers.
Red tends to have more of a warmth of flavor from roasted peppers while green has more tang from the fresh ingredients.
What Does Pozole Taste Like?
The taste will vary primarily based on which color or type of posole you are eating.
In this green posole, it will taste tangy and fresh due to all the green ingredients.
Is Pozole Good for You When You're Sick?
Yes, you could consider it to be a healthy dish to make and one that is good for when you are sick.
It has healthy properties like chicken noodle soup with lots of vegetables and spices with health properties.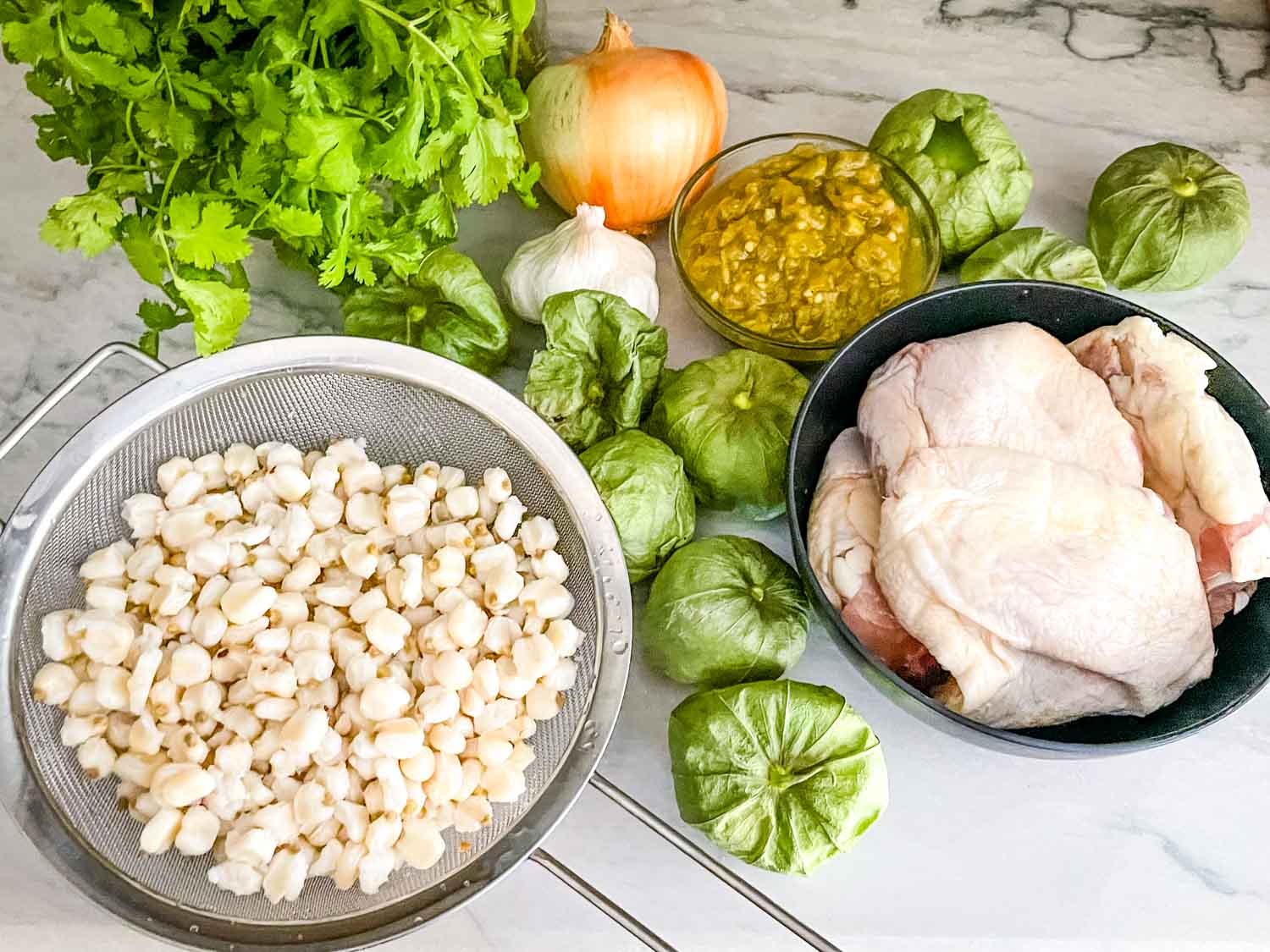 What is in Posole?
Here are the ingredients you need for this Mexican soup recipe:
Chicken Thighs (or cuts of choice) – bone in and skin on preferred
Hatch Green Chiles
Cilantro
Tomatillos
Yellow Onion (or white)
Garlic
Water
Oil
Salt
Black Pepper
The amount of hominy can be approximate as the size of cans you find at your store will vary greatly. Sometimes you will see cans as small as 15 ounces, and sometimes huge ones around 105 ounces!
A huge can is enough for two batches. I just rinse and freeze the second portion for later, because you are going to want to make this again!
These roasted green peppers are a slice of heaven! They have a lot of flavor and are especially amazing when roasted!
If you have ever had Anaheim peppers, those are derived from Hatch Peppers that were moved and grown in California but without the heat.
They are famous from Hatch, New Mexico and come in a variety of heats. In this recipe, I use medium Hatch peppers for a good kick and warmth without being overly spicy.
If you are not a fan of spicy, I recommend playing it safe and going with mild.
What Cut of Chicken Do I Use in Pozole?
The key here is you want to use chicken that has bone in, and ideally skin still on.
The bone and skin will add great flavor to your soup!
I used chicken thighs since they have great flavor and are budget friendly. But you can use chicken breasts or any mixture of chicken cuts as desired.
Want to go meat heavy? Use even more chicken!
What Are Tomatillos?
Tomatillos are technically berries that are bright green with a paper like covering around them. They look almost like tomatoes and have a tangy, lime-like flavor.
You can find them in the produce section of your grocery store typically near the tomatoes or avocados.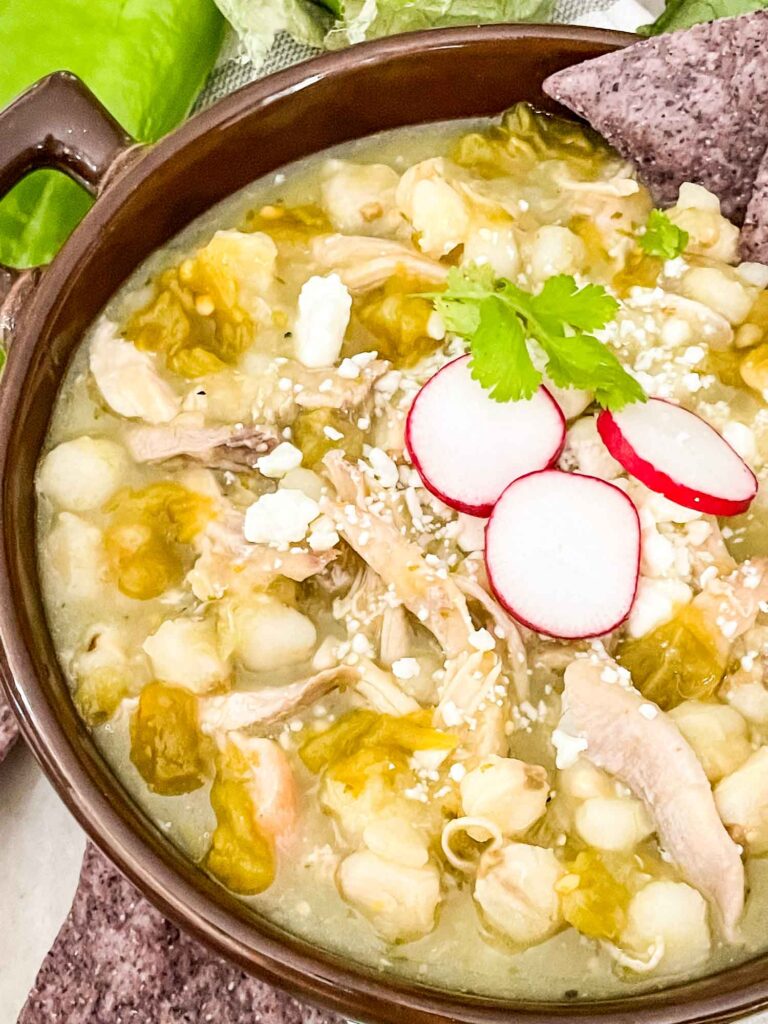 What is the Corn in Pozole Called?
It is a special type of corn called hominy.
What Is Hominy?
Hominy is dried corn kernels that are then soaked in an alkal solution. After soaking, the outer husk is removed.
This results is corn that looks very puffy and soft but with a chewy texture.
What is the Difference Between Posole and Hominy?
Is Hominy the Same as Masa Harina?
No, but they are related to each other.
Masa harina is ground up hominy.
Does Hominy Taste Like Corn?
Yes! It has a distinct corn flavor and reminds me of when you eat a fresh corn tortilla.
Do You Use White or Yellow Hominy for Pozole?
White hominy is typical, and most often the only type you can find in the store.
Do I Rinse Canned Hominy?
In this recipe, yes, you want to rinse it.
This is done to remove the liquids and ingredients that were used in the canning process to preserve the hominy.
We want to rinse it to remove these flavors and what could potentially make the soup too thick.
Just run it in a strainer or in the can until most of the canning liquid is gone.
How to Make Green Pozole
First sear your chicken with a little oil, salt, and pepper in your large pot. This is not really traditional, but brings great flavor!
Then add the hominy and garlic to the chicken. Cover with water and simmer for 45-60 minutes. The chicken should be cooked.
Remove the chicken from the pot and set aside to cool enough to handle.
Remove the garlic and peel out 6 cloves. Save the 6 cloves and the rest can be discarded.
Meanwhile, make the green salsa by blending the tomatillos (paper husks removed), cilantro, garlic,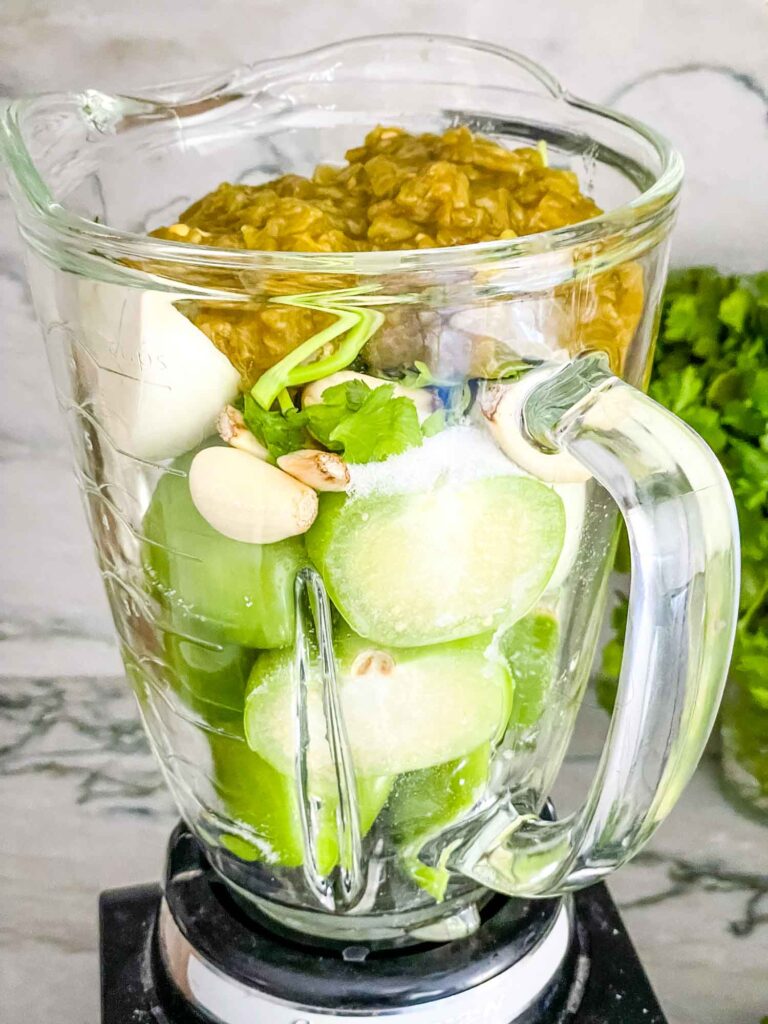 In a blender make the sauce by combining the tomatillos, 6 garlic cloves, cilantro, onion, green chiles, and salt. Add 1 cup of water and blend until smooth but still with texture or chunks.
Add the green salsa into the pot with the hominy.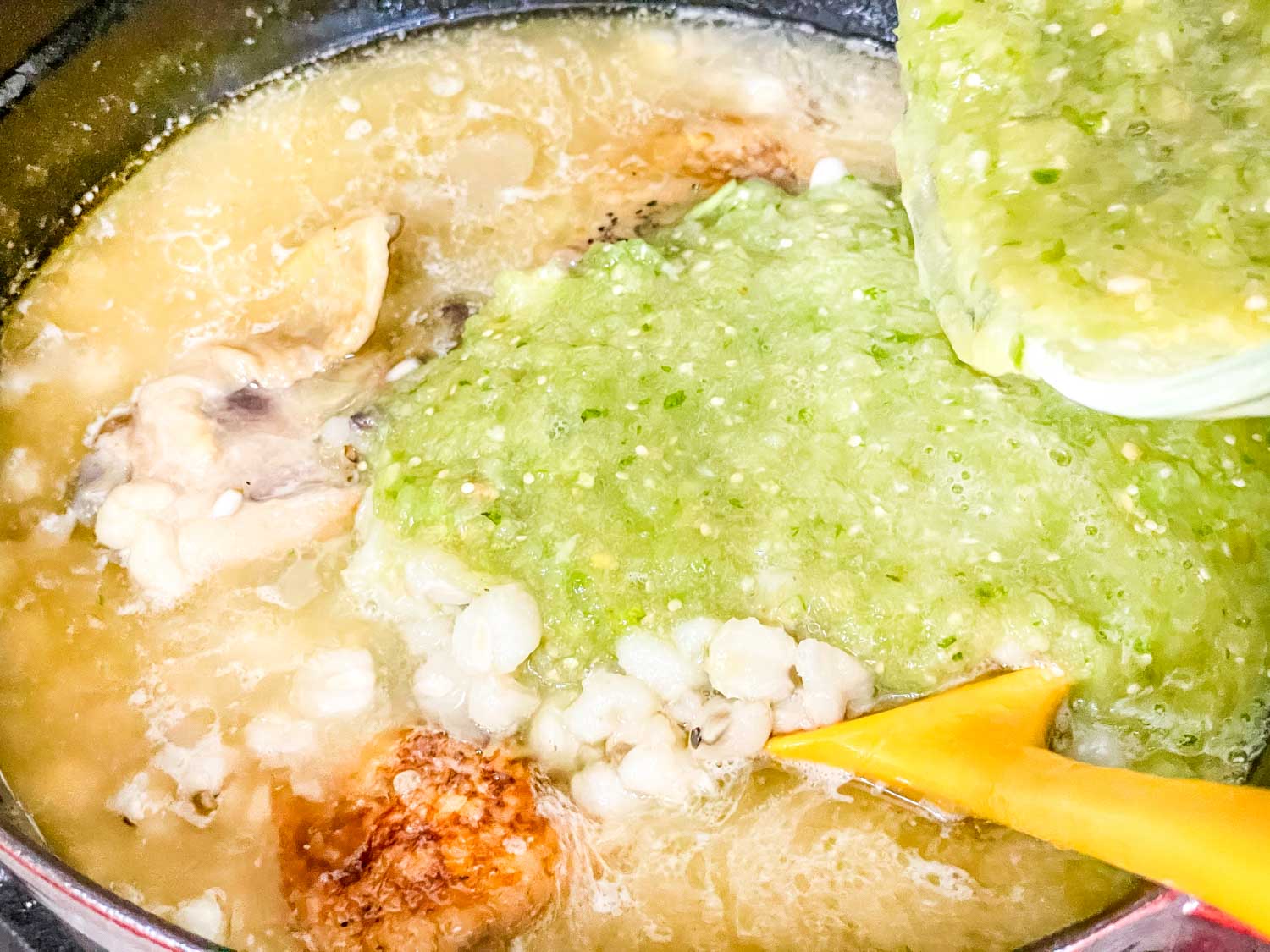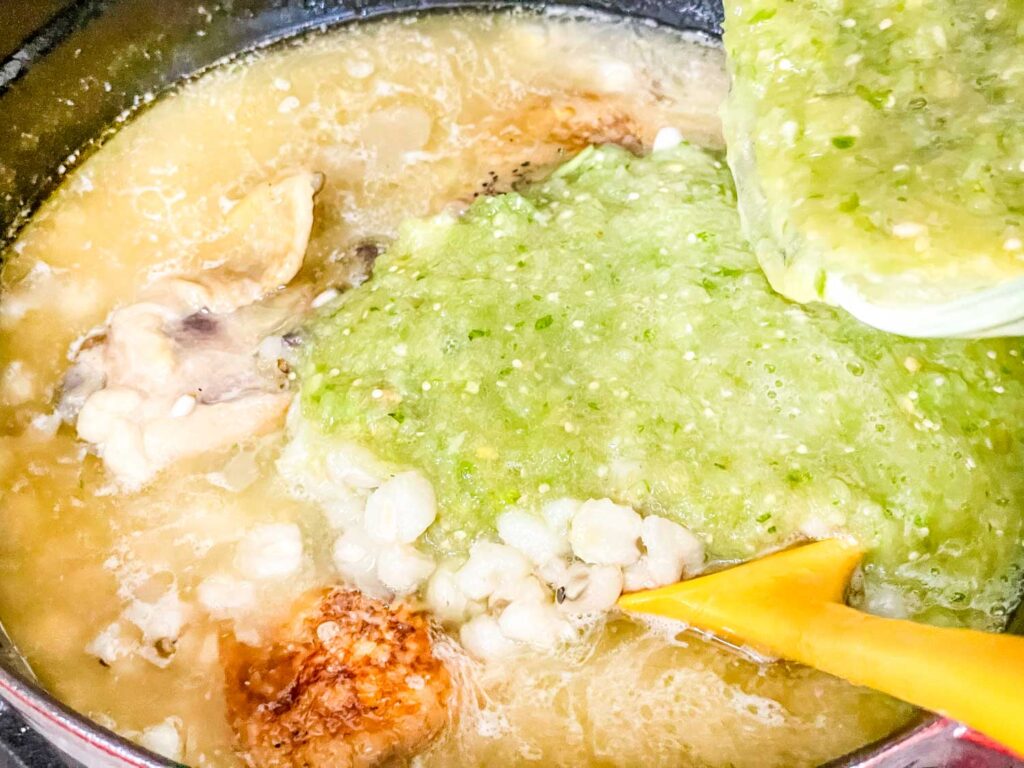 Remove the chicken meat and discard the bones and skin. Add the meat to the pot and stir to combine. Let simmer 15 minutes and serve with your favorite toppings.
How Long Does Canned Hominy Take to Cook?
This depends on how soft you want the hominy to be.
It is edible right out of the can without much more cooking. But you can cook it longer if you want it extra soft with minimal texture, about 2 hours.
If you choose to cook the posole longer to make the hominy extra soft, simply add more water as needed so it does not get too thick.
Why Does My Pozole Have No Flavor?
If you need to add more flavor to the soup, first try salt.
If salt is not working or if the salt level is fine, try using a little more acid in a lime. Not so much that it alters the flavor, but acid helps elevate flavors in a dish.
How Do You Fix Bitter Pozole?
If for some reason yours is bitter, add some oil or butter. Other options include cheese or sour cream. The fat should help reduce the bitter taste.
How Do You Eat Mexican Pozole?
Serve this stew up in a bowl with your favorite toppings! What goes on top pozole? Here are some ideas:
Lime wedges
Diced Onion
Radishes
Cheese
Avocado
Tortilla Strips
Cabbage (or lettuce)
Cilantro
Tortillas
Tostadas
Do you eat pozole with cabbage or lettuce? Traditionally, cabbage is used however both are great and you can use either based on preference!
What's a Good Side Dish for Pozole?
I would consider side dishes to be more of toppings such as those listed above like tortillas.
But you can also serve it with a Hatch Green Chile Rice or even
Can I Make Posole in Advance?
Absolutely! It tastes amazing the next day!
Just reheat in bowls or on the stove, and add a little water if needed to get the consistency you want.
Plus, it tastes even better the next day! 🙂
Is it OK to Leave Soup Out Overnight?
No, you want to make sure you refrigerate or freeze the soup based on when you want to use it to avoid food born illnesses from developing.
Do You Have to Let Soup Cool Before Refrigerating?
No, it can be placed in the refrigerator when it is still warm.
Consider what you are storing it in, however. If in glass and hot, the sharp change in temperature can cause glass to crack.
Also, it is best to not put it in when still piping hot so it does not lower the temperature of the refrigerator. So once it is warm but not piping hot, you should be fine.
Why Does Soup Taste Better the Next Day?
This happens because flavors continue to meld together and blend, making a more harmonious soup. Instead of any flavor existing in small pockets of that ingredient, they all start to blend and work together.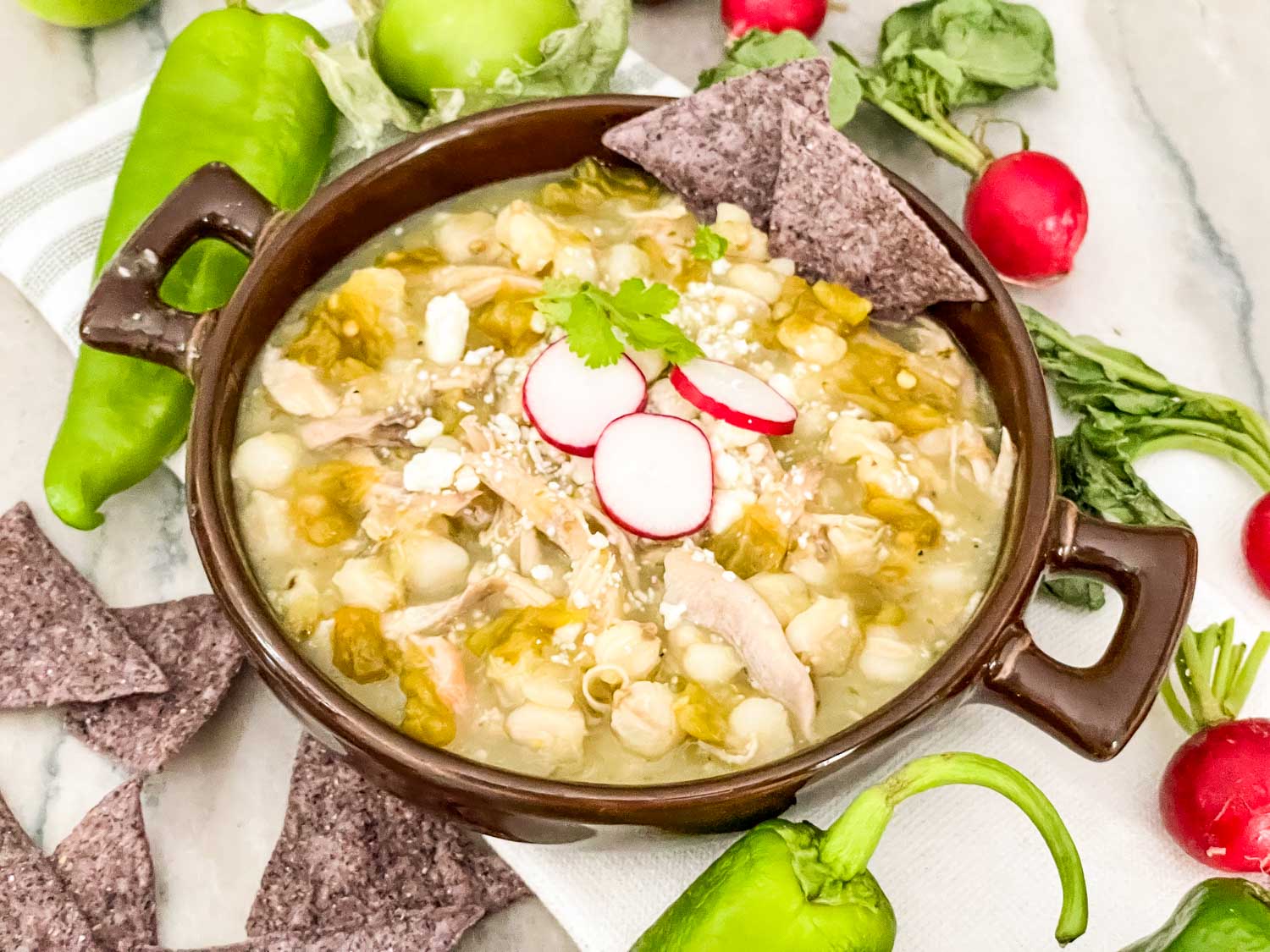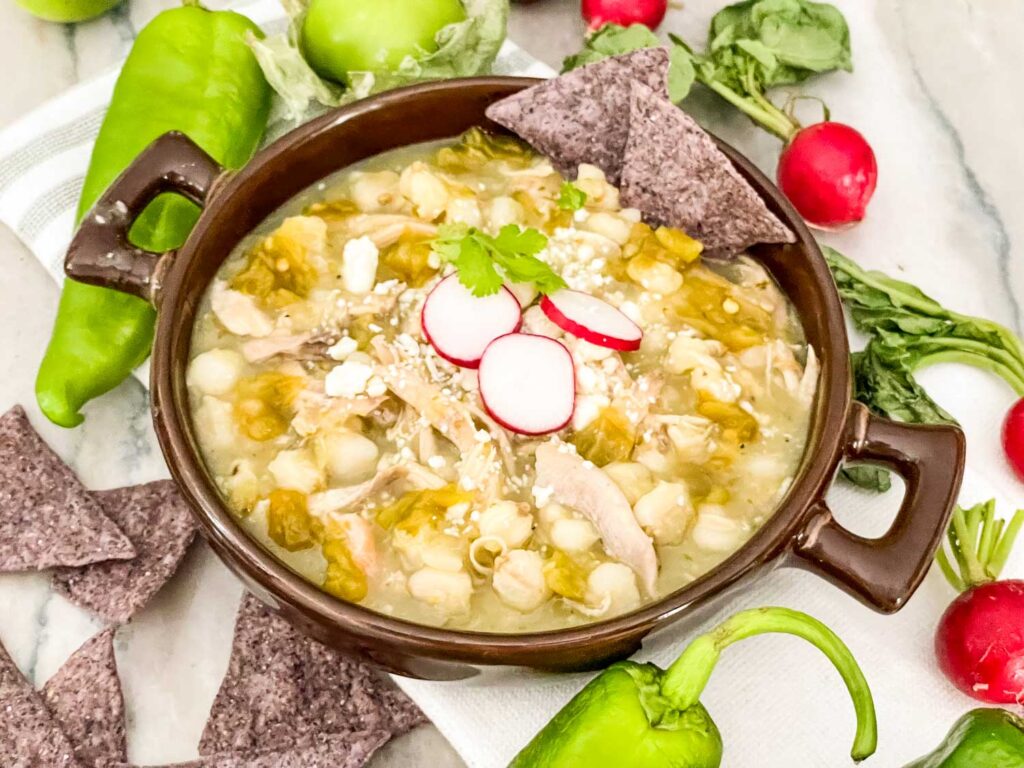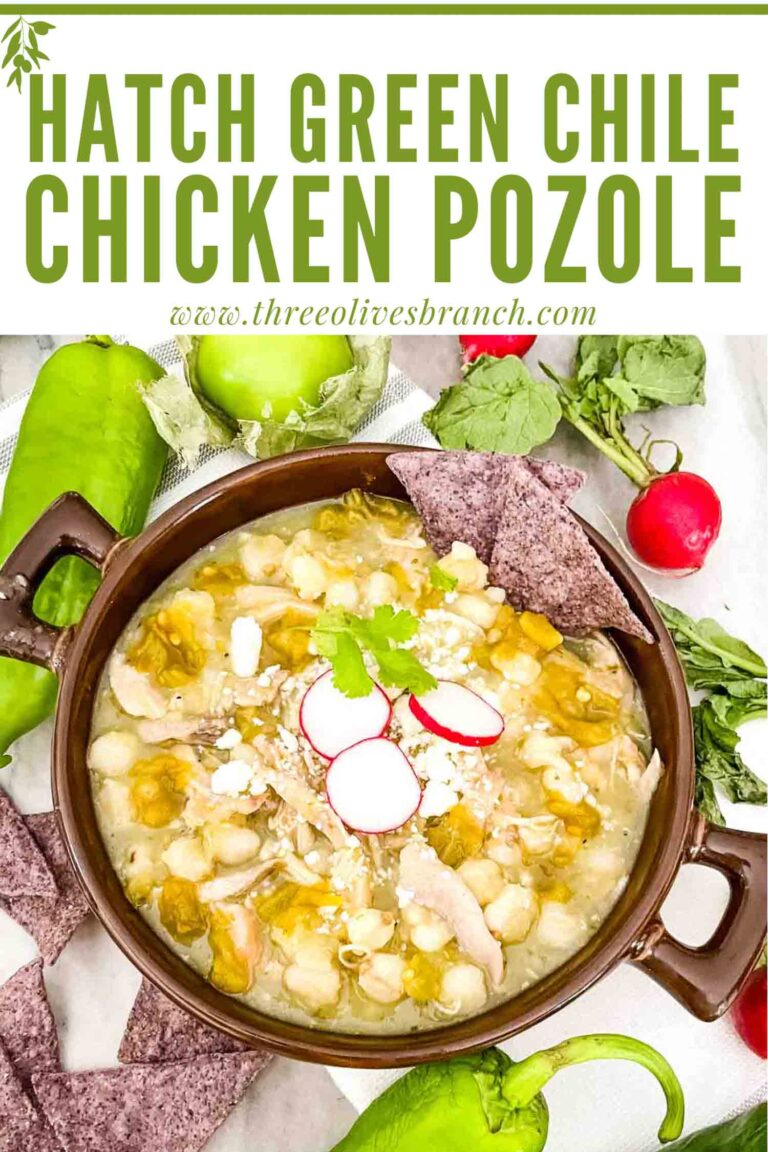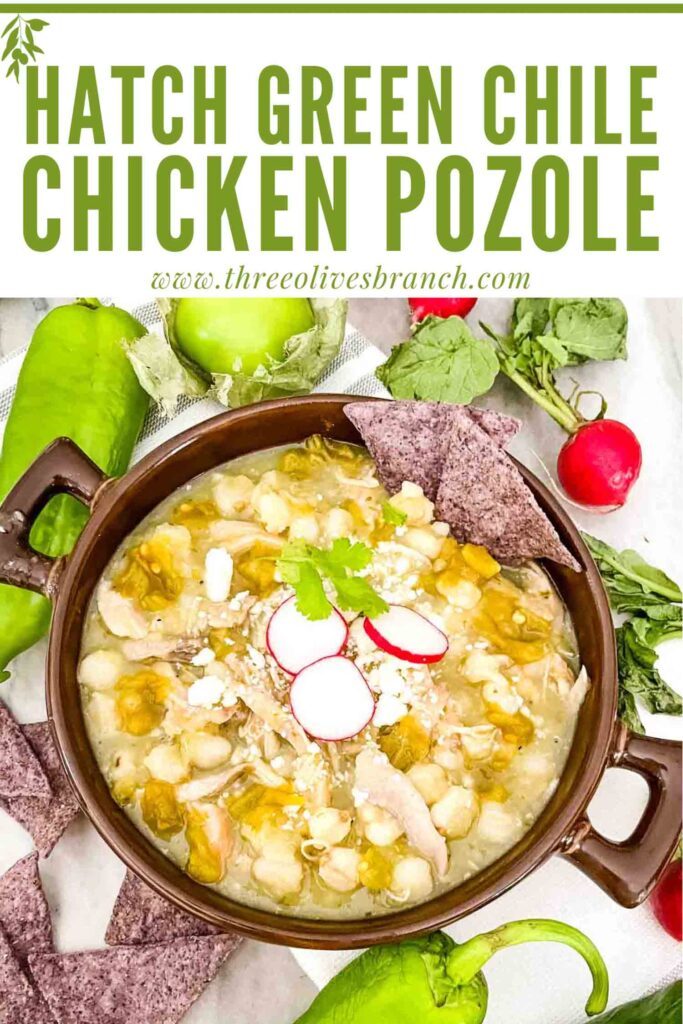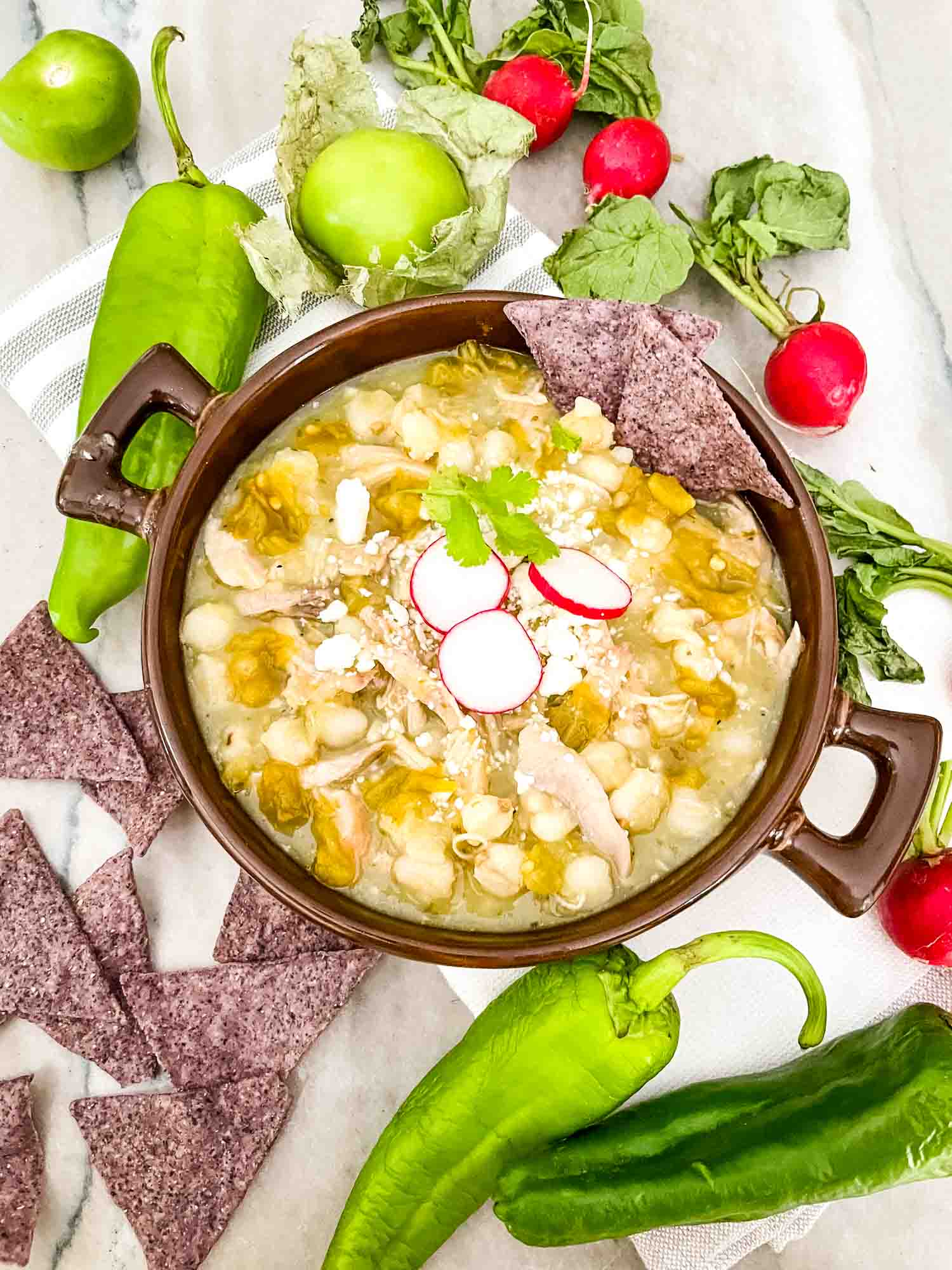 Instructions
Heat a large pot over medium high heat.

Season the chicken on all sides with salt and pepper.

4 chicken thighs,

black pepper,

salt

Add the oil and when the oil is hot, add the chicken skin side down. Do not move and let cook for 3-4 minutes to develop a golden brown color.

Add the hominy and garlic head to the pot. Fill with water to cover it all, about 5 cups.

45 ounces hominy,

1 head garlic

Bring to a boil and then reduce heat to medium low and simmer for 45-60 minutes. The chicken should be cooked all the way through.

Remove the chicken and set aside until cool enough to handle.

Remove the head of garlic. Peel 6 cloves to use in the salsa and discard the rest.

In a blender, make the salsa by combining the cut tomatillos, peeled garlic cloves, cilantro, cut onion, 8 ounces of the Hatch peppers, and 1 teaspoon salt with 1 cup water.

Blend to combine until there is still a little texture or small chunks.

1 head garlic,

1 small yellow onion,

1 pound tomatillos,

12 ounces Hatch green chiles,

½ cup fresh cilantro,

1 teaspoon salt

Pour the green salsa into the pot with the hominy. Add the remaining 4 ounces of green chiles as well.

12 ounces Hatch green chiles

Remove the chicken meat from the bones, shredding into pieces, and discard the bones and skin. Add the chicken to the pot.

Simmer at least 15 minutes. The green salsa will become duller. Add more water if needed to get the consistency you want.

Serve with your favorite toppings.
Notes
Hominy can be found in the Hispanic food section of your grocery store. Sometimes sold in smaller cans around 15 ounces, and sometimes in giant cans around 105 ounces. The quantity of hominy can be approximate based on what you have and find. (A giant 105 ounce can is perfect for two batches! Just rinse and freeze the second portion).
Will provide 6 larger servings or 8 standard servings.
Use any cuts of chicken as desired, but use bone in and skin on for maximum flavor.
Like most soups, this tastes even better the next day!
Nutrition
Serving:
1
serving
|
Calories:
290
kcal
|
Carbohydrates:
30
g
|
Protein:
13
g
|
Fat:
13
g
|
Saturated Fat:
3
g
|
Polyunsaturated Fat:
3
g
|
Monounsaturated Fat:
6
g
|
Trans Fat:
0.05
g
|
Cholesterol:
55
mg
|
Sodium:
1055
mg
|
Potassium:
362
mg
|
Fiber:
6
g
|
Sugar:
6
g
|
Vitamin A:
232
IU
|
Vitamin C:
23
mg
|
Calcium:
49
mg
|
Iron:
2
mg
Hatch Green Chile Recipes
A collection of just some of our Hatch Green Chile recipes!

By