Hatch Chile Green Sauce for Enchiladas is a delicious simple and easy Mexican sauce recipe. Made with roasted peppers and spices for a quick sauce. Perfect to use on enchiladas or burritos and tacos.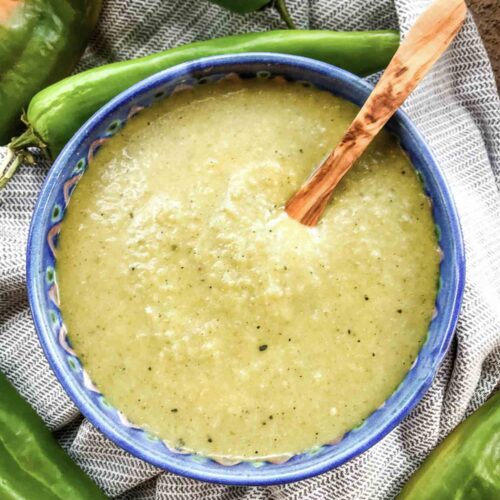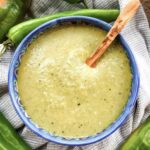 This easy Hatch Chile Green Sauce for Enchiladas is a delicious twist for enchilada night! Made with just a few ingredients and tons of flavor, this sauce will be one of your new favorites!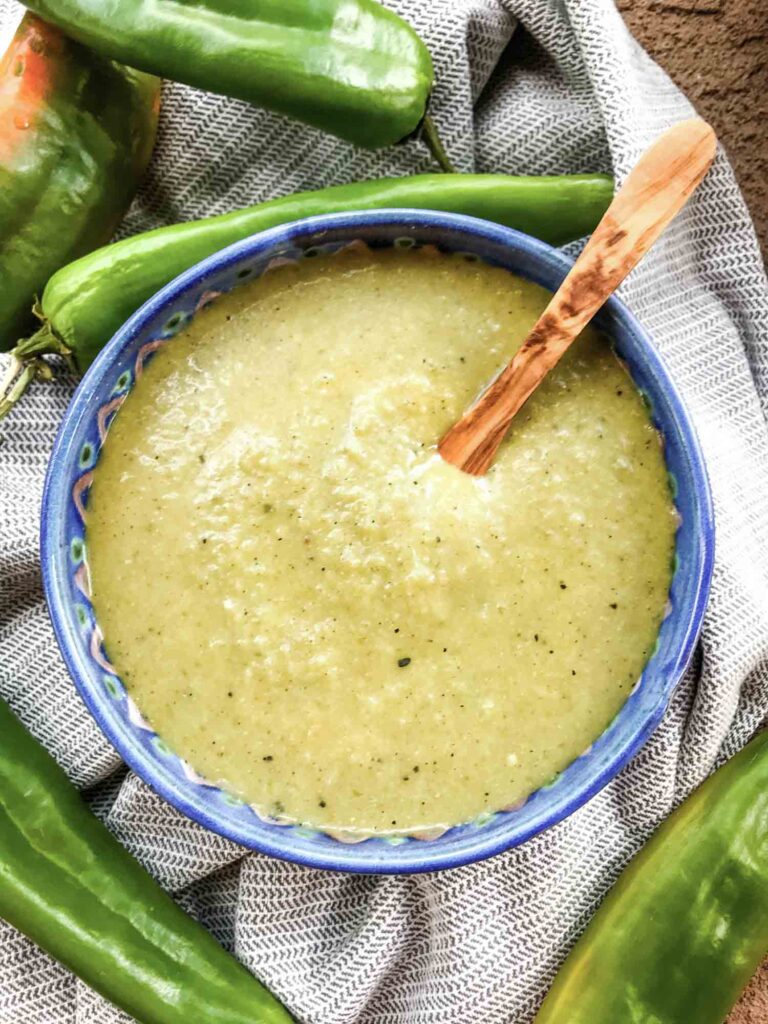 Why You Will Love This Recipe
I grew up with enchiladas being a go-to for dinner. We love our Mexican food!
While a Red Enchilada Sauce is the classic, and something I love, once in a while I want to shake it up with something different!
Most green enchilada sauce recipes are made with tomatillos. The tomatillo version is great, and I even make it myself! My Roasted Poblano Salsa Verde Chicken Enchiladas, or "the green enchiladas," have become a fan favorite and are commonly requested.
And while it is delicious, I always wanted to find a green enchilada sauce recipe that highlighted peppers instead of tomatillos.
I chose to use Hatch chile peppers because I am just obsessed with them. They have an amazing flavor and come in various heat levels.
You could also use poblanos or anaheims (which are a variation of Hatch).
This sauce is just perfect on our Creamy Chicken Enchiladas!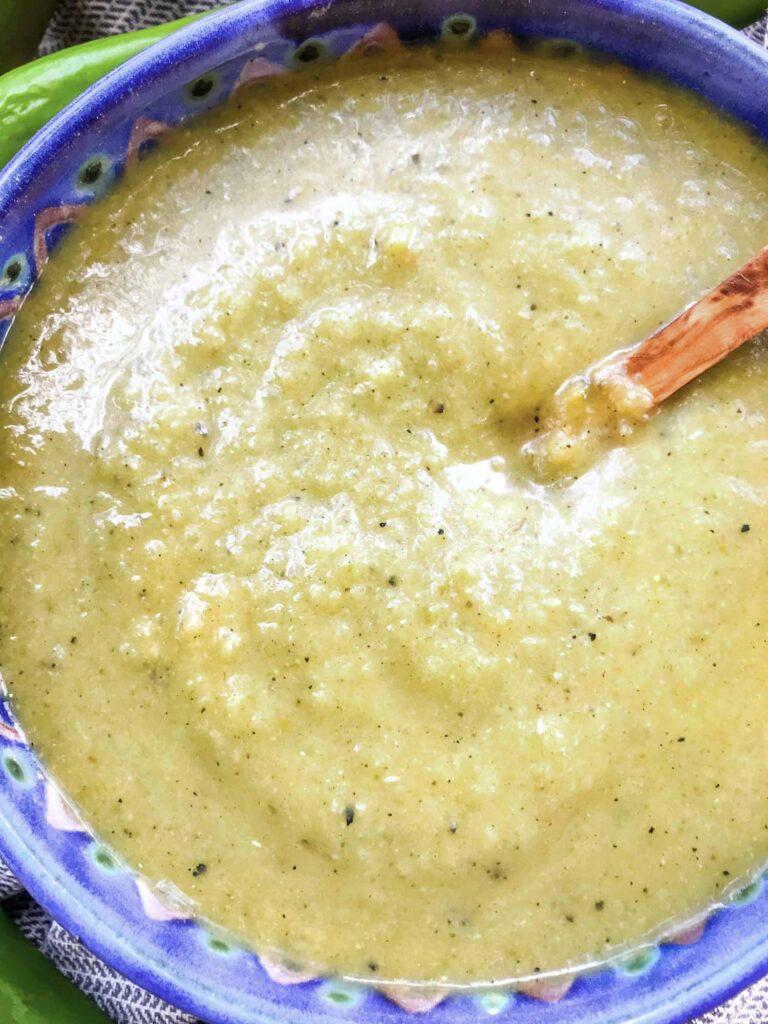 Ingredients
Here is what you need to make this enchilada sauce:
Green Chiles (heat of choice)
Yellow Onion
Jalapeno (optional)
Vegetable Stock (or chicken stock)
Garlic
Cumin
Dried Oregano
Flour or Cornstarch
Salt
Vegetable Oil
Equipment
In order to make this recipe, you also need:
Blender
Knife
Cutting Board
Measuring Cups
Measuring Spoons
Spatula
What are Hatch Chile Peppers?
These peppers are named after the town they originated in: Hatch, New Mexico.
They are long, somewhat thin, light green peppers.
If you are familiar with Anaheim peppers, they actually are very similar! Anaheim peppers were taken from Hatch to Anaheim, California and grown to be incredibly mild with very little heat.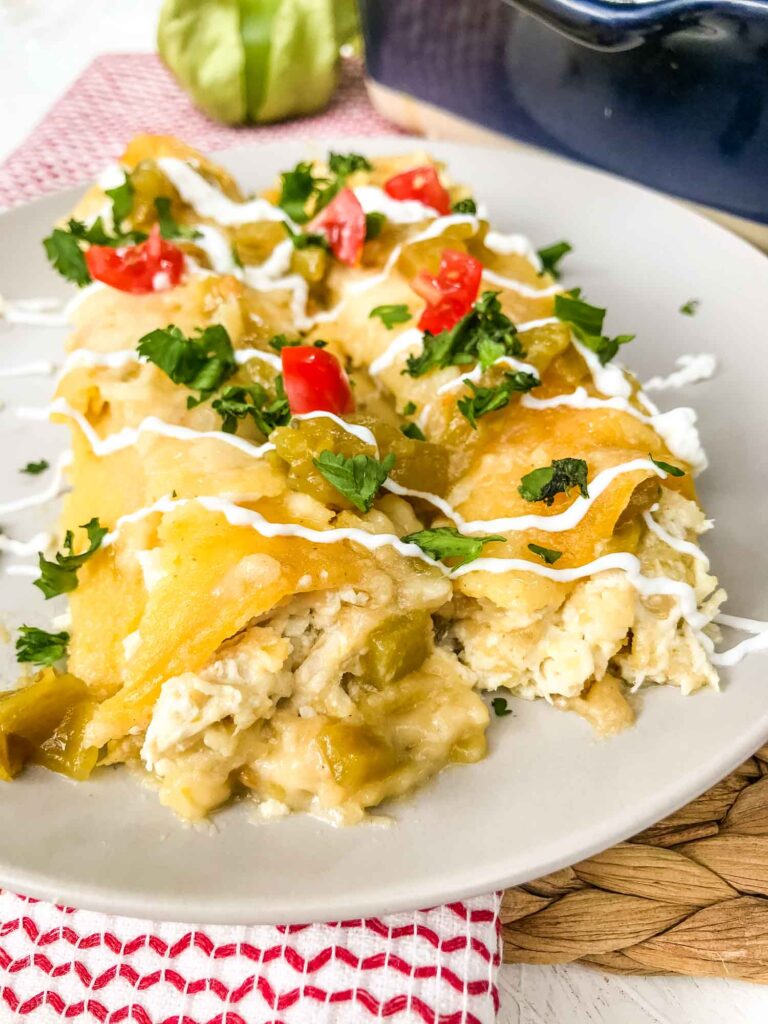 Instruction Overview
First sauté the onion, hatch peppers, and jalapeno with some spices.
This step helps the flavors develop instead of just throwing it all in a blender from the start!
Then blend the pepper mixture.
Make a roux with the flour and more oil to help thicken the sauce.
Add the blended mixture into the roux and cook a few minutes.
Then use as needed for your recipe! It is perfect with our Creamy Chicken Enchiladas!
Modifications and Substitutions
Keep it mild by using mild heat peppers. Or make it spicy with hot peppers and/or hot sauce.
Make this sauce gluten free by using about 3/4 Tablespoon of cornstarch instead of flour.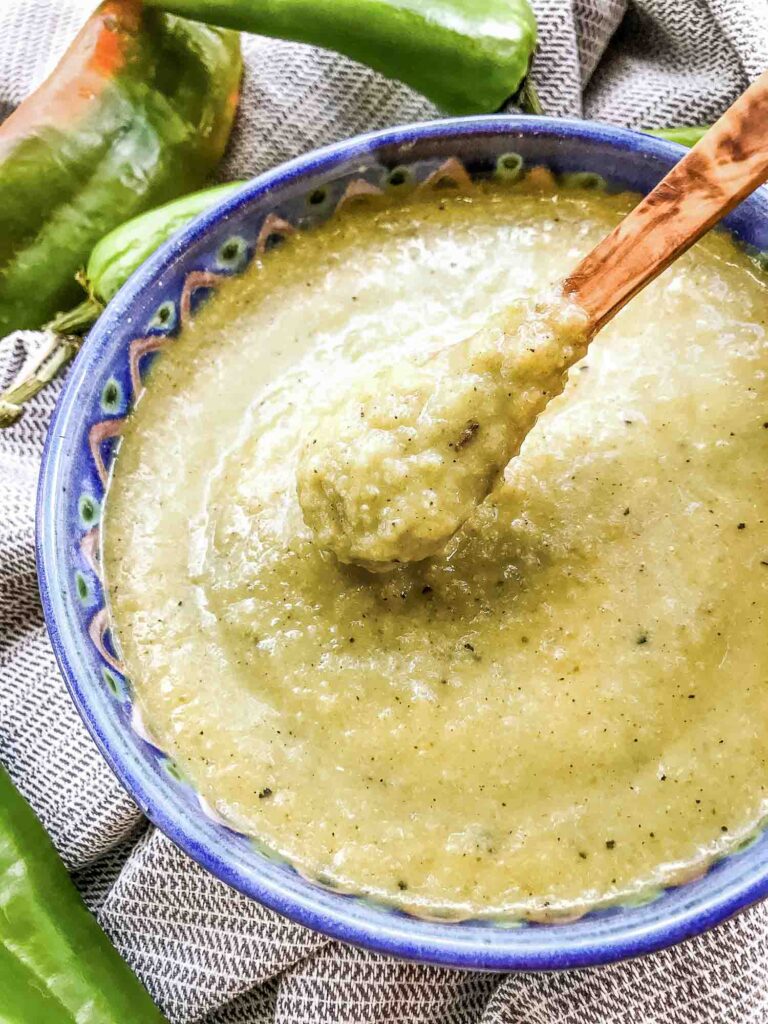 Kim's Tips
This sauce is perfect for enchiladas, but is also amazing on tacos, smothering a burrito, or as a sauce to add to your favorite Mexican foods!
FAQs
Are Hatch peppers hot?
They can be. I prefer to stick with mild peppers because you get amazing flavor, and can use a lot of it, without the heat being too high.
But you can use any heat level you prefer.
The sauce on its own will taste hotter than when you have it added to a recipe like enchiladas or a smothered burrito.
Is green enchilada sauce and salsa verde the same thing?
Not quite. Enchilada sauce tends to have liquid (such as stock) added to it, and it is typically baked in the dish.
A salsa verde is blended ingredients, without stock, typically without cooking.
But otherwise, you will find many of the same ingredients depending on the recipe.
What is so special about Hatch chiles?
These peppers have an amazing balance of sweetness, heat, and flavor. When you eat something with these peppers, it is special!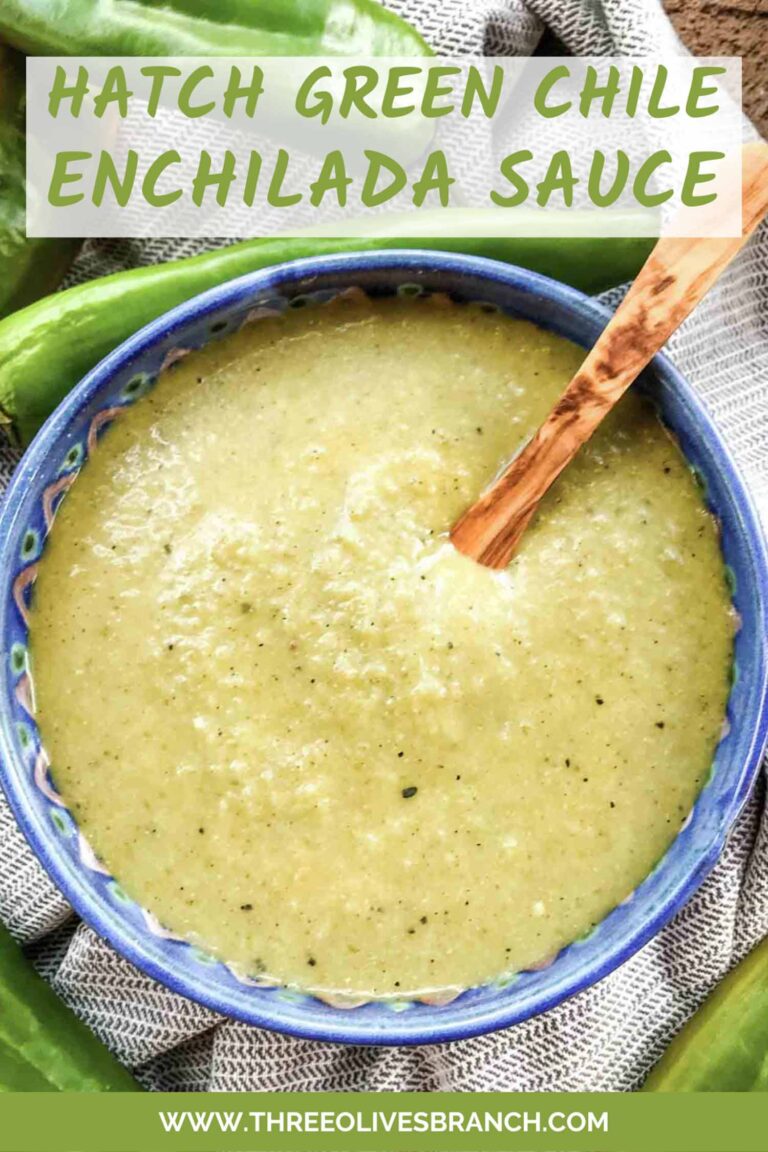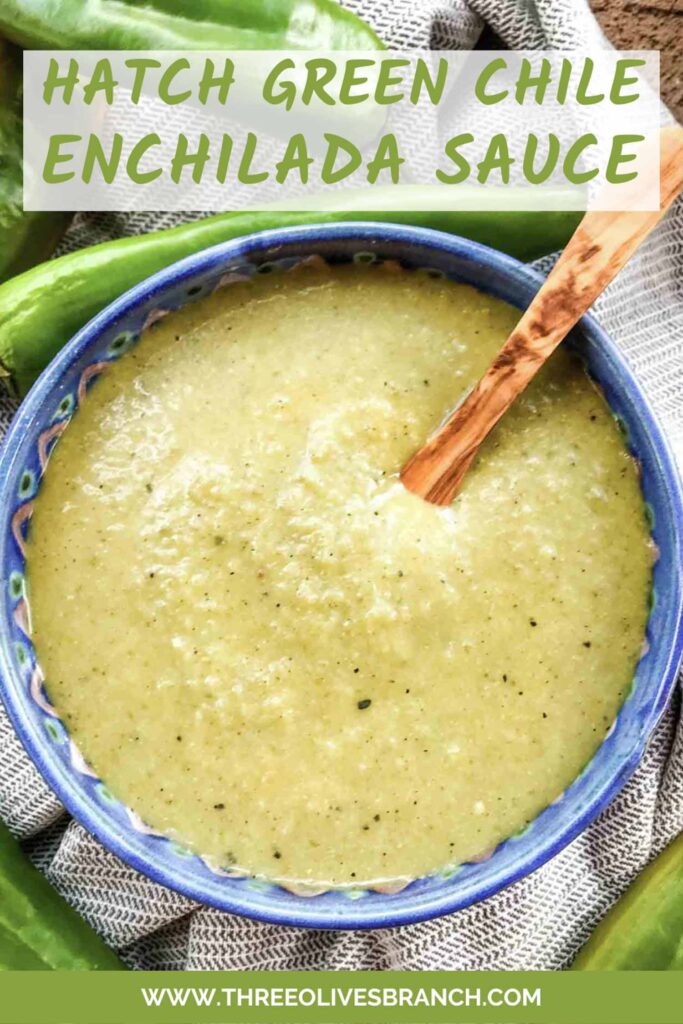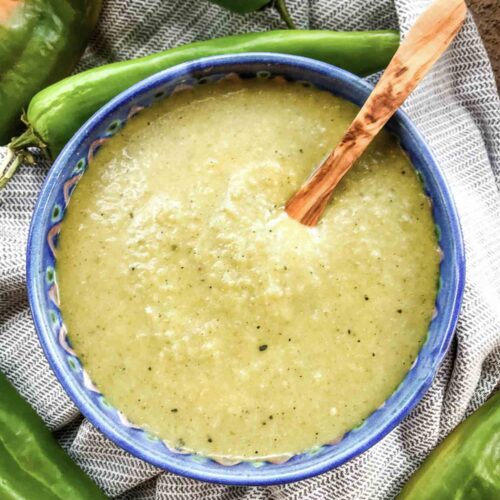 Hatch Chile Green Sauce for Enchiladas
Hatch Chile Green Sauce for Enchiladas is a delicious simple and easy Mexican sauce recipe. Made with roasted peppers and spices for a quick sauce. Perfect to use on enchiladas or burritos and tacos.
Print
Pin
Rate
Instructions
Heat a medium pot over medium heat. Add 1 Tablespoon of oil.

2 Tablespoons vegetable oil

When the oil is hot, add the onion and jalapeno. Sautee until onion is translucent, 3-5 minutes.

½ cup yellow onion,

1 jalapeno

Add the garlic, green chiles, cumin, salt, and oregano. Cook until fragrant, approximately 1 minute.

4 cloves garlic,

8 ounces diced green chiles,

1 teaspoon cumin,

1 teaspoon salt,

½ teaspoon dried oregano

Transfer the green chile and onion mixture to a blender. Add the stock. Blend until smooth.

In the pot, heat the remaining 1 Tablespoon of oil. Add the flour and stir to combine.

1 ½ Tablespoons flour,

2 Tablespoons vegetable oil

Add the green chile mixture back into the pot. Stir and cook 3-5 minutes until the sauce has slightly thickened.
Notes
This could be done with an immersion blender as well. Simply add the flour to the onions in step 3 when you add the garlic etc. Then add the stock, blend, and then simmer. But I do find that a blender gives me a smoother texture than an immersion blender.
You can skip the flour, but I like the thickness it brings to the sauce. It can also be swapped for 3/4 Tablespoon of cornstarch to make it gluten free.
The sauce will taste a little spicy on its own, which mellows out when you add it to enchiladas etc. Adjust the heat as desired up or down.
Nutrition
Serving:
1
cup (2/3 recipe)
|
Calories:
268
kcal
|
Carbohydrates:
24
g
|
Protein:
3
g
|
Fat:
19
g
|
Saturated Fat:
15
g
|
Polyunsaturated Fat:
1
g
|
Monounsaturated Fat:
2
g
|
Sodium:
2512
mg
|
Potassium:
458
mg
|
Fiber:
3
g
|
Sugar:
8
g
|
Vitamin A:
808
IU
|
Vitamin C:
32
mg
|
Calcium:
100
mg
|
Iron:
3
mg
Enchilada Recipes
By