Homemade Green Bean Casserole with Fresh Green Beans is a comforting side dish recipe for your holiday table! A classic recipe for Thanksgiving, Christmas, or Easter. Crisp beans cooked in a mushroom creamy sauce topped with fried onions.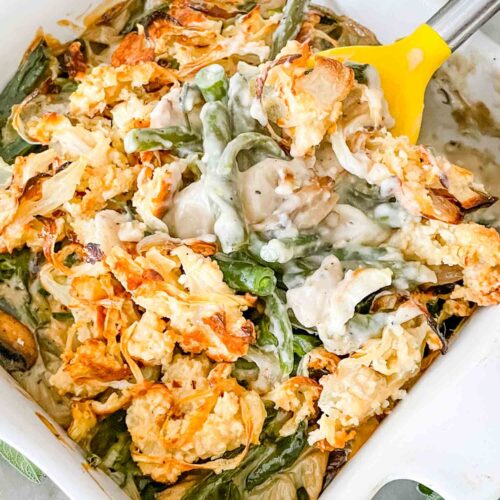 Green Bean Casserole with Fresh Green Beans and a homemade creamy mushroom sauce offers a delightful twist on the traditional dish. It's a comforting and flavorful side that's sure to be a hit at your holiday table.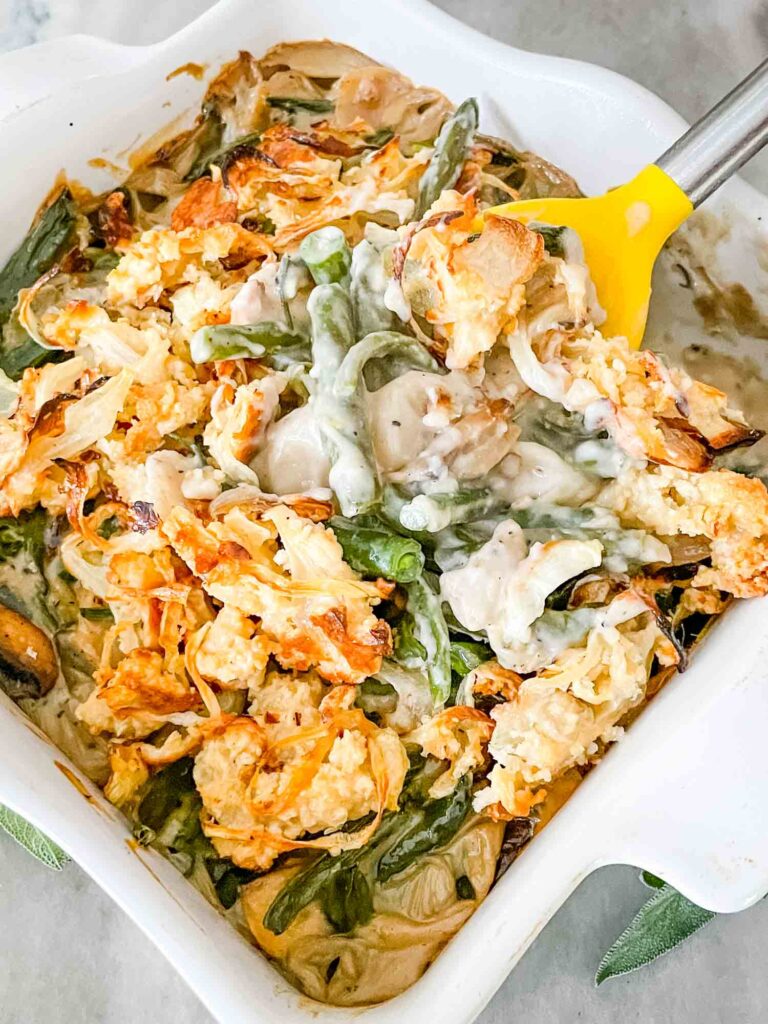 Why You Will Love This Recipe
Green Bean Casserole is a classic American dish often served during holidays and family gatherings.
Using fresh green beans instead of canned ones can enhance the flavor and texture of the dish.
Canned green beans can be overly soft and salty. By using fresh green beans, we get a bright and fresh flavor with a firmer, crisp and tender texture.
I have always been a fan of Green Bean Casserole at Thanksgiving, but am not a fan of canned cream soups.
One year I decided to make this green bean casserole from scratch and it was AMAZING!
I was hooked and have made it this way ever since!
It makes the perfect side dish recipe for our roasted Thanksgiving turkey with an Italian herb butter and your entire Thanksgiving dinner table. It is also perfect for other holidays like Christmas and Easter!
See above the recipe card at the end of those post for a collection of our Thanksgiving recipes!
Ingredients
These are the ingredients you need for homemade green bean casserole. Full quantities and recipe steps can be found below in the recipe card.
Fresh Green Beans – frozen are your next best option if you cannot find or get fresh
Mushrooms – I like to use white button or crimini
Sliced Water Chestnuts – I LOVE this addition because they bring moisture and texture, but you can skip this if desired.
Yellow Onion – or white onion
Milk
Vegetable Stock – or chicken stock if it does not need to be vegetarian
Panko Breadcrumbs – these are preferred over plain breadcrumbs because they will bring extra texture without being too heavy
Flour – See the Modifications and Substitutions section below if you want to make this a gluten free green bean casserole.
Garlic
Ground Nutmeg
Butter
Salt
Black Pepper
While this recipe makes the onion topping from scratch, you can absolutely use store bought fried onions like the traditional version of this side dish instead.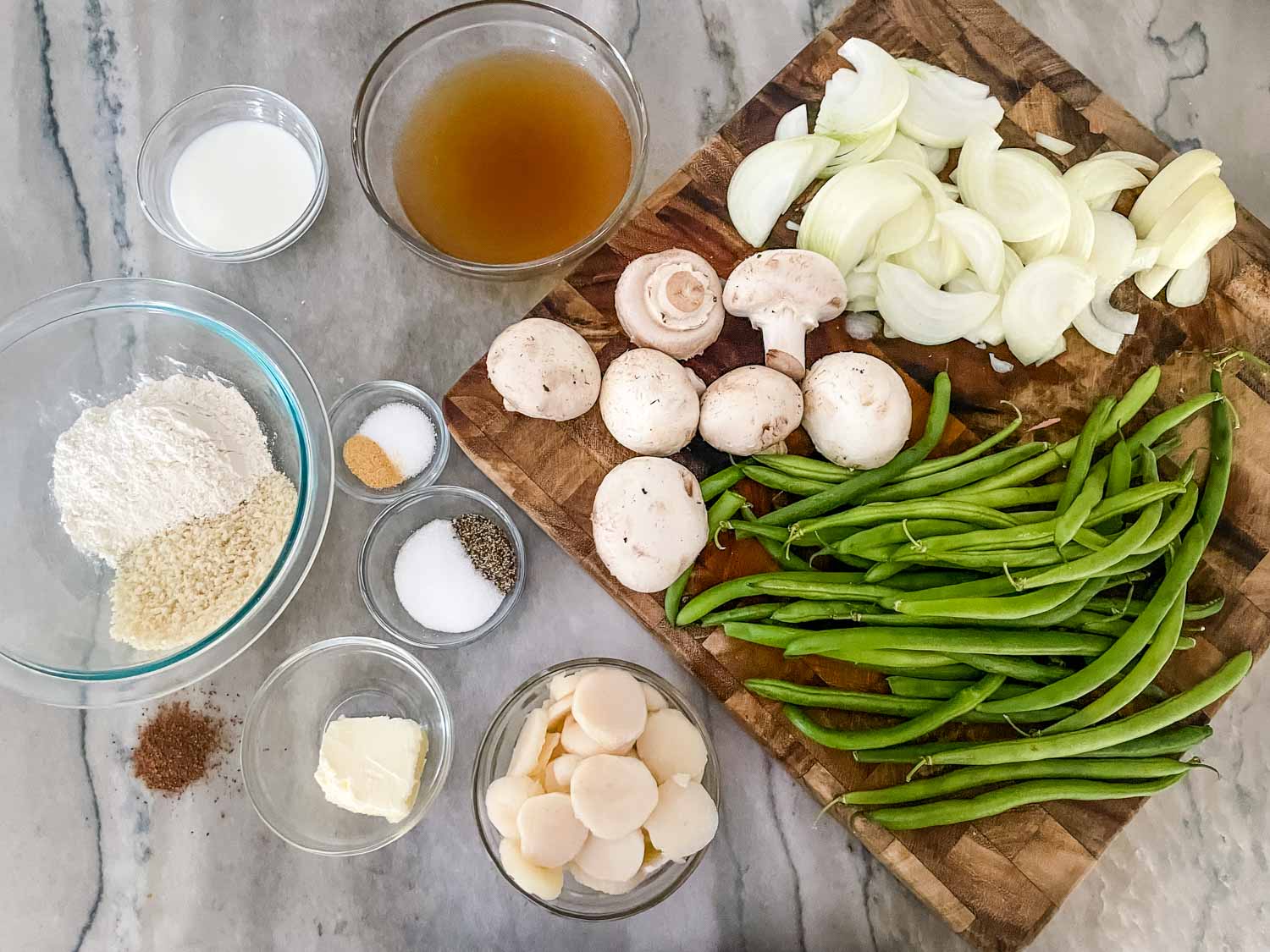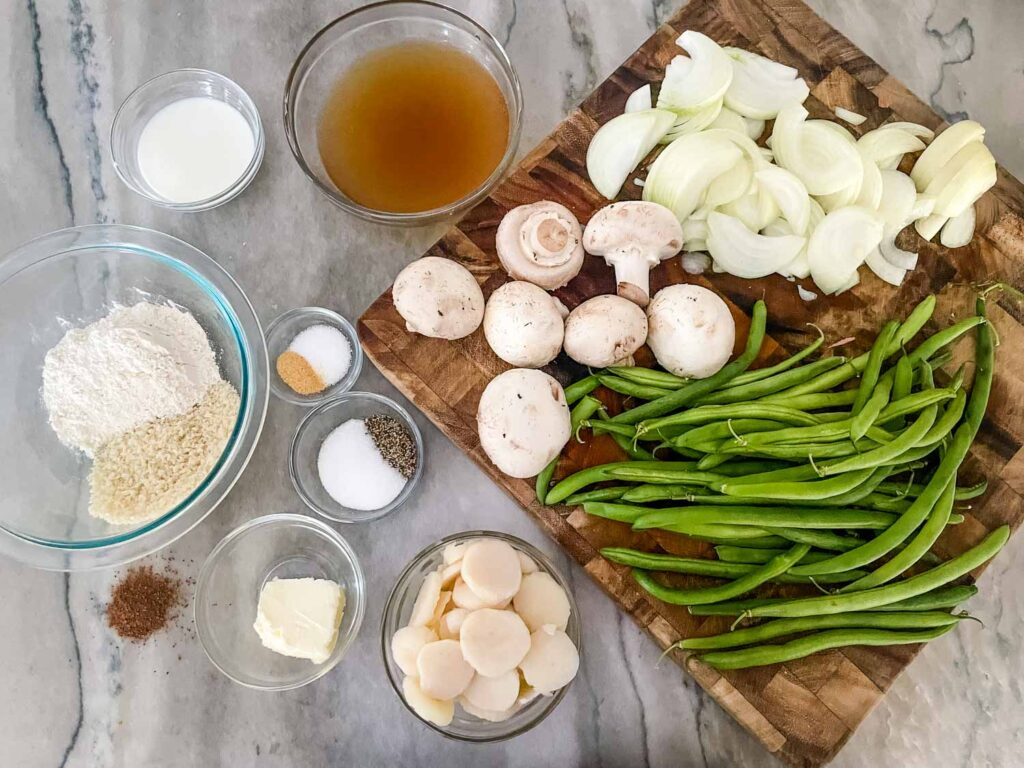 Instruction Overview
Here is a summary of the steps you need to take for this homemade green bean casserole recipe. Find full instructions and details in the recipe card below.
Cut the onions and toss with the topping ingredients.
Add more milk if needed to get the mixture to stick to the onions, but you do not want it to be too gloopy or else you will end up with chunks of breadcrumbs.
The onions will not be perfectly completely coated, and will look something like this: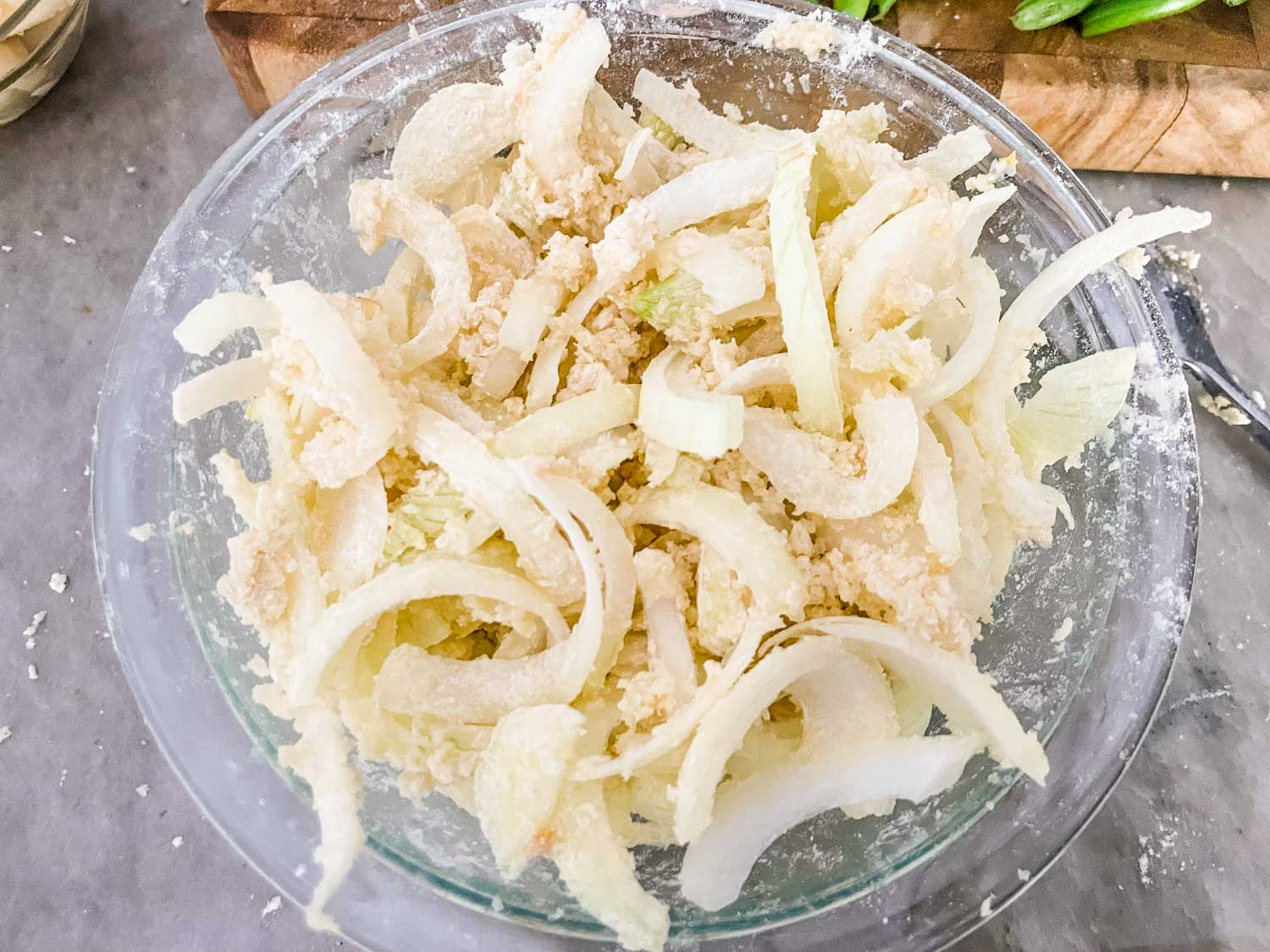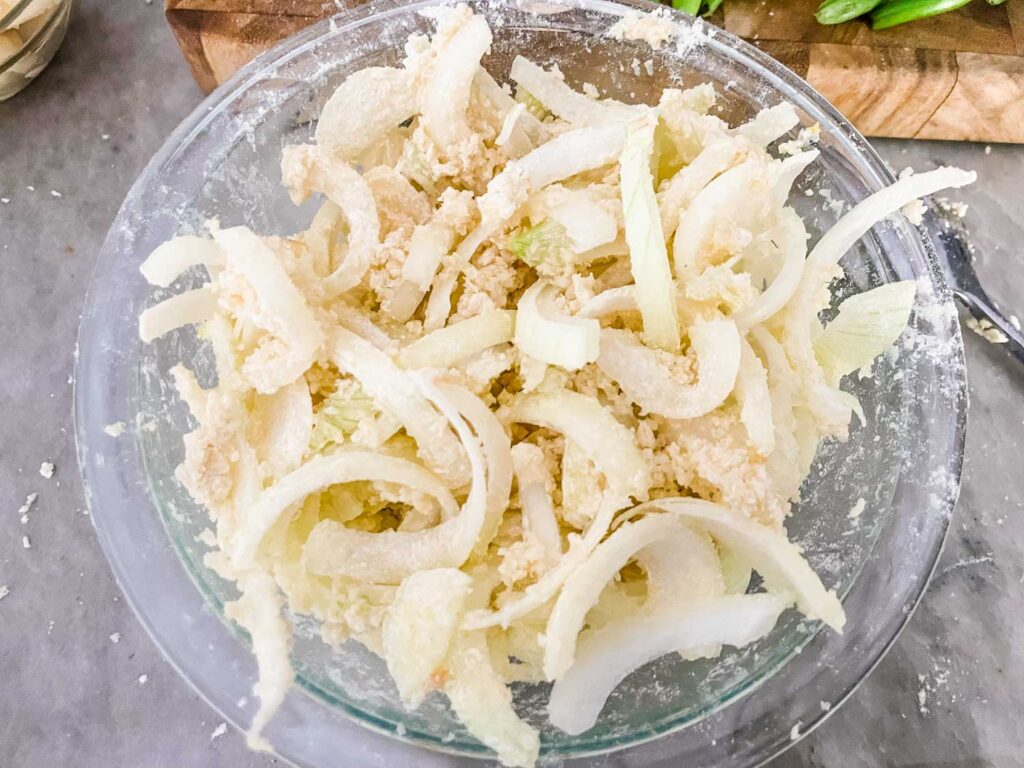 Cook the mushrooms down until they are releasing liquid.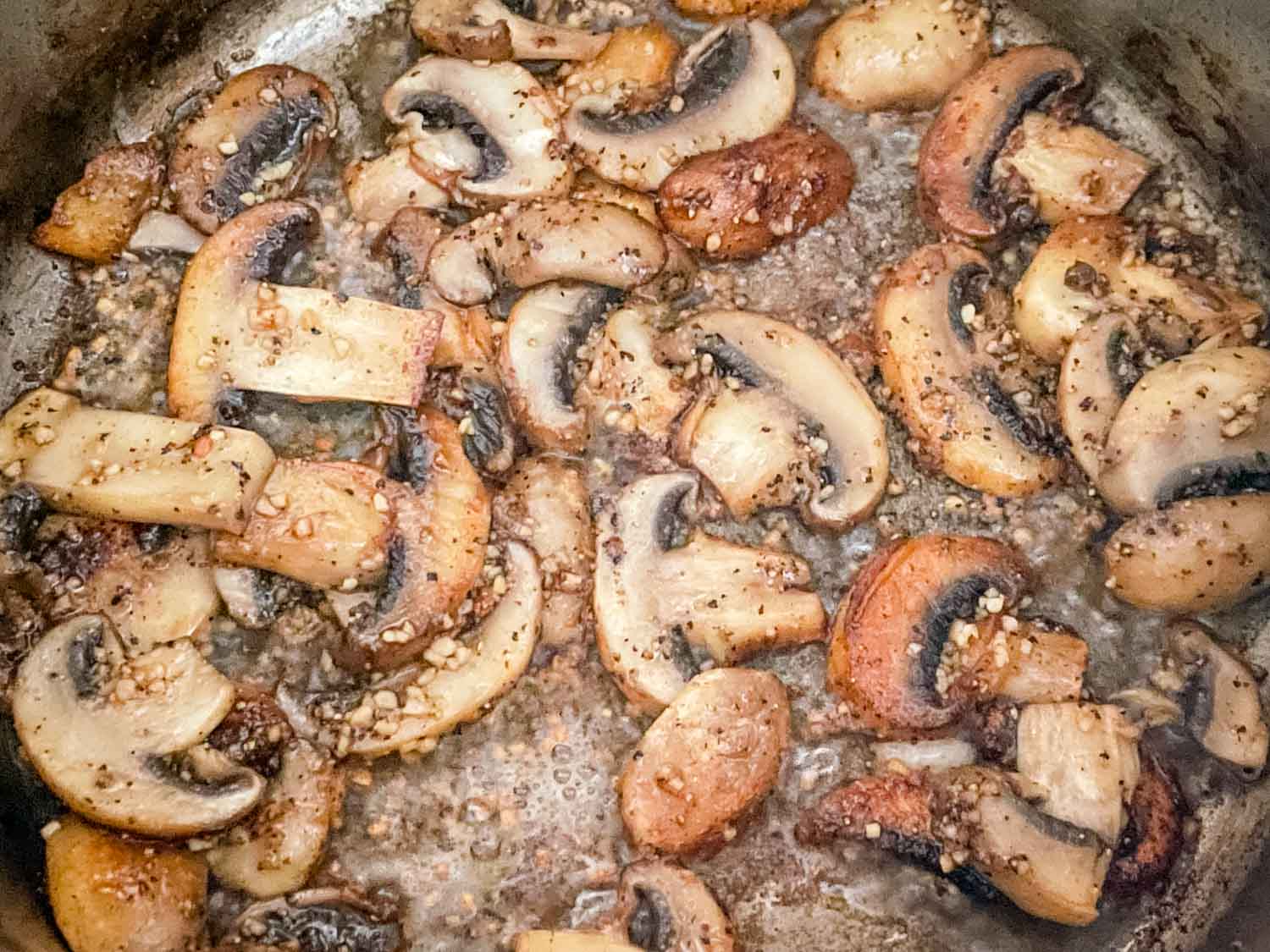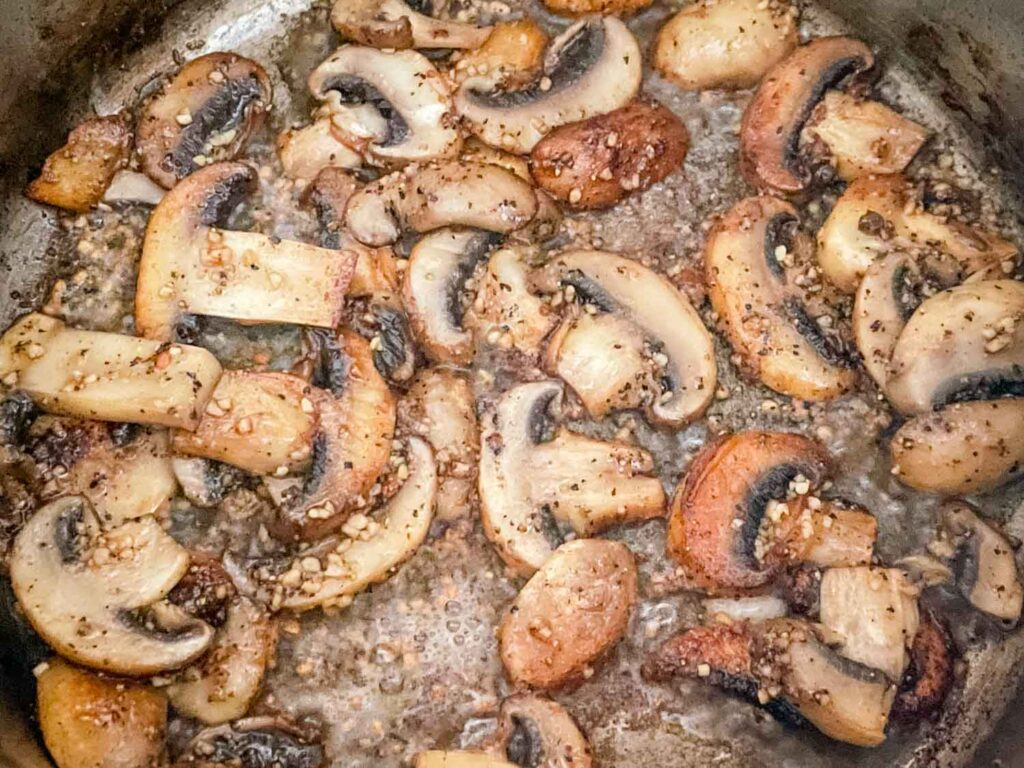 Add flour and the spices and briefly cook.
Add the stock and milk and cook until the sauce is thickened.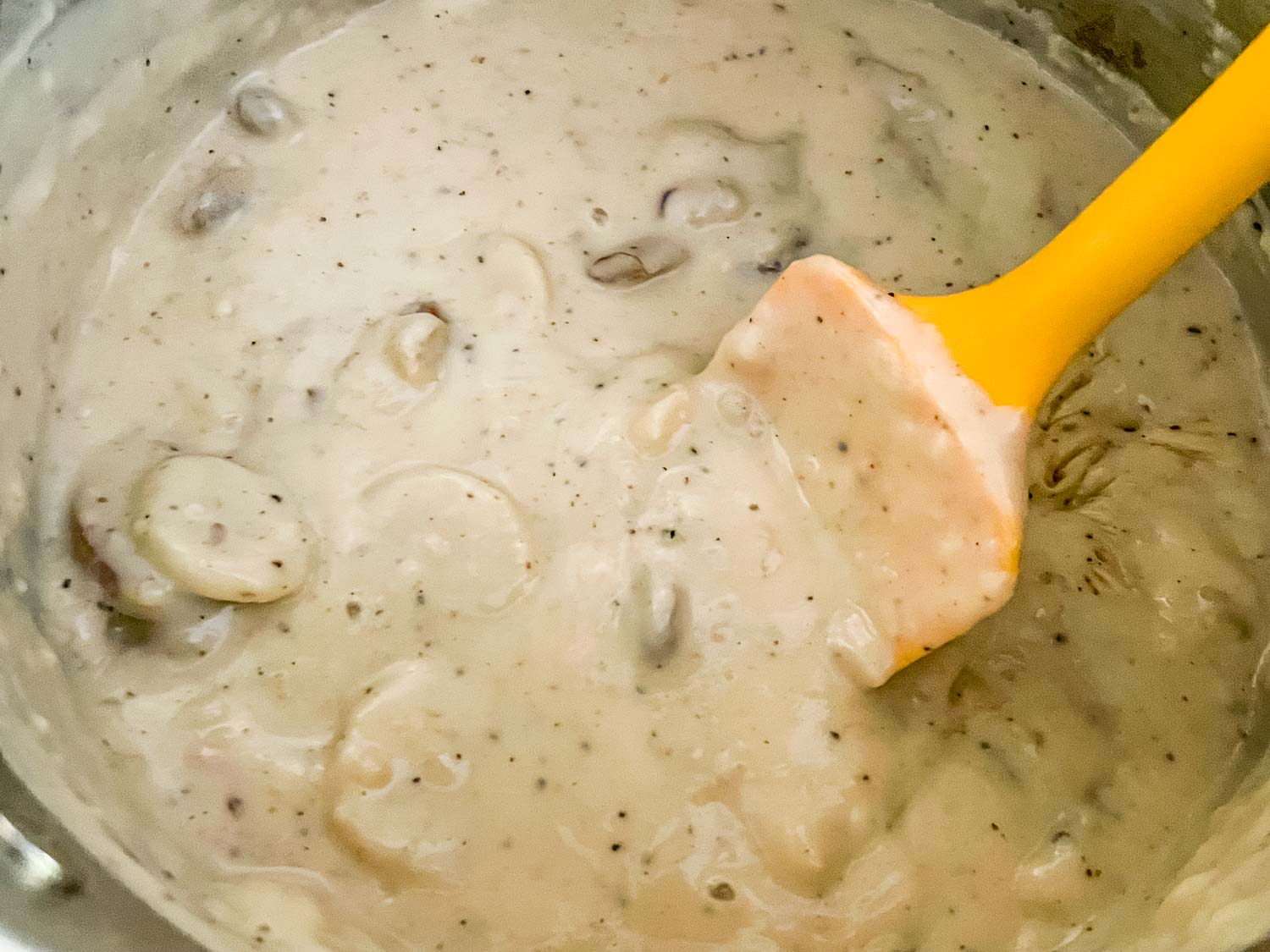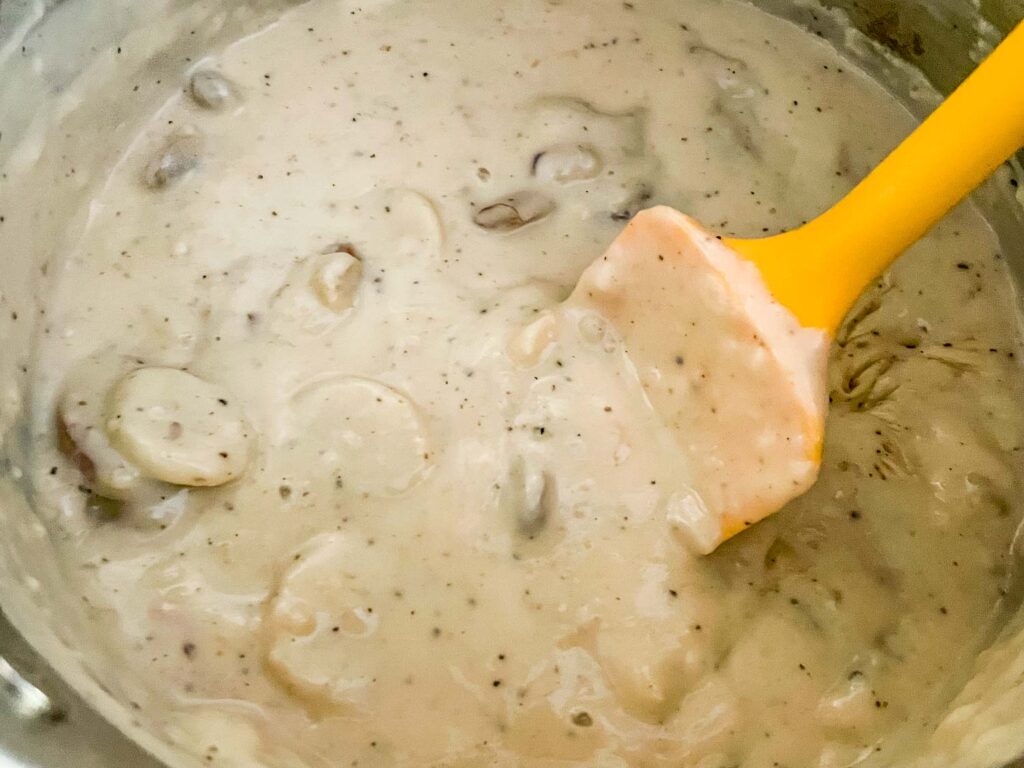 Trim the green beans – this can take some time! It is a great task for kitchen helpers, or a great task to do in advance.
Cut the beans into pieces about 2 inches long, or your desired size.
Cook the green beans in hot boiling water until just cooked and still crisp, approximately 3-5 minutes.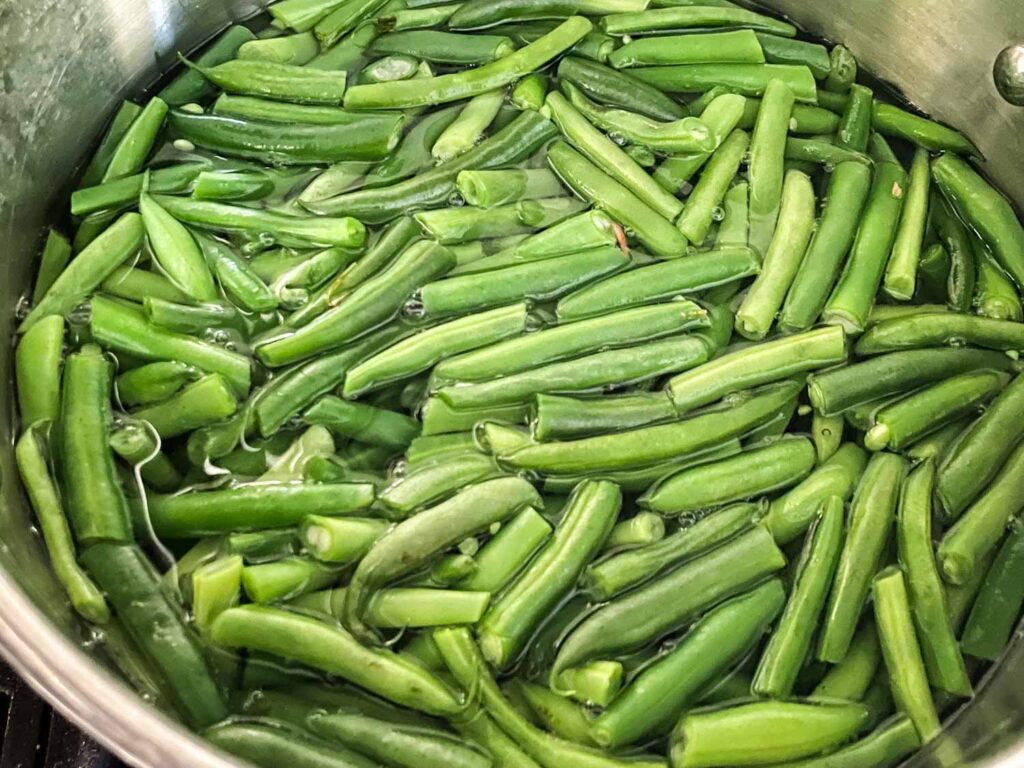 Immediately cool off the green beans by draining and putting in ice water to stop the cooking process.
Drain the beans and combine with the water chestnuts (if using) and the mushroom sauce. Toss to coat and pour into a baking dish.
When ready to serve, put the cooked onions across the top of the green bean casserole.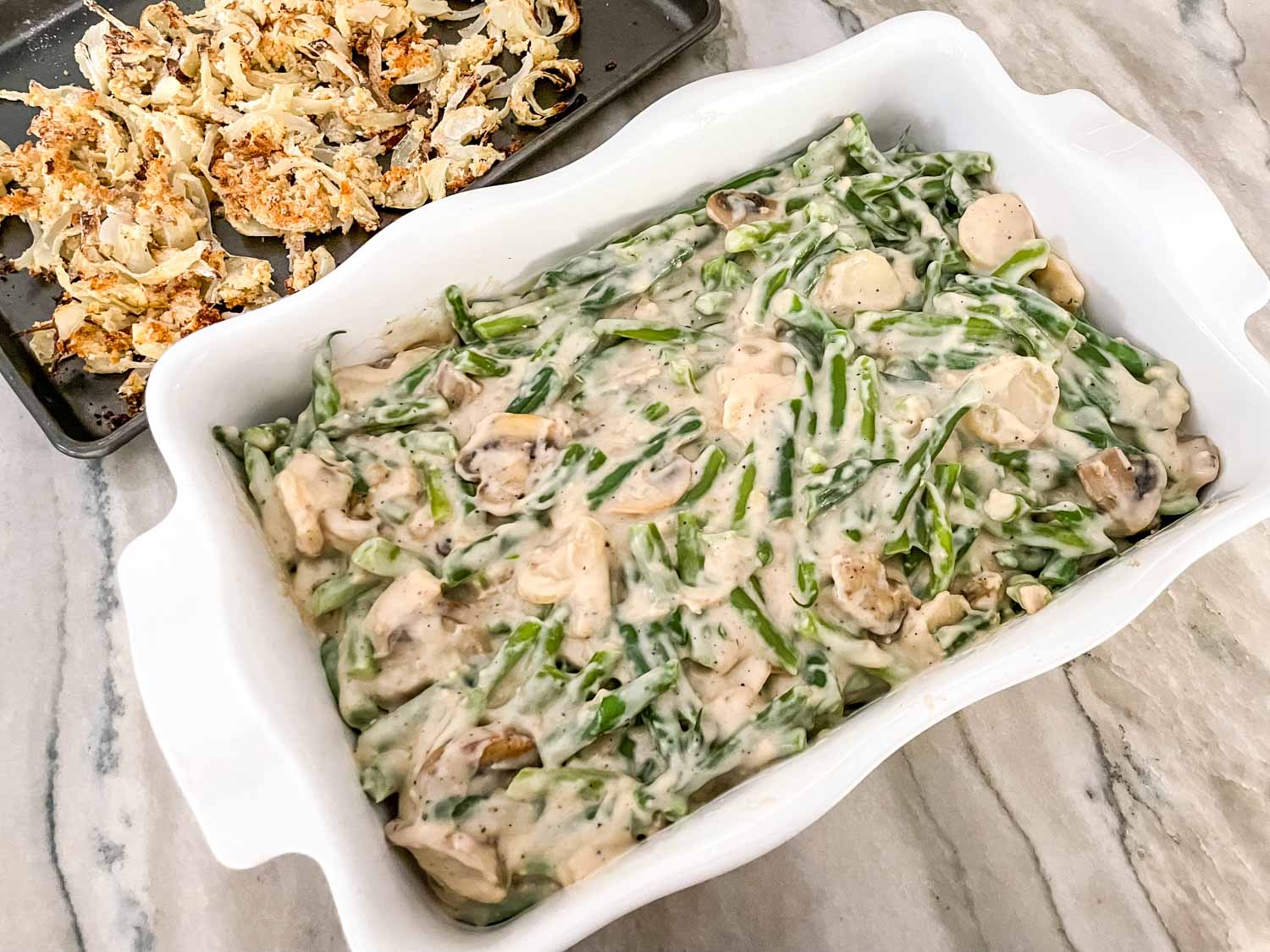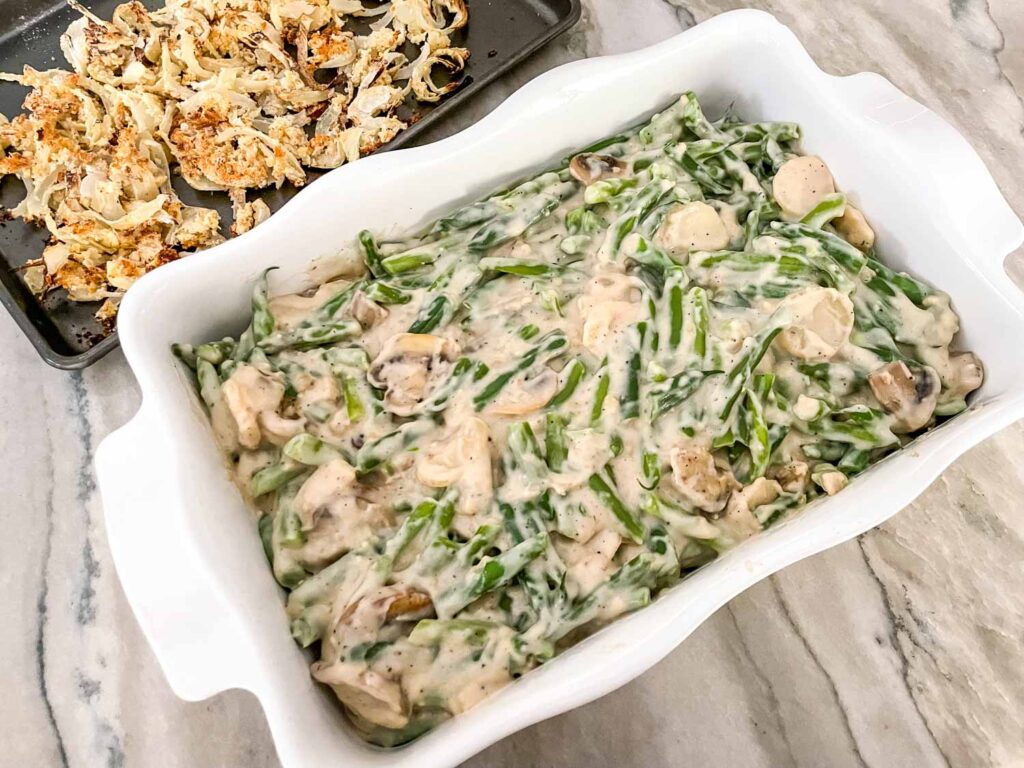 Bake until warmed through, approximately 10-15 minutes. If you chilled the bean casserole, it will take longer to cook and bring up to a warm temperature.
FAQs
Can I make green bean casserole in advance?
Yes! You can complete any of the steps up to putting the onions on top and baking in advance.
If you refrigerate, chill the onions separately so they do not absorb the sauce.
Are canned or fresh green beans better for casserole?
Fresh green beans are best. Canned beans are very soft and filled with a salty canning liquid. The fresh beans are much crisper, fresher, and have a better texture.
Do fresh green beans need to be soaked before cooking?
No. Simply add them to boiling water after trimming and cutting.
How do you keep green bean casserole from getting mushy?
Do not overcook your green beans in the boiling water. They should only cook for 3-5 minutes and then be put in an ice bath to stop the cooking process.
Should green bean casserole be soupy before cooking?
It will not be soupy, but it will be saucy. The sauce will already be slightly thickened from cooking on the stove and will get a little thicker in the oven.
Can I use fresh green beans instead of frozen?
Fresh green beans and frozen green beans are a great swap for each other as neither are cooked and still have a fresh taste.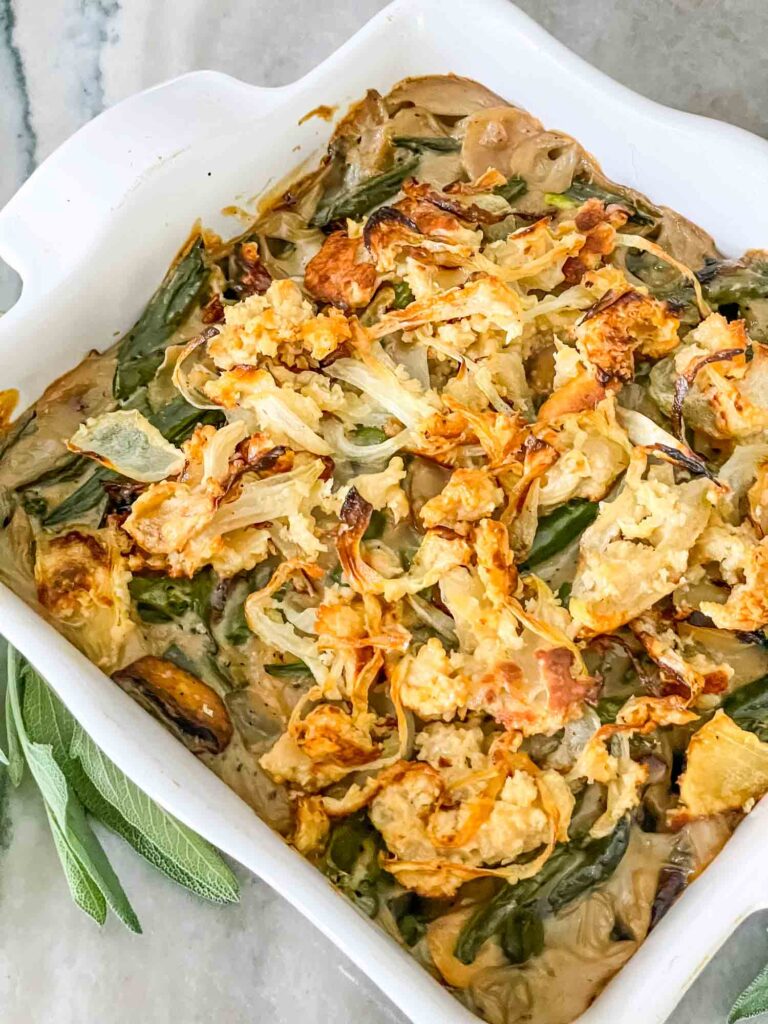 Modifications and Substitutions
Make this a gluten free green bean casserole by substituting the flour in the sauce with 2.5 Tablespoons of cornstarch instead. And either use a gluten free fried onion for the topping, or replace the onion flour and breadcrumbs with cornstarch to coat.
Do not like water chestnuts? Skip them!
Frozen green beans are a great swap for fresh if needed. They will still have a fresh bean flavor.
You can use store bought fried onion topping instead of making your own, and still make the bean casserole from scratch!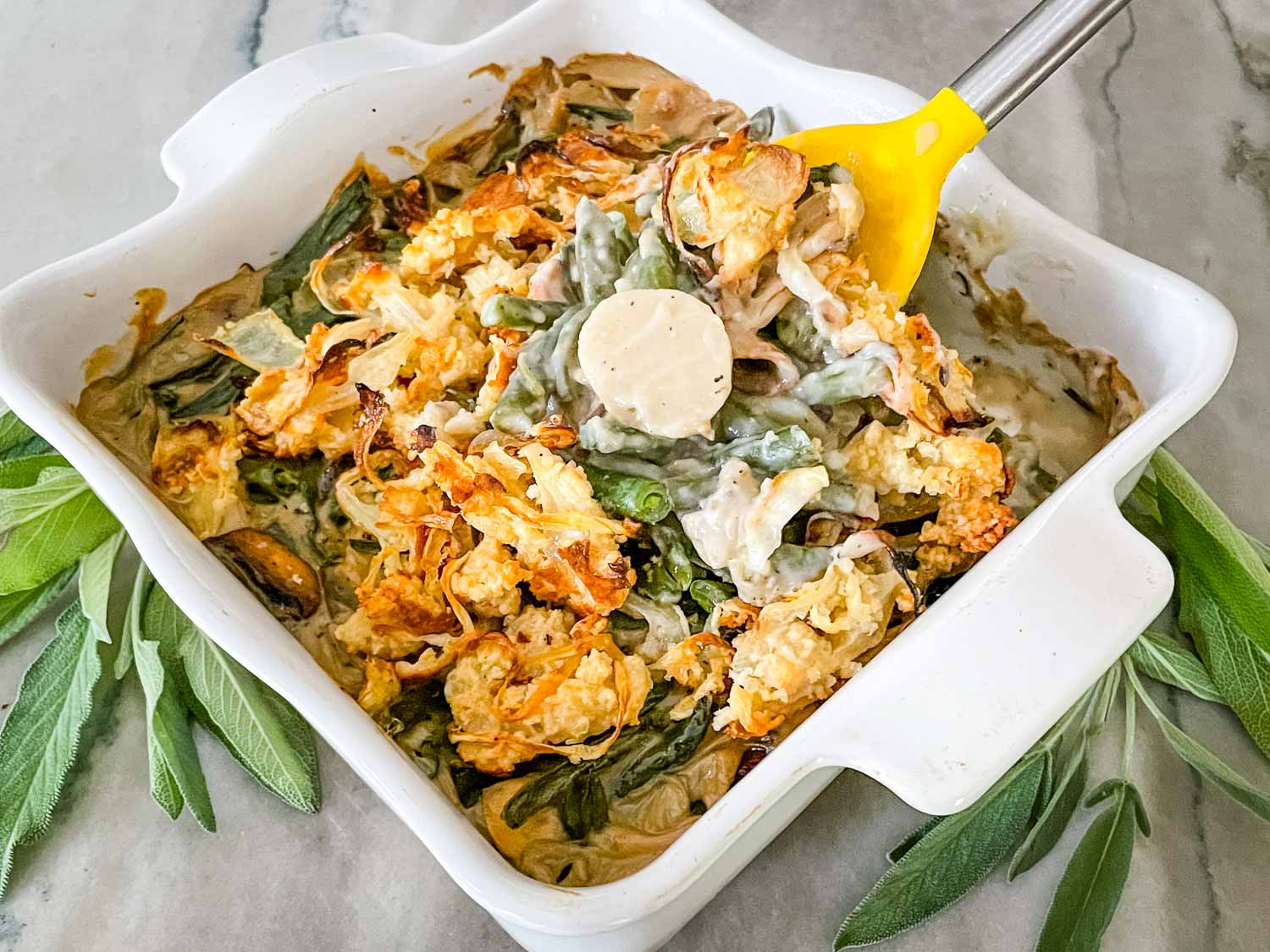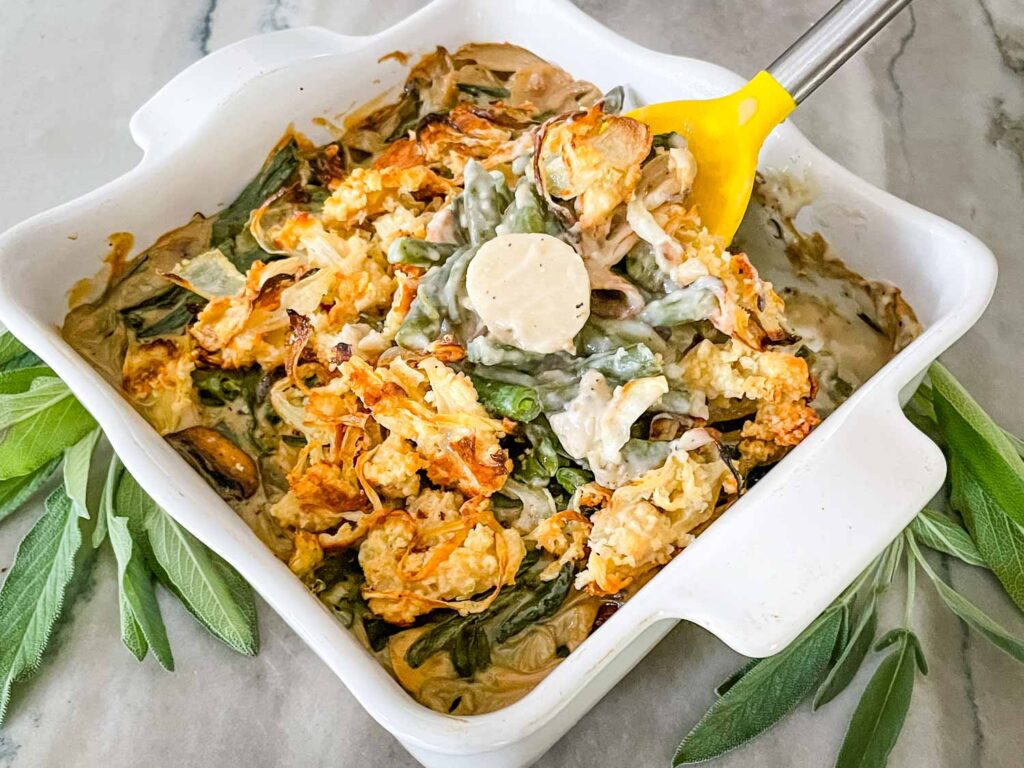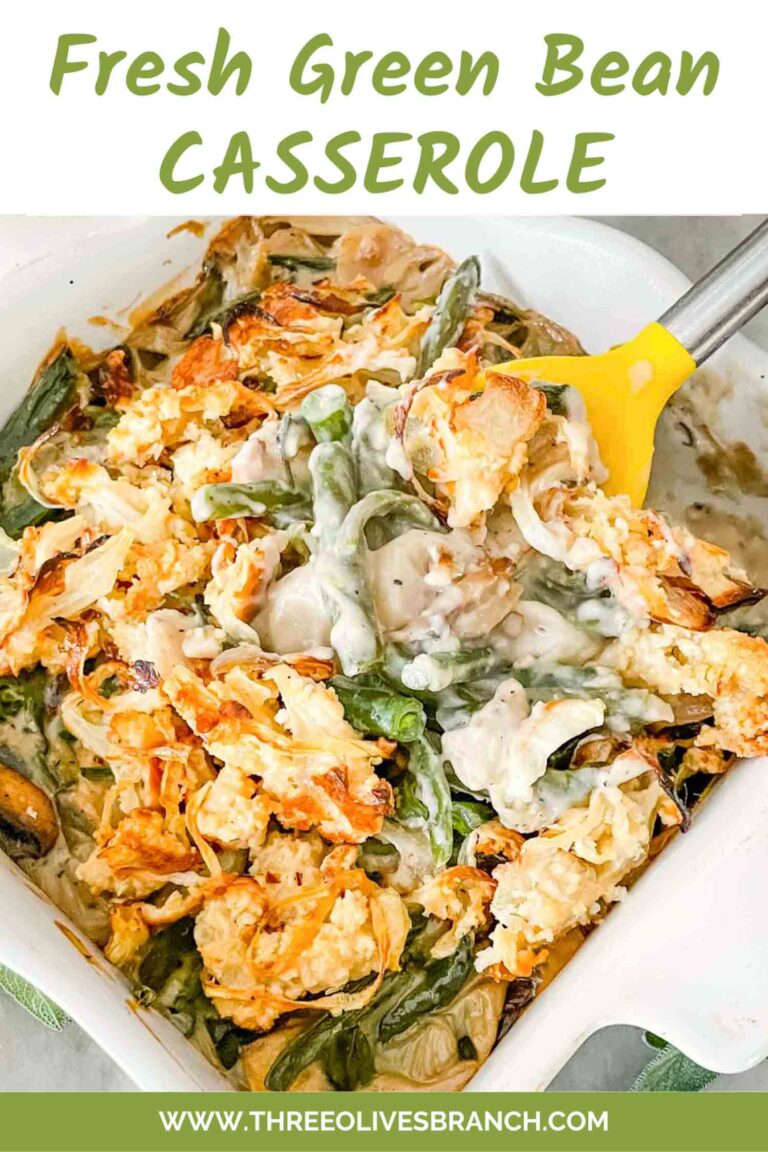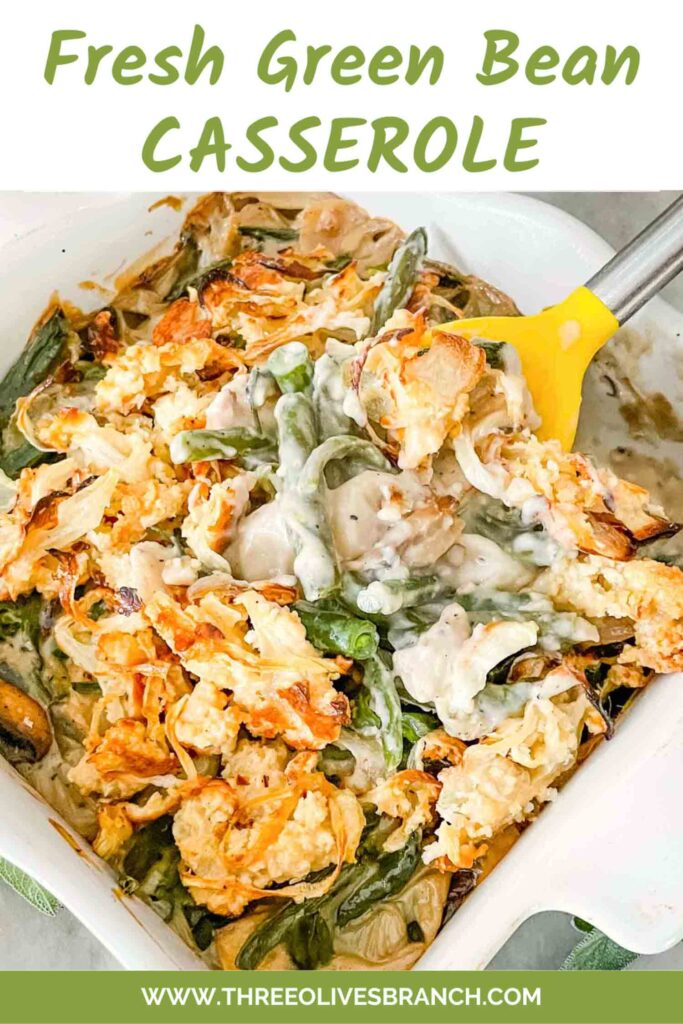 More Thanksgiving Recipes
Thanksgiving Recipes
Delicious recipes for Thanksgiving!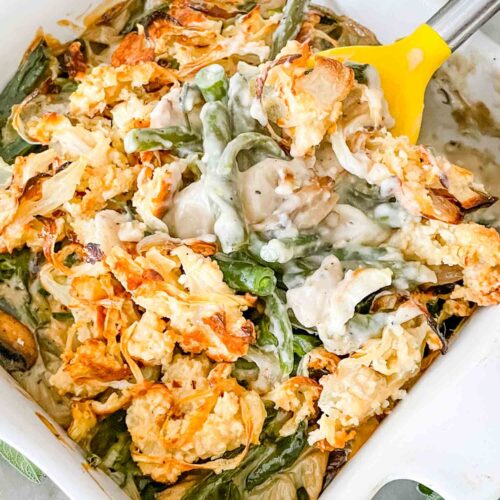 Green Bean Casserole with Fresh Green Beans
Homemade Green Bean Casserole with Fresh Green Beans is a comforting side dish recipe for your holiday table! A classic recipe for Thanksgiving, Christmas, or Easter. Crisp beans cooked in a mushroom creamy sauce topped with fried onions.
Print
Pin
Rate
Equipment
Baking dish

square for small batch or 9×11 inch for double batch
Instructions
Prepare the fried onion topping. Preheat the oven to 475℉. Slice the onion thinly. Place onion in a small bowl.

Add the remaining fried onion topping ingredients and toss to combine. Use as much milk as is necessary for it to just stick together. The onions will not be fully, completely covered which is fine.

¼ cup panko breadcrumbs,

¼ cup all-purpose flour,

¼ teaspoon garlic powder,

½ teaspoon salt,

2 Tablespoons milk

Spread the dredged onion out on a silicone baking mat lined baking sheet. Bake until just golden brown, approximately 20-30 minutes. Toss the onions at least once during baking to toast all sides. When done, set aside.

While the onions are cooking, prepare the green beans. Bring a large pot of water to a boil over high heat.

Trim the beans and cut into 1-2 inch long pieces. (This takes some time and is a great thing to prep in advance!)

Add the green beans to the boiling water and cook until just blanched, 5 minutes. Remove the beans from the hot water. Immediately drain the beans and put them in a large bowl of ice water to stop the cooking process. Set aside.

Make the sauce. In a large skillet, melt the butter over medium high heat. Add the mushrooms, salt, and black pepper. Stir to combine and cook until the mushrooms just start to release some liquid, approximately 3-5 minutes.

2 Tablespoons unsalted butter,

8 ounces mushrooms,

1 teaspoon salt,

½ teaspoon black pepper

Add the garlic cloves and nutmeg. Stir and cook another 1 minute until fragrant.

4 cloves garlic,

¼ teaspoon ground nutmeg

Sprinkle the flour on top of the mushrooms and stir to combine. Cook for one minute to slightly toast the flour.

Add the vegetable stock and cook for one minute. Reduce the heat to medium low and add the milk. Cook until the sauce has slightly thickened, approximately 5 minutes.

1 cup vegetable stock,

1 cup milk

Remove the sauce from the heat and add the water chestnuts.

4 ounces sliced water chestnuts

Add the green beans to the sauce and stir. Season the sauce to taste as needed with salt or pepper.

When ready to serve, heat oven to 400℉. Place the green bean mixture in a casserole dish. Top with the fried onions. Bake until bubbling, approximately 10-15 minutes. Serve immediately. (If your casserole is cold from being made in advance, it will take 10-15 minutes longer to cook to heat through).
Notes
The onions and casserole can be made in advance, then add the onion on top and resume from step 10 when ready to serve.
This recipe is easily doubled in a 9×11 sized baking dish – perfect for a holiday!
You will get 4 larger or 6 smaller serving sizes. Consider how much people will eat of this particular dish, how much else you are making, and how many leftovers you want! I always double this recipe for 8-10 people.
Nutrition
Serving:

1

serving (1/6)

|

Calories:

178

kcal

|

Carbohydrates:

27

g

|

Protein:

6

g

|

Fat:

6

g

|

Saturated Fat:

3

g

|

Polyunsaturated Fat:

0.5

g

|

Monounsaturated Fat:

1

g

|

Trans Fat:

0.2

g

|

Cholesterol:

16

mg

|

Sodium:

785

mg

|

Potassium:

451

mg

|

Fiber:

4

g

|

Sugar:

8

g

|

Vitamin A:

797

IU

|

Vitamin C:

13

mg

|

Calcium:

105

mg

|

Iron:

2

mg

By