Halloween Jello Cauldrons are a fun Halloween dessert recipe! Spooky body parts like brains, fingers, eyeballs, and bones float in a witches cauldron of gelatin. A fun kid dessert for a party!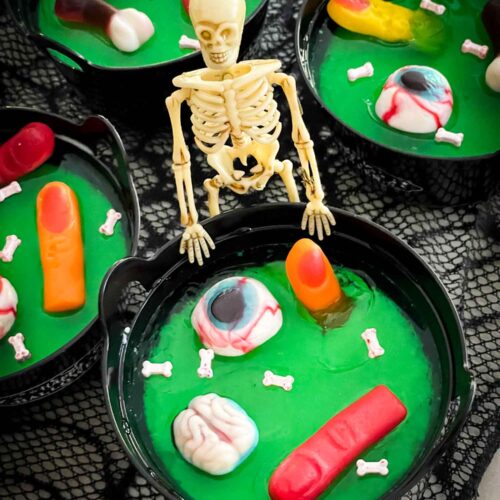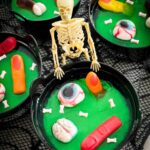 Bring some spooky fun to your Halloween party with these Halloween Jello Cauldrons! These witches cauldrons are full of fingers, eyes, bones, and brains.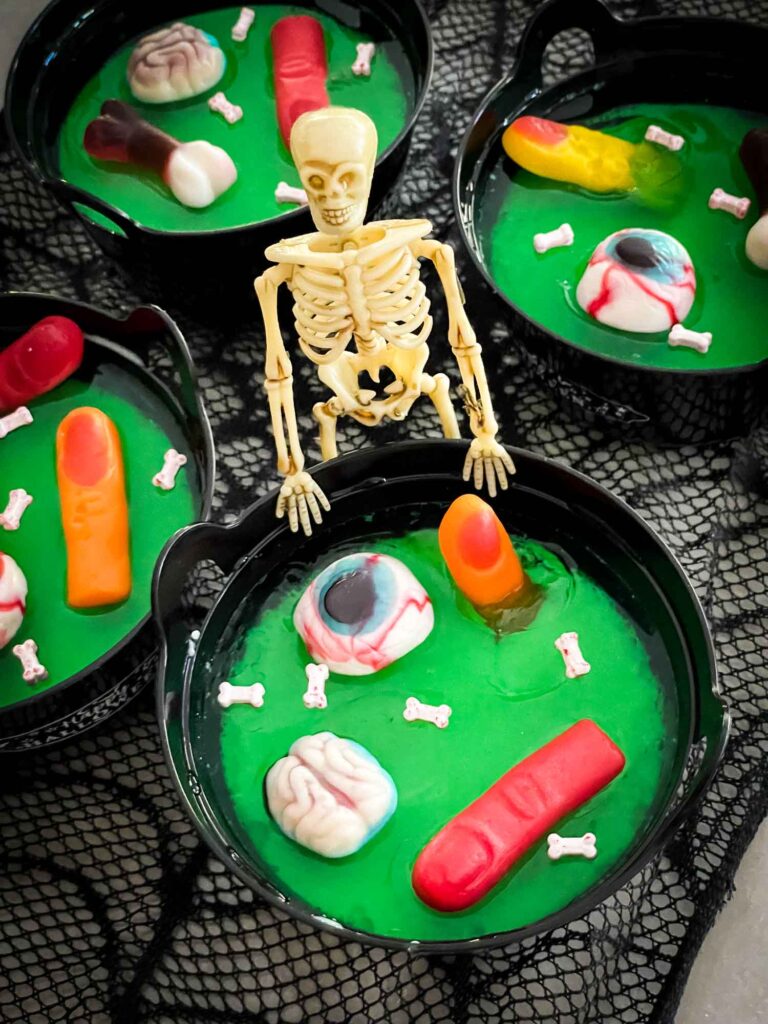 Why You Will Love This Recipe
This witch cauldron dessert full of scary body parts is a great Halloween dessert recipe for your party!
I made these as a treat for my niece and nephews for Halloween after a night of Trick or Treating and they were a huge hit!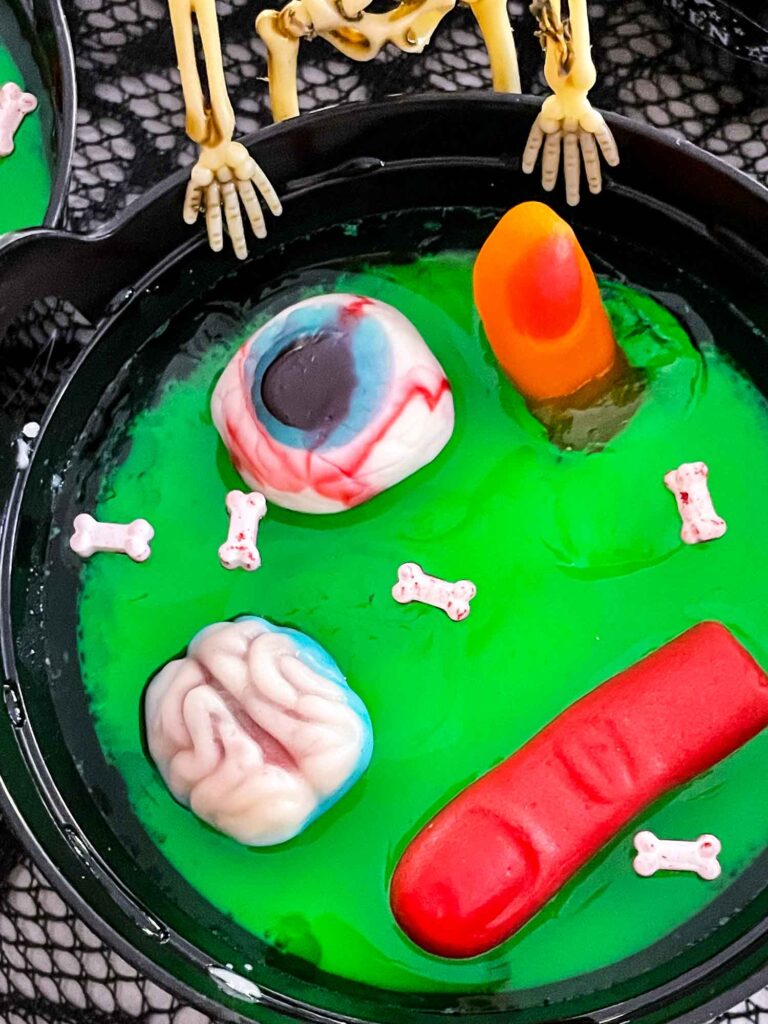 Ingredients
These are the ingredients you need to make this Halloween Jello:
Lime Jello
Sweetened Condensed Milk
Water
Equipment
This is the equipment you need to make these Halloween desserts:
Small Pot
Measuring Cups
Spatula
Can Opener
Small Bowls (2)
Cauldrons for Serving
Instruction Overview
First boil some water with the unflavored gelatin.
Then add the sweetened condensed milk to it.
Pour it into your cauldrons, about half way, and chill until firm, at least 2 hours.
They boil more water and dissolve the lime gelatin in it.
Pour the green into each cauldron on top of the white layer.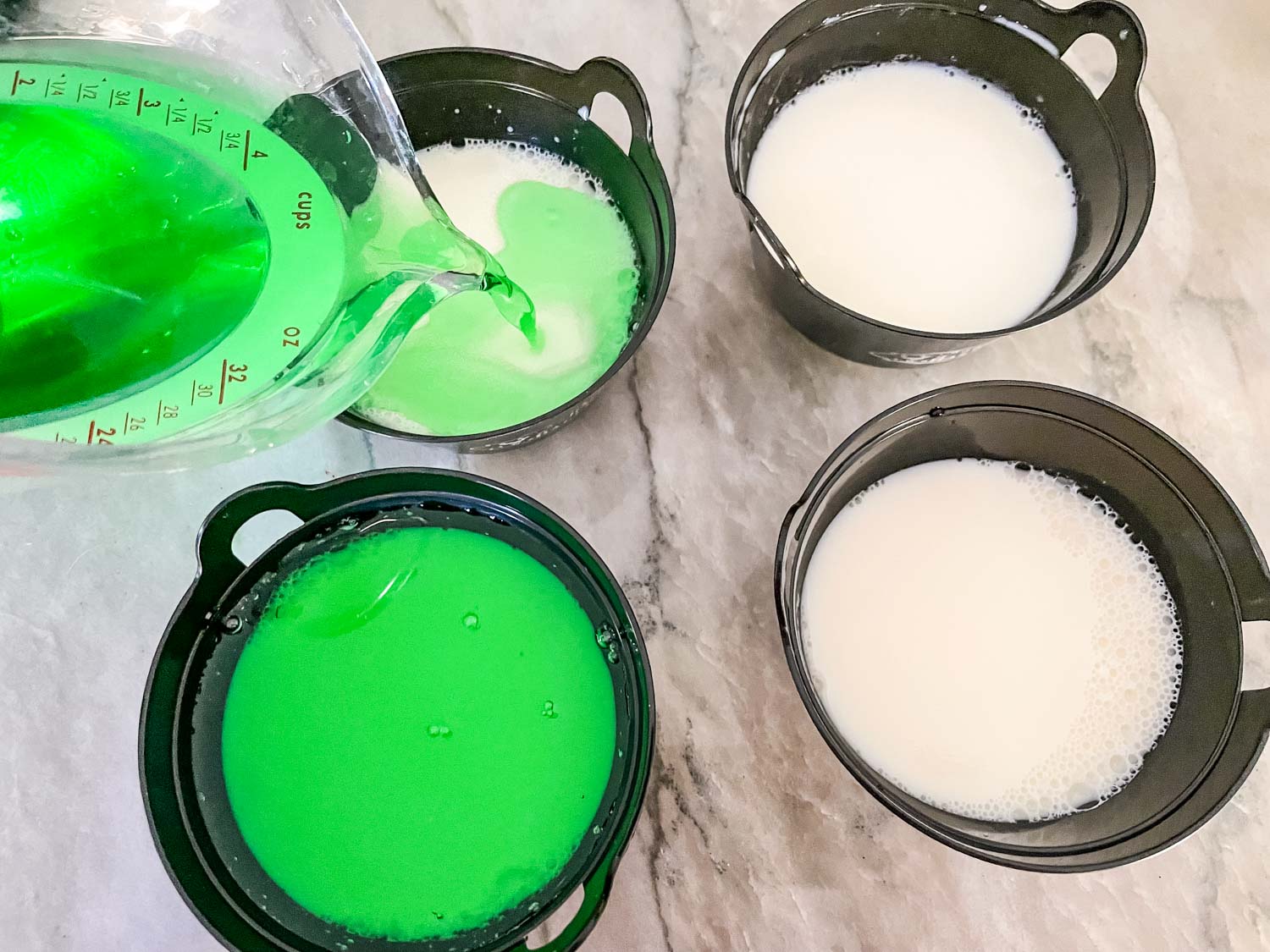 Chill again, at least another 2 hours, until ready to serve.
For serving, add your gummy body parts into each cauldron and add some sprinkles if you want!
Modifications and Substitutions
Use any flavor Jello that you like. Green is perfect for a witch cauldron, but orange and purple are also great ideas!
You can also put a body part or two on top of the white layer before adding the green to give it the effect of fingers floating inside the liquid.
Kim's Tips
The sprinkles and gummy body parts will bleed if left too long in the Jello from the moisture. I recommend only adding them when you are ready to serve them up.
I found these cauldrons at my local dollar store close to the holiday season. You can use any size cauldron, it will just change your quantity of separate servings.
The white layer is important so that you can tell they are green. Without it, it just looks black and is hard to see the color.
FAQs
How many does this make?
It will depend on how large the cauldrons you use are. I got these 4 large cauldrons out of one batch.
Smaller, cupcake size silicone cauldrons would give you close to 8 total.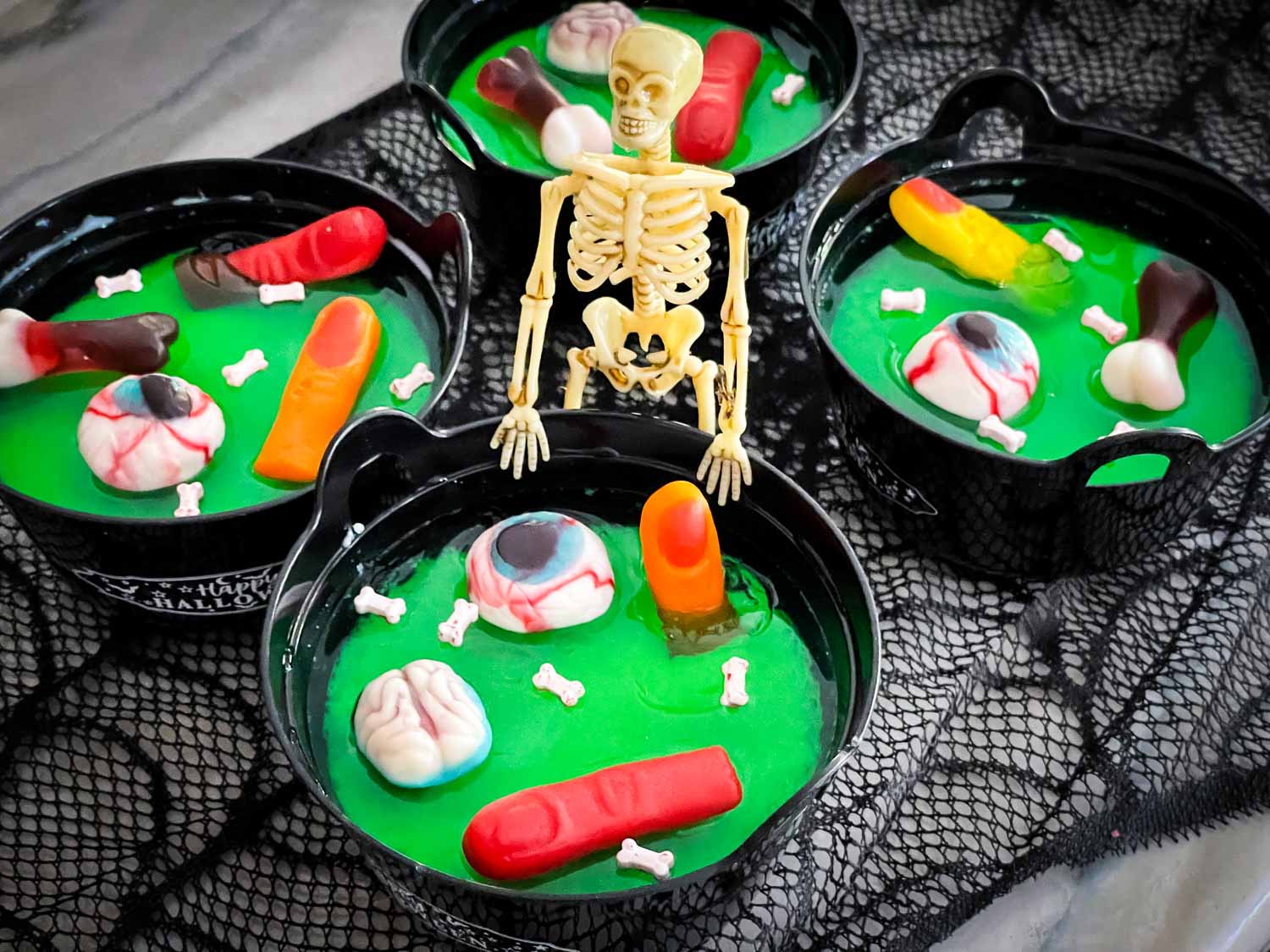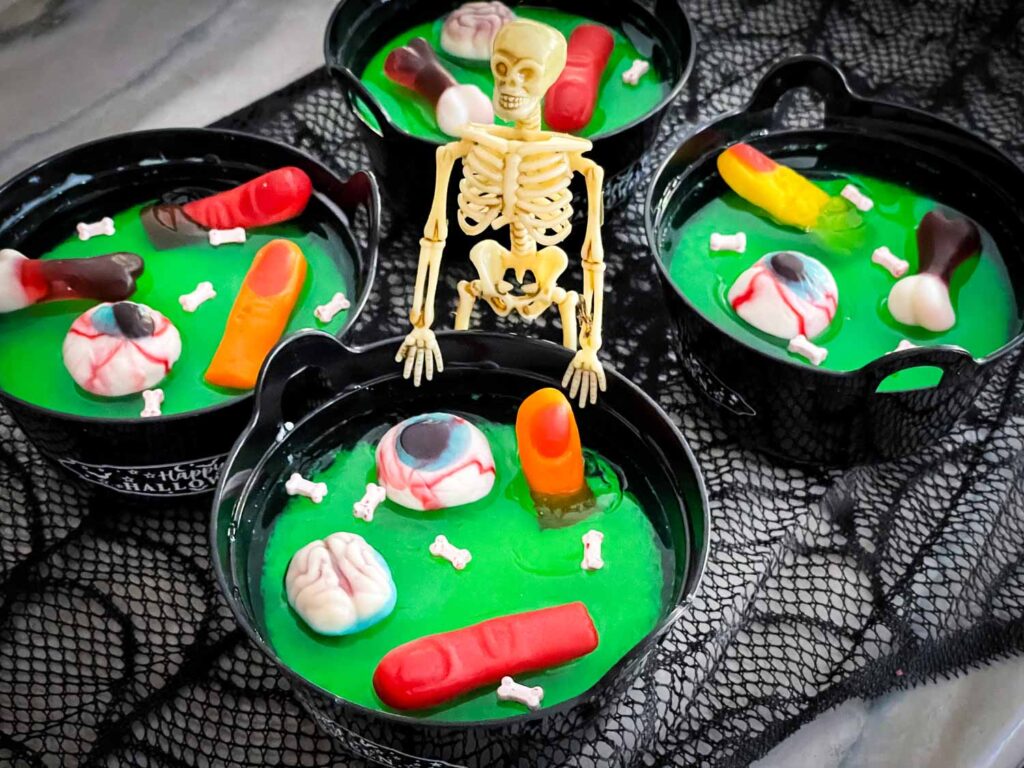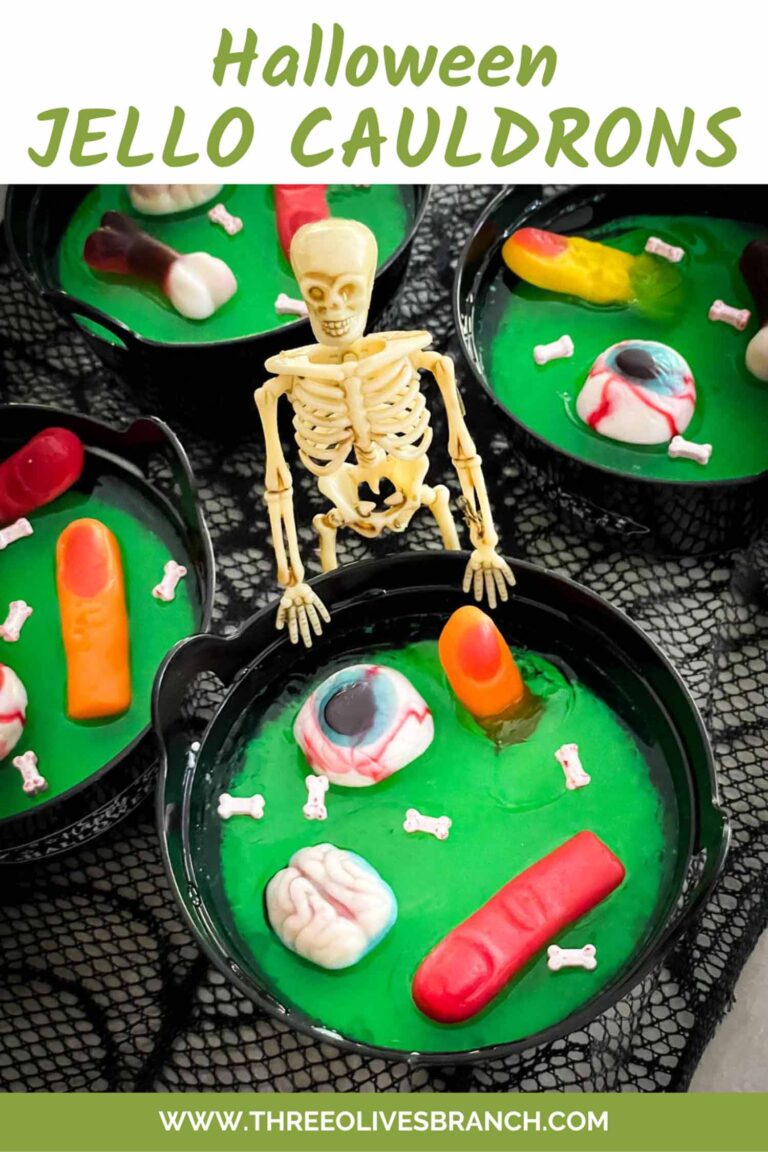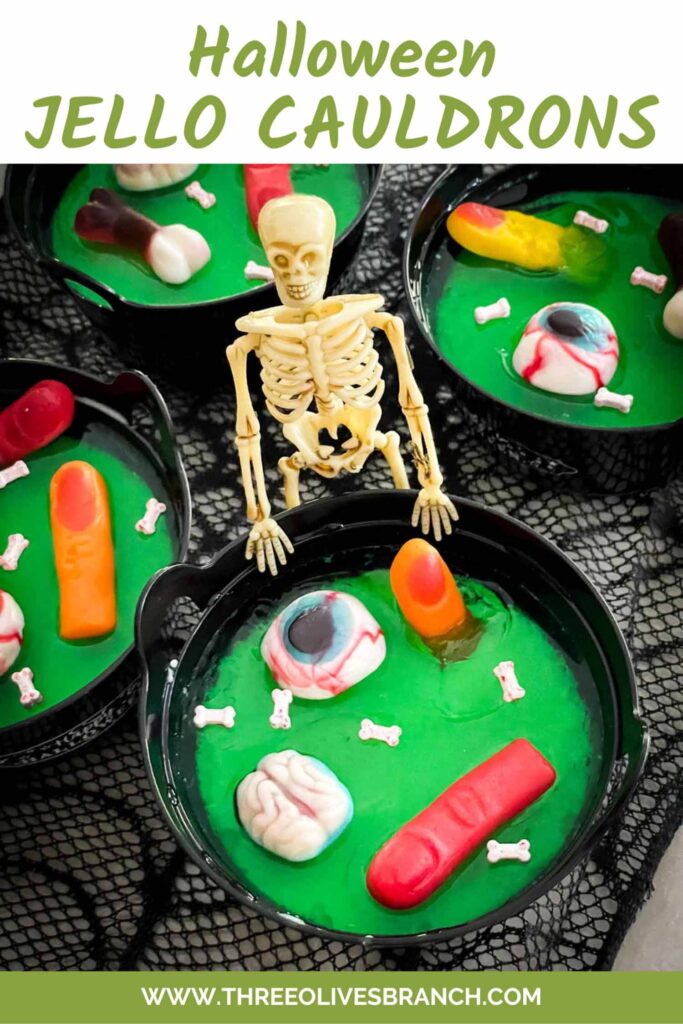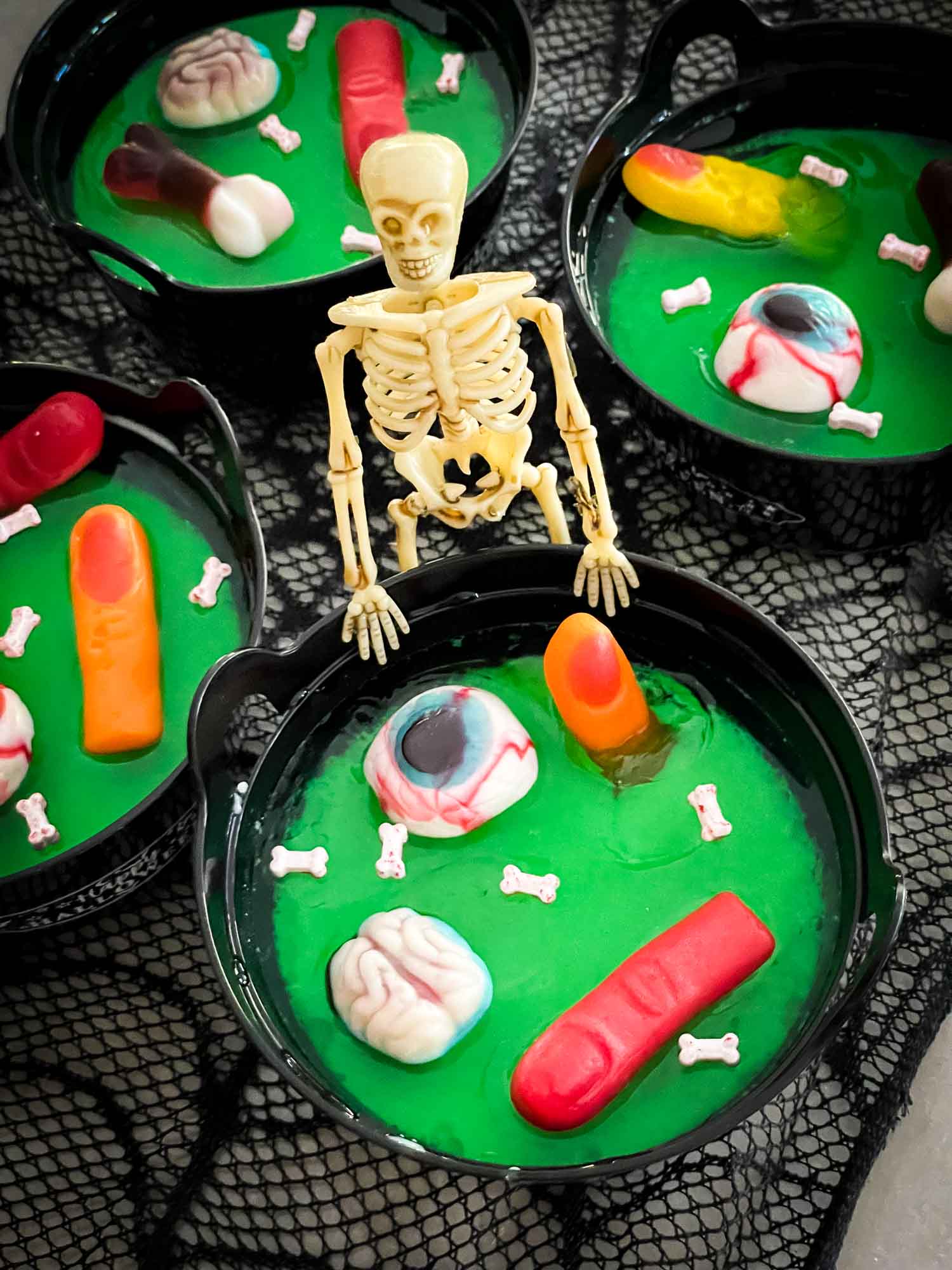 Servings:
8
small cauldrons
Instructions
Add 2 cups of water to a small sauce pot and sprinkle the plain gelatin over the water. Let sit to soak for a couple minutes.

2 envelopes Unflavored Gelatin

Put the pot over low heat and stir constantly until gelatin is dissolved, approximately 5 minutes.

Add the sweetened condensed milk and stir to combine.

7 ounces Sweetened Condensed Milk

Remove from heat and add the white gelatin mixture into the bottom of each cauldron, approximately half way up.

Refrigerate until set, at least two hours.

Bring one cup of water in the small pot to a boil.

Add to the lime gelatin in a small bowl. Stir until dissolved.

Add one cup of cold water to the lime mixture and stir.

Let cool slightly until not hot, but not set. Approximately 10-15 minutes.

Pour the green mixture on top of the white mixture in each cauldron.

Chill again until fully set, at least 2 hours.

When ready to serve, decorate with the gummy body parts and sprinkles as desired.
Notes
The exact quantity of cauldrons made will vary greatly with the exact cauldrons you use. Larger ones like mine that I found at the dollar store gave me 4. Smaller cupcake sized silicone pots will give you about 8 cauldrons.
Nutrition
Serving:
1
serving
|
Calories:
126
kcal
|
Carbohydrates:
23
g
|
Protein:
4
g
|
Fat:
2
g
|
Saturated Fat:
1
g
|
Polyunsaturated Fat:
0.1
g
|
Monounsaturated Fat:
1
g
|
Cholesterol:
8
mg
|
Sodium:
90
mg
|
Potassium:
93
mg
|
Sugar:
23
g
|
Vitamin A:
66
IU
|
Vitamin C:
1
mg
|
Calcium:
75
mg
|
Iron:
0.1
mg
More Halloween Recipes
Halloween Recipes
Celebrate Halloween with these fun holiday recipes!

By