Los Angeles Rams Puppy Chow is a perfect way to cheer for your favorite football team on game day and the Super Bowl! Muddy buddies made with LA Rams colors of navy blue, yellow, and white. A sweet and salty snack that is gluten free Super Bowl recipe.

Cheer for your LA Rams with this Los Angeles Rams Puppy Chow! A twist on classic muddy buddies made in team colors. A great gluten free game day snack!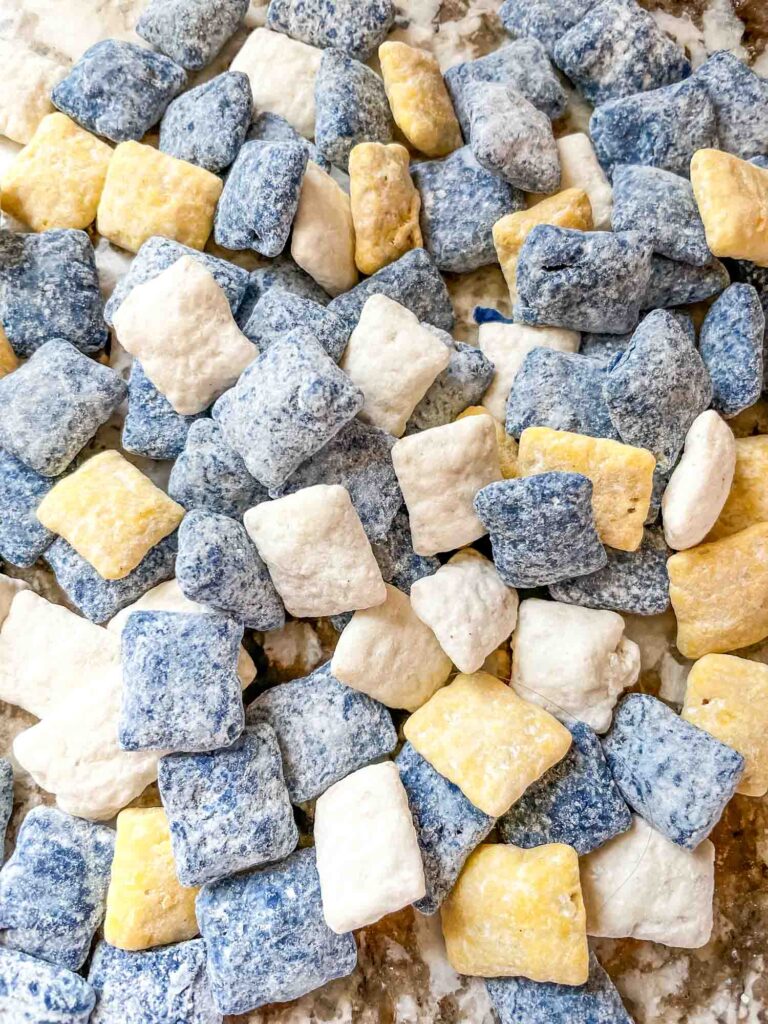 LA Rams Recipe
I just love making fun recipes for watching football at home.
This colored puppy chow is perfect for game day and the Super Bowl!
Turn Chex cereal into a sweet and salty snack that represents your team pride!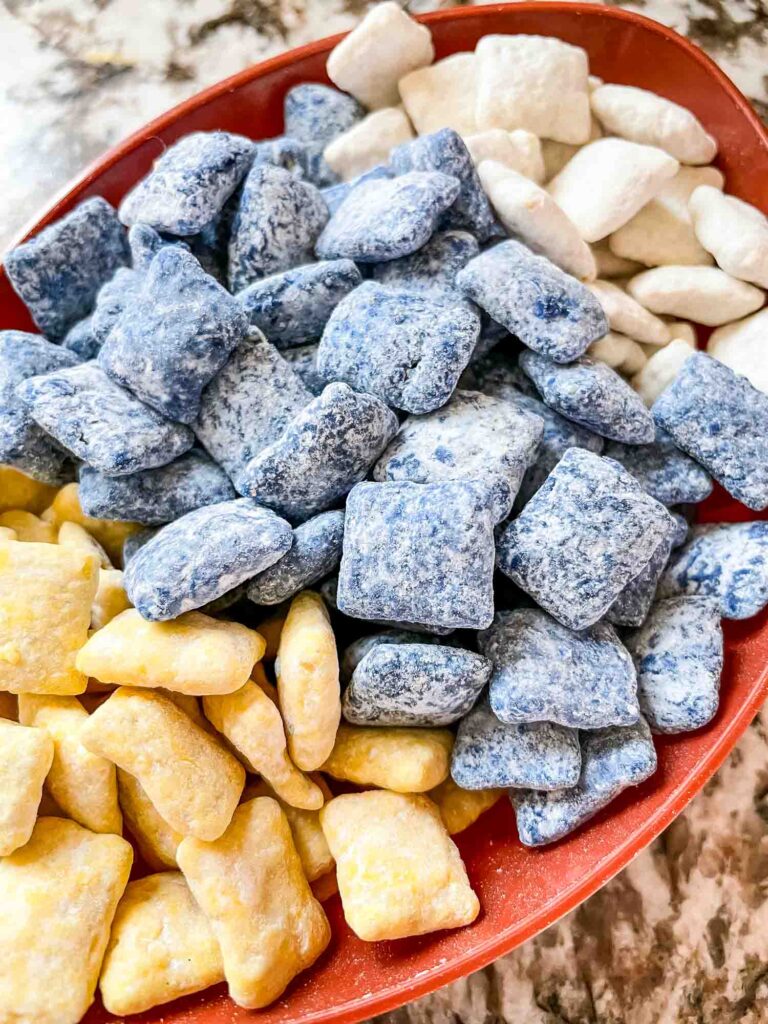 Colored Puppy Chow Ingredients
This is what you will need to make the puppy chow:
Chex cereal

(the plain cereal, not the flavored snack – any flavor/grain is fine but I like to use Rice because it is a light flavor and gluten free)
Powdered sugar
Candy melts are pretty sweet, but they provide the perfect color for colored puppy chow.
You can get blue candy melts, black candy melts, yellow candy melts , and bright white candy melts for the LA Rams Puppy Chow online or at your local craft store. 
Regular white has a little yellow tint to it, so bright white is best to use. You can also find candy melts at your local craft store.
You need very little of the black to turn the blue into navy. You can choose to skip the black and keep it more of a royal blue if preferred.
Can I use white chocolate and color it?
I do not recommend using white chocolate and trying to color it, because white chocolate does not melt very well and it takes a lot of coloring to make bold colors.
If these are too sweet on their own, you could mix them with something salty like little pretzels or peanuts.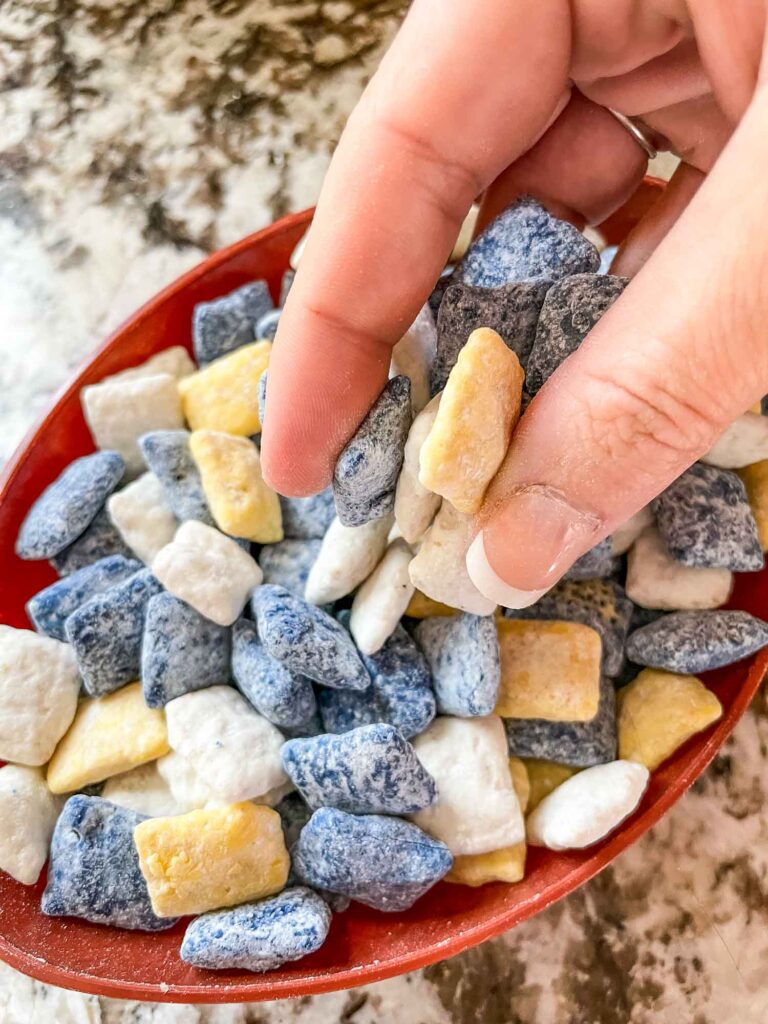 How to Make LA Rams Puppy Chow
Melt your candy melts according to package directions. This can be done in the microwave, but reduce the power. If it is too strong and too hot, the candy will not melt properly.
Then toss the cereal with the candy melts gently to coat.
Immediately place in a large resealable bag with powdered sugar and shake!
Now at some point in the process, you are probably going to think at least one of the following (if not all, like I did):
There is NO WAY that little amount of candy melts will cover all this cereal!
OH NO the cereal is BREAKING!
WHY DO THEY ALL LOOK WHITE! I MESSED UP! I CAN'T SEE THE COLOR!
But it's okay, all of the above are FINE. The candy melts DO cover that much cereal, just keep stirring.
The cereal might break a little but that's okay! Just be gentle.
And the colors DO look pretty white when they come out of the bag. But shaking them in the fine mesh strainer gets rid of all that extra powdered sugar and you will see the color! Have faith!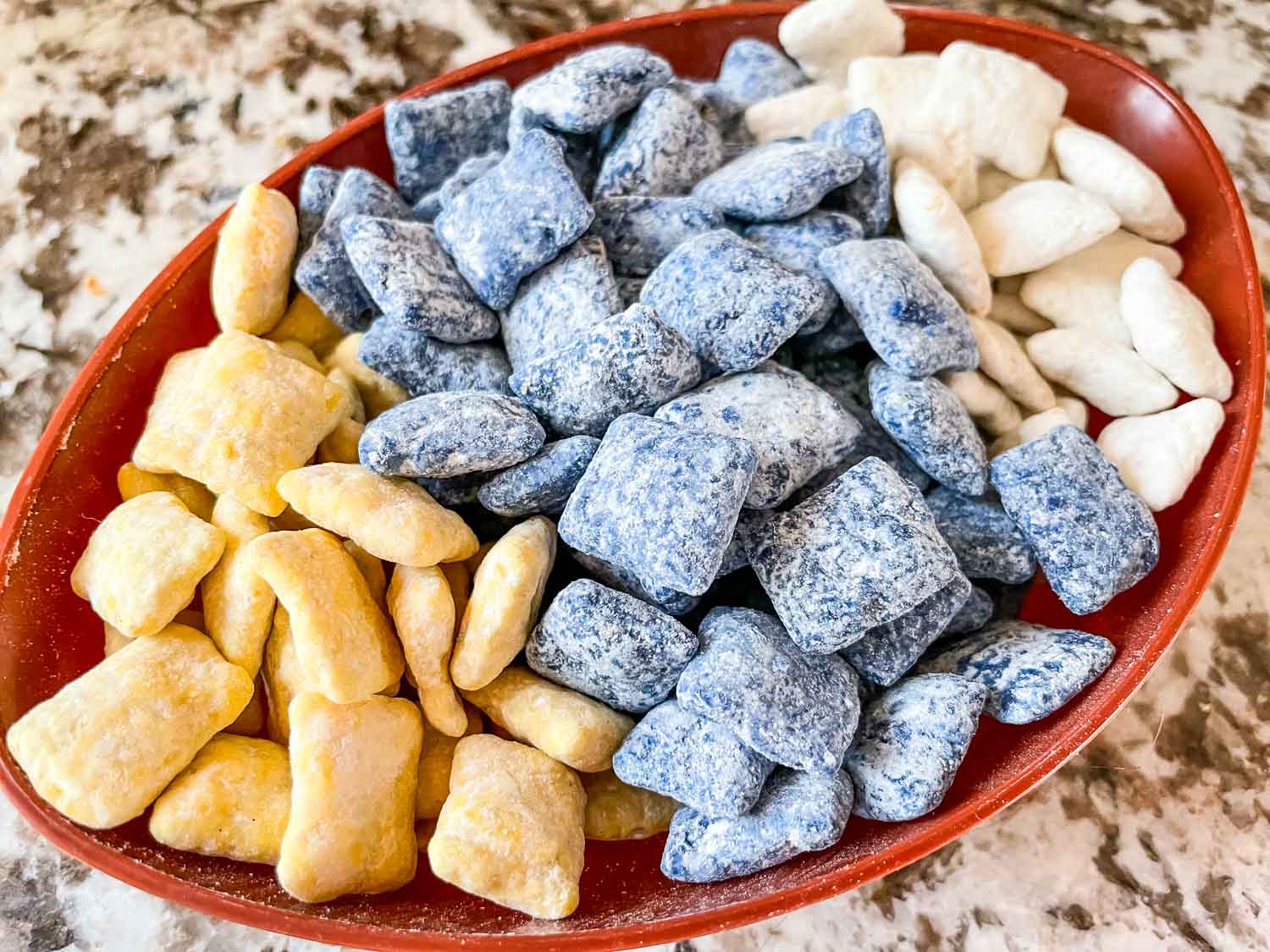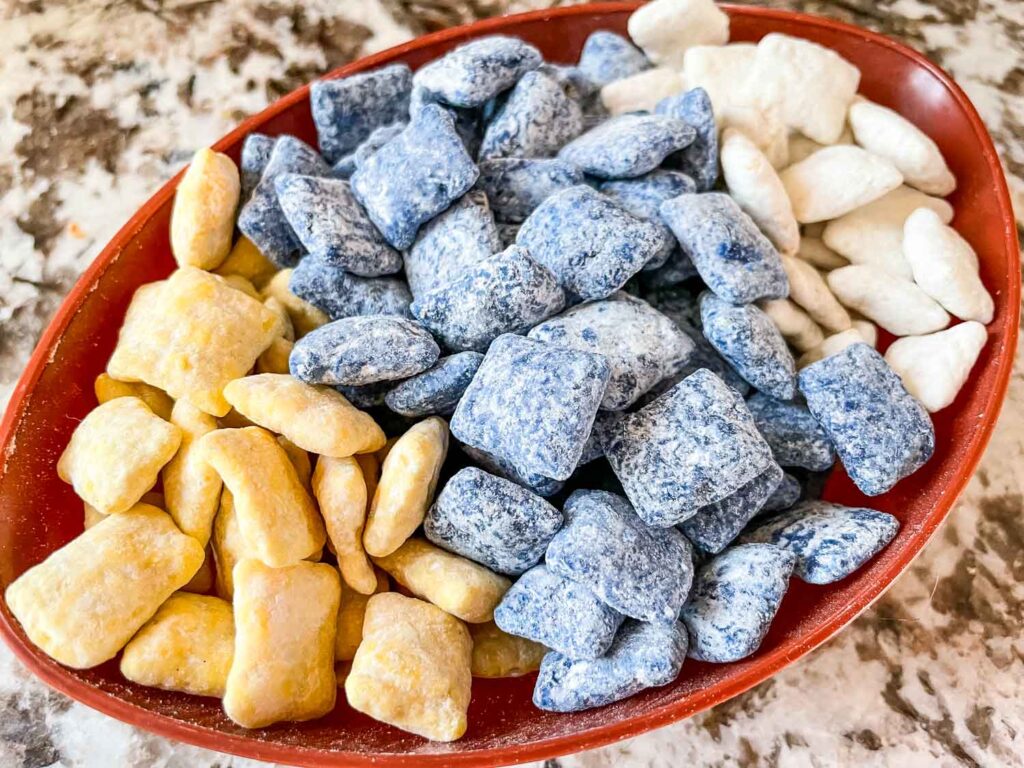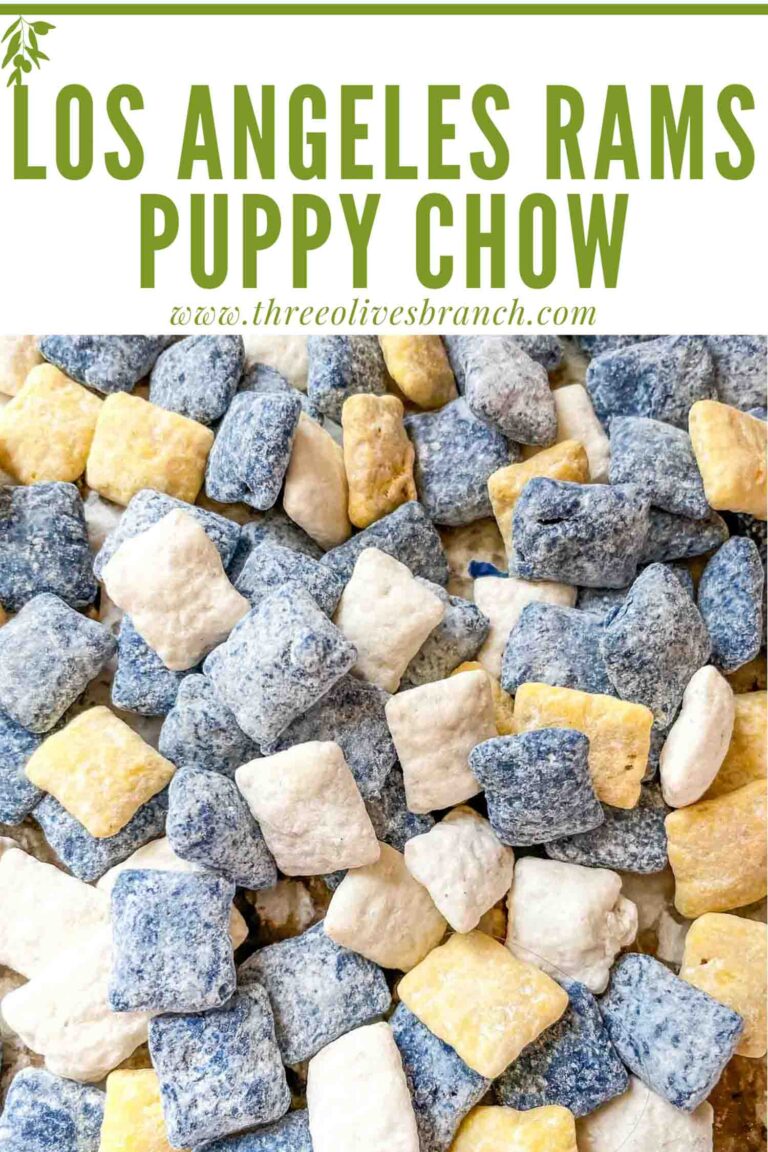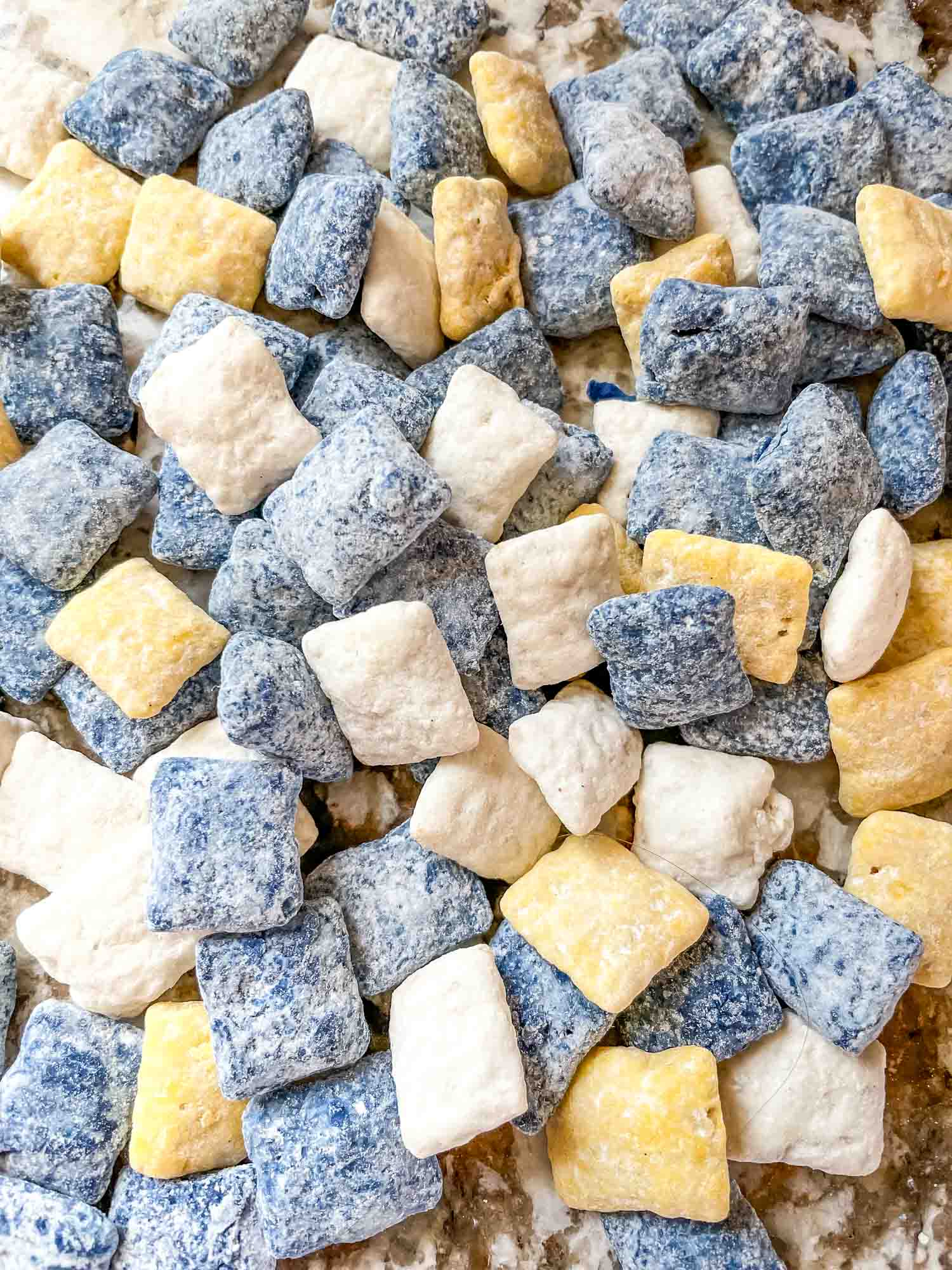 Servings:
5
servings (2.5 cups total)
Instructions
Place each color of candy melts in separate bowls that are large enough to mix the cereal in for each color (I like to use deep soup bowls).

Place 1/3 cup powdered sugar in a quart or gallon sized resealable plastic bag.

Melt the lightest color (white) of candy melts in the microwave as per package directions. Stir frequently to encourage melting.

When fully melted, immediately mix in the Chex mix. (1/2 cup of cereal for white). Gently toss with a spoon to fully coat.

Immediately transfer the cereal to the plastic bag with the powdered sugar. Seal and shake. Gently massage the bag from the outside to encourage the cereal to separate, but gentle enough so they do not break.

Pour the bag contents into a sieve (fine mesh strainer) over another bowl. Shake to remove excess sugar.

Pour the cereal out on a parchment paper or silicone baking mat lined baking sheet to dry. If there are any pieces that were stuck together, you can pull them apart, dunk them into the discarded sugar, and shake again.

Let the candy melts that was left behind in the bag dry for a few minutes, then you can crinkle up the bag to remove the candy melts and make it ready for the next color.

Repeat the process with the yellow candy melts next, using 1 cup of Chex cereal and fresh powdered sugar.

Repeat the process with the blue candy melts next, using 1 cup of Chex cereal and fresh powdered sugar. Add the black candy melts to the blue melts to make navy when melting. You can choose to skip the black, it will just be a more traditional blue.

Mix the colors together, or keep separate, and serve. The puppy chow can be stored in a container or bag for up to 2 days.
Notes
You can use any flavor or variety of Chex cereal that you wish, however rice keeps these gluten free.
Start with the lightest color and work towards the darkest just in case any pieces pick up color from a previous batch in the bag.
Make any ratio of the colors together that you want.  You need 1 cup of cereal for every 1/2 cup of candy melts and 1/3 cup of powdered sugar.  I got about 6 cups of cereal in an 12 ounce box after pulling out broken pieces.
I like to start melting the next color after I have tossed the previous color in powdered sugar, before shaking in the strainer, to save some time.
Get blue candy melts here, black candy melts here, yellow candy melts here, and bright white candy melts here.  You can also find them at your local craft store.
Nutrition
Serving:

1

serving (1/2 cup)

|

Calories:

268

kcal

|

Carbohydrates:

51

g

|

Protein:

1

g

|

Fat:

7

g

|

Saturated Fat:

6

g

|

Polyunsaturated Fat:

1

g

|

Monounsaturated Fat:

1

g

|

Sodium:

147

mg

|

Potassium:

23

mg

|

Fiber:

1

g

|

Sugar:

40

g

|

Vitamin A:

250

IU

|

Vitamin C:

3

mg

|

Calcium:

50

mg

|

Iron:

5

mg

By