This Mashed Butternut Squash is a simple and easy Thanksgiving side dish recipe. Perfect for fall as a vegan or vegetarian recipe. Gluten free and keto low carb with savory flavors.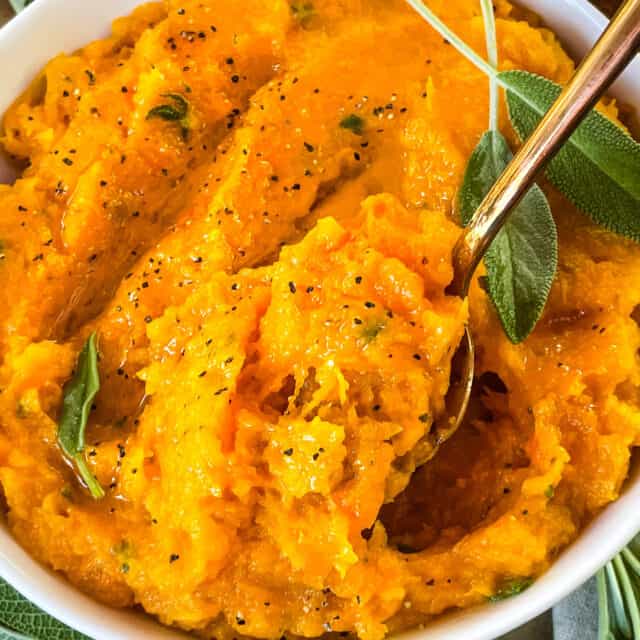 This Mashed Butternut Squash is a simple side dish perfect for Thanksgiving, the fall, and holidays. Made with earthy flavors for a gluten free and keto low carb recipe.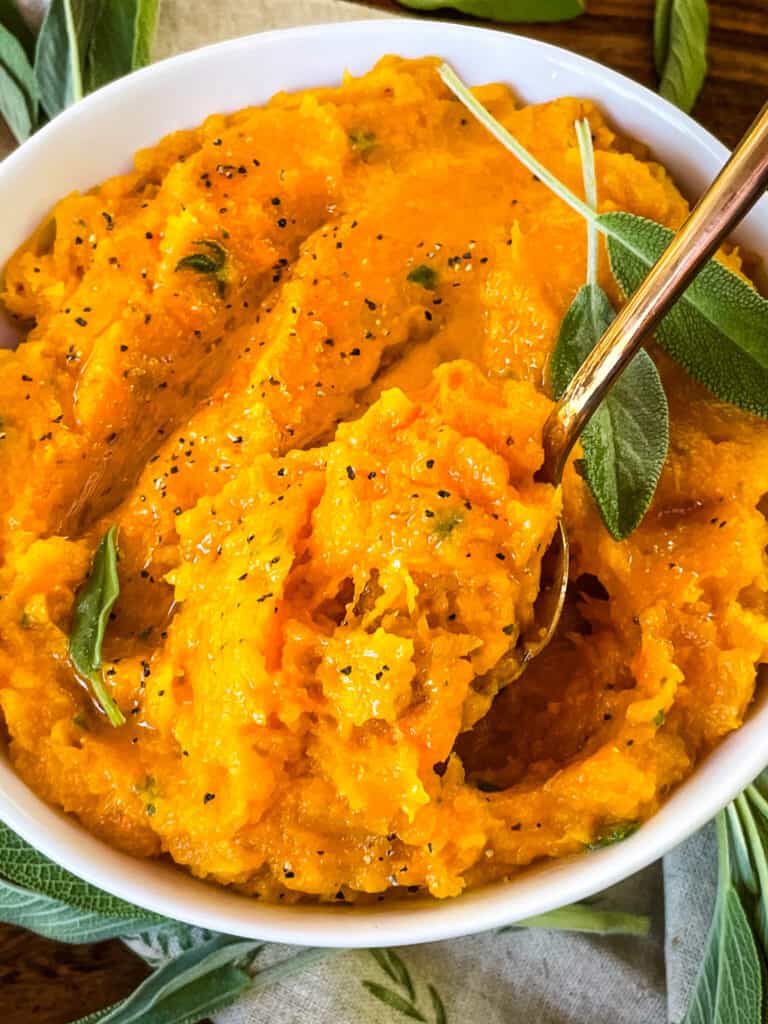 Savory Mashed Butternut Squash
Squash is one of the ultimate fall foods but it is typically made using sweet flavors.
This Mashed Butternut Squash is made with savory sage and spices for a delicious side that works as a potato or starch substitute.
It can easily be made vegan by using vegan butter for a vegetarian Thanksgiving option.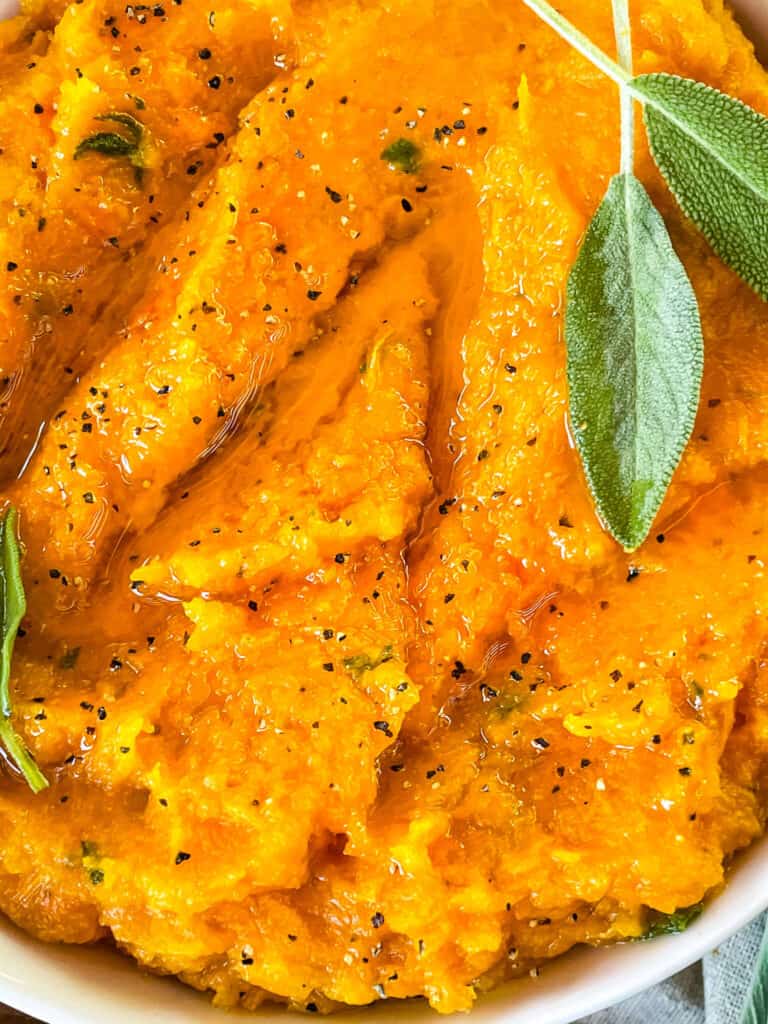 Can you cook butternut squash in boiling water?
Absolutely!
The butternut squash can be cut up and cooked in the boiling water, much like potatoes, until fork tender. This can be done in as little as 10 minutes if the pieces are not too large.
There are a few trade offs, though. One is that the squash could become water logged and add a lot of moisture to the dish, which will need to be balanced with a thickener (see section below).
Also, you will be losing out from the flavor of the squash browning in the oven.
So while the boiling water cooking method will work, I recommend the roasting method.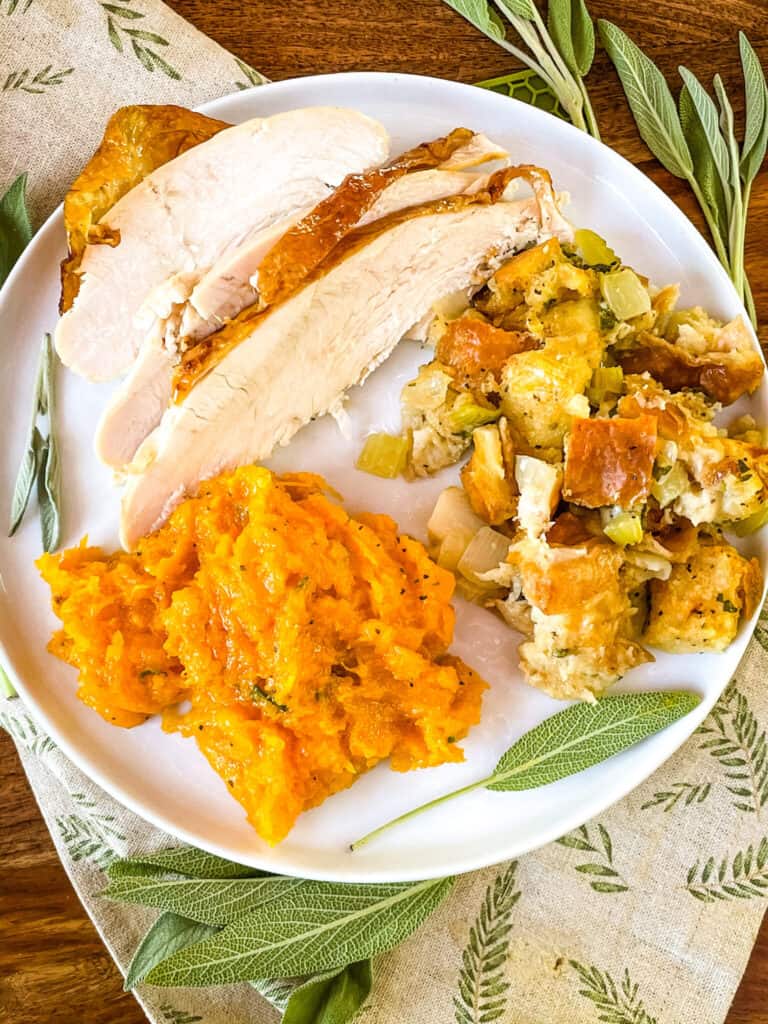 What flavors go well with butternut squash?
There are different flavors you can use if you want to switch up the flavor profile of this side dish recipe.
Fall spices like cinnamon or nutmeg
Brown sugar
Woody herbs like rosemary, bay leaf, or thyme
Parmesan cheese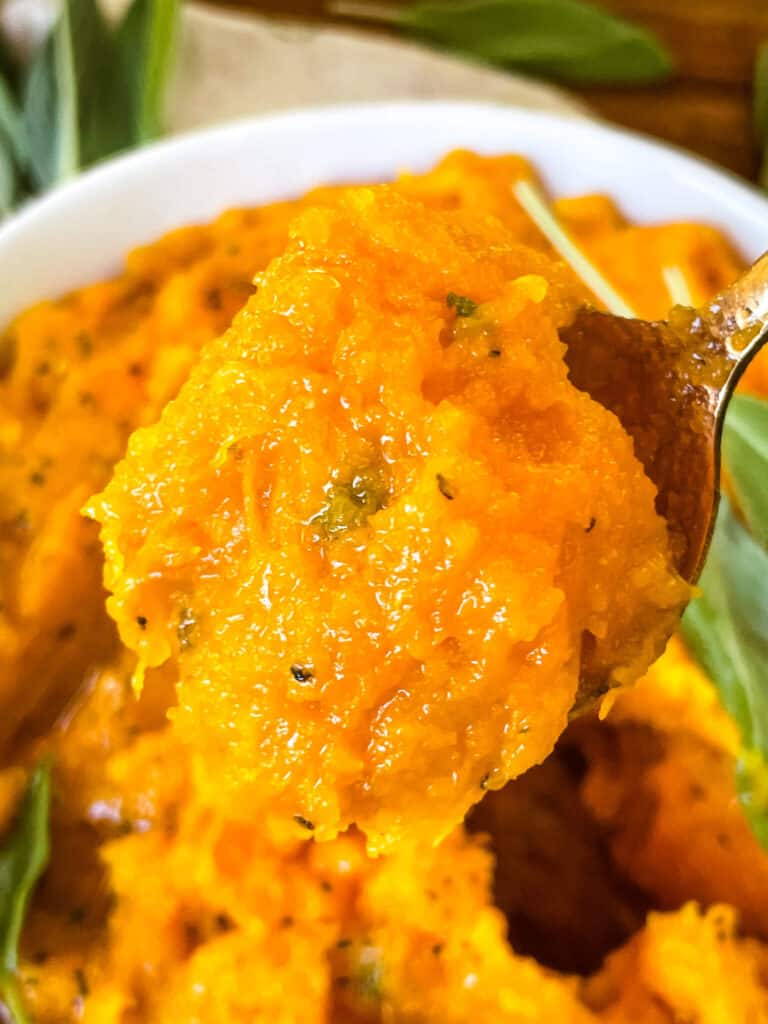 How do you thicken mashed squash?
If you get too much liquid into your mashed squash and want to thicken it up, there are a few options.
First, you can see if you could try to remove some of the liquid by placing it in a fine mesh strainer, without pressing, and letting gravity pull the liquid out.
You can also use a thickener to mix in. Options include flour, cornstarch, or a cheese.
What does butternut squash taste like?
This squash is similar to sweet potatoes in flavor with sweet and slightly nutty flavors.
It is also very dense and can stretch further in portion sizes. So it would be possible to get 6 servings out of this recipe.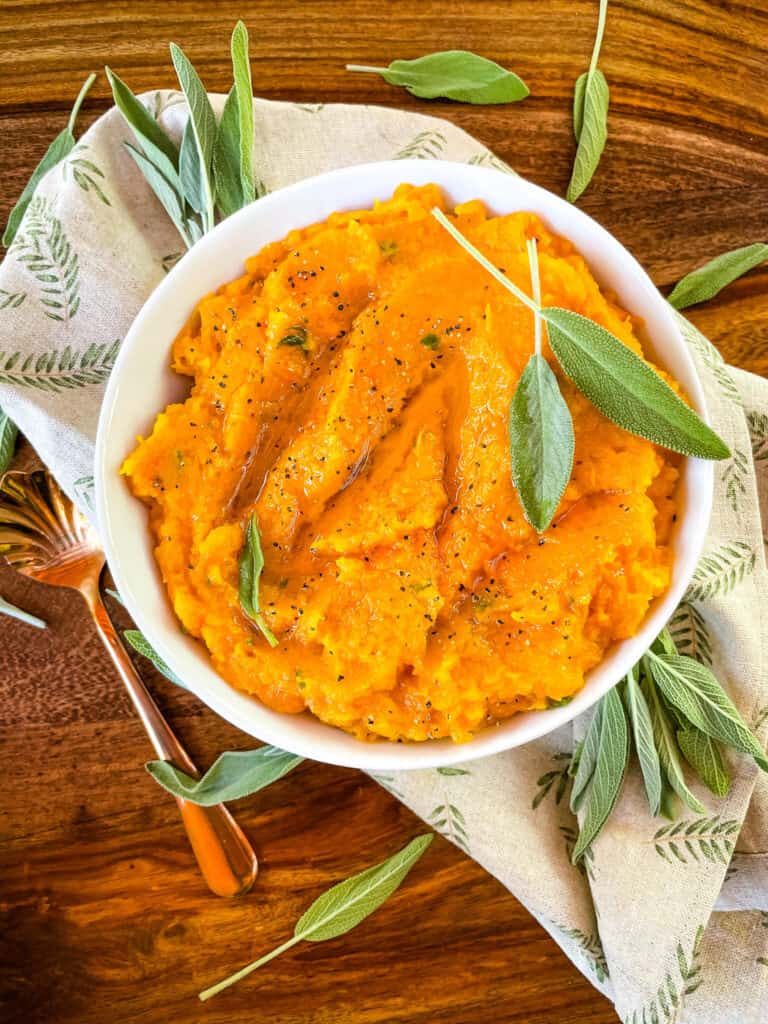 Ingredients
You will need around a pound of butternut squash per person. It is rather heavy, and you will trim off the skin, seeds, and stem. So even though it seems like a lot, it will all work out.
Easily make this recipe vegan by using vegan butter.
The use of vegetable stock allows the squash flavors to shine through. If desired, you can use milk or cream instead. Or chicken stock.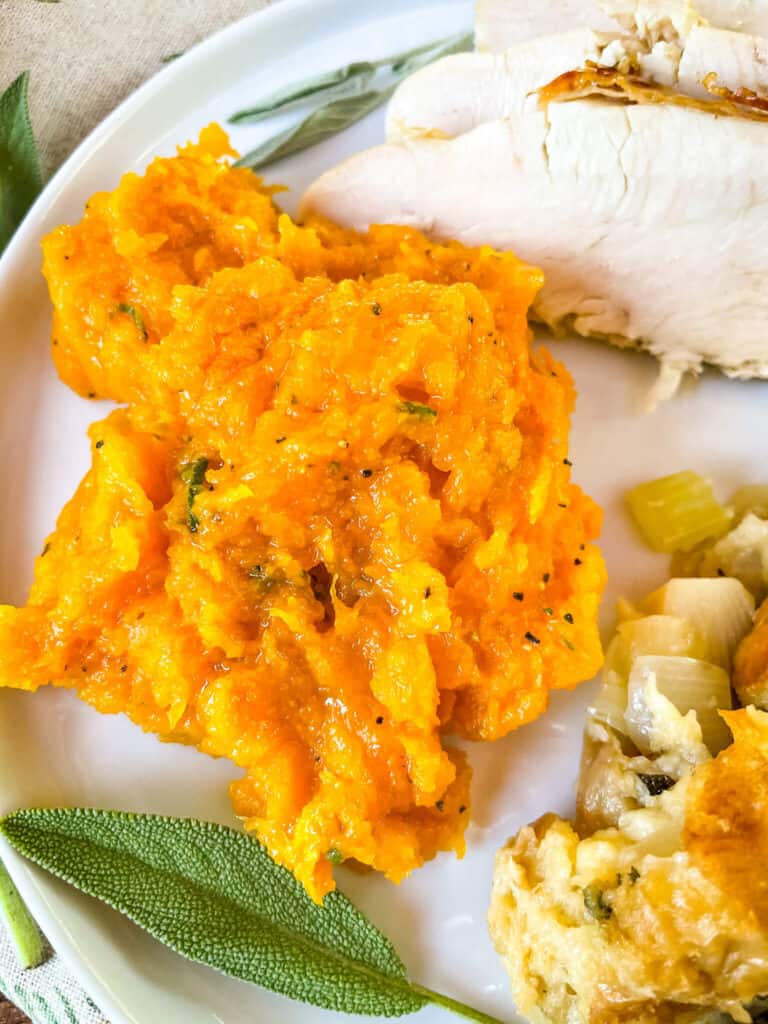 Cooking Instructions
Roasting the squash brings a great depth of flavor to the dish. Roast by cutting the squash in half, removing the seeds with a spoon, and then drizzle with some oil, salt, and pepper.
Want a deeper roast flavor or a faster cook time? Peel the squash with a peeler, then cut into cubes before tossing and roasting.
After roasting is done, combine the rest of the ingredients in a medium or large pot and let them simmer to develop a depth of flavor in the broth.
Then add the squash to the pot and mash. Season to taste as desired, and make creamier if desired by adding more stock or butter.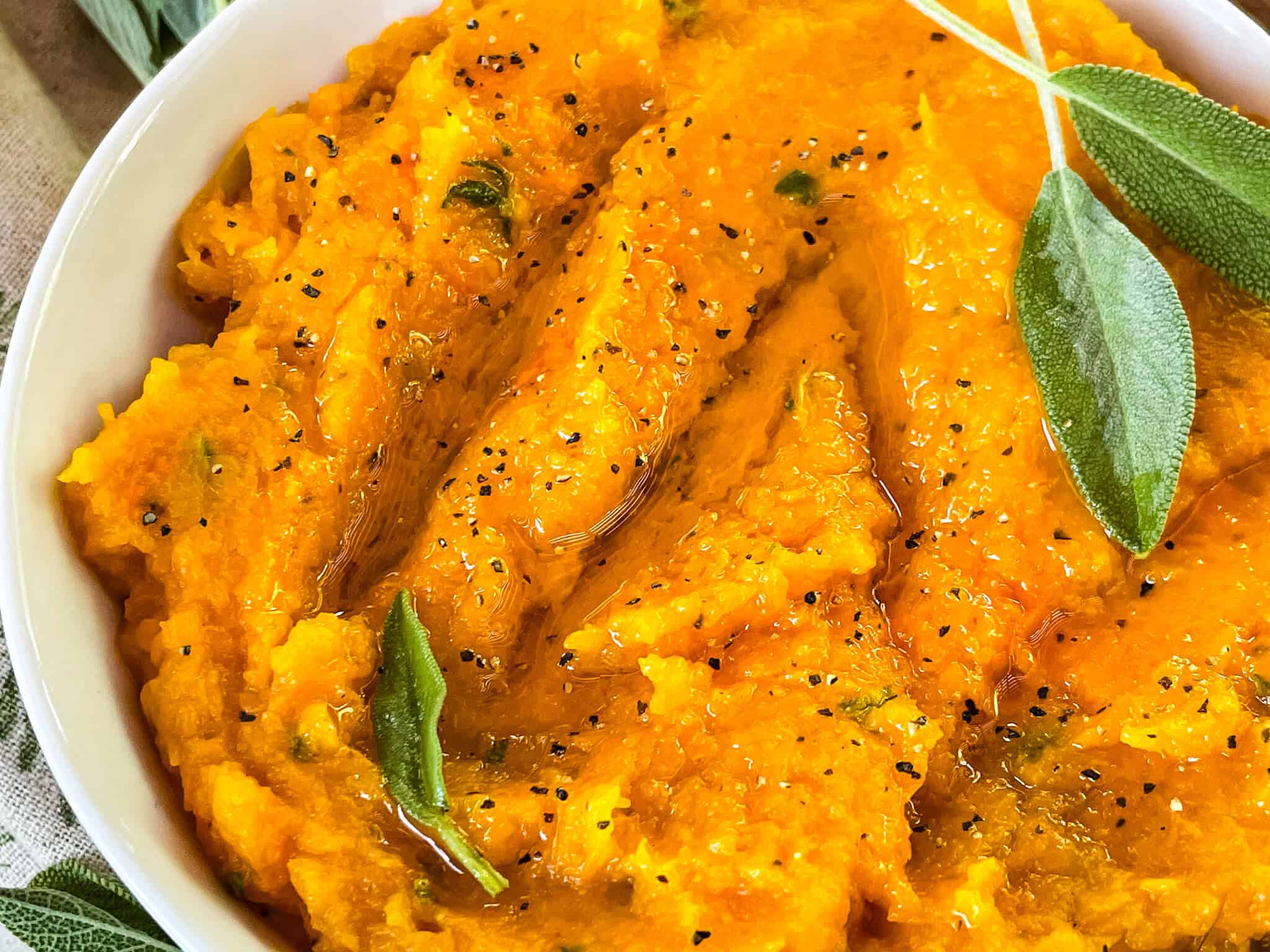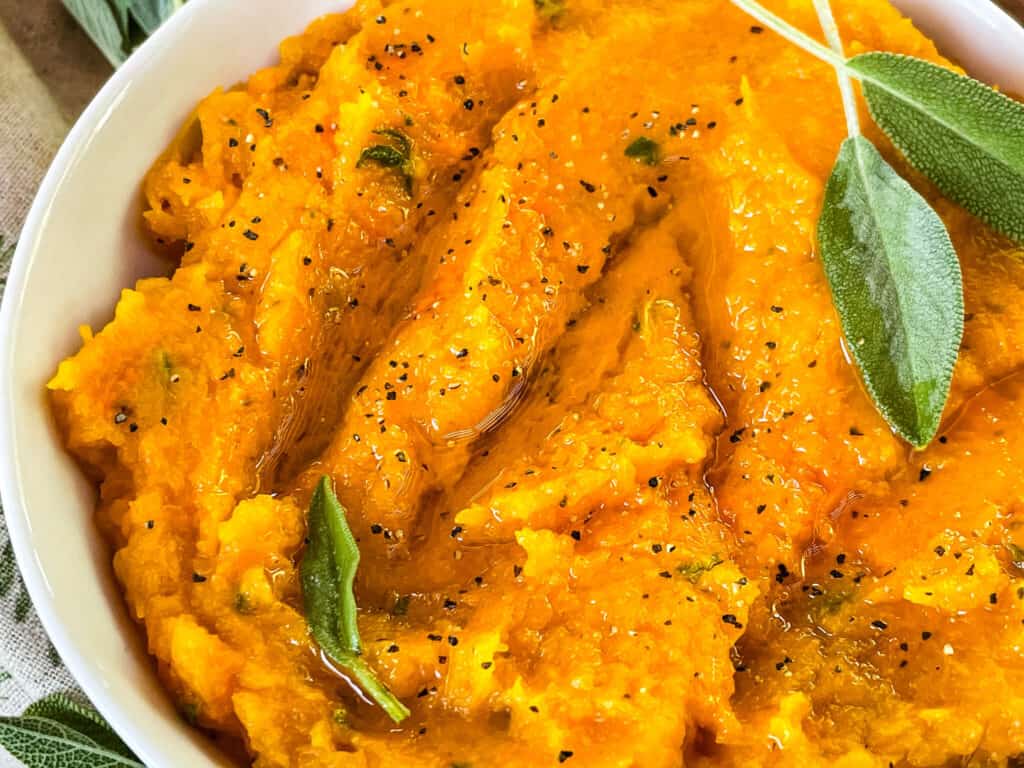 Making in Advance
This squash can easily be made in advance and holds over well!
Make the dish from start to finish and then you can keep it warm in a crock pot or covered on the warm setting in an oven.
It can also be reheated, stirring occasionally, in the oven at 250-350F.
Keep some extra stock on hand for reheating just in case it is needed, regardless of method.
Thanksgiving Side Dishes
Delicious side dish recipes for Thanksgiving!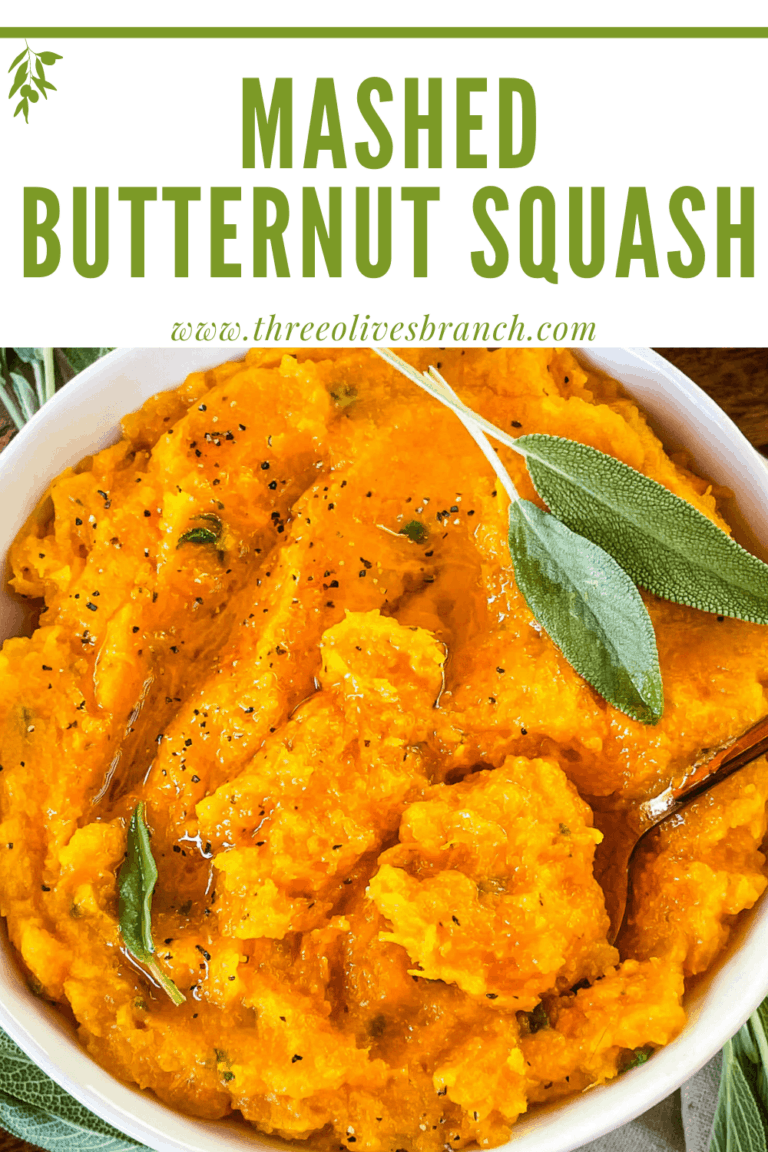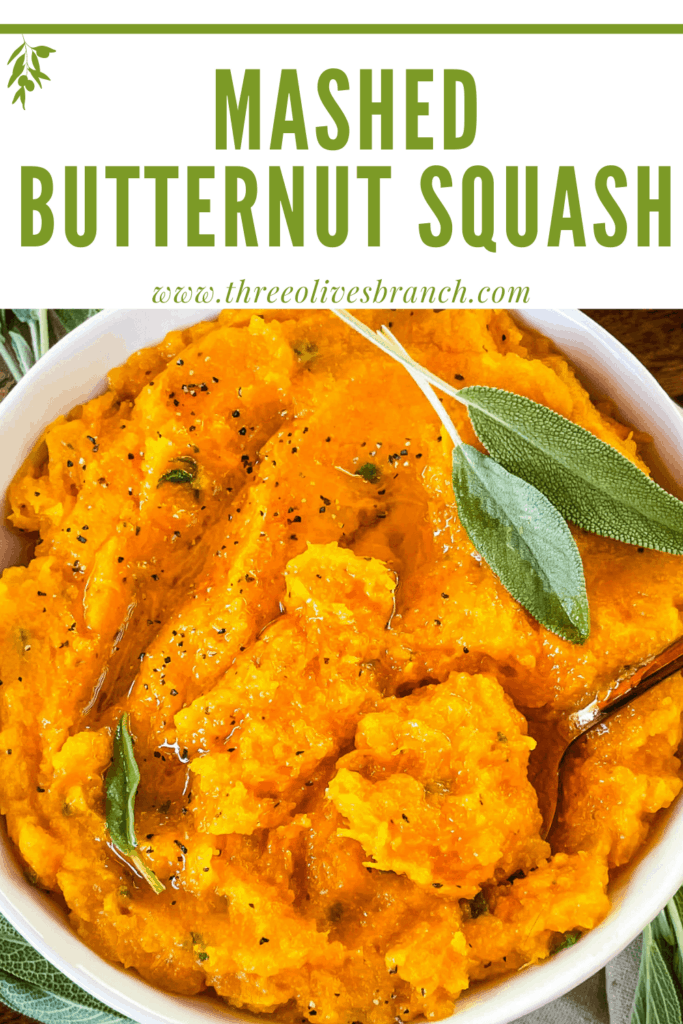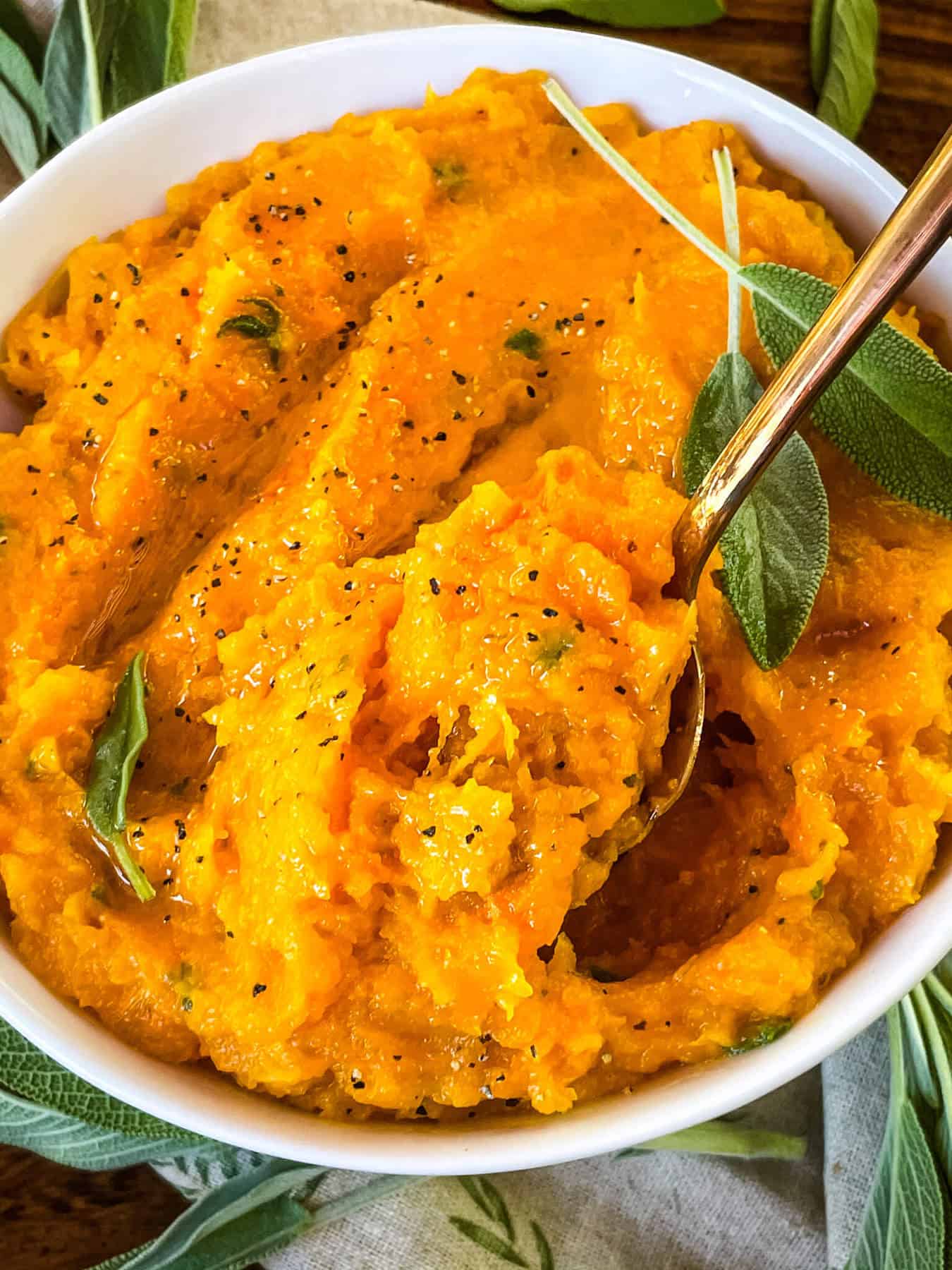 Instructions
Preheat oven to 400°F (204°C).

Cut the squash in half lengthwise and scoop out all of the seeds with a spoon.

Place the squash cut side up on a lined baking sheet. Drizzle with olive oil and sprinkle with salt and black pepper.

Roast in the oven until fork tender, approximately 40 minutes. Remove from the oven and set aside.

In a medium or large pot, combine the butter, vegetable stock, sage, salt, black pepper, and garlic powder. Simmer over medium heat for 5 minutes to incorporate flavors. Remove pot from heat.

Scoop the butternut squash out of the skin shells and put in the stock mixture.

Using a masher, mash the squash into the liquid.

Season to taste as desired. Serve warm.
Notes
This can easily be kept warm in a slow cooker or in a baking dish, covered, on warm in the oven.
Want a faster cook time or a deeper roasted flavor? Peel and cut the squash into cubes before tossing and roasting in the oven.
Want it extra creamy? Add more stock or butter as desired.
Nutrition
Serving:

1

serving

|

Calories:

258

kcal

|

Carbohydrates:

54

g

|

Protein:

5

g

|

Fat:

6

g

|

Saturated Fat:

4

g

|

Polyunsaturated Fat:

1

g

|

Monounsaturated Fat:

2

g

|

Trans Fat:

1

g

|

Cholesterol:

15

mg

|

Sodium:

418

mg

|

Potassium:

1610

mg

|

Fiber:

9

g

|

Sugar:

10

g

|

Vitamin A:

48424

IU

|

Vitamin C:

95

mg

|

Calcium:

231

mg

|

Iron:

3

mg

By